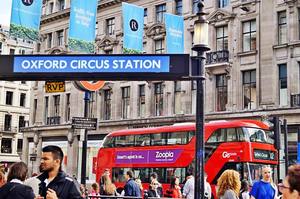 Contact
00-44-20-7240-7701
Traveller Types
Couples, Friends, Families, Solo
Rank
6 out of 613 attractions in London
Places to stay near
Oxford Street
The Piccadilly London West End
DoubleTree by Hilton London - Westminster
DoubleTree by Hilton Hotel London - Tower of London
Hotel Indigo London Tower Hill
Reviews of
Oxford Street
•
3
The only trip where I have shopped ( apart from eating a LOT) because Oxford Street! For people on a budget, run to Primark for affordable shopping ranging from clothes to shoes to bags! Now for people not on a budget, head to anywhere on the Oxford Street and don't forget to stop at Harrods! Also Hamleys! Because the kid in you will always keep you sane ????
Oxford Street– the shopping street of London
If you want to shop till you drop in London then this is the place to be.Tip: Plan for a full day trip if you want to do some actual shopping or else just an hour or two should be sufficient for checking out this place.
Attractions near
Oxford Street