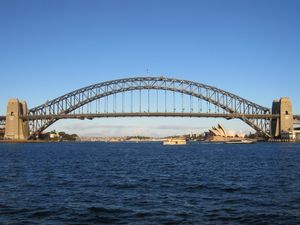 Places to stay near
Sydney Harbour Bridge
Mad Monkey Backpackers Kings Cross
Meriton Suites Pitt Street
Reviews of
Sydney Harbour Bridge
•
3
You have to get onto the famous bridge in one way or another: by walking, driving, or even climbing. While the pylon climb may be unforgettable (I know a couple from England who did it and raved about it), if you're on a budget you can forget it: it runs you roughly $300. Instead, simply walk across it. And I'm not talking about joining one of the preorganized walking tours (they also charge you) – you can do it for free. Head out to the Rocks and find the launch point where the tours depart, then look for the partially hidden staircase that looks like it was built into a wall. Climb a few flights to bridge level, then the rest is yours. The view of the harbor and Opera House are breathtaking.
Climbing the Sydney Harbor Bridge was something we wavered on a bit, but Amber ultimately decided, "If Oprah and Gail could do it, we can, too." Another cooler day lent perfect conditions for the climb. It was scary at points, but the ascent up the arch and the view from the top were worth every penny. We did souvenir shopping in Chinatown, which is in Haymarket, located between Central Station and Darling Harbor, and spent the night watching a recording of the Super Bowl with friends.
This arched bridge, fondly known, as the "coat hanger" is one of Sydney's most popular sights. It runs over the Sydney harbor to join the Central Business District to the North Shore. It is the world's largest bridge and a major landmark for the city. It is almost equivalent to what the Statue of Liberty is to New York. It has been a part of Sydney's history and till today continues to be a part of its rich architectural heritage.
Attractions near
Sydney Harbour Bridge