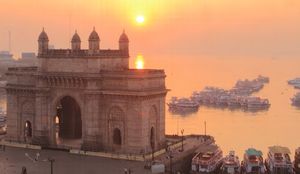 Best time to visit
Open 24 hours
Things to do
photography, sight- seeing, history tours, boating in the Arabian Sea.
Traveller Types
Families, Friends, Couples
Rank
10 out of 446 attractions in Mumbai
Gateway of India
This is the most important attraction of Mumbai and often the starting point of tourists. This was built by the British in the 1913 to mark the visit of George V and Queen Mary to then Bombay. This arch or gateway was inspired from the Triumpg Arc of Italy. This was a place from where most of the tourists from the West started their journeys during the British time. After the Colonial Raj ended, this monument was Indianized and now is a tourist hotspot. the gateway faces the Arabian sea and is also flanked by the beautiful Marine Drive. It is said that the last British ships, when they left India started from here as the British loved this place and it is till now a symbol of their victory over India though the Indians have now changed the notion along with the name of the city to Mumbai. The monument has four turrets and intricate designs on stone blocks to make up the whole structure. the architecture is mainly Indo- Sarcenic with touches of typical Gujrati architectural styles. The Gateway stands strong as the symbol of grandeur of the city as well as the blend of old and modern cultures here.
Places to stay near
Gateway of India
Traveller's Inn Hotel - Fort
Hotel A. K. International
1 Private Ac Bed Room + Kitchen + Wi Fi
Reviews of
Gateway of India
•
28
Attractions near
Gateway of India