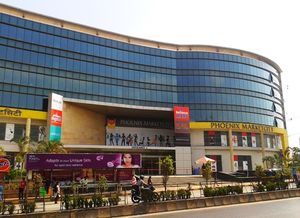 Traveller Types
Families, Friends, Couples
Rank
43 out of 446 attractions in Mumbai
Places to stay near
Phoenix Marketcity
Comfortable private room near Powai
Terrace attached Room in a Bungalow
Bandra Lalaland - Cozy Bed
Airport Tranfers & Full Breakfast
Warm and cozy. Fully equipped.
Reviews of
Phoenix Marketcity
•
2
International brand stores and a huge mall in the Bandra Kurla complex, the Phoenix mall Mumbai has risen up has more than shopping to offer. Also, it has many food courts and have almost everything available. This is one of the best malls in Mumbai.How to Reach Phoenix Market City: Lal Bahadur Shashtri Marg, Kurla WestOpening Hours: 10.30 AM to 12 AM
It is the largest mall of India. It is located on Lal Bahadur Shastri Marg, Kurla West, Kurla, Mumbai. It has a collection of over 600 brands. If you take a train, you can reach here in just 20 mins from Santacruz and 25 mins from Bandra in 10 mins from Ghatkopar and a mere 6 mins from Vidyavihar and in 10 Mins from Kurla Station. By road, it takes 30 mins from Varsova and 20 mins from Andheri. You can reach within 35 mins from Jacob's Circle . 30 mins is the approximate time taken from Sion,Thane or New Mumbai. And if you are coming from South Mumbai, it should again take you 30 min. With these directions handy, you are sure not to miss the biggest mall in India. Timings: Open on all days - 11AM–11:30PM.
Attractions near
Phoenix Marketcity