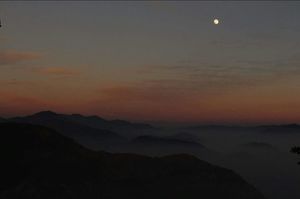 Places to stay near
Hanuman Garhi
Colonal's Cottage, Mall Rd Nainital
Himalayan Retreat Neelkanth
Reviews of
Hanuman Garhi
•
3
But because of shortage of time we left that spot within an hour and started heading towards the town for some food. After reaching back in the town we went to dominos had our lunch and went to an old temple named Hanuman Garhi Temple which was situated up the hill, for a wonderful sunset. After we were done with the sunset and Mr. Kripal done with clicking almost a thousand pictures of the setting Sun and the rising moon and the shades around, we went to the Hanuman Garhi Temple and before we know, the day was already past.
Hanuman Garhi is a famous temple dedicated to the mighty Lord Hanuman, perched at a height of 6,401 ft., about 3.5 km from Nainital. Established by a local saint, Baba Neem Karauli in the year 1950, it is famous for a temple dedicated to the Hindu Lord Hanuman, the monkey god of the epic Ramayana. From this temple, one can enjoy the spectacular views of sunrise and sunset over the Himalayas. The rest of the day is at leisure to explore the beautiful hill station of Nainital. Overnight in Nainital / Bhimtal (B, D)Request A Call Back
This is a very well known Lord Hanuman's Hindu temple, which is positioned to south of the Tallital. It is located at an altitude of 1951 meters (6401 feet) and it is 3.5 kilometers away from the bus stop of Nainital. The presiding deity of the temple is Lord Hanuman, the vanara god of the Ramayana and he is depicted as tearing his chest open to reveal 'Ram' and 'Sita' in his heart. This temple is well known for its religious importance and also for its premeditated location. It is located at such a height and a site that offers the artistic scenery and spectacular views of sunrise and sunset. It is important to mention that Lord Hanuman Statue is one of the tallest I had ever seen. It is giant in size and shape. Then after few minutes, we started for the next lake view and it started raining heavily again. At that time I was feeling like moving in a different world, as the sprinkle of rain is showering on us. It was like the God's blessings on us to have such a wonderful day. After a long time the rain stopped and at 1655 hours, we reached at Bhimtal lake.
Attractions near
Hanuman Garhi