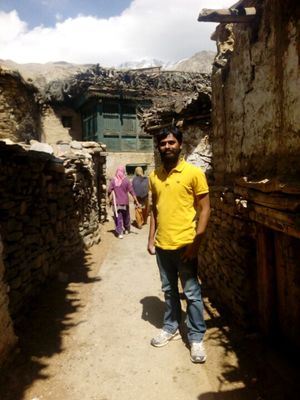 Reviews •
3
The Nako monastery was also nearby so we decided to stopover before heading off to Kaza:Also on the way was Geyu Monastery which houses a 500+ year old mummy naturally preserved.Its not en route to Kaza; there is a slight deviation by taking a right turn, but should not be missed :Till now we had been traveling with a leisurely pace.But seeingThe mummy gave us perspective of value of time and we hurried to get back on route to Kaza.Some pics on the way to Kaza:
• Visit Nako lake, Fort ad prayer wheels on top of a mountain.• Eat Israeli food at Shakshuka cafe.• Enjoy the village on foot (one of my favorite places in this trip)
03/06/2016 06:30 - The bus stops at Reckong Peo for couple of hours to freshen up from 04:30 to 06:30 next morning after overnight journey and continues journey to Kaza and this is the only bus in the day from Peo to Kaza. Most of the seats are booked by people coming from Shimla and I was given seat only till Kaza as special bus stops here and will not go to Kaza.I managed to stand in bus as many others did. I had no proper sleep yesterday night and was travelling non-stop for more than 24 hours from Bangalore till Peo and continuing till Tabo which will take 8 more hours from Peo.My physical and mental stress are relieved from the time I met an Israeli girl at Peo bus-stand. I helped her get seat in bus. After some time in bus journey , we became temporary friends.I got an idea to travel with her for couple of days and so got down at Nako where she got down though I planned to go till Tabo skipping Nako. I told her that I was very tired and I cannot travel any further when she asked why I got down(She might have understood why I actually got down).We walked into Nako village from the outskirts where we got down. We checked a budget room in local home stay , I asked her if both of us can share a room or she needs a separate room. She was okay to share and my wish came true finally(I had a wish to experience travel with a female partner).Though it was new and surprising to me , it was common for her.After little rest and freshing up , we went out for lunch. We had discussed a lot on our personal and culture issues of both India and Israel having Israeli special food at a famous local hotel.I was lucky to stop at Nako as it turned out to be memorable day as Nako is the type of village I wanted to visit in this trip. Friendly local people in small numbers , farmers and cattle , their small old brick houses. Also the small lake for a leisure and peaceful walk.She met many of Israelites in the evening at Tea time , many of them she had already met earlier in Kinnaur Valley. One thing I understood is that more than 50% of Spiti tourists are foreigners and 90% of them are Israelites. I see very few South Indians are travelling here.Most of the Israelites are either travelling alone or as a group of 2-4 most of India for few months. Few of them are drug addicted and are travelling just for complete fun and entertainment as they had finished serving in Army there. These people are actually corrupting the local youth.
Attractions near
Nako Gompa