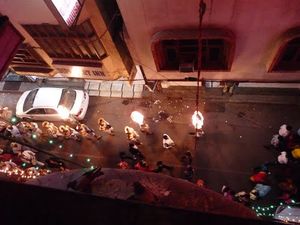 Best time to visit
11:00 AM – 4:00 PM
Best Months
September - May
Traveller Types
Friends, Solo, Couples, Families
Rank
56 out of 370 attractions in New Delhi
Paharganj
Once you have stepped out of the New Delhi Railway Station, just on the other side of the road is the entrance to one of the most chaotic markets of the city. The Paharganj market is always brimming with people and shopkeepers from upscale to hawker stalls. This market is mainly meant for people who can bargain very well. You get a variety of stuffs over here. The main things that you get here are clothes, handloom bags, handicrafts, handmade jewelry, new and old books. There are also shops selling other fabrics, designer clothes, cushion covers and bed sheets. Another thing to be mentioned are about the shops selling incense sticks with the best fragrances you can get in other places. This is basically a neighborhood market and haggling with the sellers is what comes in need out here.
Places to stay near
Paharganj
Superior Double AC With Breakfast
★☞ The historical Center of Delhi !
Stay in a true Delhi neighbourhood
Bnb room 4 near metro and airport
Attractions near
Paharganj