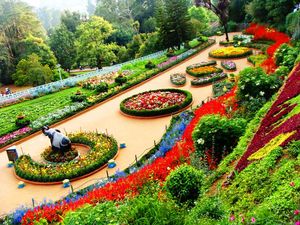 Places to stay near
Botanical Garden
NEW House of Blue Mangoes
Exotic cabin surtounded by greenery
Cosy room in the White Town
Reviews of
Botanical Garden
•
3
5. Botanical Garden and Aquarium:When I stayed in Pondicherry, my second BnB was very close to the Botanical Garden. When I decided to visit the garden, the first building I saw on the left was an aquarium. Now having been to aquariums abroad, I know the ones in India don't compare. However, the one in Pondicherry took efforts to meticulously detail fishes and their habits. The tanks were not very huge but the water was clear and I could see the fishes which was good enough for me.
6. Botanical garden: A garden famous for the collection , cultivation and display of wide range of plants labelled with thier botanical names . A small trip in toy train which runs inside the gardens the bfeeling which will definately retrack your childhood memories.In the night we went to some aquarium fair .You will see there variety of fishes in different aquarium .This fair also consist of small market for shopping and some trade shows .Be sure to put your bargaining skills to use while street shopping in Pondicherry.I must say people here in pondicherry have very amiable and jovial kind of nature. Beautiful beaches, tattered bridge, scooty rides, French cuisines and fancy old style buildings is what I recall of the city.I t was an eventful trip and we managed to see, eat and shop quite a bit.
It is one of the major tourist attraction of Ooty. It has some 650 species of plants and trees. Covering an extensive area of 55 acre, the garden is well-maintained and has a beautiful collection of many flowers. The place looks spectacular during its annual flower exhibition.
Attractions near
Botanical Garden