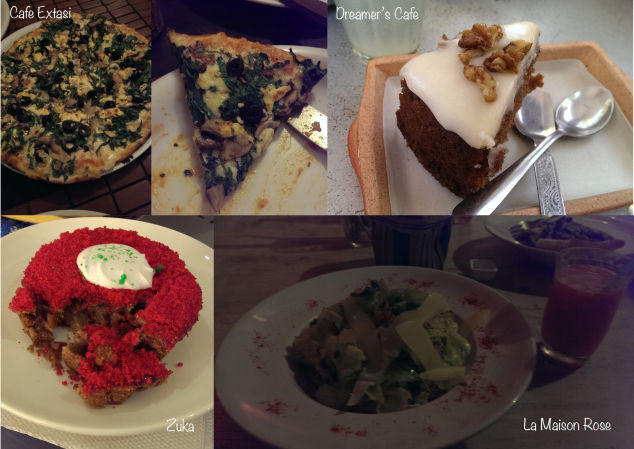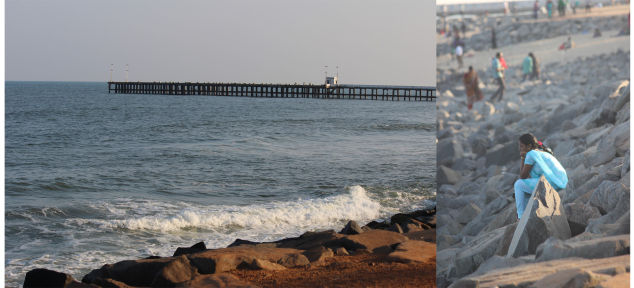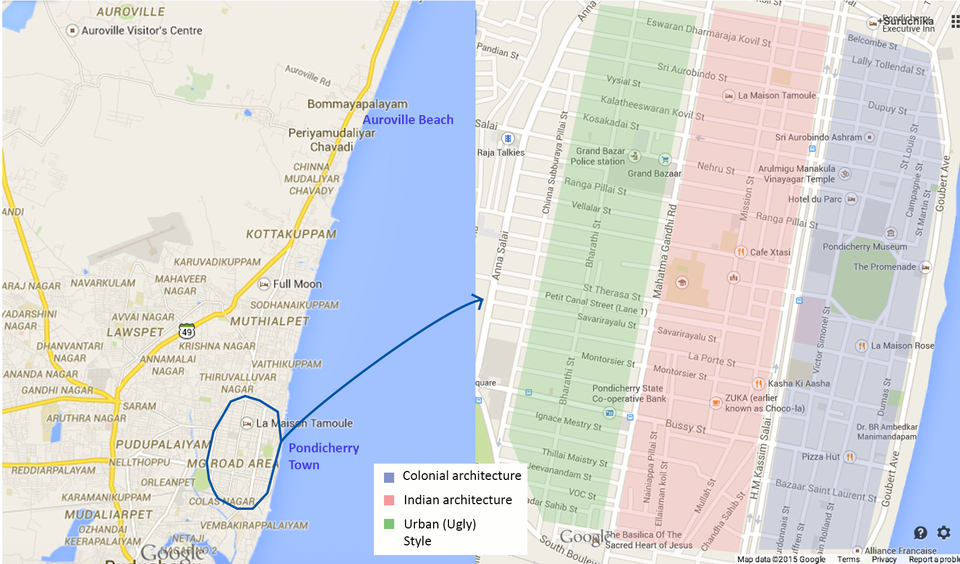 It is funny just a year back at the same time around Pondicherry was burning and baking, making it absolutely tough to wander out and explore. And we didn't know Pondicherry Cafes and restaurants close down for a holiday in the hot summers! no wonder last time we could not find most of them open. Last trip was also a result of ill-prepared, hurried plan. Every time I think of it, it annoys me. Weather this time was refreshingly pleasant.
Anyhow, this time I had a list of things not-to-do, so I have to appreciate my last trip for it :) I made sure to spend time in Pondicherry this time, instead of Auroville. Which works better for me, as I'm not into sitting around quietly or meditating either. I would choose to see lifestyles, local cultures. [details about train ride, stay and commute at the bottom]
As I walked and rode numerous times through the lanes of Puducherry, I aimed to remember and grasp the structure of this town – which I could not in my last visit. That is how I connect with every place I go to. To begin with, this is what I noticed on the Pondicherry Map: [map pic above]
Puducherry town is an amalgamation of different cultures, ofcourse due to its colonisation history from the French. However, people tend to talk more about its French-ness than other factors that contribute to its characteristics. Apart from French architecture, Pondicherry is home to beautiful Tamil architecture from the Cholas & Pallavas. As indicated in the image, areas towards the sea is largely studded with French style villas and bungalows and Heritage buildings. Second section, as you move away from the Sea side, cross the Kassim Salai Main road or Bussy Street, you begin to notice the typical Tamil style homes, with intricate doors and wooden pillars. Once you reach M.G, Road you cross over to the urbanised town, with modern glass architecture, that we all witness in every town these days. The town is definitely better planned to help preserve old buildings and protect cultures to some extent. I found a brief documentation about some famous colonial buildings here –http://www.intachpondicherry.org/flipbook/pdf/Heritage_Trail_Map_Pondicherry.pdf You can take a walk around the town in good weather preferably to spot them. The Pondicherry Museum is housed in one such building, adjacent to the Library – which is another beautiful bungalow. The Museum has a mix of stuff, most of it is ofcourse paintings and furniture from the residences of French Officers that are almost in a bad shape. It is sad how Govt. has no funds or facilities to preserve such amazing paintings and memorabilia from last century. Other part of the museum is full of remains and artefacts from Harappan or some other ancient civilisations – not sure if it is from near by region or far. Only interesting collection was that of coins from various parts of the world, dated 1000s of years back, the detail on those coins from a time when no tools existed, astonishes you. In short, if you are interested in getting to know Pondicherry history – you may pay this place a visit.
The light house could be a good visit too, it stays open till 5 pm, and costs 25/- per adult to enter. In good weather you can enjoy the open sea view from the top.
Food:
I have give it to Cafe Xtasi, on Mission Street, for serving such amazing pizzas. No wonder it has guests all the time, and they are such humble helpful hosts too. Except they didn't serve wheat thin crust on V'day :P We went there again the next day nonetheless to have it :) Do not miss their pizzas with Feta, smackin! Dominos has probably brought our standards really down, so did not expect it to be so good. A small size is so much bigger at Xtasi, I'm wondering what the large size would be, small one is good for 2 people.

La Maison Rose was a suggestion by a friend, and it was pretty nice. Except it being a V'night, staff wasn't helpful in giving us a good table. We sat on a large table in a wall-blocked corner. Food was okay, from their dessert menu Guava compote with lime cream was a hit, if I wasn't so full with grilled chicken salad, would've liked to taste the Newyork cheesecake too. I had never tried a orange colada before, and it was served quite stronger than regular 30 ml – made me happy! :)
Zuka Chocolate cafe, on Bussy street is a must. Apple pie, pastries ..they just have a characteristic of their own. In Bangalore even if I pay double that money I won't get that stuff.

Kasha ki Aasha is a clone to Kashi Art Cafe in Kochi or Dyu Art Cafe in Koramangala. Same dark coffee, same chocolate cake – you can't get bored of them ever.
Bon bakes somewhere on Kassim Salai canal road is good to chill at, reasonable prices and good coffee.
Tantos was a major let down, the original joint in Auroville was loaded and full of foreign janta. We decided to go to the less crowded joint that has opened on the highway. In any case this one served an average pizza, with regular commercial cheese. Turns out you have to particularly ask for Auroville homemade cheese and you will be charged more for it. Not the case with Xtasi.
Cafe Xtasi hands down!
Beach
For a less crowded beach go towards Auroville beach, or somewhere ahead. At Pondicherry town most beach is blocked with rocks. Take the straight highway from MG road and you will definitely find a nice secluded beach ahead.
For the sunrise, Goubert Ave is your easiest choice, very crowded like always, but you will manage a relaxed view of the sunrise, with fisherman strolling across the ocean at dawn.
Getting there
We booked a train just 2 weeks in advance from the date of travel, Pondicherry Express: Bangalore – Pondicherry leaves Fri 9 p.m. You will be surprised how seats were available for a train, we found out later why. We boarded it from Basavanagudi station as it is nearer than Yeshwantpur for us. It arrived 30 mins late. Over night it stopped more than it ran. It was a cheap option, but we paid the price next day. The train kept halting every 5 mins for atleast 30 mins stop every where – there was some major issue with the schedule this train followed. Also this train changes the direction of its engine multiple times through the route. The train was 3 hours off schedule by morning, and it only got worse later. We reached Pondicherry finally at 11:30 am instead of 8 am. All passengers were so accustomed to train taking stops at random places, that we almost couldn't believe it was Puducherry station after all. For return we could not find seats on train, so took a Sharma transport bus on Sunday – which was right on time through out.

Stay
We had advance booked a hotel just by chance. It worked for us as being a Valentine's weekend, almost everything was going to be full. We stayed at a heritage home turned into hotel – La Maison Tamoule. I would say it is reasonably priced for the kind of maintenance such a place calls for, and the staff is courteous too. There are many such heritage hotels in the same lanes in and around. On the Colonial homes side too you will get many expensive hotels. Cheaper homestays are tough to find, but you may get lucky. Most of colonial side is expensive. May be move towards the MG Road side places get reasonable.