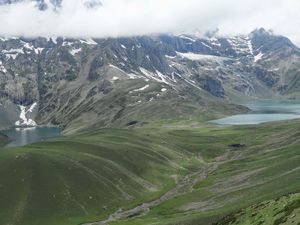 Rank
5 out of 11 attractions in Sonamarg
Reviews of
Gangabal Lake
•
3
Tonight was the last night of the trek, and everyone got down to the quintessential Antakshari, followed by a special handmade cake for the birthday girl Puja.We had a briefing session, which, in turn had all the trekkers and guides come and say something about their experience of the trek. Everyone was in love with Kashmir, and everyone would come back.The Gods were kind to us, and we got a spectacular view of the milky way, glittering across the sky in a ribbon of stars.
Gangabal Lake is the highest lake in the Kashmir Valley fed by surrounding majestic glaciers. It is an alpine high altitude lake that flows into the nearby Nundkol Lake, which is equally beautiful. The lake is located midway on the Kashmir Great Lakes trek that takes you on an exclusive trek around the lakes in the region.
Lakes Gangabal and Nundkol looked majestic donning stony mountains and meadows on either sides.
Attractions near
Gangabal Lake