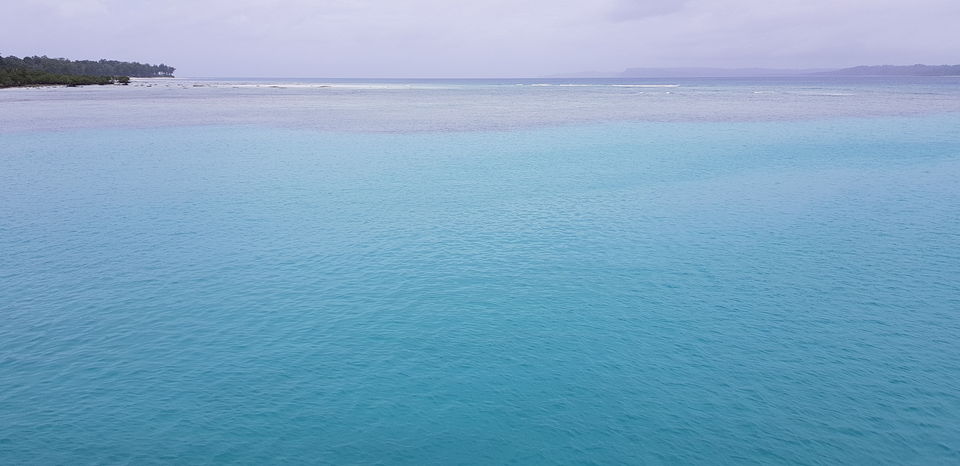 Life is beautiful with its own set of liabilities and breaks. The person who is always living a monotonous routine bound life, working hard in both personal and professional life takes the most dangerous risk of all – the risk of spending life not doing what he wants on the bet that he can buy himself the freedom to do it later. Procrastination is the biggest termite, enhance your capability to find sometime out of your busy schedule to take a break and unwind.
This thought itself was encouraging enough for a set of 11 people with varied ages to plan a family trip together to one of the most beautiful destination of India –The Andaman.
In precise it was beautiful, therapeutic and adventurous family trip.
Out of 11, a group of 7 travelled from Lucknow to Port Blair via a connecting flight from Delhi and we a group of 4 travelled via train to Chennai from Bangalore and via flight from Chennai to Port Blair.
We arrived at Veer Sawarkar Airport, the only airport in Andaman to take a stroll down to a hitherto less trodden paths of Andaman, to unwind in the midst of nature.
We all met at Port Blair's Airport hotel, as it was a family trip- the giggles, laughter, greetings, fun, teasing, and a swirl of emotions that led to happiness was the highlight.
Around 2 pm we started exploring Port Blair and the first point we visited was Zonal anthropological museum, and then headed to Cellular jail famous for Kalapani ki saja – it took us back in history when our freedom fighters were exiled by British government, and were tortured and underwent dreadful affliction. The famous light and sound show can make you realize the pain our martyrs had undergone to get us most beautiful gift of freedom, we should always cherish.
On a lighter note, the view from the top of jail exhilarates you, just take in the fresh cool free air gifted to us by our freedom fighters some known heroes and some unsung of India's History.
While returning, it started raining heavily and took us by surprise. We had our meal at Annapurna Restaurant(Pure Veg), it was a decent dinner and then rested.
Next day after a sumptuous breakfast,we went to Phoenix Bay Jetty for makruz at 11 am. The journey began aboard the luxurious Makruz ferry to the beautiful Havelock Island (proposed to be renamed to Swaraj Island by PM Modi). The view out of Makruzz windows,of bewitching turquoise waves of the endless sea had my heart instantly.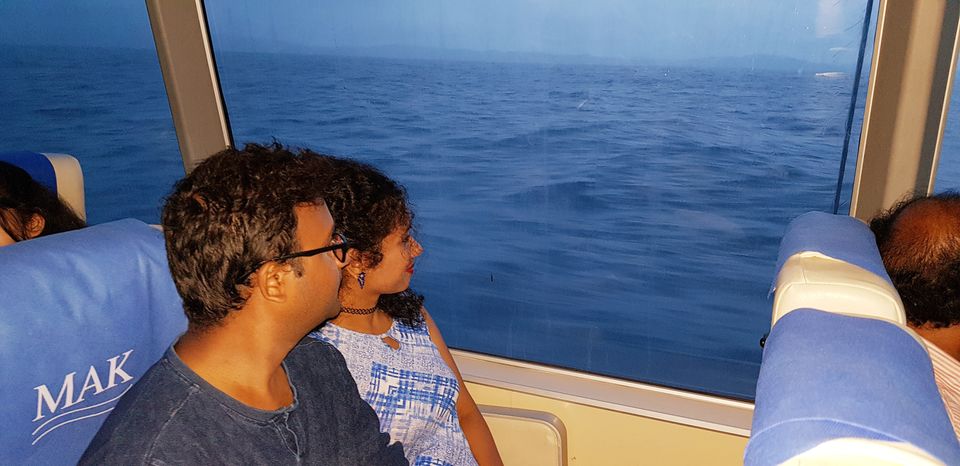 As we reached Havelock, the captivating blue sea and the vegetation around left us enthralled and dazzled by the thought of experiencing the serene Andamans.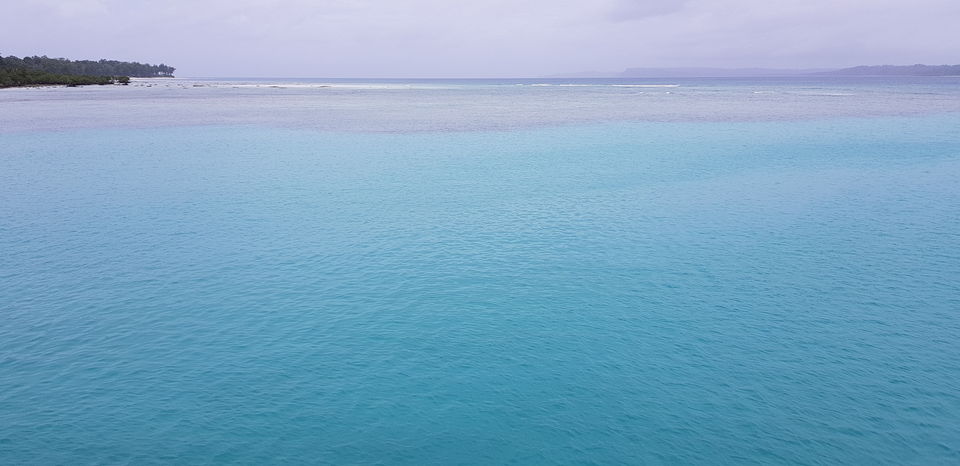 Our pre-booked cab took us to Blue Bird Resort – a home for next 2 days.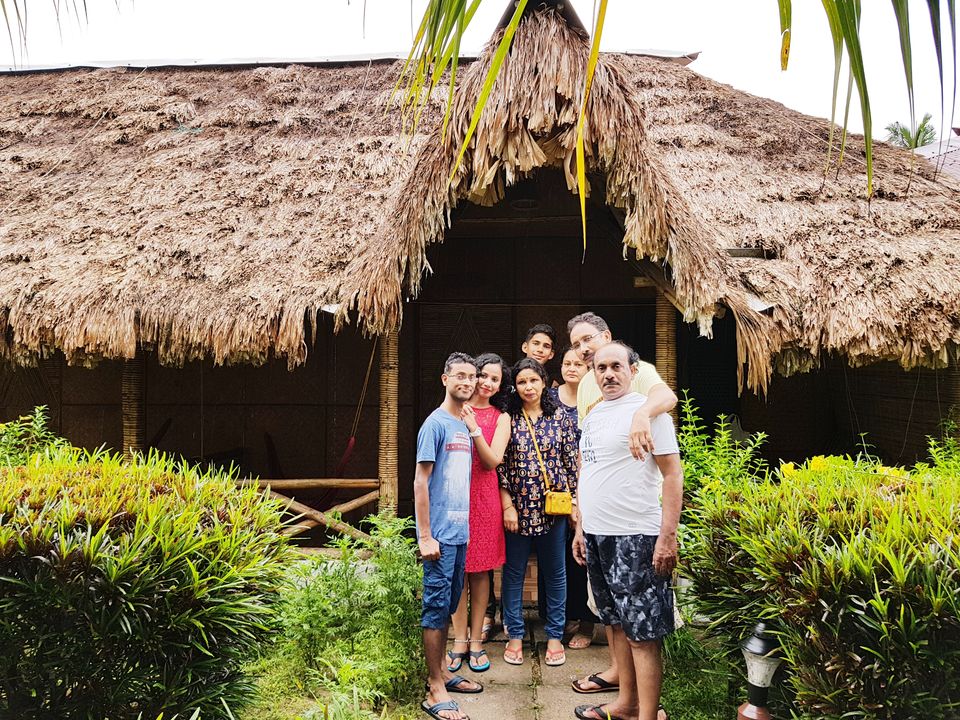 We checked into our cottages and the setup was like a dream, the quaint cottages in the rustic settings had our hearts delighted.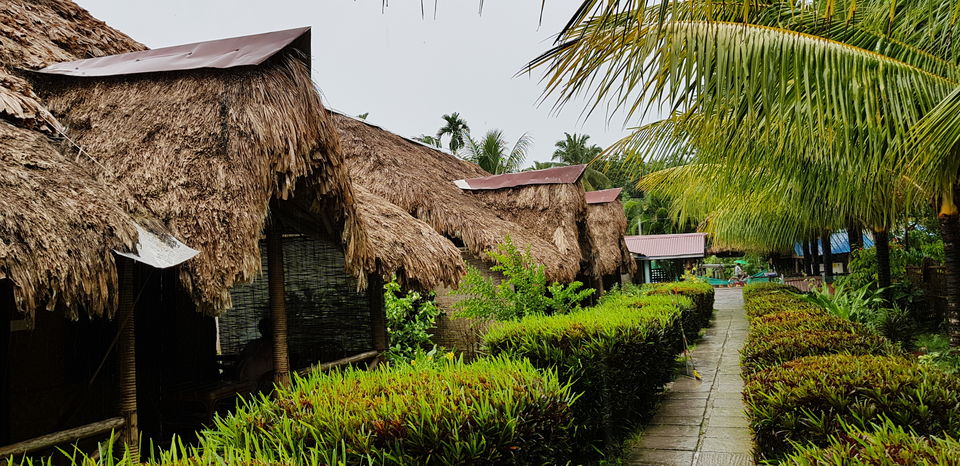 We took some snacks and were ready for our new destination – Radhanagar beach –regarded as one of the most beautiful beach of Asia.
Radhanagar beach was at a distance of 10.4 km from our resort via SH4.It was around 40 minutes of beautiful ride with lush and abundant vegetation around- to Radhanagar beach.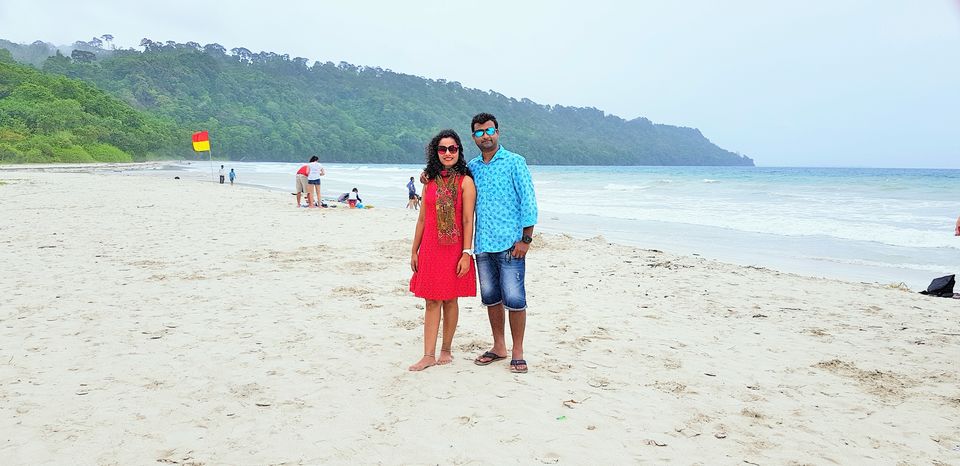 Radhanagar beach or beach No. 7 is incredibly astounding beach. An endless stretch of azure water with crystal white sand at the shores, the lush and verdant trees on the beach side and bamboo cottages and seats amidst the vegetation; the beauty of this beach situated wonderfully in the lap of nature was so surreal, that if you persuaded me hard enough to believe it was a dream, I would have agreed.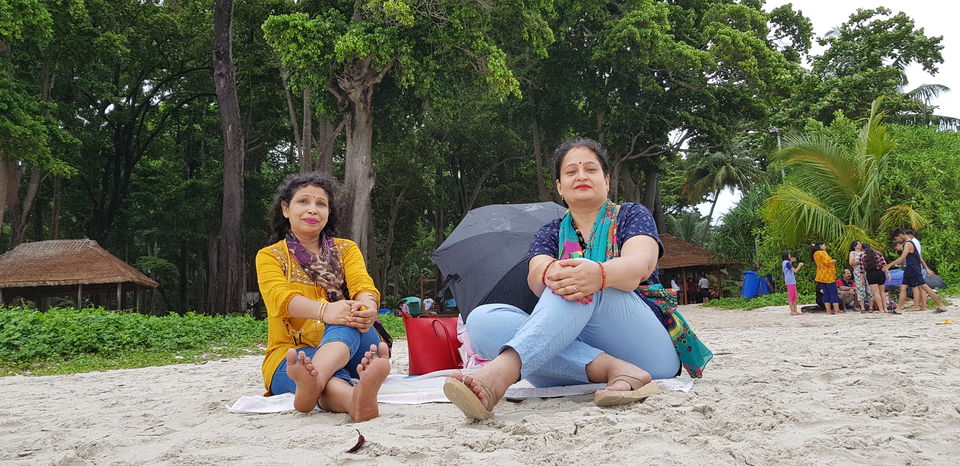 The sea was calling and we ventured onto the shore into the water to bask in the love of nature, once you get used to those waves you won't want to leave.
All 11 of us were truly delighted and were happy to experience it together.
The beautiful day has given a way to lovely evening.As the population is less, so less number of people can be spotted on streets after sunset and while on road you can hear to buzzing sounds of insects, quite huge and loud. As we reached back to resort and freshened up, it was time for seafood delicacies.We ordered local Red Snapper and white snapper fishes alongwith prawns and other delectable eatables, the meal we had was truly every foodies idea of paradise.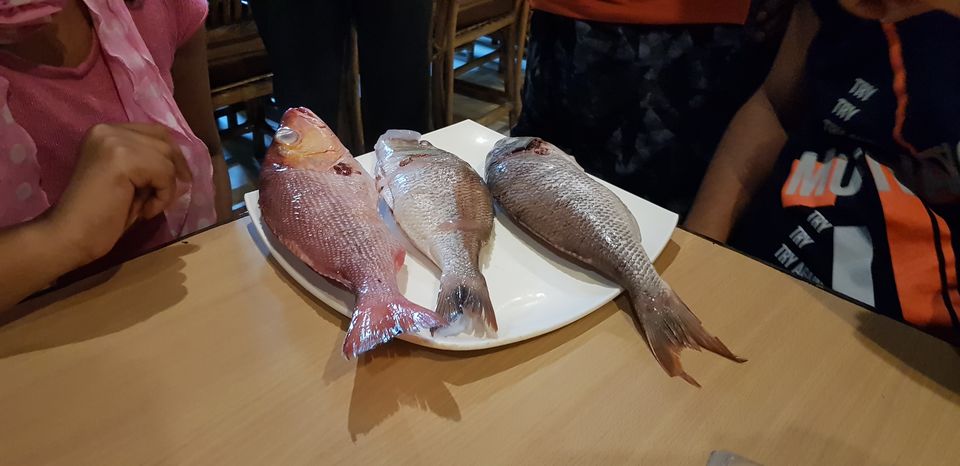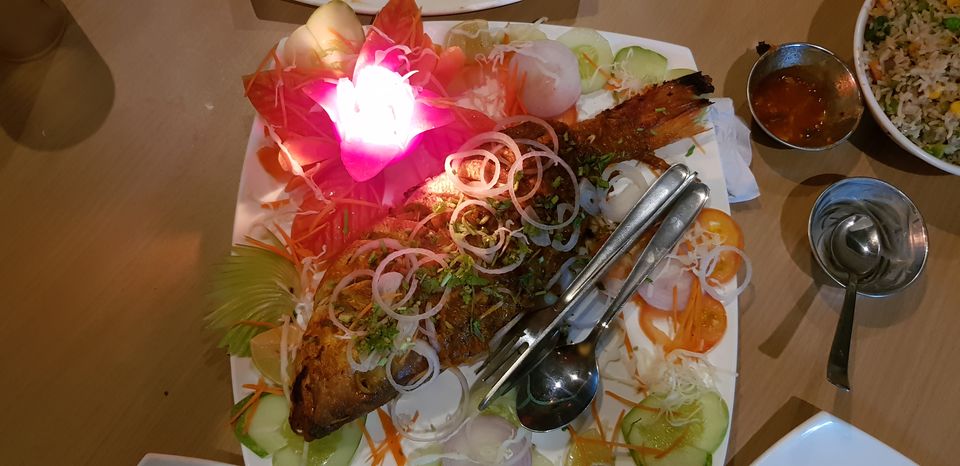 Well if you yearn for adventure Havelock is a place for you.It offers adventure sports like snorkeling Scuba diving and kayaking.
Scuba diving lets you explore underwater world and the scintillating corals and colorful vibrant variety of fishes.
My husband and I have done it in Phuket Thailand too, but for others in the group, it was for the first time. The audacity on my part was convincing and encouraging 9 people of family group; the eldest being 59 years of age , my father and youngest 13 my cousin brother; help them suppress the fear and any doubts they have and go ahead with experiencing this beautiful and safe adventure sport.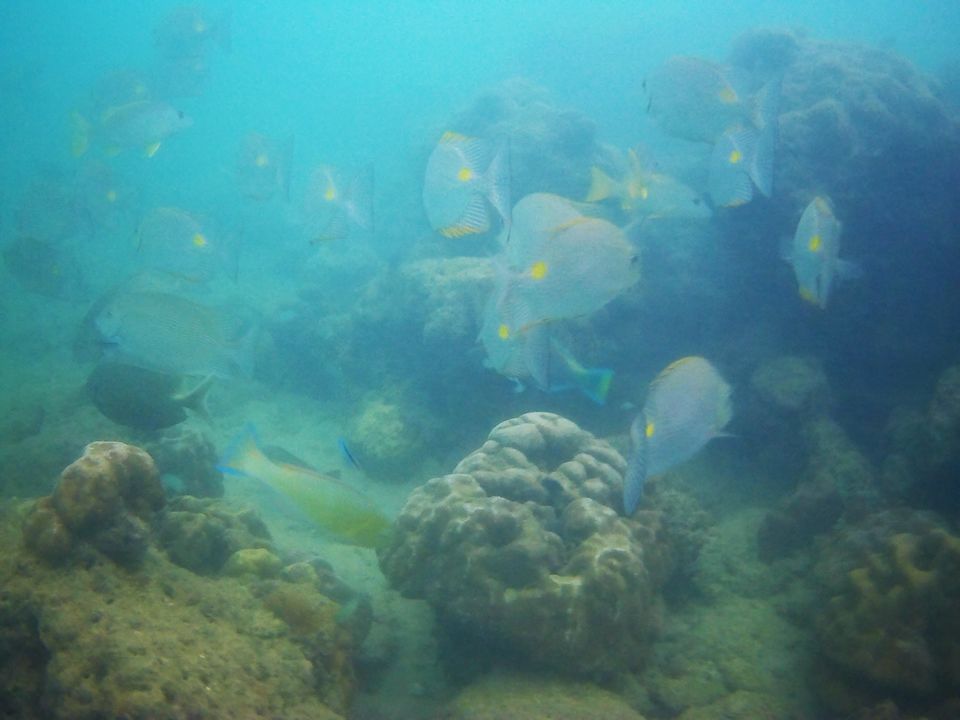 At last they all agreed , but surely it was not just my motivation but the real adventurous soul in them too that they agreed.
We booked it and next day in the morning around 7 pm we did it with gypsy divers at Beach no. 2 for Rs 3500 each with photography and videography included.
They trained us for 15 minutes and next 40 to 45 minutes we were inside.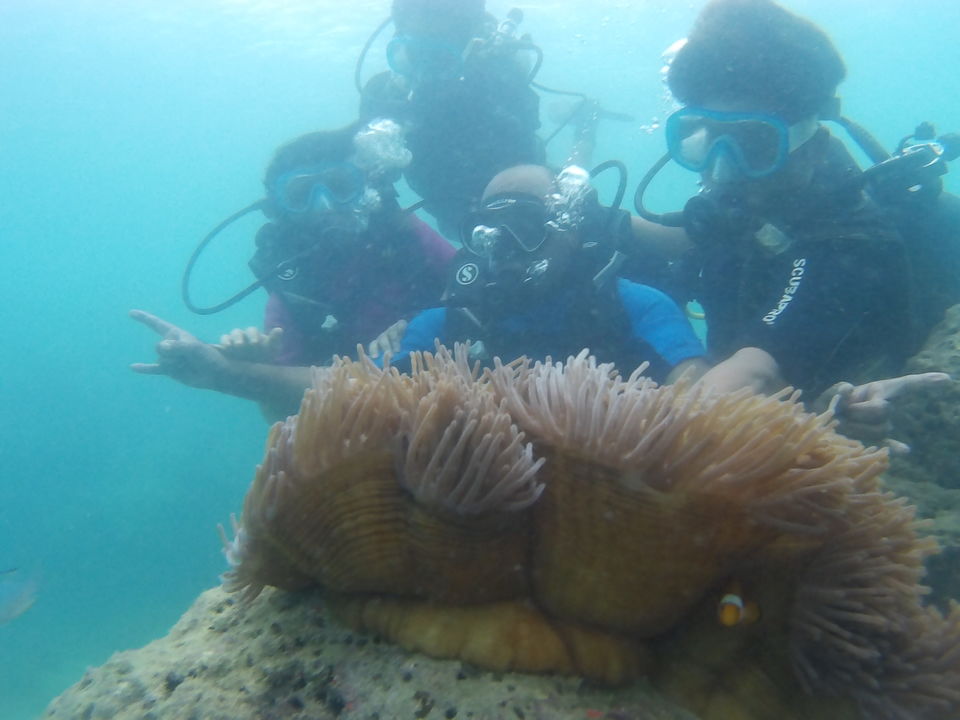 The Nemo fish playing hide and seek on swaying corals, yellow and black strip fishes the transparent light blue and white fishes, the sea weeds between rock cracks.
The journey underwater had an everlasting imprints on our soul, and yes as truly said blessed are the curious for they shall have adventures, we felt blessed.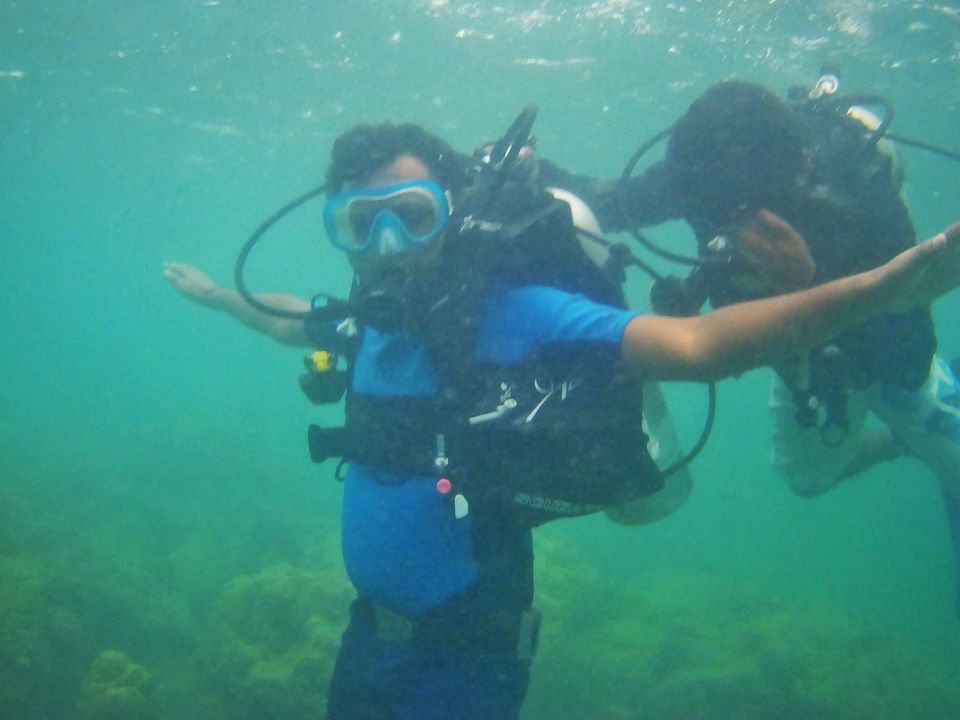 Gypsy divers is PADI authorized dive center and has given a certificate of completion once we were done.
We came back at around 11 and headed to KalaPathhar beach, beach no. 5.The bewitching sight was a treat to eyes , the ever peaceful environment with perfect sea waves sounds mixed with soothing breeze were serene.The silver white beach has plenty of relaxation to offer to all beach babies.
The corals lying on white sand, big black rocks, the tree wrecks at the shore and rich vegetation surrounding the beach would compel you to call for your love and walk hand in hand while enjoying the treasures of nature bestowed upon us, and later the entire family sat on the rocks to enjoy together.
Without our realization, the sun was ready to bid adieu for the day, the dusk was spreading its wings, we heard those magnanimous sea lying in front of us, absorbed the pristine beauty of white sand beach, set against the backdrop of azure waters and colorful cloudy sky.In a matter of minutes the weather kept changing from drizzles to clear sky and then switching to strong winds.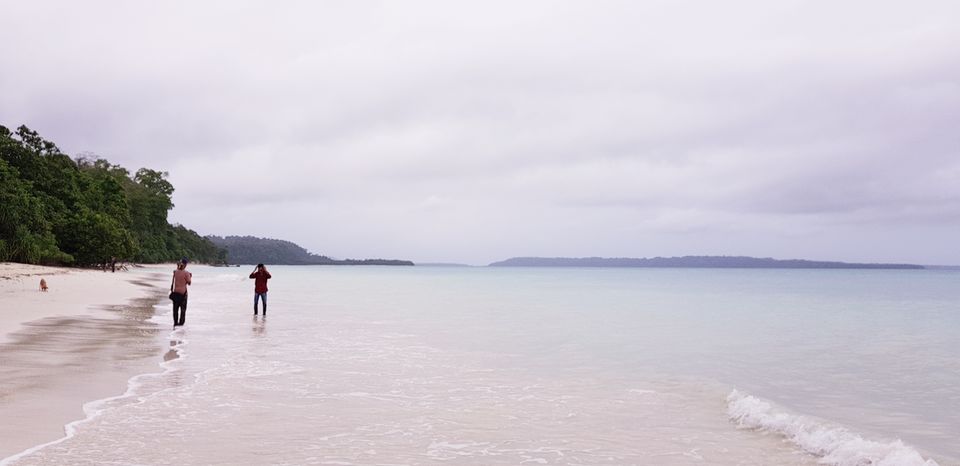 As we returned, dinner was a palatable sea food and spicy chicken for non-vegetarians and Paneer, dal makhani and more for vegetarians. We sat together, family chit chats continued alongwith packing our stuffs for our next destination Neil Island(proposed to be renamed to Shaheed Island by PM Modi), in the morning.
This is the description of first three days of our trip..we visited Neil island and explored PortBlair more, for next two days ,I will let you know about it further in the part 2 of the Andaman trip..
Happy Travelling!!
Frequent Searches Leading To This Page:-
andaman and nicobar tourist places, best tourist places in andaman and nicobar islands, andaman nicobar hotels packages, tour in andaman and nicobar island, andaman and nicobar trip, hotel holiday inn port blair, honeymoon packages andaman and nicobar islands kesari