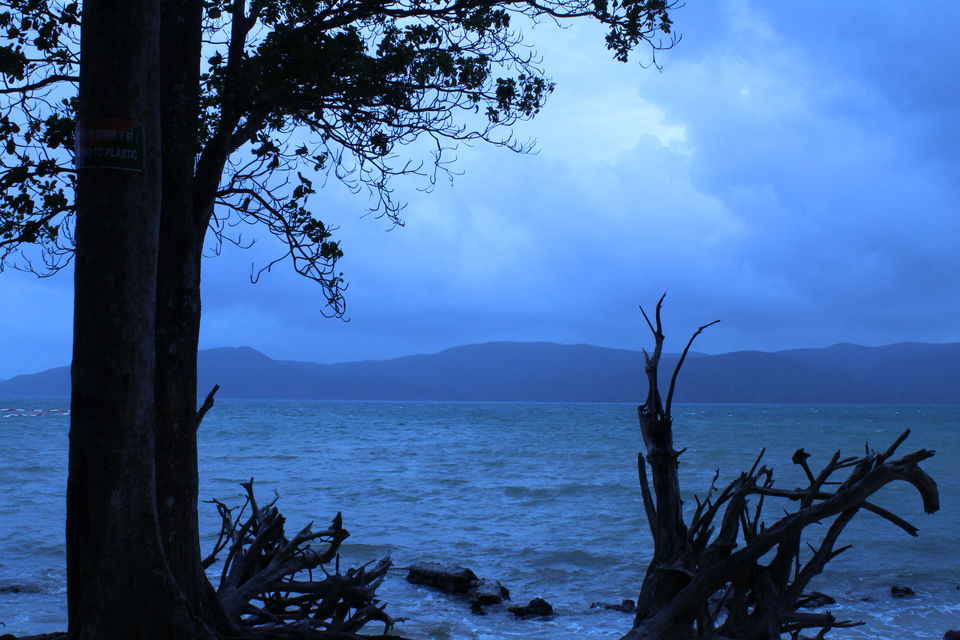 So here comes the second part of our Andaman trip, if you haven't gone through the first part here is the link:Andaman Part 1
We were overwhelmed by what Andaman was offering us , the blue sea has made us fall head over heels in love with this place.
In the morning after breakfast, from the Havelock Ferry Ghat, we boarded Makruzz for Neil island.The distance is around 24.5 km.
As we reached Neil Island, the weather was bright and sunny. We headed to Pearl Park Resort and checked into our cottage, the resort was in mid of greenery and had the beautiful beach behind the premises, it looked like a constantly changing wall painting.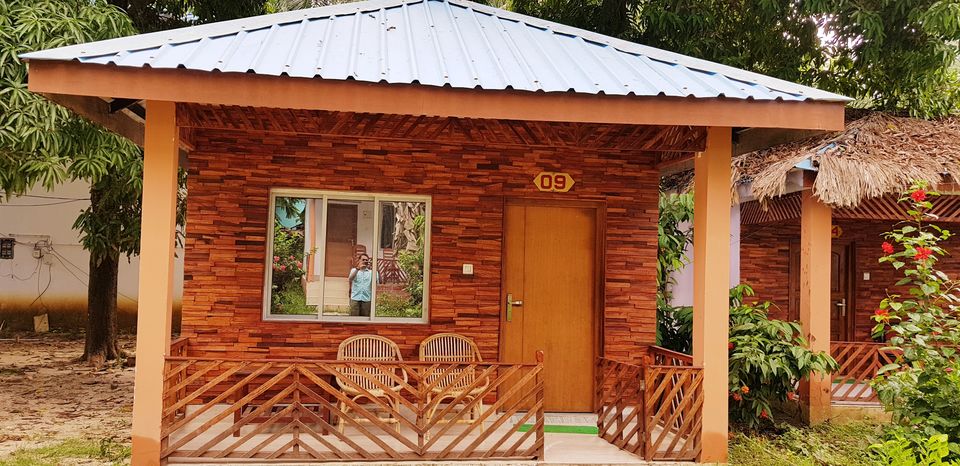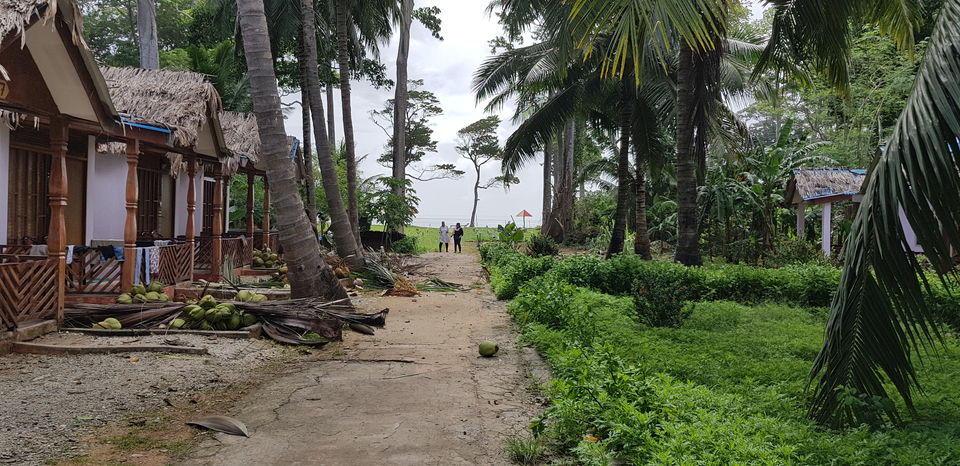 Well I must say if you are lucky to witness those blue stretch of water and white sand beaches of Andamans , trust me you are lucky enough.
We started exploring Neil island and we were so consumed by the beauty that it had us under spell.
We visited Laxmanpur beach, Sitapur Beach, Bharatpur beach.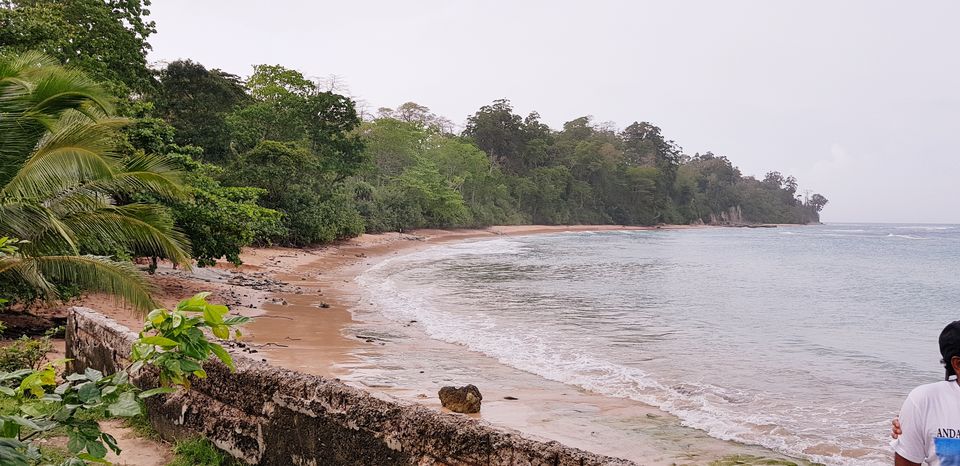 At Bharatpur beach, we indulged into a lot of shopping, of coral bracelets, stone and coral neckpieces, shankh , keyrings and other accessories from local shops. I would suggest to shop from local shops at Havelock and Neil instead of buying from shops at Port Blair , as the same stuff is unnecessarily costly.However I did not take real pearl necklaces so cannot comment on it.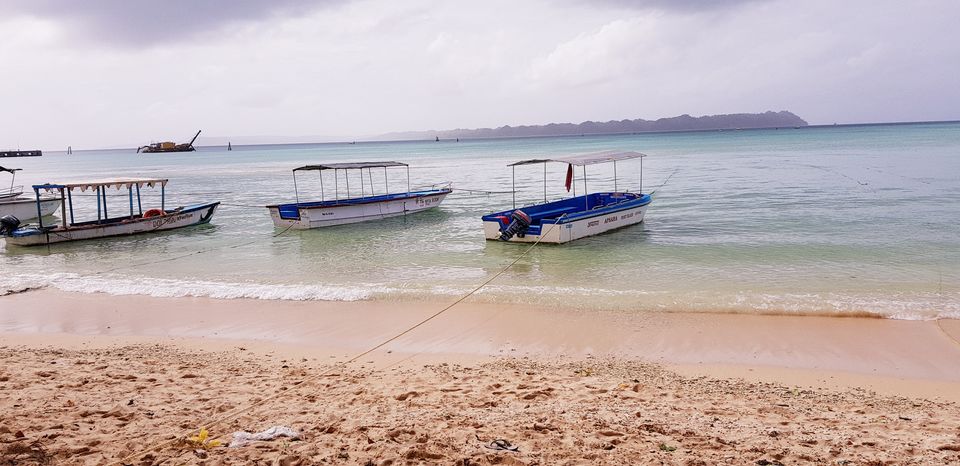 The tshirts with Andaman and neil Island captions were for rs 250 each regardless of the size, but as we were a group of 11 we got it for Rs 100 each.
We went for glassboat ride, one boat for 1 hour for all was booked for Rs 4000.
Needless to say it was a great experience, it is also a preferred option for all those who cannot do scuba diving , as through magnifying glass at the bottom of boat , you can see the calm water marine life beneath the turbulent wavy sea.
The lovely corals, the green underwater flora and vivid scene of varied colorful fishes – you will be astounded by the whole beautiful world below sea surface.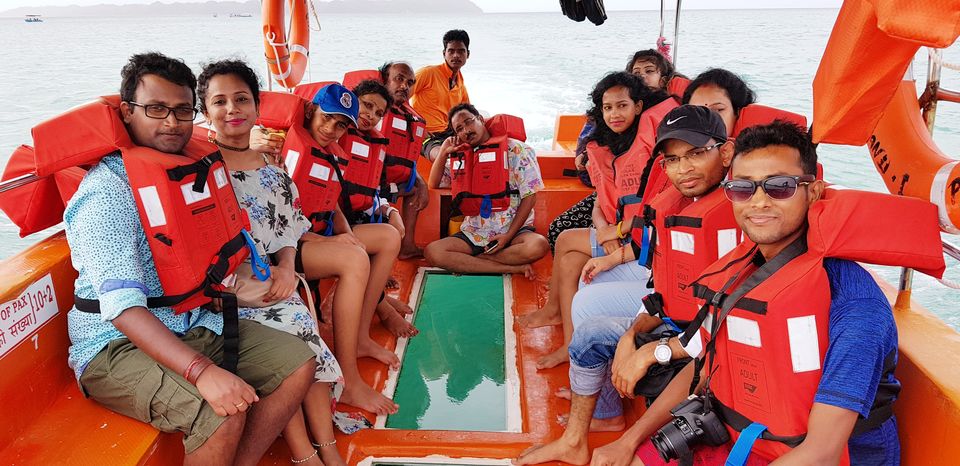 As the evening approached the Neil island we had already started back to our Pearl Park Resort, we got ready with our Andaman and Neil captioned tshirts , played music at the backside of our resort and enjoyed ourselves, swayed and grooved on the music with cool breeze and with such a mesmerizing setup.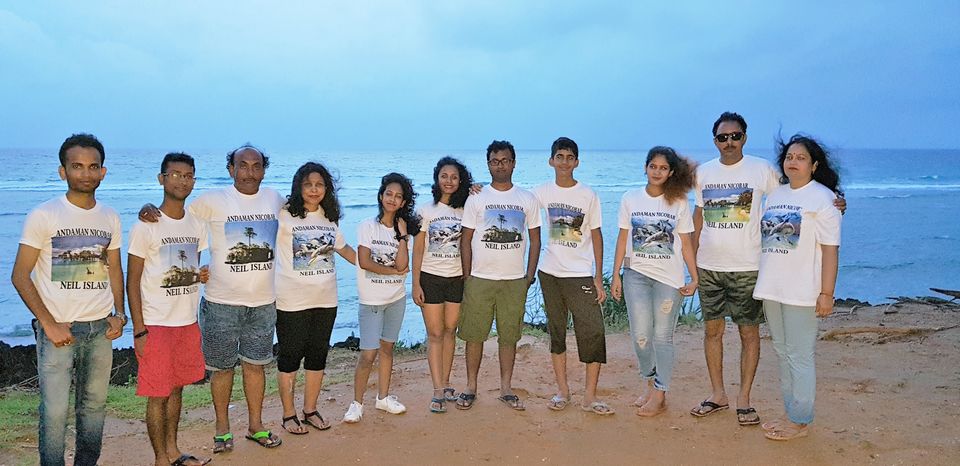 Soon it started raining and we reached back to our cottage.We had dinner and as wewere on a family trip, we had light hearted chit chats and shared the fond memories of Andamans, that we were still creating.The rain subsided and we had a walk and spotted a real big crab, the first instinct of the crab too was not attacking but getting away from us like we have for them.
We rested peacefully in our cottage and woke up early , to explore the beach behind via a different route through jungle, we have seen that on rocks there were a lot of jelly fishes that were coming with waves and then going back with the waves, some of which cant go , dies on the rocks, these are poisonous.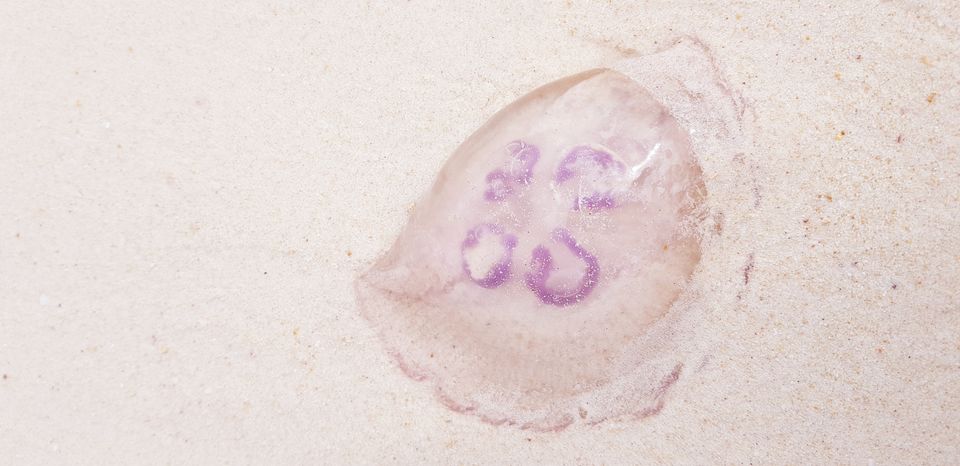 We clicked some beautiful pictures to add to our memories.The wind was rejuvenating.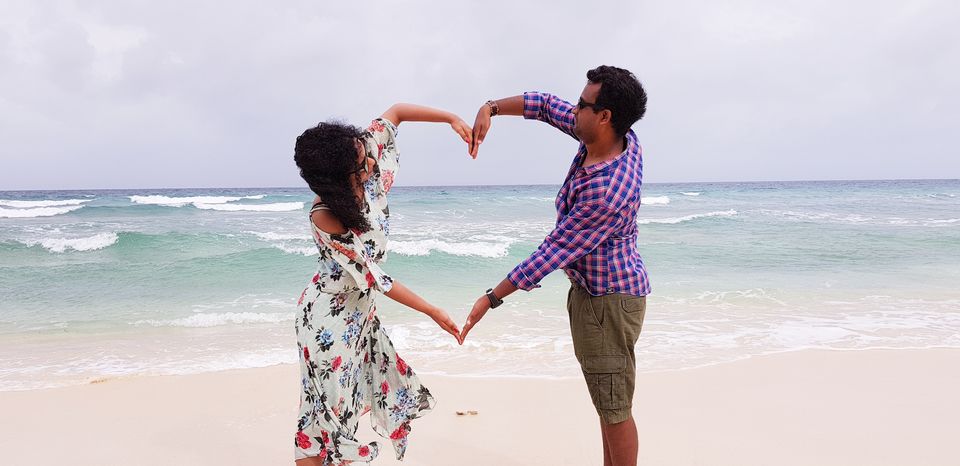 Soon after we returned and had our breakfast, we headed to last spot of Neil island.The Natural bridge, which to me is like durdle door of London.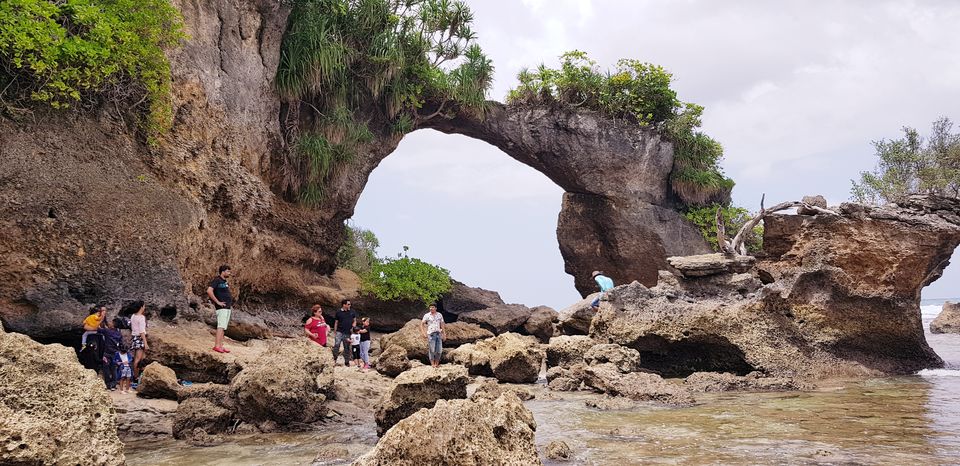 We hired a guide and they have shown us lots of star fishes, crabs at the sea shores, near the dead corals, color changing corals, neon fishes and yellow black strip fishes. All of this at the shore was like natural and accessible aquarium.Our happiness knew no bounds when these beautiful fishes swam around our legs in water, watching them in there natural habitat was delightful experience indeed.
Andaman has untouched, unspoiled and serene beaches overloaded with pure beauty, the brilliant deep blue color and different shades of water, the clean white sand beaches, one can even enjoy solitude while being close, very close to nature, the therapeutic effect it has are beyond any description.
We headed for a Makruz ride back to Port Blair, this time the sea was rough, infact real rough and entire boat crowd suffered from waves sickness and had vomit sensations.
But never mind we reached again to Airport hotel in Port Blair and after little relaxation, we decided to go to ChidiaTapu, a beautiful point indeed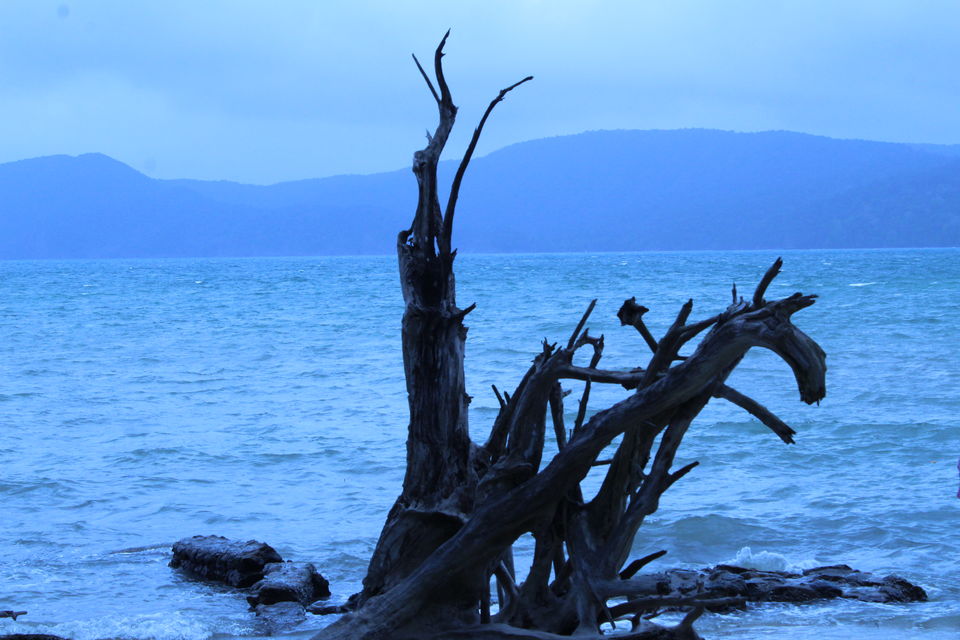 There were warning sign board specifying not to go much inside water as Sea snakes , poisonous stone fishes and other venomous creatures could come and even salties could also attack.
So, safety first and we decided not to go inside water and enjoyed quiet time with ever nice weather and mangrove trees at side of beach and small hilly textures at the beach side, which served as a jaw dropping unusual backdrop for our pics.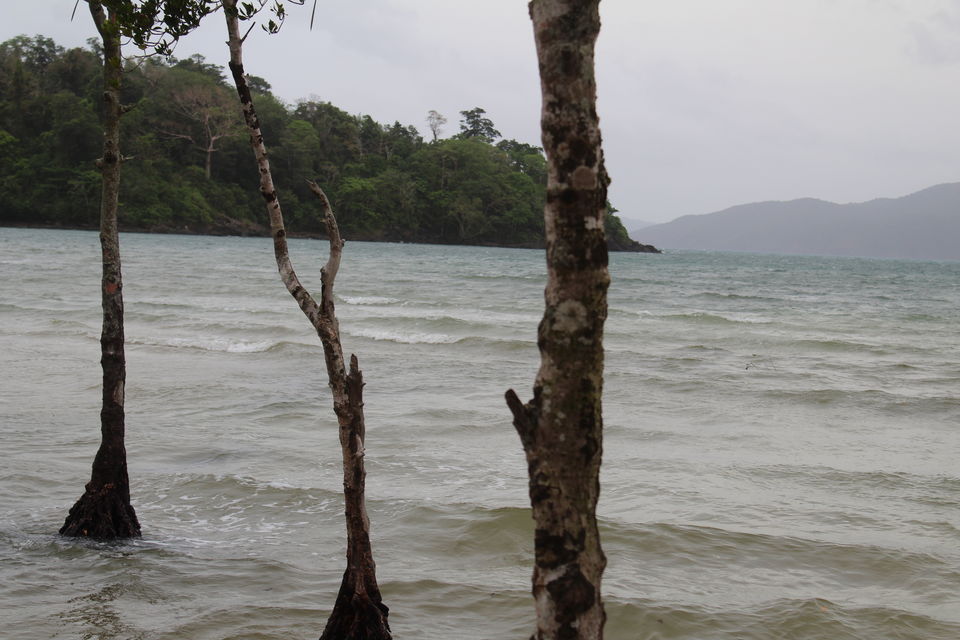 And this was the last destination we visited in Andaman.
There were few things we could not do, like going for night kayaking in sea and watch Bio-luminescence at Havelock, this process occurs if we have clear bright sunny day, due to presence of phytoplanktons in the sea water.As the weather was cloudy during our visit this activity was cancelled. You can try morning kayaking to visit mangroves and limestone rocks. Apart from Kayaking you can plan for seaplane ride from Port Blair to Havelock, this is kept for our next visit.
Andaman you beauty am really awestruck and mesmerized, if life goes well we would surely catch up again.
We headed back to our homes with everlasting beautiful memories of this place jam packed with nature's beauty, the salty water, the clean sand the whole of Andaman is most replenishing. If you can derive joy in nature's beauty, life goes on well. For Andaman with love –
"Swirling and crashing waves at the ocean calms down the frayed nerves,
Solace, peace and happiness – the tonics for human's soul, it serves."
Plan for visiting Andaman, am sure you would love it.
Happy travelling!!
Frequent Searches Leading To This Page:-
andaman nicobar tourist spots, top hotels in port andaman, andaman and nicobar islands trip, andaman tour packages, places to visit in andaman, andaman and nicobar honeymoon packages from bangalore