"For whatever we lose (like a you or a me),
It's always our self we find in the sea."
Welcome to India's own foreign land. Welcome to Andaman!
Once you peep out of your plane's window you realise how far you have travelled from the mainland. And then if you glance at India's map, you realise its closer to some South-east Asian countries than India and you grin from ear to ear thinking you are indeed visiting a phoren land!!
The water here is so crystal clear so blue, that it would surely make you feel that you have landed in another country, and why not? After all the Radhanagar beach here has been judged as one of the best beaches of the world!
Barring the distance everything else is so desi at heart that you think you are in one of the places at the mainland-the people, the language,the food, not to forget the warmth exuberated by the locals comprising mostly of Bengali speaking population.
Touching down at the Port Blair airport and driving through the streets you will fall in love with the spic and span streets.
Corbyn's cove beach was our first tryst with Andaman's sea. Its a large beach lined with coconut trees in the surrounding and offers some interesting water sports for the adventure seekers.
A ride on the water scooter should be definitely on your list as it will be surely a thrilling and fun experience.
Our next stop was the Cellular jail which has a painful history very aptly depicted through the light and sound show. A walk around the jail and thinking of all the sacrifices made by our freedom fighters is definitely going to give you goose bumps.
The next day we were supposed to travel to one of the most happening places of the Andaman - the Havelock island, that was a good two hours from Port Blair by ship.
Not paying heed to my friend's advice to take anti vomiting pill I soon realised my folly when 30 mins into the journey I rushed for a sea sickness bag and threw up! My co-passengers who had twisted their faces in disgust were quick to follow! I stared in disbelief at a bunch of people who danced away to glory on the ship's deck when most of us could barely manage to stand due to severe motion sickness.
My sincere advice to all the travellers : take anti vomiting pill if prone to motion sickness, for the ship will sway left right and centre enough to cause stomach churning and throw up.
The beauty of the sea at Havelock is several notches above any beach you will find in India. The crystal clear blue water, the fine white sand the vast expanse of heavenly blue sea with the white sand almost clayey in its texture will leave you asking for more. So what if I haven't visited 'famous beach destinations of the world. By the looks of it I knew - it was the closest I would ever experience of being there.

Havelock is home to many smaller beaches scattered all over the island. Some of the beaches you can visit are:
Radhanagar beach - a very popular beach with the tourists and rated as one of the best beaches of Asia and Elephanta beach with its black coloured rocks spread all over.
I have always been fascinated with the idea of marine life undersea
While my initial plan was to just test my guts and try out snorkelling, but the sea goddess of Havelock tempted me to try scuba diving as well. The blue waters were too tempting to refuse the adventurous experience. Though sceptical at first, the moment I underwent undersea the nervousness gave way to excitement seeing beautiful shoals of fish and corals underwater.
We were under the sea for approx. 30 mins and that was definitely an experience of a lifetime. I promised myself to explore it further someday.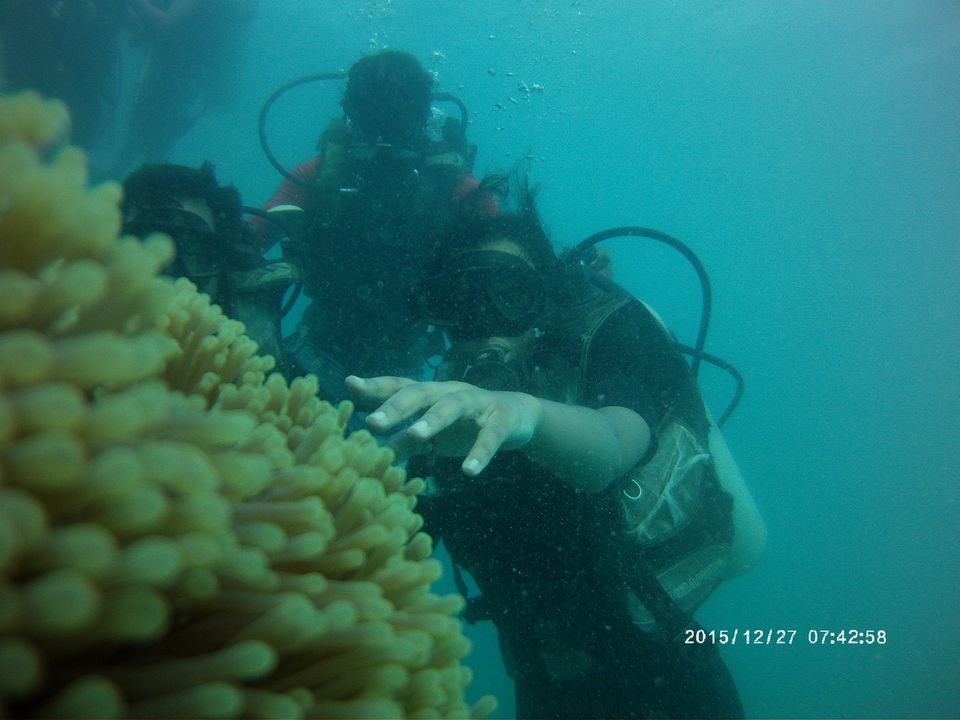 Our next stop was a speed boat ride to elephant island where I tried out snorkelling. The clear blue water was all the more visible as the sun light trickled through the clear water and made for an amazing experience.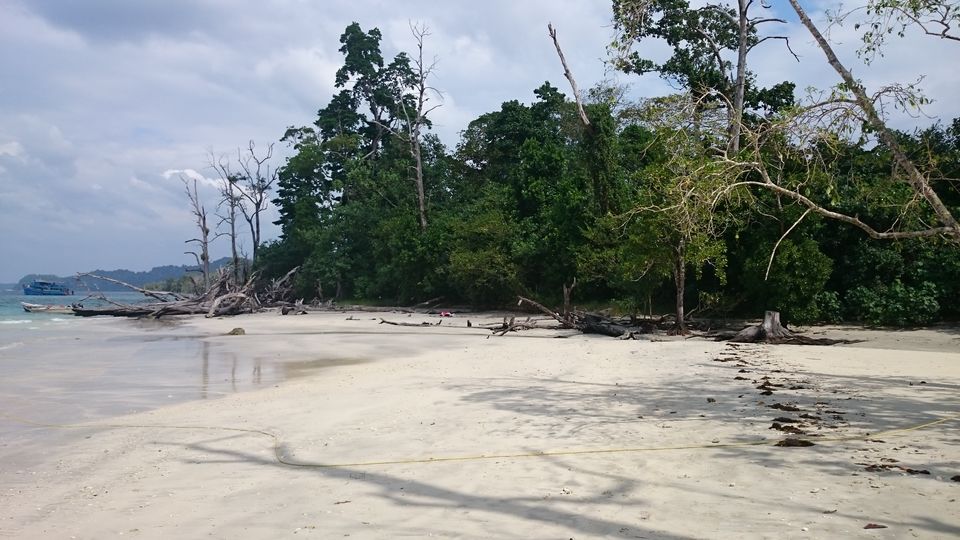 After an adventure packed day, we returned to Port Blair in the evening and buried into the comfort of our bed.
The next day we made a short trip to Chatham saw mill.
Chatham is a small island connected to Port Blair by a bridge.The wonderfully crafted wooden showpieces at the museum was a beautiful sight to behold.
Besides,there was also a small kiosk that sold some amazing wood products made out of state tree of Andaman- Andaman Padauk.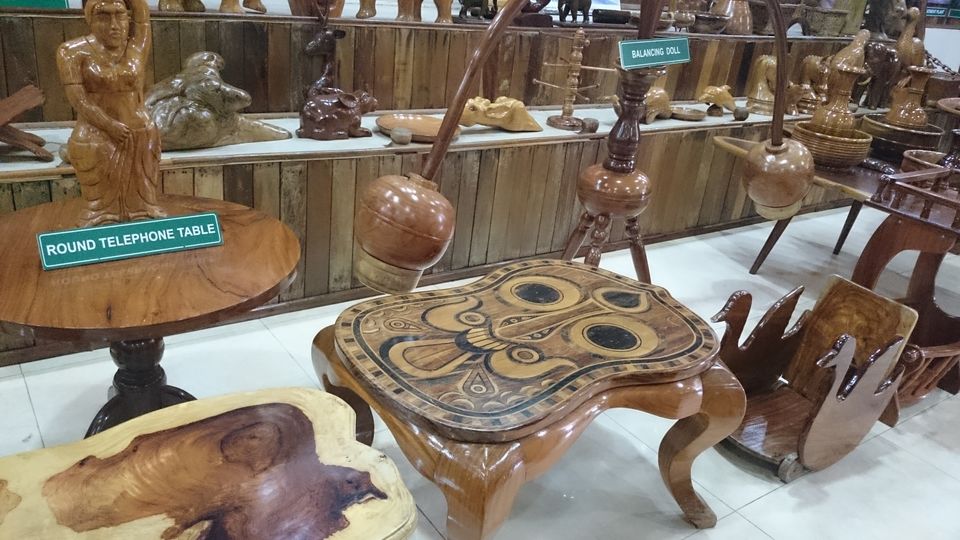 In the evening we travelled to Ross Island by a ferry ship. Thats where I witnessed the best ever light and sound show, which was based on the island's history.
It involved such an amazing creativity. Kudos to the team behind this show. A spectacular show not to be missed at any cost.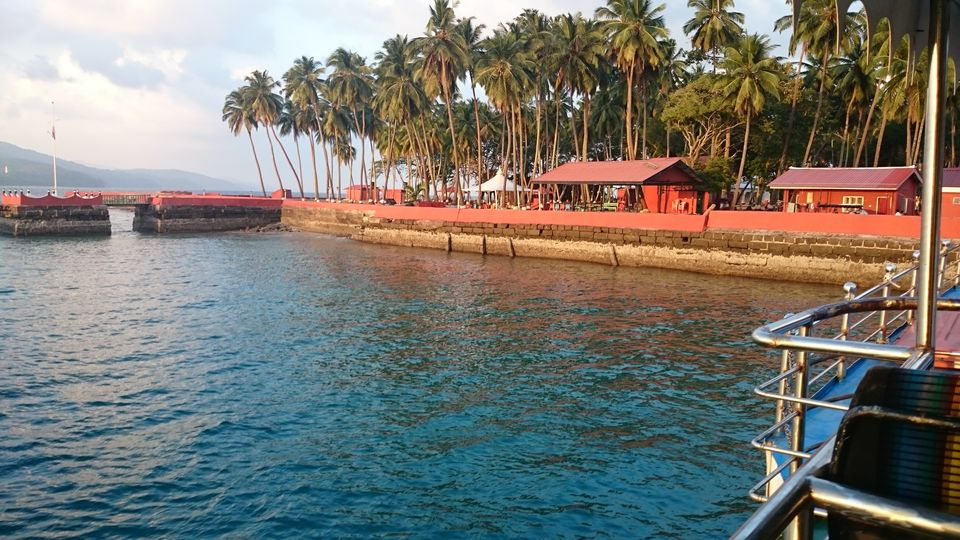 We came back to Port Blair and made our way to Wandoor which was our stop to catch a boat to Jolly buoy island.
Jolly Buoy is another beautiful island surrounded by mesmerising green-blue water. You can try snorkelling or take a trip by a glass boat and peep through it to see underwater world.
The next morning we headed to Chidiya Tapu which is popular for its amazing view of the sunset. The botanical garden nearby is another attraction which you may visit if time permits.There, I saw one of the largest trees ever -The Thitpock tree that needed a panoramic view to capture its magnificence on camera.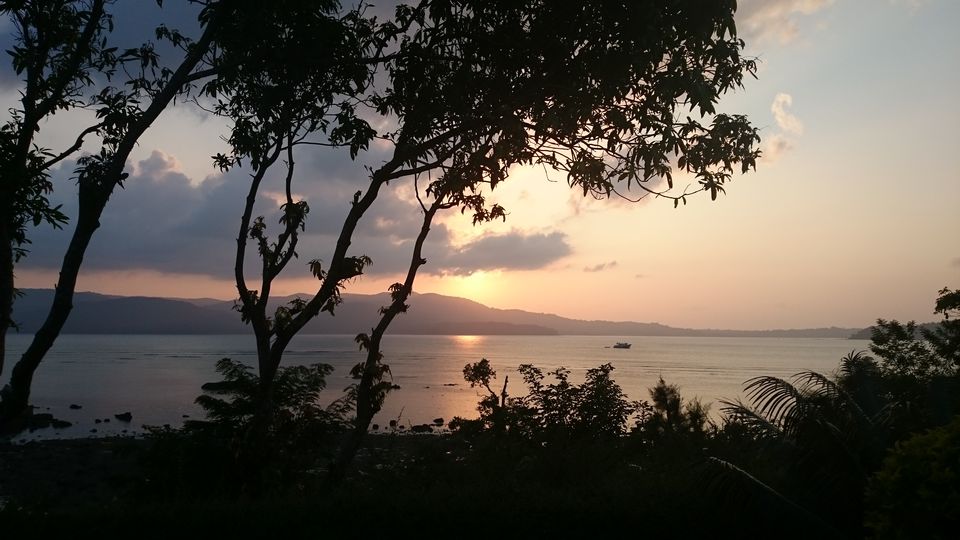 Next morning we drove to Mount Harriet situated on a hill top amidst lush green surroundings located at a short distance from Port Blair. On the way we caught a glimpse of the light house that has made its way on the Rs 20 note.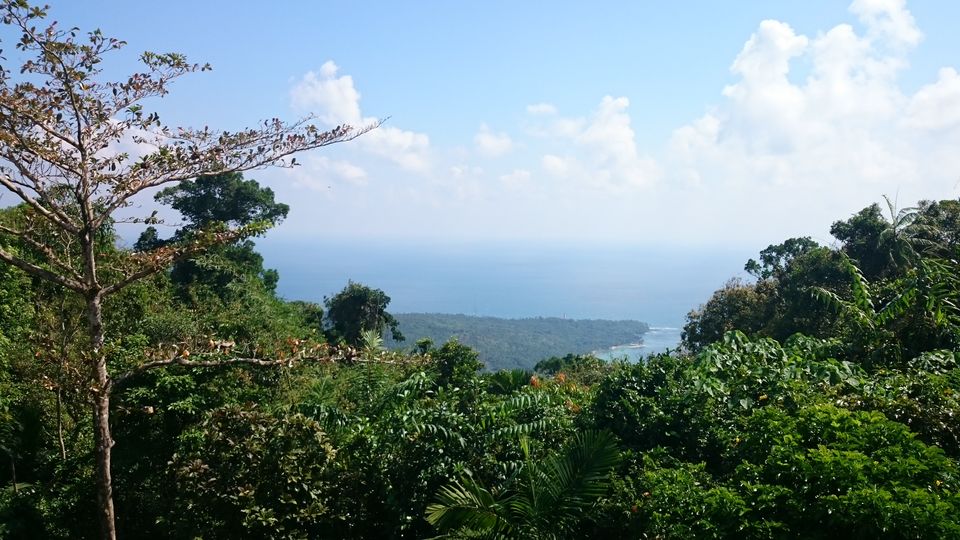 At Port Blair, we also visited the anthropological museum that gave a glimpse into the lives of the tribals living at Andaman and Nicobar islands and Fisheries museum that gives you a glimpse of marine life under sea.
The trip was nothing short of spectacular. The beauty of Andaman is truly a sight to behold.
To sum up in a few words - Ye nahi dekha toh kya dekha!
Its a must visit place for every Indian to marvel at the beauty the place has to offer and feel a sense of pride that our country has such a place to boast off.
Frequent Searches Leading To This Page:-
andaman and nicobar islands tourism, tourist places in andaman nicobar island, andaman hotels near beach, andaman nicobar tour package, andaman and nicobar tour packages, andaman and nicobar honeymoon package, andaman tour package for couple