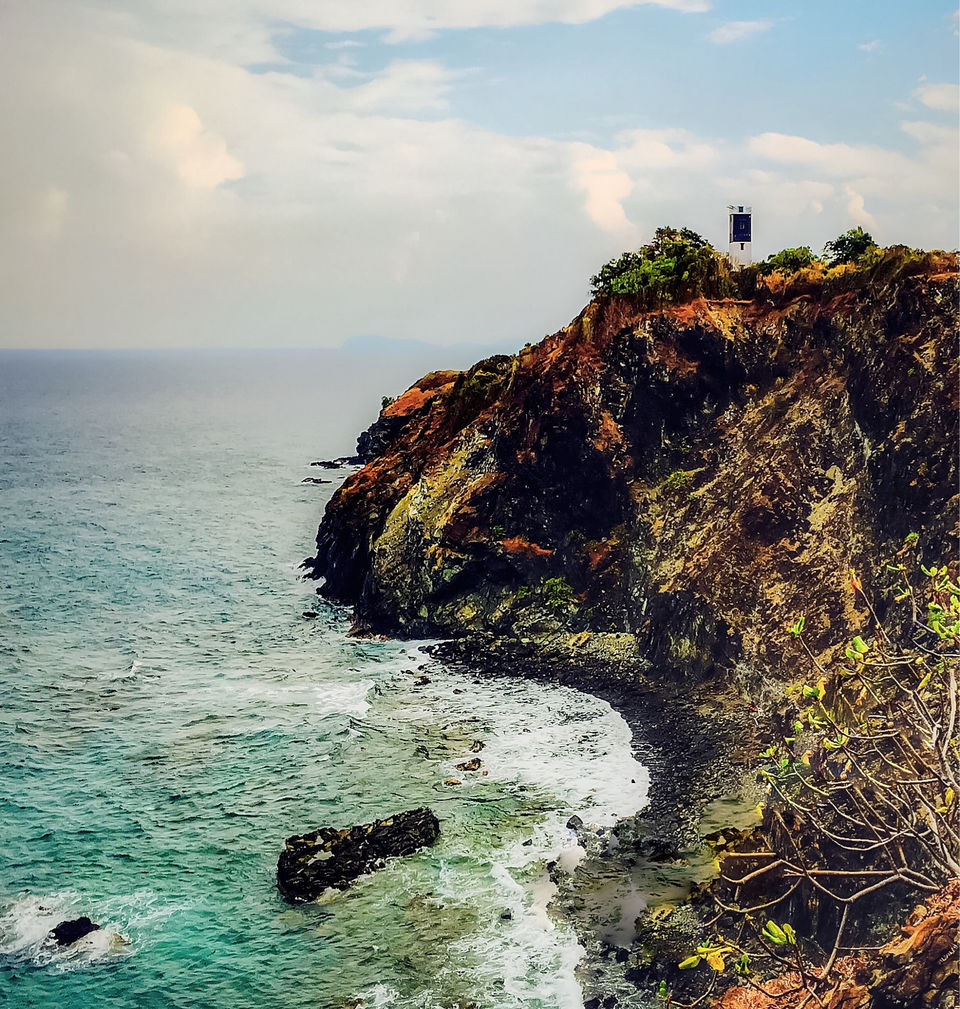 Disclaimer: Writing this was a instantaneous thing, there will be a lot of grammatical errors, nevertheless do give it a read, after all it's the memories that matter!
1:
The flight was about to land, I pulled the window shades up to a view of green islands on BLUE waters. Took a cab to the harbour, got onto a ferry going to havelock island, my destination for my main motive, Scuba Diving!
The best part about travelling by a ferry was I could sit there for the whole time and how I was surrounded by just blue water, no land!
-- Company's okay, solitude is bliss --
2:
Reached the resort (barefoot, Havelock) I was staying at, met the people who were gonna instruct me and accompany me on the dive.
One of their staff members took me to my hut, a preference of stay for people who prefer economical travels more than luxury. It was a simple hut, a mattress on the floor, a tungsten bulb and a wall fan.
Oh and also the beach is just 15 steps away!
-- People are very friendly here, helping with a smile, makes everyone's day --
3:
My first dive, we learn the basics, at a dive site called nemos reef, yes you get to see clown fishes, just like in the movie nemo.
The initial dives went great, we returned to the resort and took the rest of the day off, it was tiring!
Had dinner with people I'd just met in the morning, well it might not sound great or anything, but till this point I was a very shy and introverted person.
-- Meeting new people from different places and backgrounds is fun, also now I am an outgoing introvert --
4:
Woke up a lil late, the rest were all up getting their gear ready, I rush to do it on time, excited for the dive because this time we were gonna go into deeper waters, deeper into a different world.
We're on the boat, to the beautiful dive site, south button (look in the photos).
So the course I'd taken would give me a licence to dive upto 18m and to get it I had to complete the course. A lot of people don't know that diving isn't very easy, theres pain from sinus and other issues too, but the experience is worth it. I experienced the sinus pain to a point I had to resurface and take a decision to go back in or not !
Got to see a 80cm long, huge fish, many parrot fishes oh and an eel, the pain was totally worth it, it had subsided after I went down anyways !
-- To achieve beautiful outputs, we've got to go through some pain and compromises--
5:
The second dive site for the day, The wall, a very interesting one! so it was basically like a cliff under water! Here we got to see a lion fish, it's a very attractive rock like looking fishes with spikes poping out of its body, its poison, poisonous enough to kill if unattended till 2 hours, atleast that's what I remember from what we discussed before the dive. When the dive was completed, we started heading back on the boat, got to see dolphins jumping in and out of the water !
-- A certified diver now, the pain was worth it --
6:
Did not want to waste the last day on havelock islands sleeping, so I started walking around, decided to rent a bicycle. Unfortunately the only one they had was a small one, fortunately they had one !
With my camera and tripod on the back, no torch, no power bank I left.
A straight small road, with no sign of people except for when I crossed a village or two with 3-4 houses each I headed to kala pathar beach. Just like any other beach with tourists from different places the beach was not very different. I cycled further down to the. I'll ace, sat there on the side of the road with a farm in front of me and a forest with huge trees behind it, a cow grazing in the field, I don't take the camera out, just captured it in my mind, I still remember it!
Headed back in an hour, cause there was no source of light on the way back, cycled as fast as I could non stop, just to reach in time!
The journey was very picturesque though! ( check the photos !)
-- sometimes, many a times the journey is more beautiful than the destination --
7:
Am back in Portblair, searched for a budget hotel, dropped my luggage, left for chidya tapu.
Chidya tapu to a general tourist is just another beach, but I'd seen a few photos in google, of a cliff.
So I started climbing, yet again without a torch cause I was out of batteries. Almost on top and disappointed that I did not get to see anything, I thought to myself if I've claimed and come this far, why not go further ( trust me it actually happened ).
I'm happy I went further, down the path came 2 ways one was trodden on more than the other I took the one less trodden on, and hence got an amazing photo ( atleast what I think, check in the photos )
Happy and content I literally ran down to make it before dark !
-- don't give up if you've worked a lot for it, you never know you're almost there --
8:
The next days sun rose and I was up before it, ready to go to Baratang Limestone caves. So while going from Portblair to baratang we cross an area where there are tribes, most of them who haven't even seen humans, yess I got to see one of them !
Also during the journey, the driver and I were having a conversation and the driver said, "you're 17 and have come from chennai alone to travel, when I was you're age I did not even think of going from port Blair to baratang even though being a resident."
Yes I feel really proud of myself and I thank my family for letting me travel!
Bartang was more of a buzzkill as only a part of the caves were allowed to be visited, also there was a time limit for us to stay there!
-- be happy with what you have and always strive for more, but value what you have cause someone else did not get it. --
I have a YouTube channel with travel videos up, do check it out !
https://youtu.be/Ja8h9iNx1pw
I headed back home and did go for another trip, I'll write about it too. Also there was this one trip that made me realise yes travelling is something I'd do anything for, gonna write about that too !
Frequent Searches Leading To This Page:-
andaman solo trip cost, andaman nicobar trip cost for couple, places to visit in andaman for solo trip cost, solo trip story, solo road trip stories, solo trip hotels in andaman, solo trip hotels in andaman and nicobar islands, solo trip tourism in andaman