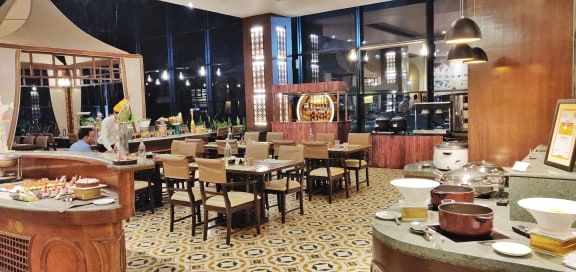 We're strict believers of seeking a shade for your soul, and on some days, that shade isn't found on the harsh side of travel, it is best discovered in the comfort of hotel slippers, while soaking some sun by the pool, and treating your taste buds with a scrumptious spread.
We found a happy getaway at Orchid Pune, a 5-star ecotel that is home to enormous lawns, and a consciously created sustainable environment; high ceiling windows allowing natural lighting, use of vegan-free products in rooms, and use of eco-friendly flowers are some of the many details you're likely to spot.
As it goes without saying, food and travel go hand-in-hand, Orchid Hotel has got you covered for all moods, and times of the day. Apart from breakfast-to-dinner buffet meals, they offer a midnight buffet from 12 am-2.30 am at Rs.500 + Taxes which is a boon for all party hoppers, as well as corporates who've been burning the midnight lamp at work!
Located right by the highway, the hotel is extremely convenient when driving from Mumbai. We're going to pause here, and let the pictures do the talking!