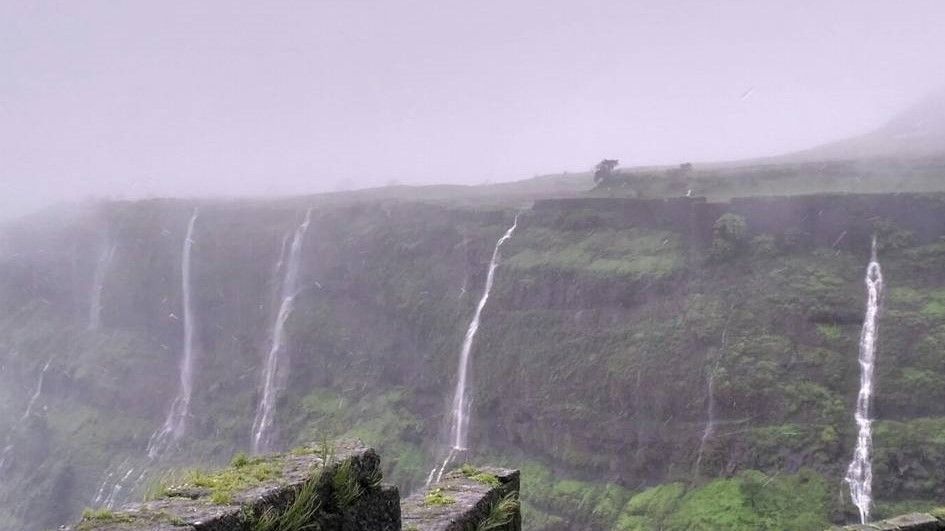 It was monsoon. It was raining continuously for 3-4 days. In that weather when normal people prefers to stay indoors and sleep in weekend, we decided to go for a trek. After some research we finalized our destination- Visapur Fort.
On a rainy Saturday morning we left Pune by cab. Visapur Fort is situated at the opposite side of Lohagad Fort but is not as famous as its twin. We reached the base village(MALVALI) at around 9:30 and our driver pointed out a small allay in the left. It took us 2 minutes to register we actually had to go through there as it was surrounded by fog and almost invisible.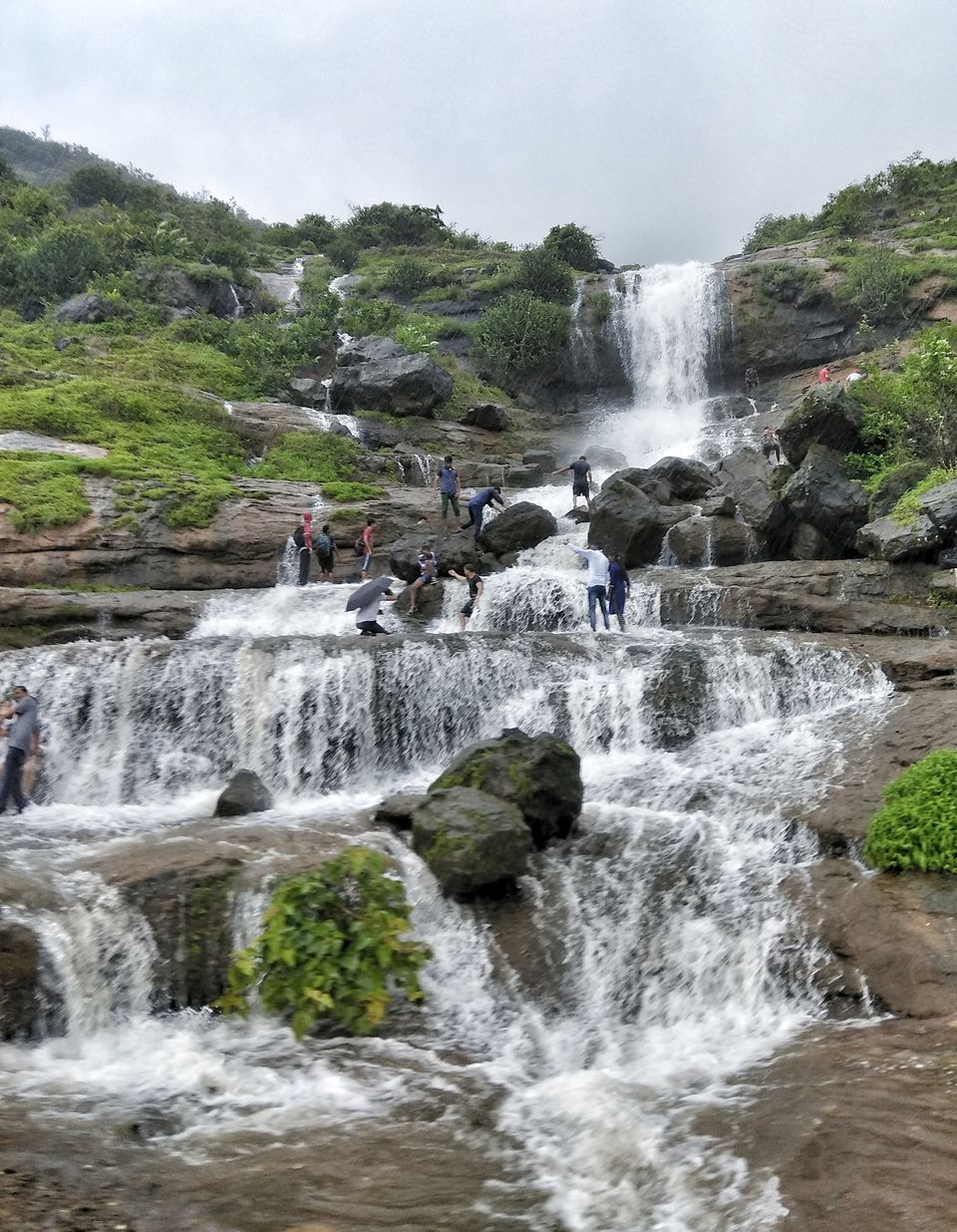 Here I should tell one thing, we were all novice, we all had minimal trekking experience and absolutely zero knowledge of the place (we didn't know that then as we did some research but soon understood that). However we started our trek. It was raining( actually it we was always raining from the time we left Pune). After just two steps we found one small hut and was asked to show our ID proofs and write down our details in one place(It was probably in case we don't return I assumed). During our research in one blog we read that it is wiser to take a guide from the base village but reaching there we all decided we can go alone, we thought we will surely meet some fellow trekkers in the road. We indeed found one group and decided to take their trail.
The first 15 minutes was a walk through a muddy road. To the left there was a high mountain range but it was completely surrounded by cloud most of the time. Whenever the cloud was lifted a waterfall was coming into the view. We were trying to take some photos of that waterfall when suddenly I saw a mountain pick in front of me, and there was our Visapur Fort. I could see the fort wall in the top and there was one waterfall coming down from the wall. The first thing that crossed my mind was- How in the name of God were we going to reach there!!
Amidst all these we lost the group we were following and there was no one nearby but we kept on walking. After taking two left we started climbing the mountain through a forest path. There was signs for the fort and one just have to follow it, and it was an easy trek. After about 10 minutes climbing we came into an opening. A small cave in the left and that's it. It was THE END OF THE ROAD.
We, 6 friends, stood there like fools. A big waterfall in front of us and the fort wall above us which seemed to touch the sky. 5, 6 more small waterfalls coming down and one of them was a reverse waterfall( If you have never seen any reverse waterfall, you will never understand what it is). The sight was breathtaking and fearful as well. We had no clue how to reach the fort. We were almost sure we had lost track. The only way to reach the fort seemed to climb that waterfall, which no one in their right mind would consider. There was no one. No one in front us or behind us. We were thinking of coming down when one man emerged (someone told he could be a ghost, but he was our last hope). We asked him the way and he simply told us that we had to climb that waterfall and stared climbing. He indeed climbed simply, as if he was out for a morning walk. He inspired us and we decided to give it a try.
We all have one friend in our group who is somewhat more mature than the others. We had just started climbing when the miss mature told us from the back that she is not getting good grip in her shoe(which was a complete lie by the way). Now in trekking you can't go on if you are not confident with your shoe, so we all came down. We stood in the opening and each one in turn started asking that friend if she was absolutely sure that her shoe was not having good grip and giving expert opinion about shoes as if we were making shoes from birth. After hearing all these nonsense for some time my friend lost it. She tried to knock some sense into us, she reminded us that we knew nothing about trekking and the man before us looked like an expert trekker. And even if we could climb that damn waterfall how would we get down! Now, her every word was true and it crossed all our mind too (We never told her that though) but we were not ready to come down like losers. After arguing some time, she gave up and agreed to climb too.
Now the climb began. We all were thinking ourselves Bahubali (Although the waterfall was nowhere near the size of the 'Jal Parvat'). It was not as frightening as it was looking like, but one has to be very careful because if you slip, you won't die but there might me heavy injury. Here one tip, go through the water, the sides are more slippery. After the initial fear was gone, the climb was quite enjoyable. We started finding some fellow trekkers too. Surprisingly we found some kids too.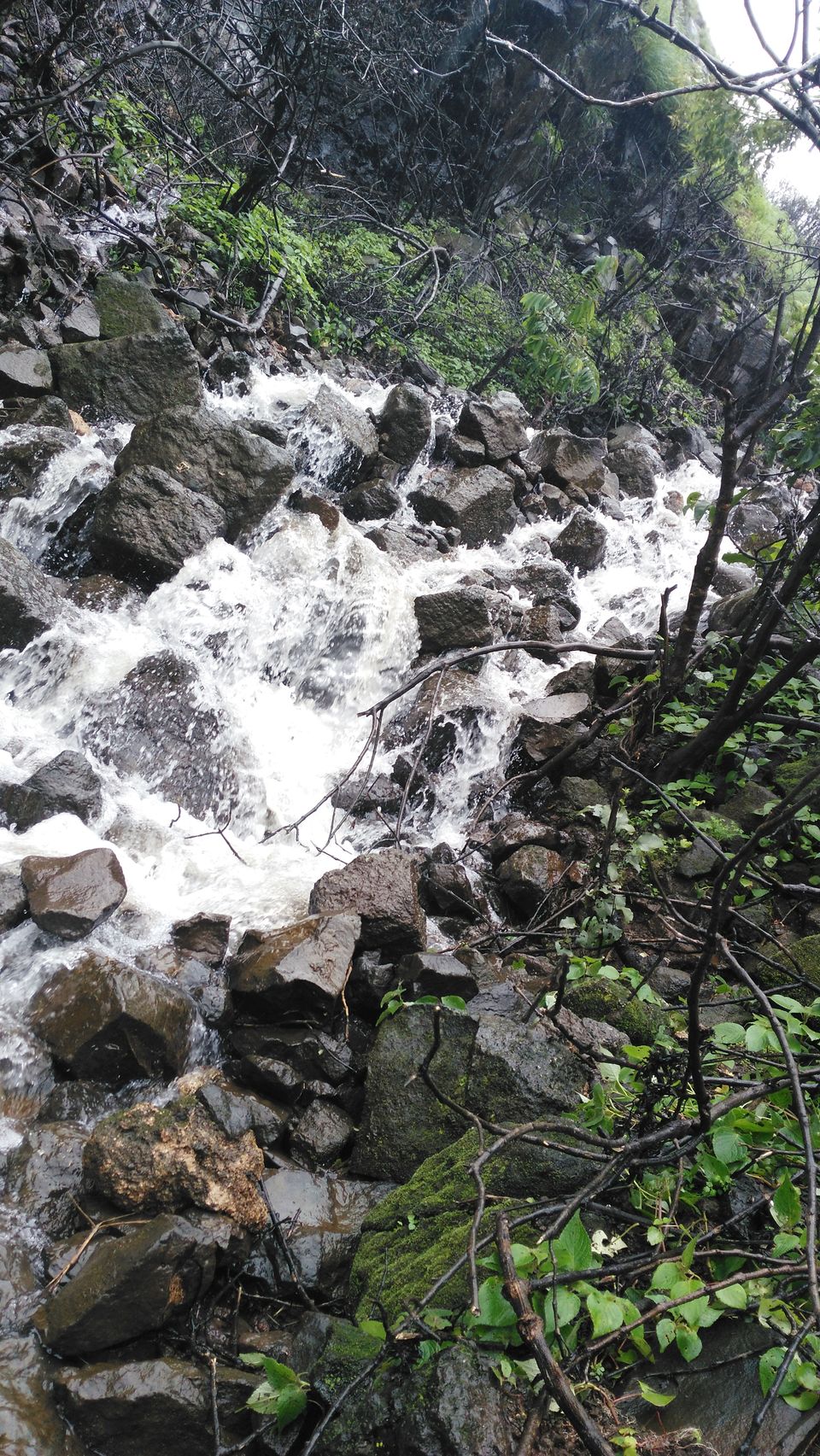 I have no idea how long it took us to climb the waterfall but when we reached the top it felt awesome. The view was breathtaking. I had traveled many places throughout India from my childhood but never in my life I had seen something like this. The fort was a ruin, only some walls were standing. We started exploring the valley. It was heavily clouded most of the time but when the cloud was lifting we could see numerous waterfalls in the nearby ranges. We clicked some photos there although it was raining (The photos were worth the risk).
We didn't spend much time in the top as wind was blowing like storm. The wind was so strong that it literally shifted me two/three times. It was raining heavily too and we decided to get down fast before the weather worsen more. We reached the top of the waterfall. I looked down and a chill went through my spine. Just like we anticipated the water level had increased significantly. We started descending. One has to be very very careful. The rocks were loose and slippery and you have to give space to the fellow trekkers who were coming from opposite direction too. But don't get panicked, it won't help. Keep your head cool and trust your instinct.
It probably took more time to get down than the climb and when we reached the base of the waterfall I felt so relived. The remaining trek was easy enough only the road was very muddy. Good sports/trekking shoe is must, if you don't wish to walk barefoot through the mud.