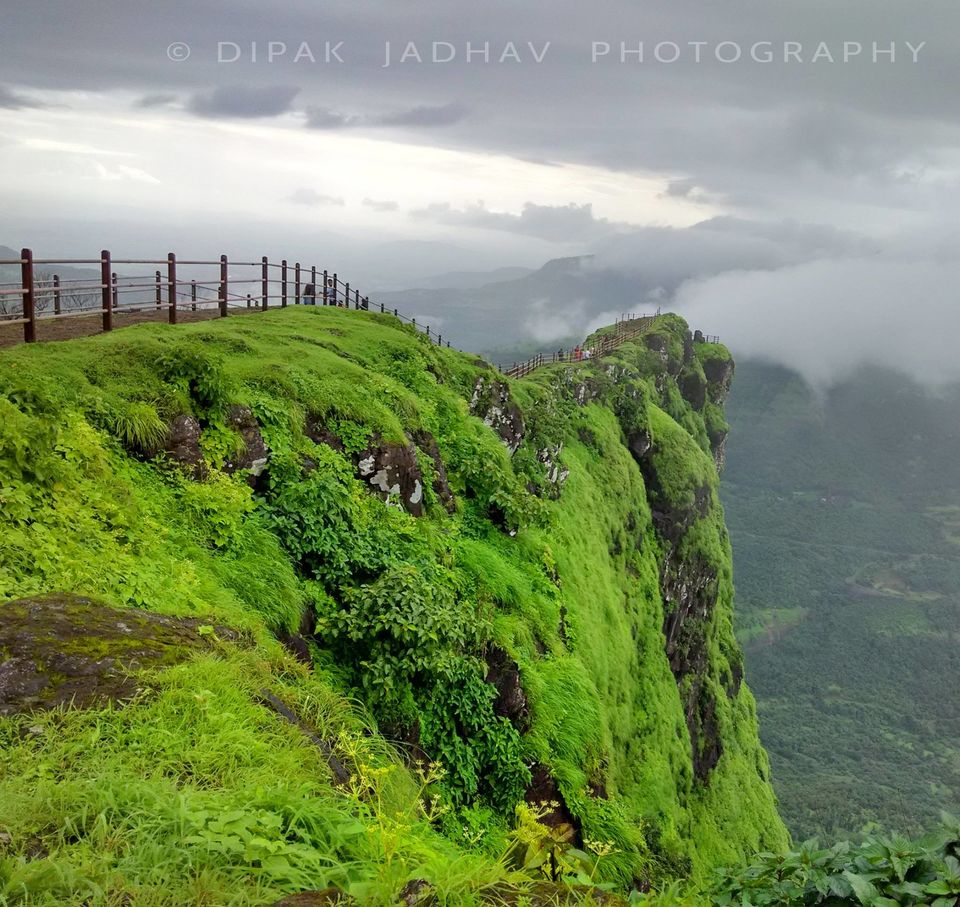 In previous story, you may have read about Mandala waterfall. We enjoyed till 7 PM and then came back to Mahesh's home place in Mahad city. We all were tired but still we enthusiastic to do cooking. So me and Mahesh went to local market for buying few vegetables and sweets for all. We had our dinner by 11 PM after that we all went for sleeping with lots of memories of waterfall, and thinking about next day adventure.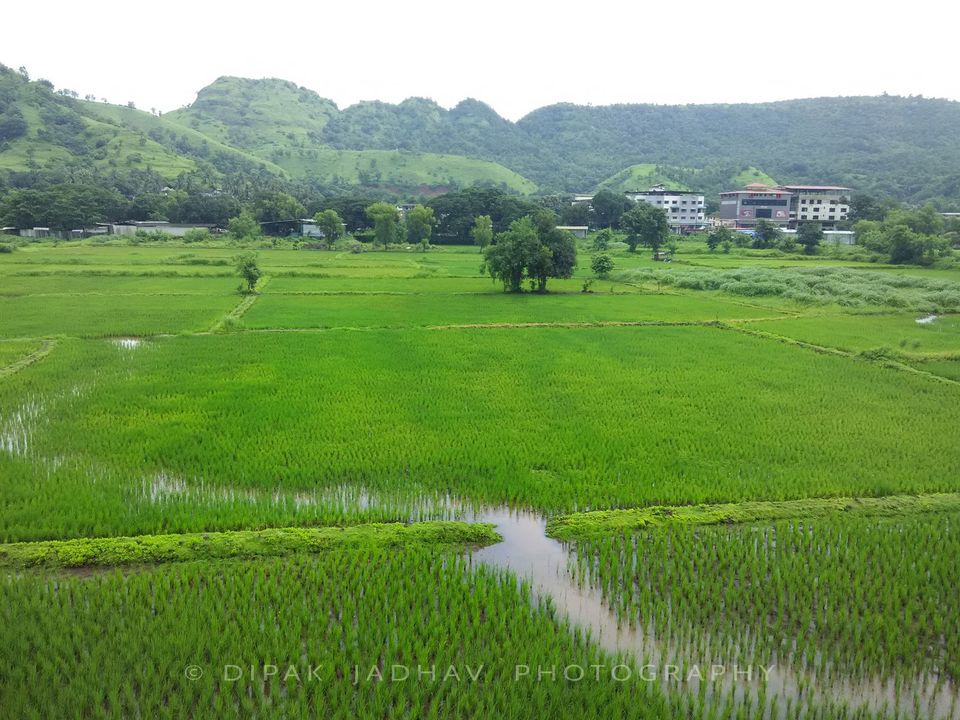 Next day we woke up and saw this beautiful paddy field. After having our breakfast we left Mahad. We said goodbye to Mahesh's Mom. She is very loving person.
For safe side we fueled our car and started journey towards Raigad Fort. Its only 25km from Mahad. On the way Mahehs suggested few location to visit. So we visited Kothurde Dam and one more waterfall, we didn't spend too much time there. They all were awesome, but we were more excited to visit Raigad Fort.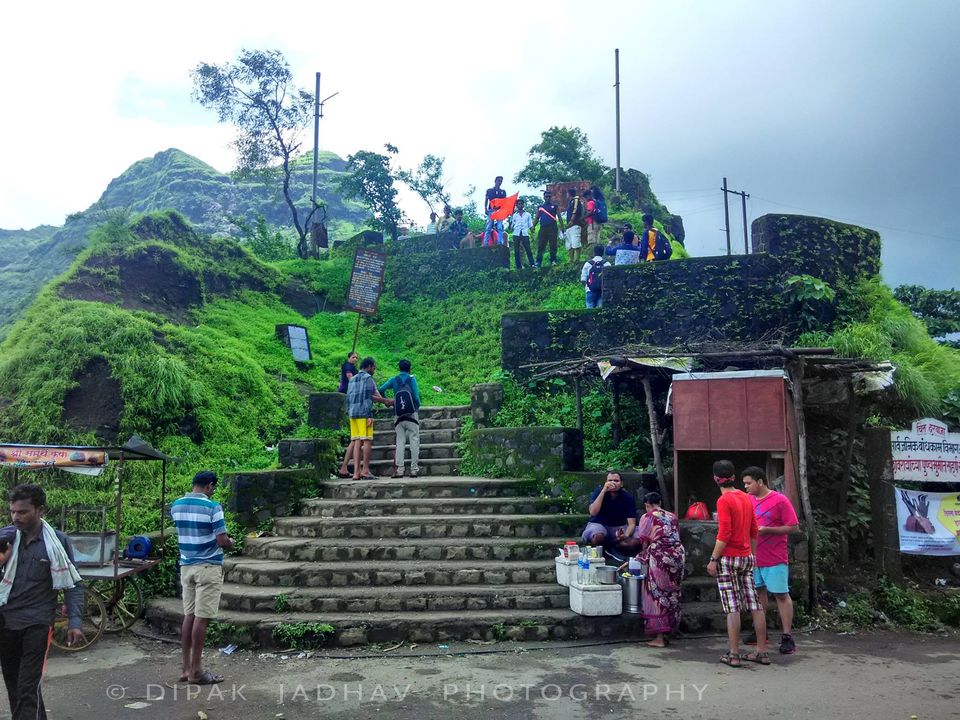 We reached at base by 12 noon, we took a 15 minute break at this point and had our nashta. Here you have two choice either go via rope way or trekking, and we decide to do a hard trekking of more than 6 hrs.
Let me just brief you about Fort Raigad!
It was Chatrapti Shivaji Maharaj's Rajdhani (Capital) from 1674! The amazing fort is at the height of 2700ft. The total area on the fort is more than 100 acres. Raigad Fort has been a witness of significant events such as Shiv Rajyabhishek on 6th June 1674, Saturday.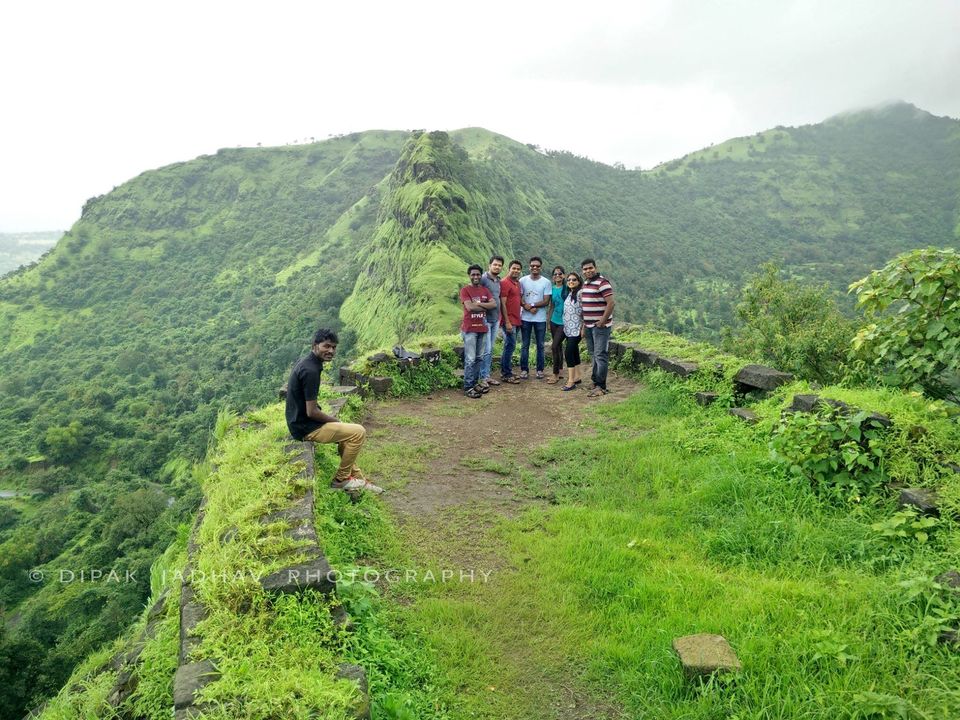 At the base weather was clear. Going up to the fort via rope way is quite easy. But today it was raining and we decided to climb it by walking. We were hardly able to see 10 feet ahead and as we were going higher it was raining heavily! For anyone who likes to trek, a trek to Raigad fort is a must do. Specially during monsoon.
I have been to the Raigad fort twice but had never explored the entire fort. This time a two day trip to the Raigad fort was on my wish list. I came here with my friends. This time I decide to visit every corner of the fort, and Mahesh became a guide to us :)
We visited many locations on Fort
We visited the Chatrapathi Shivaji Maharaj Statue, Nagarkhana, Raj Sabha, Mena Darwaja, Bazaar Peth, Tak-Mak Tok point and so on.
We went into the Raj Sabha. It is a huge court on the fort which was used to address people. The huge building is around 220 ft. long and 125 ft. in width. The throne of Shivaji Maharaj is kept in Raj Sabha facing east. The throne was made of 32 Maund of Gold with diamonds.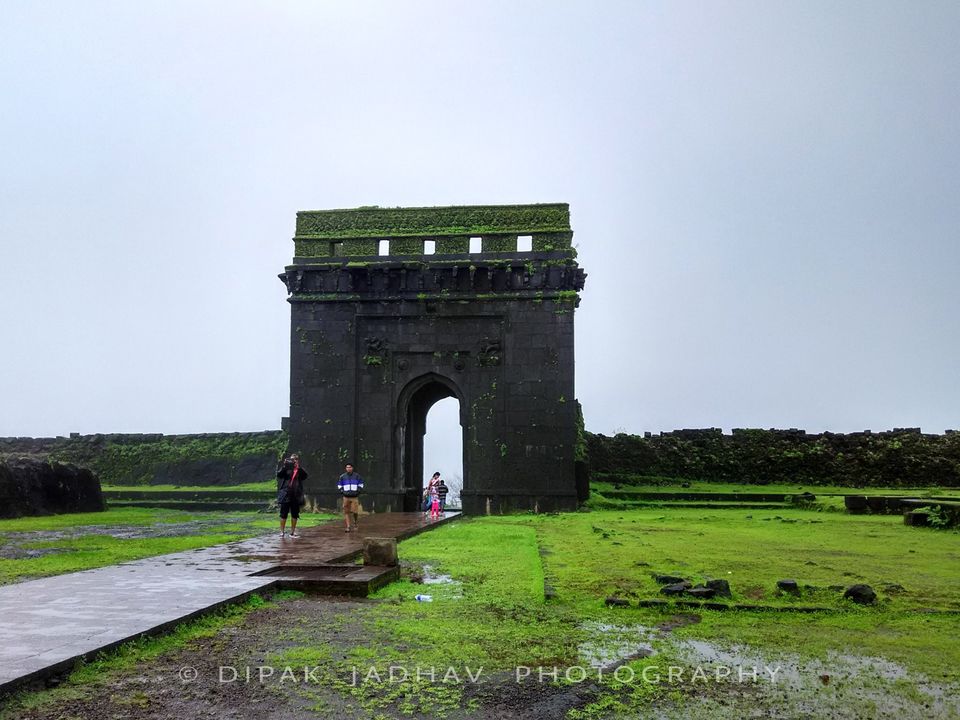 There is huge shape entrance opposite to the throne known as Nagarkhana. It was the main entrance to the court. The Raj Sabha was designed in such way that you can hear low frequency sound at the throne from the Nagarkhana.
We saw Rani Wada (Queen's Palace) . There are six spacious houses for 6 queens of Maharaja. We also saw some ruined house like structures opposite to first queen palace. People says those were houses of royal warriors. There are 3 grain storage rooms on the left after before visiting Mena Darwaja.
The Mena Darwaja – the entrance through which the royal ladies of the Fort would enter. It is the southern entry to the Fort.
We started our trail towards Shivaji Maharaj Samadhi. Heavy rain began in the afternoon and somehow we managed to crossed the market place (Bazar Peth) and reached at Jagdishwar Temple. It is big Shiva Temple with Nandi in the front. Entrance to the temple is from the back side. Temple has beautiful Shiv Linga and tortoise carved on the floor. Behind Nandi, there is a front gate of temple which is the entrance of Samadhi. The Samadhi was built near the temple entrance. We took blessings of Chhatrapati Shivaji Maharaj, from here we went to Tak-Mak Tok.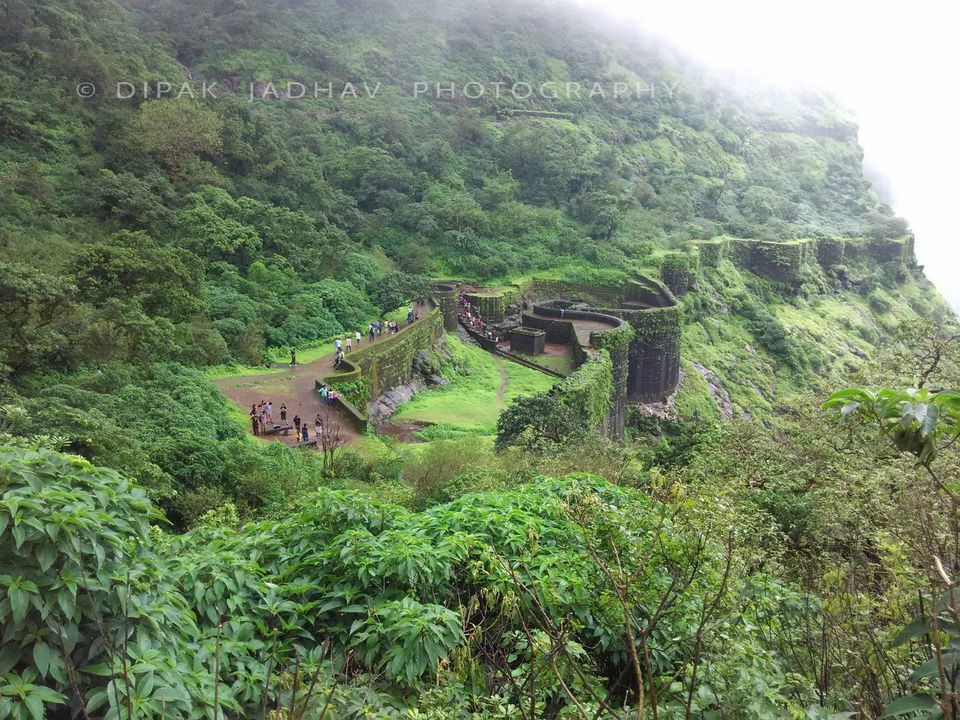 As we were going towards Tak Mak Tok, we saw a large size Lake on the left. It is known as Hatti Talaw (Elephant Lake). It was used for bathing the elephants from the fort. You can also see Maha Darwaja (Main entrance). It is a best architecture design and not to be missed.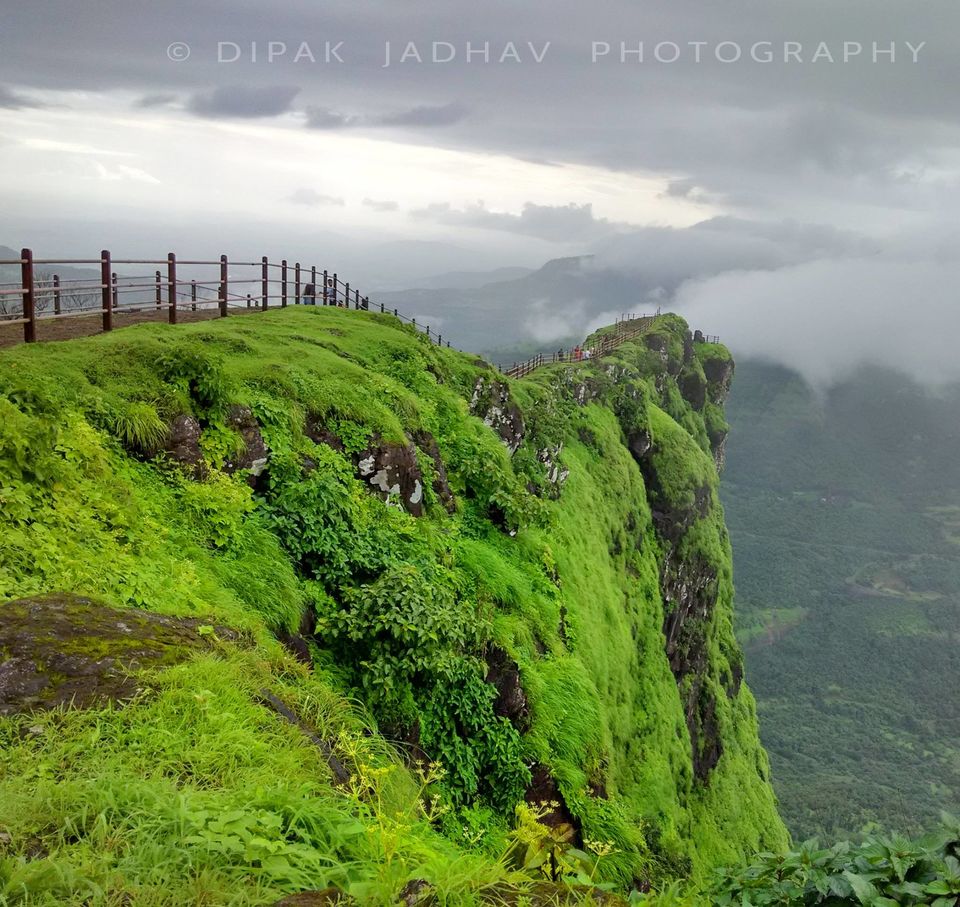 Tak Mak Tok is a cliff from where criminals and thieves were thrown down in the valley. The valley below was not clearly visible and we were required to hold on to the railings as the wind was too strong. You should be careful while visiting this place. We went till the end point which offers breathtaking view of the Sahyadri Mountain ranges.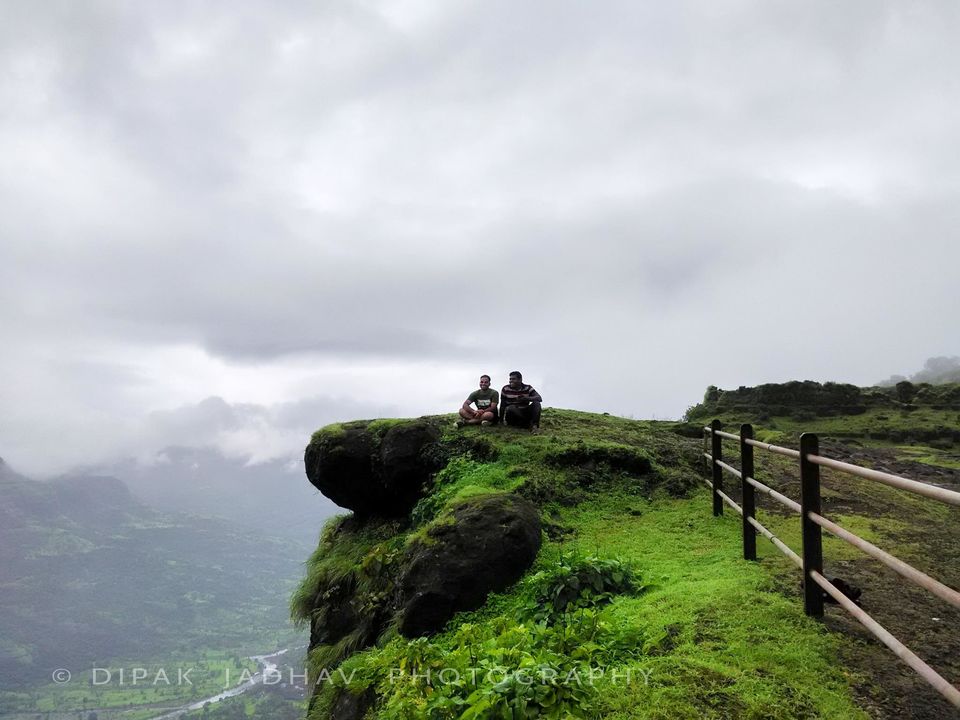 Me & my friend Bharat spent some time at windy Tak Mak Tok and enjoyed magnificent view. As weather was about to change its mood from a sunny day into cloudy weather, we decided to move back.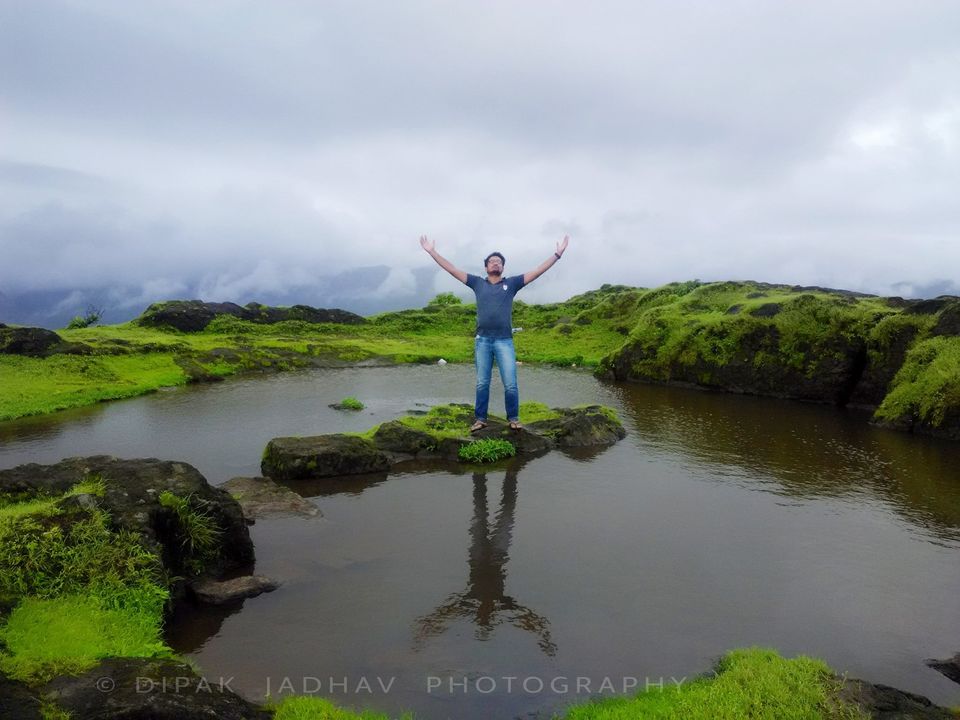 This is one more pic of my friend Deepak near Tak Mak Tok. This is our common pose. We would always like to give this pose every time. This time I managed to capture some good shots.
We all were hungry and before visiting Samadhi we already told local person on fort to cook for us. We all reached at his house, but one of my girl best friend was ahead all of us. I never seen her in so much hurry, finally I came to know that she can't bear hunger (and laughed :D !!)
We ate Zunaka Bhakar till our stomach gets satisfied. We finished lunch by 5 PM. And started rolling down. I still remember everyone was recalling history book and telling each other story of Shivaji Maharaj. It took only 1 hr to reach at base in the parking. We started our car went to Mahad. Now it was a time to say goodbye to Mahesh. We left him behind with lots of memories, and started our return journey to wards Pune. We reached Pune by 11 PM and by dropping off everyone home safely me and my roommates went to sleep.