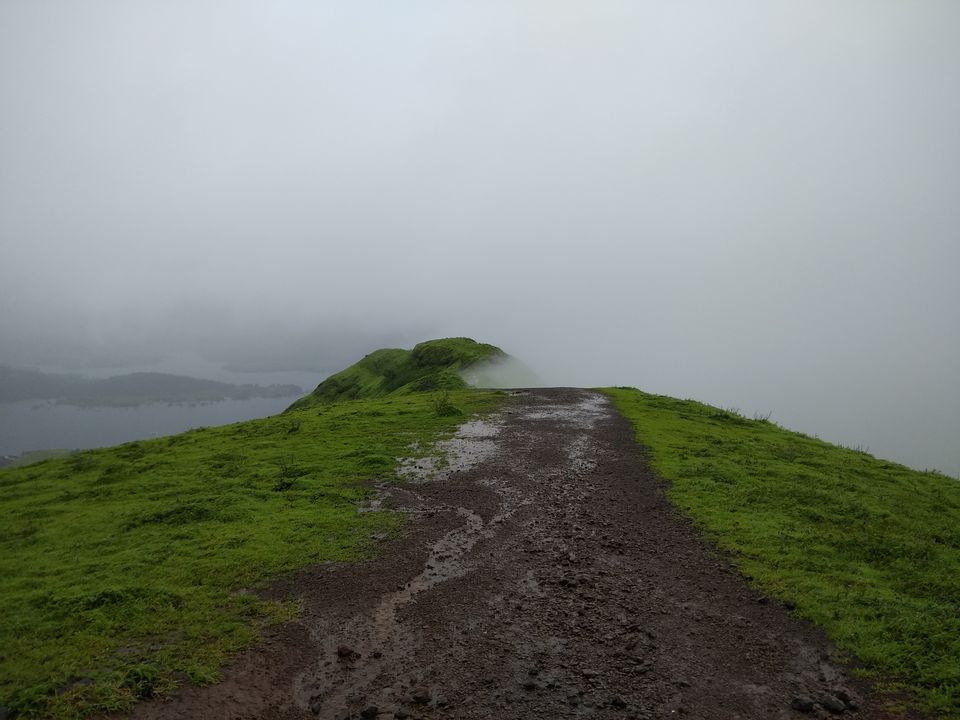 It was a long weekend. We didn't want to spend three days staying indoor, so we decided to go for trekking. We read about Torna Fort in some blog. It was clearly mentioned there that it will be very dangerous during monsoon and no one, except experienced trekkers should consider going there in that time. Now, none of us were experienced trekkers. We did some 3-4 easy/moderate treks before, but still we decided to go there, thinking it will be some good adventure.
On the morning of Ganesh Chaturthi, we four friends left from Pune by cab. It took us 2 hours to reach the base village Velhe. One can take bus from Swargate too, but it is advisable to take a cab during monsoon or else the trek will be too hectic.
The weather was very bad that day. It was continuously raining. It was almost 8:30 am when we started our trekking. There were two paths, one going uphill and another going straight. After some debate we decided to take the straight path. Around walking for 10 minutes we found out that it leads nowhere. Once there may be a path, but due to monsoon the path was completely covered by bushes. After trying for 5 more minutes to curve a path through that dense bush we finally accepted that we simply took a wrong route. We returned back. There were no localities to ask and no trekkers to follow. The path going uphill was our only option. We started our climbing. The path was a bit slippery and muddy, so be cautious, but the climb was easy. In the left we could see lush green valley with numerous waterfalls coming down from different mountains. After climbing and walking for 30-45 minutes we reached the ridge section. The view from the ridge was breathtaking. We could see the green valley and the Panshet dam in the right. There was a stall. We thought we would find some tea or nimboo pani there, but it was empty. We took some rest there, clicked some photos (although it was raining).
We started climbing again. After 10-15 minutes easy climb we reached the place from where the real climb begins. One of our friends almost pleaded us to stop and get down, but we were in no mood to return from the middle. We assured him that it's not as dangerous as it is looking like from the below (Which was a lie by the way). Fortunately, he lost hope of reasoning with us and started climbing. The climb was very dangerous from there. In some places we literary had to search for trails to climb. After 10 minutes climb we could see the railing. I saw the picture of the railing in one blog, so we were relieved that we were in the right track.
We started climbing the rock patches. The rocks were very slippery and we couldn't grip the railing properly as it was wet. It took us some time to climb, but luckily, we crossed the rock patch safely. One tip here, whatever happens, Do NOT let go of the railing. It will be better if you use rope to climb this section.
After that it was some normal walk through the mountain. Thankfully there was railing as the path was very narrow. On the left there was dense bushes and then steep mountain and on the right the valley. The valley was completely covered by cloud. After walking for 10-15 minutes we found a waterfall in the left.
We stood there, mesmerized. The waterfall was too beautiful to be true. It looked like the waterfalls seen in the Disney movies. It was coming down from a great height and the background was green with pink wild flowers in places. An unknown bird was whistling in the background. It felt like we were in heaven. I realized, this place was worth it. Everything we did, every risk we took, all was necessity to get a glimpse of that waterfall.
We clicked some photos, but didn't spend much time there and moved on. We found the second rock patch. It was not as dangerous as the previous one. Still we climbed with caution. After 15-20 minutes climb one of my friends shouted from the front that he had seen the door of the fort. I felt happiness and relief at the same time. All the tiredness vanished like magic.
We took lots of photos there. We started climbing again and found the Bini Darwaja. It took us around three hours to reach there from the base. Again, we started clicking photos. After some time, we heard human voice from the back and one couple came in visibility. Never in my life I was so happy to see humans. We actually almost lost hope to find any fellow trekkers there. In that remote place, in that weather, it was great relief to know that there was some else except us.
The path was very slippery so we proceeded with great caution. We met with a big trekking group there. After crossing the door, climbing down became real dangerous. If you slip and hurt yourself, no one will be able to help you. You have to came down by your own. So, it was simple. Slipping was not an option. After climbing down the second rock patch we came in front of that waterfall. We spend some time there, clicked lots of photos. We didn't want to leave the place but still we started our journey again.
I was the last person in the queue. Suddenly I heard someone, shouting for help from the back. We stopped and tried to listen. Yes, some one was indeed shouting for help. We shouted back and tried to understand his location but didn't get any reply. We started running. We saw two boys running towards us. They were with the big group. They told us, one of their friend fell in the pond in the fort. Their team had swimmers and ropes too, but they were not able to rescue him so they needed rescue team. One of my friends had BSNL and she had network in the fort. She tried to call the police but there was no network in that place. We started running towards the fort, hoping there could be mobile network again, in the fort. We ran like mad through that dangerous path. I suddenly heard message receiving sound from my mobile and understood we had network there. I dialed 100 but no one picked. We called our driver and asked him to contact the local police. Our driver contacted the police asked them to send rescue team. We could do nothing more so we started returning. I was worried for that person who fell down, I was worried for that two friends who were running downhill like madman asking for help. We were in front of the waterfall again. It still looked like heaven.
The climbing down was not same after that. We were extra cautious. Climbing down the first rock patch was really tuff. Fortunately, we crossed the most dangerous part safely. We met the rescue team on the way. We reached the ridge sections. It was raining heavily and the wind was blowing like storm. We crossed the ridge slowly and started descending. The path was very muddy and slippery again. We got a call from the police asking for ambulance. We were somewhat relived that they found him/her.
We reached the end of our trek. I looked back. The path, the valley, the waterfalls. I felt somewhat sad to leave them. We reached the parking lot, there was some policemen, we told them to call ambulance. We were all set to return. Our driver started the engine and announced
"They have found the body".