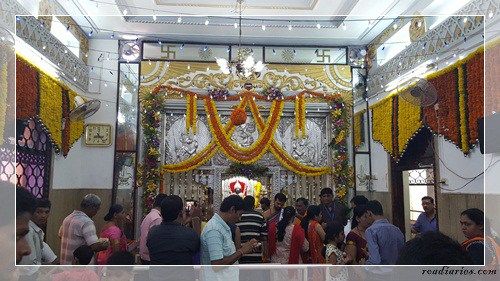 Hi Everyone
This is an interesting post about Lord Damodar Saptah at Vasco and most of the information about this jatra is not available. But i seriously request all of you to visit this place. Vasco is a place in South Goa, which is 30kms from Panaji, the capital of Goa. Since currently i am based in Pune, its been a while i had been for Saptah. But this year 2017, since I was in Goa, I along with my family, visited the place on first sunday in August.
About the place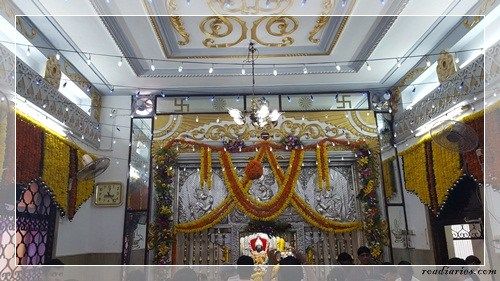 Vasco Saptah is basically a week long festival in Vasco. It is held on the sixth day of Shravan month, to be precise, on the next day of nag panchami. Saptah means a week and is held for around 7 days. This week is celebrated with lots of pomp and gaiety.
There is a story behind this festival. In 19th century, plague was spreading in the city and that is when the Goans visited the temple in Jambaulim, a village in Goa in favor of Lord Damodar and got coconut as prasad. And eventually the epidemic died. So, from there on the vasco saptah is celebrated.
Best time to visit : Early Morning and weekdays to avoid long rush
Mode of transport : We went by 4 wheeler. Buses at regular intervals are available from Panaji and major cities in Goa to Vasco. There is a shuttle service from Panaji which does is non stop to Vasco.
Things to carry:
Carry lots of water Wear comfortable shoes Lots of cash Umbrella since it may rain else can be used for protection against sun Sunglasses Hat/scarf if going during daytimeMy experience:
It was a impromptu decision to visit the place on a weekend. We left home by 11am on sunday after having breakfast. I stay at a distance of 30kms from Vasco.It took an hour to reach the place. Since it was very hot, we straightaway headed to the temple. There was a long queue and it would have taken us 2 hours minimum to pay visit to the temple. But by Gods grace, and Aruhi, our lucky charm, we got back door entry direct in the temple. We paid a quick visit within few minutes.
There were many stalls and the place was crowded with people from all age groups. I did not have patience to move around in the crowd. We quickly moved to the car and on the way shopped few things on the run.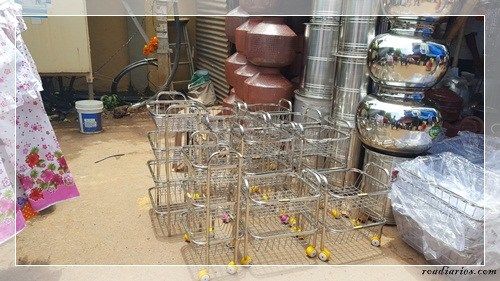 There were many stores selling different items, from utensils, to cloths to toys, sandals, face packs, kitchen items, and iron tawas and so on. I purchased iron tawa and iron kadhai for INR220 total. It was huge bargain deal for me. We must cook in iron vessels once in awhile because we ladies are short of irom and we get the iron from these utensils directly. It was on my wishlist since a long time.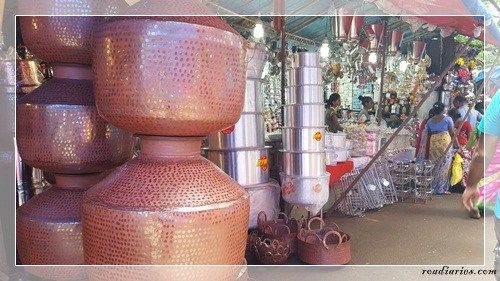 Some of the must buys are
Cheap slippers (INR 50 onwards)
Clothes (INR 50 onwards)
Wooden articles (INR10 onwards)
Steel utensils Toys (flat at INR80)
Iron utensils (depends on bargaining)
Ragda (all sizes, again depends on bargaining)
Coconut scraper known as Aadoli in konkani / vili in marathi (depends on bargain price)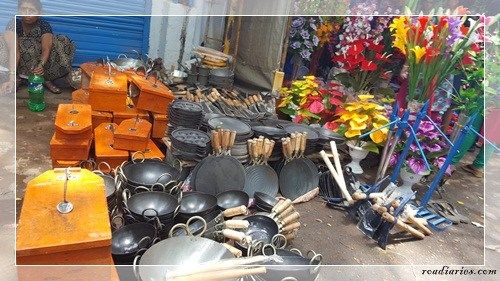 Things i purchased are
Iron tawa + Iron kadhai (INR 220)
Wooden spatula (INR 30 only)
Kitchen Wipes (INR 15)
Grater (INR15)
Marble stone for grinding (INR 100)
Pajamas (INR100)
Roasted chanas (INR60)
Random pins/clips (INR 50)
Strainer (INR 100)
These things i purchased while i was back from the temple to the car in a matter of 15 minutes. Since the baby was with us, i could not enter any other lanes, there were many lanes.
Overall, it is a must visit place during Shravan month. I am sure you will love shopping and see the positivity around.
If you have any queries, please feel free to ask in comments. I will try my best to answer the same ASAP. Also I would suggest travel for an experience which you can cherish forever.