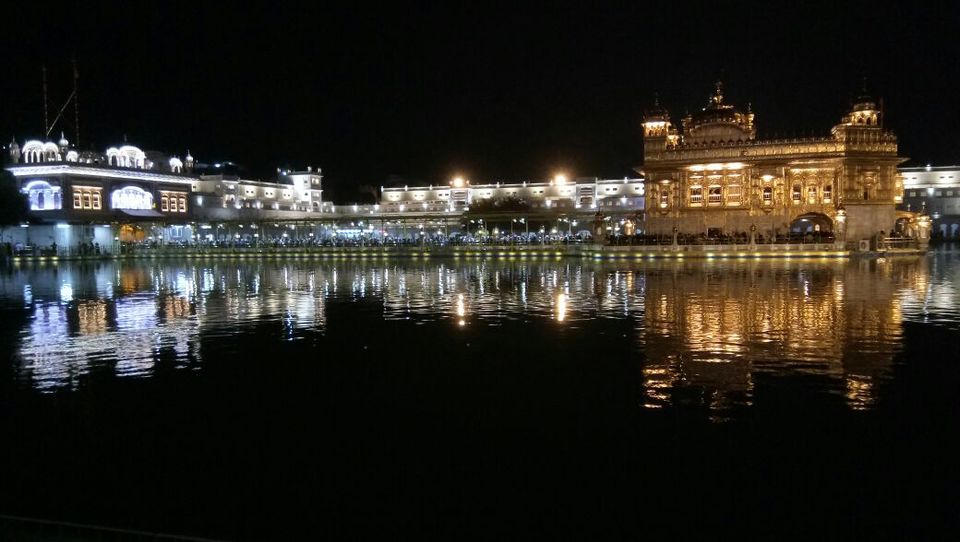 Gazing at gold reflecting over a pond of moonlit waters was not something that interested me until I visited one of the most enchanting places in India. The golden temple in the city of Amritsar is nothing short of perfection. Lay your eyes on it and you will find yourself gawking at beauty at its best.
I packed my bags and boarded a train from Delhi to Amritsar- something one must try when in India. A long train journey is as enjoyable and tiring as it sounds. You get to meet an abundant number of people who are all from disparate backgrounds, complexions, dialect and what not! Also, beware of pickpockets: P
While crunching on 'paneer kulcha' and 'amritsari lassi' you are sure to fill yourself up till the neck and still be craving for more. I devoured the most satisfying meal right after landing in Amritsar. A bus awaited passengers outside the railway station which rode them to golden temple free of cost. Outside the temple spreads out a beautiful market adorned with shops and dhabas. It was noon by the time we reached the temple and rushed to check in to our room.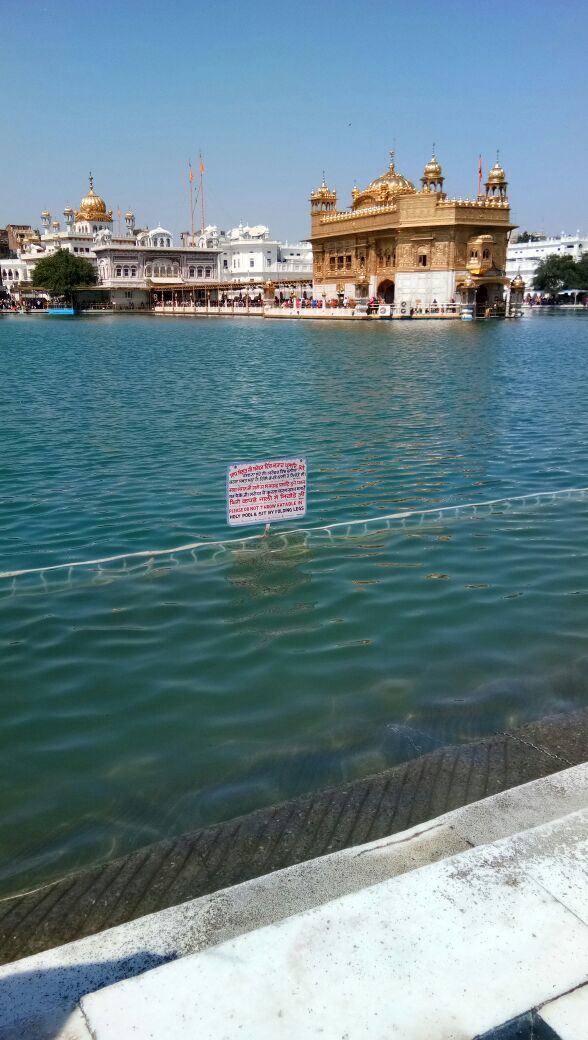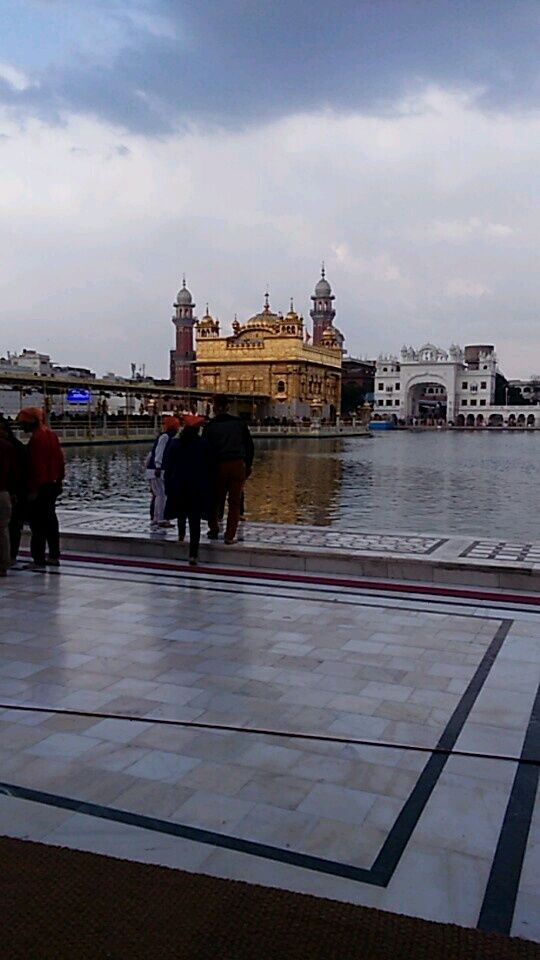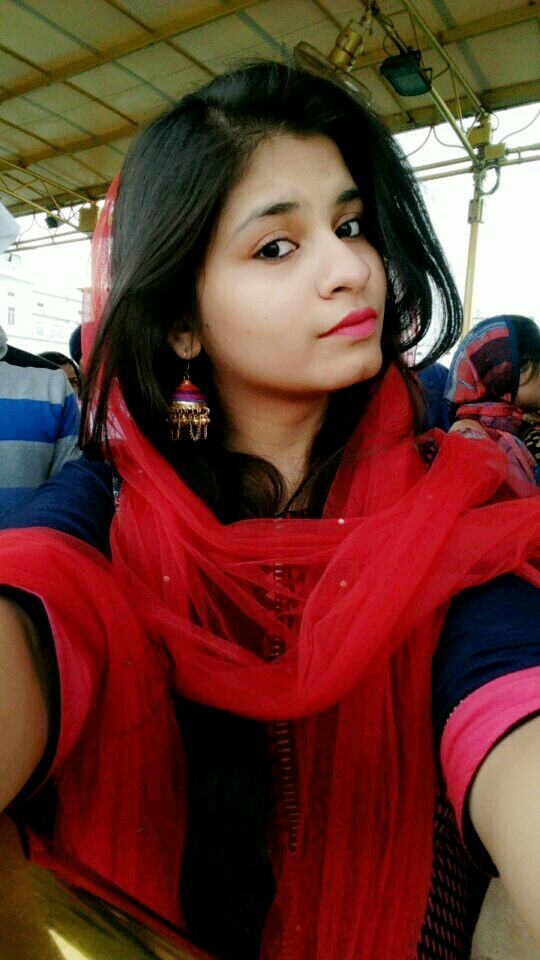 It is best if you pre-book your rooms highly in advance at the temple campus itself. We had ours done at Mata Ganga Niwas which was a tidy and organised dharmshala right next to the left gate of Golden Temple.
Positives:
• You get everything in one place. From food to cabs – everything!
• If you're a soft-drink fan, you will get it for as cheap as five bucks.
• If you're someone who likes walking along clear waters at midnight and sit beside the most alluring view, contemplating over life, go ahead!
• It's safe.
And then we went ahead for a little darshan at the temple after freshening up and to our surprise it started raining!! Now let me not mention too much of that because then I can go on and on. But those tiny droplets all over the temple pond looked miraculous, indeed a treat to the eyes. Moving on, we set ahead for some shopping at the recently inaugurated market right outside the temple. Let me mark up my insights.
• Clothing- super cheap and very organised. You just need to have the eye of an expert to feel the right quality and you are good to go.
• Food- cheap, delicious, varied. The food of Amritsar is so drool-worthy that you can keep eating and keep craving. My favourites would be the lassi, the kulcha, the softy, the jalebis, the bun-tikki (BEST) with chowmein stuffing.
• Ambience- the evenings find a wonderful crowd walking all over the streets and a perfecting ambience with mottled lights. It is definitely one of the cleanest and most bustling markets of India.
• Specialities- take away home the Amritsari papad (super yum), the big badi balls (soy delicacy that you eat with rice or potato), the quoted T-shirts, Amritsari jooti.
The most famous dining place in Amritsar is Bharawan da dhaba ( right where the market ends). However, it failed to meet my expectations. It was a good place to dine but over-hyped (both the food and the prices). My suggestion would be to try different snacks at different places so that you can taste everything and fill up yourself at the same time. To end the perfect day, we tried the famous kesar doodh from a little stall near the campus entry (We would return back to it every night after dinner).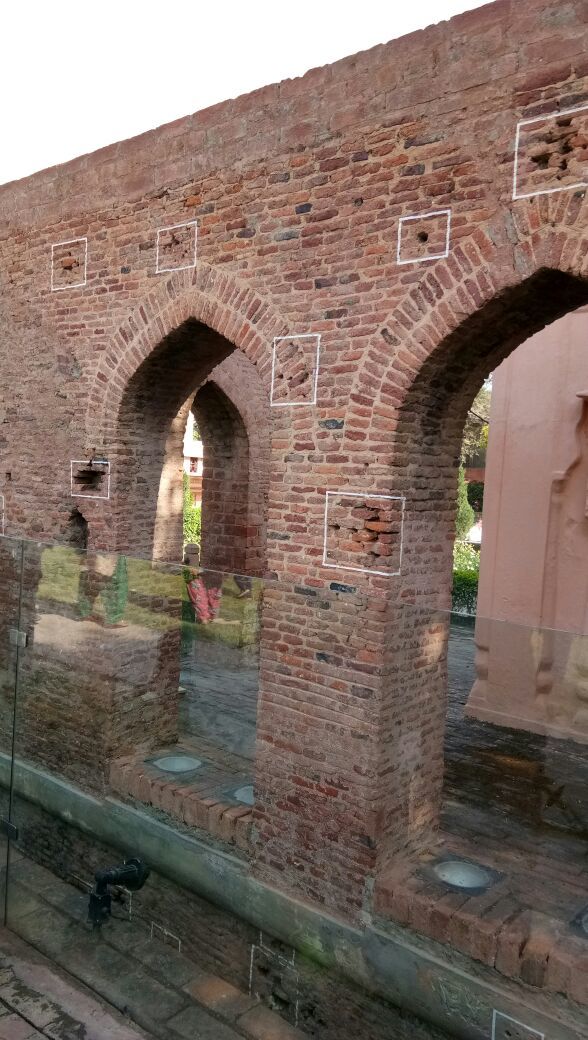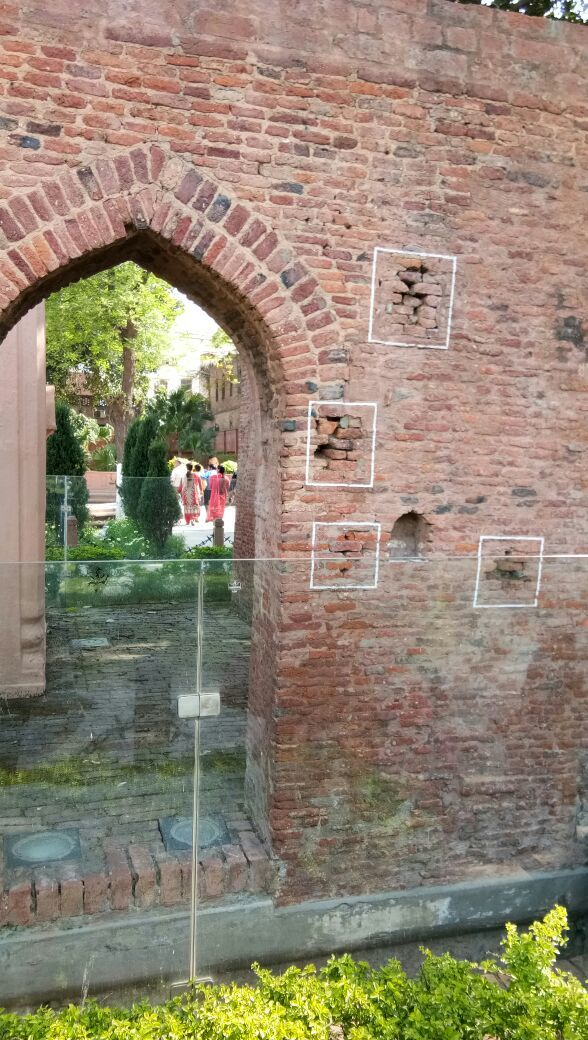 The next day saw us prepping up for the Jallianwala Bagh and Wagah border. Jallianwala Bagh closes down at 6 PM and therefore it had to be visited in the morning itself. While entering the gates of this historic garden, you can smell patriotism in the air. From the martyr's well to garden walls, there were gun shots that had pierced through our freedom fighters. It is horrifying to see how brutally they were killed in this massacre. You will find united aggression and be a part of it yourself.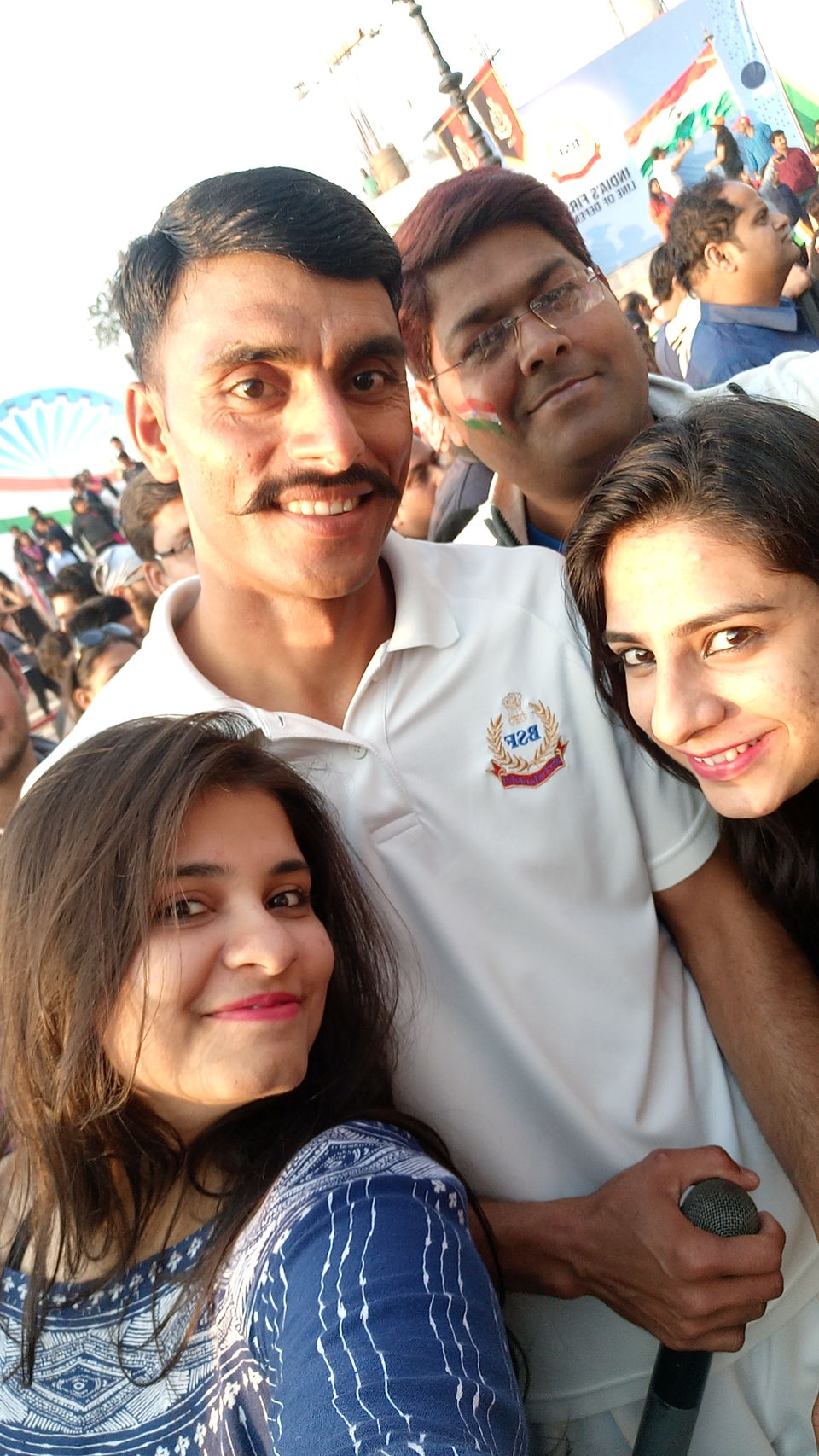 It is ideal to reach the border by 4 PM if you want a good glimpse of the parade from the stands. However, we wanted to sit in the first row, so we reached by 3 PM. Wagah border is a border between India and Pakistan, very valiant, very aggressive. The show begins at 5ish and armies of both nations hold a parade at the border and citizens from both sides gather to watch. An interesting insight-
• Songs- songs add up to the energy. People know the lyrics already and therefore, the whole Indian crowd sings in unison with border-breaking enthusiasm.
• Rituals- a few rituals before the parade (roughly beginning around 4ish) call for participation from the general public which makes it even more patriotic and zealous. The energy is infectious.
• Flag hoisting- it happens on both sides at the same time and every Indian stands up and pays respect to the flag. This view is nothing short of watching one of those patriotic movies that sensitizes your tear ducts, being performed in front of you!
• The dance- A DJ party at the border in which the ladies get to dance. It's like dancing with so many different people from all over the country with only one thing in common- love for India.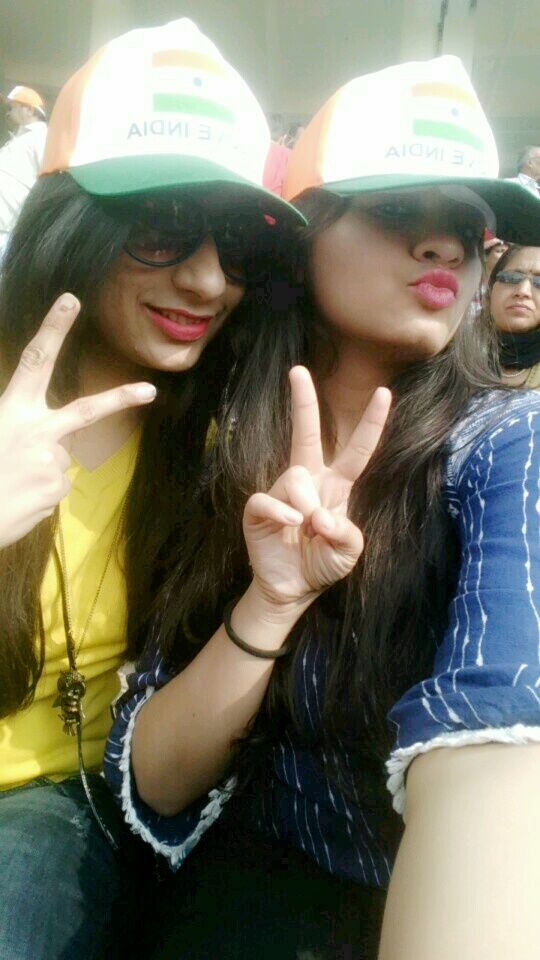 We had a spare day due to some reservation issues and therefore, we decided to visit the radhasoami dera which was 60 kms away from Amritsar. We hired a taxi and left our abode by 7:30 AM. Although, the way was well-paved and the view was great but we could not find ourselves exploring much in the dera. It is definitely one of the most well established ashrams in the world. It is a city of its own flowing beside the Beas River. The radhasoamis were gifted this piece of land by Late Indira Gandhi ji and they built a township of their own, including a school, college, residential apartments, satsang centres, langar compartments and everything that one would need for a peaceful retired life. Both volunteers and workers are involved in doing 'sewa' for the radhasoamis. Insights-
• The view- winsome! But photography is not allowed and you cannot take any electronic gadgets (phones, cameras, power banks) inside the campus.
• The service- wonderful, but a more attractive place for those who are already a part of the institution. Also, a very disturbing fact: the ladies frisked us while entering and it was the MOST embarrassing frisking ever (needs to be stopped).
• Food- bad. Try not to stay there during lunch time. Not worth it.
On the way back, we halted at haveli- a rustic restaurant which takes you down the whole Punjab vibe. The food was to die for, the service was wonderful, the washrooms were super clean, the ambience and décor was nothing short of perfection. A must must visit!
That brought a halt to our wonderful Amritsar trip. Like how we put all the happy things at first and jolt a little by the end, remember how I asked you to beware of pick-pockets, well yes! It was our last day and my friend's mother went to the ATM to collect some cash, however, two mischievous youth flipped her ATM card and handed her a different one and we lost a good 22,000 bucks which we realised only after mom got an SMS. And this incident took place the campus ATM of SBI. So not everything that glitters is gold. I recalled this incident so that everybody who reads this and visits the place stays safe. Let such carelessness not spoil your trip. Stay safe and keep exploring. Buh-bye!