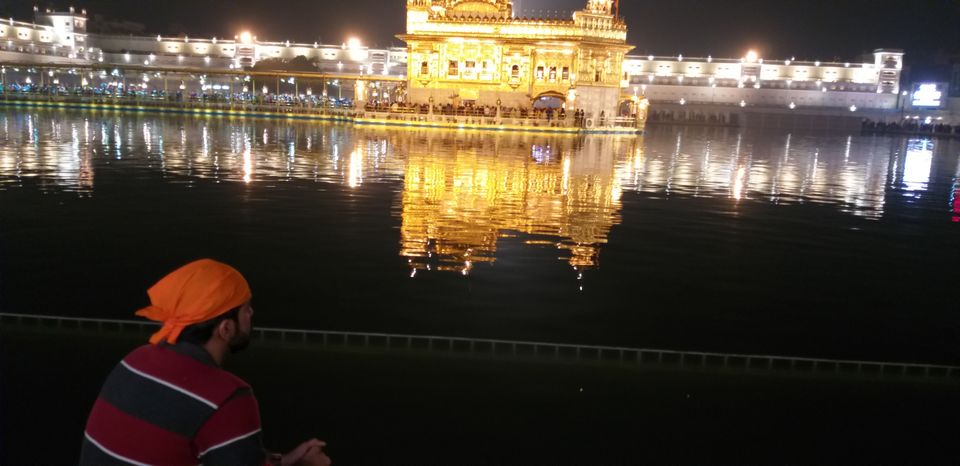 DELHI TO AMRITSAR IN 24 HOURS
It was the last week of November, I wanted to go somewhere out and there was no one else to go with, So I decided to take my first solo trip to Amritsar for only 1 day.
I booked my ticket from Shane Punjab Express at 06:40 am from NEW DELHI to AMRITSAR for 1st dec which costs Rs. 170 and my return ticket from Hirakund Express on the same day at 11:45 pm which costs Rs.260.
I woke up at 5 am in the morning on 1st December, freshen up myself, and left home at 6 am and Caught the train from New Delhi Railway Station.
I heard a lot about Amritsar, so I was really excited and I planned as well that how I will visit the most famous places of Amritsar on the same day: Golden temple, Wagah Border, Jallianwala Bagh.
So, My train reached Amritsar Railway station at 02:30 in the Afternoon. Now my plan was to Visit Jallianwala Bagh first which is near Golden temple and then go straight to Wagah Border, then finally coming back to Golden temple and then catching my train at 11:45 pm from Amritsar to New delhi.
So, I took a sharing auto to Golden temple which costs Rs.20 and reached the temple at 03:00 pm as it is not much distant from the railway station.
On reaching there, I first decided to eat something and had already planned what to eat, Amritsari Kulcha with a huge glass of Lassi, which will costs around Rs.100 that's how they serve. You will find many shops serving Kulcha and Lassi right outside the temple. So after getting all this, my stomach was full and I was like "yaar ab raat tak bhook ni lagegi".
That's what I do during travel, I always eat something heavy, so that my stomach shuts up for sometime and I can enjoy the places more rather than eating the whole day.
Now it was 03:30 and I was set to visit Jallianwala Bagh, the place hundreds of Indians jumped into the well in order to save their lives after the sudden attack of Britishers. I decided to give only 30 min to this place, which I believe is enough for this place even if you are not in a hurry like I was to leave for Wagah border. So, I captured some moments, read the scriptures and then came out after 30 min.
Now, I had to leave for Wagah Border and I knew that a sharing auto runs between Golden temple to Wagah Border, so after asking people from where exactly I'll get that auto, I found and sat on that, it will costs Rs.100. When you are travelling alone in Amritsar, I believe sharing auto is the best option because it is very Affordable, as my plan was to how affordable I can make this one day trip.
The distance between Temple and Border is around 30 km ad it takes around 45-60 min depending upon the traffic. I was really excited for the Parade that takes place everyday at Wagah Border between 6-6:30 in the Evening because I already heard a lot about the parade from people who already visited the place where India and Pakistan Army together.
In between this journey, I also came across Atarsi railway station where shooting of the most famous movie of Bollywood was done:"DDLJ". Although the autowala doesn't stop there, you can just see it from outside while the auto is running.
Finally I reached the border at 5'o clock, I directed straight towards the entry gate, I was hurrying because I had to sit in the front row where you enjoy the parade to its fullest and also knew it takes around 20-25 min to reach from the entry gate of Border to the place of Parade as you come across various check points, and everyone was in a queue.
So reached the place of parade in 25 min and the show was about to start in 30 min. When you reach here, feeling of Patriotism comes automatically and one nonsense thought also running into my mind:"Chal yaar Sunny, Lahore bhi ghum aate hain". Half an hour passed and the parade finally started, where the gates opened, the Jawans started Marching. It's so wonderful to see this which I used to see it on the television when I was a Kid. You become so happy when you come out of the parade and I was really glad that attended the parade and now I had to head Straight towards Golden temple, another one hour journey with same Sharing auto with same costs Rs.100
It seems everything is so easy to visit in Amritsar, it is when you plan and you've already asked from people who have already been here many times and they tell you where to go, how to go, how much time it will take, how much you'll be charged.
Seriously when you do this, everything becomes so easy and since it was a 1 day trip, so" Thakna mana tha".
I reached Golden Temple at 07:50 in the evening. I should tell you onething, the area surrounding or outside Golden temple is just awesome you can can't even imagine that you are standing in the holy city of Punjab. It fails the famous Mall roads of Shimla, Manali or Mussorie. You don't want to remove your eyes off.
The building Construction done outside the temple was giving serious historical looks, wanting you to come back again.
So now I had around 3 hours to explore the peaceful Golden Temple. I can tell you onething , nothing is more beautiful than Golden Temple at night. It was around 14 hours since I left home and I was not tired because I am always energetic when I'm travelling and when you see the temple at night, your tiredness just vanishes away.
It was a cold night in Amritsar and the place gives you immense peace and positive vibes that you don't want to leave that place and wants you to keep sitting there facing the temple besides the lake they've built. I completed my darshan at 09:15 pm, as there was a long queue and also taking some pictures took some time.
After that I went to the "Langar" place to eat the food the temple serves. I was shocked to see the operations for the food they've maintained, I think the Restaurants can learn a lot from them how they are operating and serving 10,000 people everyday.
The Langar was so delicious that I wanted to eat more and more but then I knew this is like "Parshad" they serve and don't even ask for anything in return. So after eating 3 chapatis, Dal and Kheer,I came out of that place. Throughout the area inside the temple, you'll get water many places which they serve full heartedly. A thought clinged into my mind:"Manna padega yaar Jaise yeh sewa krte koi ni kr skta yaar, Hatsoff to the Sikh Community of India".
So, it was around 10'0 clock and my train was at 11:30 so I decided to take my bag and shoes and leave, as it was getting late and you don't get Auto or E-rickshaw in Amritsar late at night.
That was one of the most wonderful days of my life, as everything went according to the plan, I also got to know that I can travel alone and Enjoy and also learned one important that if you are excited about doing anything, you never feel tired and still while standing at Amritsar Railway Station, waiting for the train, I was still not feeling tired. It was because I love Travelling.
Why I wrote about it?
It was because at the age of 22, mostly all are into the job sector, we don't get time to travel and people like me mostly get off on Sundays, sometimes on Saturdays as well, have only Sunday to travel. So, still you can travel atleast the places close to Delhi which are reachable by train and how you can travel in 1 day.
I reached New Delhi Railway Station at 07:30 in the morning and reached home at 08:30 and Reached office at 10'0 clock since it was Monday.
So, if you travel like me, this trip will cost you a less than thousand Rupees.