Day 4 – Burraaahhhh!! Its Punjab!! Balle Balle!!
(To read about the Day 3 click here:- http://www.tripoto.com/trip/tour-de-hind-a-solo-motorcycle-journey-day-3-569bf8a4e5149)
I woke up after 3 hours of sound sleep and was offered a hot cup of the same by the petrol pump guys, specially prepared for me. Yet again overwhelmed by the hospitality of strangers, I started my ride at 5 in the morning.
It felt like I was riding into sunlight, in the cold atmosphere of Punjab, cruising on lonely highway surrounded by fields all along. I rode through Abohar, Malout, Ferozepur enjoying the sight of endless fields on either sides of the road. As I cruised on the empty roads, Punjab unravelled before me a sunny weather, an endless array of wheat and corn fields, the glorious sky changing colours from a slow pin to a full blue, what can I say ? Punjab made me a poet.
As the day progressed, the sun shone more brightly, it quickly went from warm to hot in few hrs. I reached Amritsar around 10.30 am and the weather was heating up by now. After taking a spin around the area of the Golden temple, I headed straight to the Decathlon store in Amritsar to buy myself a much needed new tent. I hadn't expected Amritsar to be so unbearable and since I was cocooned wearing all the biking gear, my body felt like living in a furnace. I had plans of visiting The Golden temple but the area outside golden temple was too crowded to park my bike with all my luggage on it. The decalathon guys saw my predicament, and willingly nodded at my request to keep my luggage and gears in their store. Happy to have found a solution I parked my luggage and gears in the store and rode towards the temple. And yes I needed a wash since I had managed to make myself as dirty and stinky like a skunk participating in mudrush.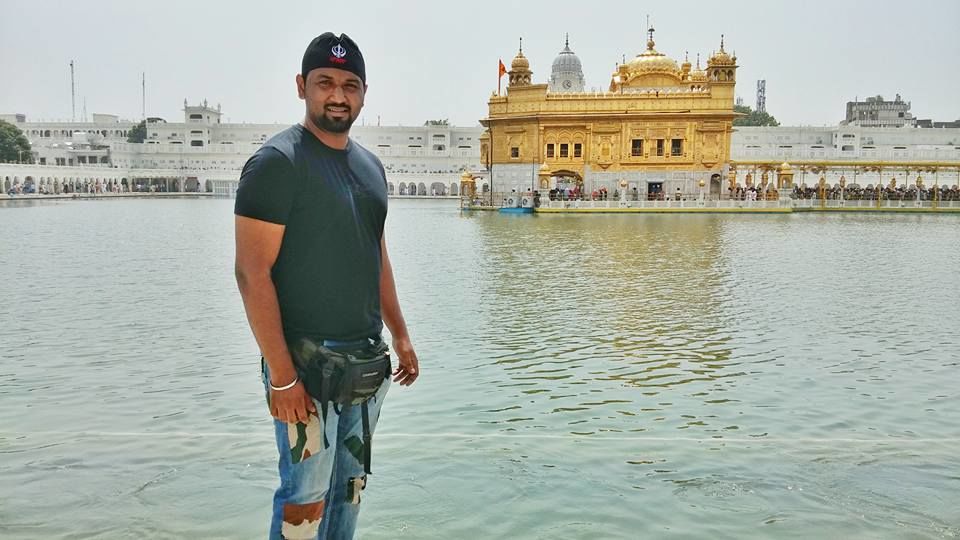 On reaching golden temple I parked my bike, stepped inside the premises and started looking around to find a place where I can take the much needed bath. After enquiring with the temple officials and the devotees, I was guided to a place where I could take a bath and freshen up. Standing in a common queue for something as basic as a shower forced me to observe my surrounding. Here everyone was same, no greed, no differentiation, no distinction for religion, caste, creed economic status etc. all bound together just by the need of something as trivial as a bath.
As I stood in the queue, my age old habit of chatting surfaced & I struck a casual conversation with three gentlemen ahead of me. After hearing my ride story they showed a highly affable gesture of letting me in first ahead of them which was totally unexpected. The facility there was well maintained, clean and tidy. After my quick wash, I headed to the stores inside the temple premises to buy myself a head wrap to cover my head while in the dargah and also a Sikh Kada which was in my wishlist for a long time. TIcking off my to do list, I went to the dargah and then had the first meal of my day at the gurudwara langar. I was surprised and startled to see the no. of people who come for the langar but moreso I was surprised to see the gurudwara members serving relentlessly and tiredlessly day and night. People of Punjab are known for their compassion and consideration towards humanity and truly, this act of perseverance to serve humanity and feed the hungry people raised them a notch higher in my mind.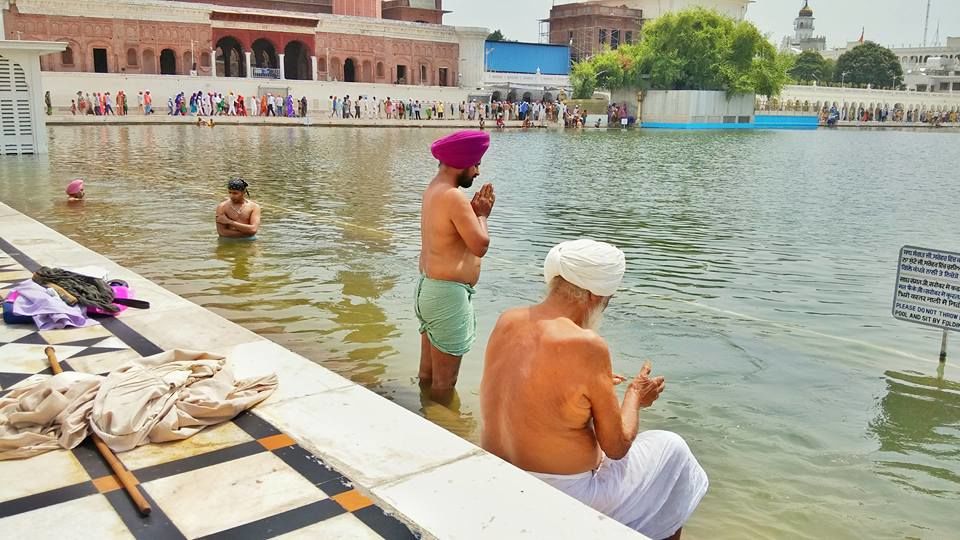 I knew I was hungry by then, because I had saved the first meal of the day for langar by skipping my morning breakfast. While I was seated on the floor for langar and the volunteers distributing food made rounds serving food, I happened to notice a strange yet beautiful thing about this langar. When a fellow volunteer distributing roti came to me, I stretched my right hand to receive and that's when he took the piece of roti back and said to me "Dono haath se lo paaji!". I realized the whole meaning behind this and was very happy to know where I am and what I am doing. I devoured the langar happily looking around and noticing other people which included those who were serving and those who were being served.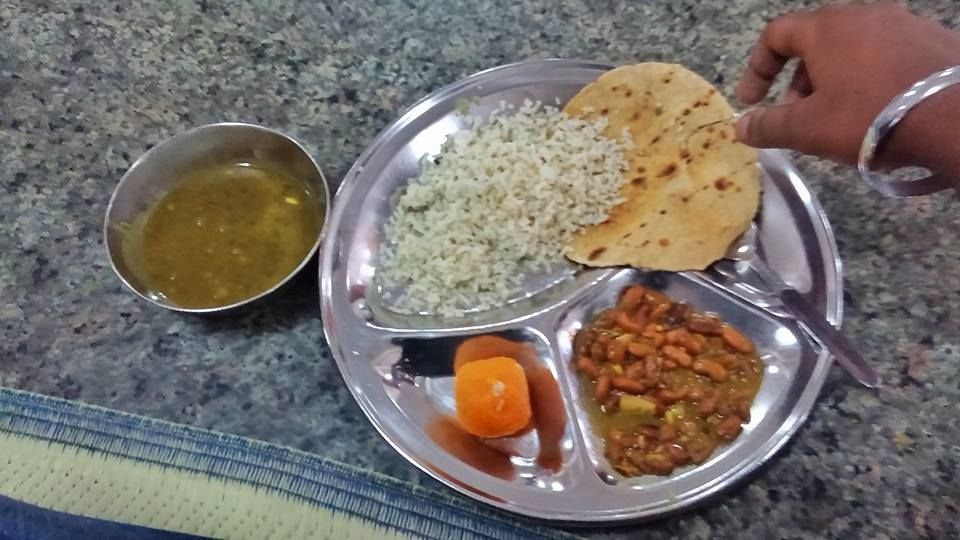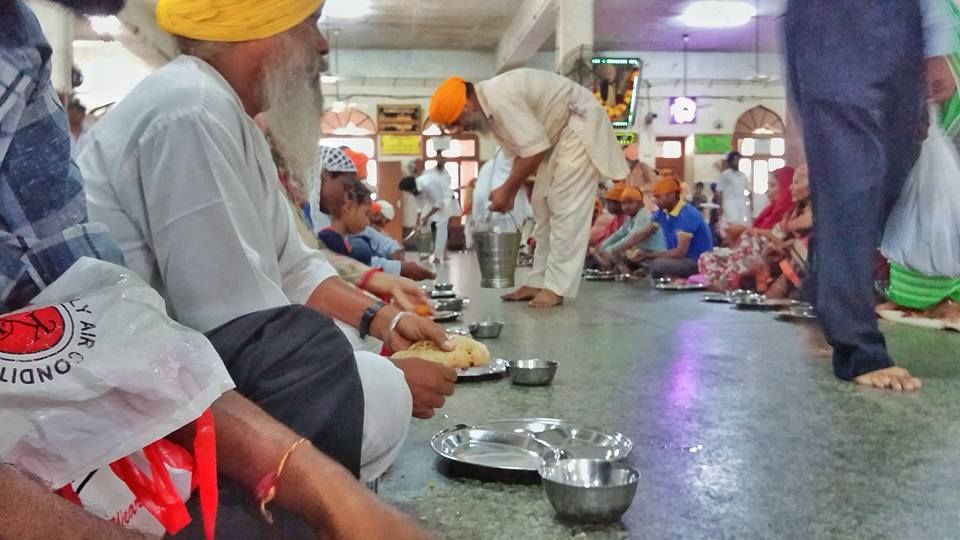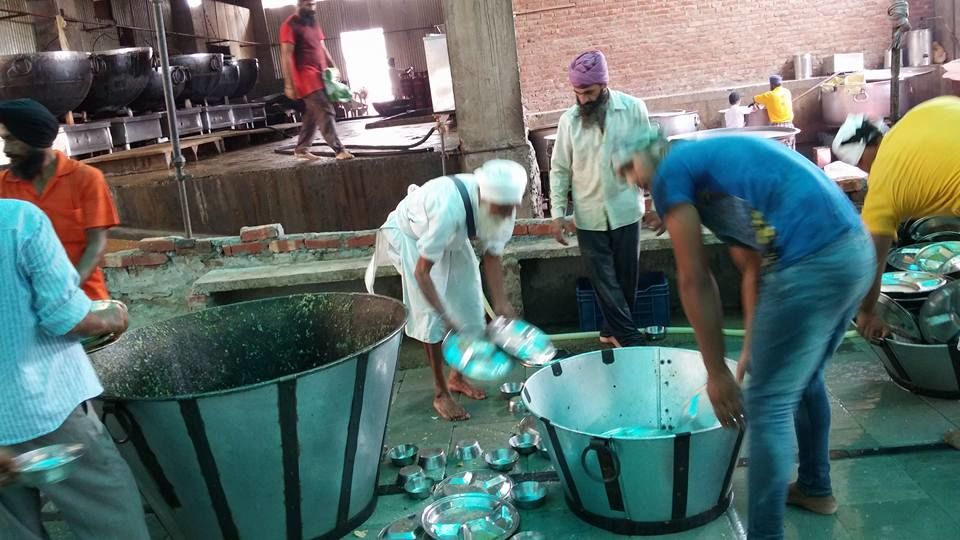 After finishing my meal, I ventured out with a heavy belly contended with the tasty langar, I steped outside the lunch home and watched the volunteers coordinate everything. From distributing plates to the devotees till washing the plates, everything was very well coordinated and cooperated internally. Having this pleasant experience, I stepped outside the gurudwara premises and headed straight towards the parking lot to the decathlon store. Do not forget that all this while it was unbearably hot like an iron furnace in Amritsar. The sun was so hot that I chided myself for not wearing my sunglasses and forgetting it in my luggage. Standing at one place was becoming impossible and moving around was the only option. To cool me down and to avoid a heat stroke, I gulped down 2 jumbo glasses of buttermilk before leaving for the Decathlon store.
I reach the Decathlon store and geared up myself replete with my luggage, I was ready to leave ahead. My farewells with Decathlon staff and the security were cordial. I was grateful for their help to me. It was 3 pm by now and thanks to the location of the Decathlon store which was outside the city limits on the bypass highway of Amritsar. It made me easy to ride towards Pathankot which was hardly 100 kms from Amritsar. The road to Pathankot was easy, wide, 4 laned and very well maintained and I restored myself to the cruise mode on 90kmph and moreover it started getting cooler going away from Amritsar. Riding 70 odd kms I stopped at a tea stall to have another chai sutta. While I was at it, I noticed a juice corner adjacent to the tea stall so I abandoned the idea of sipping tea and instead treated myself with a glass of pineapple juice. The owner of the juice corner was a sardar with a smiling face, who took my order and started preparing the juice in a hand operated juicer, simultaneously slipping the pineapple chunks one after other with one hand and enquiring about me at the same time. As we were having had a decent conversation about Punjab and Pathankot, I noticed 2 guys surrounding my bike and fidgeting with it. Now I consider my bike as the foremost love of my life so naturally I dislike any unknown touching it. I managed to stare them down into leaving my bike alone. The sardarji at the juice corner noticing my obvious displeasure told me, "Kuch nahi hoga tumhare gaadi ko, koi chhor nahi hai yaha" (nobody is a thief here, nothing will happen to your bike) to which I promptly replied "Woh Sardar nahi the, Sardar hote toh koi fikar nahi hoti"(They weren't Sardars, if they were I wouldn't have bothered). Hearing this he gave me a pleasant grin while handing over the glass of juice. I gulped the entire glass in one breath barely tasting the drink, my host saw my eagerness for the cold beverage & brought the jug of juice to refill my glass. When I reminded him, I just ordered one. He replied at once, "paaji pilo, paise ek glass ke hi lunga" (have it brother, I will charge you only for a single glass). Hearing this, despite my tiredness, I had a happy smile on my face. Thanking him for his treat of extra glass of juice, I got ready to leave for Pathankot which was just 30kms ahead.
I reached Pathankot in the next 40 mins and it was 6.30 in the evening by now. Pathankot town was relatively cooler and pleasant. After spotting many trucks of Indian army jawans & jeeps of other officials, I got to know that Pathankot is occupied mostly by the Indian army. My friends back home had referred a hotel where they had put up the previous time when they rode to Ladakh. I managed to find the hotel and checked in seeking shelter to rest my rusty limbs till the next morning. Post unloading my bags and riding gears, I headed straight to the beer shop hunting for Rockberg beer (famous in Punjab). 2 large cans was my treat to myself & a recipe for sound sleep after the tiring day I had managed with mere 3 hour sleep the night before at the petrol pump.
But the preceeding events were totally out of synch from what I expected out of me. Thanks to my tiredness, I dozed off not knowing when. I could hardly finish one of those 2 cans and yet that one can of beer was enough to make me feel I was chained to the bed. With all due respect to alchohol, however, I don't regret wasting the 2nd can of beer as long as the result was uniterrupted sound sleep for next 8 hours….
P.S. Did I say I didn't regret wasting the beer. Damn that's not true, a tiny bit of regret is still there.