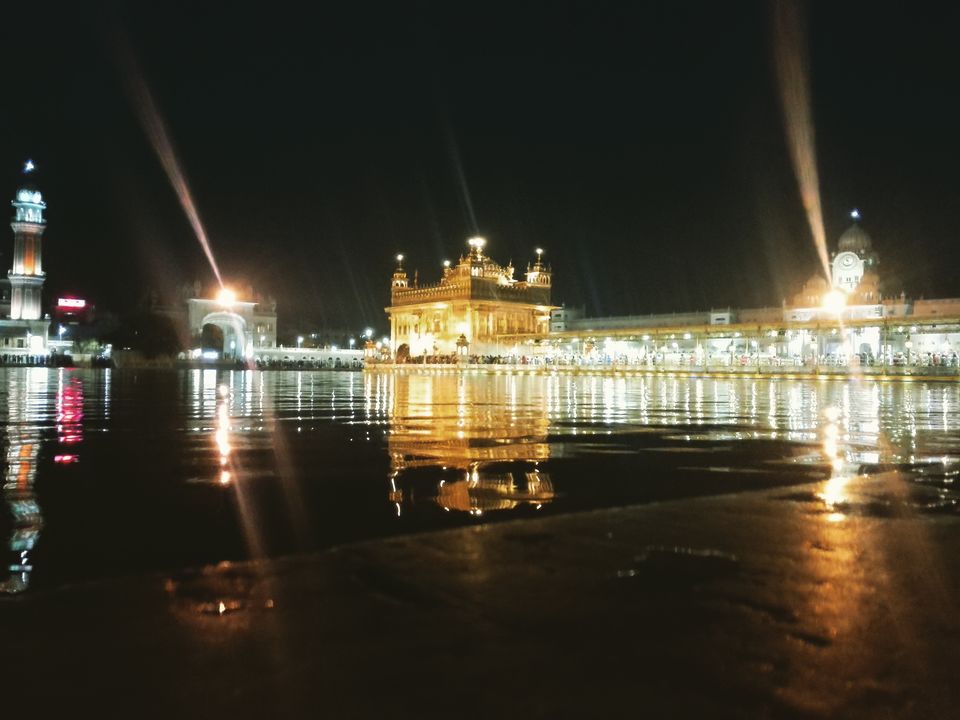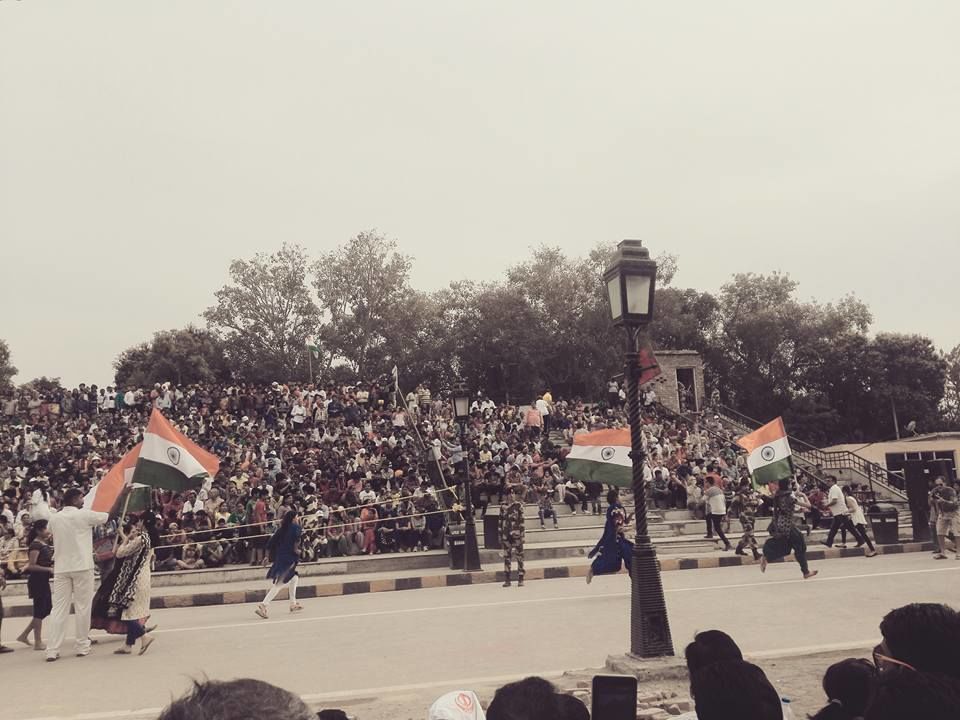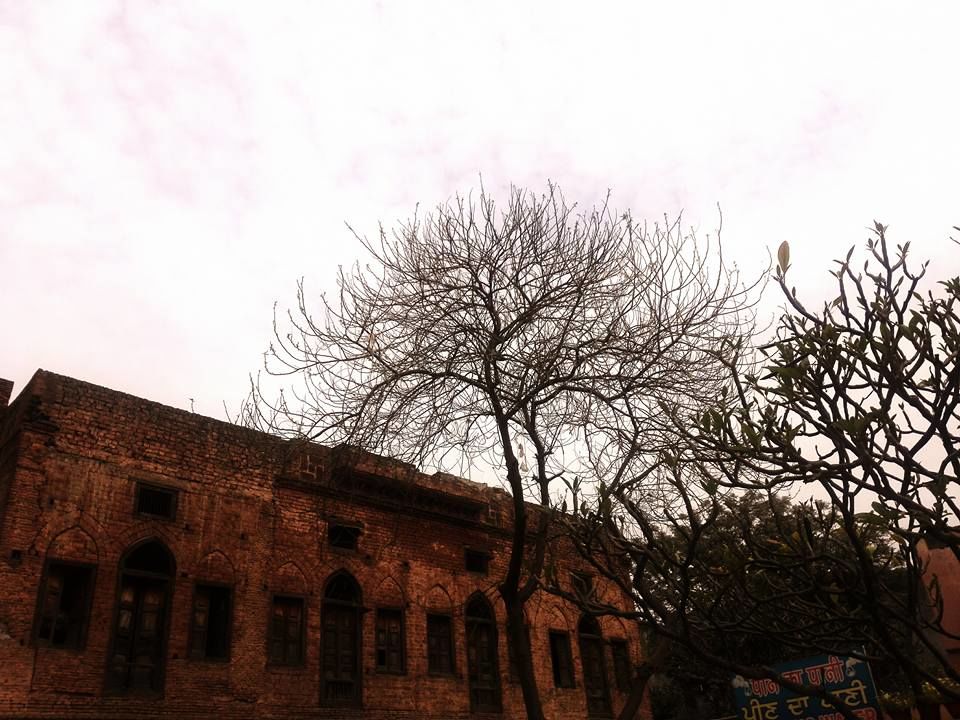 My Solo Journey
Follow me on Facebook - www.facebook.com/womaniaonroadtrips/
This year, for my 5th Solo trip, I jot down my travel plan (Mumbai – Agra- Mathura – Vrindavan – Amritsar). I opted to spend my Holi in Amritsar which again gave me an improved version of myself. It was a busy day near Golden temple. I only prefer booking my tickets & rest of the things I source out on the spot. This time, my spontaneous nature dragged me into a big mess as I was not able to get one reasonable room near golden temple. After hunting for hours, I met kunal (Staff boy of one hotel). It was a small conversation & Kunal agreed to allot me one room. As a person, he was a jolly person & quite interactive. According to their rules, I can check in only after 12 PM. I took a quick glanced at my watch & It was still 9 AM. I requested him to keep my luggage for few hours. I stepped towards Golden temple, it was bombarded with pilgrims. Due to Holi Mallah festival, it was difficult to visit Granth Saheb hence I decided to visit Golden temple in the night. I came back to my hotel & started my conversation with kunal. Within a span of 1 hour, I could see the extreme emotions in his eyes towards Amritsar. He was basically from Delhi who had moved to Amritsar for work. As I was in Punjab, so I was curious about Sikhism. We were discussing about Sikh culture & jokes which we generally read about Sikh. He said "Mujhe pehle sikh nahi pasand the, main toh unka Mazak udata tha par ab mujhe khud pe sharam aati hai" (Earlier I used to make fun of Sikh however now I feel ashamed of myself). He goes on to say further "Unke sacrifice & culture ko mene Amritsar aake samjha" (I understood their culture & sacrifice after I came back to Amritsar). I asked him "Aur apni family se kitni baar milne jaate ho?" (How many times you visit your home). He said "Bas saal me ek baar chala jaata hoon" (Only once in a year). I kind of shouted on him saying "yaar yahi reh kar bas ek baar ghar jaate ho, Itna bhi kya pyaar kaam se" (it's weird that you only visit your house once even though you stay nearby). He only listened to me & did not say a single word. Without saying anything further even I went to my room. I could not understand his silence as we live in our own assumptions. Ignoring his silence, I left for Wagah border.
Wagah Boder Experience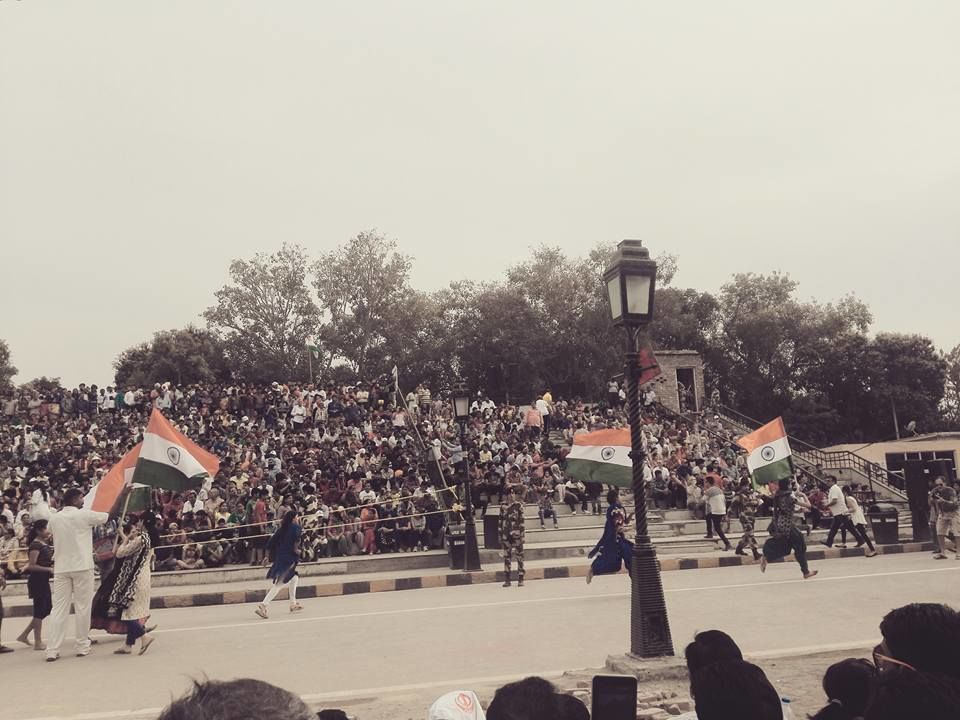 I was more excited for Wagah border visit. It was Holi hence it was fully packed with tourist. After struggling & hitting random people in the crowd, I got a seat on the 2nd row. It was my 1st time at wagah so the feeling of patriotism has increased my energy level tremendously. The show host asked all the females to hold our Indian flag. The moment I held our national flag in my hands, my eyes were wet. I ran with the flag till the Border gate & the background music of patriotic songs has heightened my enthusiasm. Then the show host put the cherry on the cake by calling all the females to dance & create a mood of celebration. All the women with all sizes, shapes, age came together to shake their legs on Indian Patriotic songs.
I met one Australian female & she too joined us to learn some Thumkas of our Indian ladies. There was a sign of healthy relationship between Indo-Pak soldiers hence all the visitors on both the borders were waving at each other. Words like Partition, Borders does not hold any place at Wagah. Only positive energy exist which reflects pure friendship between Indo-Pak.
A Life-Changing Lesson
After parade, I moved back to my hotel. I reached at the hotel by 8 PM. As soon as I entered, Kunal said, " Aap ready ho jao, chalo aapko Holi mallah festival dikhata hoon Golden temple mein" (Get ready, I will show you the celebration of Holi mallah festival at the temple). I asked him about the festival so he said "Granth sahib ko is din ek decorative palki mein bahar nikala jaata hai" (They bring Holy book Granth sahib outside). In this festival, People use flower or flower fragrance spray to celebrate Holi -Mallah. We both reached at the temple by 9PM, It was loaded with visitors in the night also. In between, Kunal said "Amritsar ne mujhe ek nayi life di hai" (Amritsar has given me a new life). I asked him "Kese" (How). He said "Mere parents' nahi hai, mera koi nahi hai" (my parents are dead. I don't have a family). I could not say anything further. I was stunned & just put my hand on his back. He further added "Unke jaane ke baad, main depression me tha. Relative ne rakh toh liya but kabhi accept nahi kiya. Pichle saal mere ek dost ne mujhe kaha, tu Amritsar aaja, mera hotel hai. Uske liye ek care taker chahiye. Aur 31st December ko main yaha aa gaya. Mujhe ek New year ke sath, ek nayi life mili".
He was quite happy with what he had received from Amritsar. He was not carrying those painful past stories in his present. He was content & he believes that good things happen. He had nobody to discuss his sorrows & happiness in this world. Till now, I have heard such stories but when I met kunal, I understood how it feels to have nobody. He was in his 20s, where he was trying his best to live his life happily. He can't afford luxury to make himself happy. But his attitude towards life is his luxury which very few people can afford. He taught me that Pain is a part of life. It will go someday. You just have to accept it.
That's how my journey ended with a lesson in Amritsar. Memories play an important role in your life. My memorable meeting with kunal will always encourage me to accept pain & have patience.