Visiting holy towns Ajmer & Pushkar was part of my Rajasthan trip. After spending two days in Jaipur with colors and culture it was time to be part of chaos, camels and two most sacred holy places for Hindu and Muslim religion. Ajmer is 150 km from Jaipur. My plan earlier was to go there by train but later I came to know that many tourist buses available for one day trip to Ajmer & Pushkar. I found it more convenient and hassle free. I woke up early, had heavy breakfast and then took auto from my hotel to reach bus stand. Bus timing was from 9 am and by the time I reach there, bus was almost ready to leave. It was mini bus and there were hardly 7-8 more traveller for Ajmer & Pushkar trip. I thought it would be nice and quiet. But to my surprise bus driver started taking daily commuter on the road and by the time we left Jaipur, bus was fully crowded. The drive there was only three hours from Jaipur and most of it on express highways. The journey therefore was not full of many sights, so spent most of time reading newspaper and listening songs.

Reached Ajmer at around 12:30 pm and but instead of visiting Ajmer Sarif first, bus headed towards Pushkar, holy town in the desert in Rajasthan.

Pushkar is hardly 16 km from Ajmer. The mountain range known as Nag Parbat ("snake mountain") separates the Pushkar valley from the city of Ajmer. The valley is formed between the two parallel ranges of the Aravalli hills. Pushkar is one of the oldest cities of India.Though the current structure dates to the 14th century, the original temple is believed to be 2000 years and legend associates Lord Brahma with its creation. Here is the religious myth associated with this place (source Wikipedia) "According to legend, Brahma was in search of a place for Mahayagna and he found this place suitable. After a long time, Brahma came to known that a demon, Vajranash, was killing people here so the Lord intoned a mantra on a lotus flower and killed the demon. During this process the parts of flower fell on three places which were later known as Jyaistha, Madhya and Kanistha Pushkar. After this Brahma performed a yagna to protect this place from demons. The consort of Brahma, Saraswati, were needed to offer Ahuti for the yagna but she was not there that time so Gayatri, a Gurjar girl, was married to brahma and performned yagna. This act made first wife of Brahma, Saraswati, angry and she cursed Brahma saying that he would be worshiped in Pushkar only"

The Pushkar town has more than 400 temples dedicated to various Hindu deities but the most important is the Brahma Temple, only brahma temple in the world.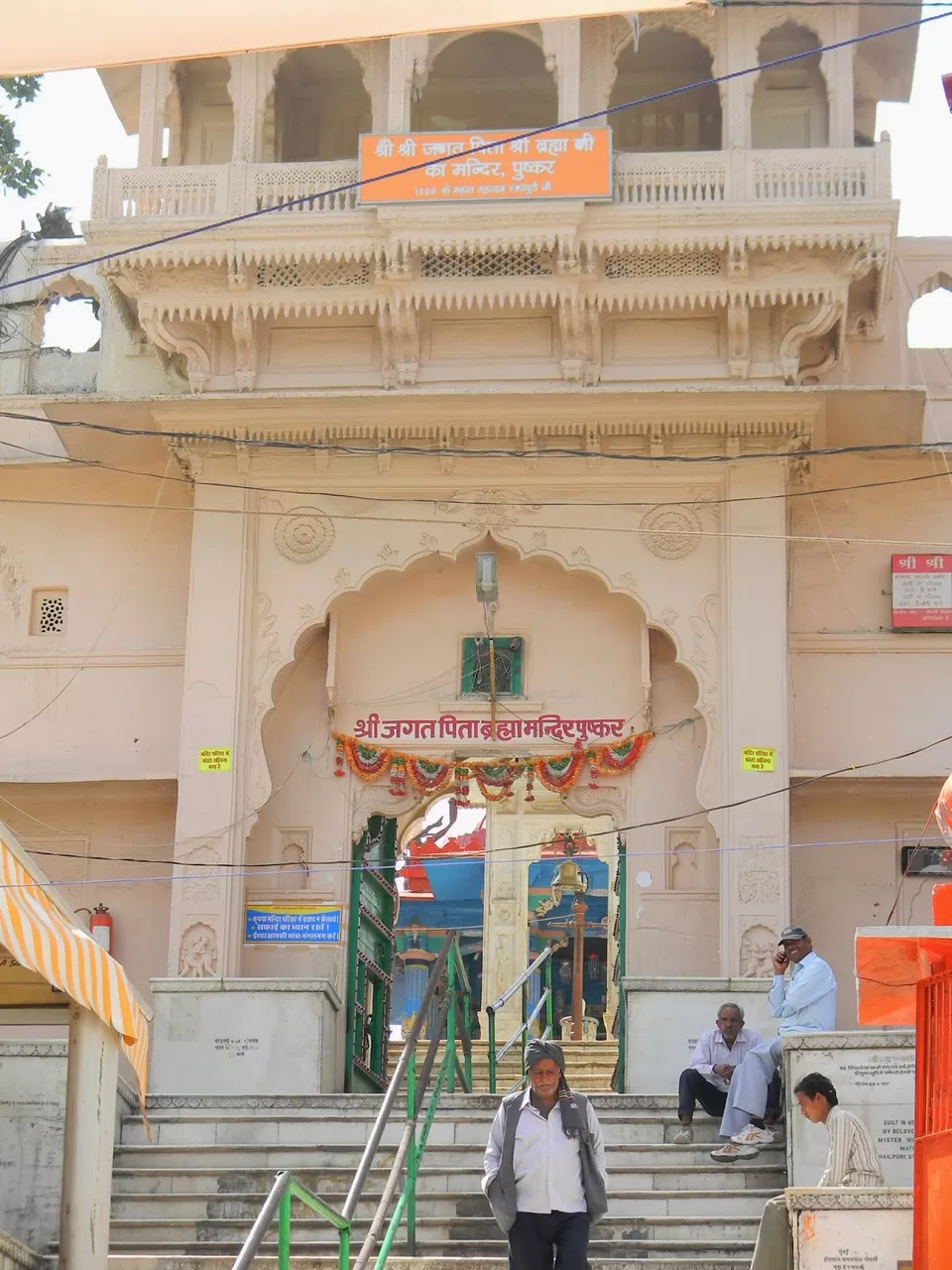 The temple of Lord Brahma temple is said to be a 14th century construction. It lies on a high platform with a flight of steps to the entrance.The construction is simple, temple is not very big and reasonably well maintained. No lengthy queues for Darshan.

I was there for hardly 15 minutes and then started walking towards the famous Pushkar lake through the beautiful colorful market. The lake dominates the centre of the town and all other streets lead from a ring road that encircles it.

Pushkar Lake is surrounded by 52 bathing ghats, where pilgrims takes sacred bath. A dip in the sacred lake is believed to cleanse sins and cure skin diseases. Over 300 small and big hindu temples are situated around the lake. Lake is beautiful and surrounded by Aravali hills but it was clearly visible that tourism and crowds have taken a heavy toll on the lake. Water level is reducing, not so clean and destroying the fish population. However I came to know that Govt has recently started a program to clean the lake.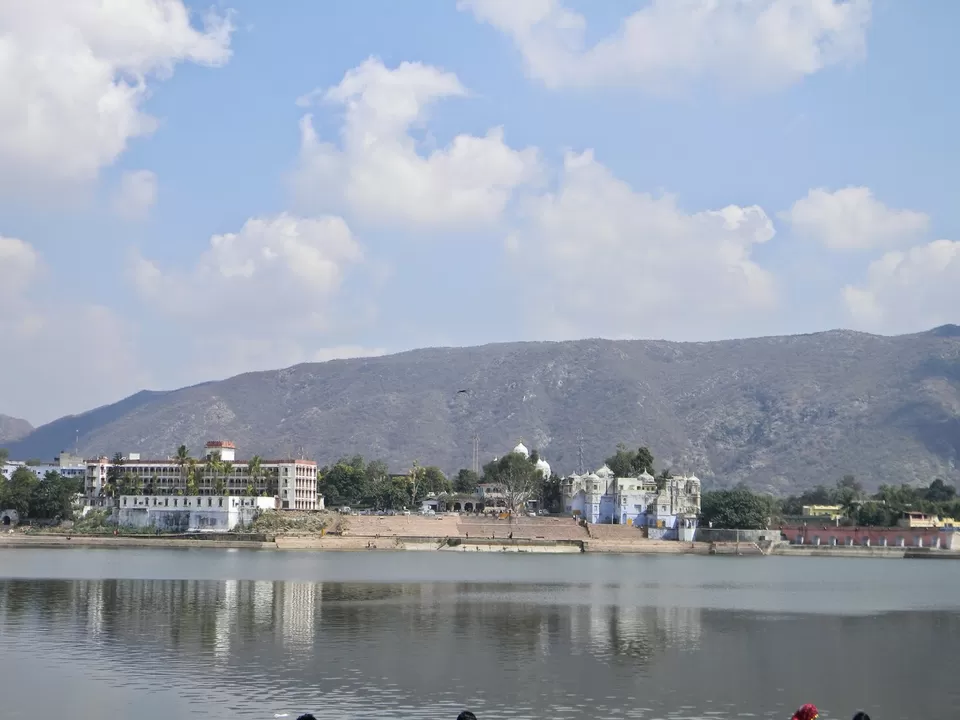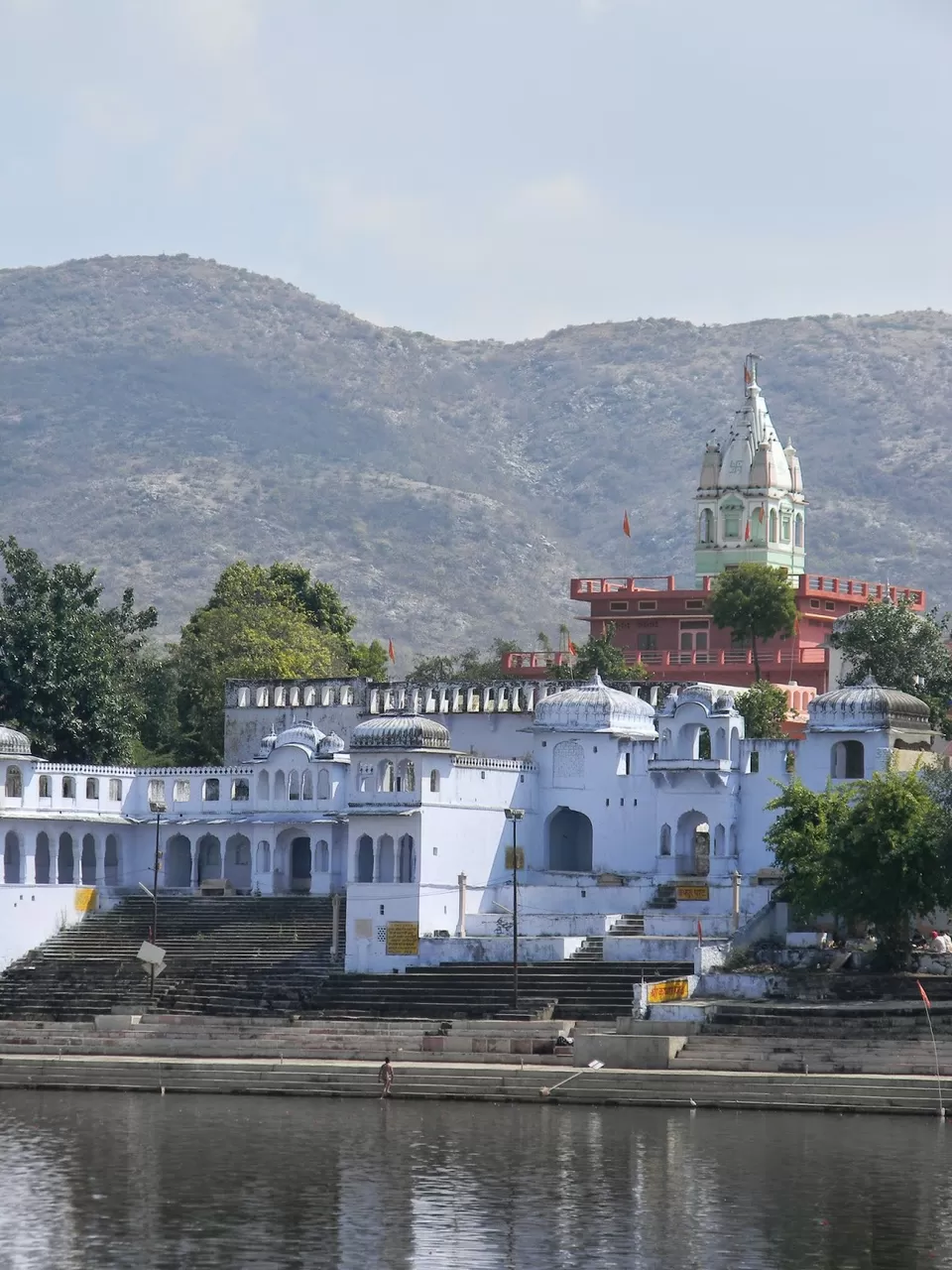 After that I decided to walk around the town. Its small town and easy to navigate there were virtually no cars or autos in the main streets. Bit crowded with the tourist but walking was almost hazard free (not counting the moody cows and camels that roam freely)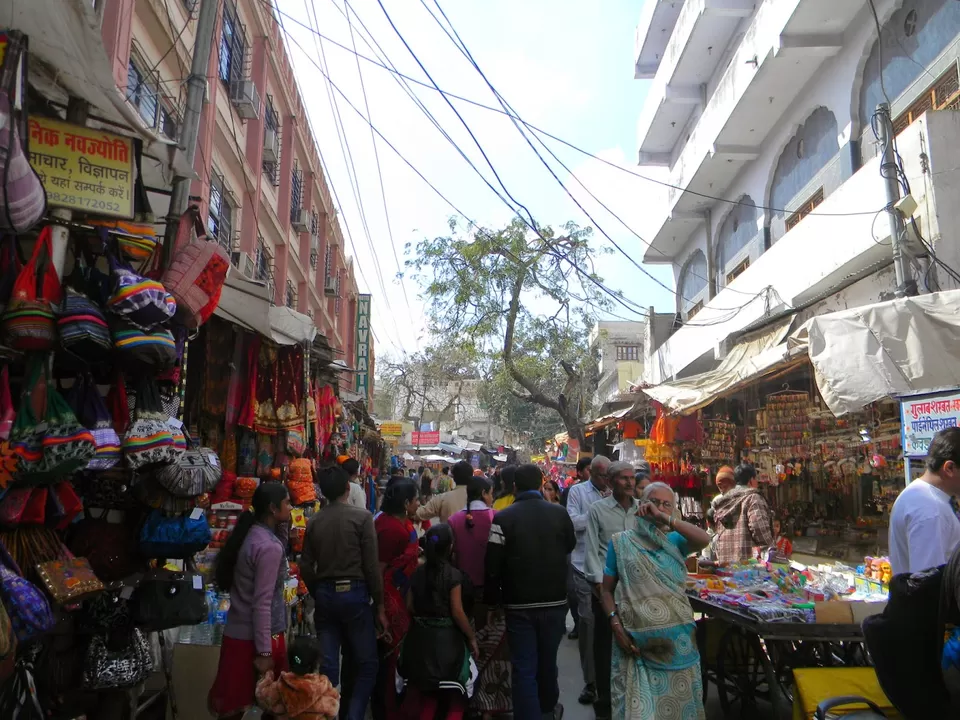 If you love shopping, the Pushkar will not disappoint you. There were hundreds of stalls around the main ring road selling gems, silver, clothes and camel leather bags, purses and shoes. It was really tempted and prices were reasonable. But some how I controlled myself and didn't buy any thing.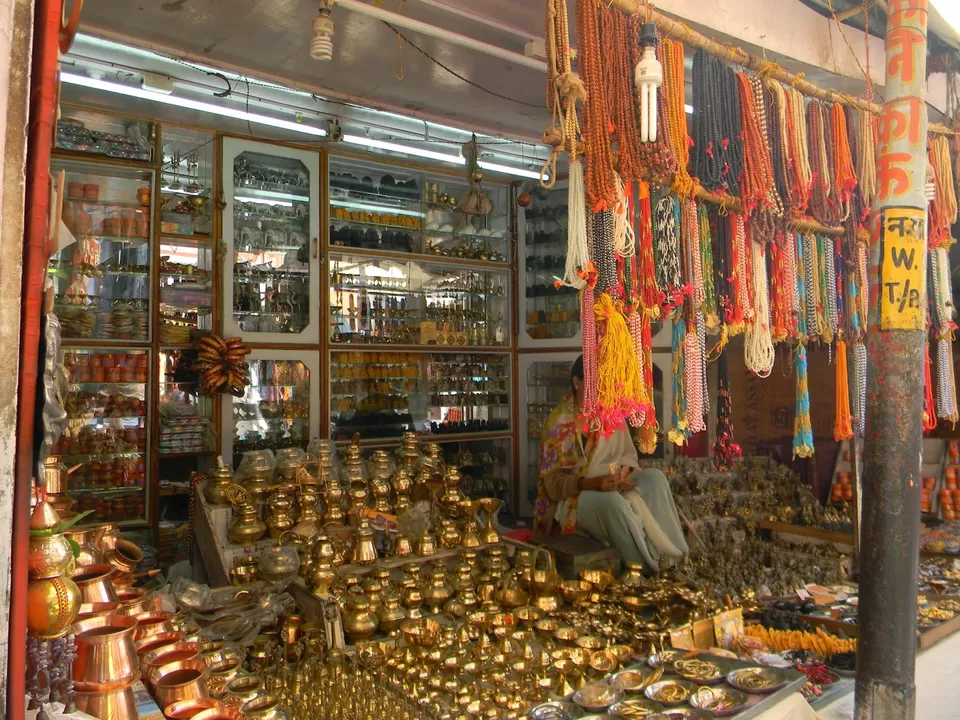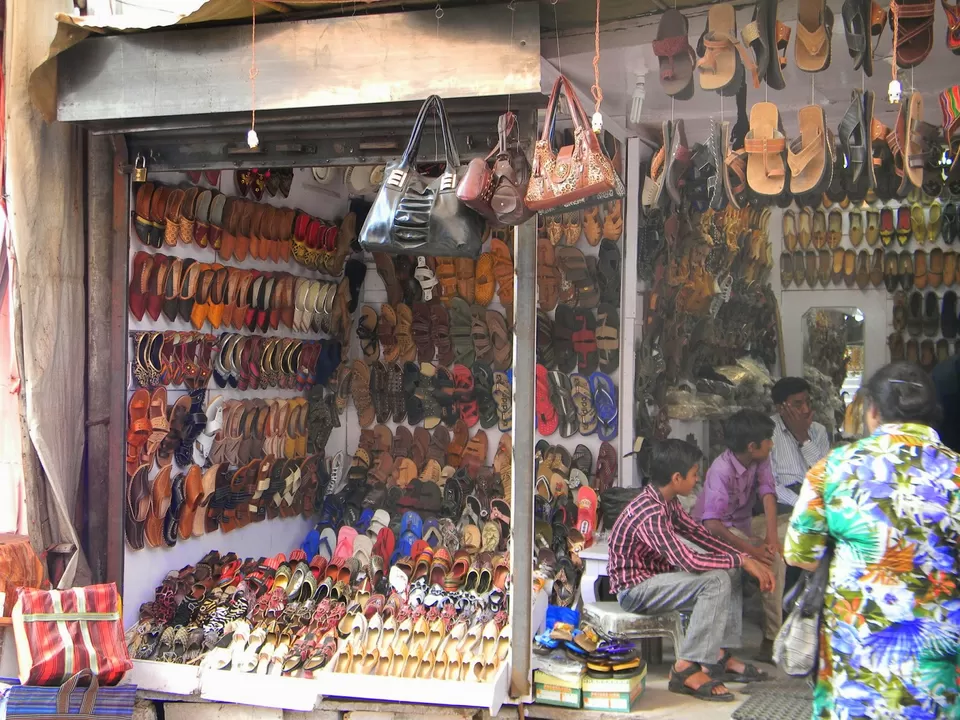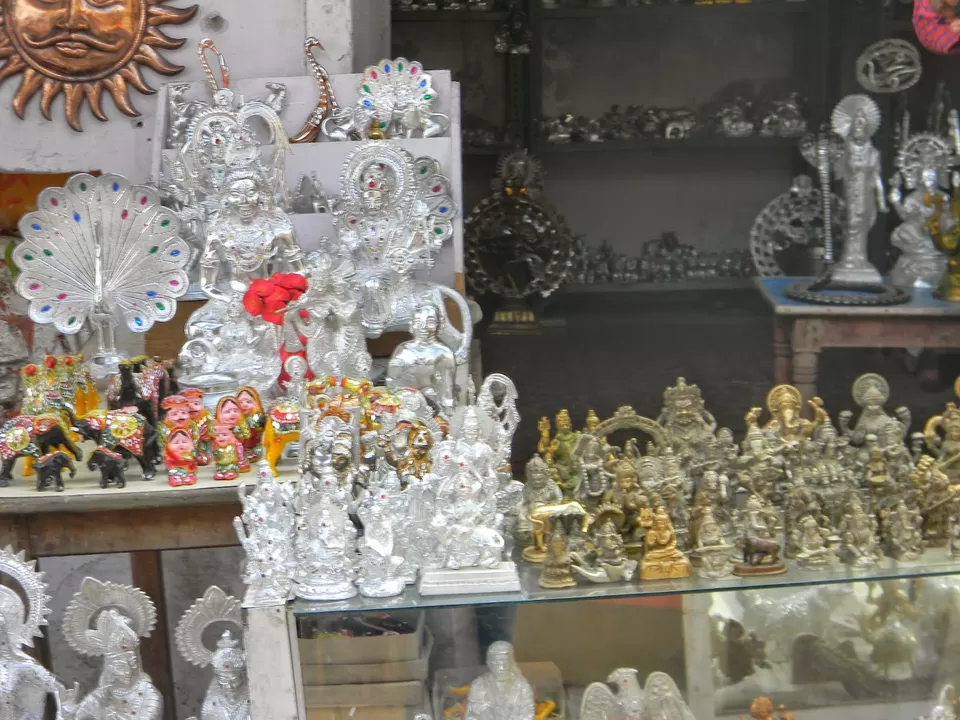 The thing that caught my eye is the shops, selling different kinds of swords, knives and combat gear.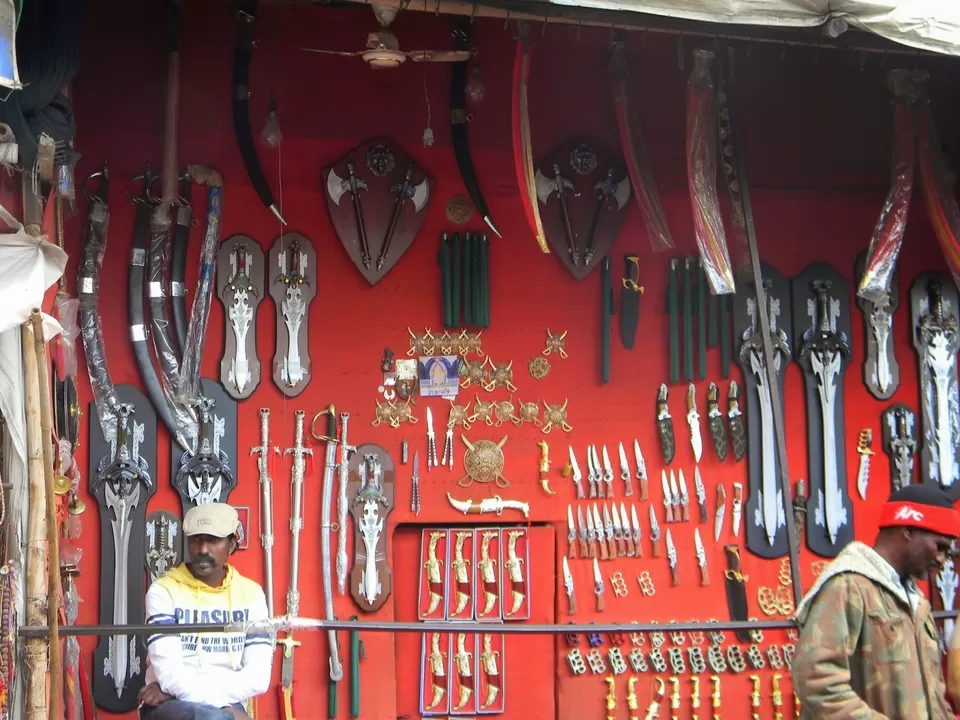 After taking lunch I went back to bus but I was first there to reach and to my frustration the others 6 tourist took their own sweet time and came back after 30-40 minutes late. Next destination was Ajmer, Dargah Sarif.
Ajmer is famous for Dargah Shariff of Hazrat Khwaja Muinuddin Chishti. It is one of the holiest places of worship in India not only for the Muslims but also for the people of other faiths who hold the saint the high esteem and respect. Sufi Saint Khwaja Moinuddin Chisti, is equally respected by Muslims and Hindus.
Bus driver stopped bus at the one place and asked us to take one auto to reach the Dargah Sarif. When we asked why bus is not going there directly then bus driver replied that the local authorities doesn't allow any private buses there. Auto driver took 50 rs per head. 10 minutes drive and then the auto driver left us on a narrow lane, said we could walk straight to the shrine. But looking at the crowd, I wondered if we could ever reach the shrine. I could see people from all faiths and creed here the moment I started walking towards the Dargah. There are numerous shops selling food, flowers, incense sticks, bangles. Few shopkeeper asked me to buy handkerchief, then I realized that I had to cover my head. I already had white handkerchief with me, which I used to cover my head. After making way through the crowd, I some managed to reach the Nizam gate. I had left all the belongings including my camera in the bus. Taking pictures inside the shrine is strictly prohibited.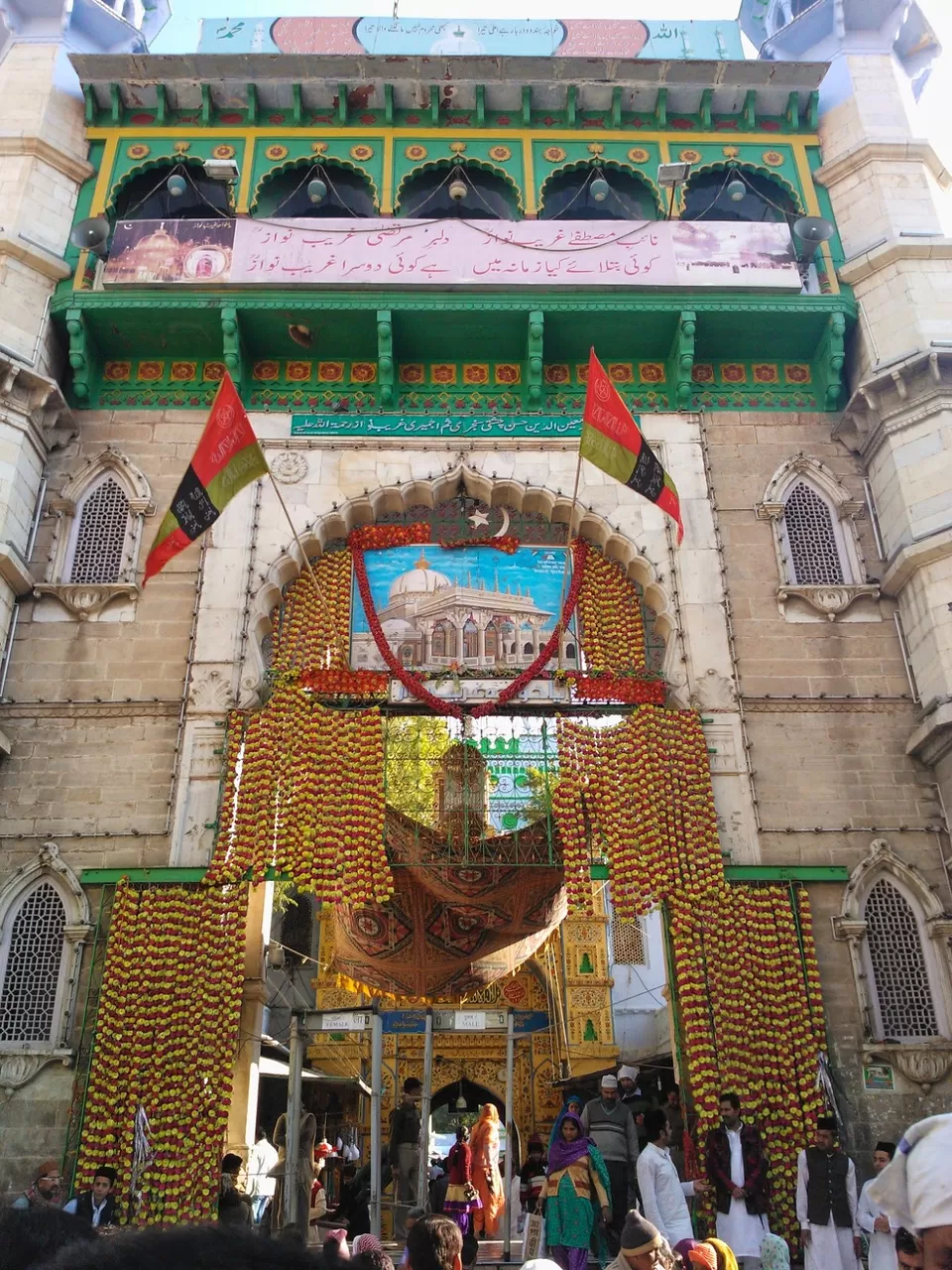 After depositing shoes, I entered the dargah premises bare foot. Inside the shrine premises there is small water tank where you can wash your feet. Though I have been to Haji Ali in Mumbai but the atmosphere in Dargah Sarif was completely different. I was unsure of where to go and what to do there but the people around there made me feel better and helped me. Inside I saw many people helping devotees, Qawals singing songs, Bhisthi offering water. Then I joined one queue and entered in the Main Shrine where many people were seeking blessing of Khwaja Moinuddin. Had the darshan of the great saint lying in his revered tomb, There were many official, one of them invited me inside the chadder and blessed me. I came out and then started looking for other tourist. I found them shopping, then I saw the auto driver, who was searching us. We all hopped in to auto and then went back to the bus. Another 3 hours travel and I back to Jaipur.