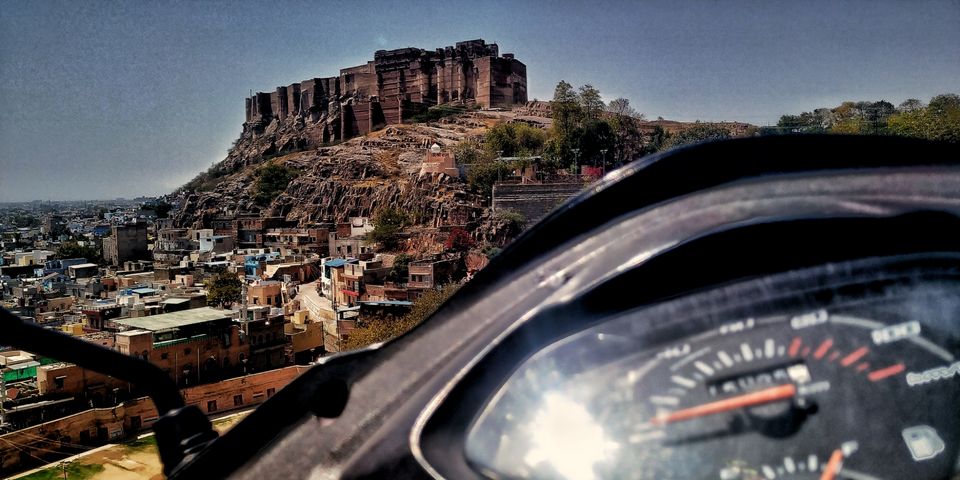 I know i am lucky that my birthday always falls near by Holi, you know it has many advantages. I realised it when i was in college, like if you're in college then everyone will be at home and you'll not get birthday bumps, you'll not have to give party to everyone etc.
Again my birthday was on the next of Holi and it was a long weekend of 4 days as per our company calendar and i was planning to go Pondicherry as 4 nights are more than enough to completely explore that tiny union territory but due to some serious circumstances i had to postpone pondicherry trip. 17 days ago i met with an accident and was on bed rest for 15 days and it was the worst time as i wasn't allowed to move and ride my bike and all.
So, i decided no matter what but i will travel, this time I'll travel to heal.
On 18th March i decided to do a small trip but this time by using Public transport. I booked my tickets to Ajmer, Rajasthan doesn't have a wonderful Government Busses network.
I decided this time I'll celebrate Holi in Pushkar and my Birthday in Jodhpur. I wasn't fit but sometimes you have to stand for yourself, to listen your soul. So, finally it started.
I changed my shift,worked from 6am to 3pm so that i could catch my bus. Started my journey with the life line of NCR, boarded on Metro from Noida City Centre and reach Jhandewalan. If you're a delhite traveller you will know the importance of Jhandewalan and RK ashram. Generally all the trips towards Rajasthan, Himachal starts from these two boarding points.
Chaai, is the boost up tonic for me. After drinking one kulhar of chai i crossed the road and walk towards the statue of Lord Hanuman, one of the finest statue of Hanuman in the world. Finally after walking around 1 km i boarded on my bus. I seriously wants to describe it, they successfully transformed a TATA bus into a Mercedes but the seats weren't that great but for only 400 bucks it was value for money. By God's grace i started my journey at 10:00 pm and successfully came out from Gurgaon and Manesar within 1.30 hours.
And i finally slept, i guess the bus stopped somewhere but who cares if you're sleeping after more than 2 days. I wake up near Neemrana, you can easily figure the Hero Factory from the NH.
I reached Sindhi Camp (Jaipur), i checked my phone. It was 2.30 AM and people already posted the videos and photos of Holika Dehen. Ohh yeah, today is Holi.
So finally i reached Ajmer at around 4.30 AM. The Bus trip was good, not that much costly and was comfortable. You can opt these private busses if you're coming to Ajmer from Delhi.
Chai is all you need to start a day either you're in Delhi or Rajasthan. Generally, busses deboarding point is Ajmer bypass from there you have to hire an auto, either personal or shared one. You will easily get auto from this point even in the early morning. I did conversation with few of them and finally hired one for 150 bucks and my destination was Ajmer Sharif Dargah. The distance was just 10 kms and travel time was of 10 to 15 minutes without traffic.
After a healthy conversation both political and historical with the Auto driver i finally reached the Holy shrine.
You can also check in to the rooms in the nearby hotels if you want to get fresh and to keep you luggage on the hour basis. You will get a room for 10 to 12 hours at just 500 bucks else you can keep you things(including Camera as it is not allowed) in the Cloak Room which is near the main entrance and the price is just Rs. 10 per bag for 12 hours. Just above the Cloak Room there is a washroom if you want to get fresh before going inside the Dargah.
The way to Dargah is narrow and i was lucky that i came early in the morning so it was not crowded. I entered from the main entrance and it was the time of morning prayer (namaaz), i guess i was lucky. Everyone was standing in a row at their place. It is mandatory to cover you head while entering in the premises so take a scarf along with you and yes you can buy them from nearby shops. I entered the holy premises and took the blessings of saint. You will feel the positivity there. I felt and it was like just sit and enjoy the peace there.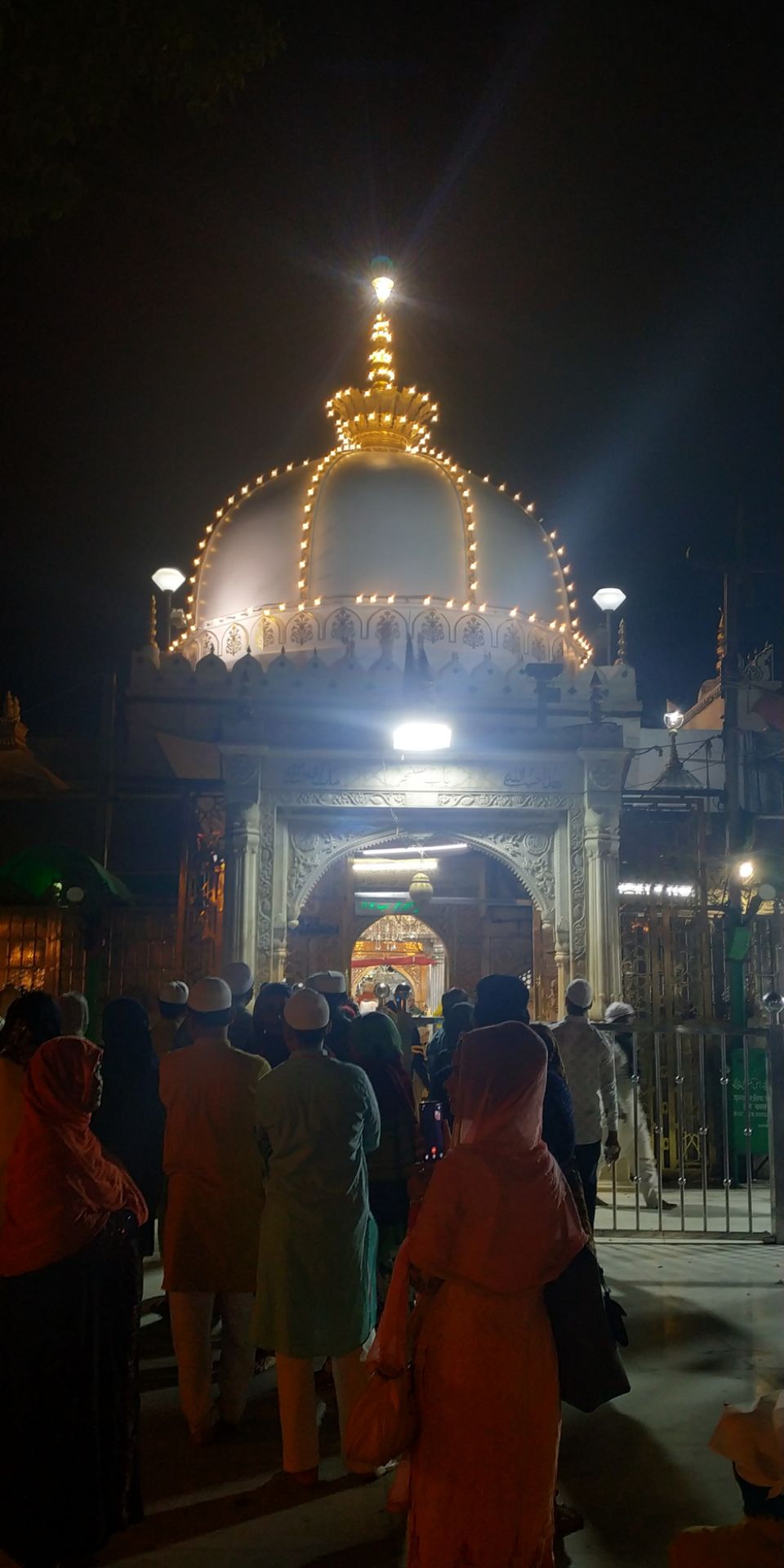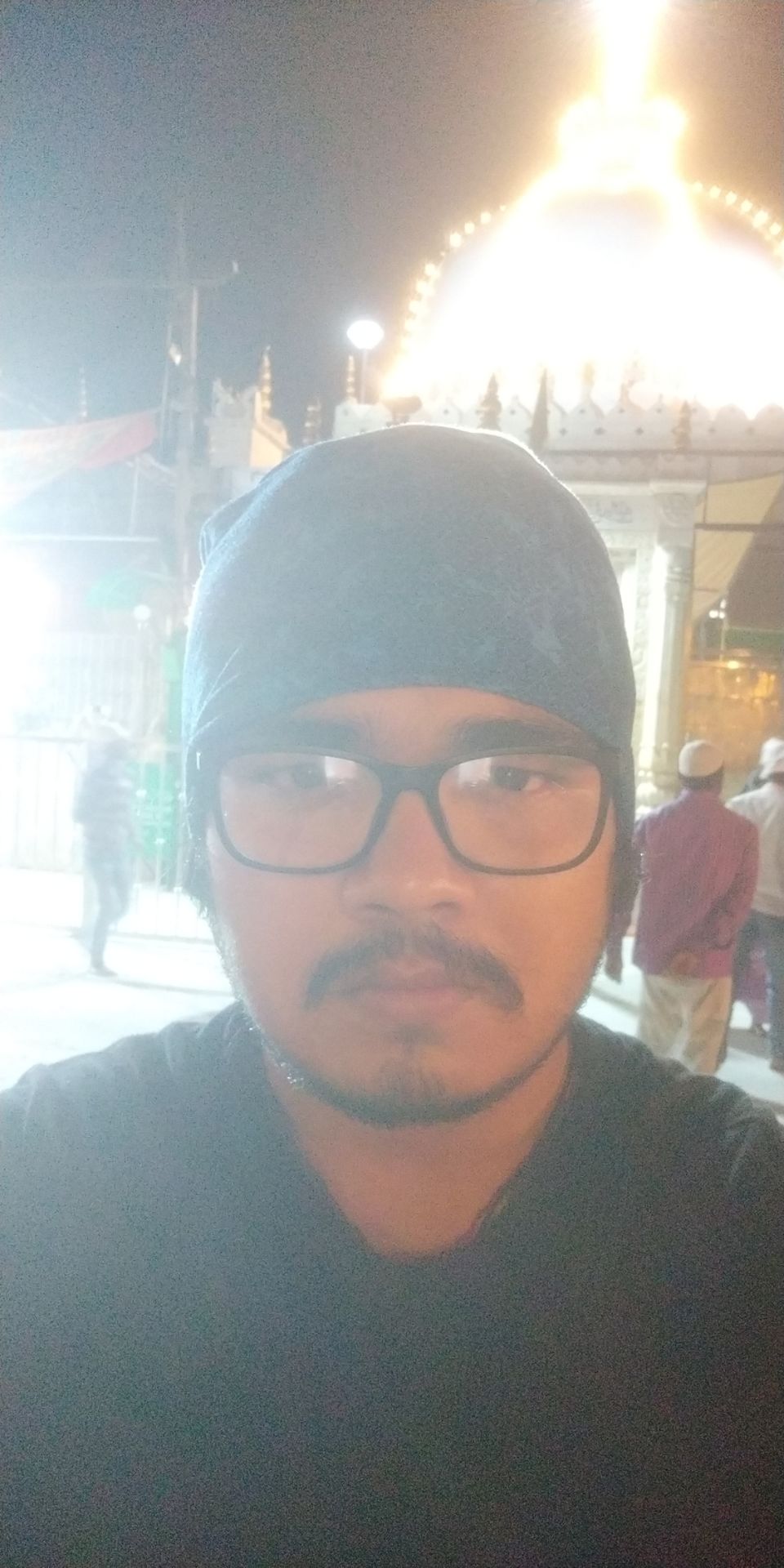 People from the different corners of country come to pray and get the blessings. This Holi shrine of sufi saint Moinuddin chisti has many names like Khwaja Gareeb nawaj, Ajmer dargah, Ajmer sharif dargah, Dargah Sharif. It is considered as one of the most scared dargah and was built by Mohammed bin Tughlaq.
After visiting this holy shrine i came out from the main gate and i realized, yes something special is there. Thousands of people from different religion, caste were there to get the blessings. Yes this is the real color of my country.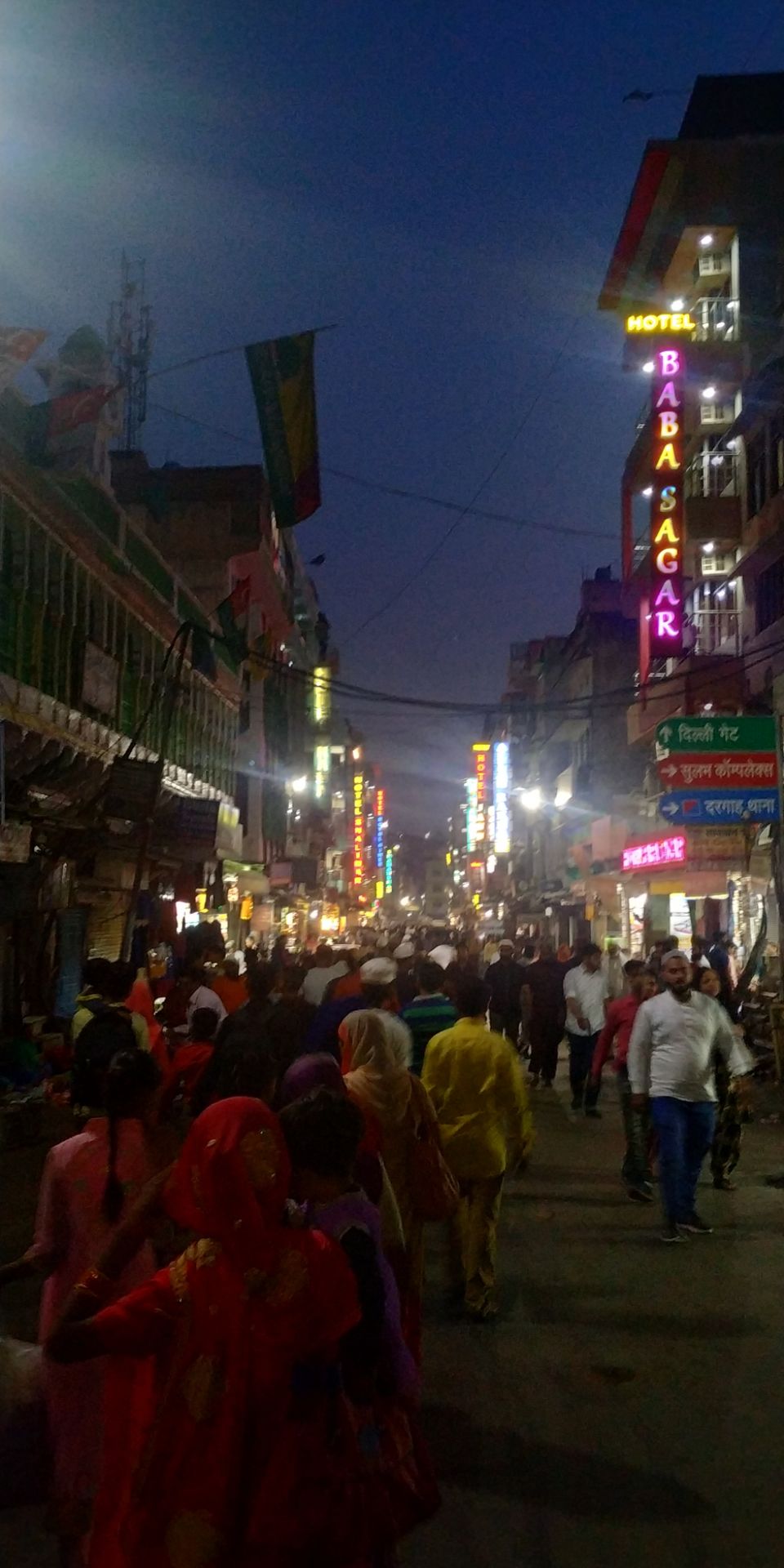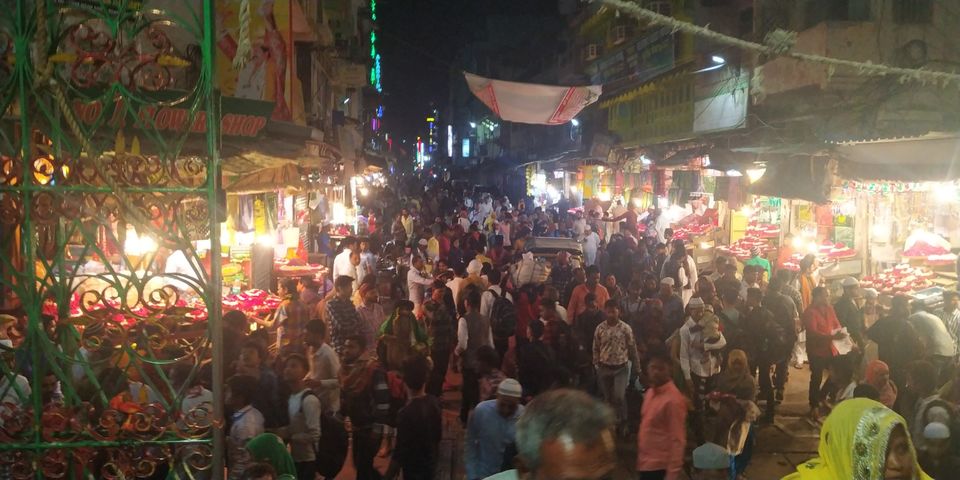 It was 7 AM but i wasn't feeling complete and comfortable, yeah the reason was TEA. Found a small tea spot and after a few minute conversation i came to know that he's from Gorakhpur. Yes you can find us (UP wale) anywhere in the whole universe.
Note: These people are the best guides if you want to know more about city and to discuss your further plan they will definitely help you and of course free of cost.
My next target was to see sun rising from the Ana Sagar Lake.
Walk for half an hour and you'll reach near Lake. It is an artificial lake built by grandfather of Prithviraj Chauhan and yes it very big, some old young man told me it is spread in around 13 km area and a great spot for morning walk and evening date. Circles of Ajmer city are beautifully designed and yes it a clean city.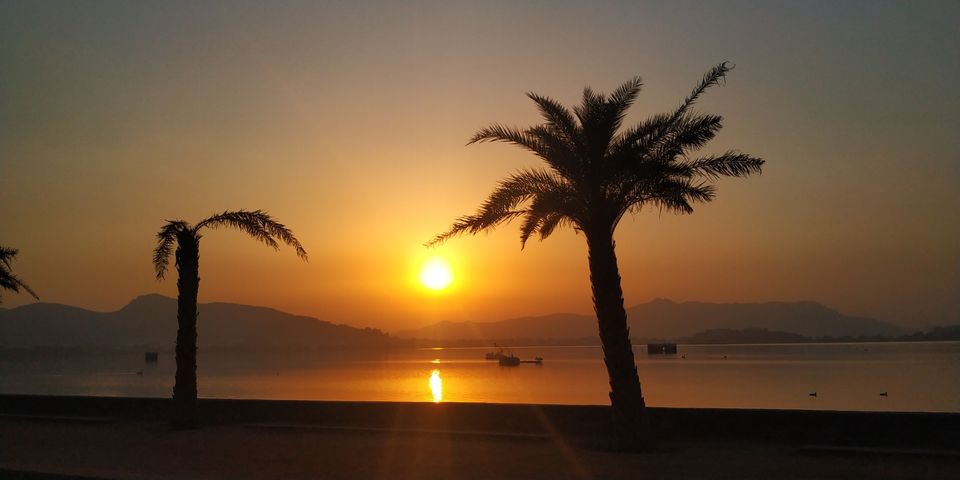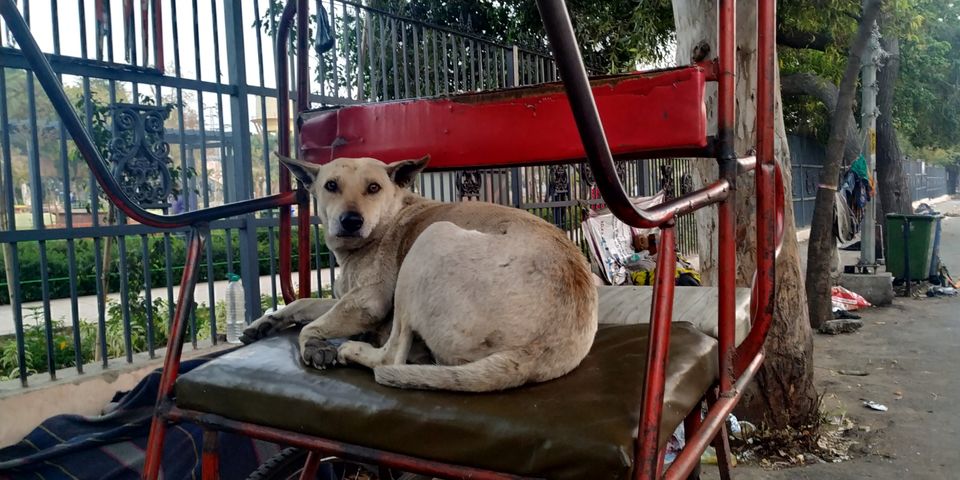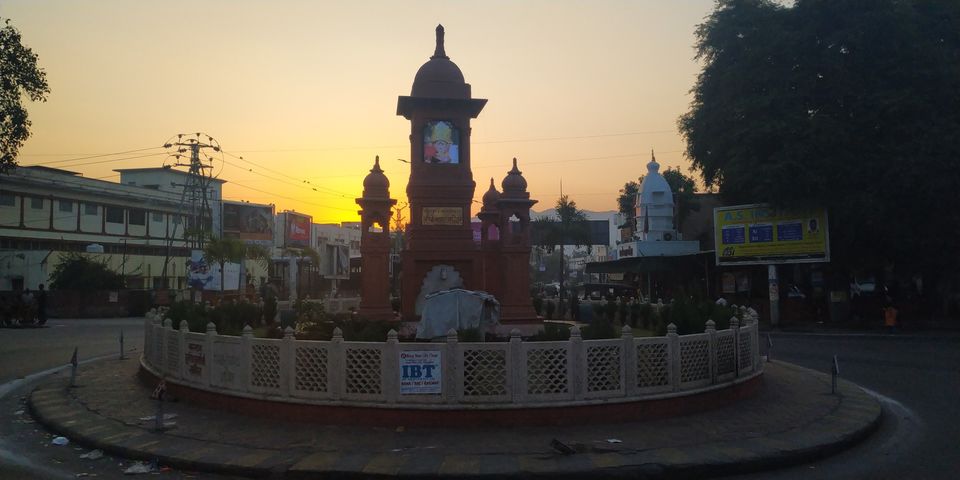 Holi, festival of colors is famous in the twin city of Ajmer, yes i am talking about Pushkar. My next destination was Pushkar and to celebrate holi with the essence of Pushkar.
Ajmer to Pushkar is just 15 kms, you only have to pass through the hills. Local Busses, Rajasthan Roadways and Autos these are the options to reach Pushkar. As it was the morning of Holi, so it was difficult to find a bus therefore i hired an Auto and it was not that much costly. I just paid 150 bucks to reach the historical city of Pushkar.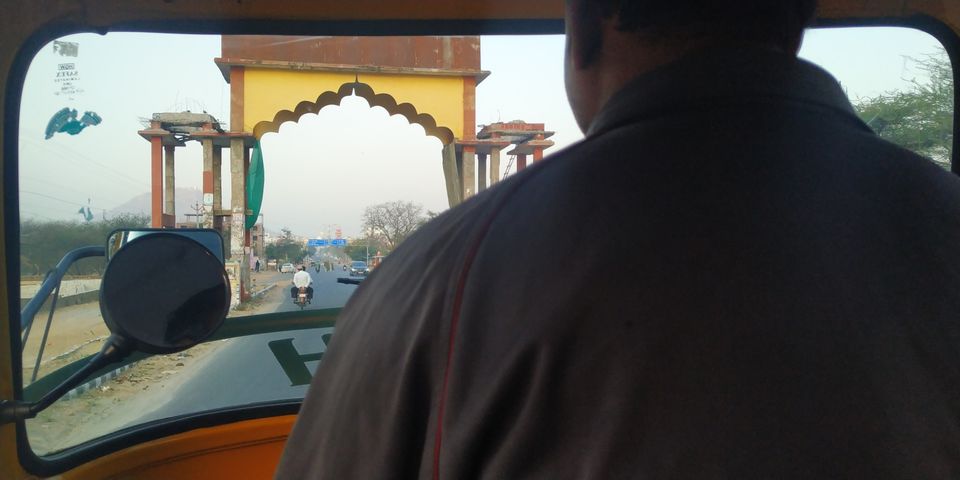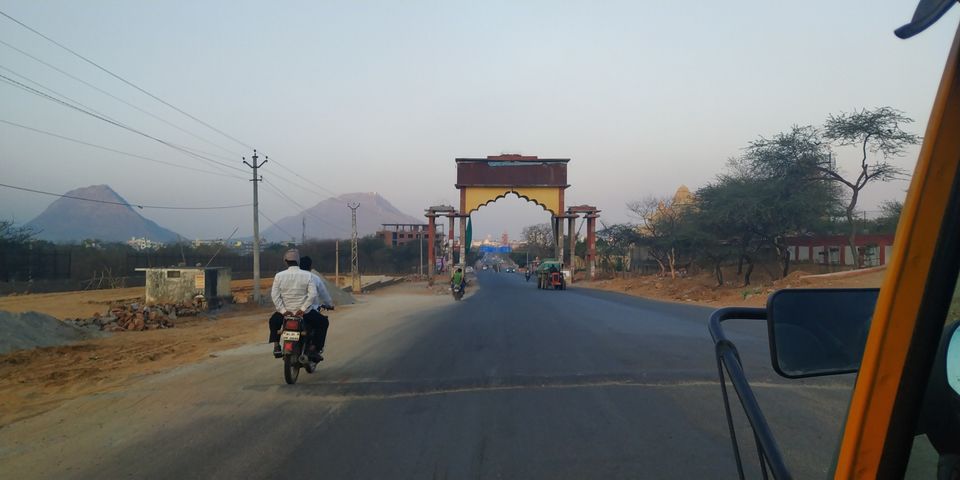 Pushkar, in Sanskrit means Blue Lotus flower, is located on the shore of Pushkar lake, is considered as one the most ancient town of India mentioned in Ramayana, Mahabharata, Vedas. The only temple of Lord Brahma is also in Pushkar. Pushkar is famous for its camel fair and Holi.
After taking blessings of Lord Brahma (Jagat pita), breakfast is the only thing i wanted.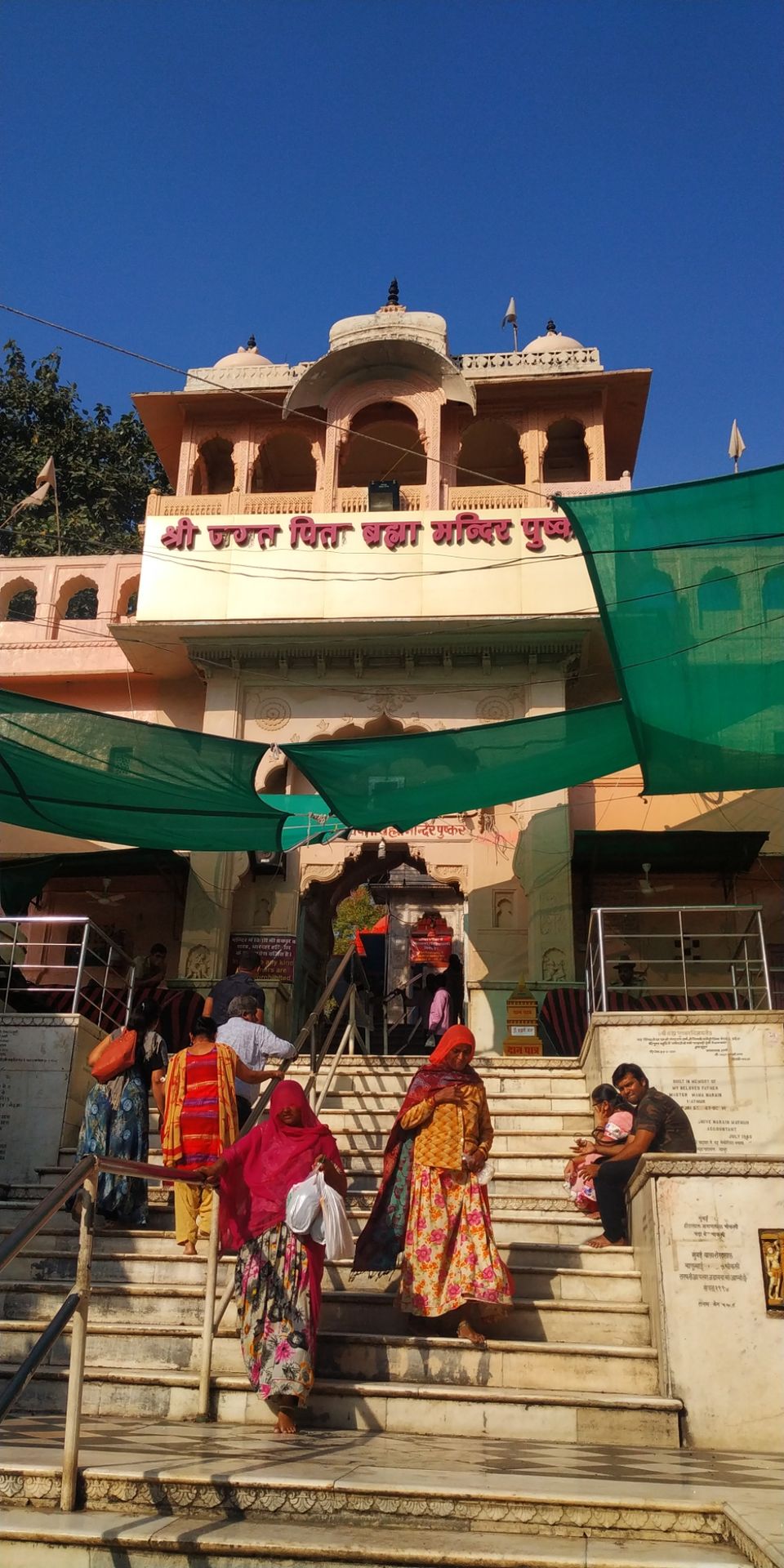 You'll get good food, lockers, washrooms just outside the temple. Idli Sambhar was good, you know why i opted Idli sambhar, if you're traveling try not to eat heavy. It will ruin your digestion because when you're traveling water of different places may effect your digestion.
I took locker, put my bag inside it and i was ready to experience the great Pushkar Holi along with my camera. Wait, one thing was missing. Yes, Bhang of Pushkar.
Holi started at approx 8.30 in the morning and ended in the evening. I started roaming and clicking the streets, people enjoying on the music, colors everywhere. People with different countries, culture, caste, religion were just enjoying this beautiful festival of colors. One thing is great about Pushkar Holi, they don't use water or permanent colors.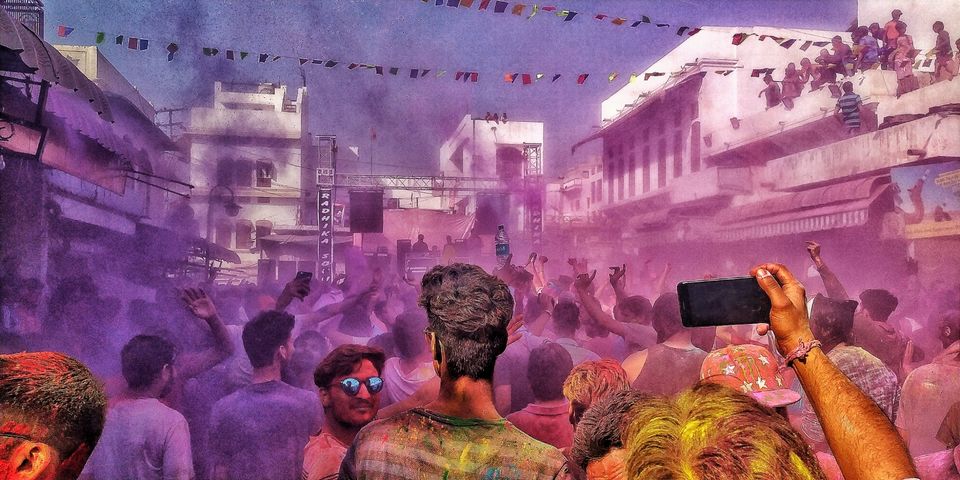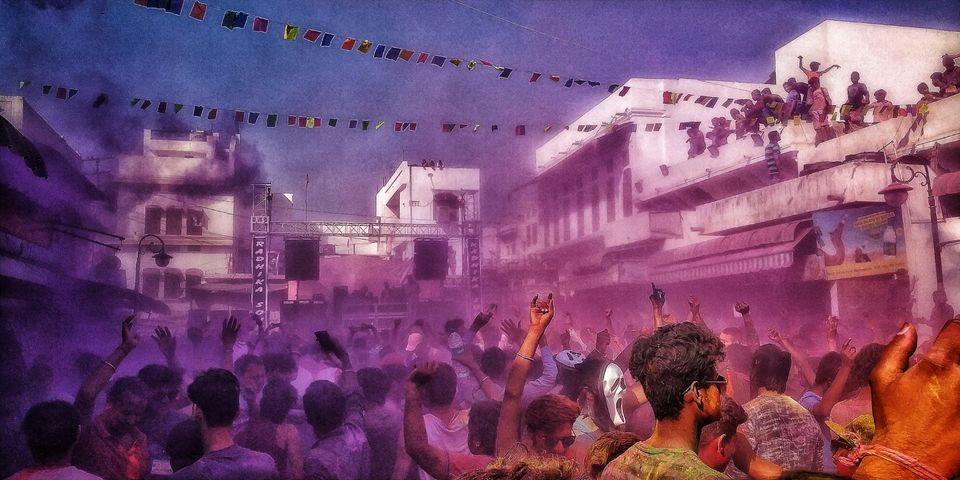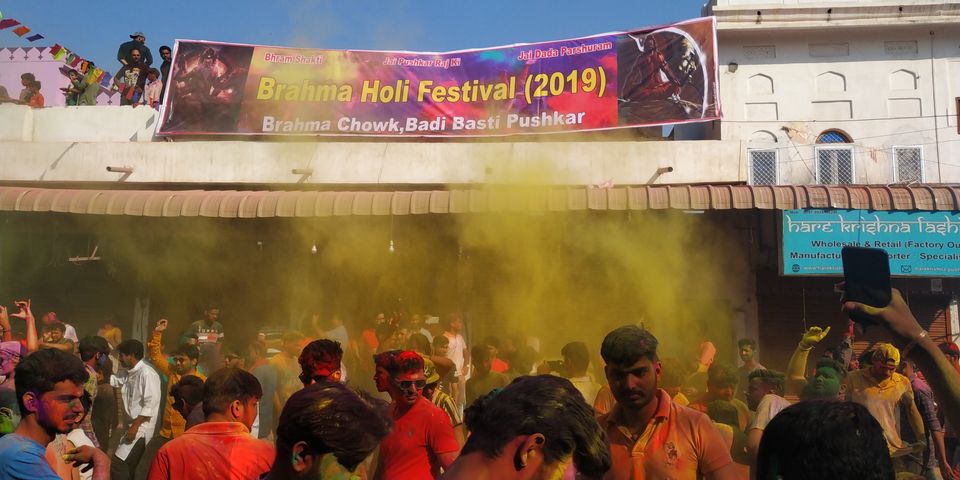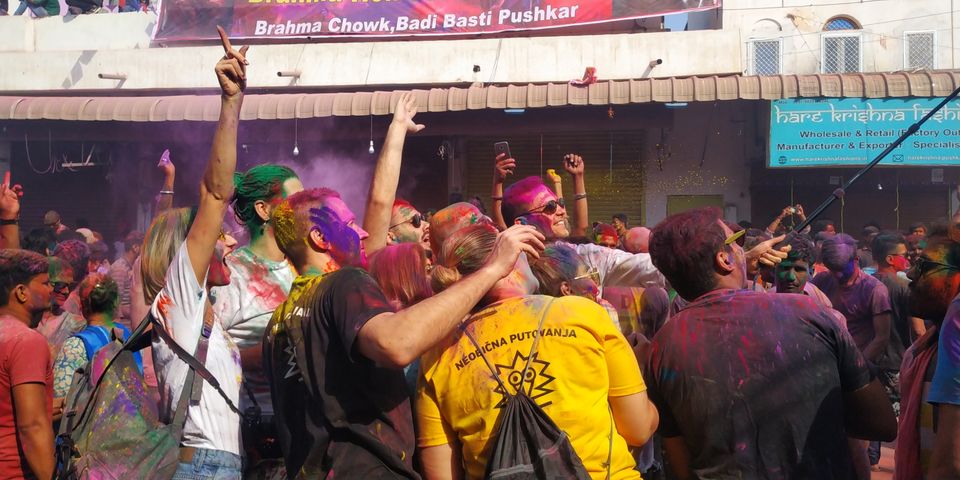 It was 1 PM and i was feeling sleepy and also i have to take my belongings which i kept in the locker near temple but as per the local people going there in this time is dangerous. They tear the clothes.
Now my only task was to reach near Brahma temple then i will take rest anywhere but the question is how to reach there? Google baba show me the short route and i started walking through the other side of Pushkar Lake. Generally the ghats are always crowded but because of Holi priests block the way to ghats and i was lucky to get this calm and beautiful view of this historic beauty.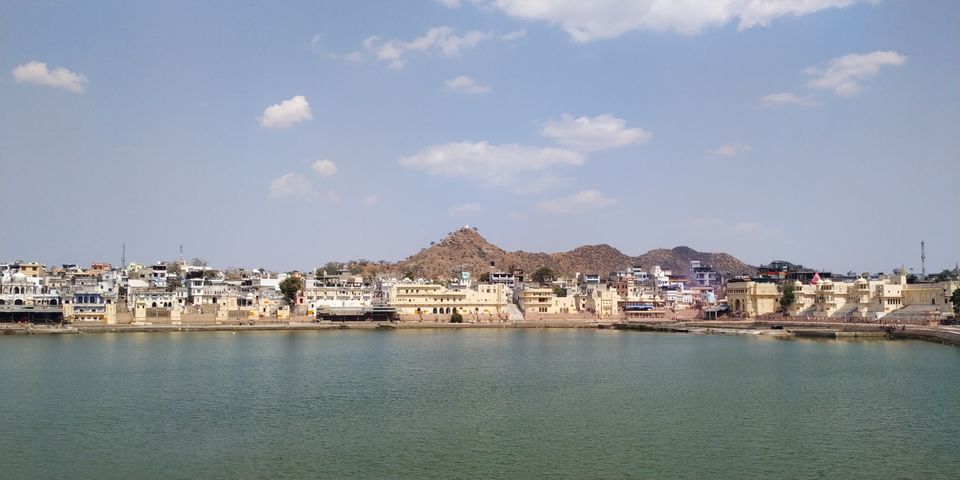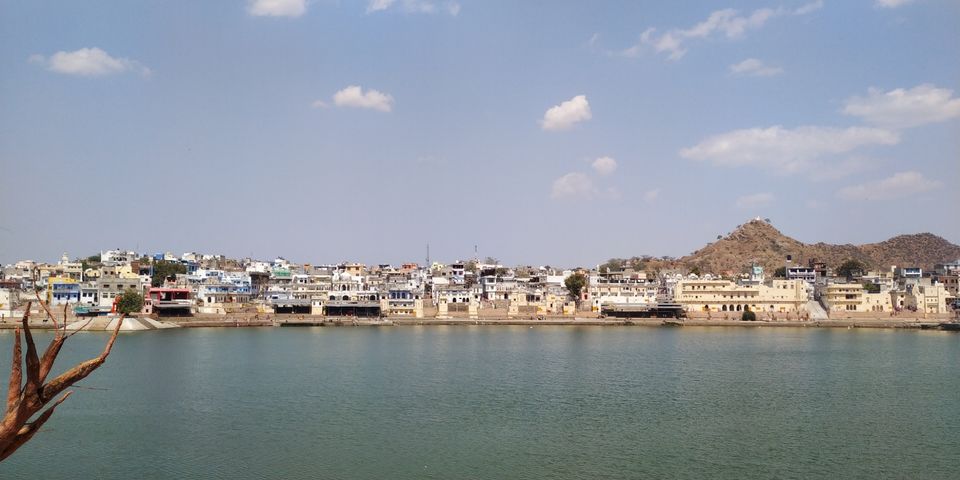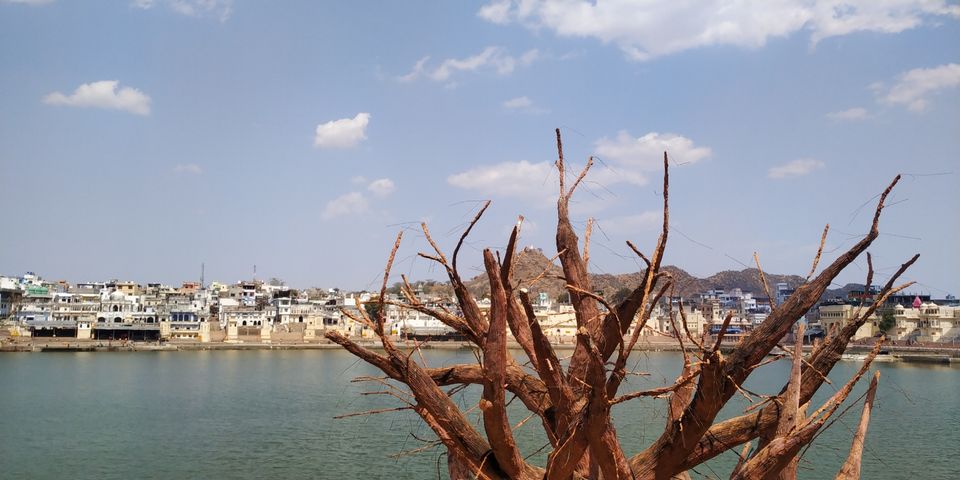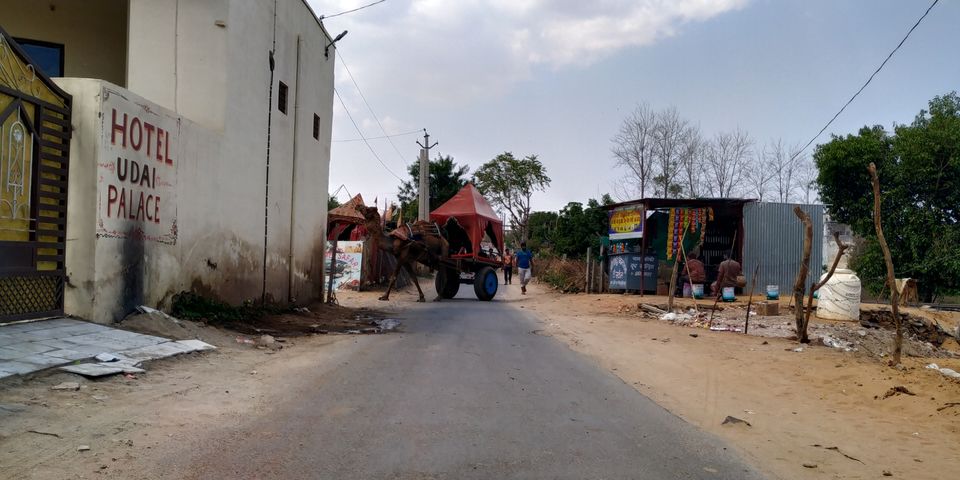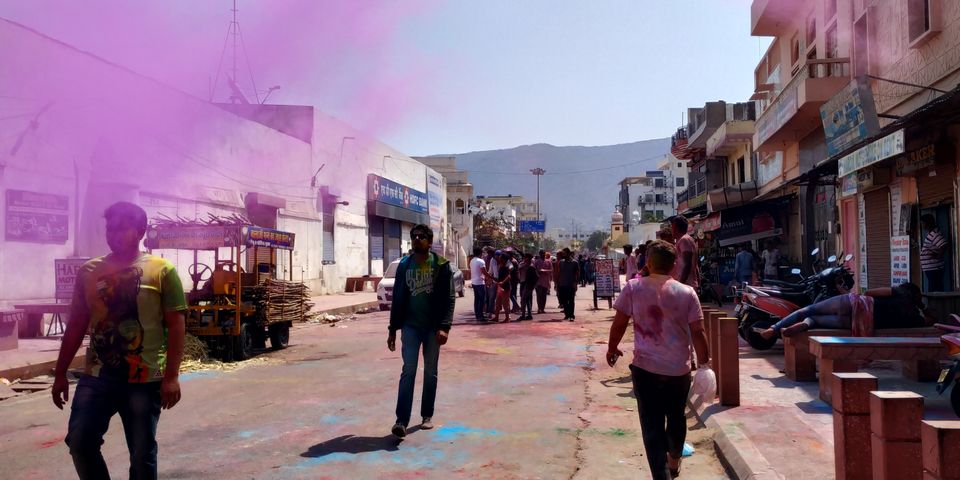 I have to wait for a while so i took shelter in a Dharamshala just few meters away from Temple. After cleaning myself i took a short nap which really helps me as it was too much mandatory at that time.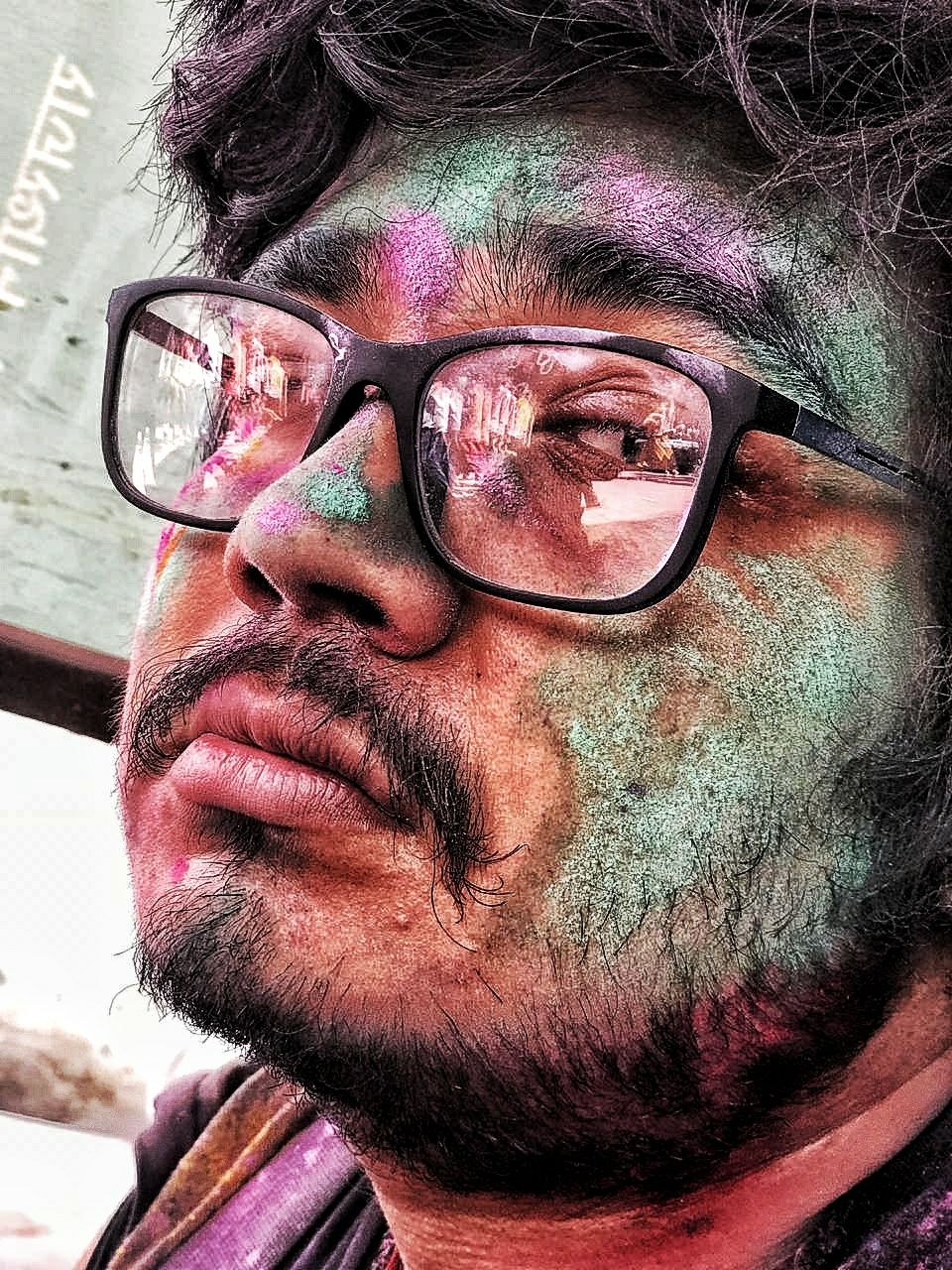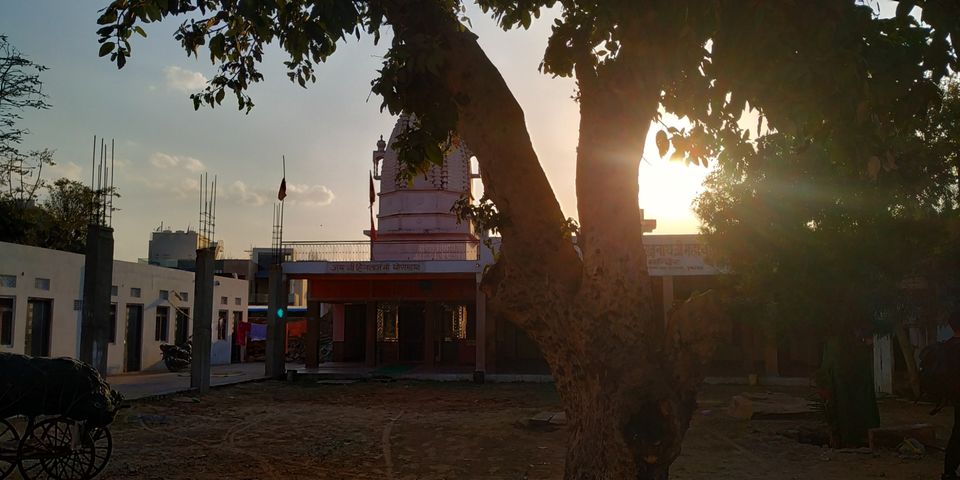 I took my bag and after taking Blessings of Lord Brahma and Savitri mata i was ready to say goodbye to this beautiful city which filled my day with millions of colorful memories. If you love sweets then one more thing this city offers you, MaalPua. You can eat this famous sweet dish from any of the sweet shop of this town and it is really delicious. Enroute i visited a south indian temple and a famous gurudwara.
Unfortunately i miss the last local bus and yup i was hungry so i jumped into a nearby Israeli restaurant,Just Falafal. Food was good but service was slow and finally i took a bus going towards ajmer. Pushkar, you are simple and beautiful town.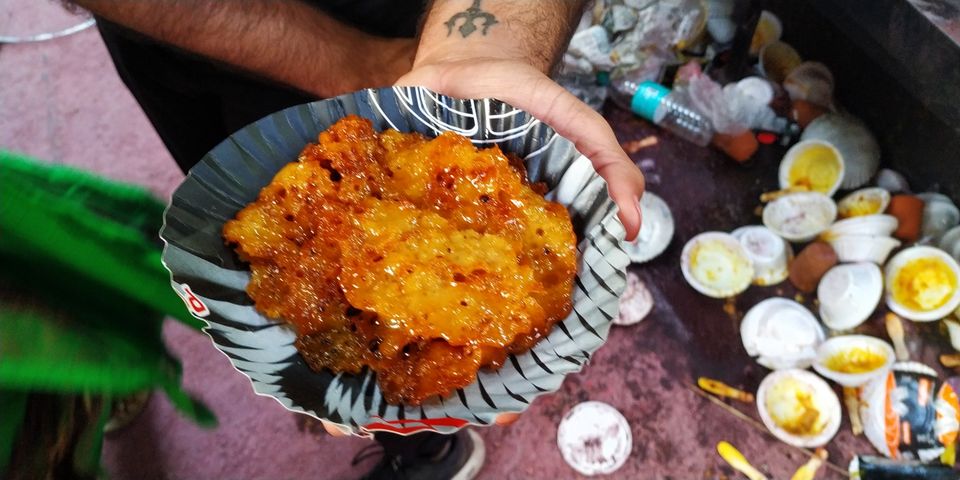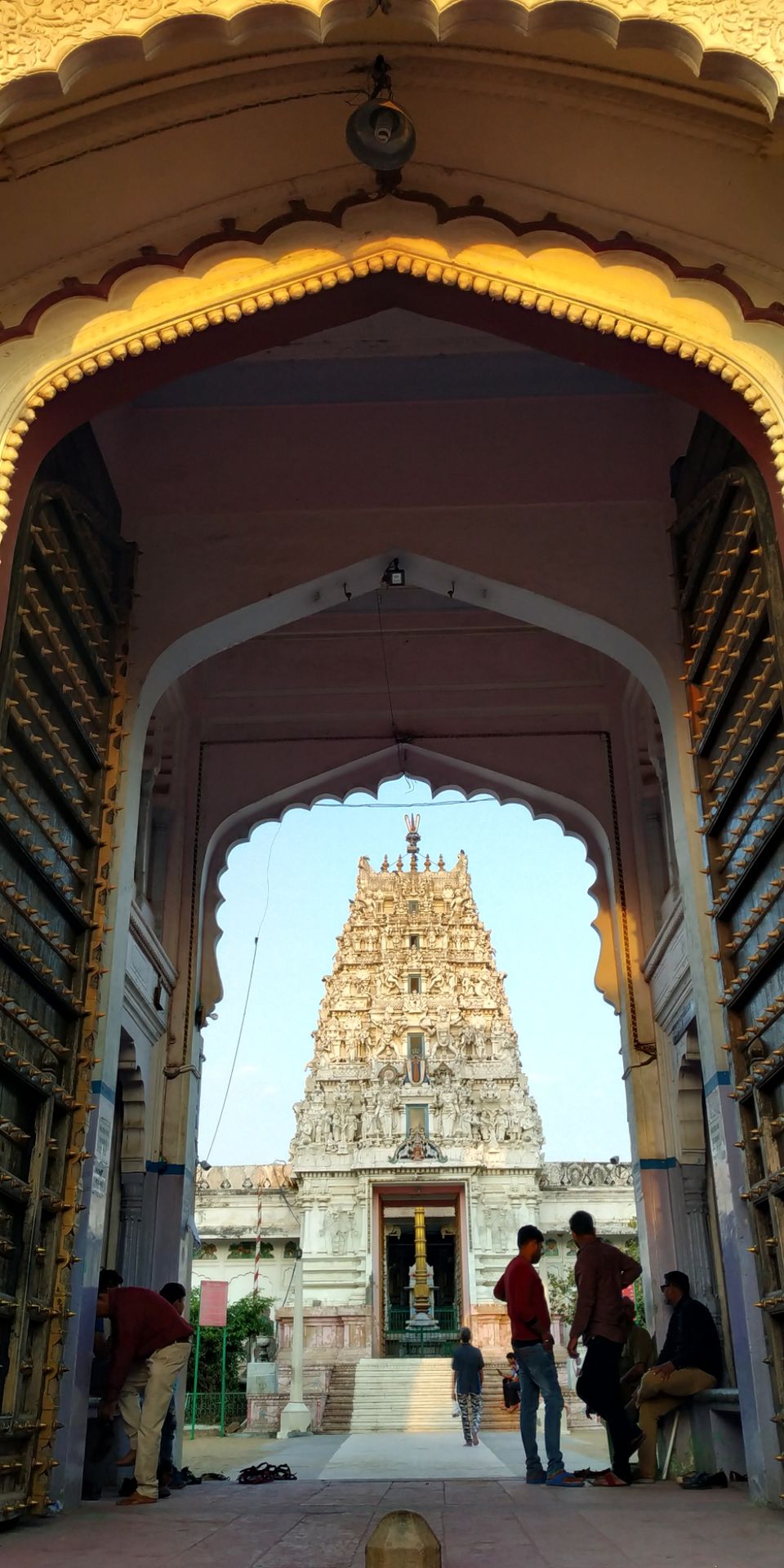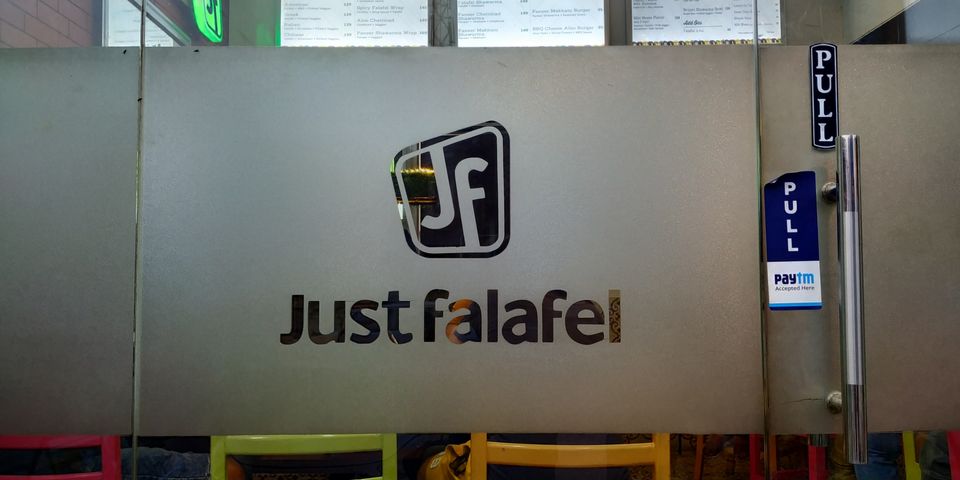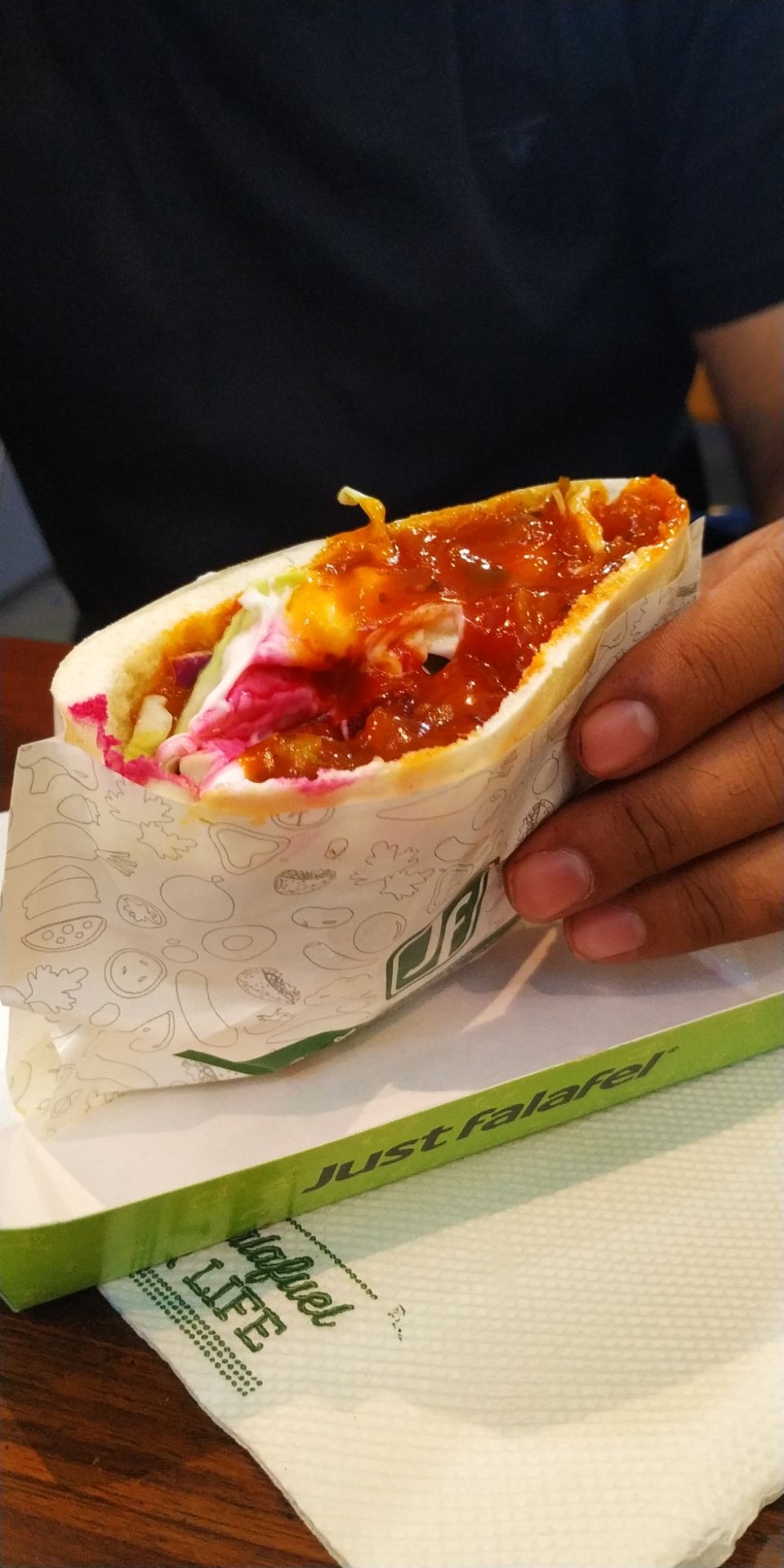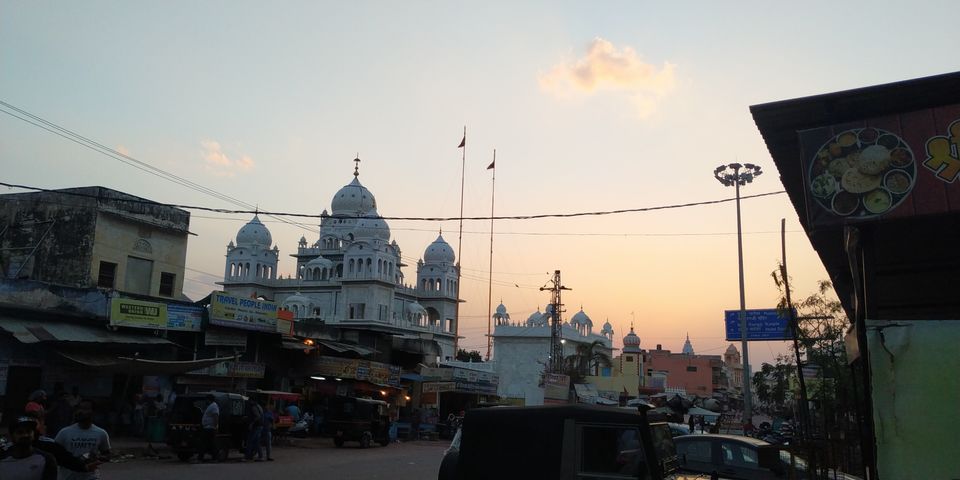 At approx 8.30 PM i again reached Ajmer and directly went to the Chowpaty, Ana Sagar Lake and this place looks beautiful even at night. The reflection of light in the water of ana sagar and the cool breeze made my day.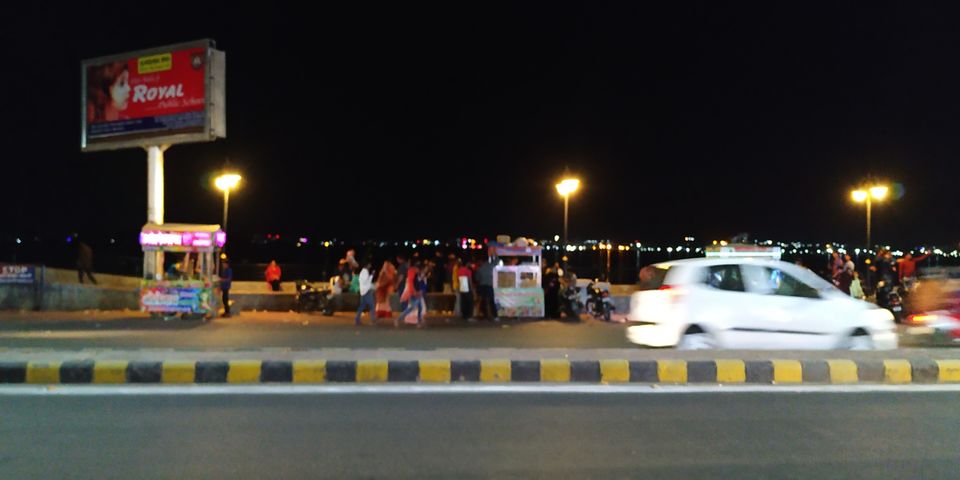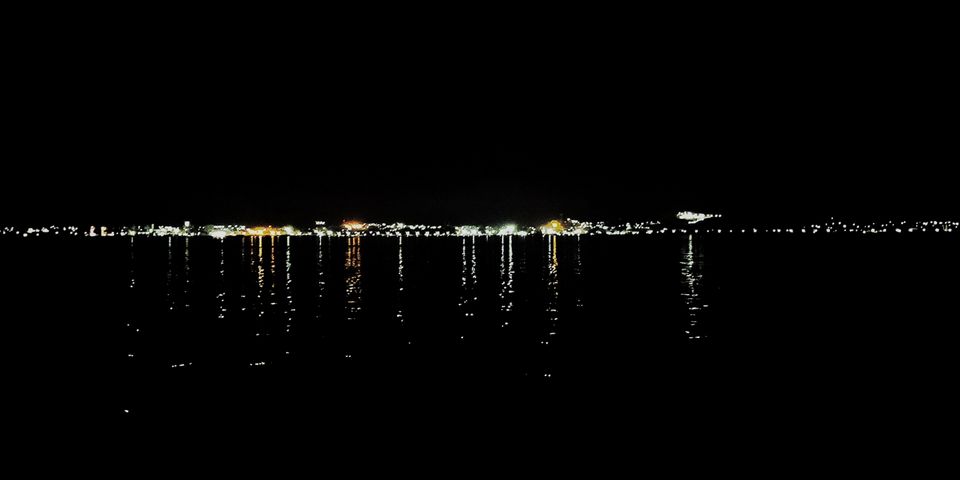 It was dinner time and after doing a lil bit of research i get to know that I'll get good and cheap food near Railway Station so i headed towards station and had dinner. It was Rajasthani special Dal Bati Choorma.
It was 11.00 PM and still 2 hours for my bus to Jodhpur so i walked to Bus station which is nearby railway station.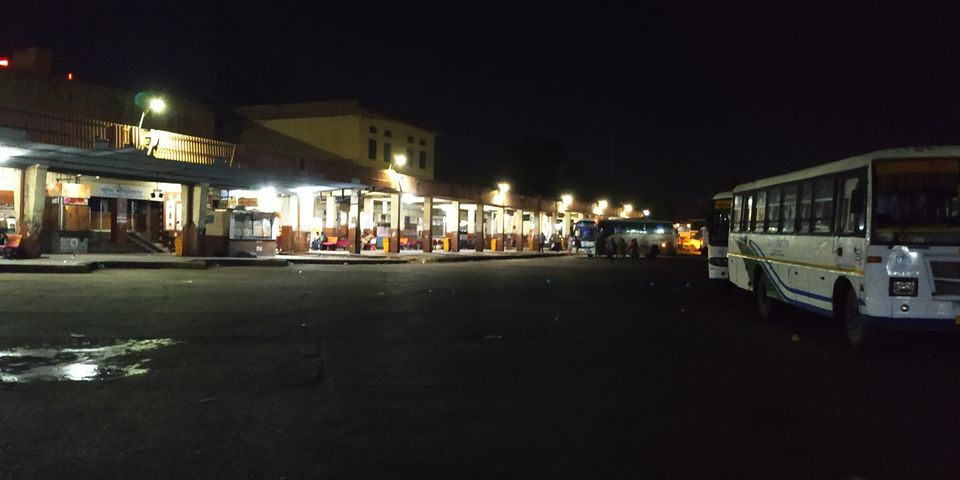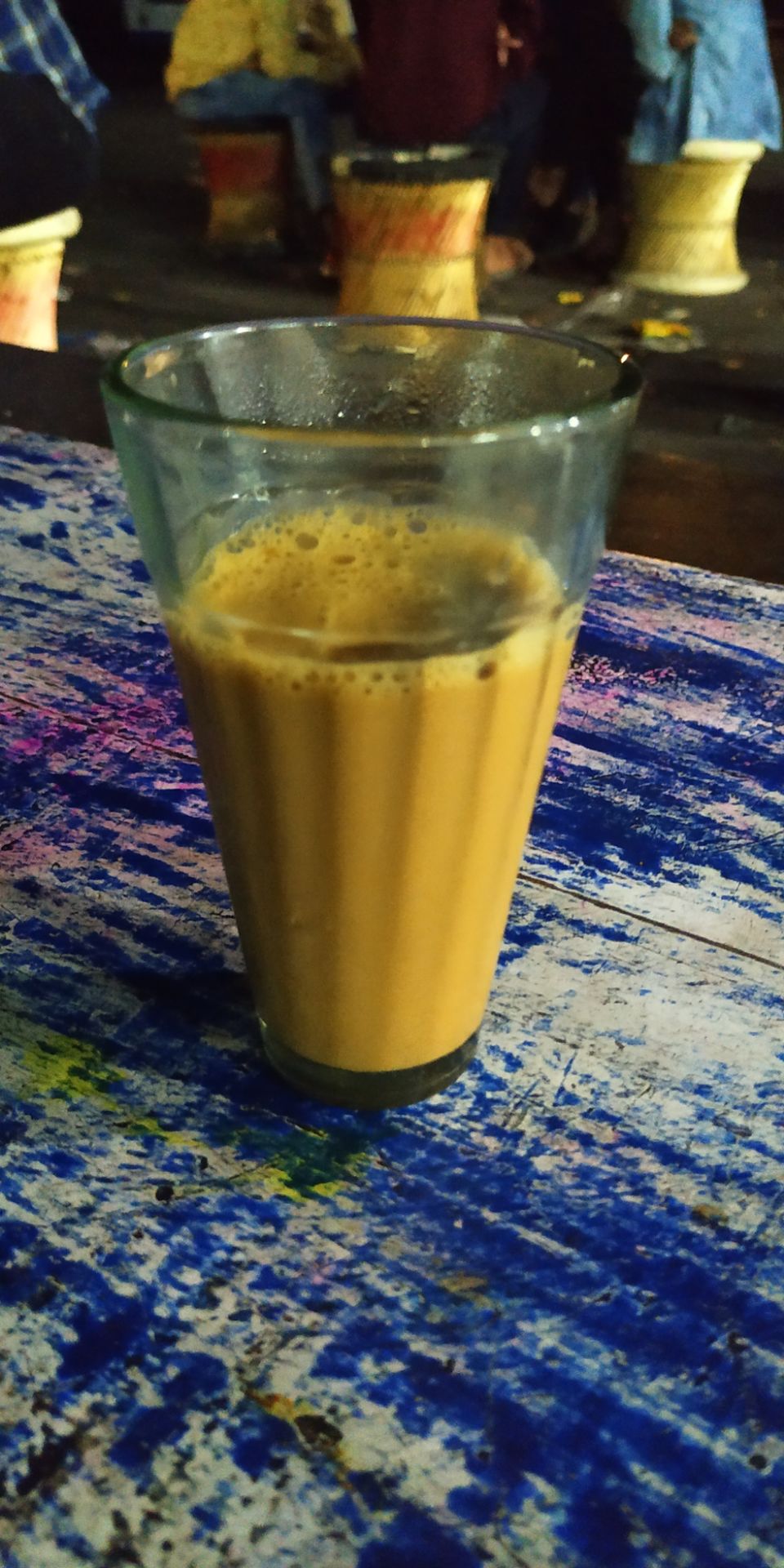 12:00 AM and i completed 23 years on this planet. I celebrated my birthday at Ajmer Bus stand with a cup of Tea and wait for my Volvo to Jodhpur.
It was around 1 AM and i boarded, i didn't remember a single thing after this and i wake up it was 06.00 AM in a new city, City of Sun Jodhpur. Bus stand of this city was small but some how i found a stall where i eat poha with a kulhad of Tea.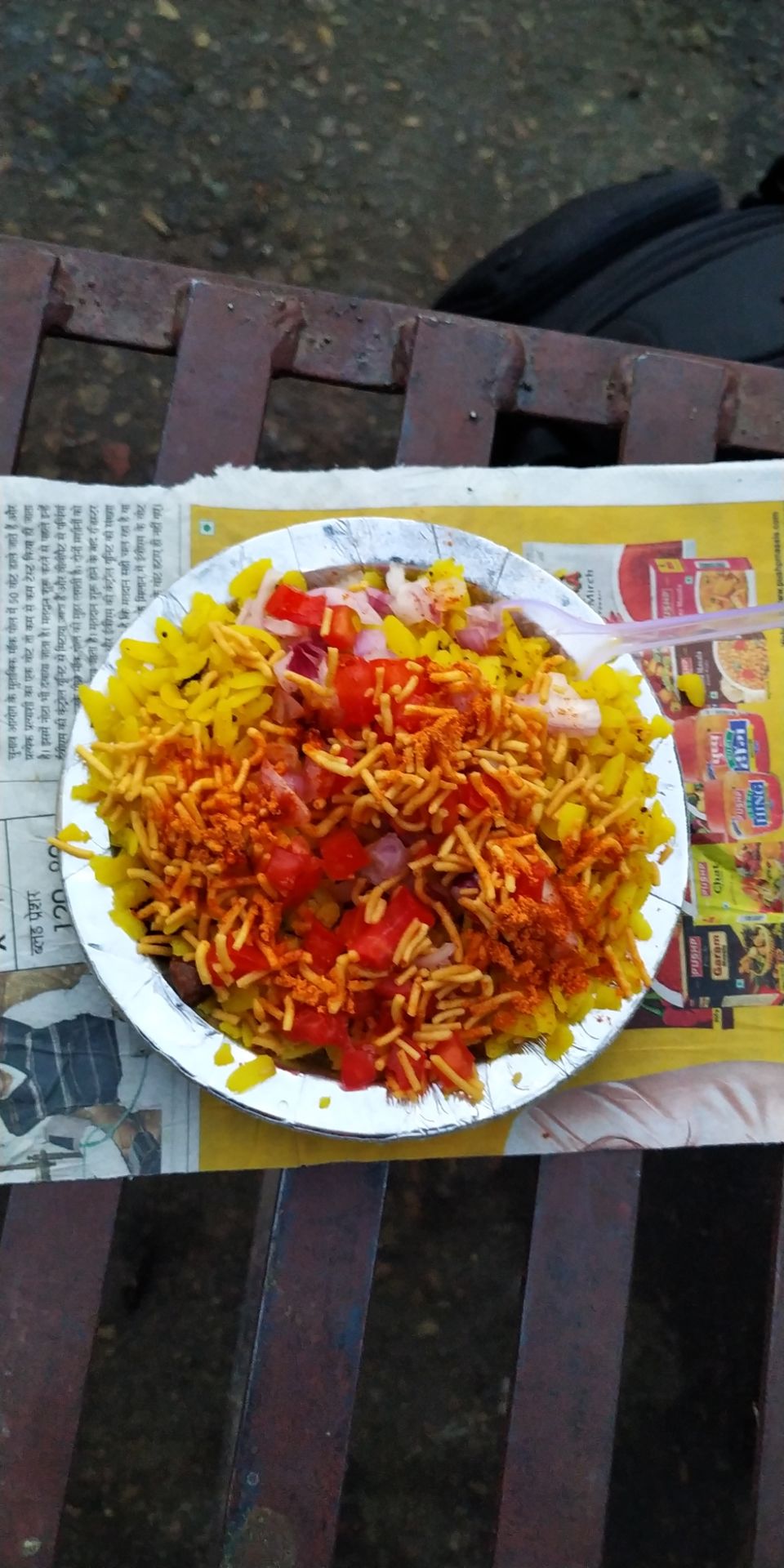 Now it was my birthday and it should grand right? So instead of Auto or local bus i hired cab, yes Uber service is available in Jodhpur. I checked in Hotel Mango, yeah correct. I booked a good Hotel to celebrate my big day with myself instead of any dharamshala or Hostel. The room was good and service was also good. It was really spacious and as usual i reached there early so they charged extra 500 as early check in fees.
Now only target was to do some research to hire a two wheeler in this city so that i can continue my journey.
After a cup of coffee, i was ready to win this historical city.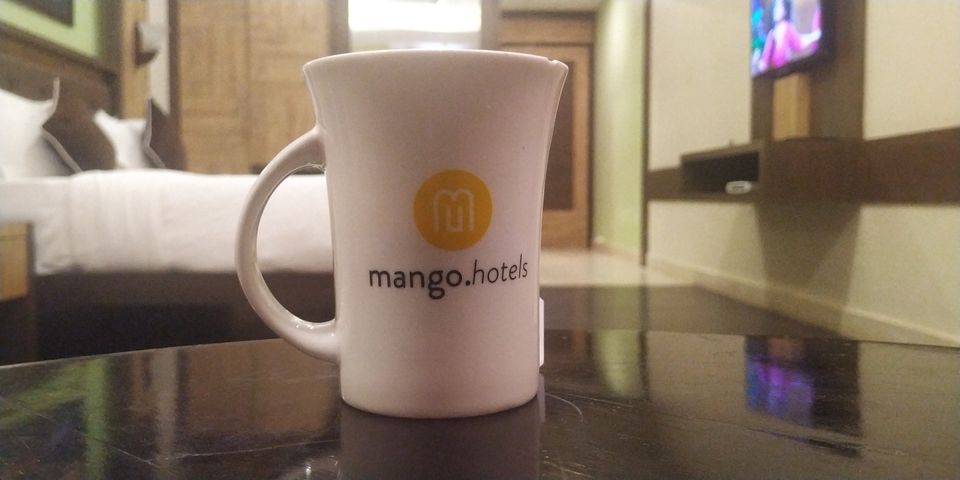 You can easily hire a two wheeler in Jodh at an affordable price. Bike on rent, Manisha Auto etc. are many options.
So i hired Activa which was in good condition and filled 4L petrol, which i guess was enough for a day city tour.
My first destination was the famous Mehrangarh Fort, which is around 6 kms from my Hotel. In 15 minutes after taking a sudden elevation and passing through lanes i finally reached India's one of the largest Fort which was built by Rao Jodha in 1459. It is built at an elevation of 410 feet. Just outside the entrance two wheeler as well as four wheeler parking is available.
Just like other monuments you've to buy the entry ticket and go through the check posts. You have to pay 100 bucks for entry, 100 for photography and 50 if you want to use lift.
If you've interest in Indian history and love to capture the monuments then this place is for you. Else seriously saying you're going to waste next 3 hours here.
Classical Rajasthani folk music welcomes me to this giant example of Indian architecture. The walls of the fort have a height of 118 feet and a width of 69 feet that protect the massive area of it. The name Mehrangarh is derived from a combination of two Sanskrit words: 'Mihir' meaning the Sun god, and 'Garh' meaning fort. The museum inside the fort contains relics and ancient artefacts that come from not only the royal families of Rajasthan, but also of the Mughal dynasty culture.
From the top of Fort you can see the magnificent view of this Sun City as well as Umaid Bhawan Palace. You can see the blue painted houses, which are of those who worships Shiva and also the temperature is too high here and blue is a soothing color. So most of the houses are painted blue, this is the reason this city is also known as Blue City. There is also an ancient devi temple inside this fort.
After exploring the Fort, my next destination was Jaswant Thada which is nearby this Fort.
Jaswant Thada is a mausoleum which is more commonly known as the Taj Mahal of Mewar. This marvelous structure is made up of marble.Jaswant Thada is named after Maharaha Jaswant Singh 2, and it was built by his son Maharaja Sadar Singh in the year 1899. There is a small lake which was earlier used for rituals. You have pay ticket worth Rs. 15 to explore this beauty. Don't miss the view of Umaid Bhawan from this place.You can also see the beautiful sunset from this place.
It was around 3, i was hungry. I directly went to the lanes of Jodhpur city to eat something light. Market of Jodhpur is good and you'll get many things to eat. I ended up eating normal Daal Roti from some unknown place.
Now i went back to my room and replied to all who wished me. Actually today was my birthday so, there were many messages from every single person who even don't know me personally. But yeah it feels good.
Its time to celebrate, i bought my favorite chocolate truffle and a candle light dinner with myself at a very good restaurant, On the rocks. Food and ambience was really good.
It was really a wonderful day.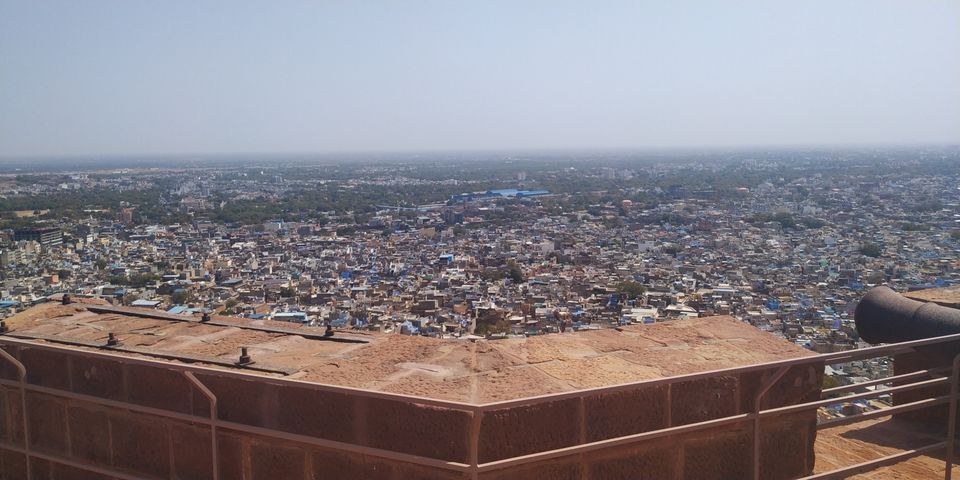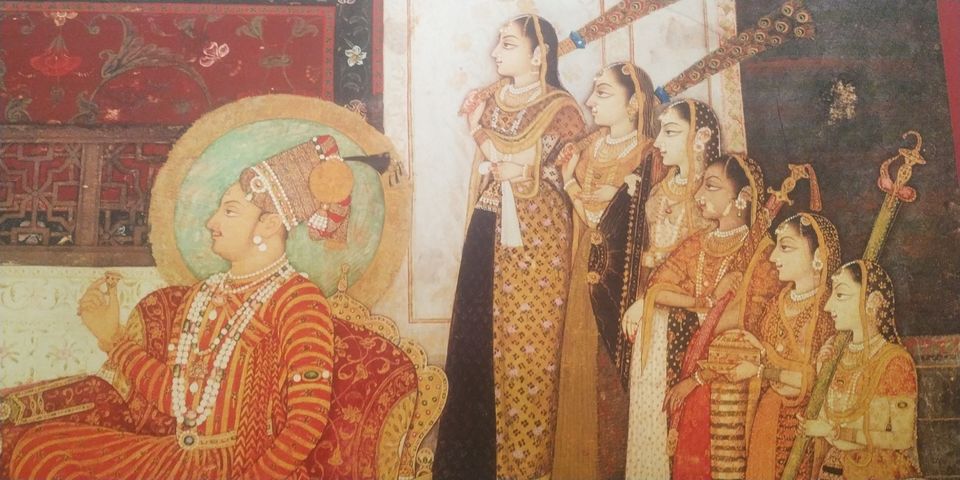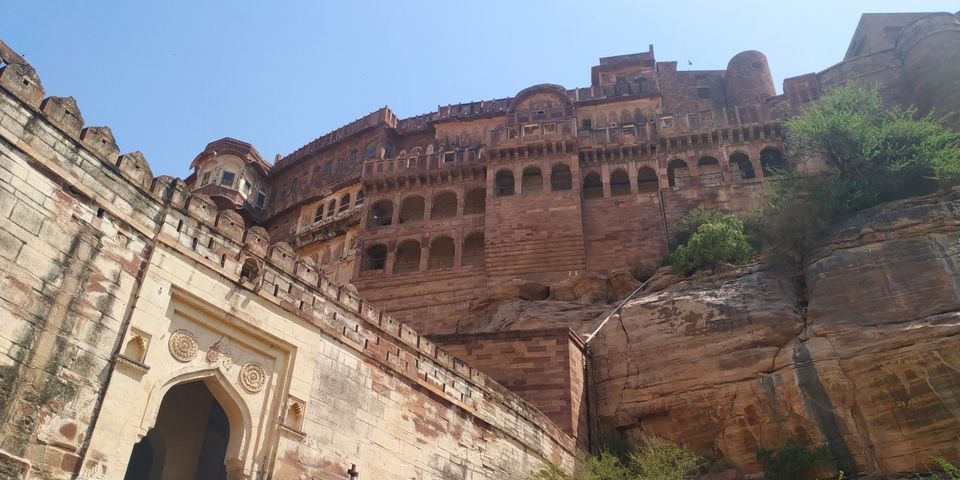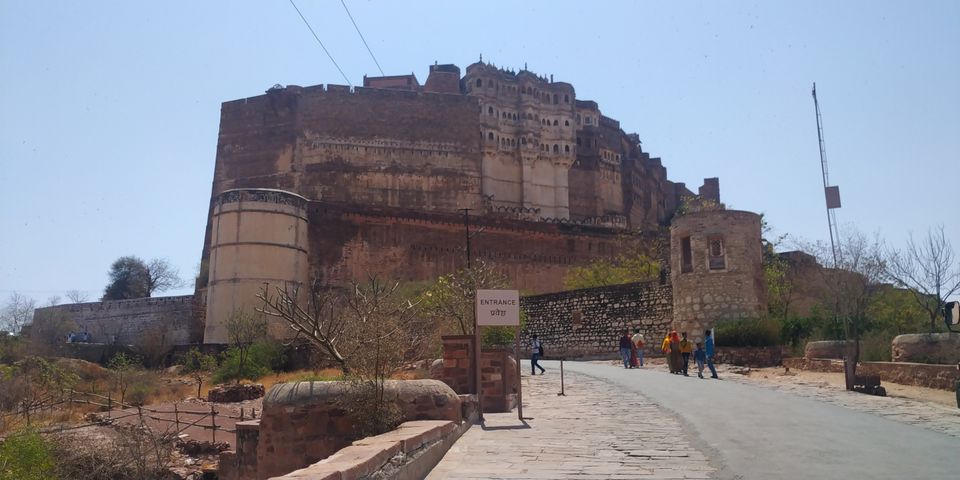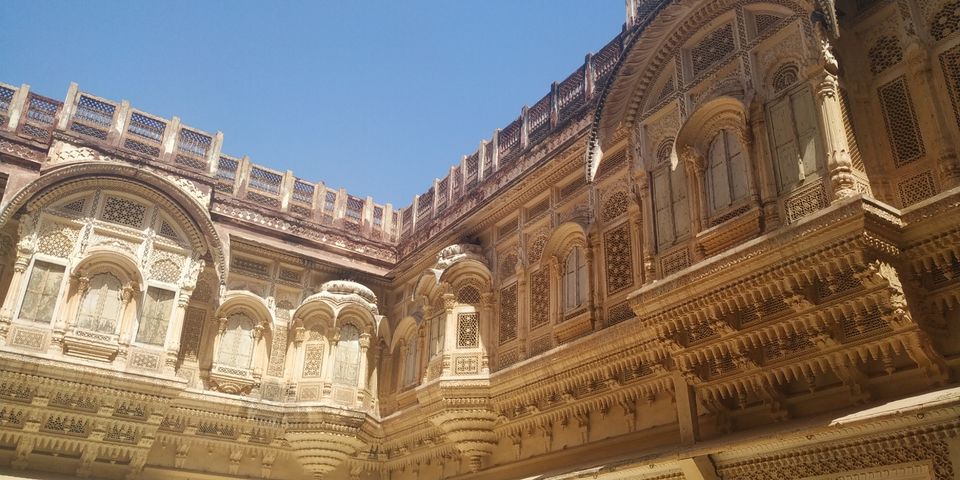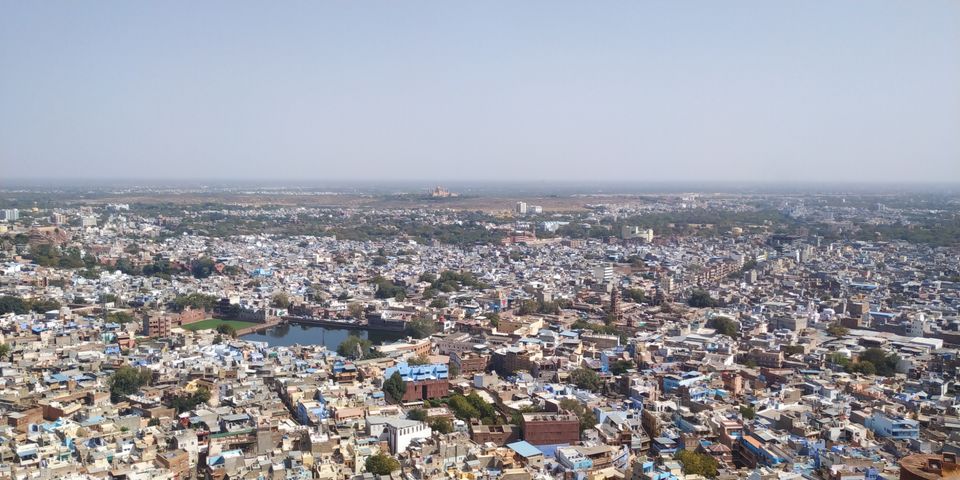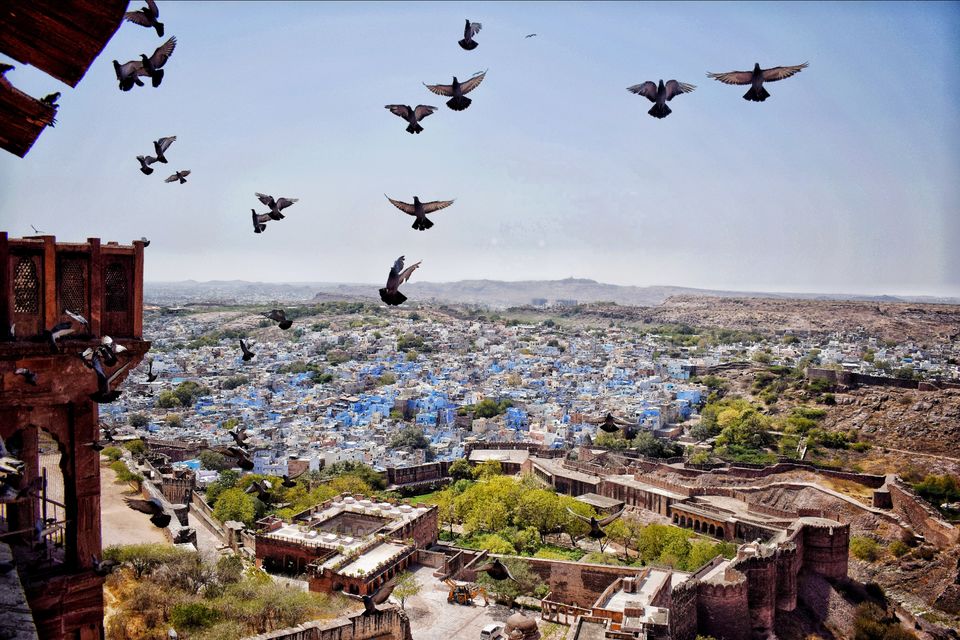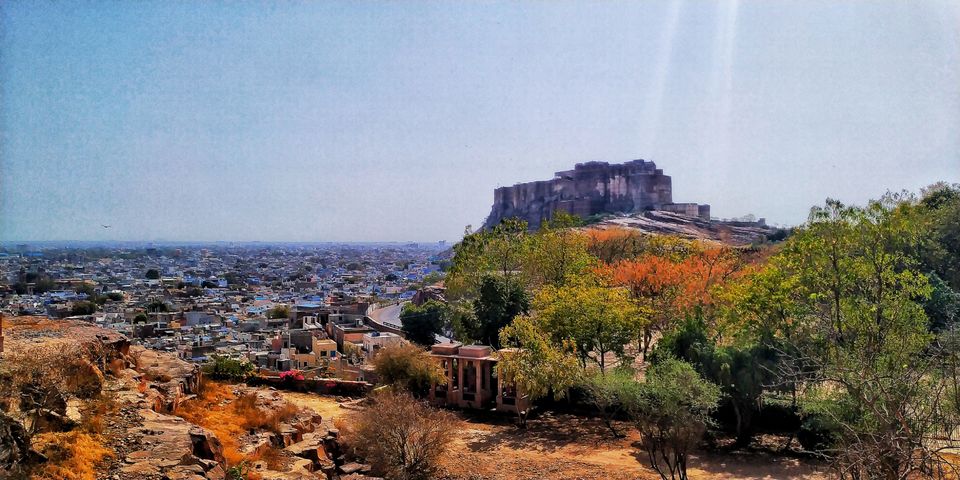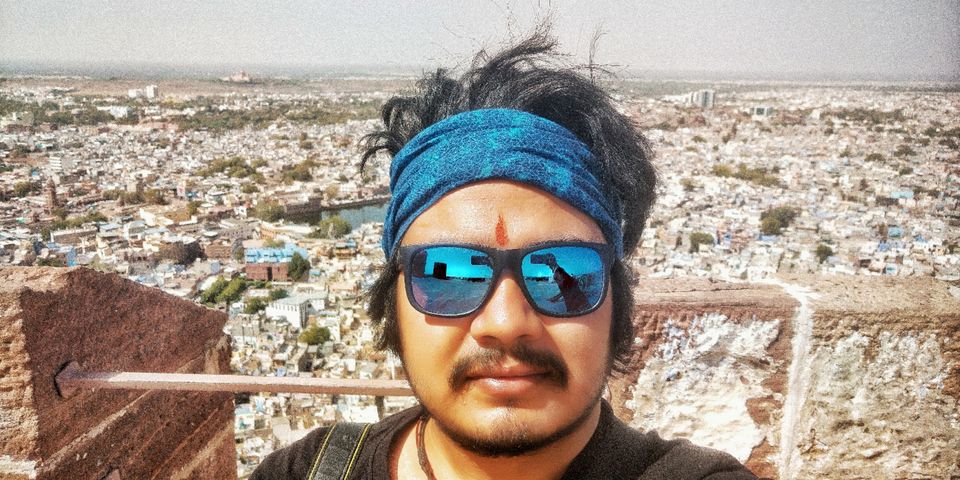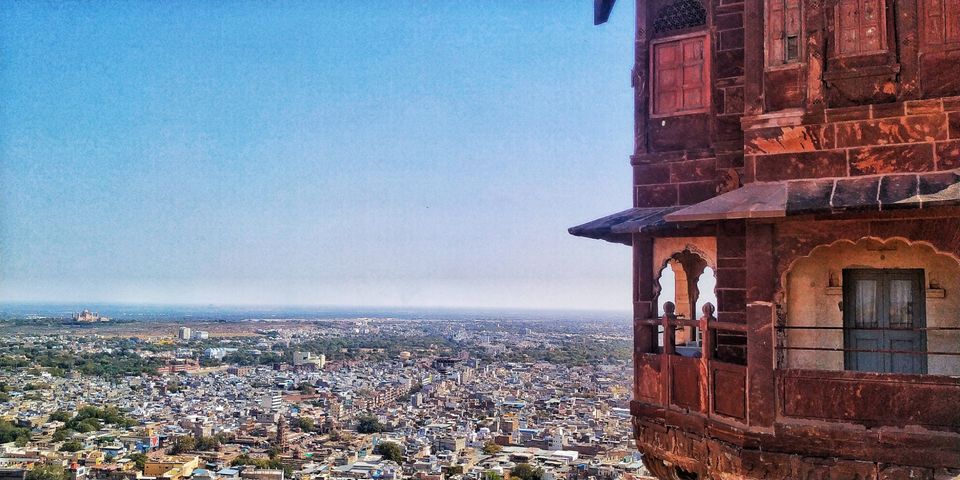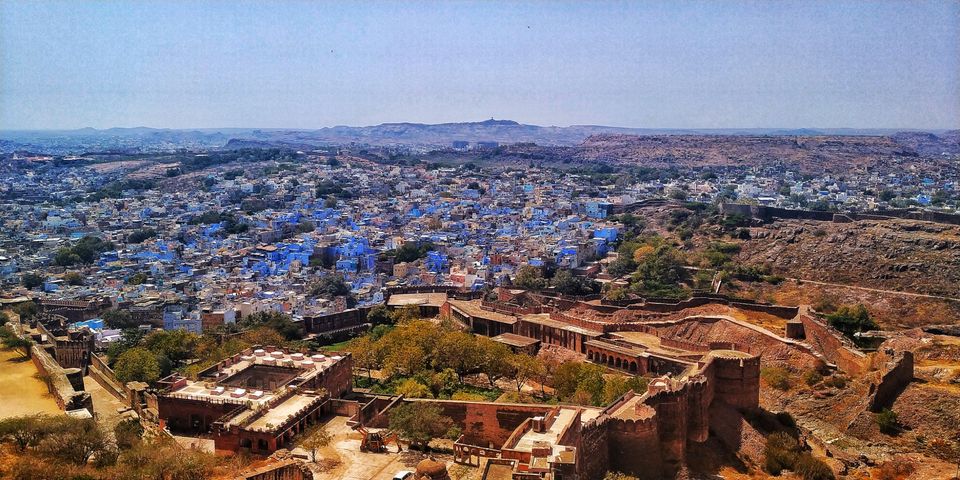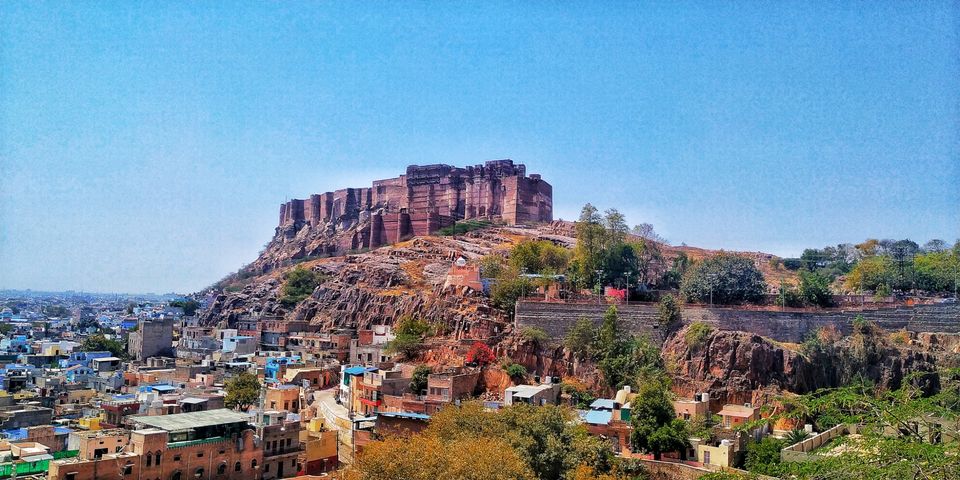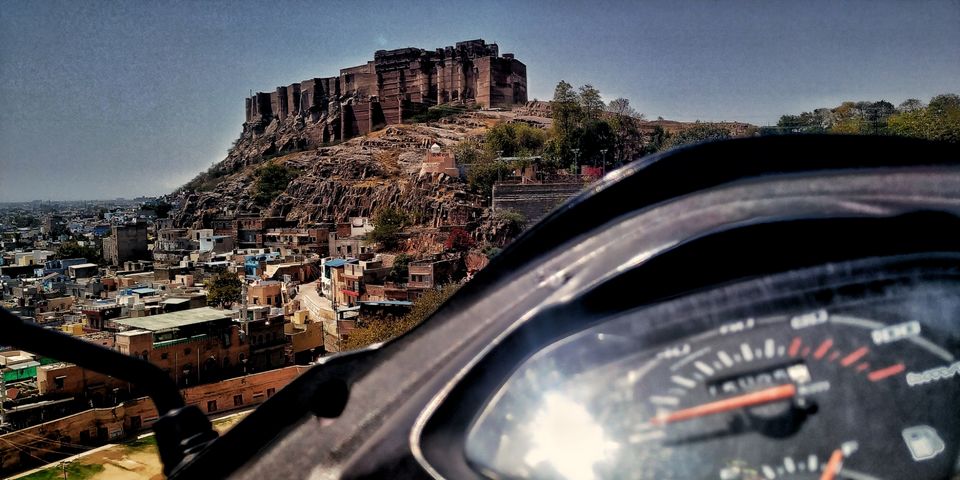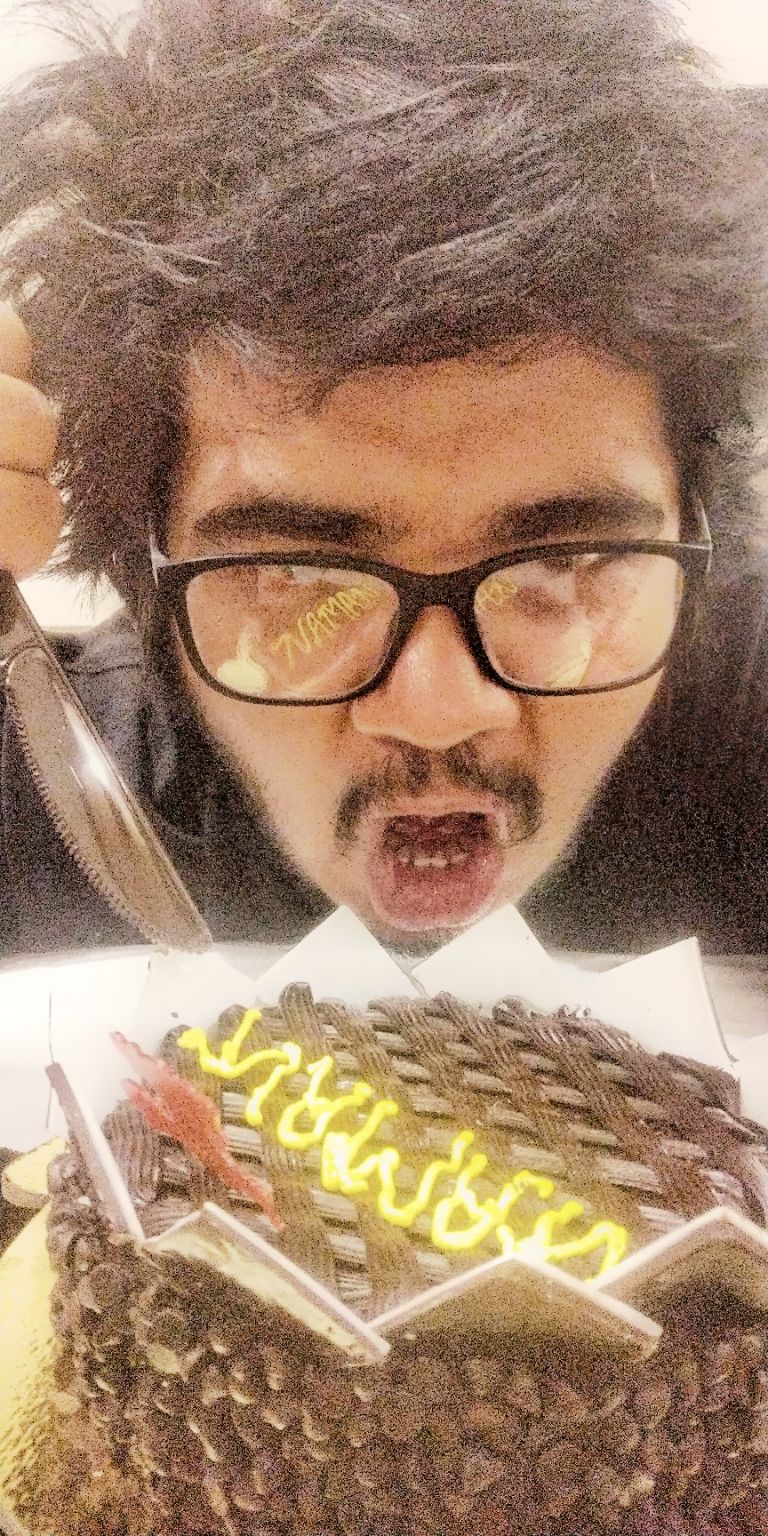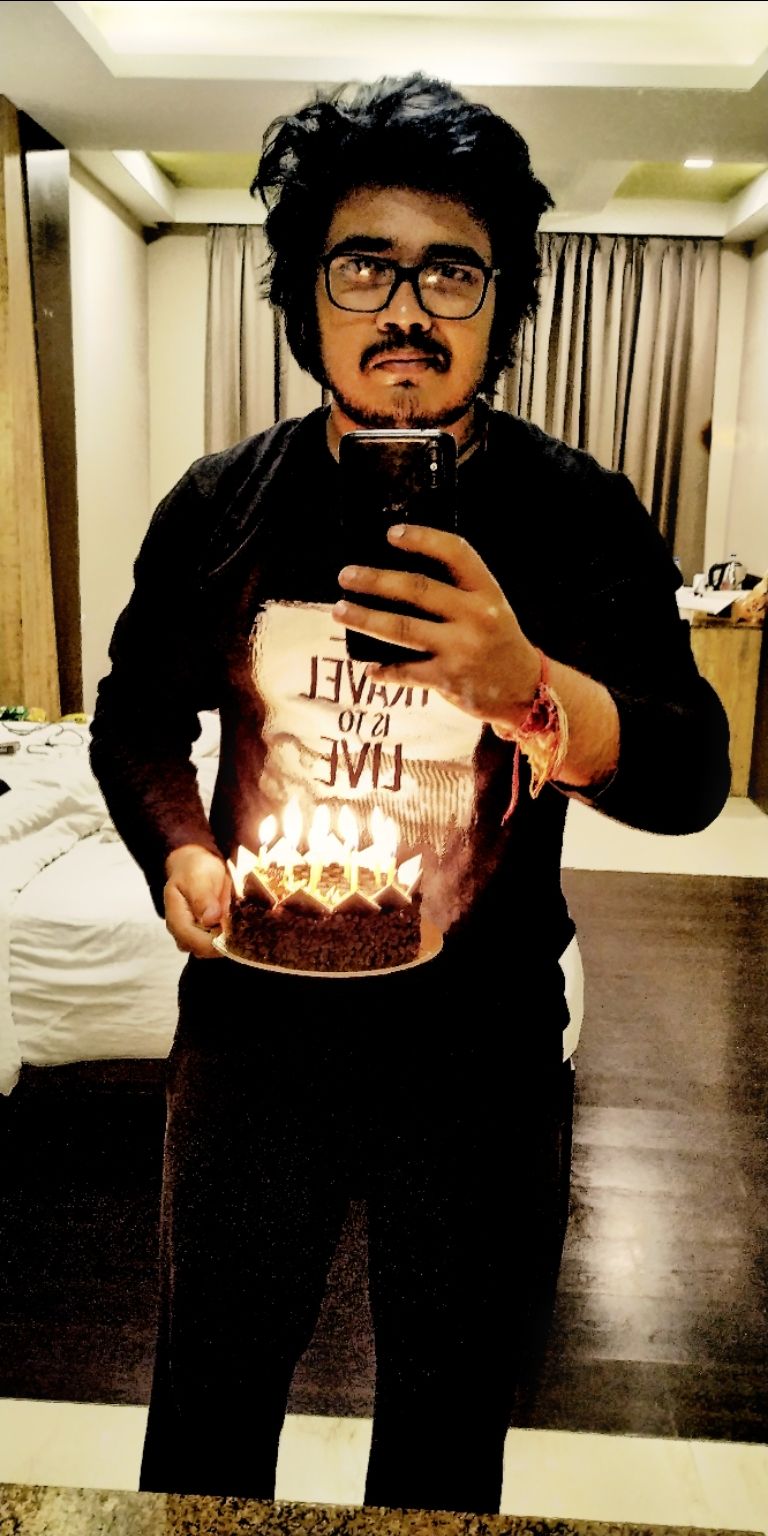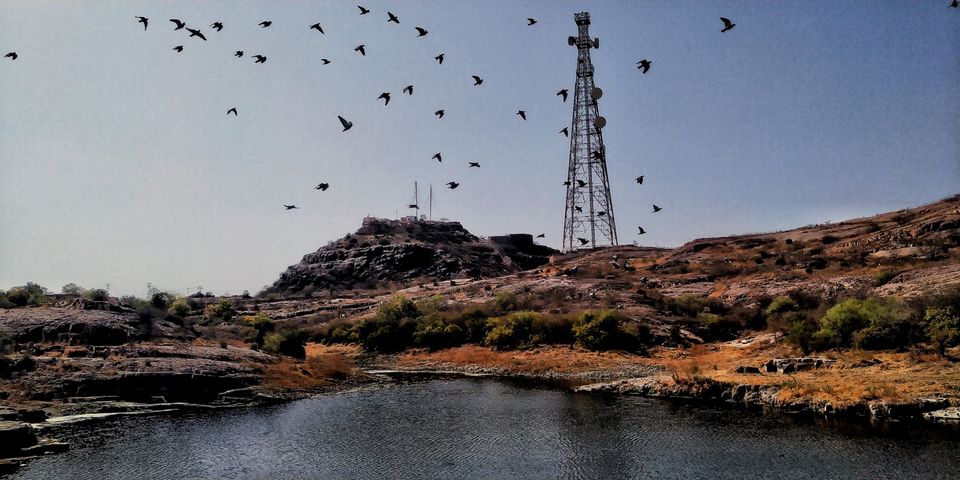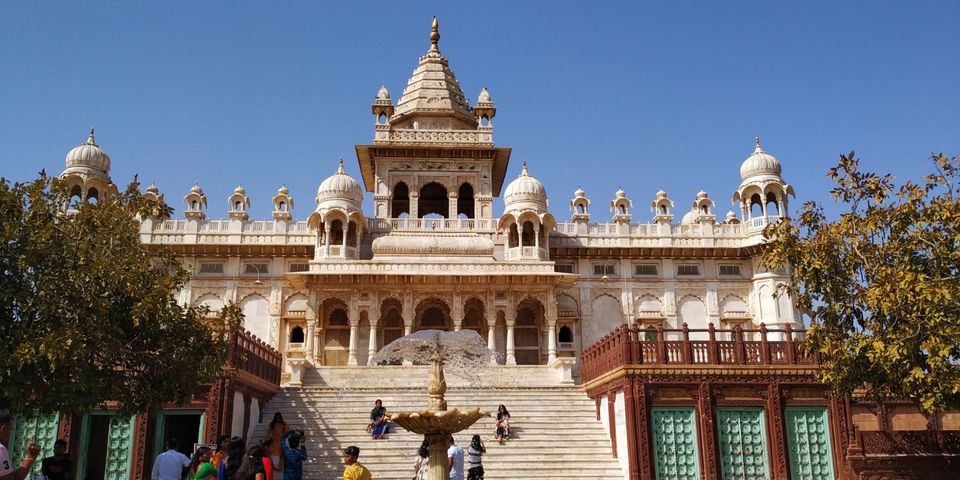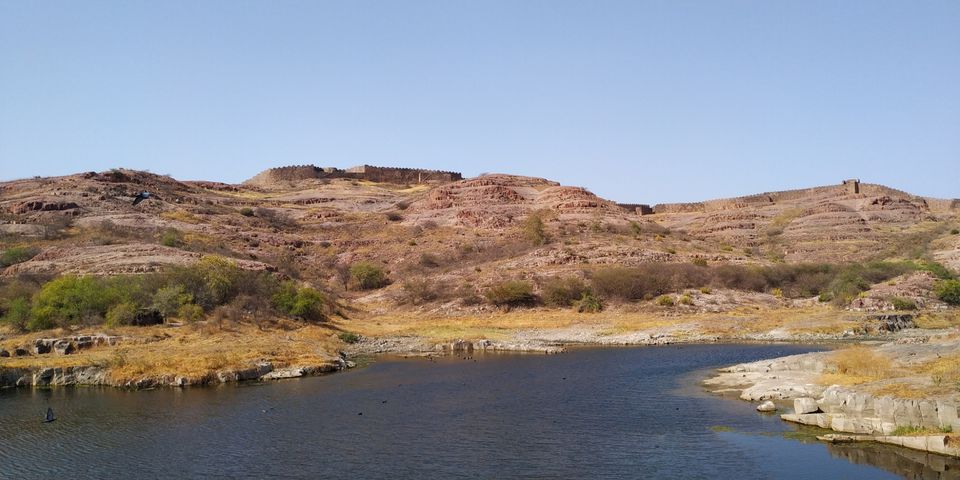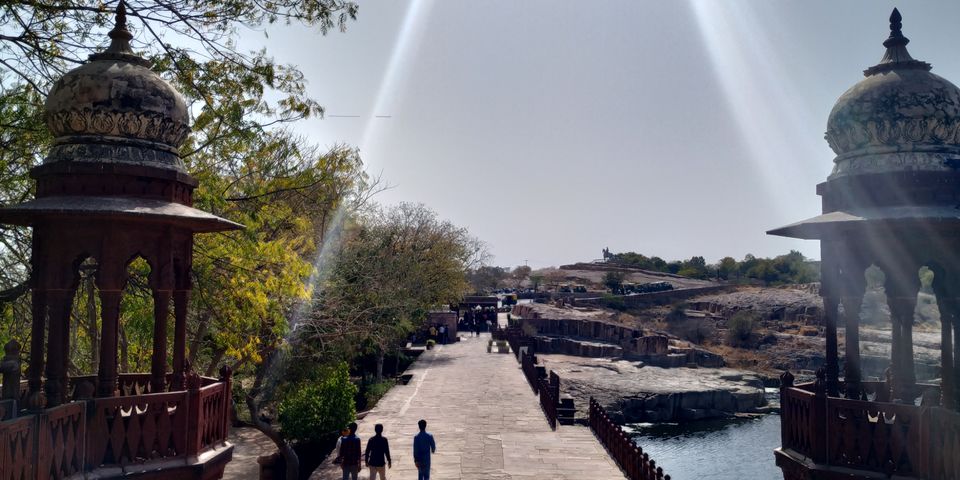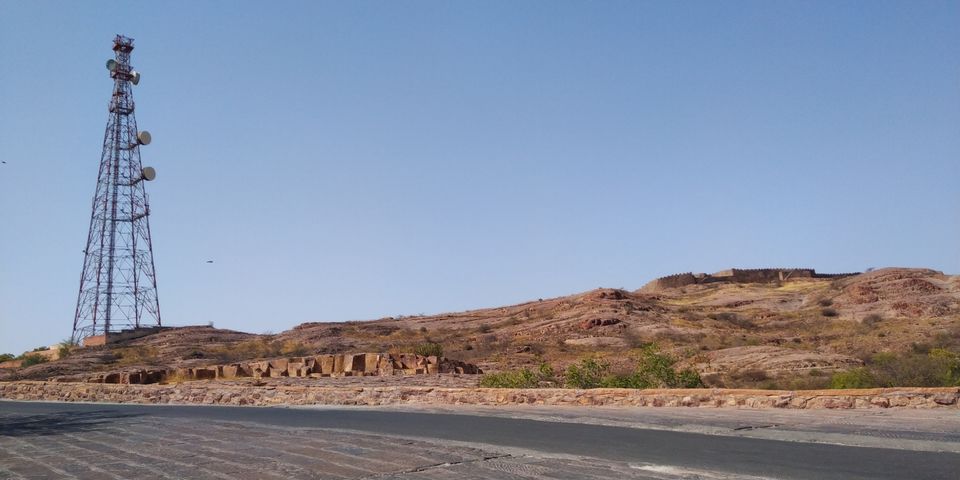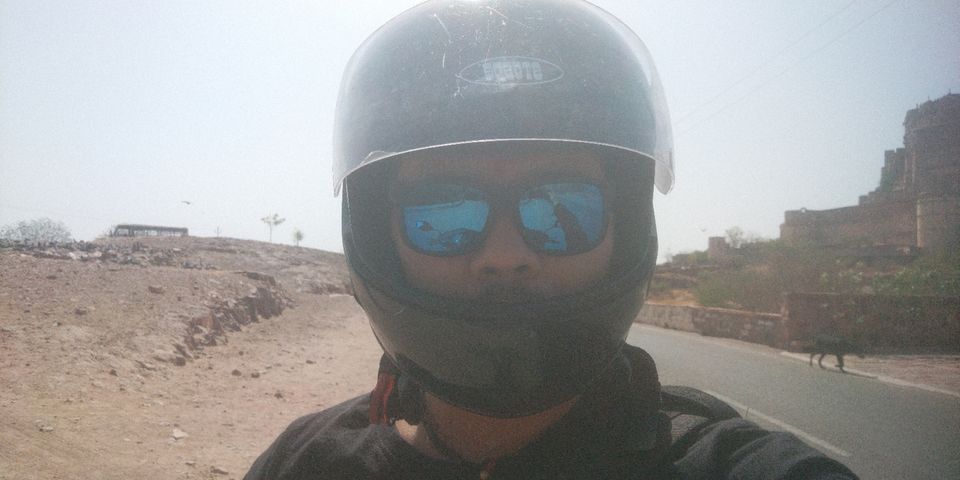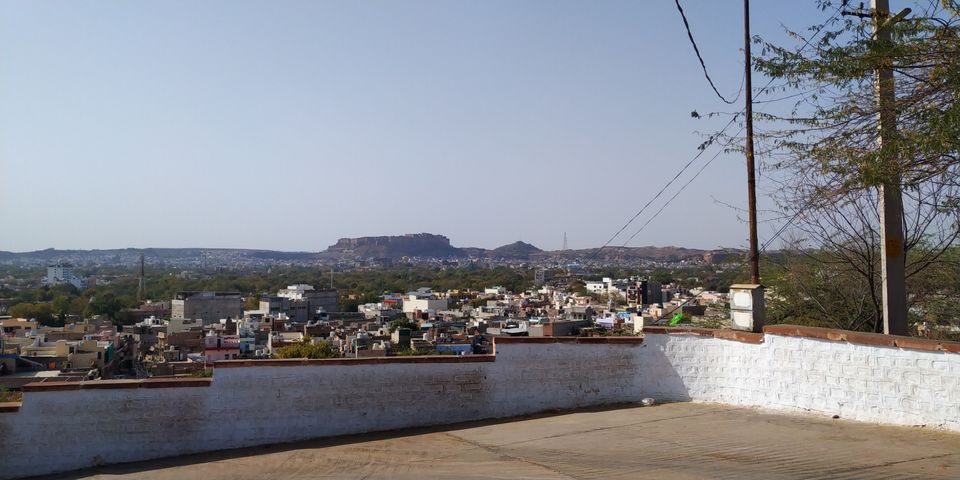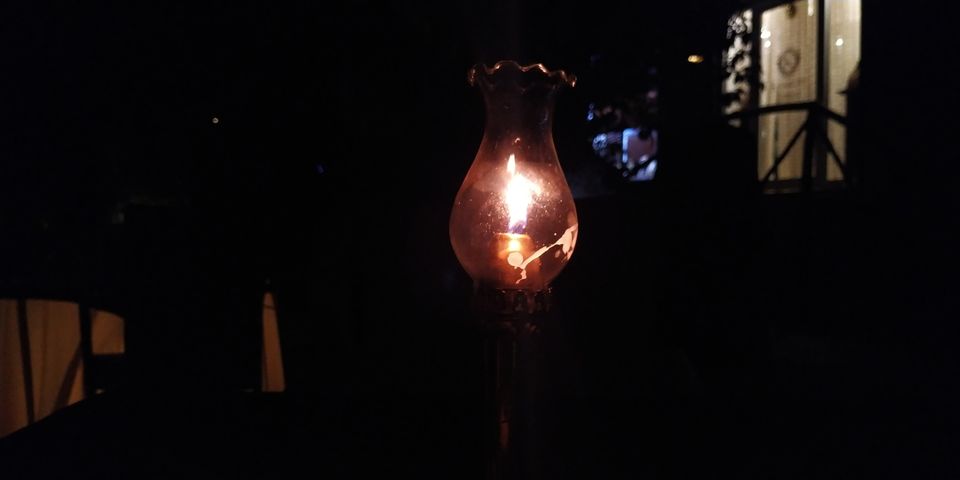 I wake up early and get ready for the day, it was the last day of my trip and i have to explore many places. I started activa and directly went to Umaid Bhawan Palace. Actually it is the largest private residence in the world. It is also a 5 star hotel run by The Taj. This place is names after Maharaja Umaid Singh. There is a museum inside this palace along with the collection of vintage cars. The construction of this place completed in 1943. It will took 2 hours to explore this place.
After this my next stop was Mandore. Mandore, belonging to the 6th century, was Marwar's capital before Jodhpur was established. Mandore Garden is famous for its historical temples, including temple of 33 crore gods as well as mueseum. There are also ruins of Mandore Fort. This place is great for photography lovers.
Now i wanted Tea. It was 12 afternoon and i have only 4 to 5 hours left. My next destination was Kailana Lake. It is really peaceful and the road to this place is like you're riding in some ancient arid region. After riding few kms, i reached this place. It is a famous tourist place and you also do boating. There are also many options of street food and i opted Papdi chaat and Sev poori and they're delicious.
Time was running and i was worried as i have to catch my train after returning the vehicle and pick my belongings from the hotel within 2 hours. It was so peaceful i just wanted to sit for next few hours but you know time.
I started the scooty and follow the path as per Google baba. The next stop was Ghanta Ghar. You can get a mesmerising view of Fort from this place. If you want to do shopping and you're a foodie as well then this place is specially for you.
After exploring almost all the places, snack shops, roads i went back to return the vehicle. And yeah the fuel tank was empty. 175 kms in city is good i guess. 😉
I took my luggage, hired and auto to railway station. The best thing of Jodhpur is that it is very small and worst thing is the traffic. I reached the station on time and when i boarded train departed.
Actually those were the best days of my life as i was the only companion of myself even on my birthday as well as Holi. I learned many things, planned my future targets, set my pipeline and make few new friends.
I really loved SUN CITY.
This trip was really important for me because last few days were difficult for me and i really wanted a fresh start, wanted to boost up, wanted to meet myself because Travelling is the only way when i meet myself.
"Life is to Travel". Yeah i am not a English man, so please ignore the mistakes and feel the words.
#BucketList2019