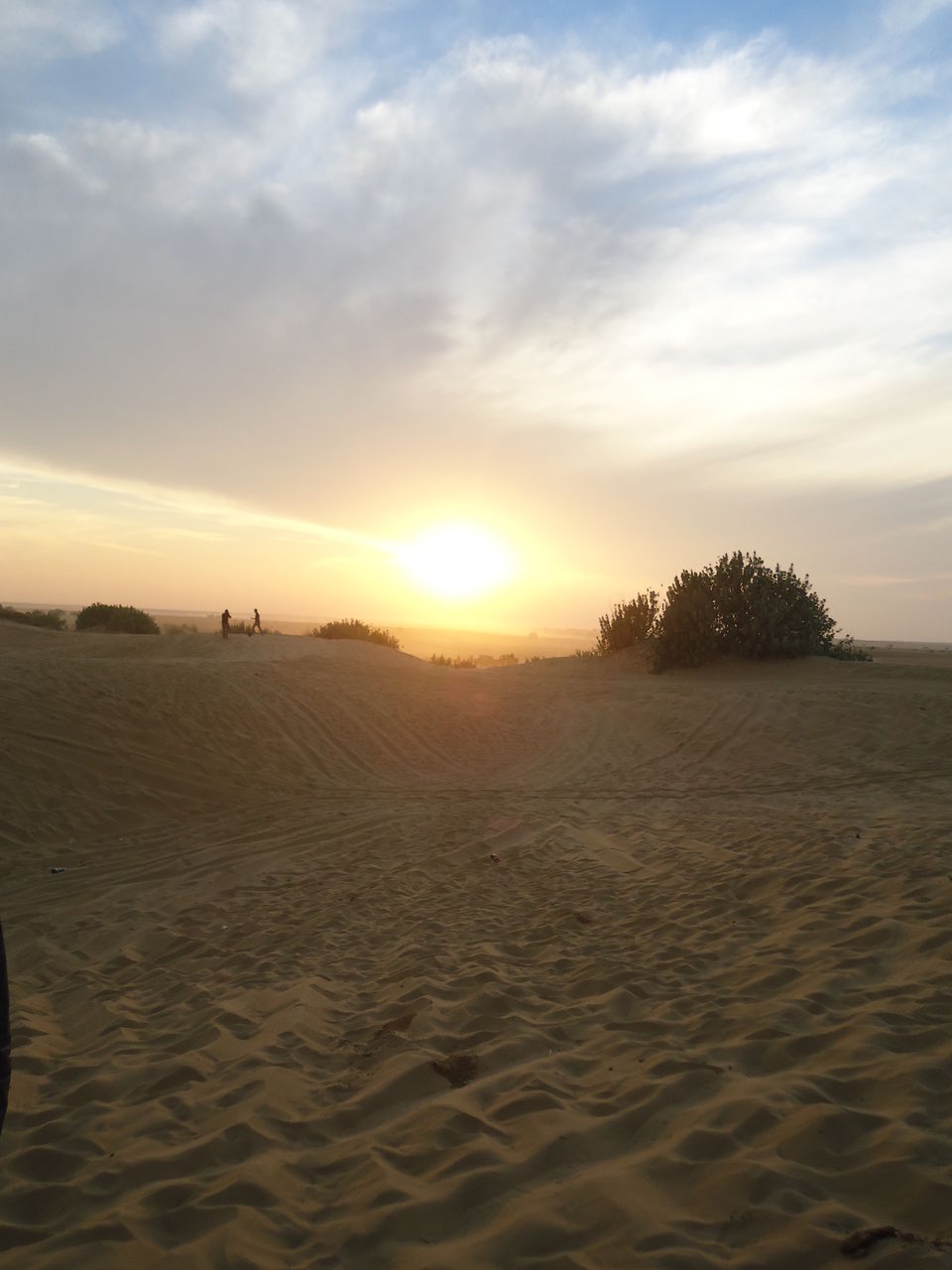 Being a native of Rajasthan all my life, I had only seen the fag west end cities of Jaisalmer and Jodhpur in geography text books or people's social media pages- The Mehrangarh fort, The Camels, Thar Desert, etc. Having been to (and lived in) Jaipur, I always thought it is the most culturally rich and unique place ever, but my trip to Jodhpur-Jaisamler made me realize that it gets better.
DAY 1 (Journey began)
We began our trip from Delhi (all 4 of us were MBA final semester-already placed-relaxed-budget trip planners-loads of fun expecting guys). We had pre-booked our tickets in Mandor Express from Old Delhi railway station, since we thought it would be better to cover the maximum distance overnight.
We started at 9PM, and reached Alwar junction at around 12, where I had asked my folks to bring us some food- One of the advantages you have when you belong to a place that falls on the route. Rest of the night went smoothly, till we woke up to an amazing morning view at the Sathin Road railway station- The quietness of morning and yellowish orange view of the sunlight made us stand on the gate of coach and just gaze across.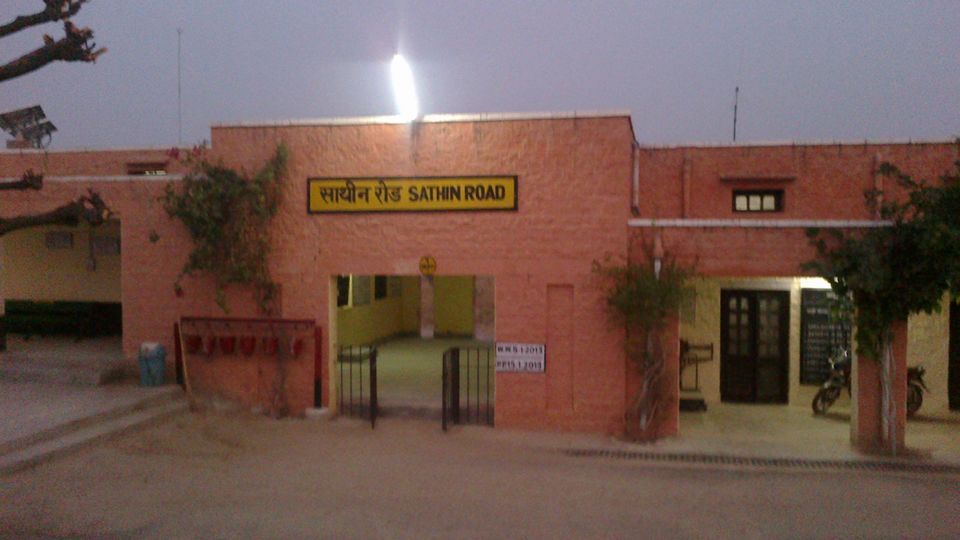 DAY 2 (Jodhpur)
We reached Jodhpur junction at around 8AM, and directly headed to the hotel we had pre-booked online.
While we penetrated some small lanes of Jodhpur in an auto, we started to think if we had made a mistake booking a hotel so much inside the crowded markets of Jodhpur, only till we reached Blue House Guest House. While it did not promise much from the exteriors, there was an entire story this place has to tell about itself once we entered it- A very strong ethnic vibe of Rajasthani culture, carved beautifully in the limited space it was built in.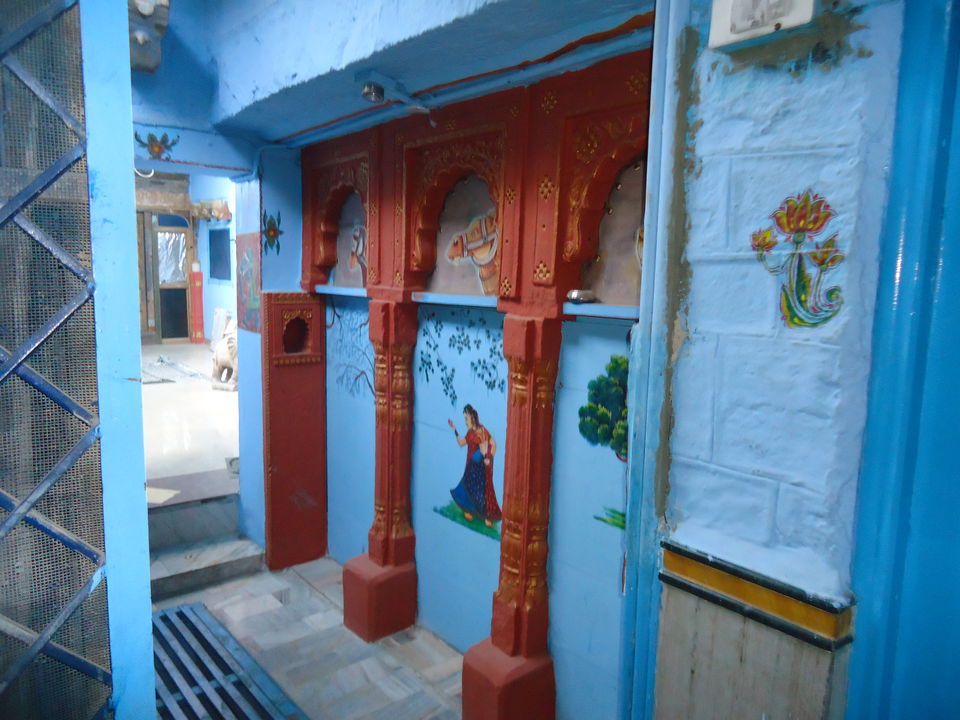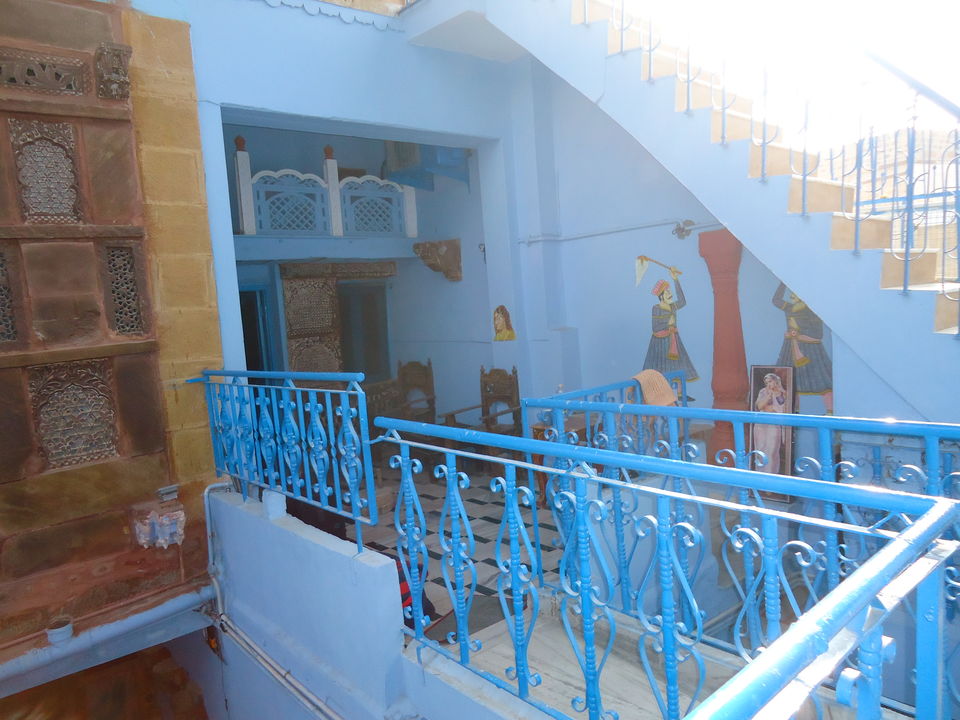 DAY 3 (Jodhpur)-
On the second day, we booked a jeep to travel for Bishnoi Village Safari (Around 25-30 Kms. distance from Jodhour city)- A slightly offbeat thing to do in Jodhpur as compared to visiting forts, but surely worth it. We again negotiated with the jeep driver (suggested by hotel), and booked it for Rs. 1500 from morning till evening. During the jeep ride till Bishnoi village, our driver showed us the spot where Salman Khan allegedly killed the black buck back in 90's.
We then reached a house in Bishnoi village, where we met an elderly couple who were in a typical Rajasthani attire. They welcomed us with a lot of warmth, and even offering us tea. They started telling stories about the time when the community came together to save the cutting down of trees, and how many of them lost their lives doing the same.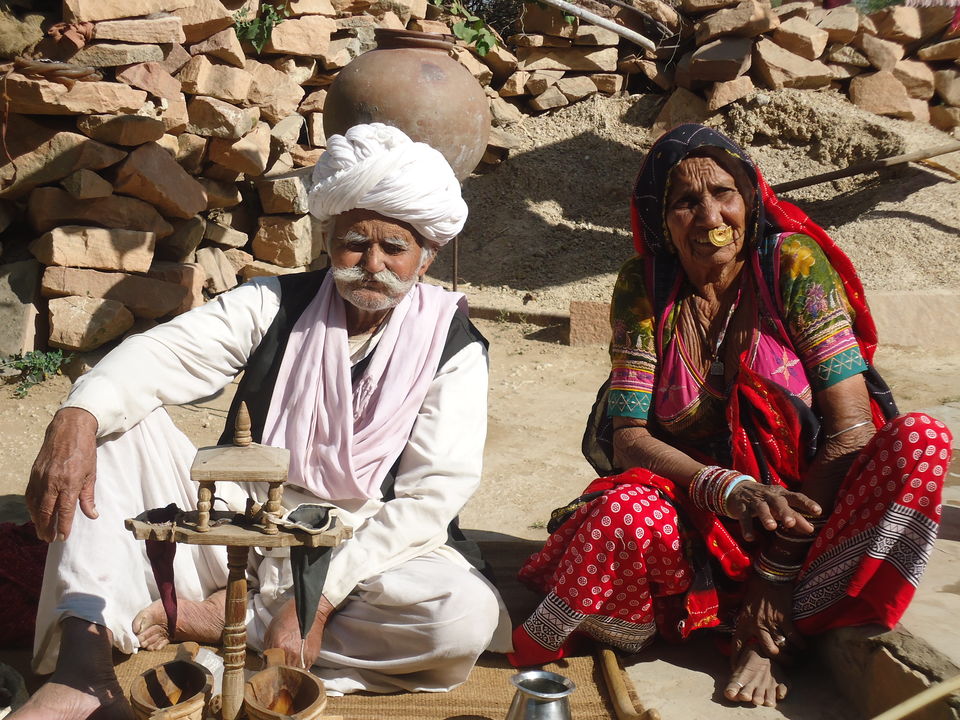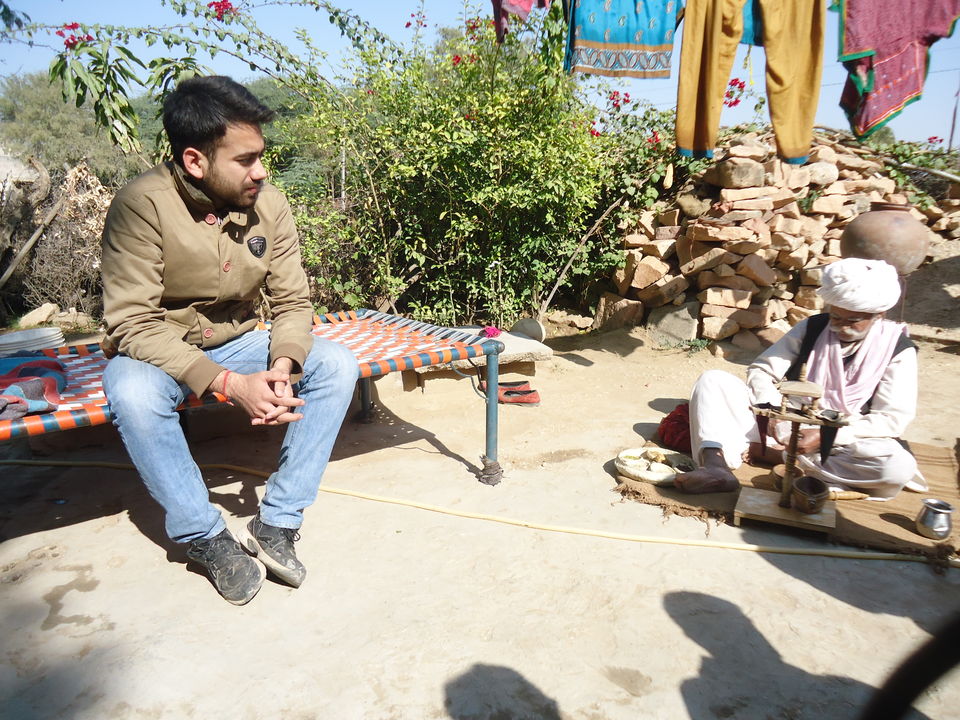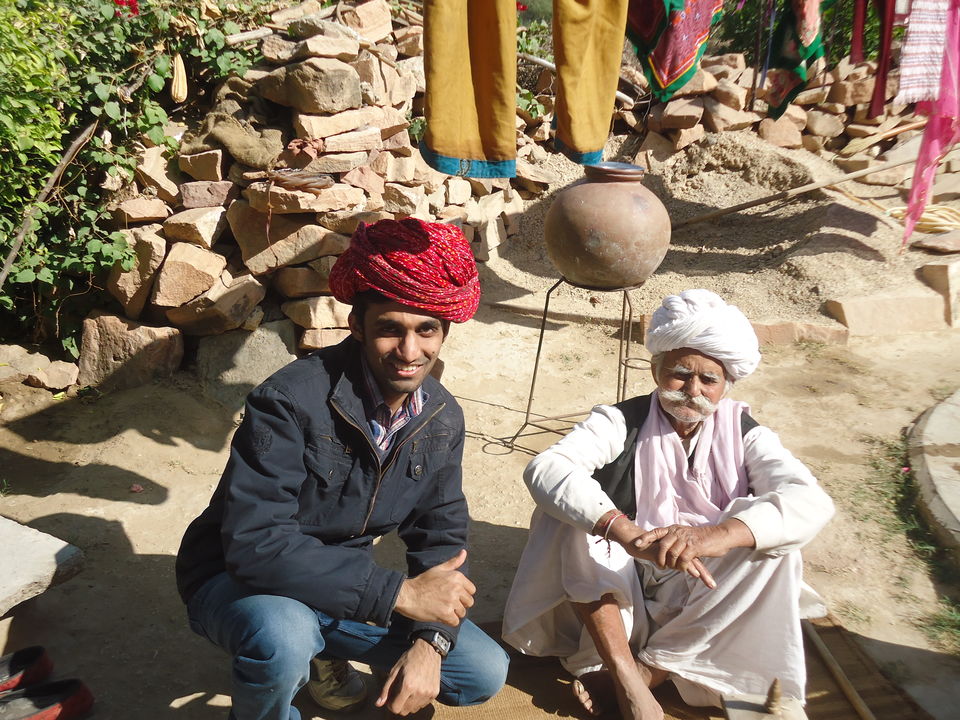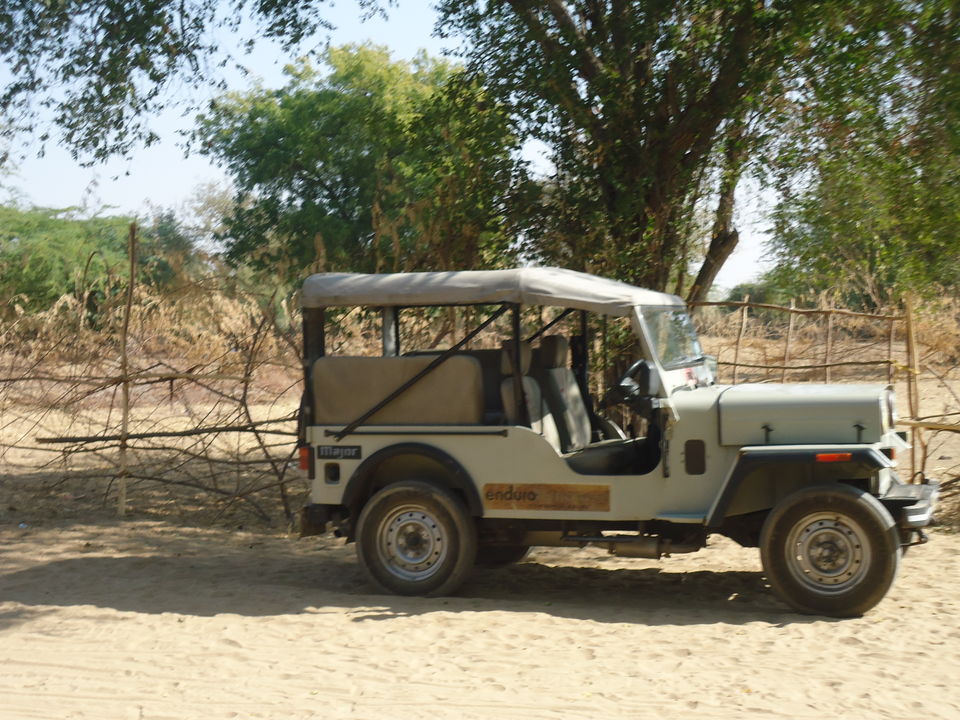 Day 3 (Jaisalmer)
Next morning, we boarded the train to Jaisalmer- We preferred booking a train since it is less tiring, and it turned out to be a good decision. Most of the time across the journey, we were either chatting among ourselves or looking outside the window to see where the desert region will start. We came across stations like Ramdeora and Pokharan before reaching Jaisalmer.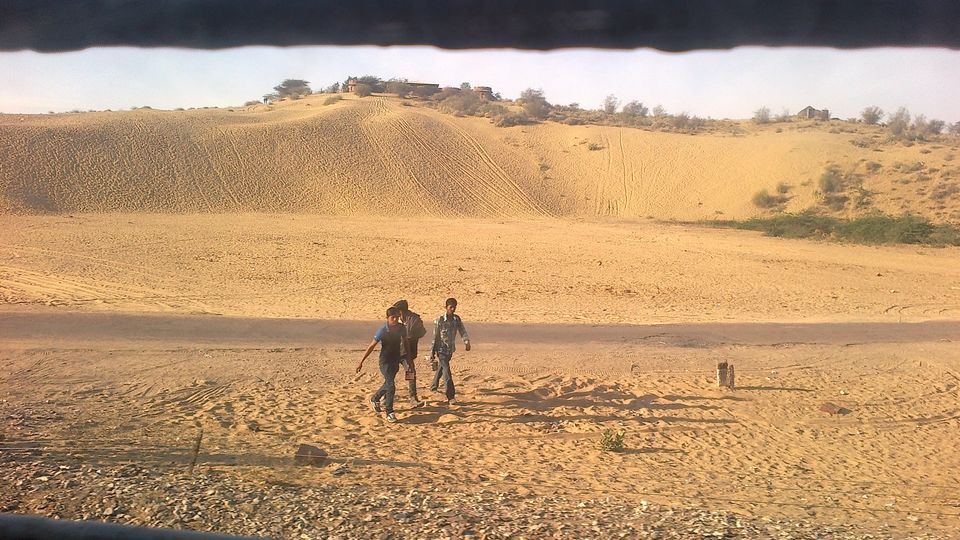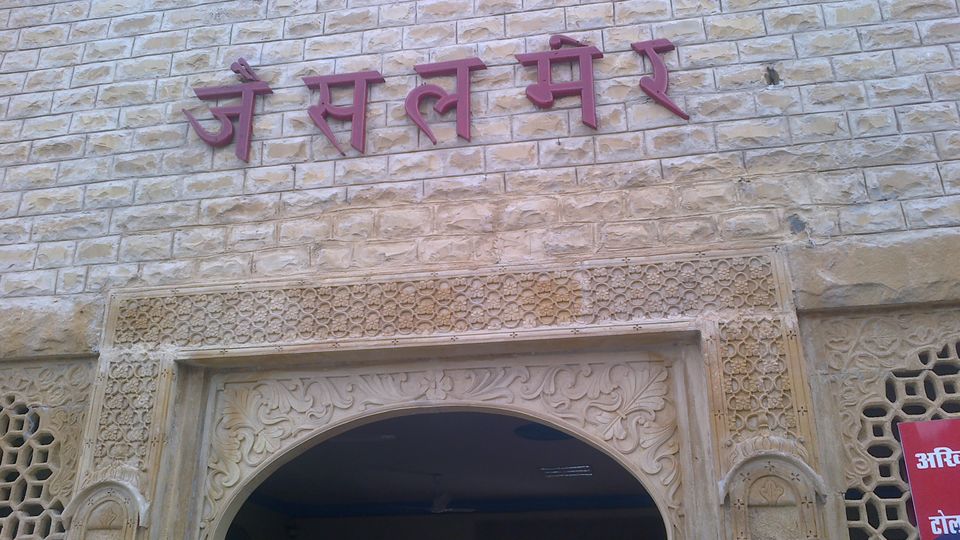 DAY 4- Jaisalmer
The next morning started off with breakfast, followed by camel safari. It was a great start for the last day of trip- Sitting on camels and strolling in the desert is definitely not a regular morning. We tried taking pictures while sitting on the camel, but it was too difficult to balance.
After the safari, we bid goodbye to our camp and Sam, to go back to Jaisalmer. On our way back, our driver also took us to Kuldhara, supposedly a haunted place. While it can be a half an hour stop for anyone passing by, if not interested in haunted places, one could give Kuldhara a miss.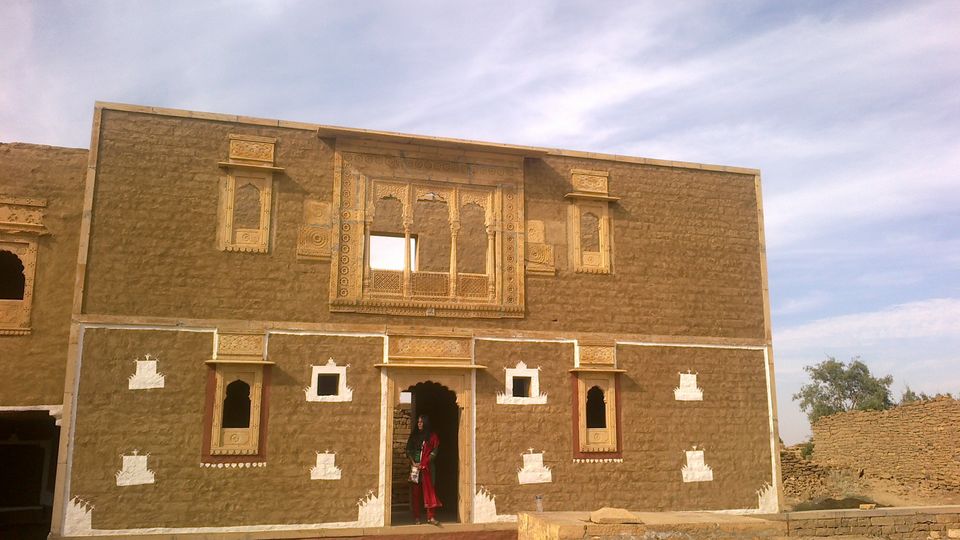 Since we had reached earlier and our rooms weren't ready yet, the hotel manager asked us to sit on the terrace and have breakfast, as they had an arrangement for dining on the roof. The view form there was absolutely amazing, with the fort clearly visible and sunlight adding to the good feeling of winters. We asked the hotel staff to arrange for hot Jodhpuri kachoris for breakfast, and they bought them for us. Sitting at a rooftop on a sunny winter morning, sipping tea, having Jodhpuri kachoris while enjoying the view of fort- Pretty much and more what you expect for a morning!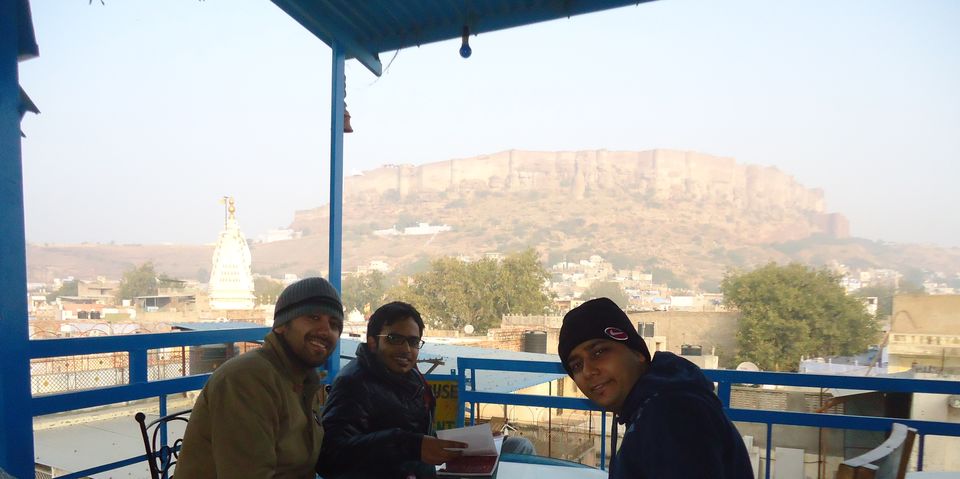 As we entered our room, we were thrilled to see canopy bed, and a lot of other experiments with interiors that made the room look as traditional as possible.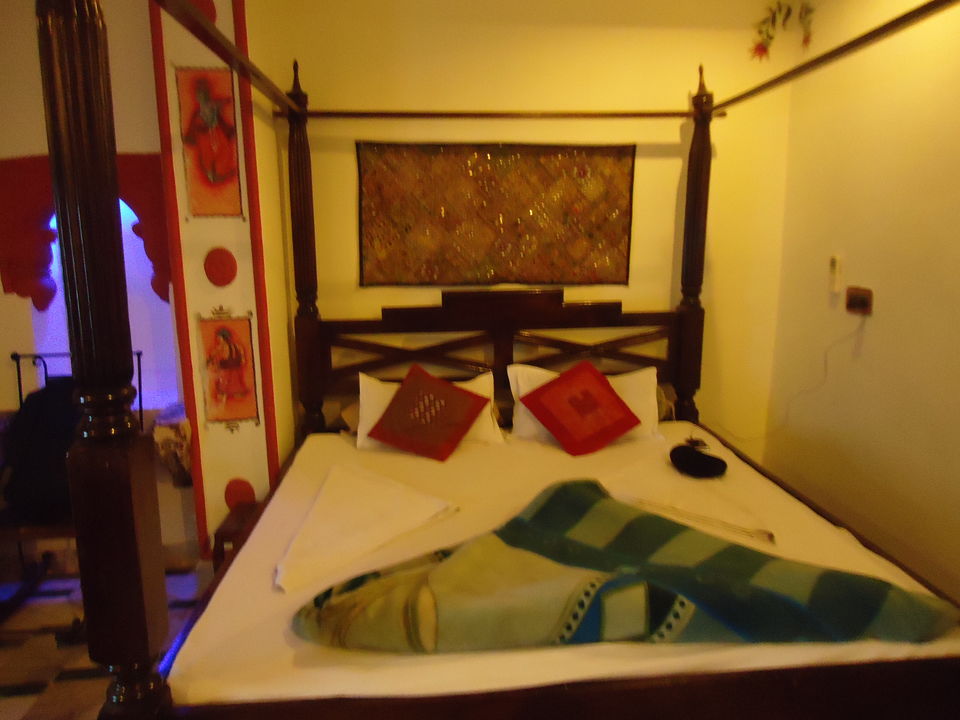 We then got ready to leave for 2 of the most famous places of Jodhpur- Umaid Bhawan Palace and Mehrangarh Fort.
In order to make our entire day transport hassle free, we negotiated for a full day auto, who asked for Rs. 800 to take us to Umaid Bhawan, then to Mehrangarh fort, and then to Mandor Garden and finally back to our hotel.
Umaid Bhawan palace gave such strong royal vibe. As we moved inside the museum, we saw pictures, miniatures and live examples of the gallantry that Maharajas of Rajasthan have carried across the history. Honestly, being someone who has never been interested in history a lot, most of these things still made me proud of the heritage my state carried- especially in front of my friends who did not belong to Rajasthan!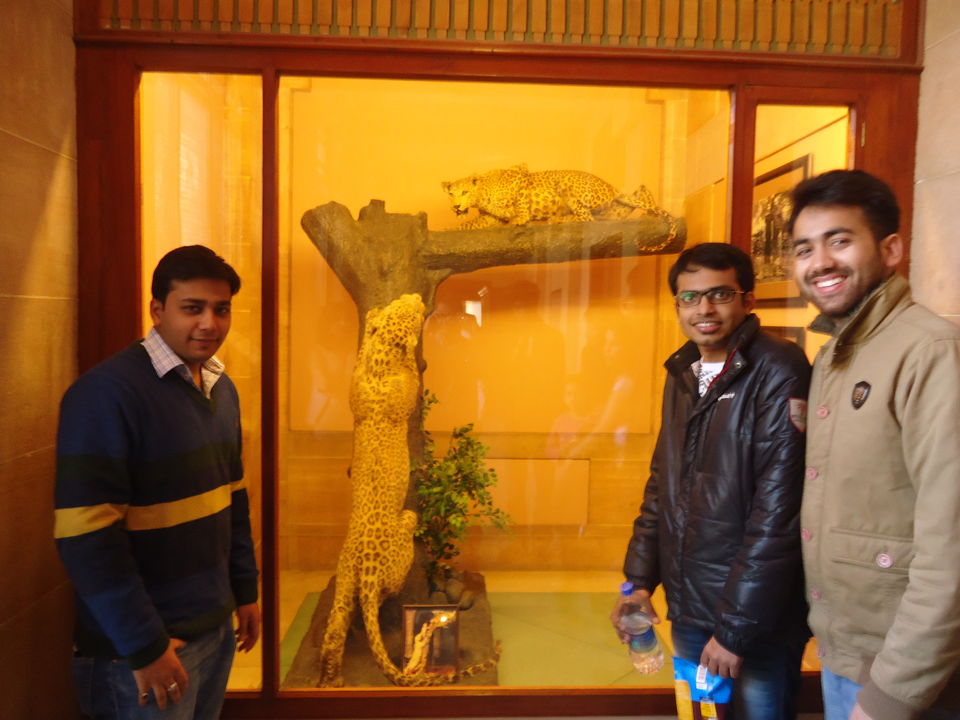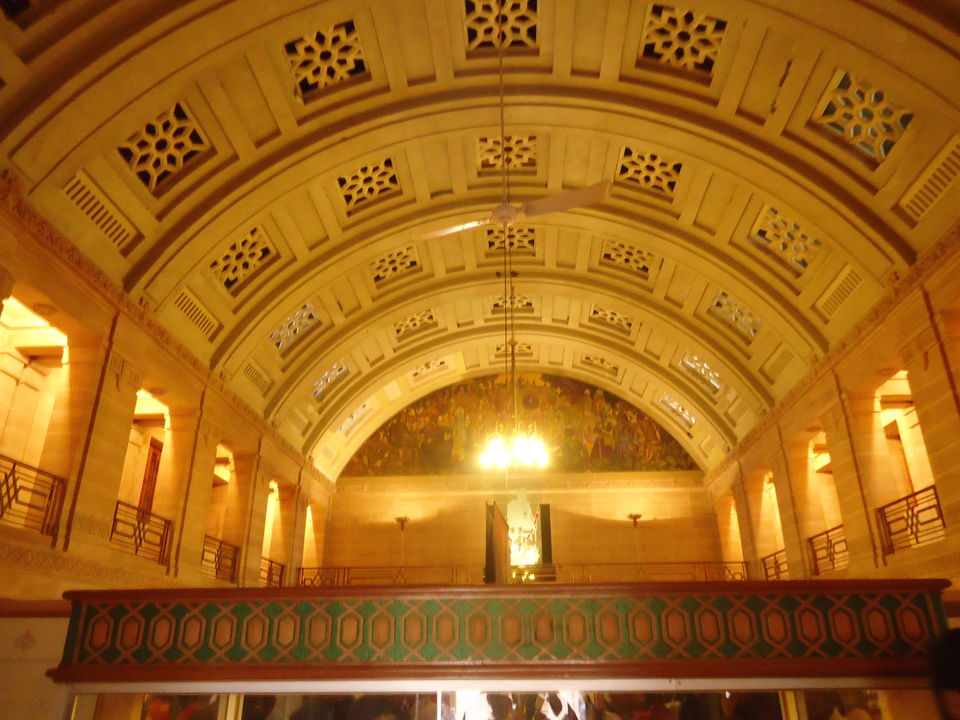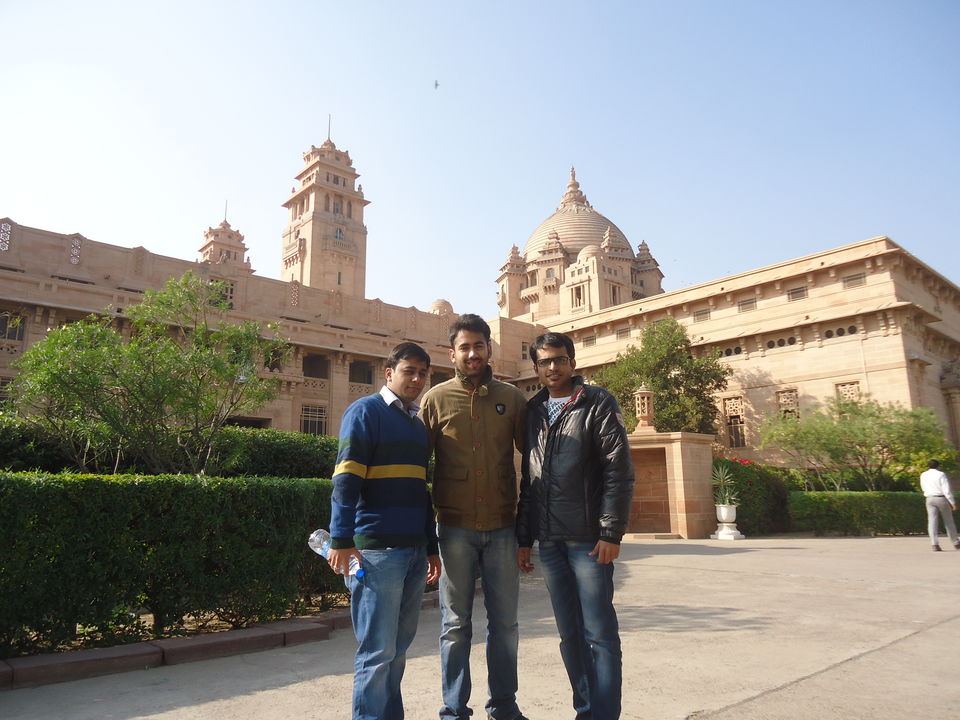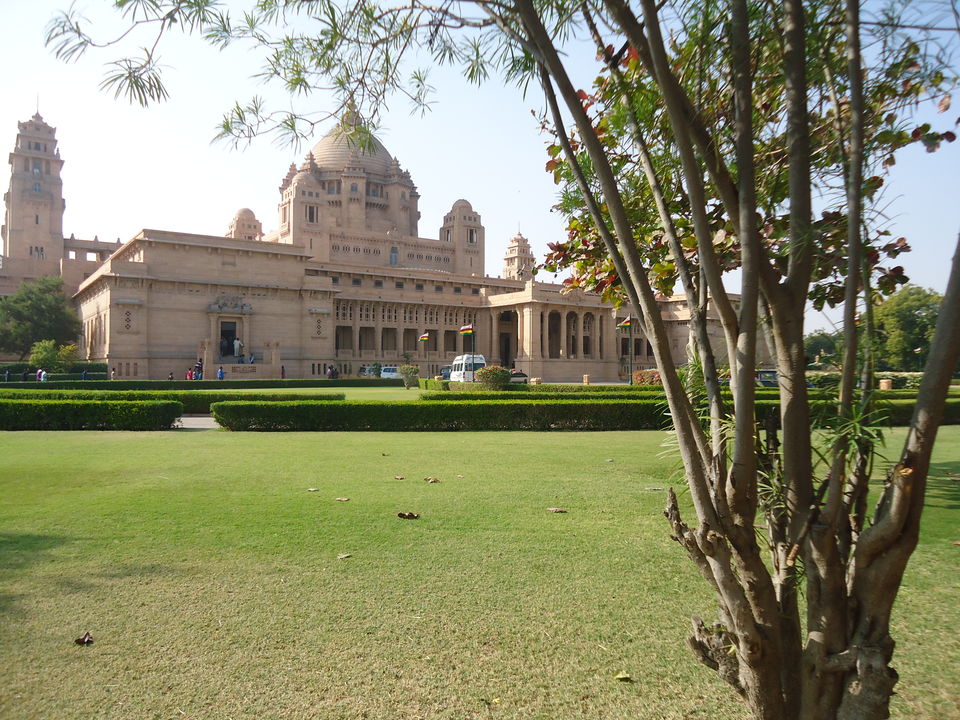 When we came out of the museum, we realised this wasn't all. The collection of antique cars that were kept in the outside compound was pulling much more crowd than the AC museum inside. While we strolled across the show of pure class and design in the gallery, we saw a lot of the people getting themselves clicked with these antiques and taking selfies with them.
As we stepped outside the palace, the view of the city across the road was amazing, and the wind added to the moment's freshness.
Moving ahead, we reached the Mehrangarh fort, or what I would call 'hands down' the best fort I have ever seen in my life. For a person who has been to at least 15 forts of Rajasthan already, it is very difficult to be impressed by a 16th one, but this fort did.
The tall walls of the fort at the entrance gave us an idea how exciting it is going to be.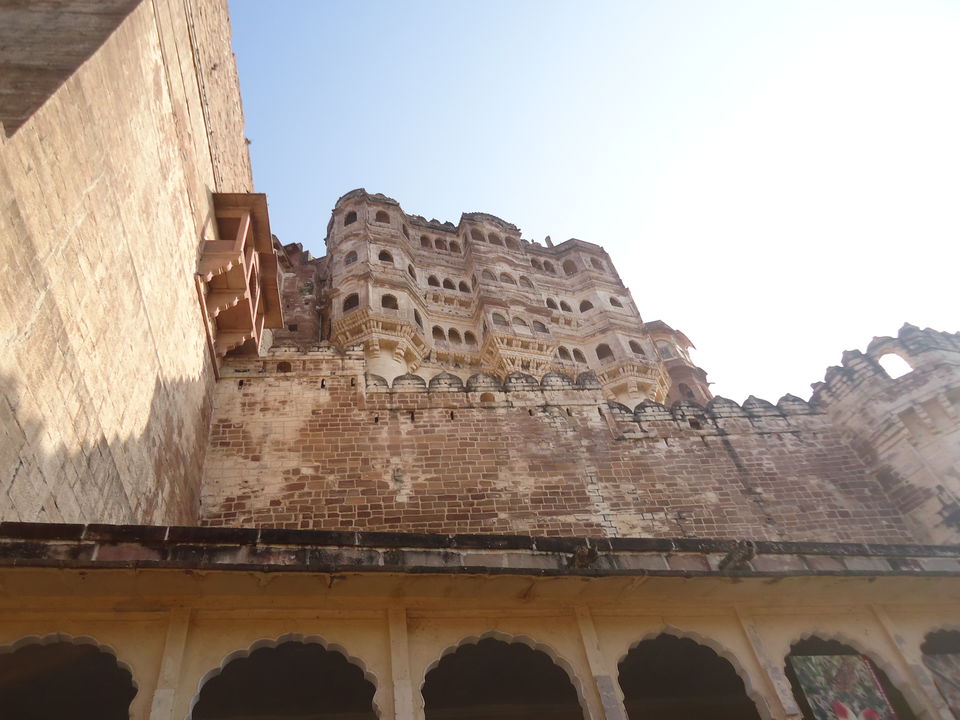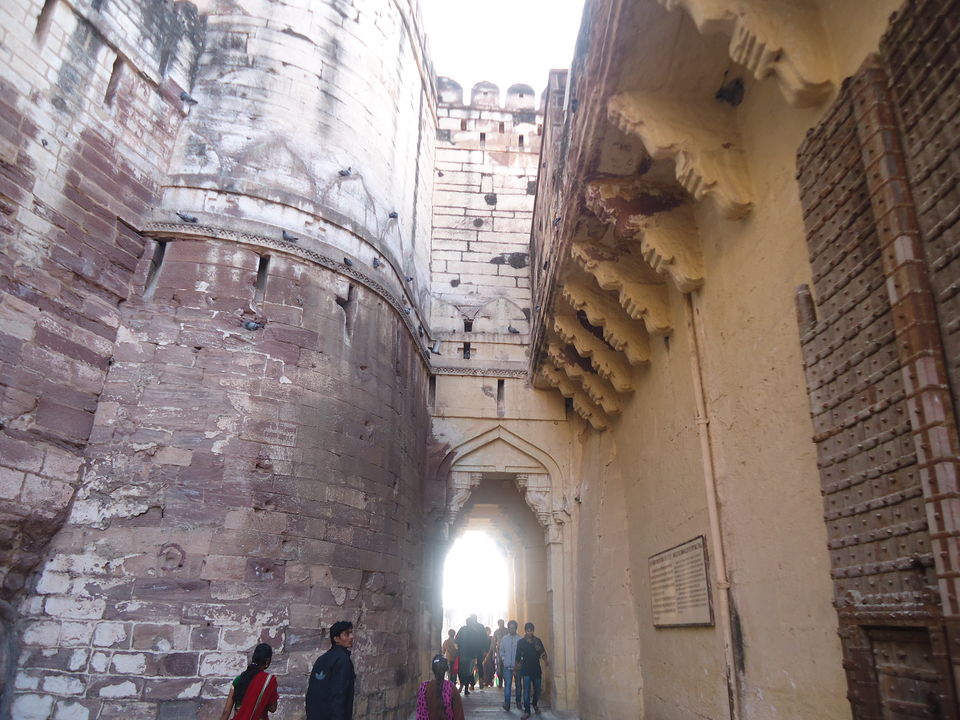 As we moved ahead, we saw things that we see in royal theme based movies like Jodha Akbar and Padmaavat. There were some 'Tops' (Barrel Cannons) of the ancient time kept on a pedestal, and we all made sure we get clicked with it, because it was really cool! :)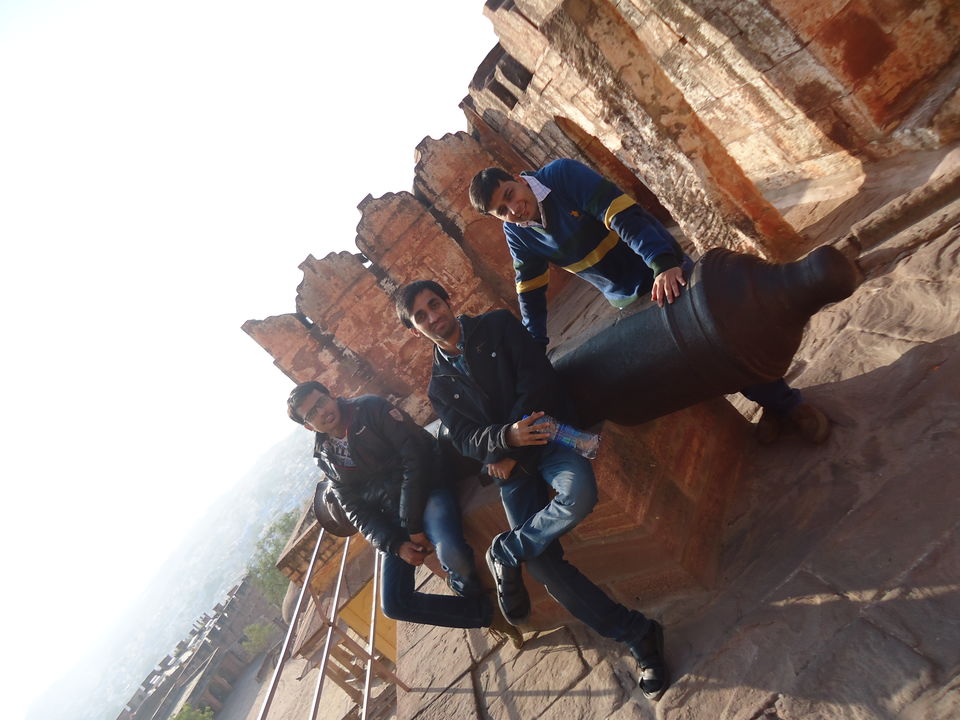 Next stop was near a couple along with a child sitting on side of way to museum, playing some traditional instruments and beautifully singing a Rajasthani folk song. Having only seen this in movies, we along with a lot of other people had gathered around them to listen to their melodious voices and synchronous beats, that only added to the already amazing environment in the fort!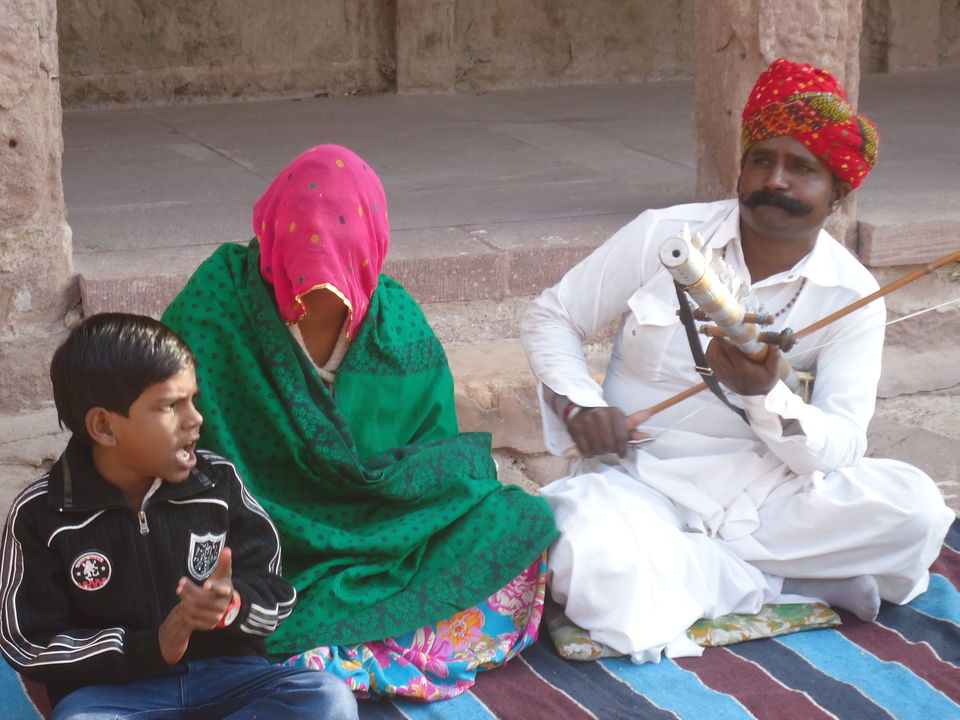 We kept moving ahead, and decided to visit the museum while returning. After moving slightly up on elevation on the other side of the fort, we reached at the point from where the entire city of Jodhpur is visible- And the best part is that most of it is blue. What a view it was-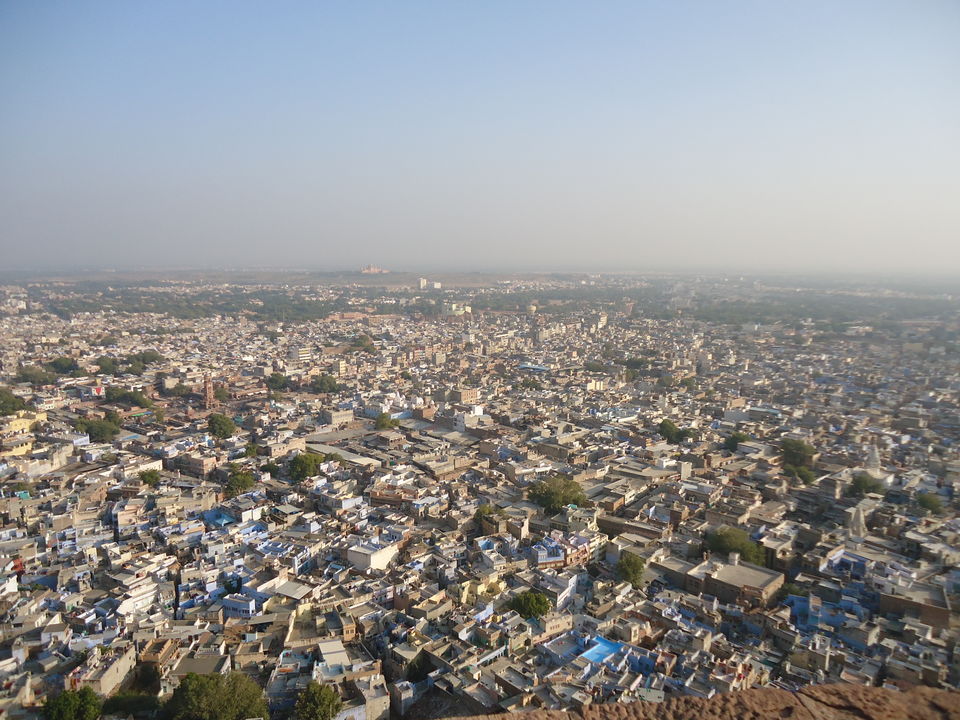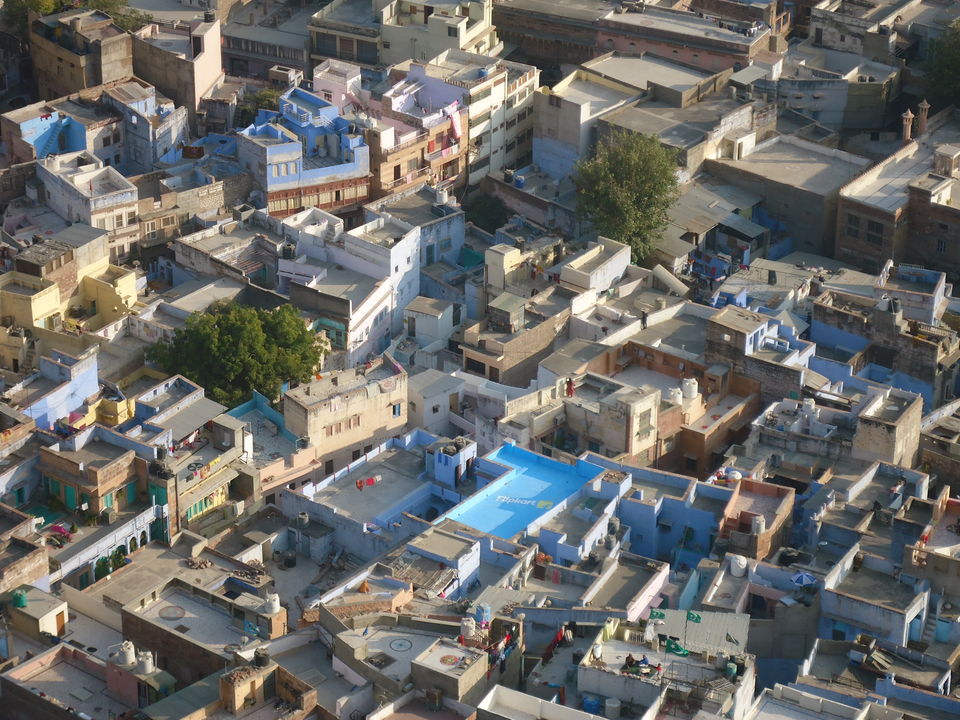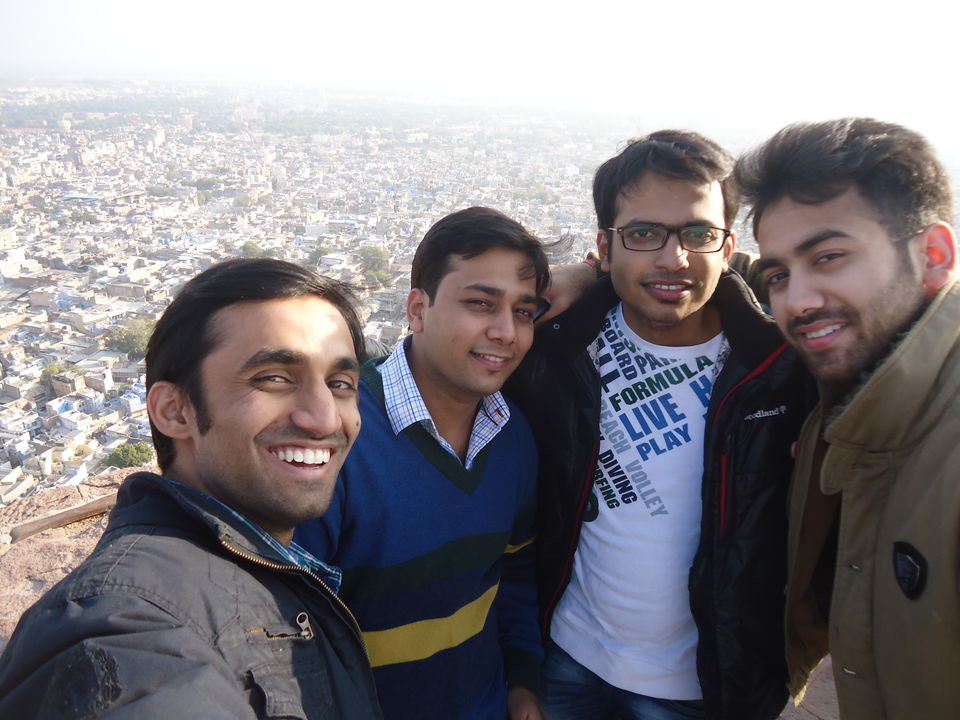 Just besides the place we were standing and viewing Jodhpur was a large space with a lot of barrel cannons (restricted for entry, though) kept. This seemed like an area from which these cannons would be fired during the time of battle or attack.
We then proceeded to the museum, which had innumerable arms and ammunition of the Rajputana time, all of them dripping with the glory and grace these rulers and fighters would have added to Marwar (Jodhpur).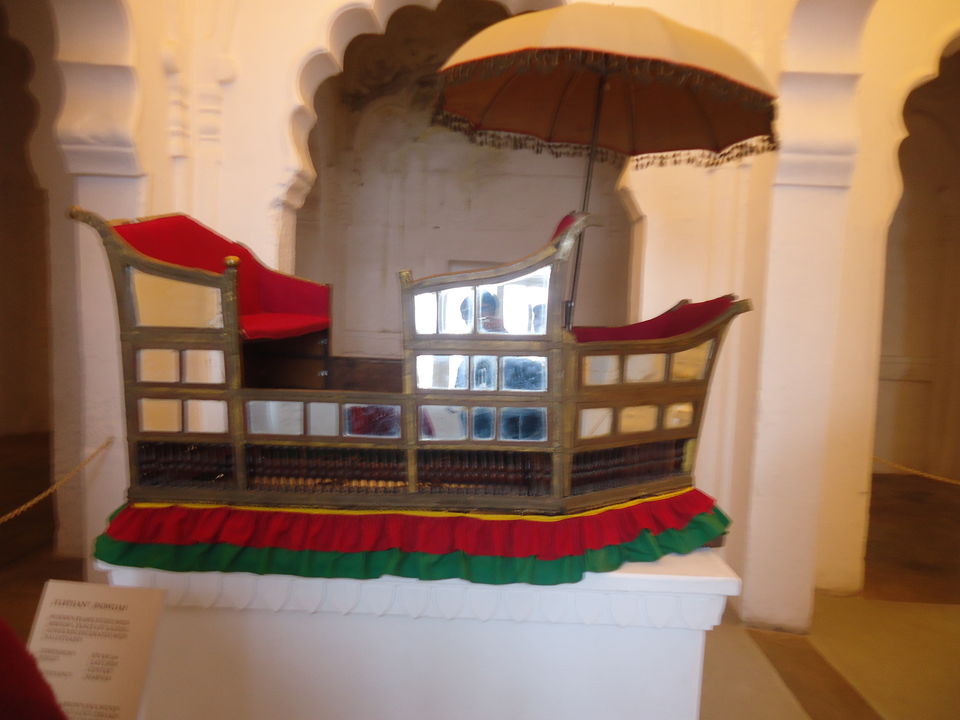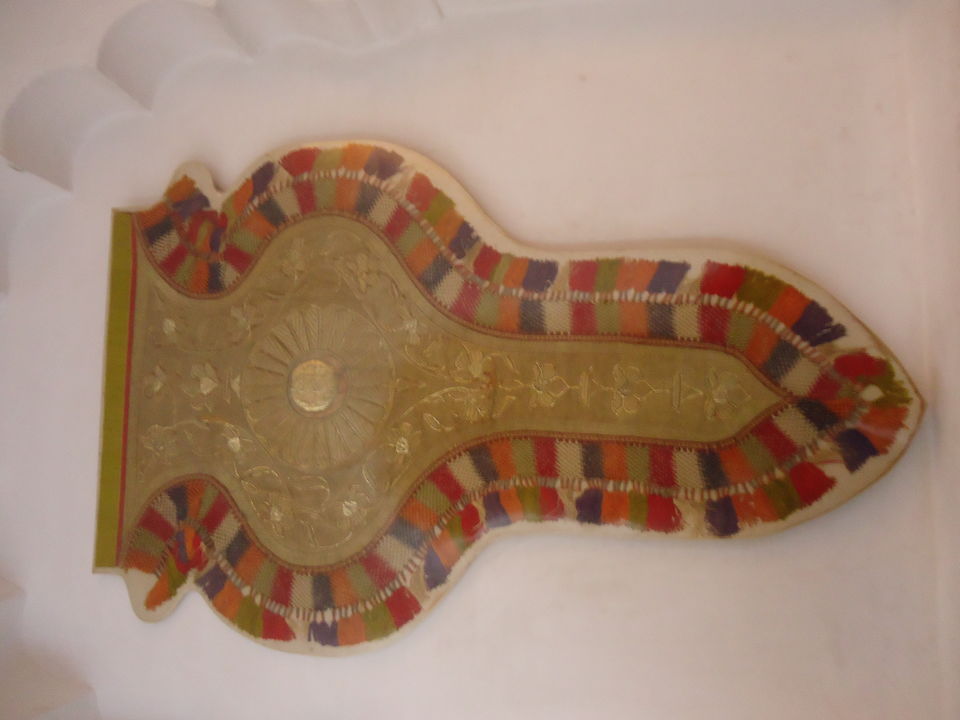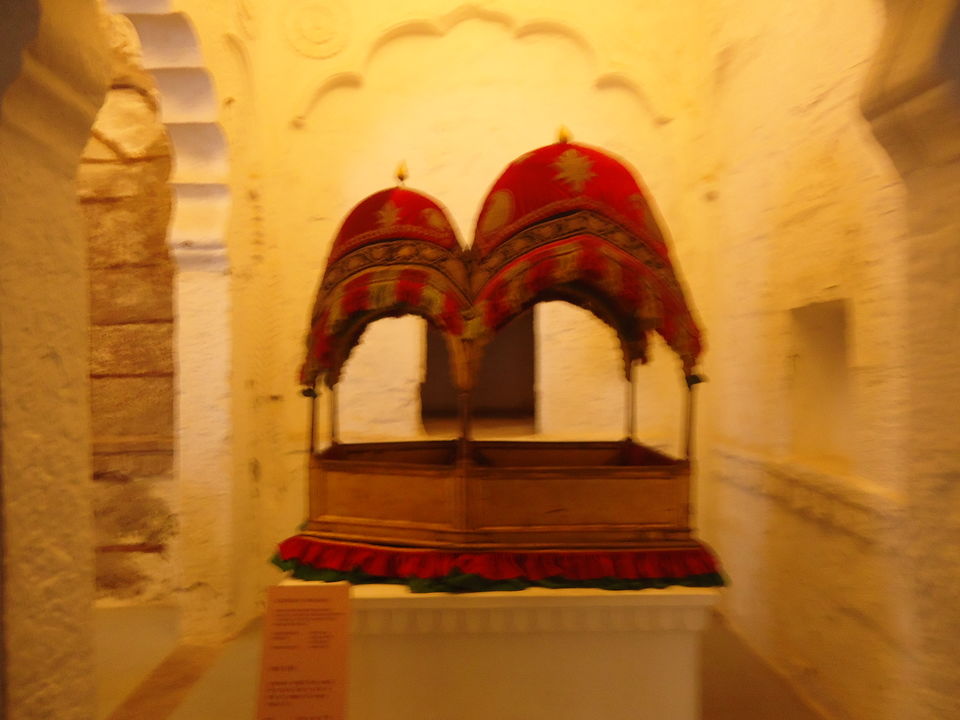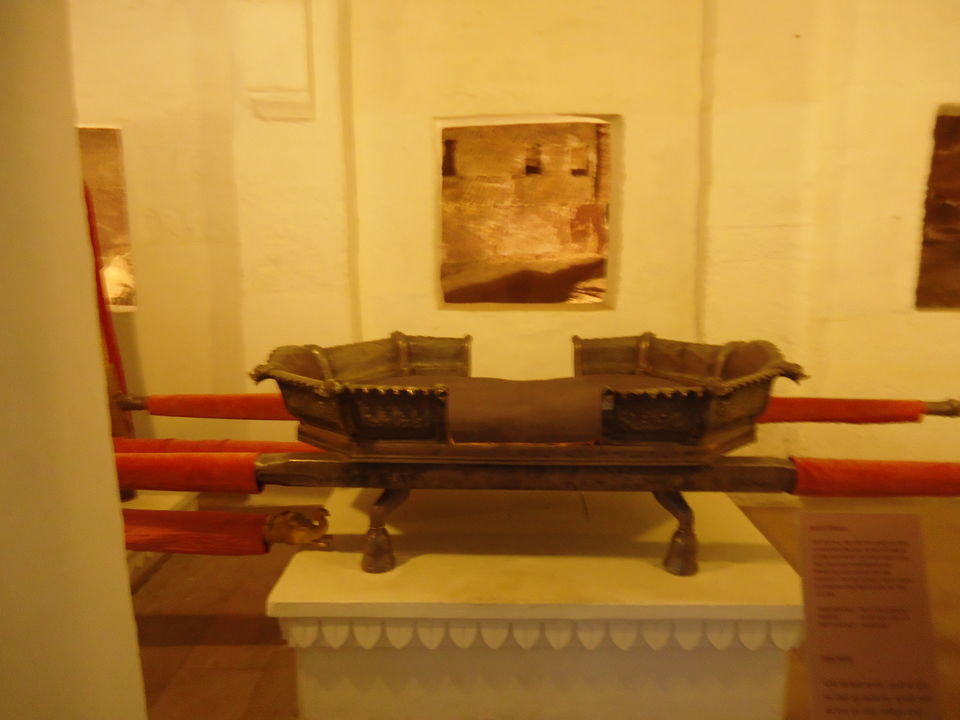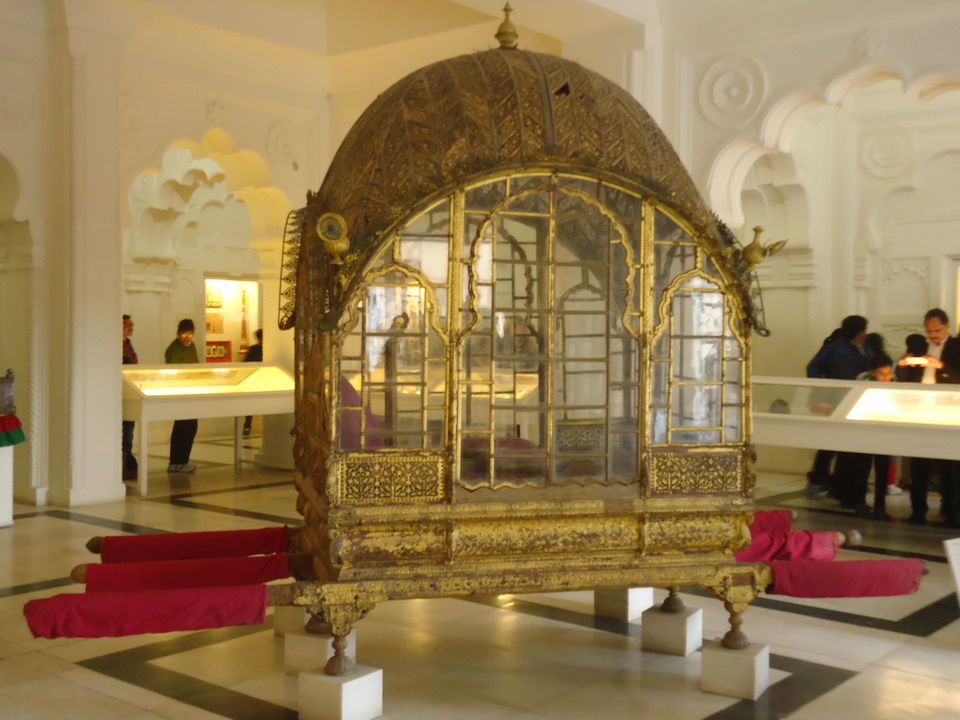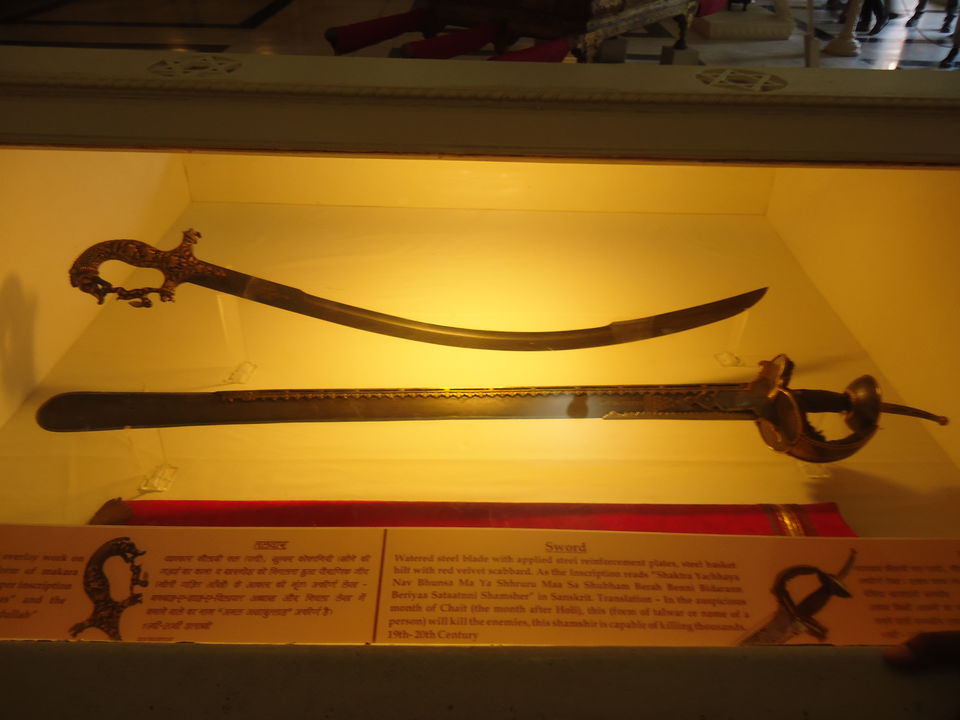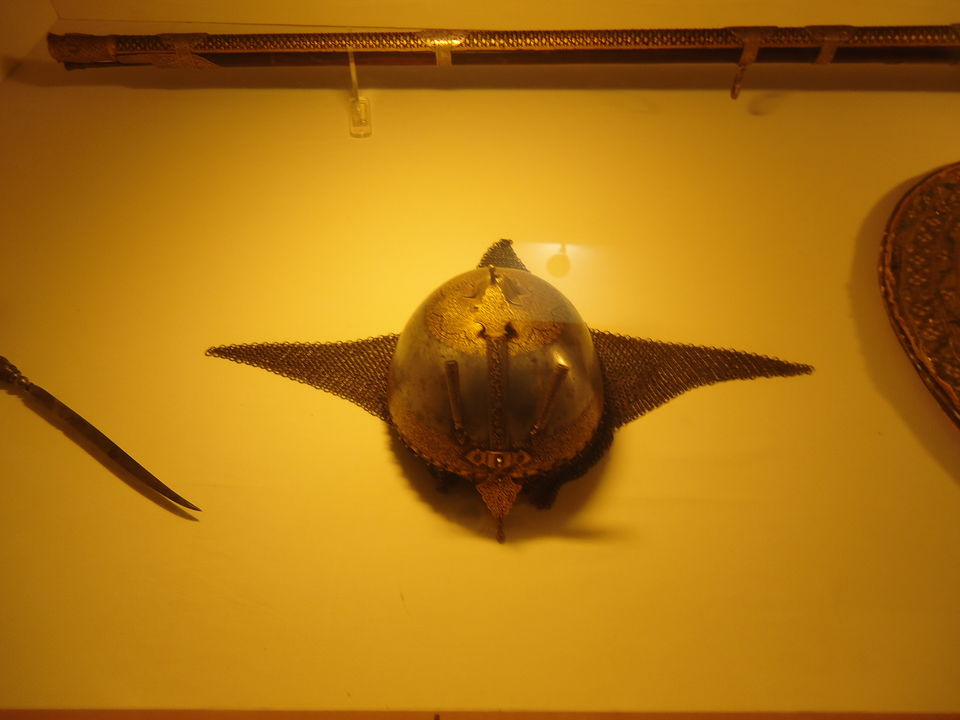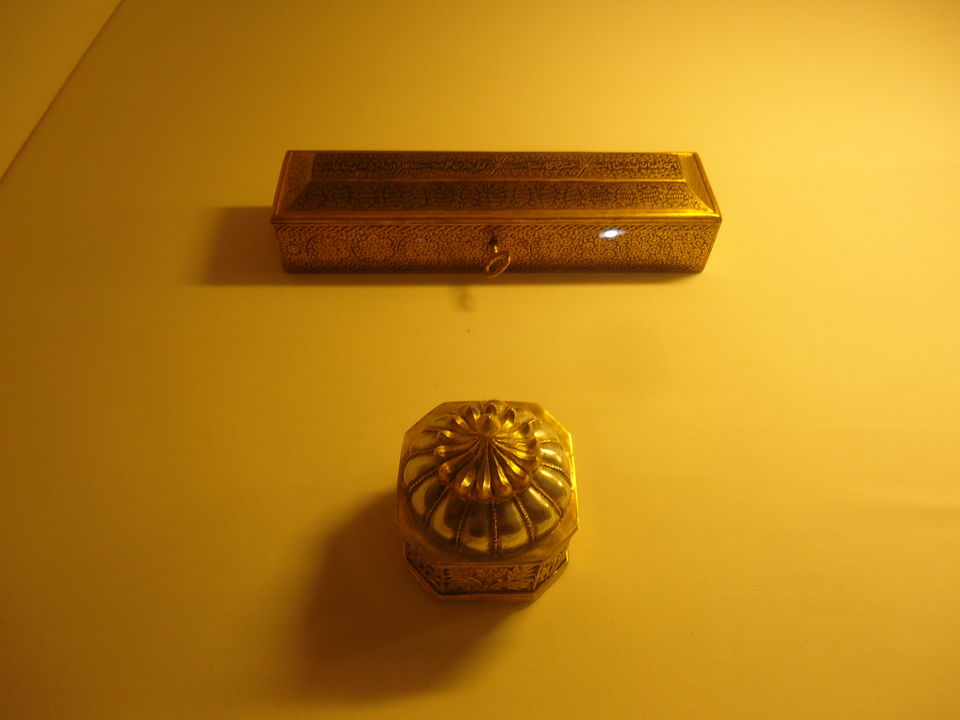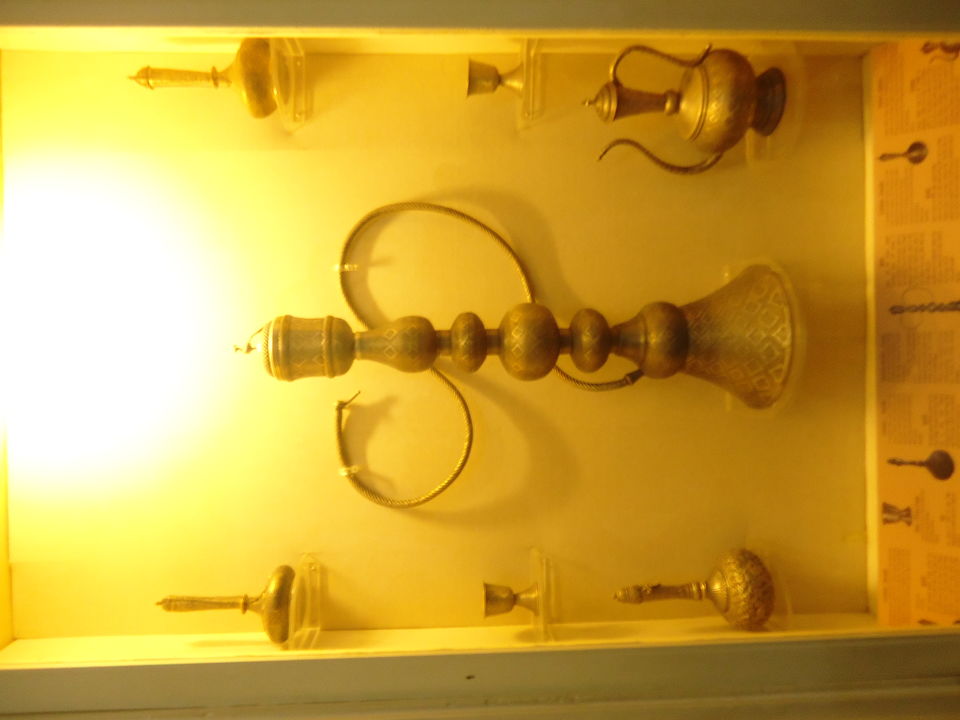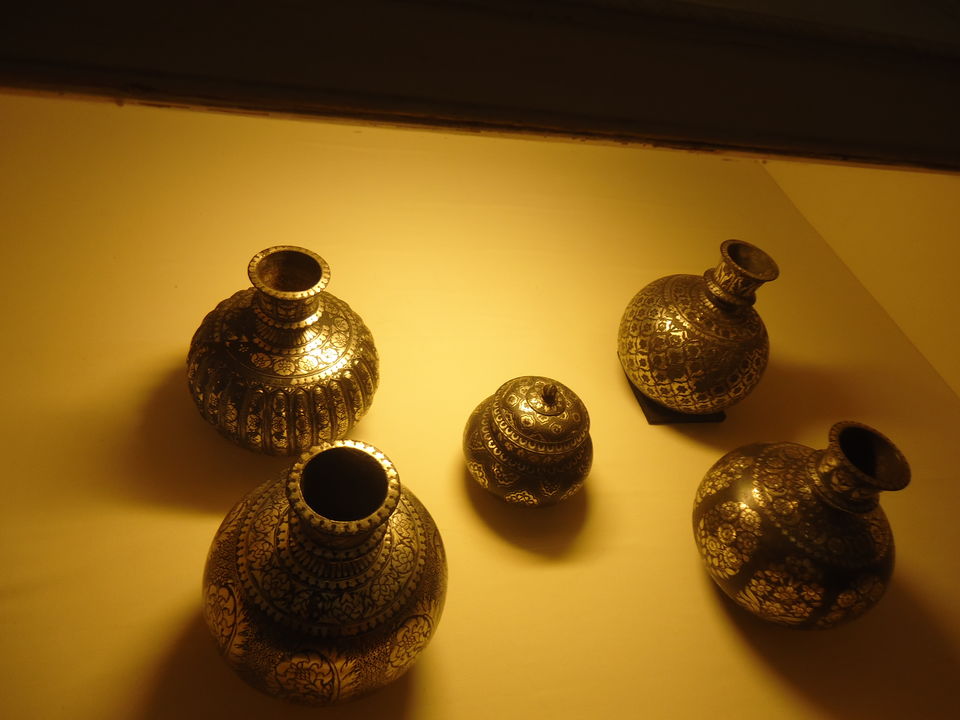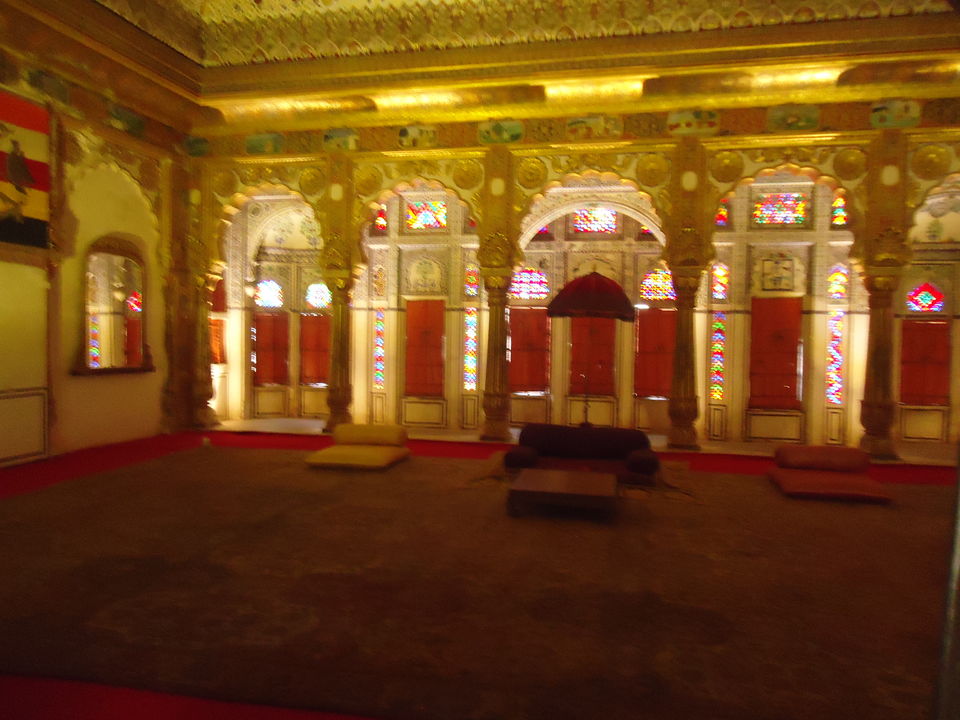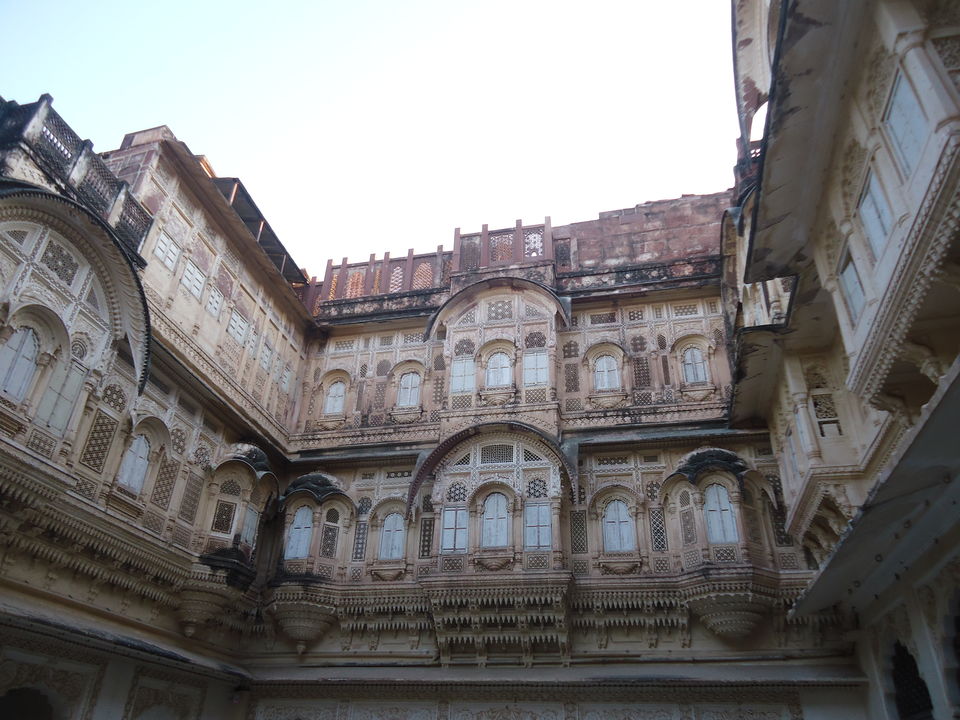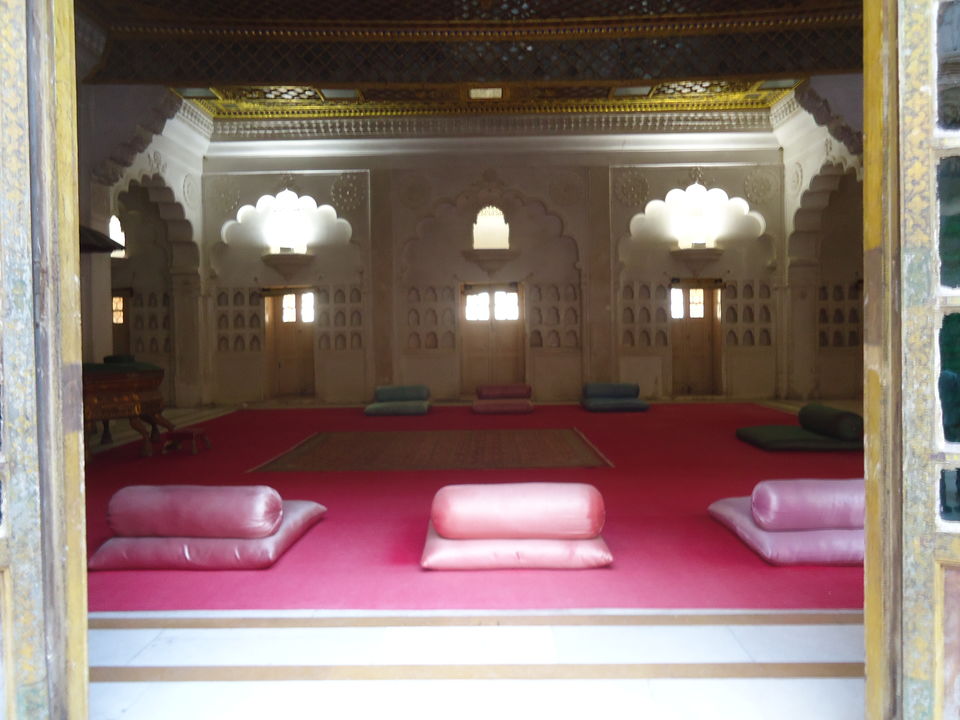 This marked closure of all we could possibly see in Mehrangarh fort, and we headed back home.
It was fun to wear the traditional Rajasthani safa for a while and get clicked with the uncle sitting and using his chilam.
Serving opium drink is a part of Bishnoi Village's culture, and they did serve us with some of it. Even though it was almost completely diluted(I guess), it was a very different thing to try, especially when offered by an 80 year old guy sitting in a village of western Rajasthan!
Moving ahead, we reached the Guda Bishnoi Lake, again in Bishnoi village, which attracts a lot of migratory birds from different places. Since it was in peak afternoon, we were not able to catch a view of a lot of these birds from close, but surely this place would be much better for an evening visit.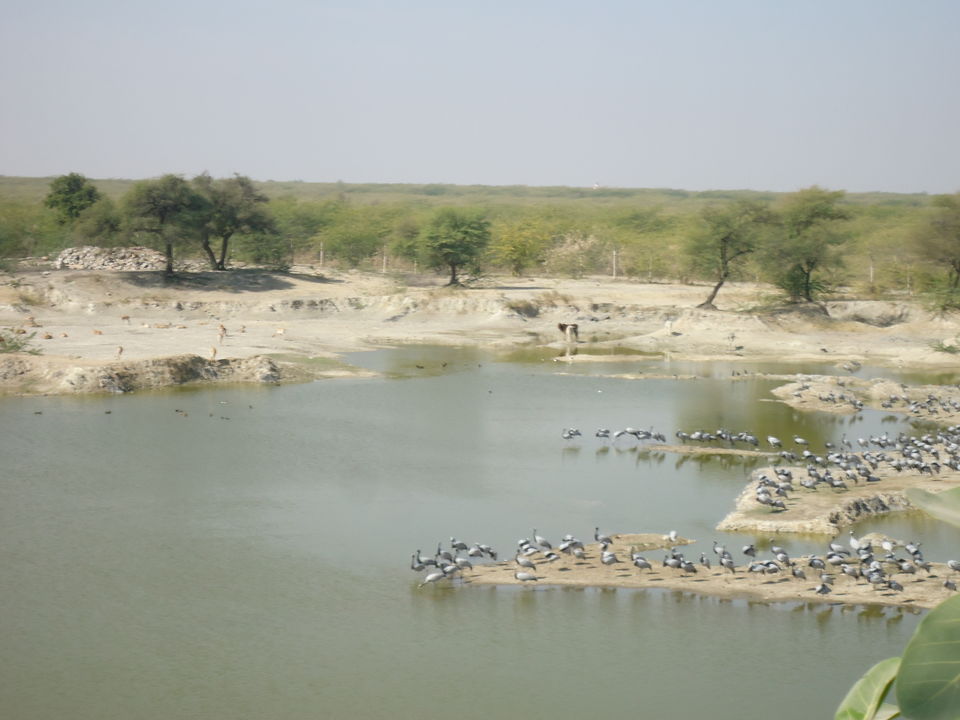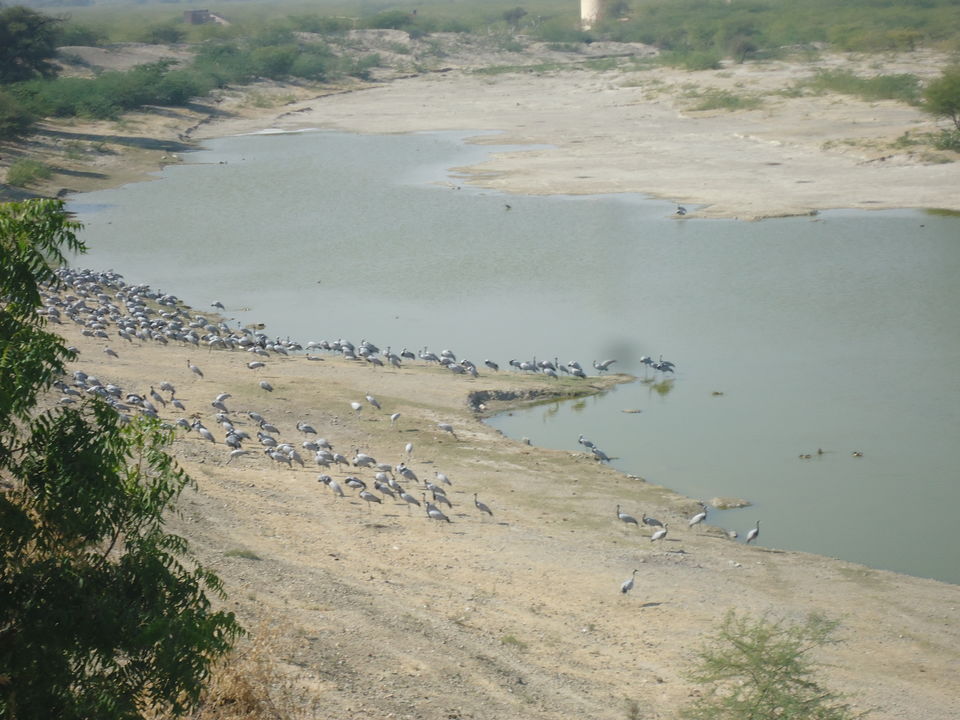 Post this, the jeep driver took us to a couple of old hand loom manufacturers, just in case we wanted to buy something for ourselves or our families. While a lot of the stuff there was great, it was too pricey to be bought (especially by us students)!
This marked the end of our outside room adventures in Jodhpur, and we then geared up for the next day's destination, Jaisalmer.
Once we reached the station, our hunger reached other levels and we decided to have a traditional Rajasthani lunch in the city before heading to Sam Sand Dunes for camping and desert safari. We again hired a cab, this time splitting it among 5 people instead of 4 (the 5th person joined us in Jaisalmer). The cab driver told us he would take us to the place for lunch, then drop us at the camp safari in Sam Sand dunes, pick us up in the morning to drop us back to the city (Total cost Rs. 2000). Cabs can be booked even cheaper at railway station, but we were getting late so didn't negotiate much.
The driver took us to a very small restaurant (do not remember the name), whose rooftop had some tents arranged within which we were seated for a serving arrangement. We were offered a lot of spicy Rajasthani food there, possibly all major Rajasthani dishes like Daal Baati Churma, Kair Sangri, Gatte ki Sabzi and few others. Once satisfied with the finger licking food, we started our journey for Sam sand dunes (around 30-40 kms from city). The ride from Jaisalmer to Sam has amazing views- We saw windmills for the first time in life for real.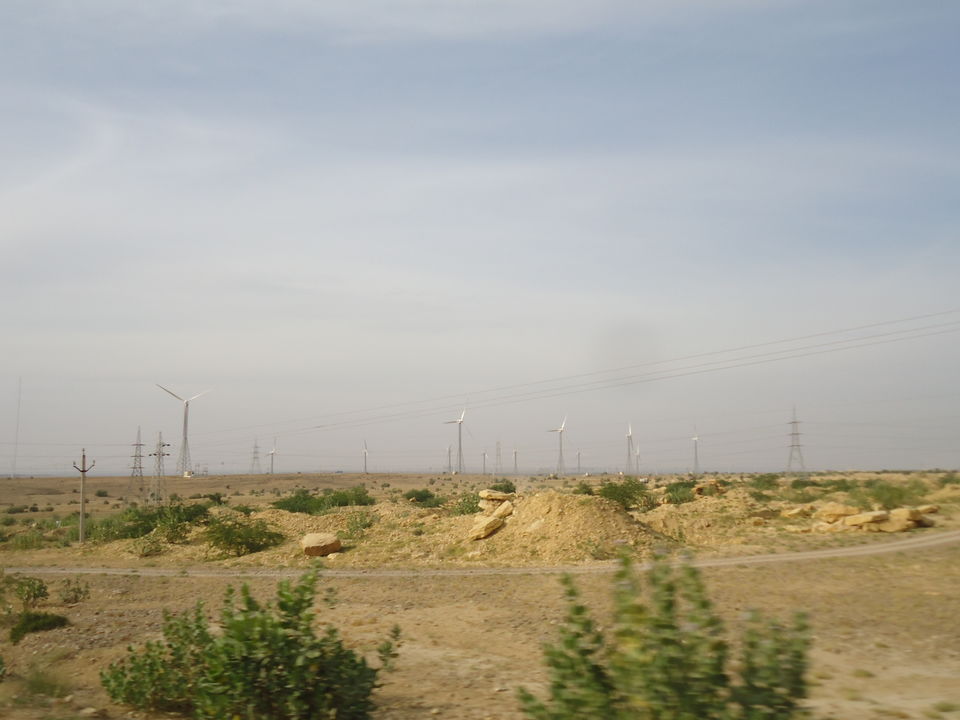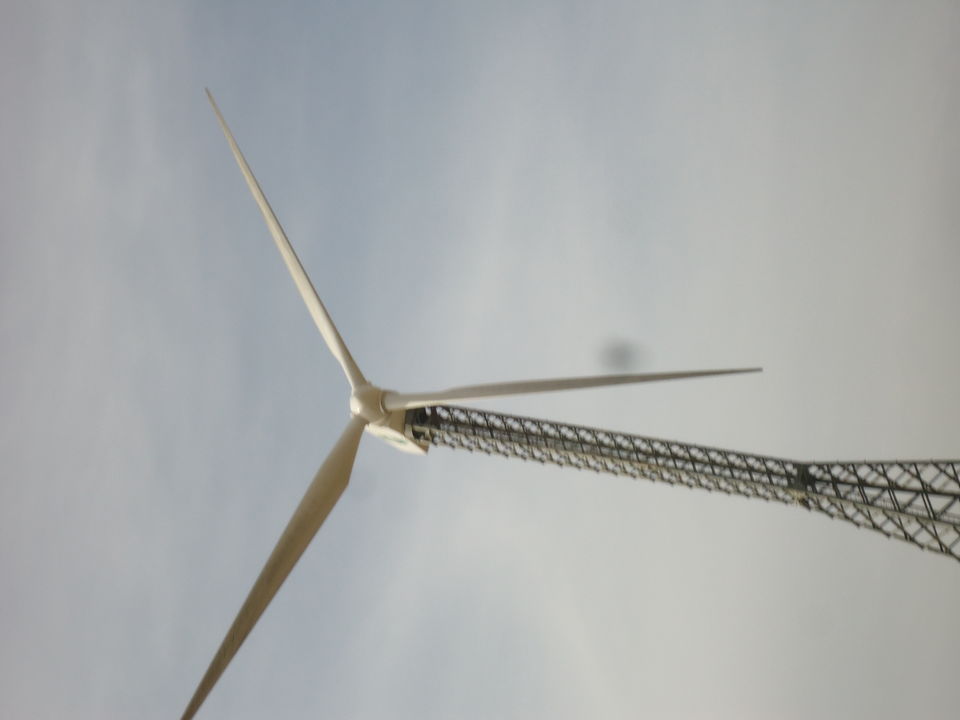 And then we reached our camp (Sam Sand Dunes Desert Camp), thrilled by just looking around us- Desert sand, camels, tents- Everything we used to see in pictures, was a reality now. We were given a traditional welcome at the camp, with a lady doing our Tika (traditional Indian way of greeting guests) at the entrance.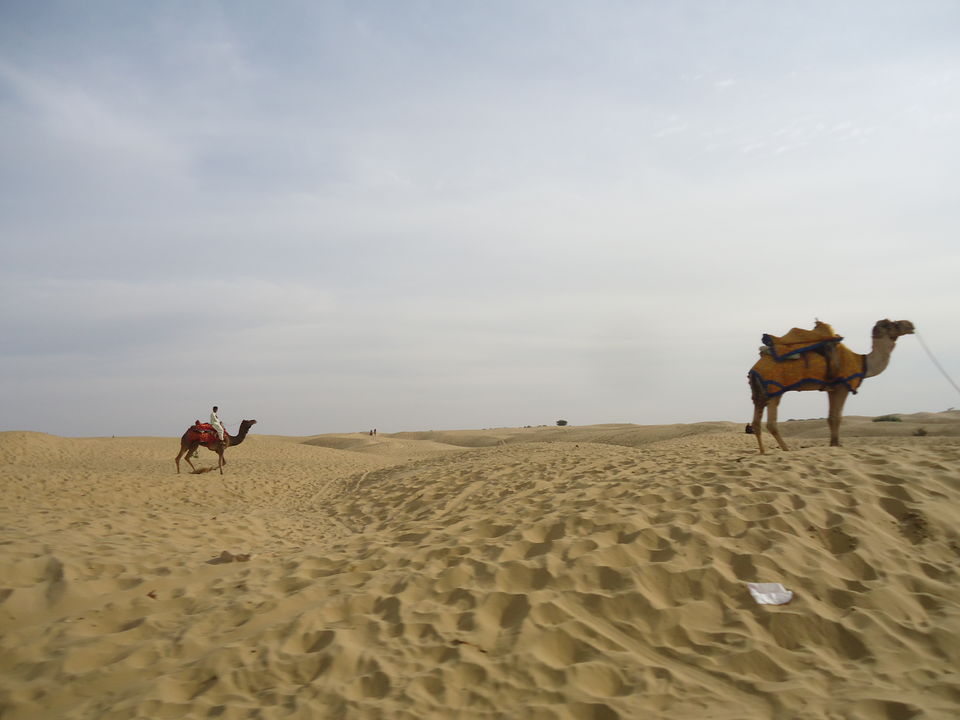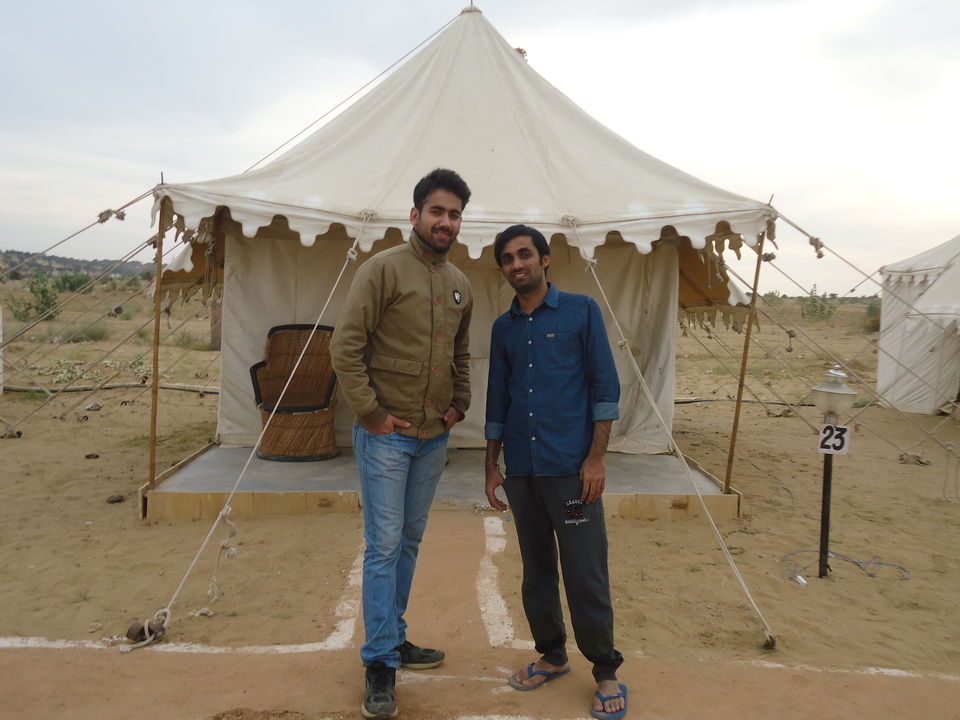 We entered our tents, which had all we needed to comfortably spend a night- Beds, quilts, washrooms (covered), lamps, some chairs and muddhas (kind of chairs) just outside the tent- to relax in open.
We then freshened up and headed straight outside the camp to find a jeep for desert safari. Why were we in a hurry? We wanted to see sunset from a designated point in the sand dunes, and were a little late for the same.
We booked a jeep (Rs. 1000, from camp to sunset point and back, half hour stay there), and then began possible the most thrilling experience of our trip- The driver took us up and down all the dunes in the way, mercilessly making the jeep jump while we all kept banging into each other and the jeep itself. We could not feel ourselves, yet still remember the strong wind flowing across our faces, going up and down in the air to ultimately reaching the point where we saw a beautiful sunset.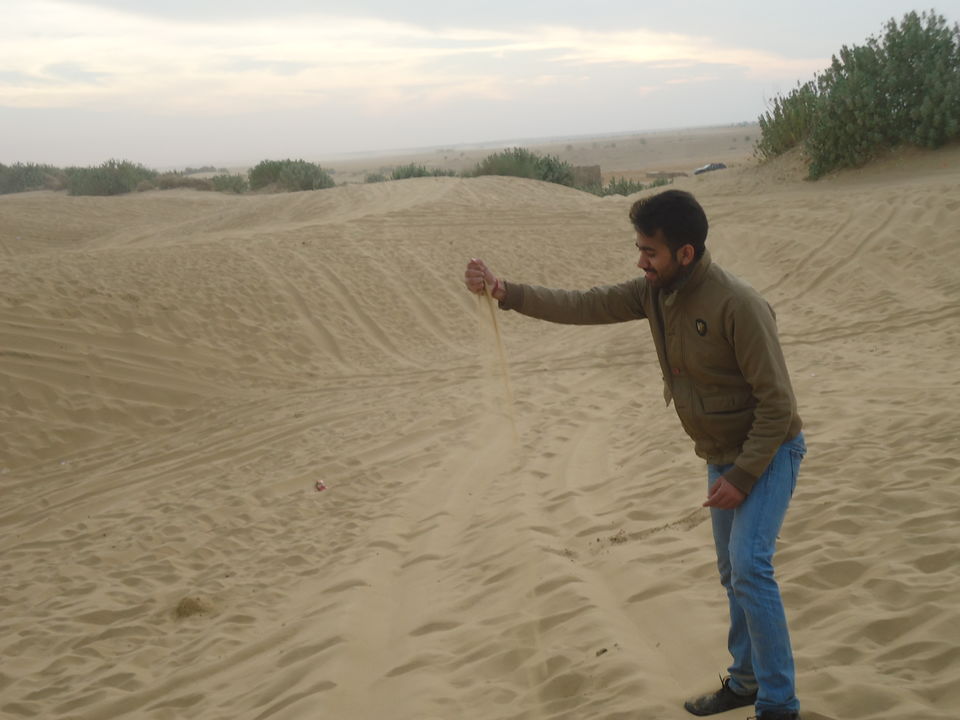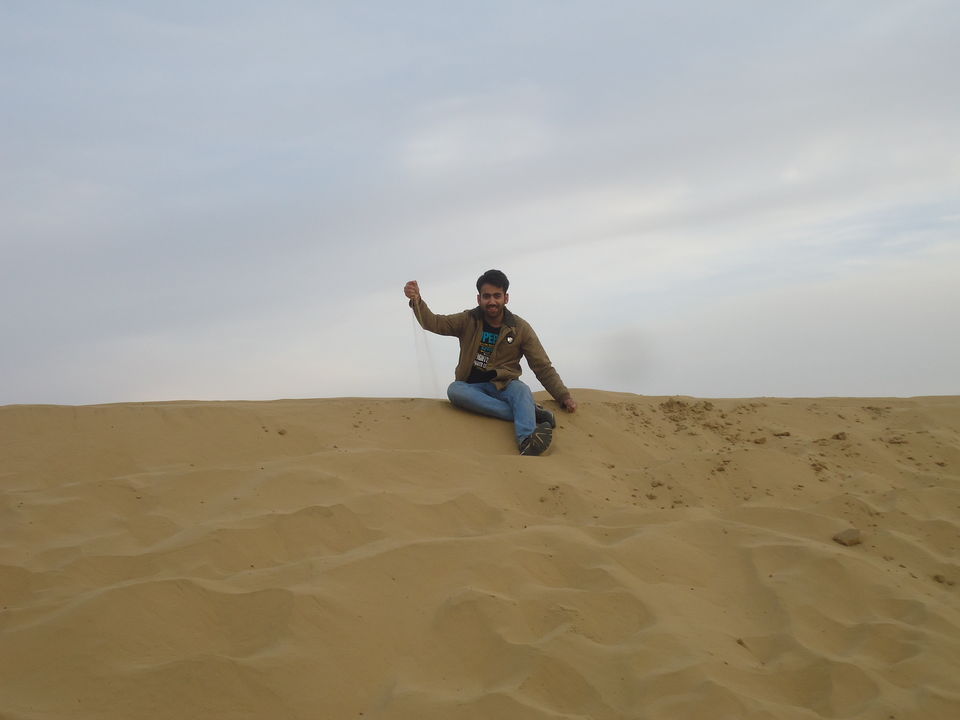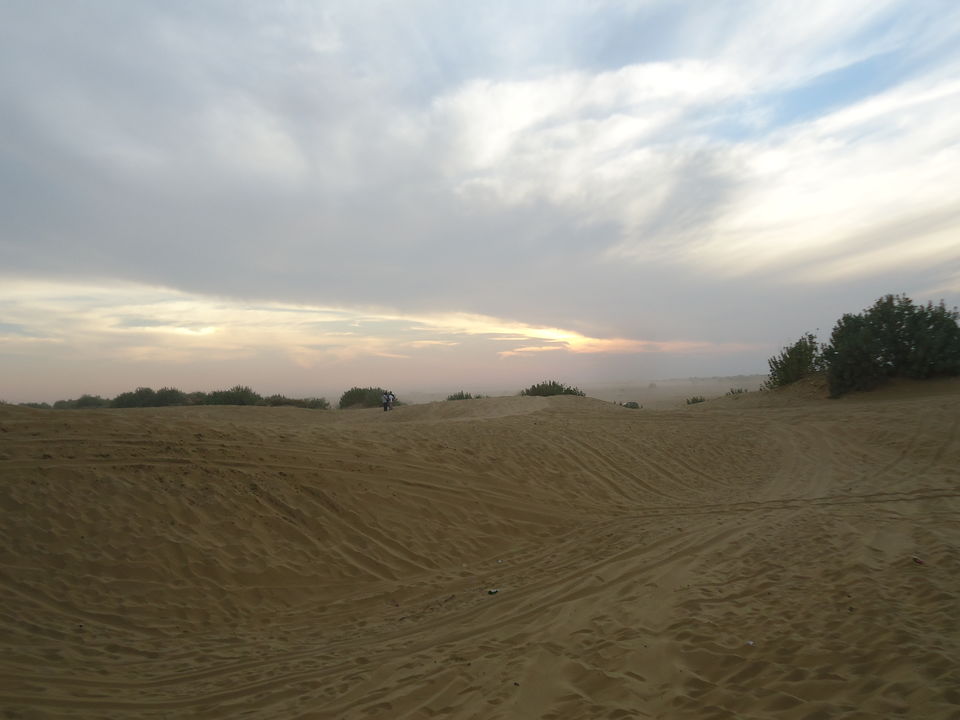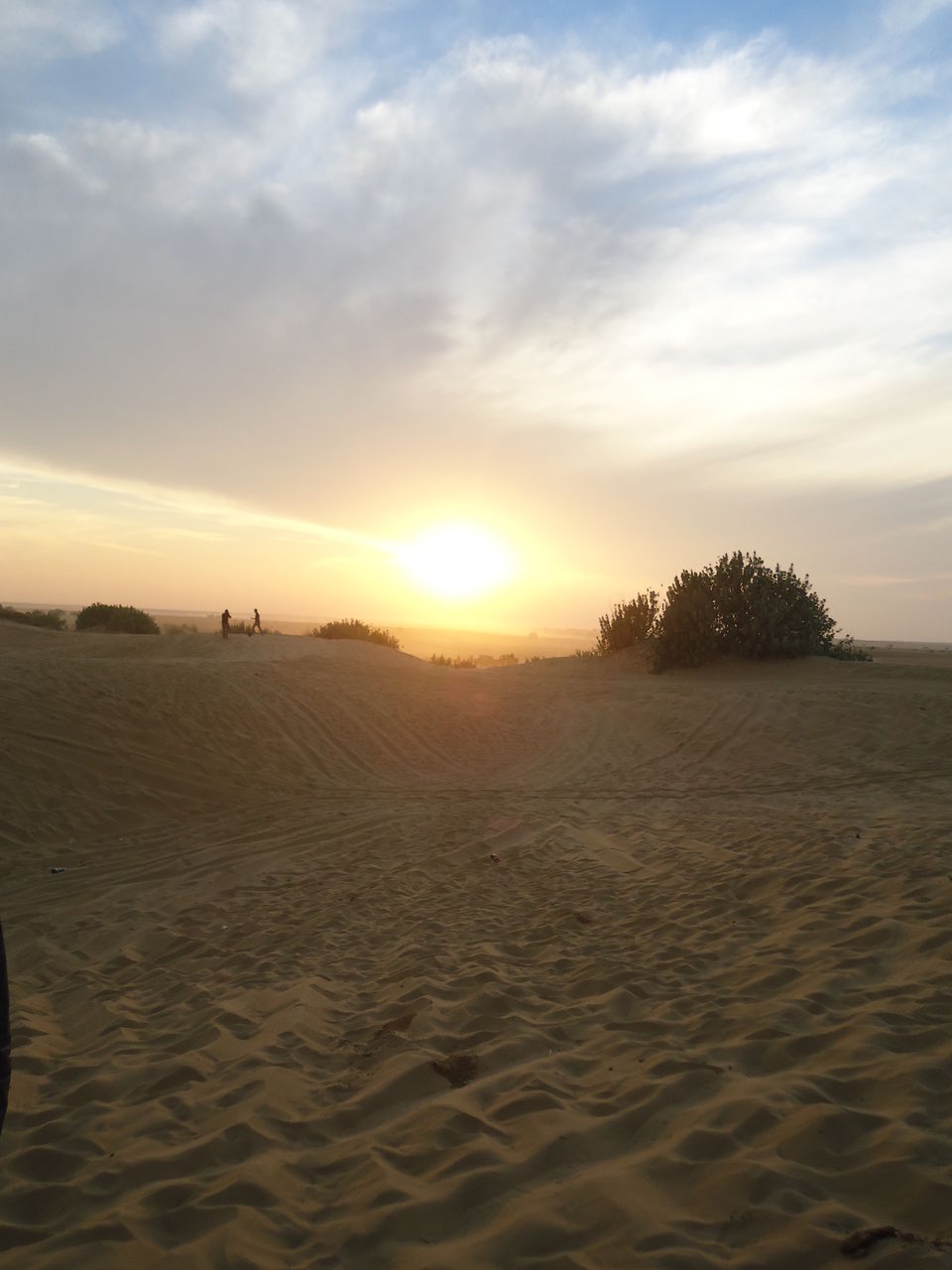 Taking the same jeep we came in, we went back to our camp the same way we had come. It took us around 10 minutes to gain back our senses after the ride, once we got off the jeep and entered our camp site.
The cool tent houses were waiting for us, and we did relax for an hour or so till dinner started. During dinner, there was a show setup for all the camp residents- Traditional dance, music and bonfire while dinner. Everyone sat around the bonfire to enjoy the show, where traditional Rajasthani dancers performed by doing some really cool stunts like dancing with a sword between their teeth + standing on steel glasses. Then, a group of musicians played local songs on some unique instruments, and at one point, the entire crowd started singing with them.
The dinner offered all the traditional Rajasthani food- where I experimented a little by mixing Churma and Kair Sangri, along with a lot of ghee in it- and it was yum!
Once the traditional program ended, people played some Hindi and Punjabi songs on the speakers and then danced for the next one hour, till 10 30 pm.
For most of the camp residents, the day had ended, but we were in no mood to sit back in our tents, which by the way looked like this from inside-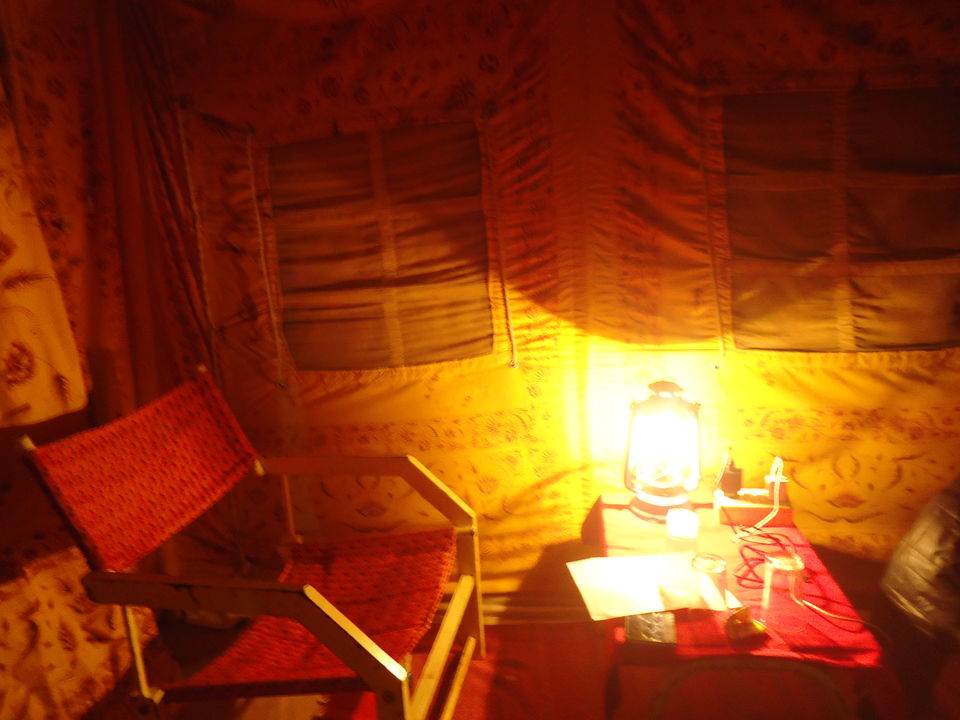 So we headed outside the camp gate and crossed the road to reach the desert- Full moon, cold desert sand and dead silence. We laid down on the cold sand and just gazed into the sky. Not sure if this is even allowed, since there were some vans of police roaming around at night, but we were too relaxed to be thinking this back then. We stayed this way for around half an hour, before coming back to our tents and dozing off.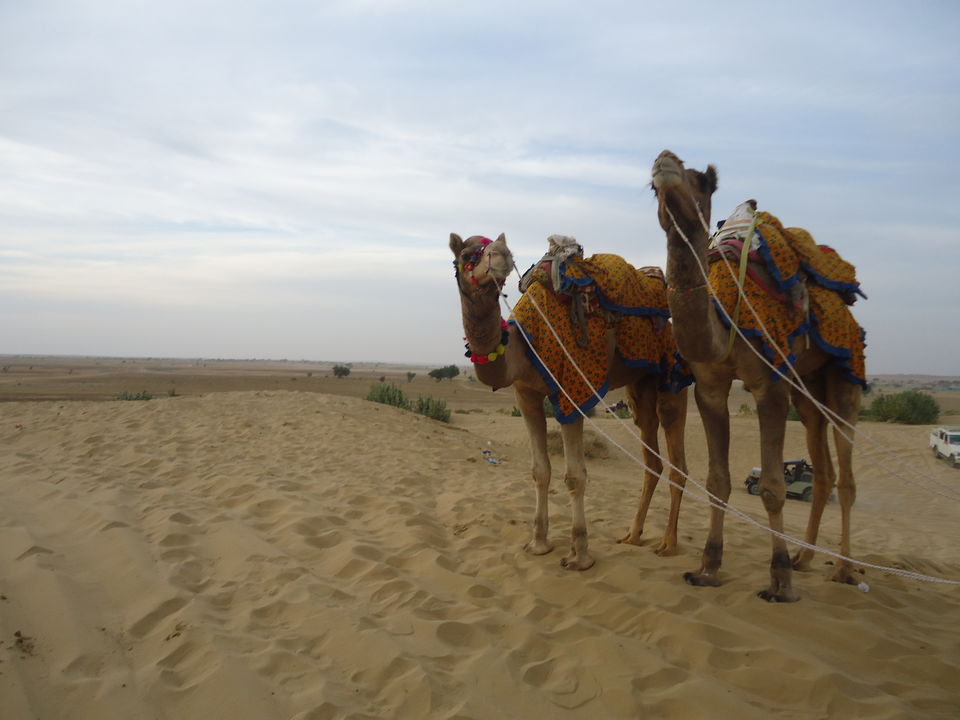 We then headed back to Jaisalmer city, where we went to the Jaisalmer fort, supposedly the only living fort ever (Not sure if this information is true, but definitely it is one of the very few living forts that exist). The fort was very big, with people actually living inside it, and we covered it within an hours time.
This marked an end to our visit to these 2 beautiful cities. This experience made us, and more importantly me realize that Rajasthan has things to offer which no other place can. With a lot of memories and a definite promise of coming back, we bid adieu to Jaisalmer and boarded the train back to Delhi.
Frequent Searches Leading To This Page:-
best tour packages in rajasthan, rajasthan family tour packages, rajasthan travel packages, rajasthan trip packages, rajasthan tour package for family, honeymoon packages in rajasthan, rajasthan holiday packages, budget rajasthan tour packages, rajasthan tour