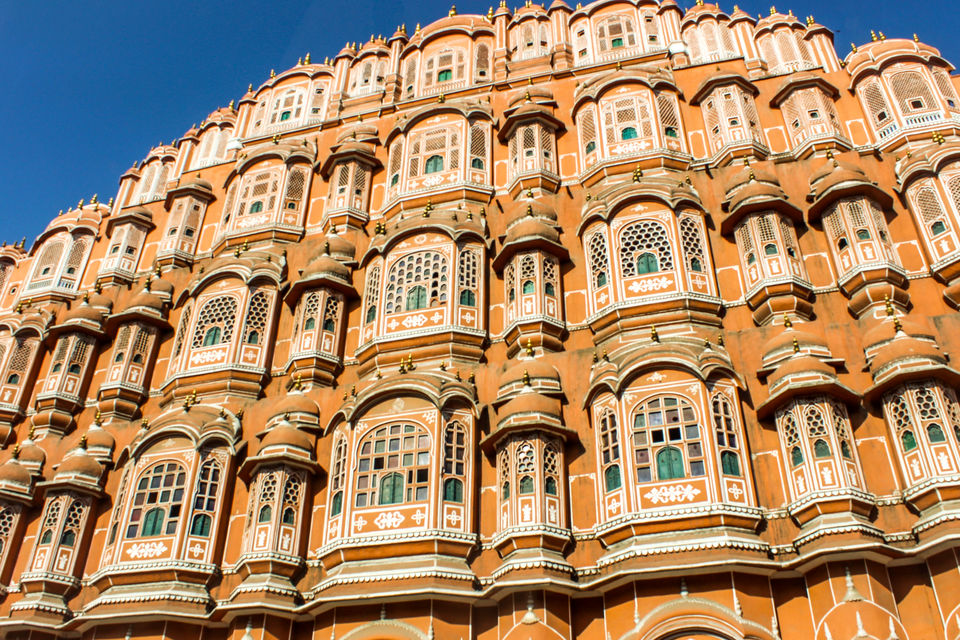 The one week that I was in Delhi for a campaign launch on behalf of my corporate-world-aspect-of-life and after being exhausted with the city's over powering heat (**I was missing my Bangalore weather**), I decided to cut my stay short and leave for home on Thursday eve. I went to my hotel room, called the reception to prepare for my checkout. While I was talking to the staff over the phone, a newspaper lying next to the phone read on it's front cover; "Just inscribed as UNESCO World Heritage Site: Jaipur City in Rajasthan, India. Bravo". And all these four days that I had stayed in the same room, this newspaper went completely unnoticed? That's what being in media does to you!
I continued to pack my bags – for Jaipur instead. I know, I know: how is Jaipur heat any better than that of Delhi? Its not, but the thought of visiting a new place definitely is!
I reserved my bus ticket to Jaipur on Make my Trip and booked an ola (**let the company you work, pay**) for Gurgaon to catch my bus – because like always, I couldn't plan any better – it was random. We can be all the planners and organizers we wish to be on an everyday intent, but we have this one little unnoticed attribute to our personalities that sync, naturally and inadvertently. I wore my patience hat for the longest time on my ola ride, got off the taxi, ram-ram'd the driver (**for my international readers, it's a loving way to greet in Hindi) and stood patiently for my bus to arrive. Buses from Delhi to Jaipur usually takes about 5 hours, give or take. If it takes longer than that, then you are probably better off travelling in a bullock cart!
I could feel my feet being lifted two inches above the ground. After all, I was going to visit a brand-new city: one that I had only read about or mentioned in a conversation; a city that spoke a different dialect, folks that wore different traditions and food that was famous for its royal legacy.
Multiple buses inhabit the pick-up spot and some uncritical 'Delhi-Jaipur' conductors kept repeating, "Jaipur" in quirky harmonious tone. The excitement with which they were calling out these names was on the same note as to what I had been feeling at that moment – loud and clear. I wondered in amazement if that was routine or was today somehow special?
I gave the bus-helper my only carry on for storage and hopped inside the bus, taking the nearby window seat as I was one of the early passengers; there was one other group of friends who preferred sitting towards the back singing their way to our destination. As more passengers started to fill in, the driver took his routine pledge: touched the small dashboard-mounted Lord Shiva idol and pulled out the keys from the breast pocket of his shirt. The engine rumbled when the driver put the gear in its first, officially marking the beginning of my trip!
Our bus, like most others on the road, dodged the leisurely trolling cars besides the much-frustrated motorbike drivers. You see, Indian roads accommodate all and all taking them get the hang of it too. Highway routes are phenomenally maintained besides the traffic they undergo regularly. And, had the roads become bumpy in some areas than others, I wouldn't mind anyway. Isn't the natural human mood swing also on that frequency many-a-times? The five hours or so that I was on the bus, I couldn't help but pace myself up to the driver because the inquisitor in me replaced all exhaustion. And, what better to hear it directly from a local! He recited his adoration for the city that made him part ways from his family at a very young age and had absolutely no qualms in doing so. The man chose his fascination for Jaipur's art and splendour and wanted to spend his days and nights surrounded by the same. There, he met the love of his life and decided to settle just outside the heart of the city.
I spend the entire Delhi-Jaipur commute listening to this man who had the gift of the gab besides his intense long-route-labour-driven workstyle. He pinpointed the famous road-side eateries that showcased handmade wooden beds and well-renowned for clay-oven baked foods. On a side note, I had to switch back and forth between my original and temporary seat (**one beside the driver**) because the roads had numerous police checkpoints (**salute to the Indian Police who beside meagre salaries and their ever-changing work schedules continue to perform their duties whole-heartedly**). As soon as we began to move in close vicinity of the city, I felt Pink structural architectures staring back at me.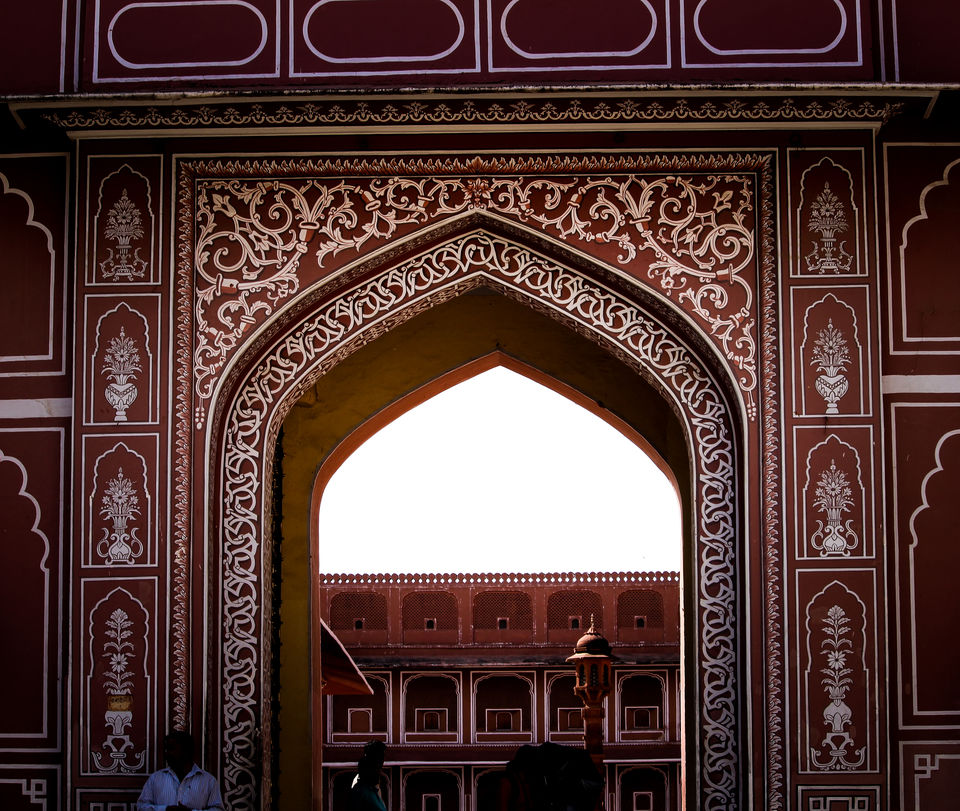 Welcome to the 'Pink City'.
The bus dropped me off at the city bus stand, I managed to get an ola from there to my Hotel that I booked with Oyo Rooms. I reached in about 20 minutes and took a short nap as I knew a long tiring day awaited my way. I woke up in 3 hours to catch my complimentary breakfast. After a fulfilling meal, I started my day in an auto rickshaw. I reached Hawa Mahal and bid the driver farewell, charging my self-excited version to enter these elaborate gates. But before I entered, I stopped to admire the enormously tall honeycomb historical grand palace built by Maharaja Sawai Pratap Singh in the 18th century. Its unique five floor exterior carries the look of a beehive because of it's more than 900 small windows called 'Jharokhas' decorated with convoluted latticework. The original intent of this building was to accommodate the keenness of royal women to observe everyday life and festivities, since the rule of 'purdah' (**predominant in those days**) prohibited them to appear in public without being seen. Also, logically driven, the structure was built to allow ventilation and air to pass through these small windows making the interiors more pleasant as the arid region of Rajasthan is subject to extreme temperatures during summer months. I marched through these gates after paying a small entry fee and spend a generous couple of hours admiring the 5 floored interiors just as its lavish exteriors (usually it takes about an hour and a half).
My next destination was the 'Royal Architecture' i.e. The City Palace. This time, I decided to hop on a rickshaw whose puller, like most of his usual days, was waiting on a passenger to take this fun ride. These men stand in immense heat all day long to make ends meet, for their families and children and in case you offer them a little extra as tip, some of them refuse to accept it singlehandedly only because they are men of valour and esteem – a reflection of their own town!
The gentleman dropped me off outside the gates and I stood in complete awe for the grandeur in front of my eyes – LIVE. Now, the palace is vast, and I didn't want the volume of information to become overwhelming, so to learn more about its history and details I took the help of an audio guide – takes the experience to another level. It is roughly around INR 200-250 per hour. Did you know that the palace is still home to the royal family? Part of it is also open to public. The palace and its surrounding are stucco painted 'Pink', therefore the name 'Pink City'. In all truth, most of the buildings and houses in Jaipur host this colour scheme as centuries-old traditional attribute to the King's unique concept. The palace complex has several, buildings, courtyards and art galleries – all announcing the heritage of the royal family. Interesting puppet shows are hosted and Rajasthani art stores within the palace museum take your breath away. There is so much creativity hidden in and around these huge forts, one cannot describe enough.
By this time I was starving and the aroma of ghee lingered around promisingly. I sat down on one of the wooden benches placed by a street hawker selling the famous 'Dal-Baati Churma', just outside the Palace gates. I ordered mine along with a lofty glass of 'Lassi' as the heat was catching up and so was my thirst.
On finishing my soul-sumptuous lunch, I lingered around the city talking to the locals and learning about their culture. My feet were tired, but my sentiment was not. Still so, I decided to show homage to my exhausted back and feet and decided to head back to the hotel and rest for the night. As I returned back to the hotel room, my mind made this promising statement, "maybe I should try their kitchen too". The food served in the platter was as majestic as the palace. Eating more than what my stomach could hold, the finger-licking goodness could simply not be wasted away not even to its last morsel.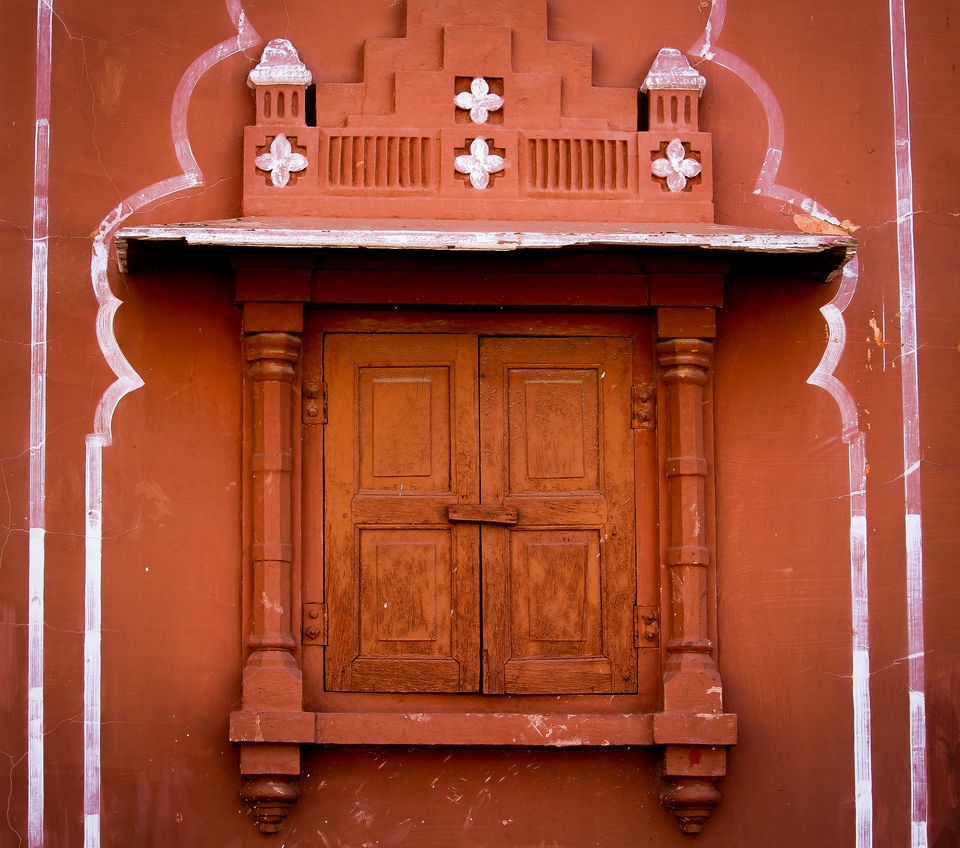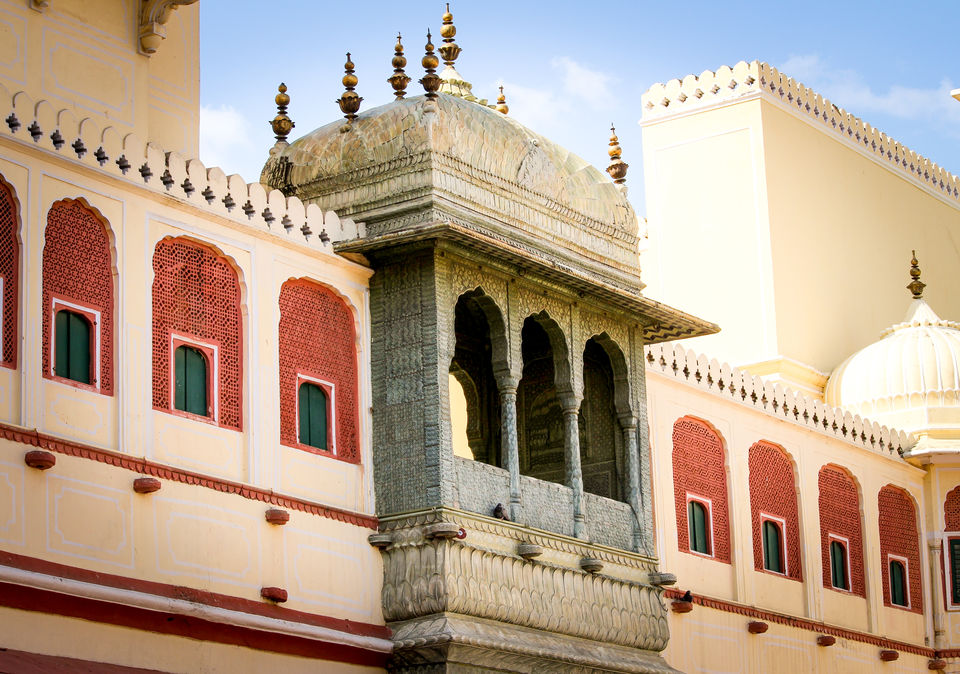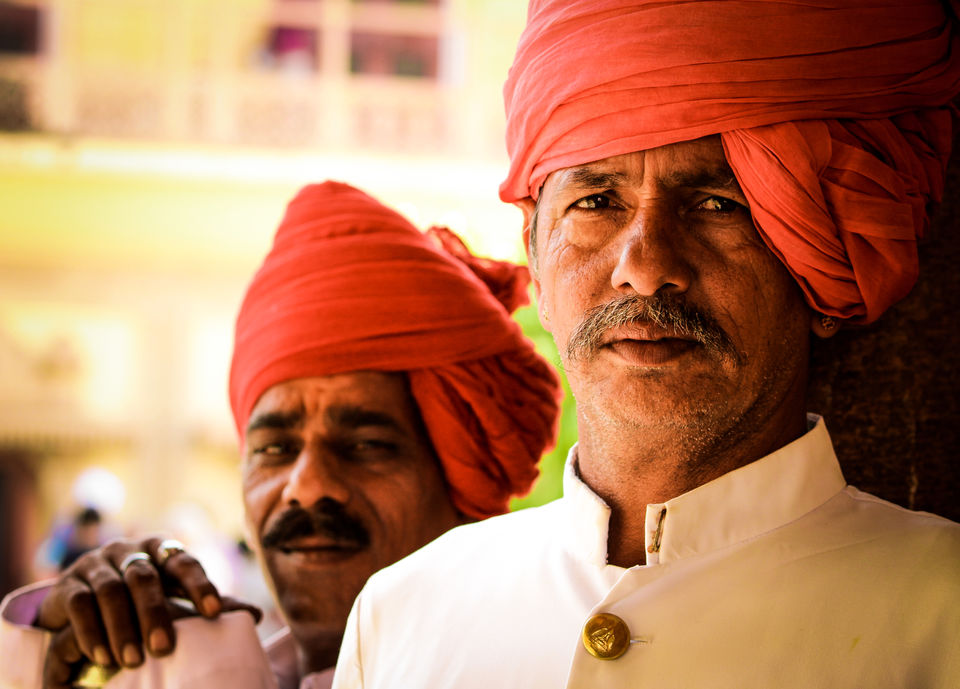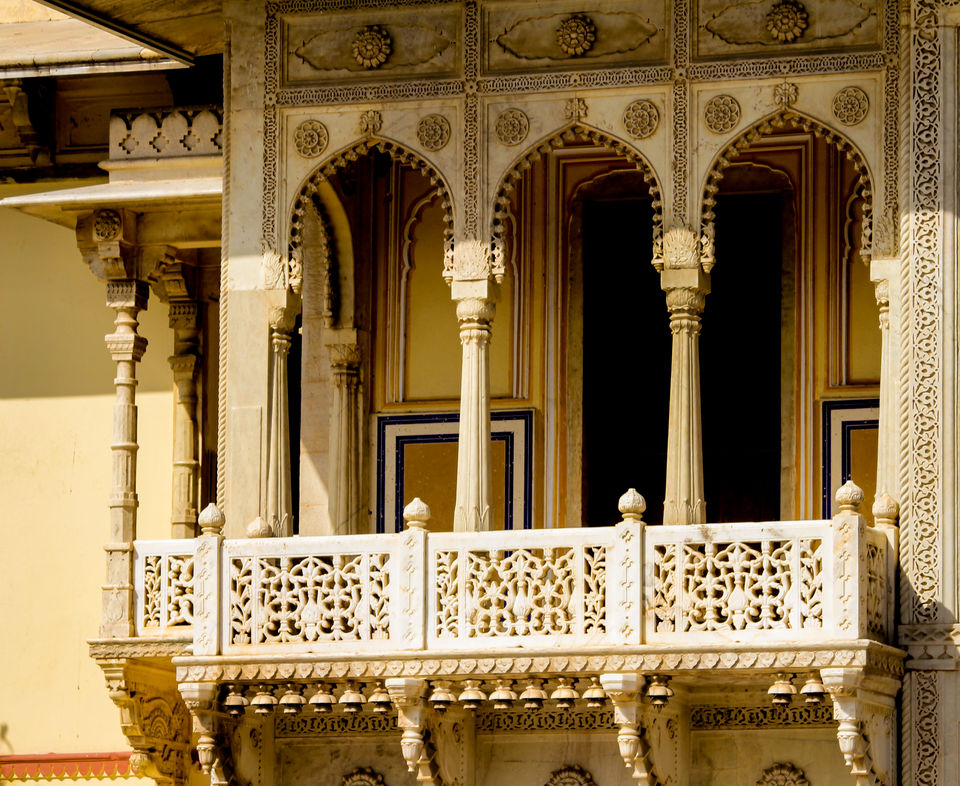 Next day in sight (**my mind's peripheral vision**) was Amer Fort located around 11 kilometres from Jaipur. I took a private taxi maneuvering swiftly through the roads and in no time, I was standing in front of Amer Fort – world renowned for its artistic style elements. I could immediately recognise the influence of Mughal architecture on this fort and its several buildings – mainly Diwan-e-Aam, Diwan-e-Khas, Sheesh Mahal and the Sukh Niwas. Amongst all, my heart was filled with amazement about the design and craftsmanship of Sheesh Mahal (the mirror palace). I could imagine how the coloured mirrors and glasses would appear like a sparkling trinket box shining unsteadily in the darkness of Amer nights. The skill and expertise of the creators of that age go beyond all definitions. What could have ever inspired them? I submerged myself in the magnificence of this place where its walls still transported to times lived in these centuries.
After spending almost 3 hours in Amer Fort, I wanted to head back to the city to see the most insinuating astronomical testimonial of all times – The Jantar Mantar. It's a must visit for everyone arriving in Jaipur. This monument – a collection of nineteen cosmological structures is the brainchild of Maharaja Sawai Jai Singh II and features the world' largest stone sundial – another UNESCO heritage site on the same land. By the way, did you know the instruments allowed astronomical positions to become visible to the naked eye? Yep, the high-end imaginary vision of this Rajput King is indescribable.
Next, I headed to the most famous Johari Bazar (**the wholesale jewellery market**) of Jaipur. Apart from jewellery shops, there are also a number of Tie and dye saree and other textile materials shops. After trolling around Johari Bazar, my last pitstop for the day was the famous Bapu Bazaar, Jaipur trip is incomplete if you haven't visited this one. The moment you enter this market, you get the feel of Jaipur: the culture, the vibrant colours, the fancy creations and the list goes on. Bapu Bazaar is mainly famous for handicrafts, unique Rajasthani style dresses, bangles, juttis (Traditional handmade shoes), handmade toys… basically everything. The most exciting part of shopping in these markets is that you get a great bargain for your purchase. What fun persists in shopping if one doesn't feed their bargain skills! On a genuine note, these bargains stimulate interesting conversations (**sometimes**). Finally, I wrapped my day with frivolous shopping goodies and headed back to my residence for the last night in the city of architecture and valour.
The next morning, I checked out of my hotel, that almost felt home in a matter of two days, attempting to say goodbye to one of the paramount trips of my life.
Every corner around this city had a story to tell; from royals to local auto drivers, from cycle rickshaw pullers to the staff in the hotel. What remains in these familiar bylanes are somewhere waiting to be discovered, by those who carry a probing mind and a tell-tale in their hearts…