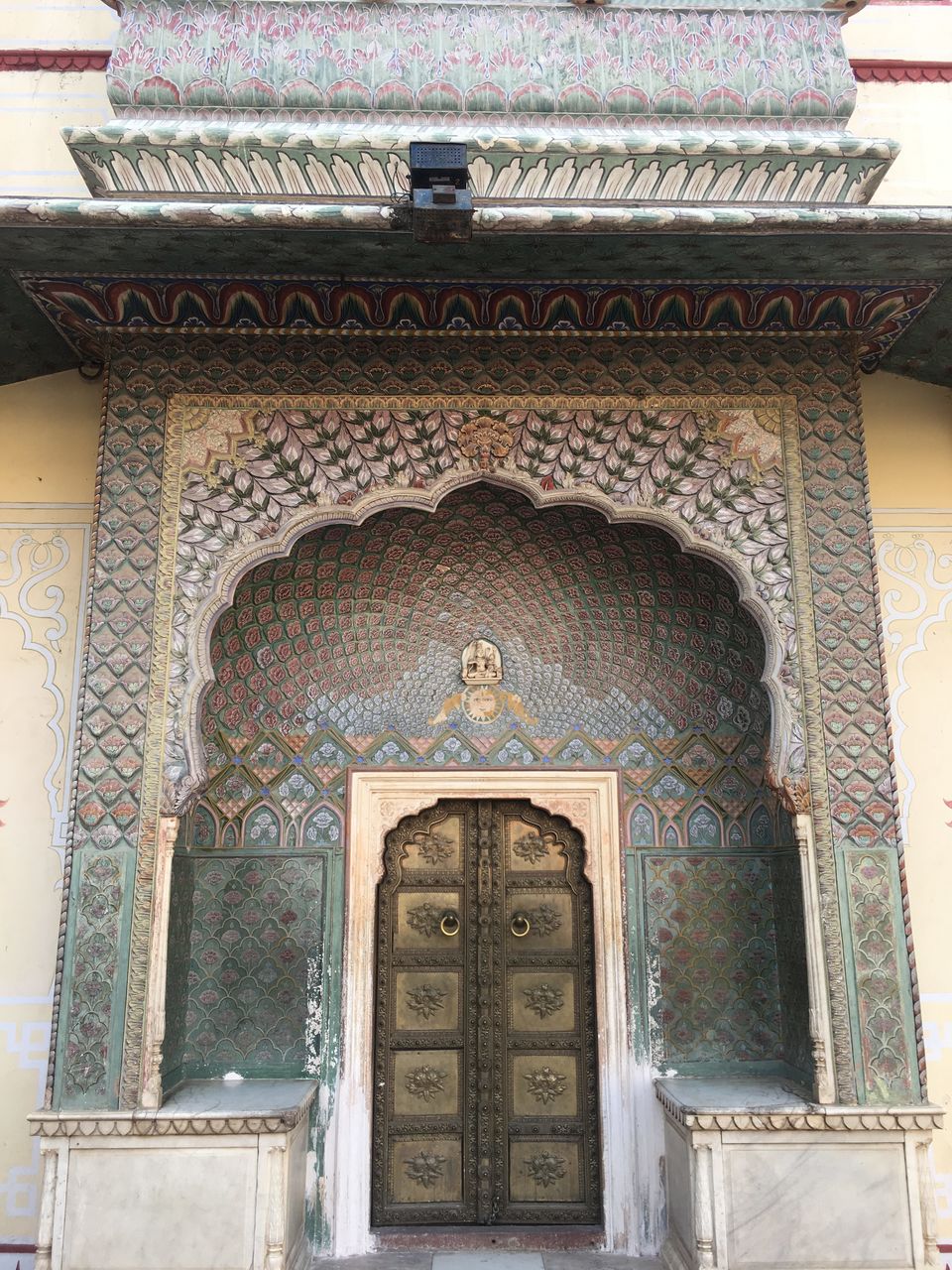 Our tryst with Rajasthan was pending from a very long time. My husband Bedanga has a college friend who hails from Jaisalmer. He is in fact one of his best friend and also played the role of the "man of honour" at our wedding. And since then we are being invited to visit his place and his state "Rajasthan". Last year they had a kid and that was our calling to finally visit the royal land of erstwhile "Rajputana". Since it was my first time in Rajasthan and hubby too has only been to Jaipur while he was a kid, we decided to make this visit a full blown road trip. We called up Abhishek and told him about our travel intentions and he assured us that he is going to manage it all. "Just land in Jaipur" he said "I will take care of everything else." Our wanderlust hearts could not wait to set foot in Rajasthan. We landed in Delhi for some family commitments on 9th October and on 12th October we took the Shatabdi to Jaipur. Now, Shatabdi is a very efficient mode to travel from Delhi to Jaipur as it leaves early in the morning and takes about four hours to reach Jaipur. It reaches Jaipur at around 10.30 am and hence giving you almost the full day to explore the pink city.
It was almost lunch time when we were ready to go out and explore but we were starving. On being asked where we want to go, I quickly named "Laxmi mishtan bandar". Now, "Laxmi mishtan bhandar" is a famed place for authentic Jaipur cuisine. Being such a great foodie, I did my research and every blogger or vlogger or lonely planet guide was telling me not to miss this place. As we stepped in, the aroma of ghee filled our noses and we knew at that moment that we are going to gain so much weight in this trip. This place looks like a mithai shop from the outside but has a decent seating arrangement upstairs. The entire place was teeming with foreign tourists. On Abhishek's recommendation we ordered "raj kachori" which is a famous delicacy of Jaipur. We later ordered some other recommended delicacies which the waiter told us were very famous and we don't regret eating so much of ghee and butter in one meal because every morsel was so damn tasty. I highly recommend this place whenever you are visiting Jaipur. You can also try their sweets and other savoury items which they were selling downstairs. You can even pack some stuff for your home. we could not do so as we were going further into Rajasthan and they won't last that long.
Our next stop for the day was "the city palace" of Jaipur.
Now, the City Palace of Jaipur is the place where the royal family still lives. One part of the palace is off limits for tourists. I don't want to divulge into the history of this place as you can always google about it but it surely is a place which you don't want to miss while in Jaipur. The City Palace lies in the heart of the Jaipur city and is an architectural marvel. The architecture here is a combination of the Rajput and Mughal style. If you have been to Taj Mahal and other such Mughal monuments, you will be able to closely relate to the Mughal style of architecture which has a heavy influence on "The City Palace". The galleries in the museums will give you a fair idea of the "Maharajas of Jaipur" and their history. My mouth was open and I was marvelling most of the time while I was there because it's so grand.
I suggest you take a guide who are easily available in the premises, as they will be able to give you an insight and probably also tell you some interesting royal stories. Don't forget to click some amazing pictures for your Instagram as this place is super Instagram worthy. The maharajas surely knew the value of aesthetic backgrounds. Let me tell you an interesting story here, one of the maharajas from Jaipur only used to drink water from the holy Ganges and while on his trip to Britain, he carried these silver water urns with him which weighs 345 kgs and has a capacity of 4000 litres of water. They were filled with water from the Ganges for his drinking purpose while on this trip. These urns are also recognised by Guinness book of world record as the largest single object constructed from silver. Whattt!!! The city palace has both the urns in display now. These kings surely knew the meaning of opulence eh!!
Moving on, our next stop was the" Hawa Mahal" which we already crossed on our way to "The City Palace". The Hawa Mahal as most of us know was built because the purdah system was fairly prevalent on those times.It was made for the queens to peek out and enjoy the processions on the road. And hence, it has a lot of windows(jharonkas).
Hawa Mahal is a structure which is magnificent and beautiful from outside but not much to see on the inside. So, my tip is to go to one of the cafes right opposite to the Hawa Mahal and take your seats for one of the most beautiful sunsets in Jaipur with the majestic "Hawa Mahal" in the background. Try and go a bit early as these cafes fill up fast and taking a photograph becomes tricky when it's crowded. Don't worry, I will guide you through your Instagram problems too in this blog. These cafes are at a height and unobstructed view of Hawa Mahal can be clicked from here. Thank me later.
After drowning virgin mojitos under the scorching Jaipur sun(it was pretty hot in the daytime even though it was October), we made our way to our final destination for the day called "Chokhi Dhani". It's kind of a resort replicating the Rajasthani village life. There are Rajasthani dancers doing ghoomar and kaalbeliya and other folk dances. Astrologers who will let their parrots pick your card and then tell your fortune. We are guilty of doing that one. These small guilty pleasures in life are what we live for right!!. You can take a camel or an elephant ride while inside. And when you are done with all the activities, they have a pure Rajasthani thali experience waiting for you. We sat on the ground for our food and it was so much food laden with so much ghee. Authentic Rajasthani delicacies like daal baati choorma, baajre ki khicdi,gatte ki sabzi, jalebis and other miscellaneous food like achaar were served. We were so stuffed after that meal that all we needed was our bed. It was such a long and satisfying first day in Jaipur for us.
2. The Forts.
Next morning after a good night's sleep, we were up early and were raring to explore the royal forts of Jaipur. Namely Amer fort, Jaigarh fort and Nahargarh fort.
Our first stop was Amer fort. On our way to Amer fort, we stopped at "Panna Meena ka kund" which is a very beautiful and picture worthy stepwell. Stepwells can be found in many areas of Rajasthan. Since Rajasthan is a very dry place, wells were dug very deep and to fetch water from those deep wells, steps were provided. It must have been a part of daily life in those times but today it is one architectural marvel which is quite thoughtful.
Moving on, the narrow alleys to Amer fort gets pretty crowded during the peak hours. The roads to the fort were intentionally kept very narrow. There are many gates which you need to cross to reach the main fort. The strategic location of the gates and narrow roads were built to help secure the fort from enemies. Hiring a guide is recommended as this fort is huge with too many stories to know about.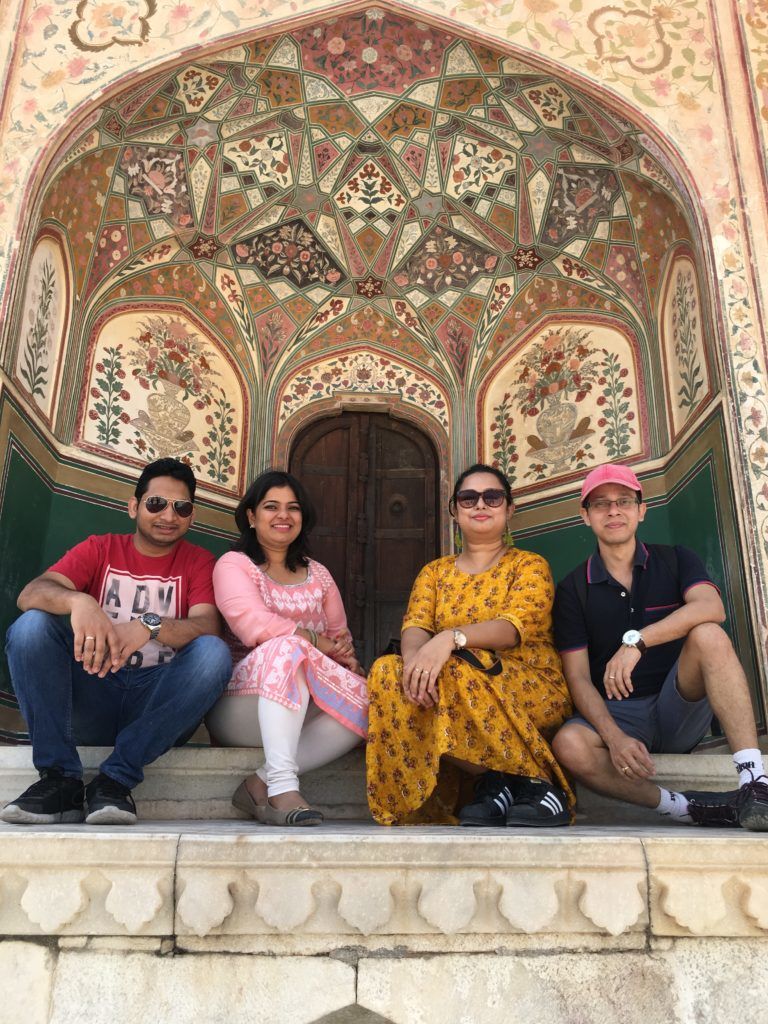 If you are reluctant to hire a guide, you can take some time and read the information provided at the important points of the fort. Amer fort is perched atop a hill overlooking the city of Jaipur. The views from above are breathtaking. One of the major attractions of Amer fort is the "sheesh mahal". The "hall of mirrors" situated inside the palatial premises of Amer fort still conveys the grandeur of the place. Amer fort is beautiful, take your time to marvel at the intricate carvings and craftsmanship. Even with people overcrowding the fort I found it to be very peaceful. It's so grand that everyone can have a moment of peace at some corner of the fort.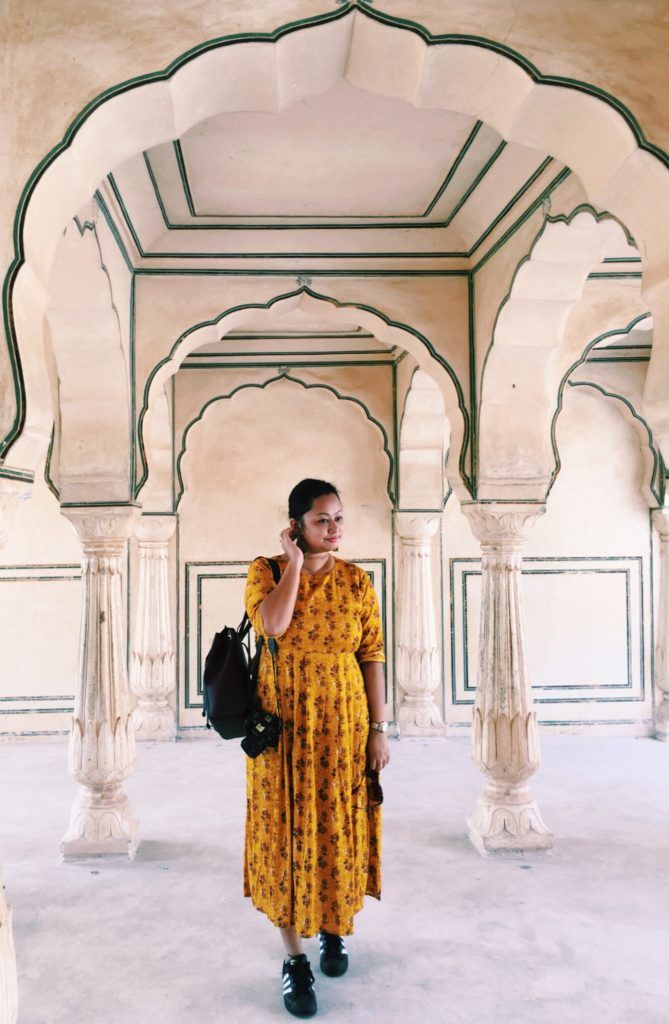 There is a "cafe coffee day" too inside the premises with some amazing views of the hill and the Jaigarh fort in the distance.
Jaigarh fort is on a higher hill near Amer fort and serpentine like roads lined by brightest bougainvilleas welcome you to the Jaigarh fort. Breathtaking views of the Amer fort can be captured in your camera from viewpoints. Jaigarh fort was built to protect Amer fort from enemies. It was built for the armies to live. There is a walking path from Jaigarh fort to Amer fort which is now closed.
Nahargarh fort is popularly known for the "Rang de Basanti" sequence where Amir Khan and his friends can be seen drinking beer and jumping into a water body. Nahargarh fort too was built as a protective shield to ward off enemies. Not much of a tourist destination, it's mostly in ruins now but still worth a visit.
Jaipur is a shopping paradise. If you come to Jaipur and don't shop, your trip won't be complete. There are two main bazaars in Jaipur namely "Johri bazar" and "Bapu bazar". Johri bazar is mostly known for silver jewellery renowned across the world. Bapu bazar on the other hand is a clothes market. I personally have named Bapu bazar "block print heaven". There is so much of block print stuff to purchase in Bapu bazar that you will be spoilt for choices. Dresses, kurtis, bed spreads, comforters and all of them in beautiful block print patterns and at a price much cheaper than you expect. I bought some bed spreads and comforters for my home and also for my mommies. I want to go back and shop more right now when I am writing about it. Some other Jaipur brand names that are worth checking out and shop in are "Amrapali" for jewellery and "Anokhi Jaipur" for Kurtis and dresses. I am sure you know these brands as they are pretty popular. Both of them have their bases in Jaipur and hence have a pretty good collection in their stores.
Our Jaipur leg of Rajasthan was all we ever thought it would be like and more. We were in great company of friends at an amazing location and eating amazing food. It was colourful, surreal, grand and opulent. Everything Jaipur is and always will be. I cannot wait to go back. The remaining legs of our journey will be posted here soon. So, keep an eye for it. You can follow me on Instagram for more amazing pictures from our Rajasthan trip. Leave a comment if you have any queries. Will be happy to answer them all.