On 18th January 22 we boarded train from Jammu at 6 PM for Jaipur and reached Jaipur on 19/01/22 at 10 AM. Travelled Jaipur railway station to hotel Gandharv by Innova car at Rs 200/- Checked in hotel Gandharv. After fresh n up by auto Rs.150/- went to Thali house for lunch to n fro. Ate dal bati rice plate. At 3.30 PM by same auto went to hawamahal, Jantar mantar, City palace, Albert hall etc. Auto driver took Rs 350/- for all this. Rs.50/- per head entry ticket for Hawamahal and Rs 50/- per head entry ticket to Jantar mantar and Rs. 300/- per head entry to City palace. If you are student/senior citizen, for City Palace use student ID card/ Senior Citizen ID card for half rates. We hired a guide for all these places for Rs. 550/-.
Hawa Mahal a is nice place to visit. Hawa Mahal or the Palace of winds was built by Sawai Pratap Singh in 1799. The five-storey palace was built in the form of Krishna's crown because Pratap Singh was devoted to Lord Krishna. It has latticed windows that allowed royal ladies to have view of the market place. There are no steps to the upper floors but ramps. They are for the palanquin of the royal ladies. From the top one can have a view of Jantar Mantar and City Palace on one side and the Siredeori bazaar on the other side. Jaipur is very much synonymous with Hawa Mahal. Hawa Mahal is a fine specimen of the magnificent architecture in Jaipur. It has a total of 953 windows which are called jharokas. During night too, it provides a spectacular view for those passing by. It was built as an extension to the City Palace nearby. Then we went to Jantar Mantar by same auto with same guide. Jantar mantar is an unbelievable place, you can't imagine that 400 years ago how people mathmatically calculated and were well known about astronomical and geometrical measurements.
Between 1724 and 1730 Maharaja Sawaii Jai Singh II of Jaipur constructed five astronomical observatories. The observatories, "Jantar Mantars" as they are commonly known, incorporate multiple buildings of unique form, each with a specialized function for astronomical measurement. These structures with their striking combinations of geometric forms at large scale have captivated the attention of architects, artists, and art historians world wide, yet remain largely unknown to the general public. Jantar Mantar is maintained as a monument and education activity sessions, guided tours and music and light shows are organized here. Jantar Mantar in Jaipur is one of the largest observatories in the world, comprising of remarkable stone assemblies that help to interpret the position of celestial bodies and calculate local time. Enumerated as a World Heritage Site by UNESCO, Jantar Mantar attracts tourists, historians, astronomers, architects, mathematicians and geographers. The collection of nineteen astronomical instruments in Jantar Mantar allows the observation of astronomical positions with the naked eye. Maharaja Jai Singh II was a great scholar and had keen interest in astronomy. This stone observatory includes complex instruments whose settings and shapes are scientifically designed, illustrating the glorious past of Medieval Indian astronomy, Jantar Mantar features the world's largest stone sundial - Vrihat Smarat Yantra.
After visiting Jantar Mantar we went to City Palace with same guide. It is must visit royal heritage in Jaipur. The architectural style of City Palace is a beautiful and colourful combination of Rajput, European and Mughal style. Built out of red and pink sandstone, this palace has vast courtyards surrounded by several arched smaller palaces. These small palaces have now been converted into museums and tourists can move around the palace either on their own or with guide. Lots of picture clicking spots. You can spend 2-3 hours easily. Set in the old town of Jaipur, the city palace is easy to reach from anywhere in the city. The gallery names are Sabha Niwas (Hall of Audience) Painting and photography gallery, Arms and Armour Gallery, Textile Gallery etc. The Palace was also the location of religious and cultural events, as well as a patron of arts, commerce and industry. It now houses the Maharaja Sawai Man Singh II Museum and continues to be the home of the Jaipur royal family. The palace complex has several buildings, various courtyards, galleries, restaurants and offices of the Museum Trust.
Then we went to Albert Hall, but it was closed. We had look from outside and took some photographs from outside and then auto driver dropped us at Gandharv hotel.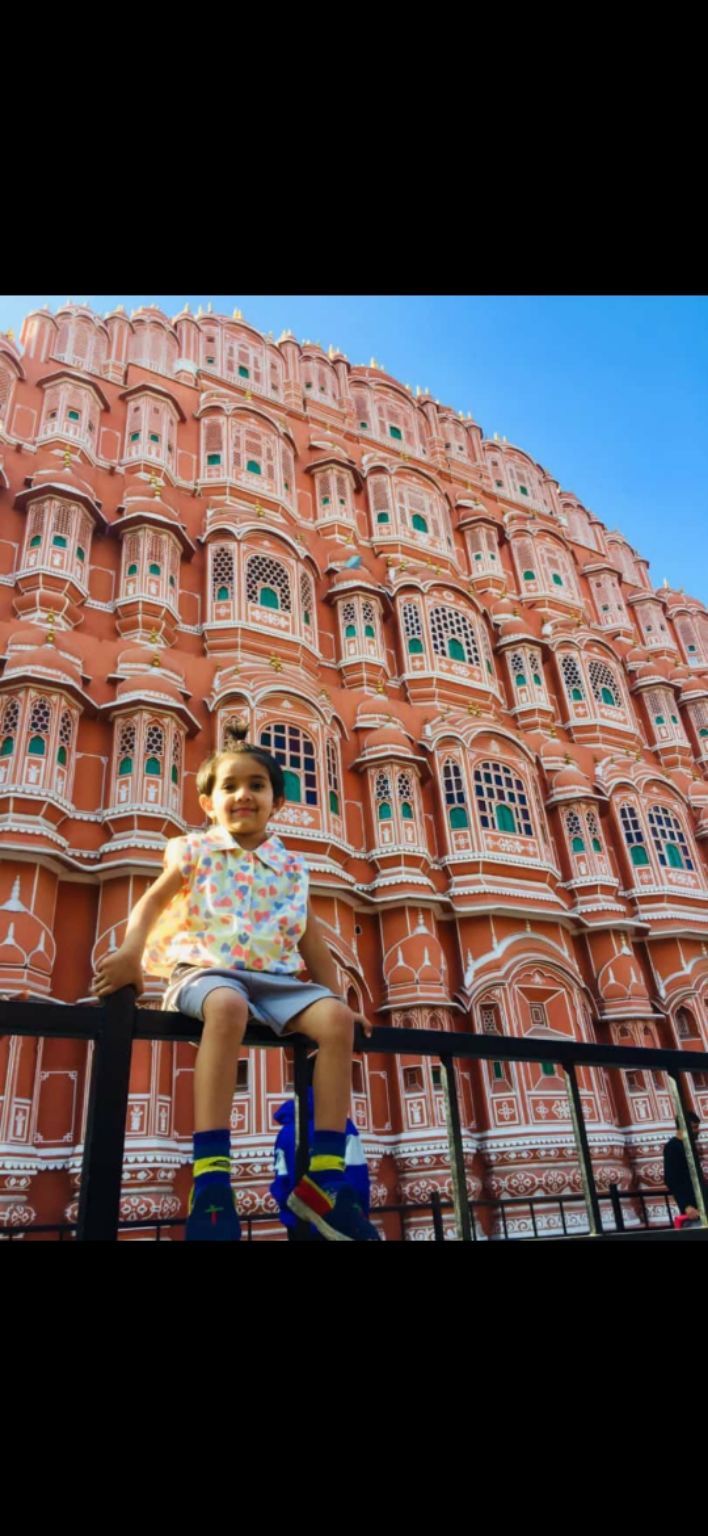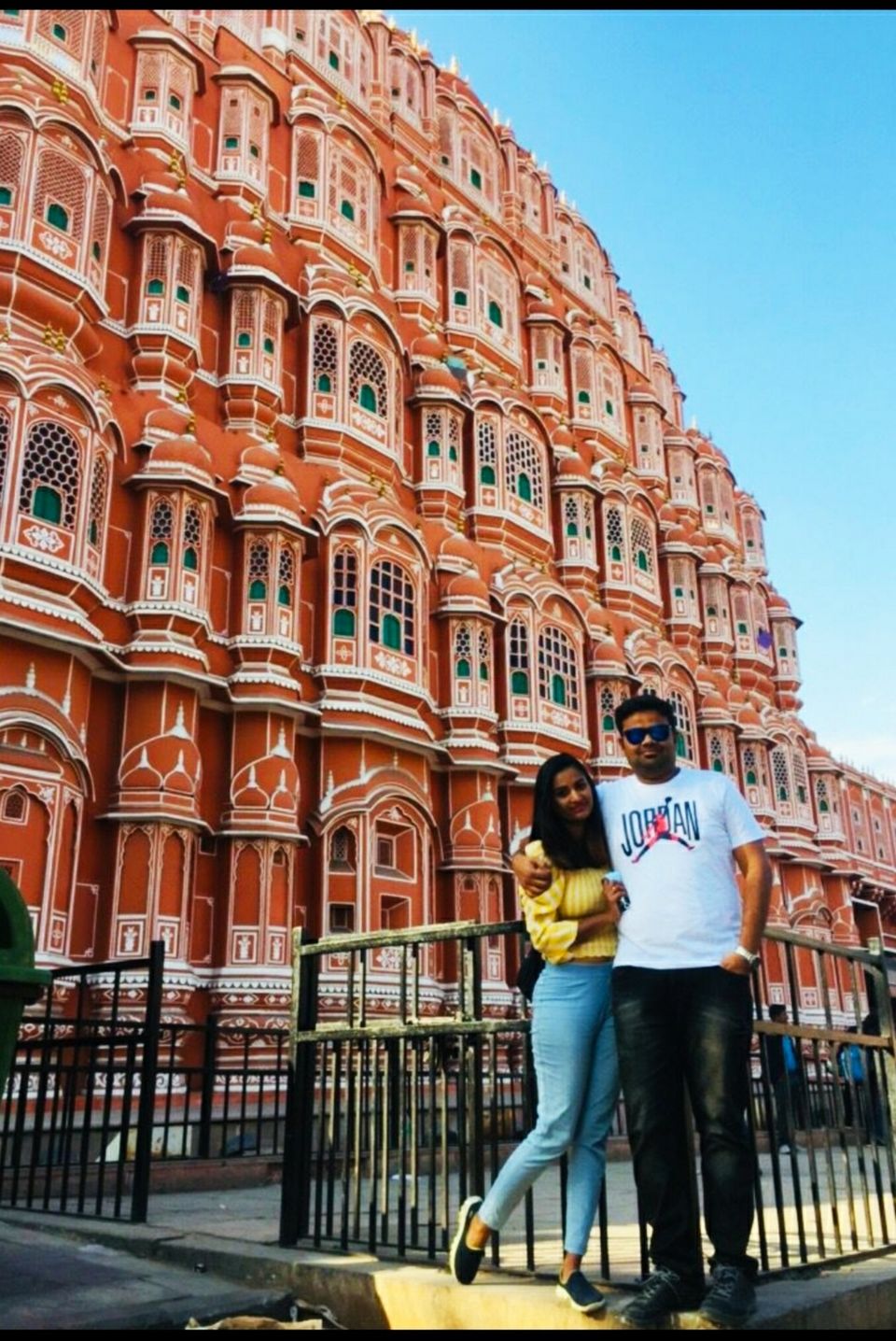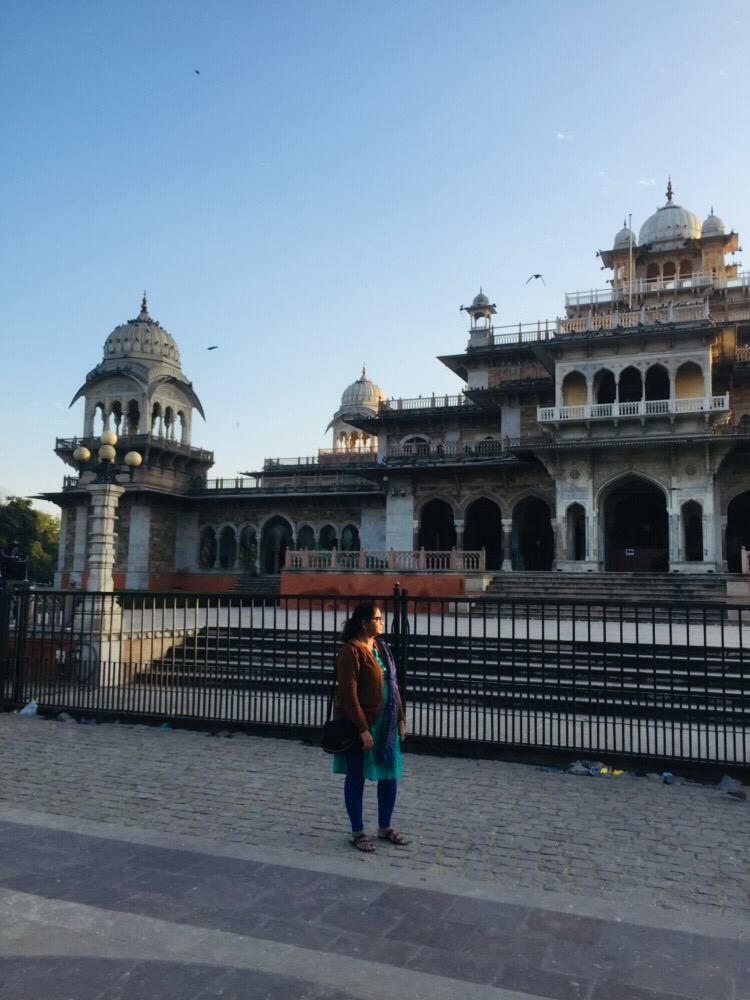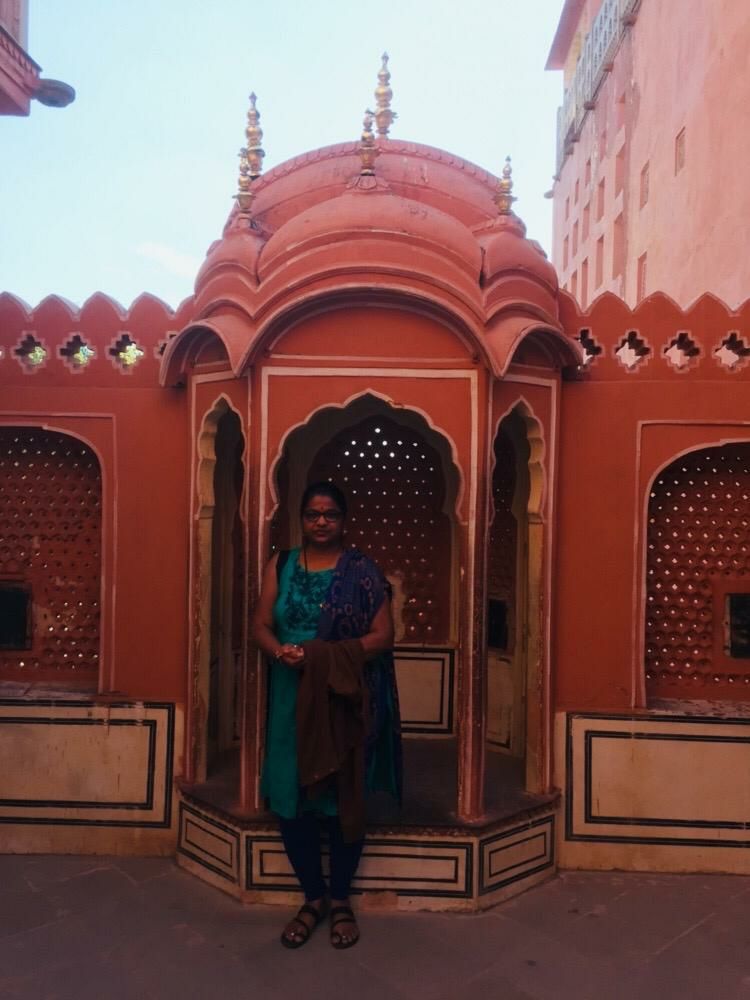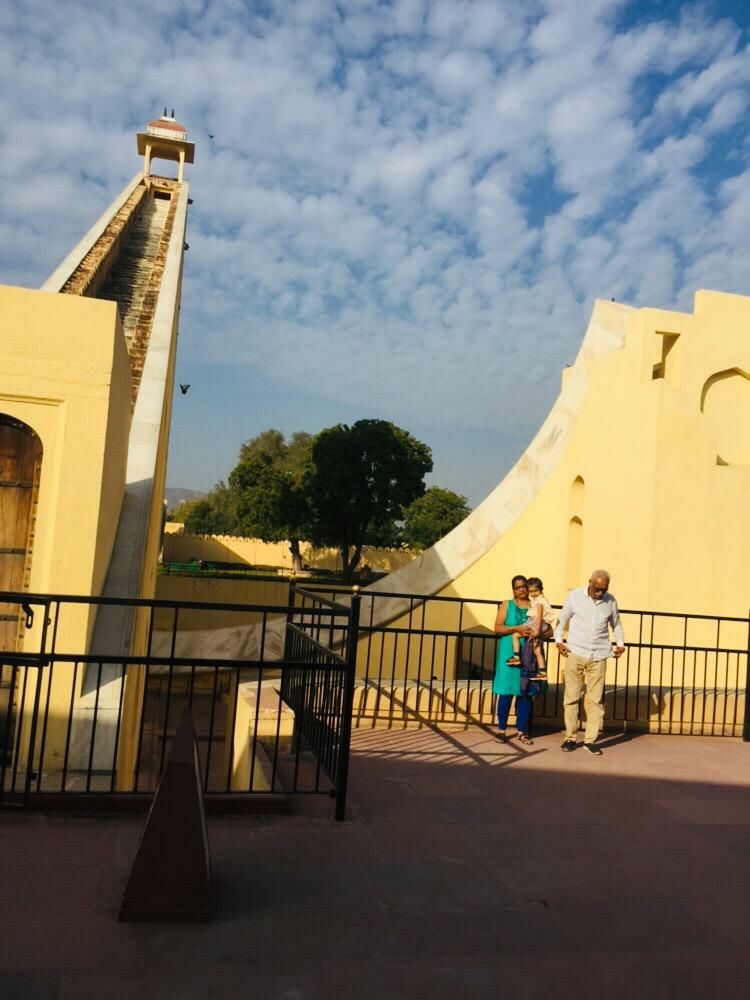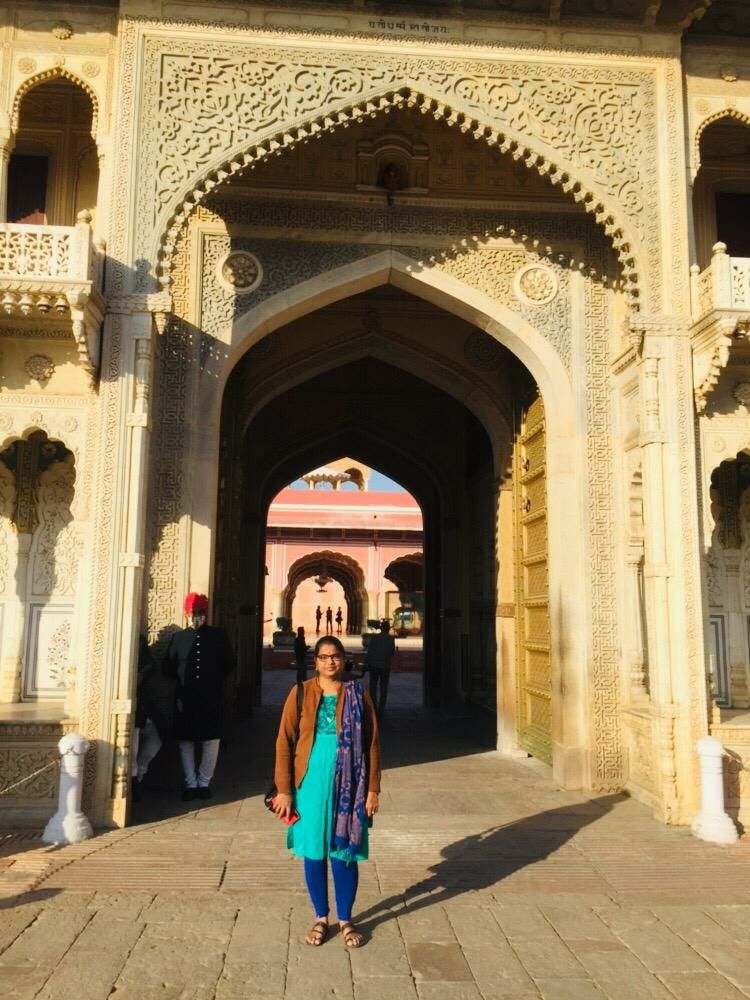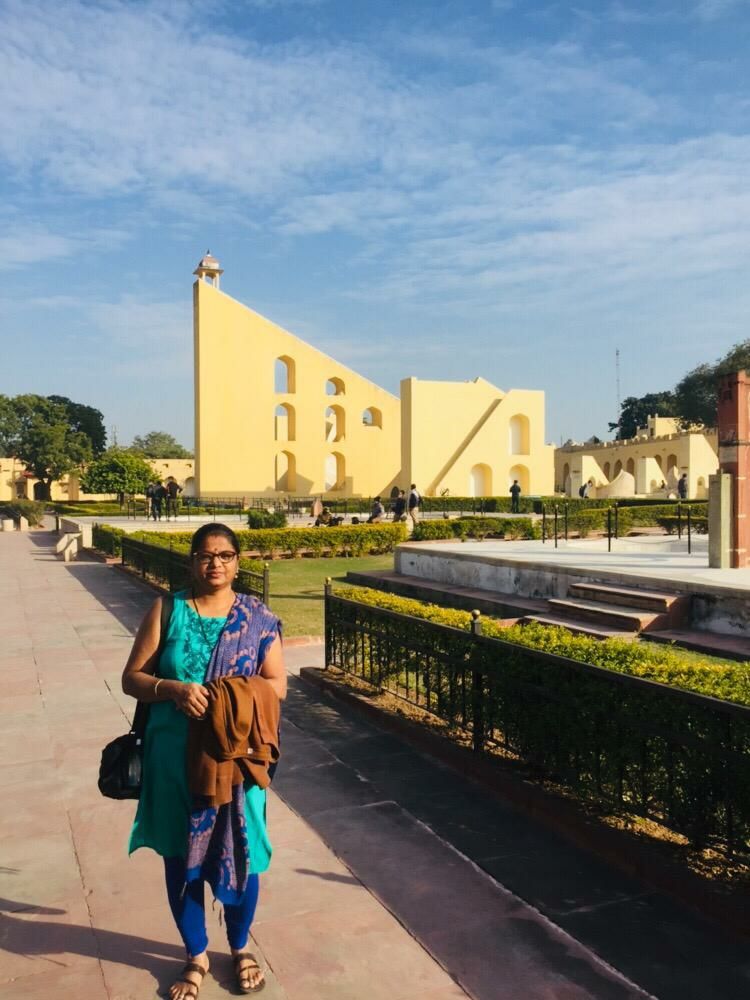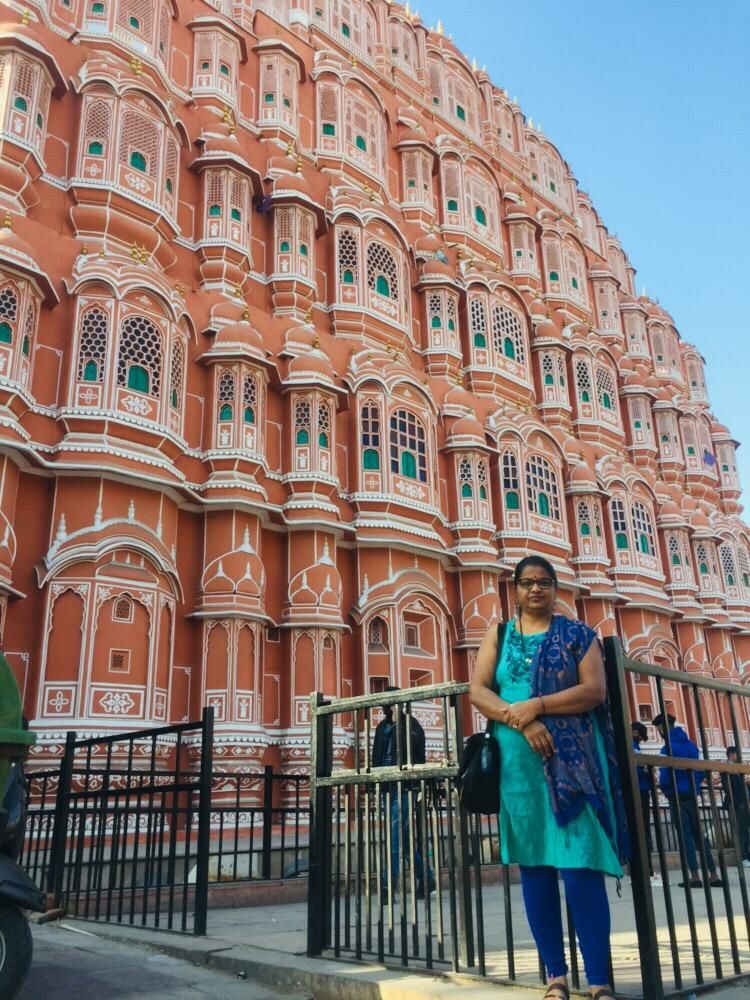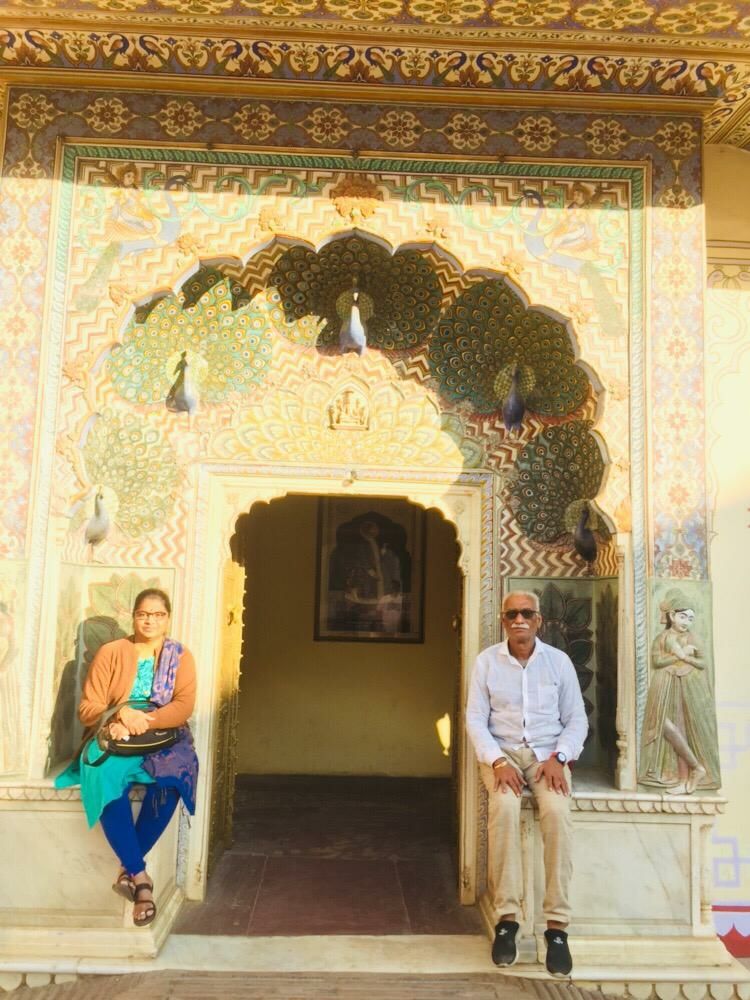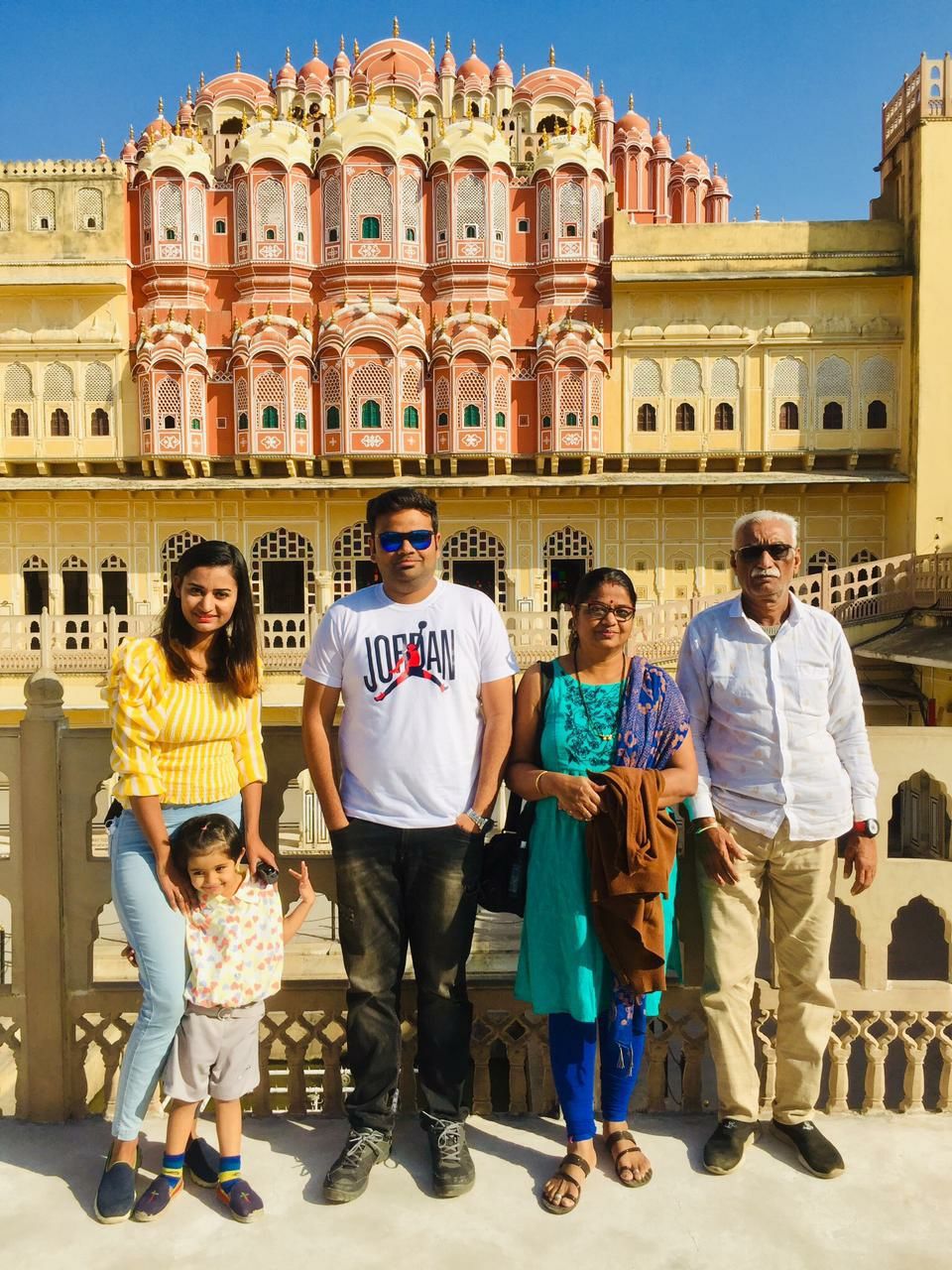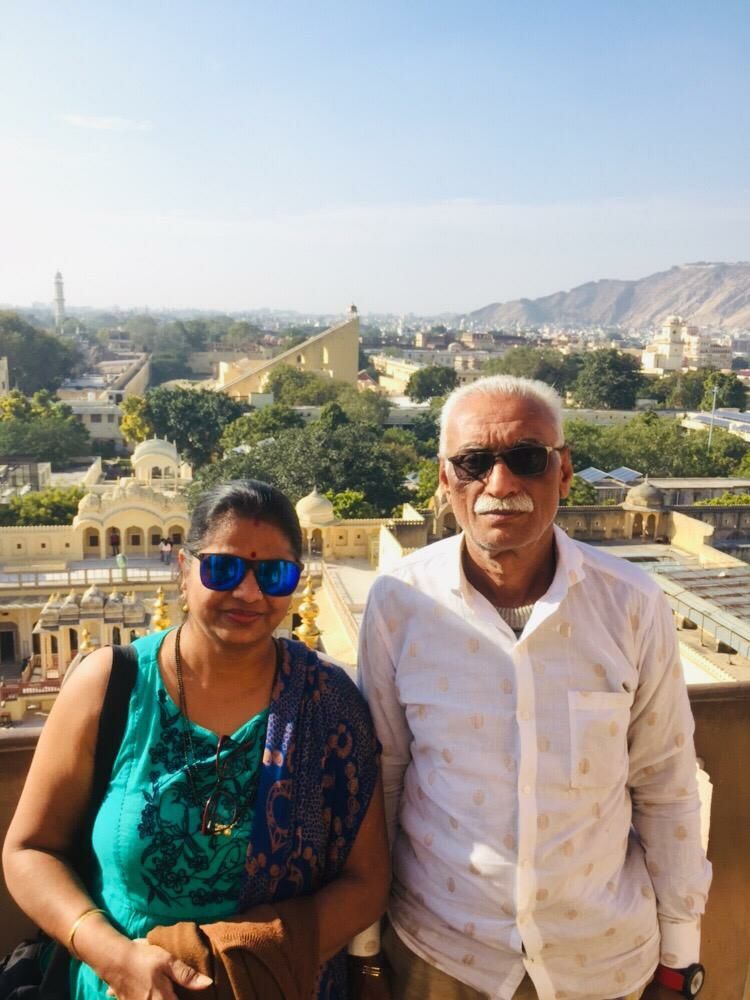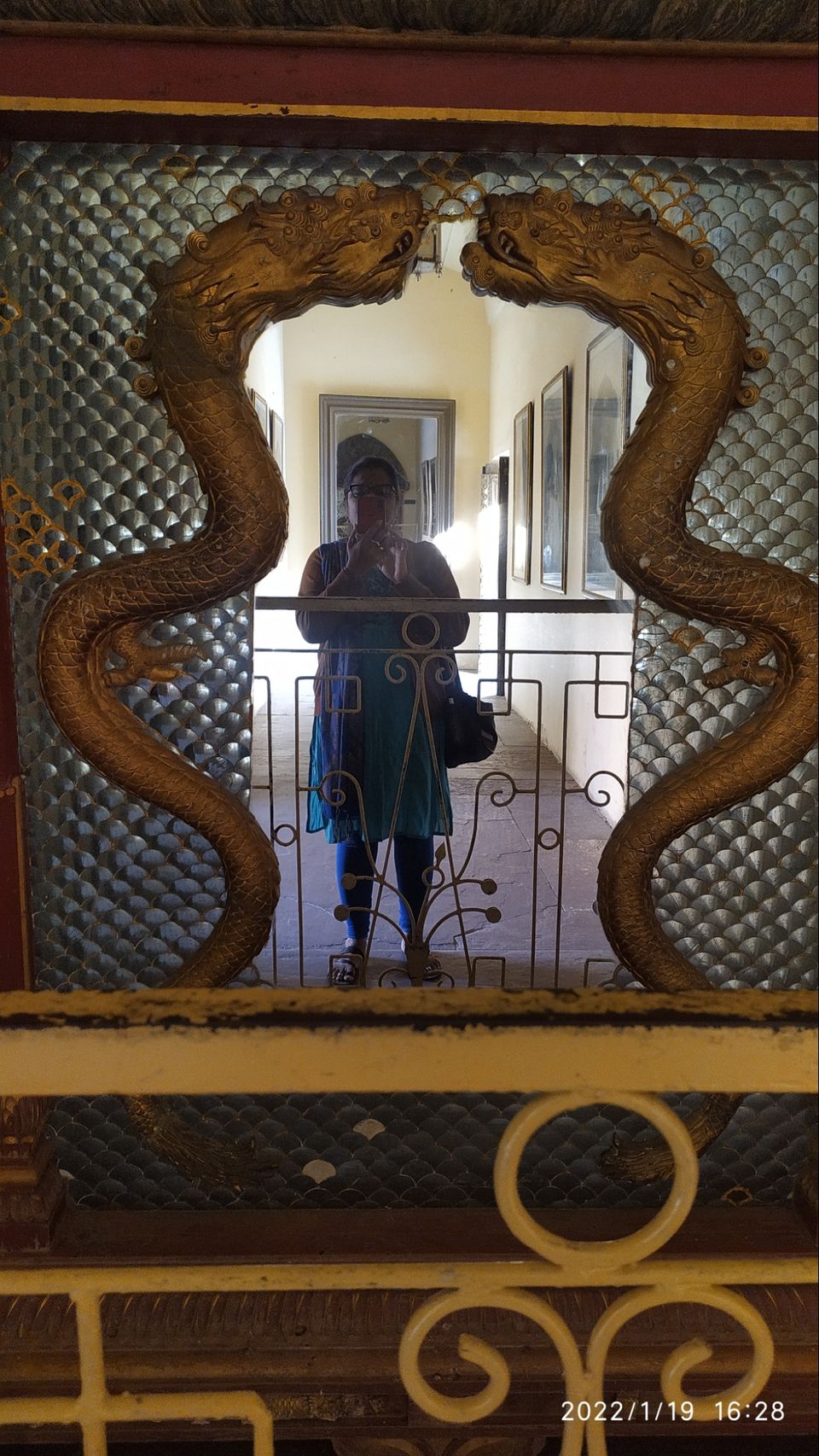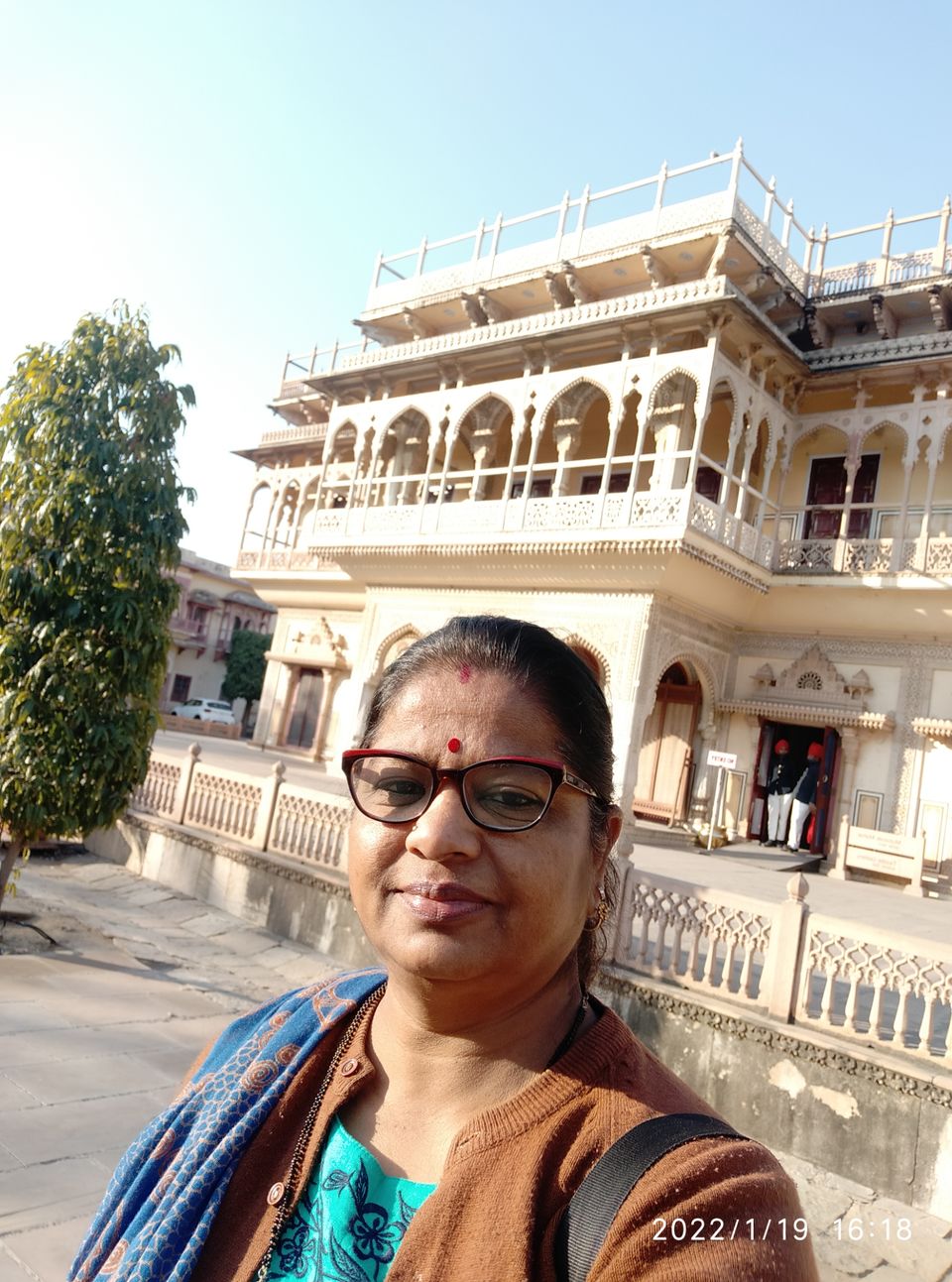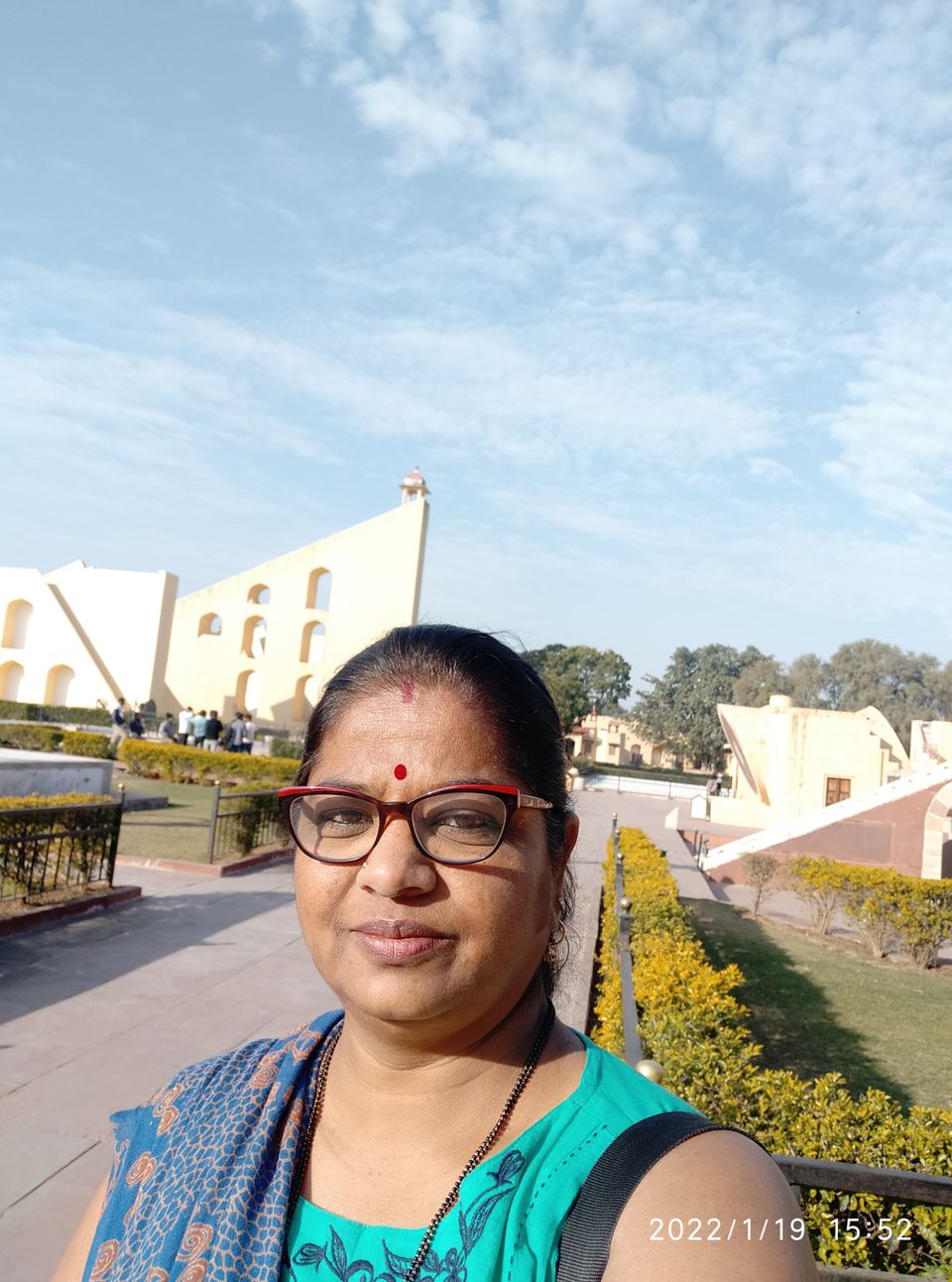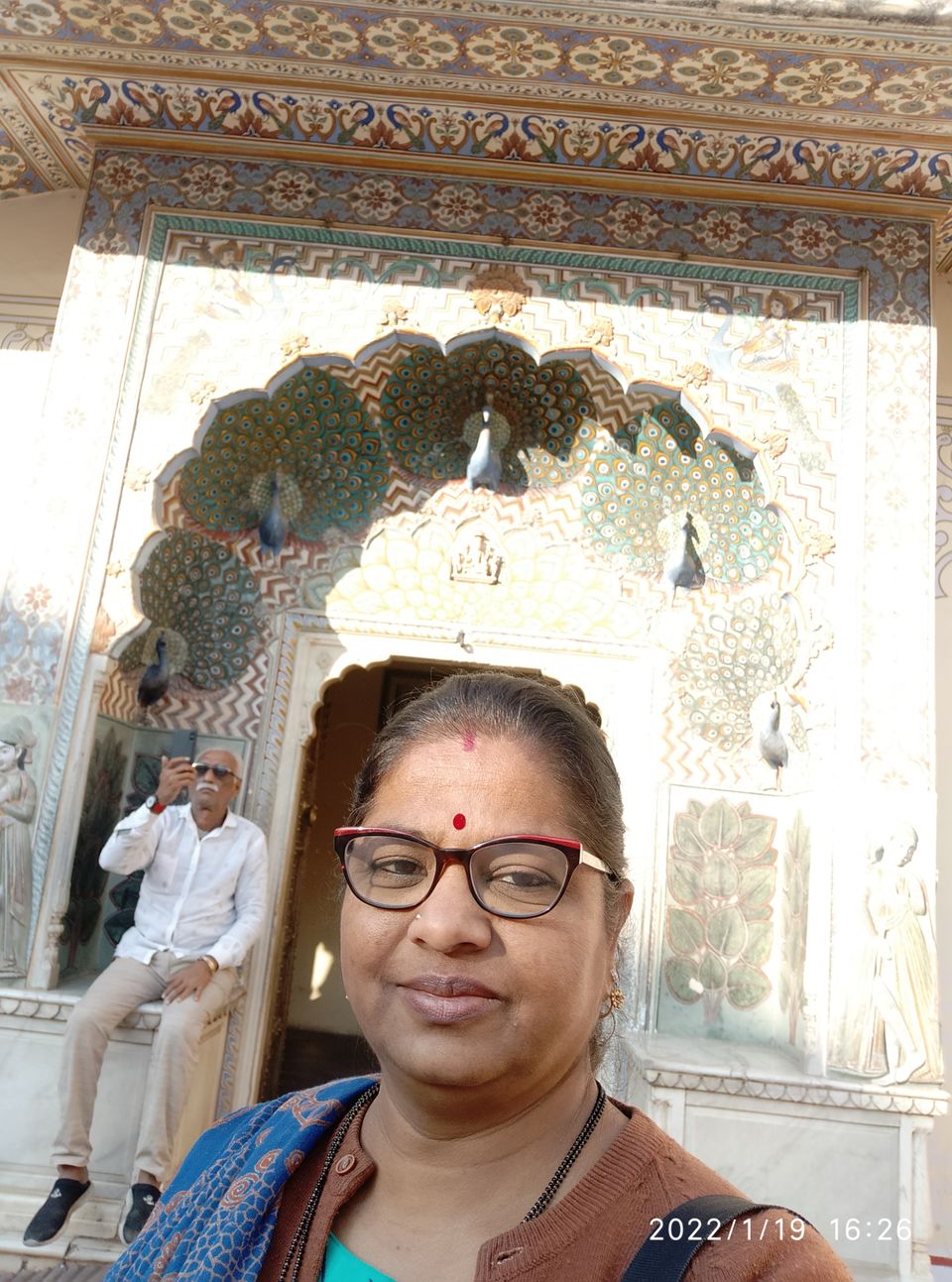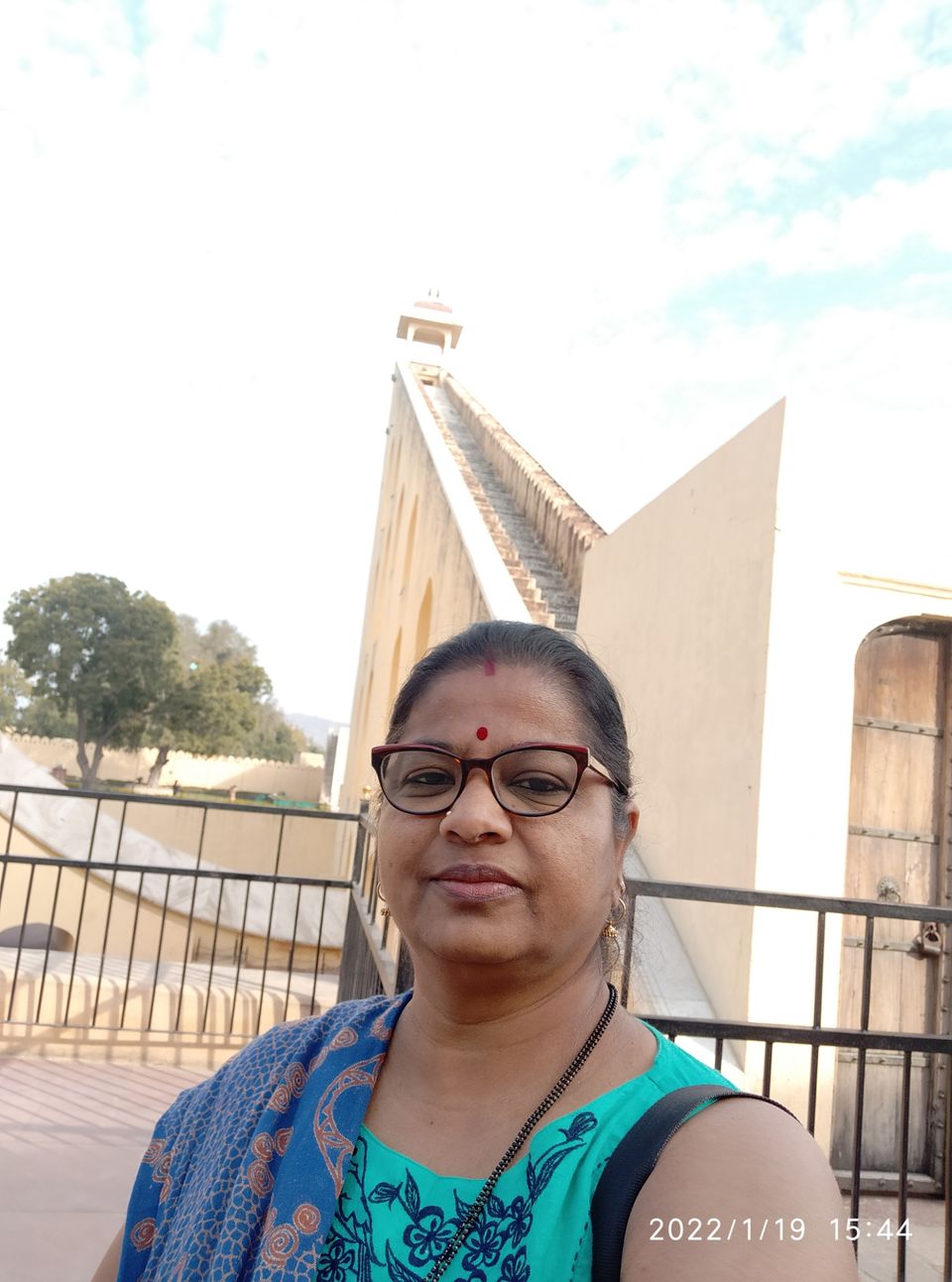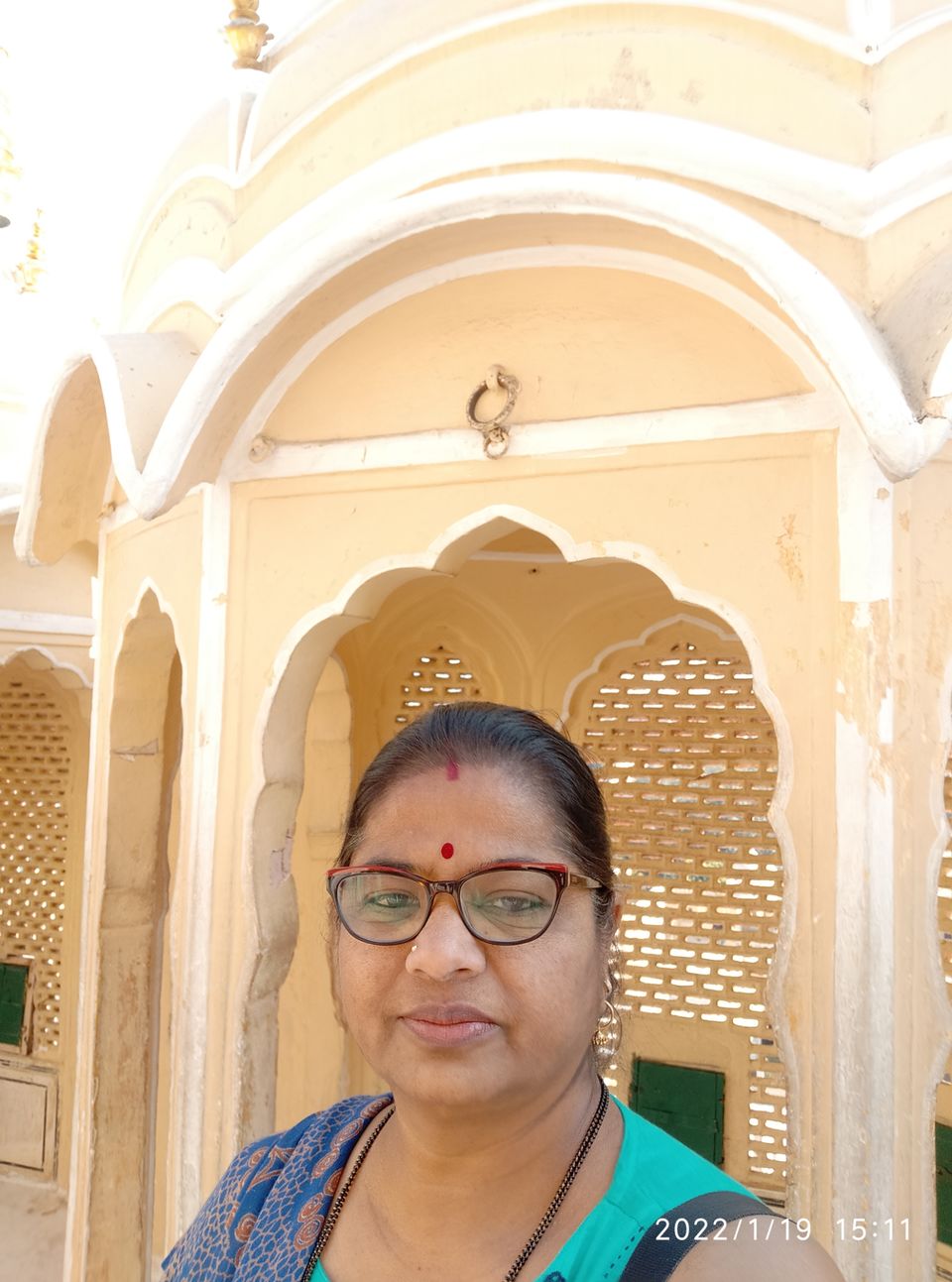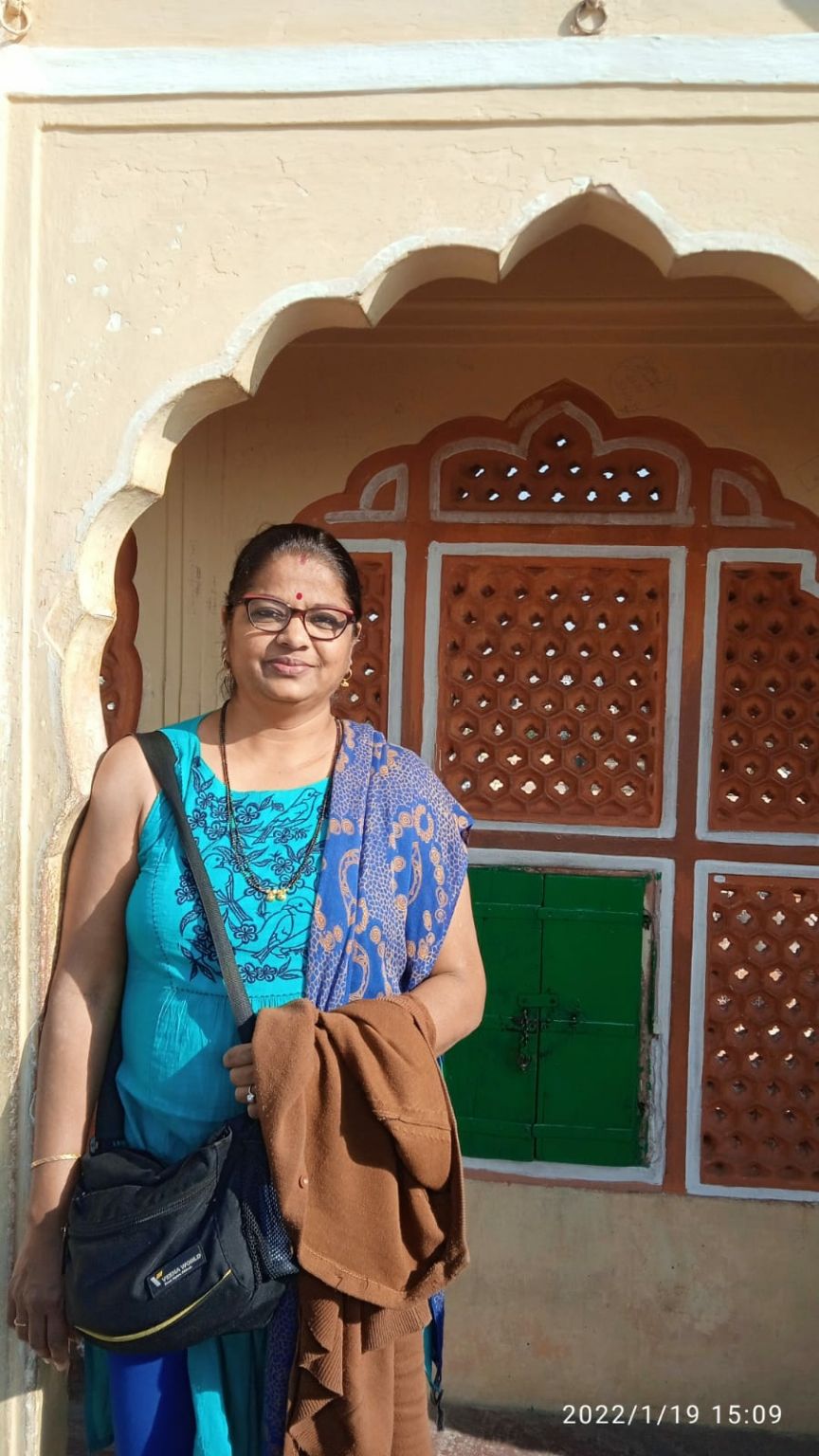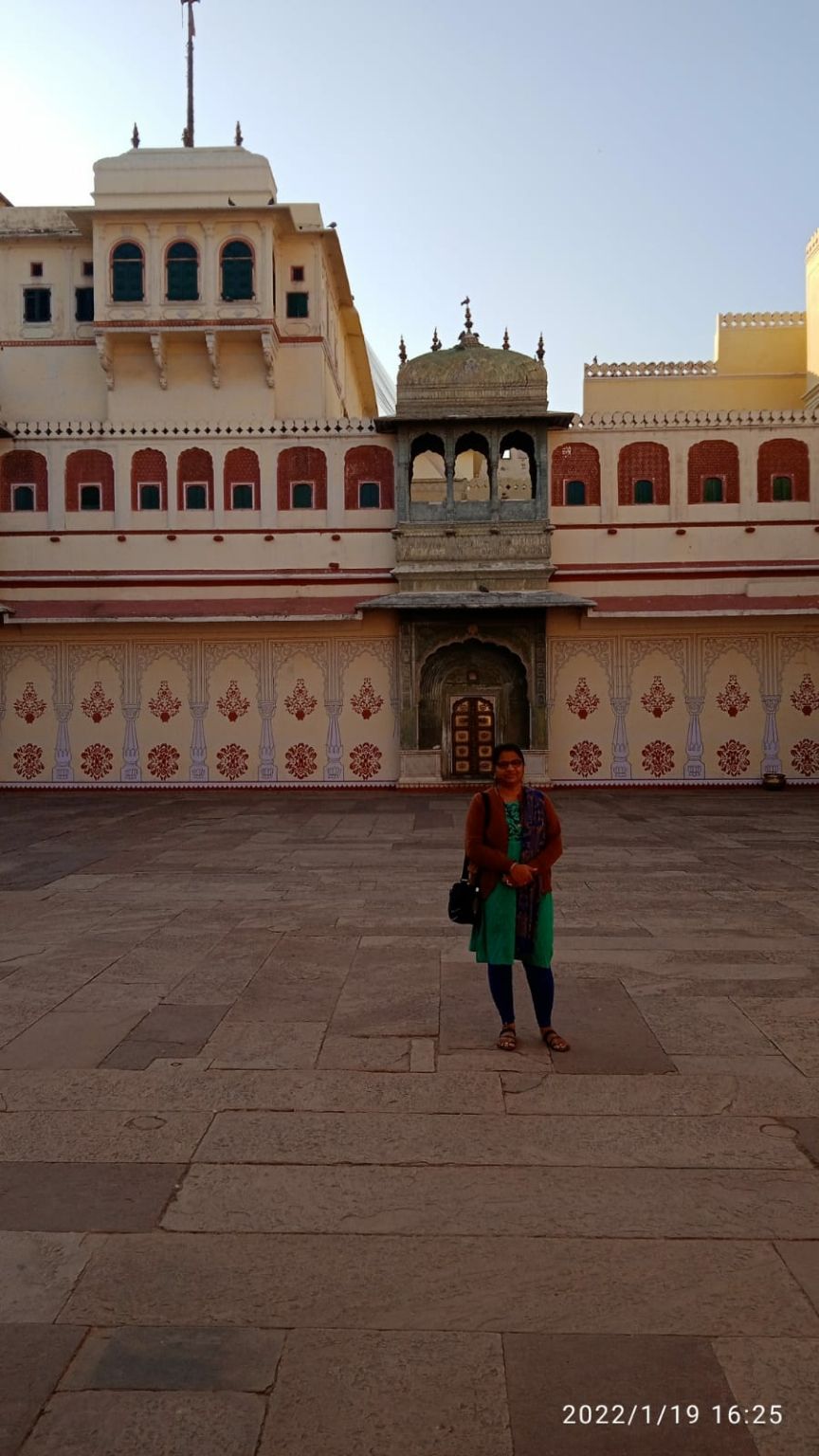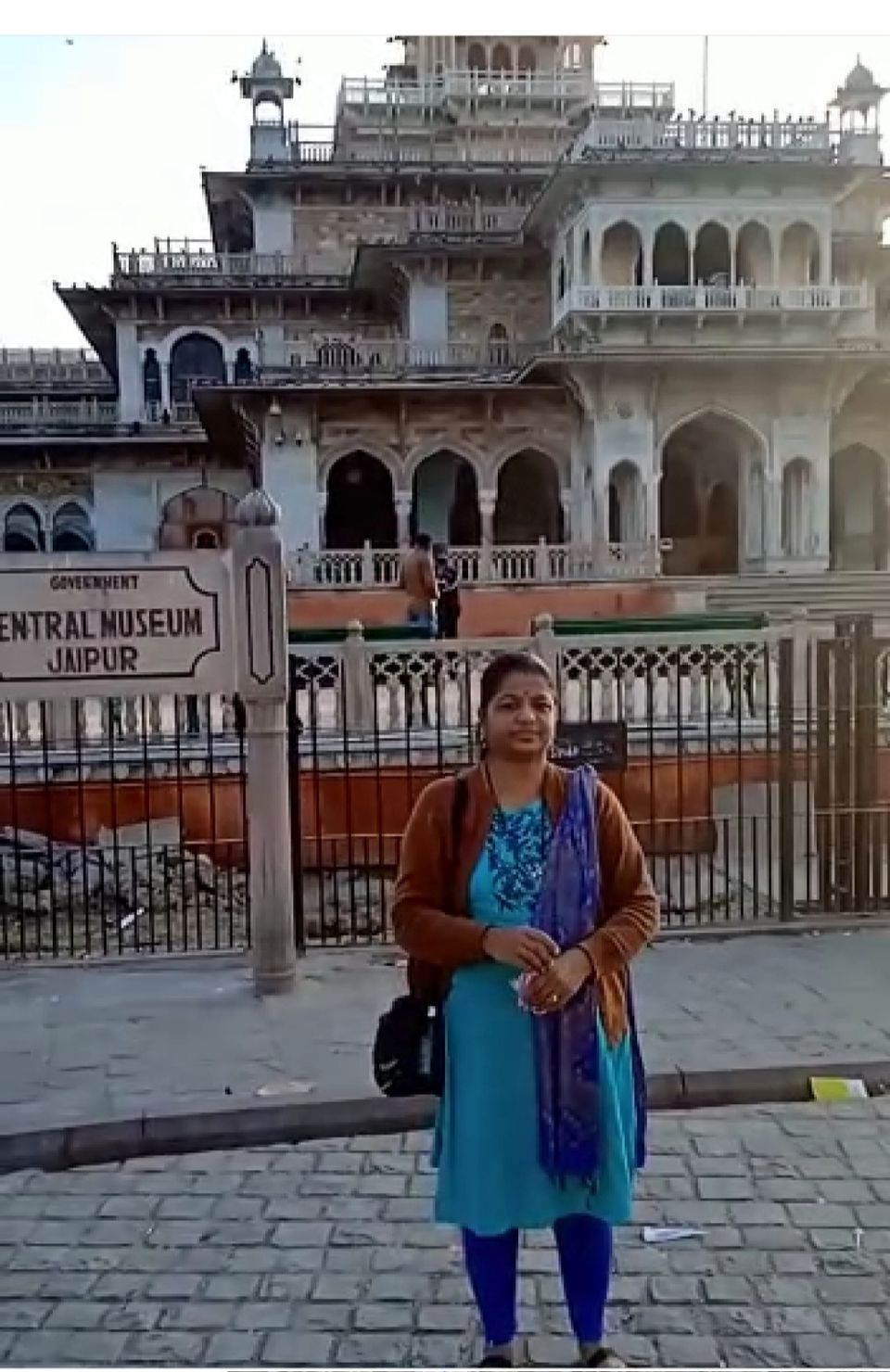 On 20th January 2022 morning at 10 we with the same auto went to Amer Fort. We decided auto for Amer fort, Jalmahal, Galtaji temple, Rajmandir cinema and back to Gandharv Hotel at Rs.500/- Auto dropped us at fort entrance. Rs. 100/- per head entry ticket to Amer fort Jaipur. From the entrance they don't allow our vehicle to fort. We can opt only Jeep services. We decided Rs.450/- for Jeep to Amer fort and then Rs.50/- vehicle entry at Amer fort. Then we hired guide for Rs 200/- to Amer fort. First Jeep driver and guide took us to step well. Surrounded by views of old temples, Amer fort and houses built on hills, a peaceful place in the middle of highly populated city. Can't get down the steps. Just stand and view from the top. If you are interested in fancy dress photo shoot, you can get Rajasthani dresses and pagdi over here, it will take less then 10 minutes to see the place. It's on the way up to the Amer fort. You will not find it on the returning way as it's one way drive to the top. We clicked some photos and moved to fort. Before entering fort at the entrance stall we had breakfast and buttermilk.
Amer Fort or Amber Fort is a fort located in Amer, Rajasthan. Amer is a town with an area of 4 square kilometres located 11 kilometres from Jaipur, the capital of Rajasthan. The town of Amer and the Amber Fort were originally built by Raja Man Singh and additions were, later, made by Sawai Jai Singh. Located high on a hill, it is the principal tourist attraction in Jaipur. Amer Fort is known for its artistic style elements. With its large ramparts and series of gates and cobbled paths, the fort overlooks Maota Lake, which is the main source of water for the Amer Palace. Amer Palace is great example of Rajput architecture. Some of its buildings and work have influence of Mughal architecture. Constructed of red sandstone and marble, the attractive, opulent palace is laid out on four levels, each with a courtyard. There are two magnificent buildings laid out in the third courtyard. The buildings are situated opposite to each other. On the left, the beautiful Jai Mandir, which is also called Sheesh Mahal (palace of mirrors) is situated. As the name suggests, Jai Mandir was used to celebrate victories. Other celebrations too, were held in this building. The building opposite to Jai Mandir is called Sukh Mahal (Hall of Pleasure). This place was used by the royal family whenever they felt like they had to rest or spend some quality time alone. Towards the southern region of this courtyard, lies the famous palace built by Raja Man Singh I. This is the oldest structure in the entire fort as it stands today. The exit route from this palace leads directly to the town of Amer. The fourth courtyard is rather an interesting one. The royal women including the mistresses lived in this part of the palace. They were collectively known as the Zenana. Even the queens and queen mother lived in this part. This part of the palace was extremely secluded as the kings used to visit the queens or their mistresses without getting noticed by anyone.
Then we went to the JalMahal, Jal Mahal ( "Water Palace") is a palace in the middle of the Man Sagar Lake in Jaipur city, the capital of the state of Rajasthan, India. The palace was originally constructed in 1699, the building and the lake around it were later renovated and enlarged in the 18th century by Maharaja Jaising II of Amber. One can not go near or enter this palace as this Mahal is located in the middle of the Lake. Tourists can roam, take photographs and enjoy on the bank of the Lake just beside the road to enjoy the view of this place. This can be planned during the visit to Amer fort as this is on the way. Probably a beautiful place to spend evening time in your Jaipur visit.
Then we went to Galtaji Temple. Galtaji is an ancient Hindu pilgrimage about 10 km away from Jaipur in the Indian state. The site consists of a series of temples built into a narrow crevice in the ring of hills that surrounds Jaipur. As my Mom and Dad are tired they sat at the base with my daughter, me and wife went up. But due to corona restrictions it was closed. Though the temple is closed for darshan, the surrounding of the temple is extremely beautiful. The Galtaji Temple is built up of Pink Sandstone. The walls of the temple have beautifully decorated with paintings and carvings. The temple has a unique architecture and had built like a Palace, hence it is worth visiting.
After this we decided to see famous Rajmandir Cinema theatre, as we want to see theater as well as movie PUSHPA. One of the most famous cinema hall of India from 1970 till date. Interior is excellent. You will love this place more than your movie just because the way interior built. Its a huge hall with traditional curtain raising system. Enjoyed movie and back to hotel Gandharv.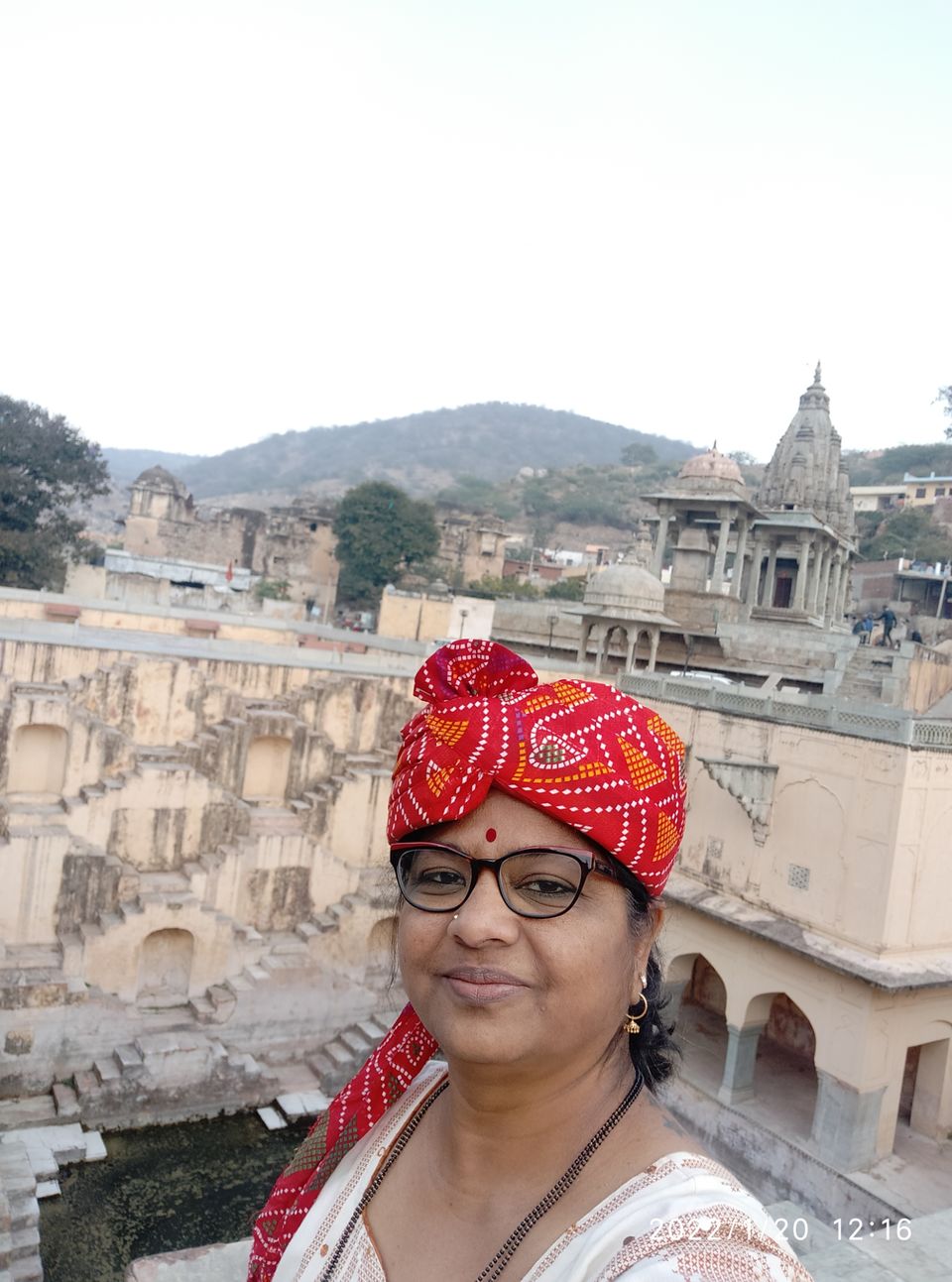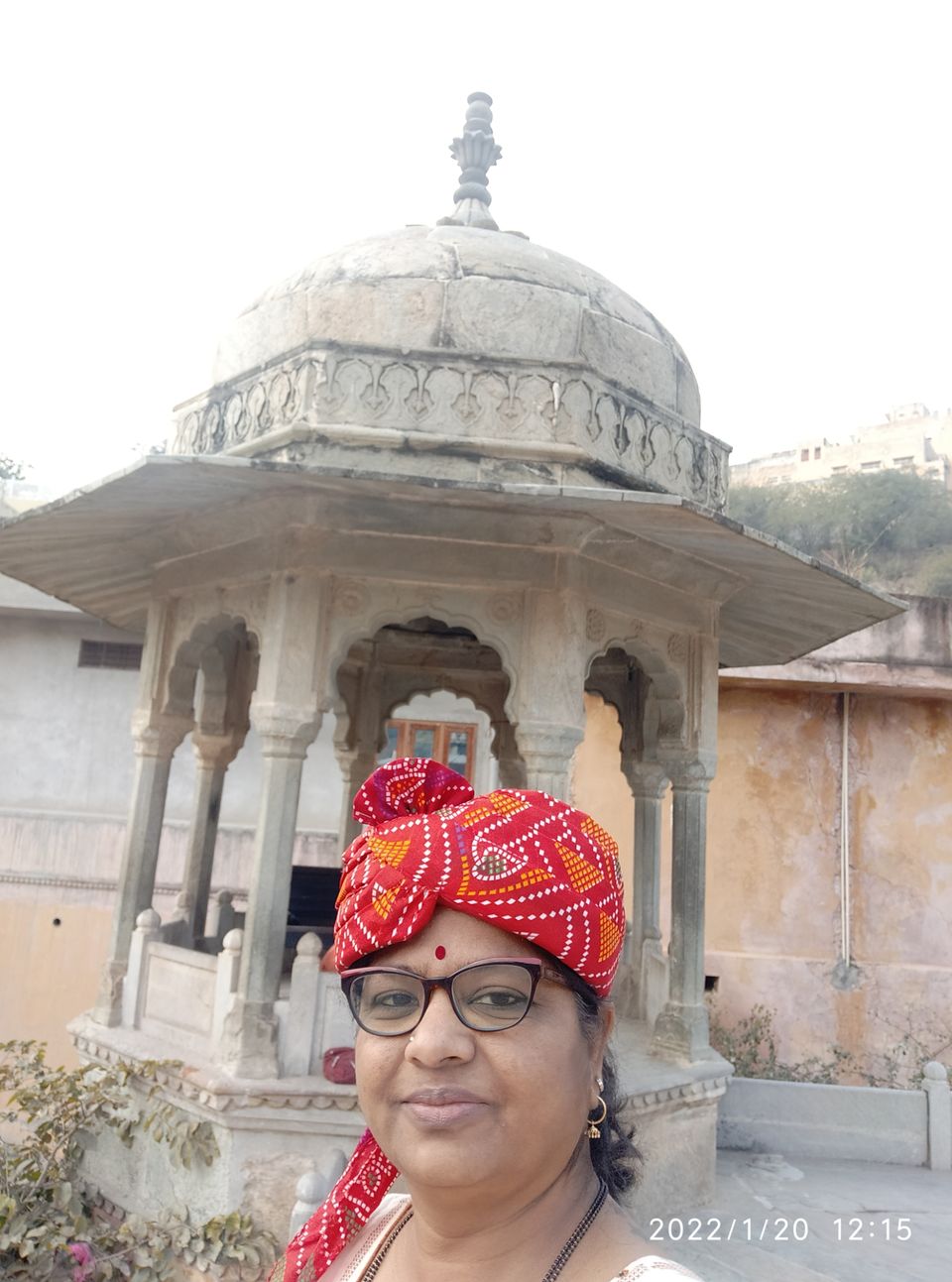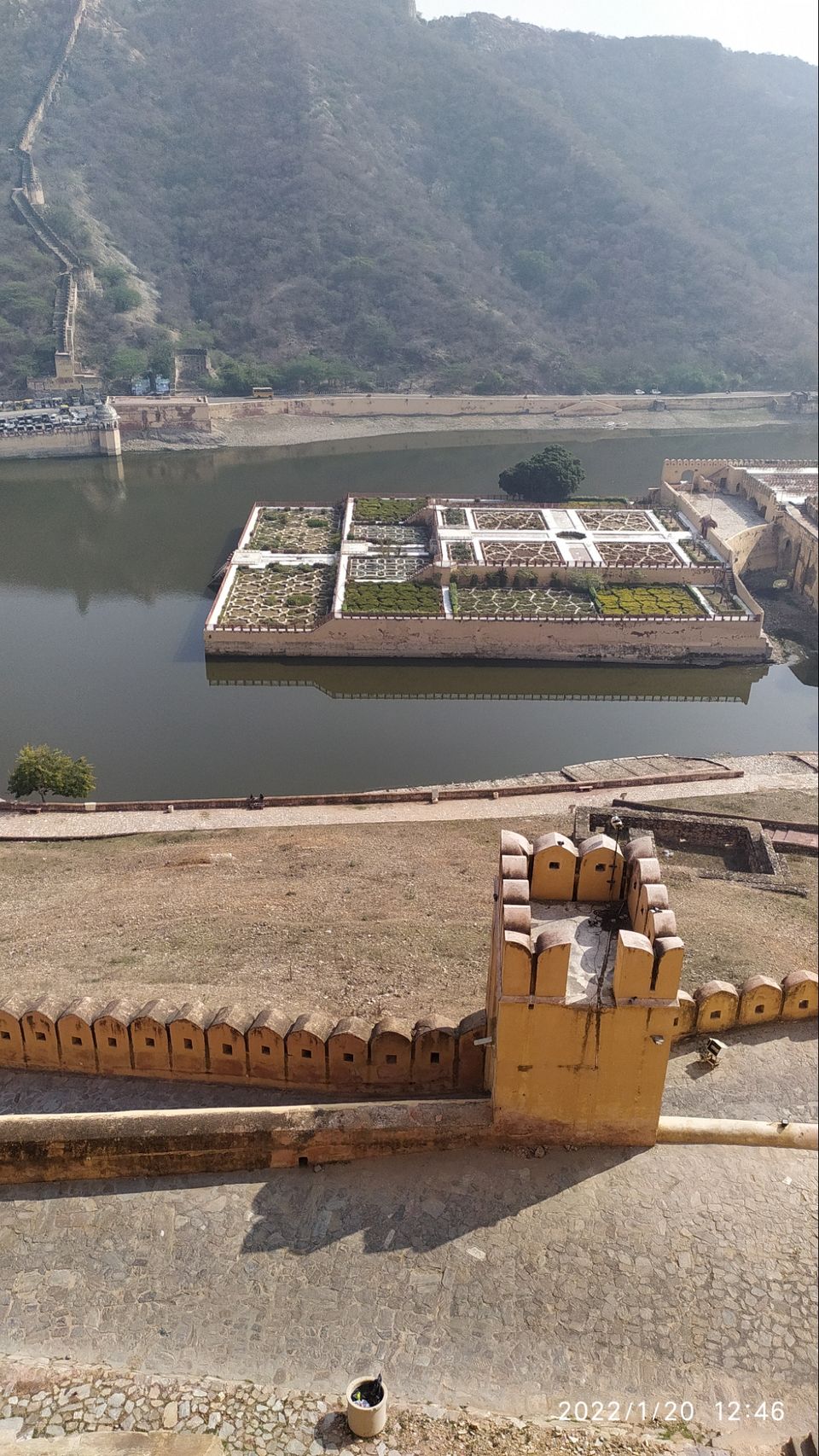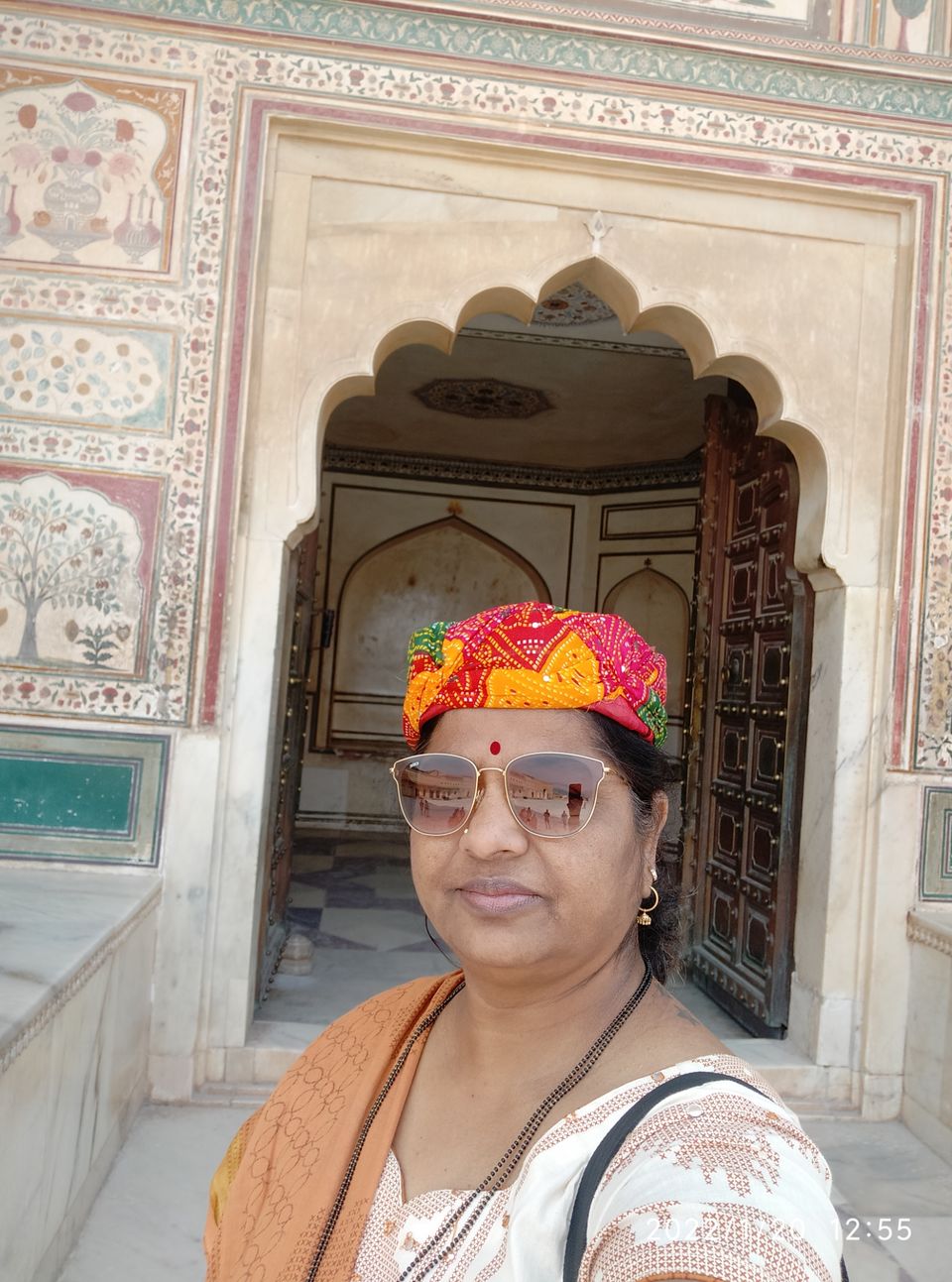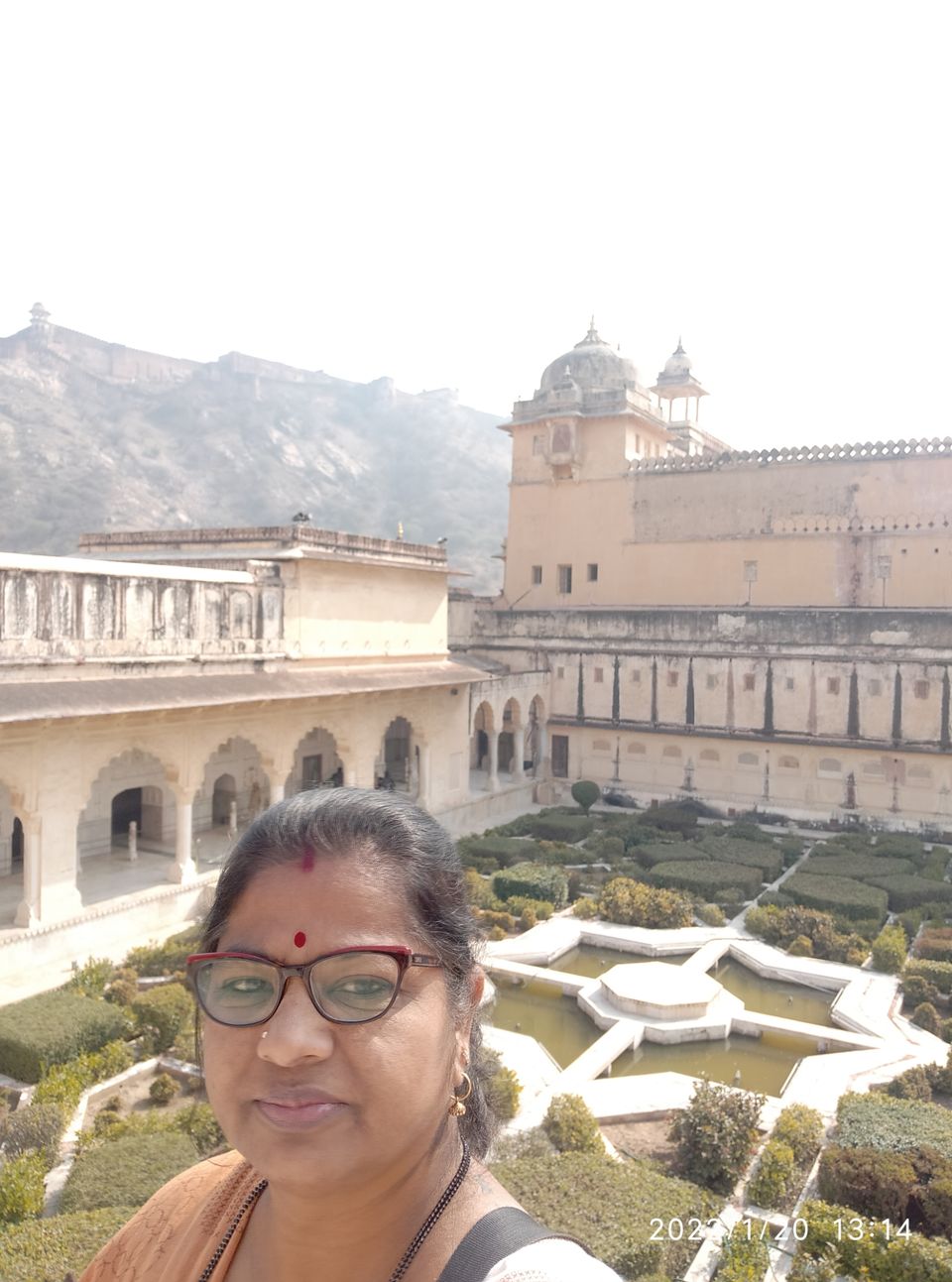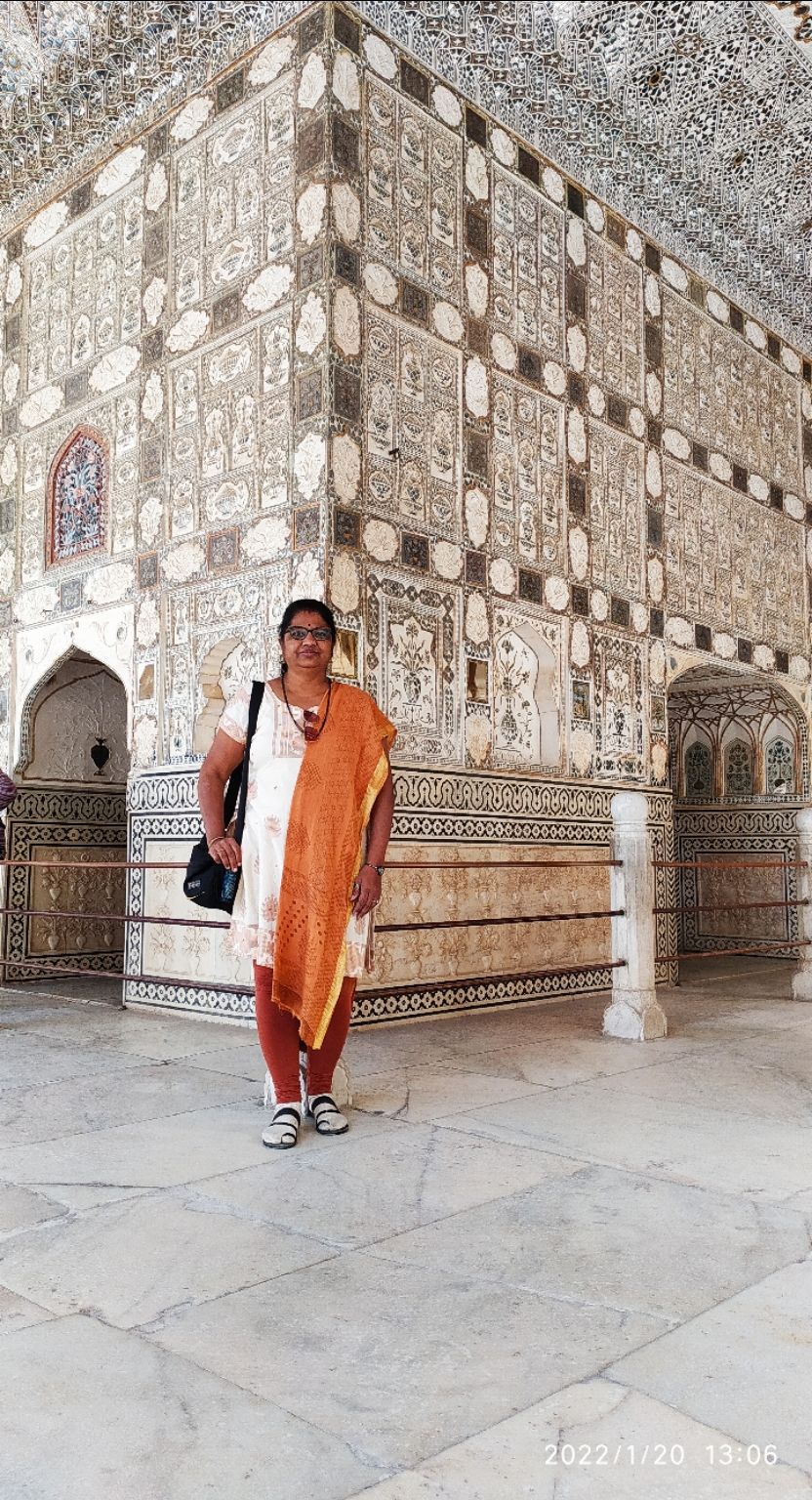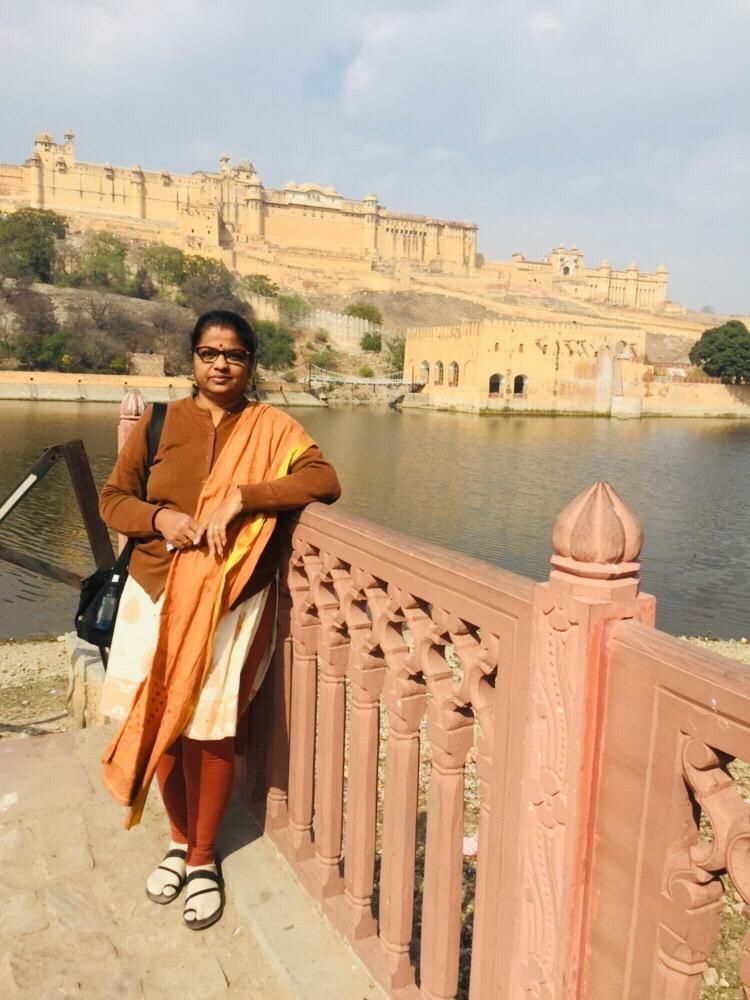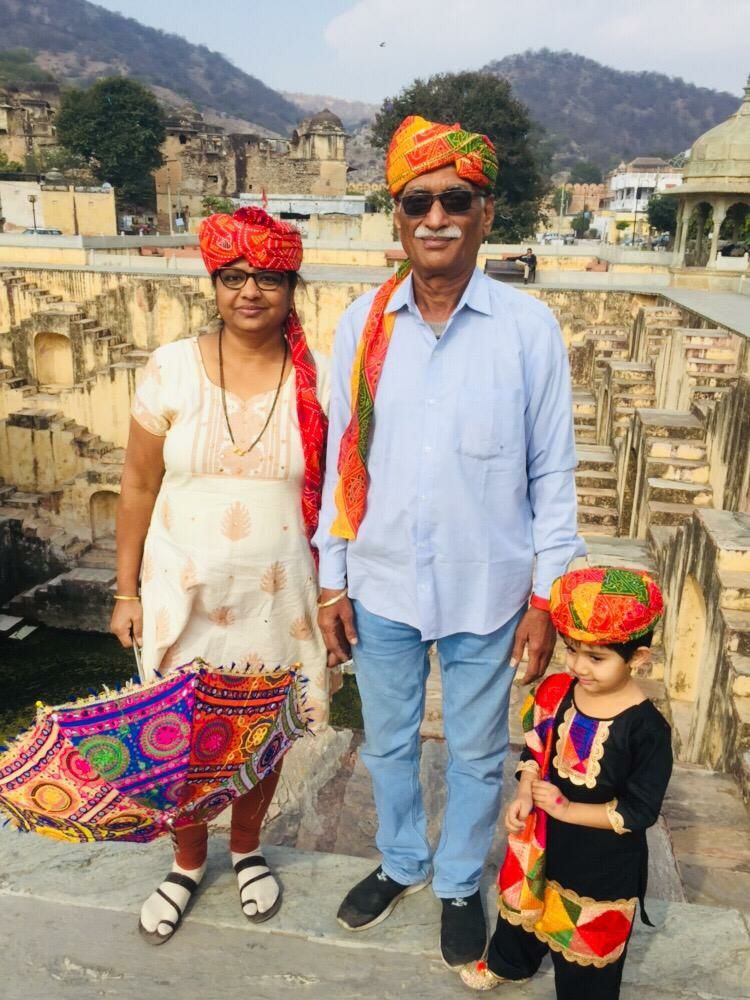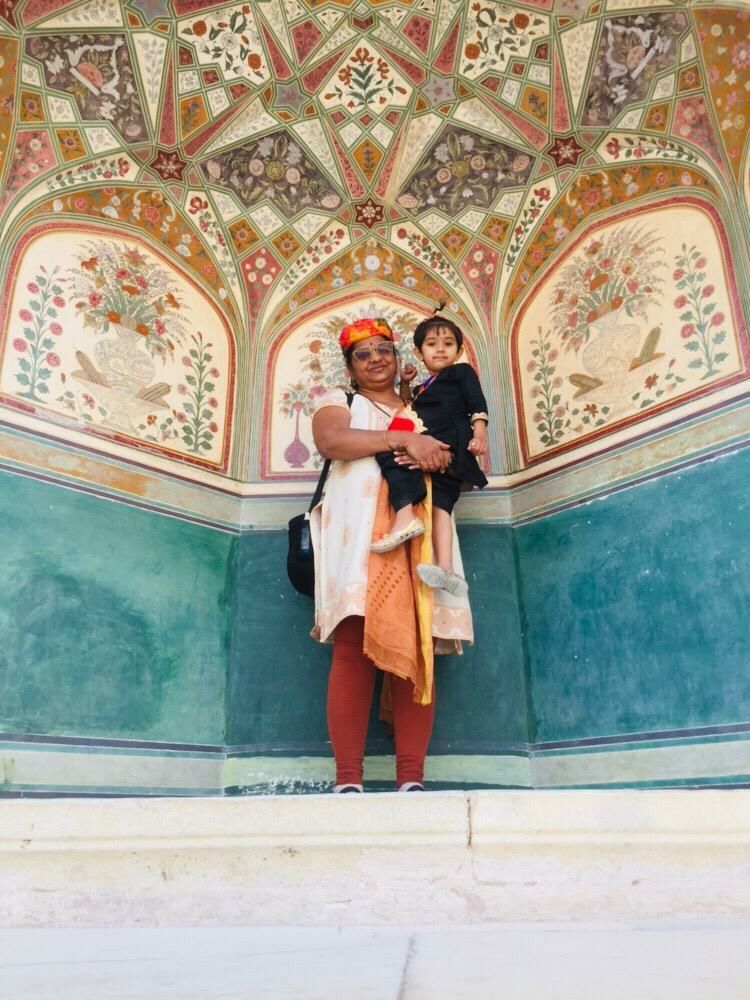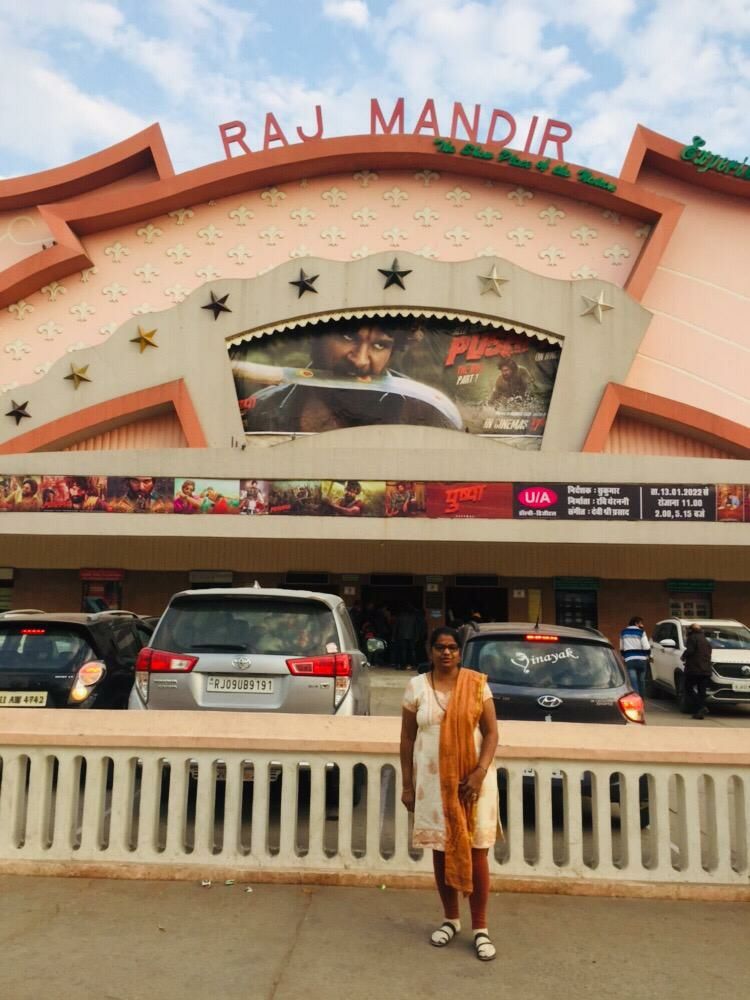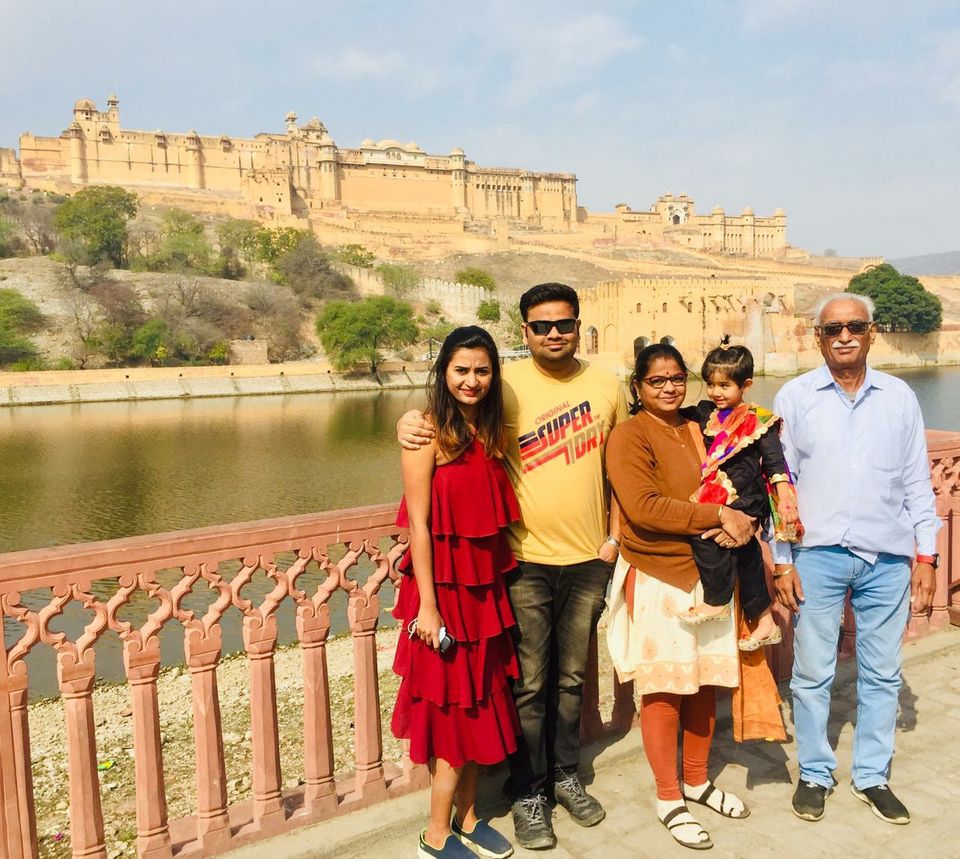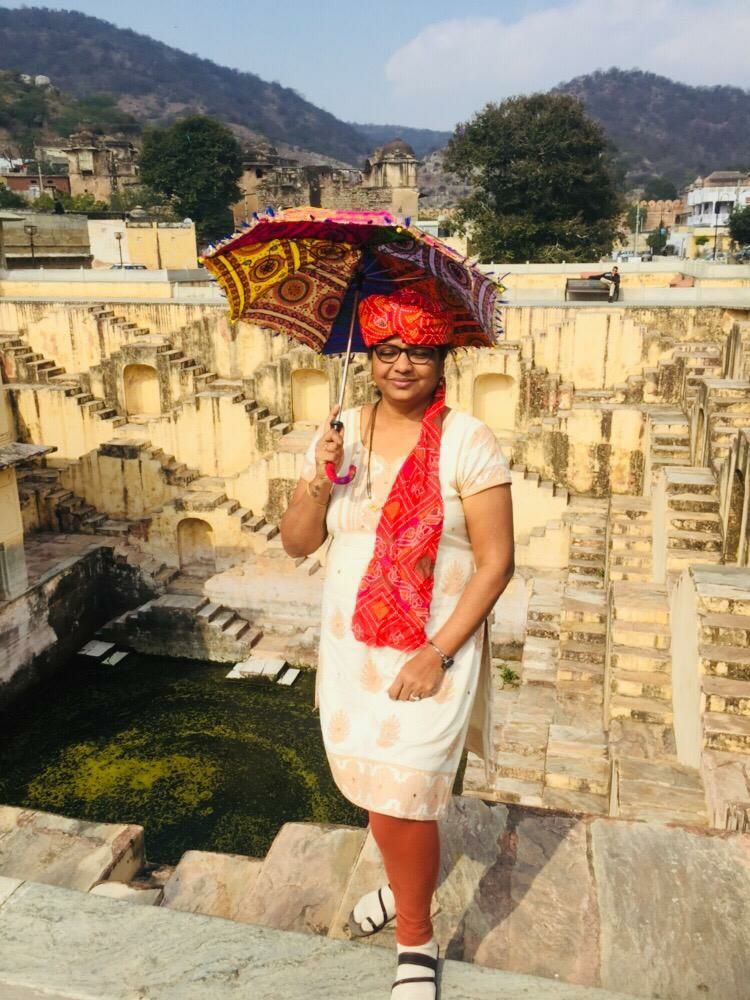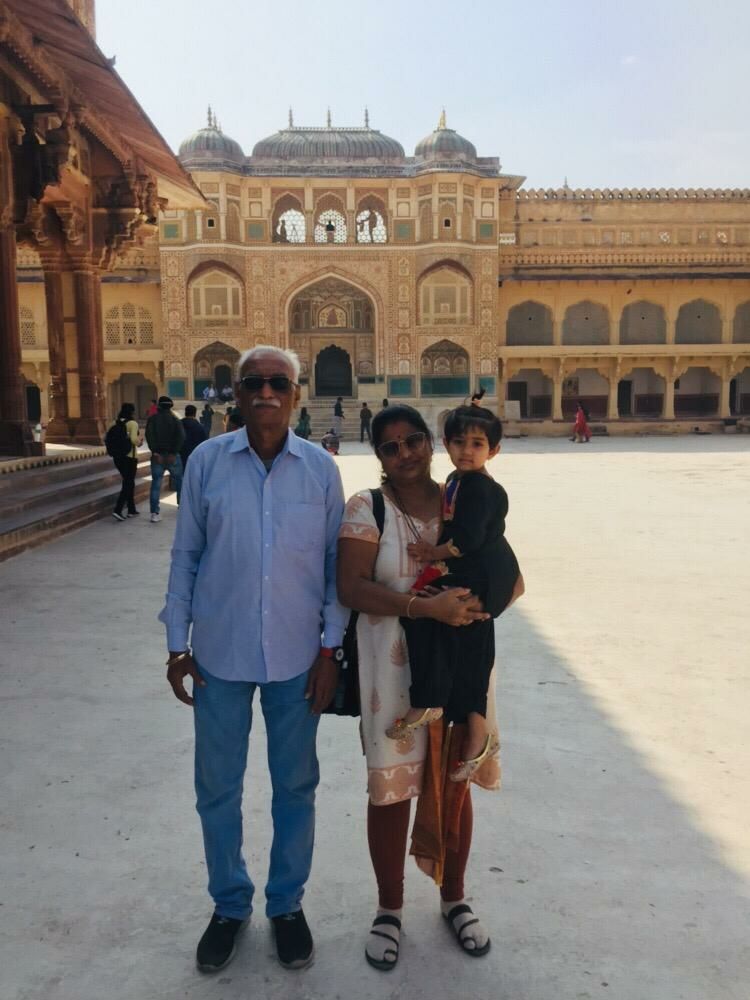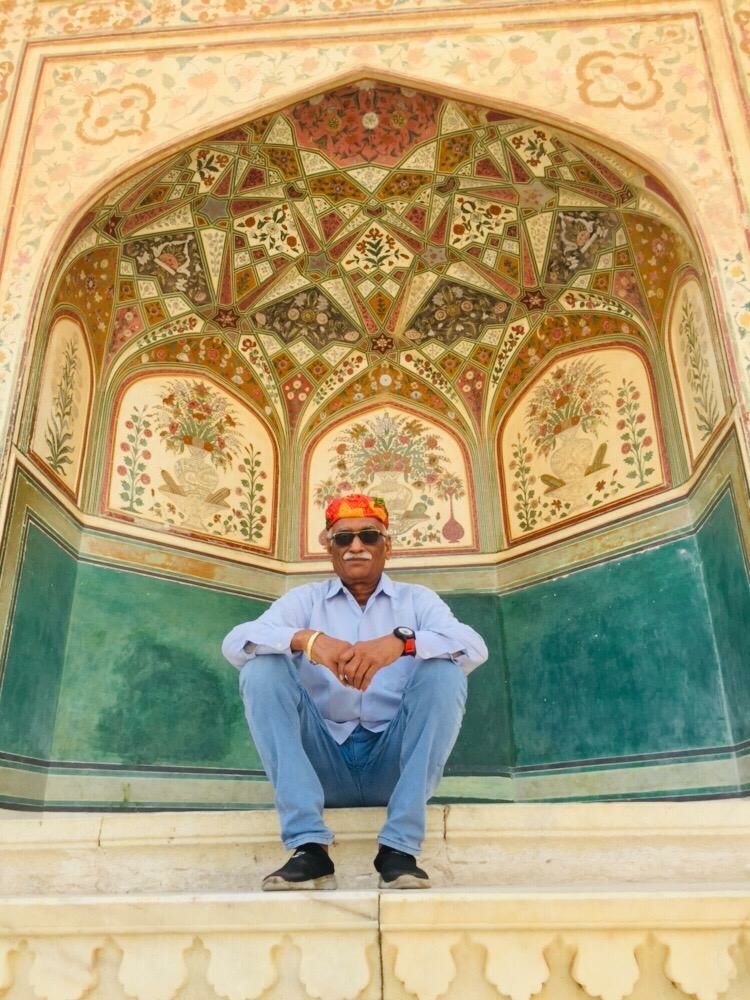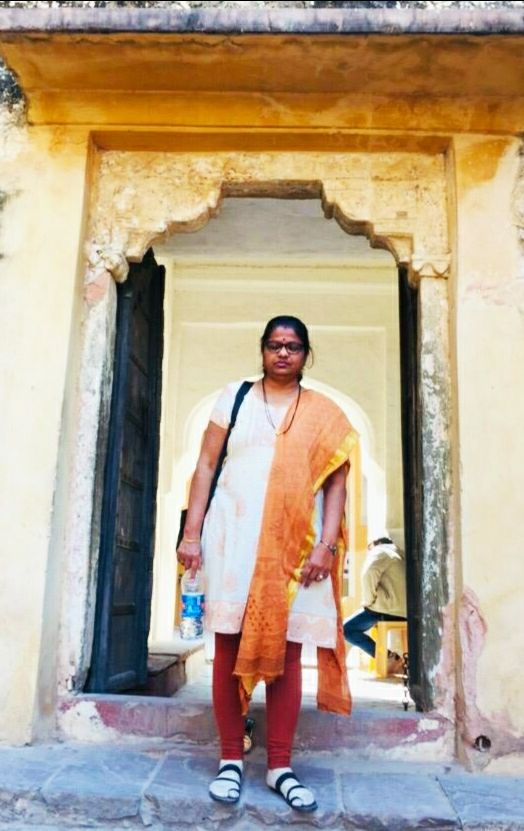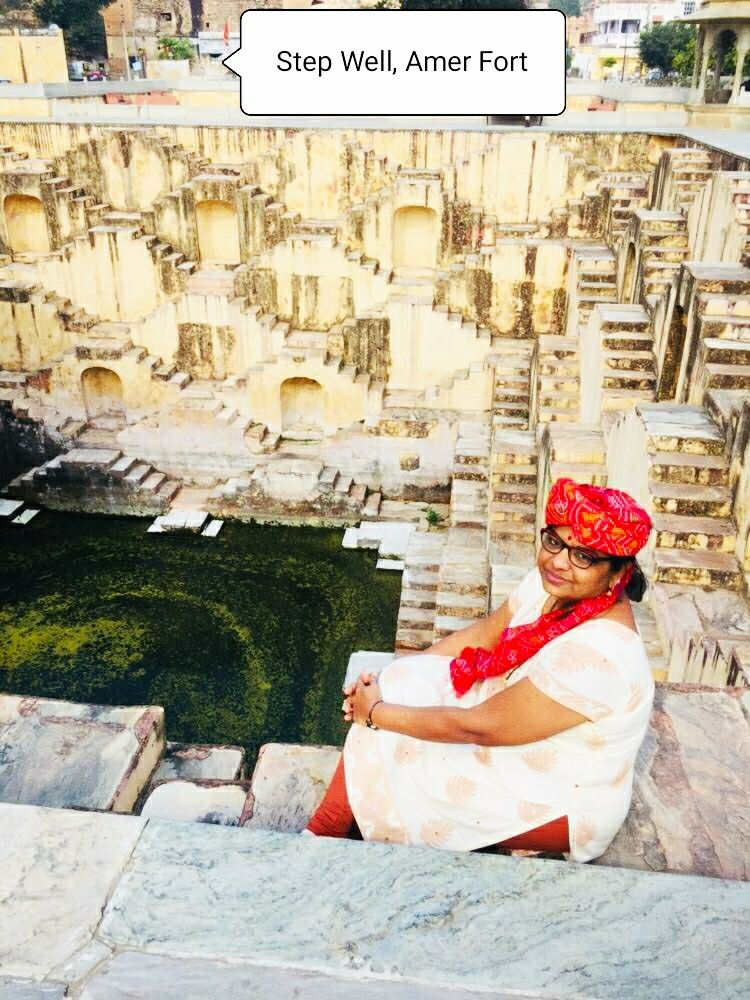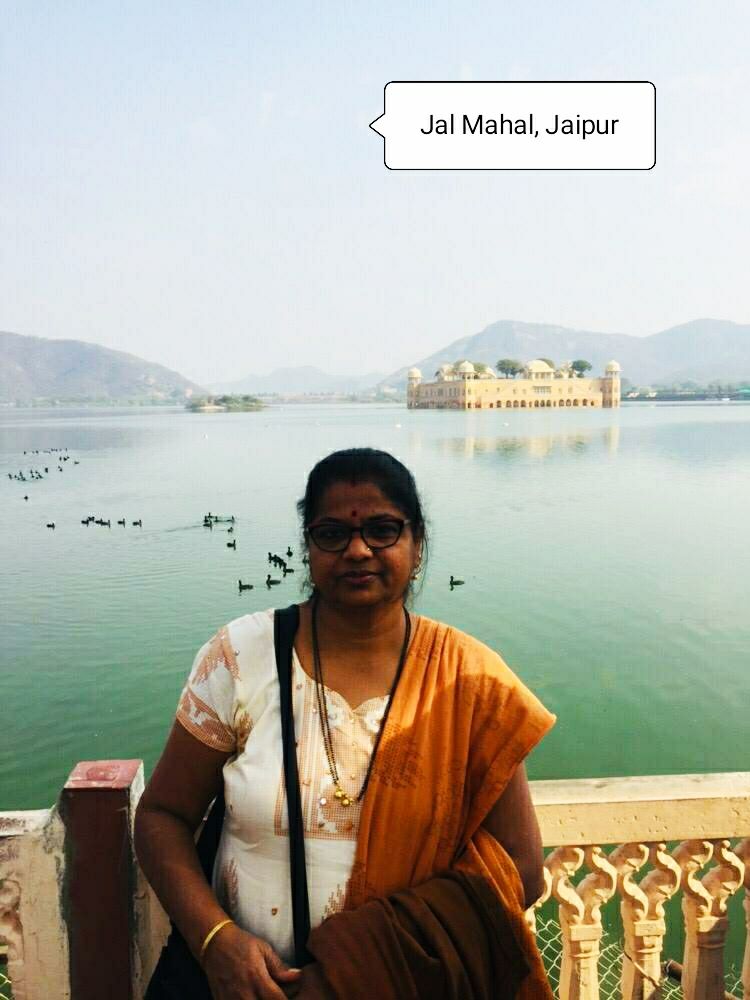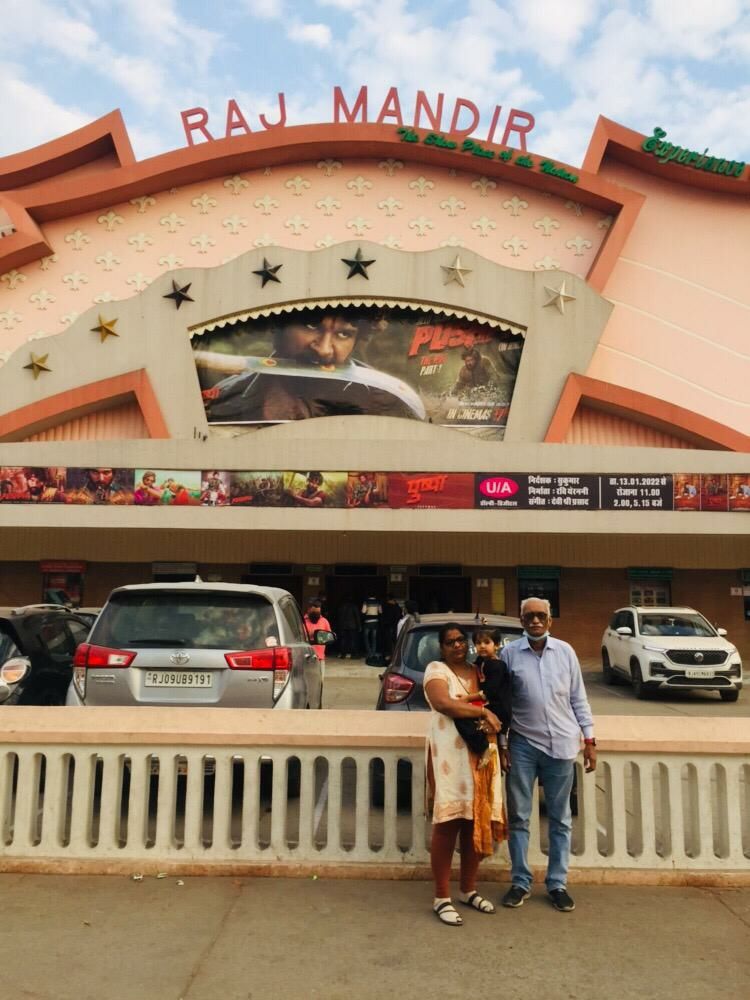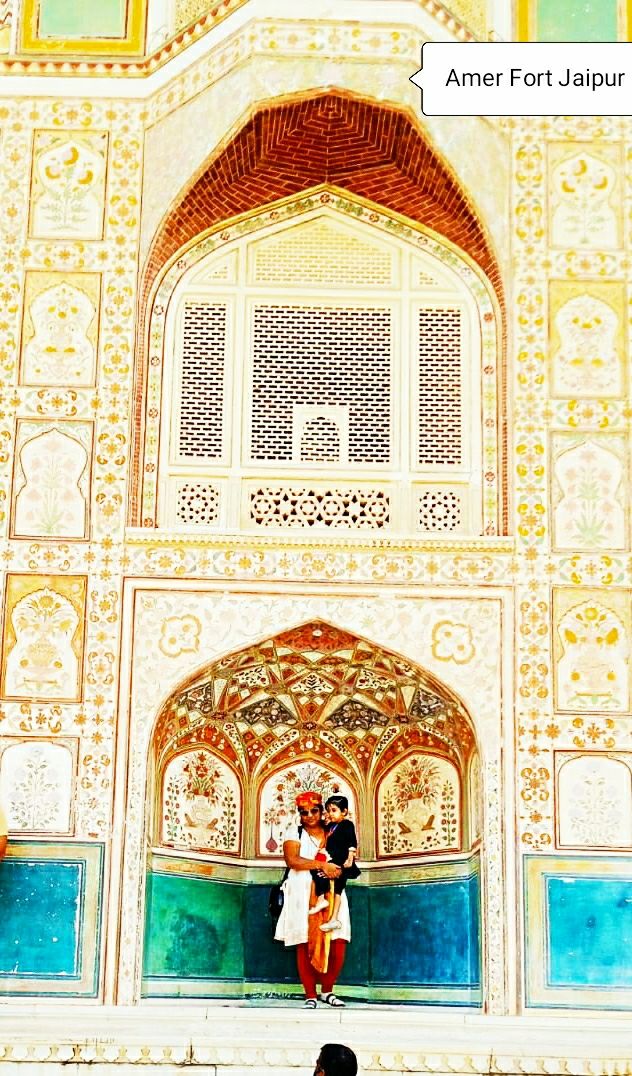 On 19th & 20th January we explored Jaipur local. On 21st January 2022 morning we went to Pushkar and returned at night after visiting Brahma Temple and desert. On 22nd January we went to Chokhi Dhani Jaipur. Both trips are posted separately. On 23rd we did nothing and rested at hotel.
In 24th January 2022 at 4.30 PM by auto we went to visit Patrika Gate, Jaipur. We decided auto for Rs 500/- for pick up us from hotel Gandharv, drop at Patrika Gate then after an hour from Patrika Gate to Albert Hall to see lighting of the hall which is done on the occasion of 26th January then night view of Hawamahal and then drop at hotel Gandharv.
Patrika Gate is basically a park with a beautiful structure. The eye-catching corridor inside this structure which has beautiful painting work, which is a cool frame for the portrait photography.
Park is well maintained. You can see various birds throughout the park chirping all the way.
Best time to visit is early morning (good spot for morning walk) and you can spend time in the evening with your family and friends. Outside Patrika Gate we ate various chats. There are many stalls of eateries. It is one of the Jaipur's most popular gathering spots.
The Patrika Gate was built by the Patrika group of Newspapers on the Jawaharlal Nehru Marg in Jaipur.
Patrika gate is one of the most beautiful locations of Jaipur, this is a big gate with beautiful architecture and this location is for all kind of age group people to enjoy a good evening, everyday musical fountain show for visitors is one of the big attraction of this place. Each pillar of the Patrika gate is painted with some important facts about different parts of the Rajasthan state. The Patrika Gate in Jaipur is a famous monument and tourist attraction in the capital city of Rajasthan. Located 30-minutes outside of the city center, the gate serves as an entrance to Jawahar Circle Garden. And many believe it to be one of the most photographed spots in all of India. While the gate is just one of the many architectural wonders in Jaipur, the opulent design is genuinely awe-inspiring. And the vibrant and intricate walkways serve as a true reflection of Rajasthani culture. After visiting Patrika Gate we went to Albert Hall (central museum Jaipur) clicked some photographs from outside and went to Hawamahal to see night view. Here also we ate some snacks, did shopping of embroidered bin bags and came back to hotel Gandharv at 9.30PM. As next day on 25th January 2022 we have to board train for Pune, we have to do our packing. We finally reached Pune on 26th January 2022 at 8AM and finished our long trip of 178 days.