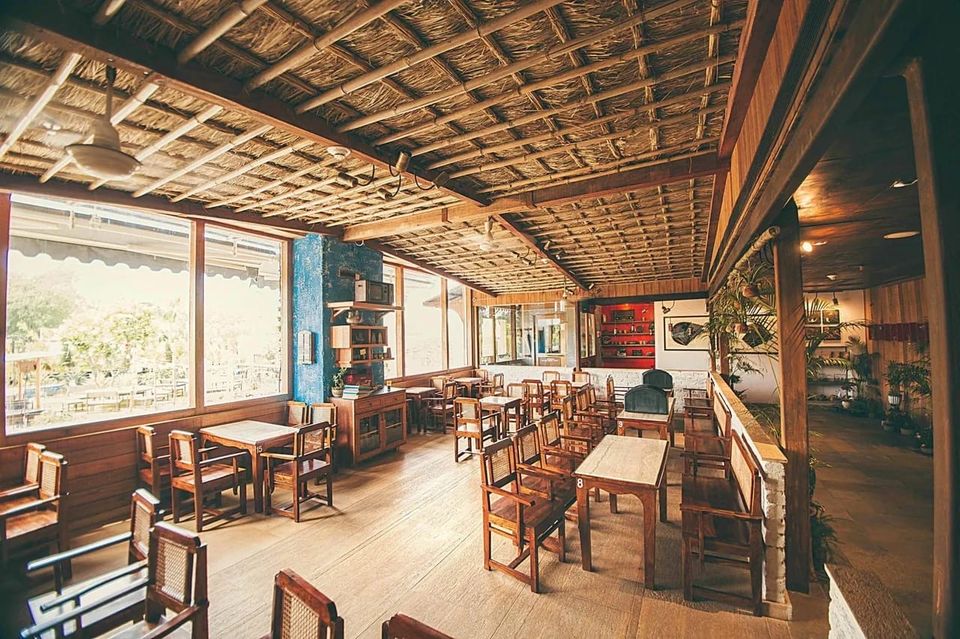 Jaipur the capital of the royal state of Rajasthan also known as the PINK CITY is famous for its old monuments and heritage sites. It is one of our favorite cities that is enriched with royalty and peace. There are many cafés nested in this beautiful city that elevate the grace of this city. We BrosOnRoads bring you The Top 5 Café in Jaipur that are unique and exquisite in their own way.
There for You
There for You, as the name suggest the café is there for you in your every emotion. If you are sad and want to pamper yourself with an amazing coffee and delicious waffles, if you are happy take a chilled mocktail in your hand and a bite of exquisite pizza or pasta in your mouth. The ambience of this place is so stunning and charming that it gives you a vibrant feeling which will bring a bright smile on your face. The theme of café is based on famous TV series F.RI.E.N.D.S. which makes the café unique and special. From making the food to presenting it to you is done with so much passion and love that every time you'll push yourself to come here like we do. There menu is filled with variety of mouthwatering food that you can get high on. You can hang out with your friends or can relax with your family whenever you wish to have superior food and splashing drinks. They don't serve alcohol here but they have many other things to compensate (Hazelnut Rocher Shake for instance). Our all-time favorite is Aglio-e-olio pasta with Pinacolada mocktail. And after a delicious food don't forget to have chocolate and banana brownie. We've already visited the place many a times and would love to grab some more chances to visit
Location: Plot No. 9 Scheme No.1, Jawahar Lal Nehru Marg, Near Nawal Towers, Malviya Nagar, Jaipur, Rajasthan 302017
Cost for Two: INR 750
Hours: 12:00am-11:00pm
Tapri Central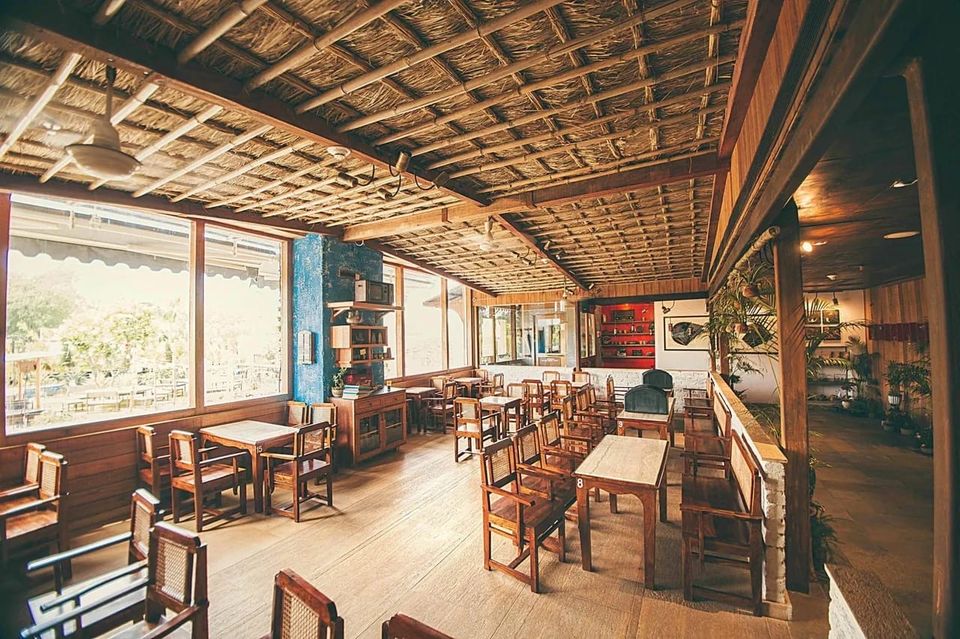 A small yet charming and classic café offering variety of snacks and tea on the roof terrace with antiquey vibe. As the name suggest "Tapri" the café offer local friendly ambience and food that will boost up your mood with a smile on your face. The interior holds an old charm vibe around that makes the place perfect to chill and relax. A charming vibe around and a cup of tea in your hand with soft air teasing you is a picture-perfect plan isn't it? The café offers variety of chai so, if you are a chai lover then you have plenty of variety to get high on, with chai they have a menu filled with delicious snacks that will make your outing a flawless one. The simple and classic interior make this café a unique one, the interior is filled with wooden furniture and chai cattle's all around. It's a good place to visit with your family and friends where you can relax with a toast of chai with your friends around the beautiful pink city in a sunshine-friendly, breezy set-up. The menu offers a local friendly variety of food (Masala Maggie, Chotu Idli platter, Tadka Maggi, Kala Chana Chaat for instance). From making to serving the food everything is perfect and on time but if they delay in serving your food, they serve complimentary khakras as starters for the waiting time. Tapri is always on the top of our list of favorites and especially this one is so picturesque and aesthetically pleasing that we totally enjoy going over and over again.
Location: B4-E, 3rd Floor, Prithviraj Road, Surana Jewelers Opposite Central Park Gate, No. 4, Prithviraj Rd, C Scheme, Ashok Nagar, Jaipur, Rajasthan 302001.
Cost for Two: INR 800
Hours: 7:30am-10:15pm
Taruveda Bistro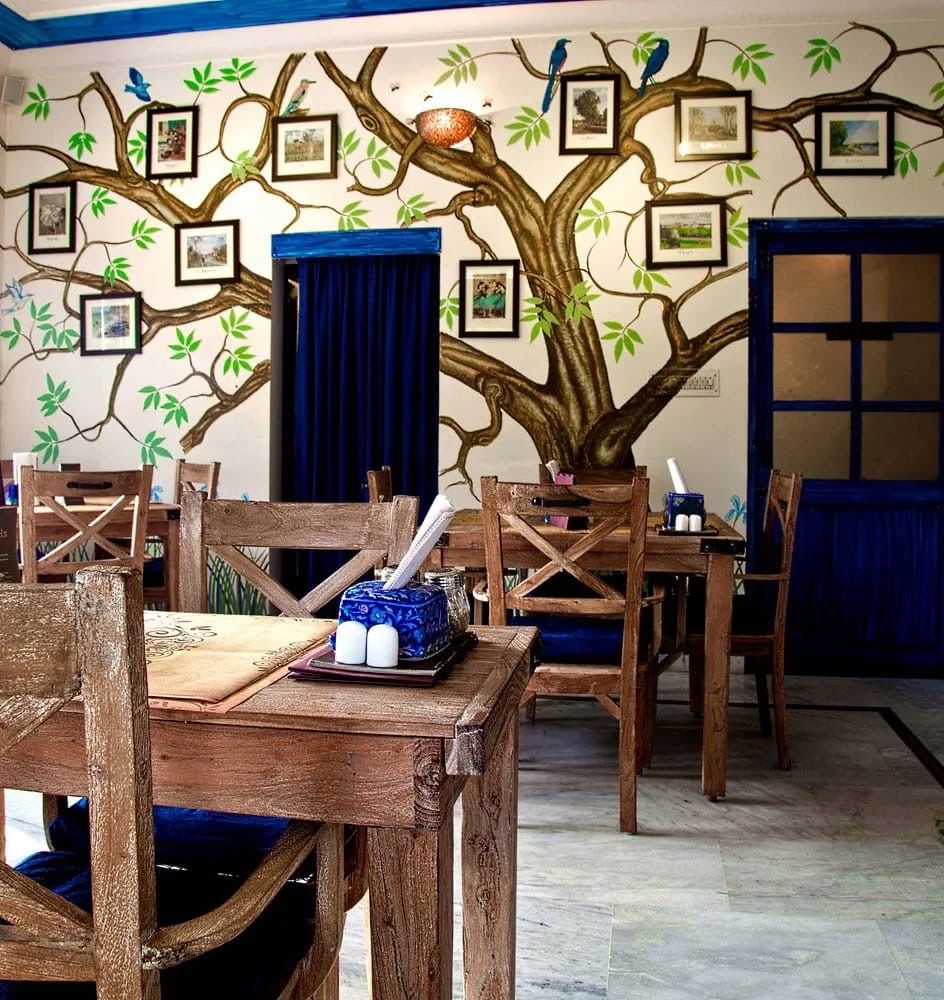 Tired of the routine quick bites offered by café in Jaipur? Then drop yourself to Taruveda Bistro, the place offers a unique fusion of cuisines that are equally diverse in representing the culinary traditions from across the globe from Japanese Sushi to American "whooper" this place serves the best innovative and scrumptious food. The interior of this place is classy yet charming which is just a perfect mix, anyone looking to get some moments of calm and gorge on some delicious crepes, should head here! The ambience of the place is calm and beautiful, you can have your cup of coffee with toothsome bites away from the chaos of the city in peace to let your mind relax that is tired from your daily routine. The food here is yummy the menu is filled with variety of dishes (Tofu Burger, Crepe Suzette, Pepperoni Pizza, Chicken wings) the service is also good and the staff is courteous. We love sitting in the balcony amidst the lovely plans and lamps which give us a calm and positive vibe. They also have a great store doing an array of collectibles!
Location: 1st Floor, Sunraj Villa,2 Mysore House, Jacob Road, Civil lines, Jaipur 302006.
Cost for Two: INR 1000
Anokhi Café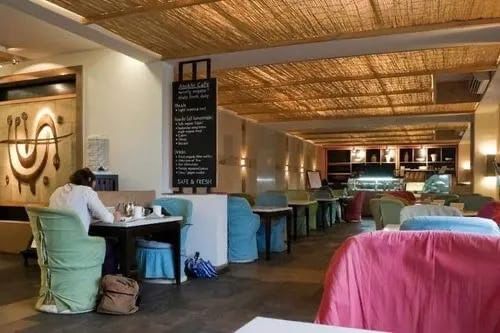 Tired of eating junk food and want to have some organic produce? Then say hello to Anokhi Café. Anokhi café is the place which will slake your taste buds without disturbing your diet plan, the ambience of the café is very refreshing and relaxing which will give you a revitalizing feeling. The place is small but well maintained by the staff, the menu is filled with mouth-watering goodies that will surely drop a big smile on your face, you will find love and organic products in their every dish which will melt your heart like a chocolate in a sunny day. The staff here is courteous and hard working so, with good food you'll get a good service too. The air-conditioned café is a perfect place to chill and relax with your friends and family in the sunny afternoons, you will experience freshness and chill out vibes here with a good food. The interior of the café is simple and elegant with comfy no-fuss chairs and decent design on the walls. One must have (Bagel, Coffee cake, Orange Juice and sandwiches). They also have some mediterranean and continental dishes with few Thai and other cuisine, with this they have a showroom attached to the café which is famous for the exquisite range of clothes.
Location: KK Square, C 11, Prithviraj Road, Panch Batti, C Scheme, Ashok Nagar, Jaipur, Rajasthan 302001.
Cost for Two: INR 550
Hours: 10:00am-7:30pm
Jai'pour Cafe and Bar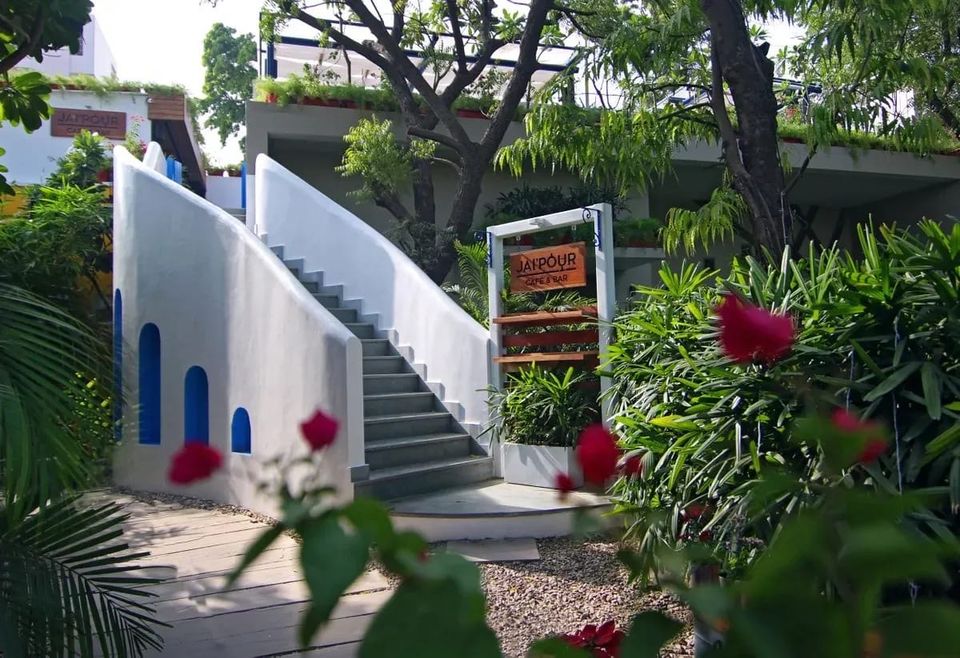 Imagine yourself sitting in Greece with refreshing vibes covering you around and giving you a vibrant feeling. But to experience this exquisite feeling you don't have to visit Greece, just drop by Jai'pour Café and Bar, a roof terrace café showcasing the white and blue European theme with luscious food and drinks. This café is a perfect place to pamper yourself with delicious food and chilled drinks around a charming ambience at an economical price. The theme of the café is very unique and offbeat which make it different from any other café and also make it a perfect place to spend time with your friends and for yourself to get some chill and break from your daily routine. Not only the interior is unique their menu is filled with unique yet toothsome dishes that will be a perfect mixture. Our roof terrace experience of this café is very refreshing we enjoyed setting there, letting the fresh air running around us with a vibrant yet comfy vibe surrounding us sipping chilled and reviving mocktails with delicious bites, isn't its very pleasant hearing this believe us it's more pleasant there. We recommend you to try (Greek salad, Chicken Tikka, Pizza).
Location: Devraj Niwas, Khasa Kothi Crossing, MI Road, Bani Park.
Cost for Two: INR 1000