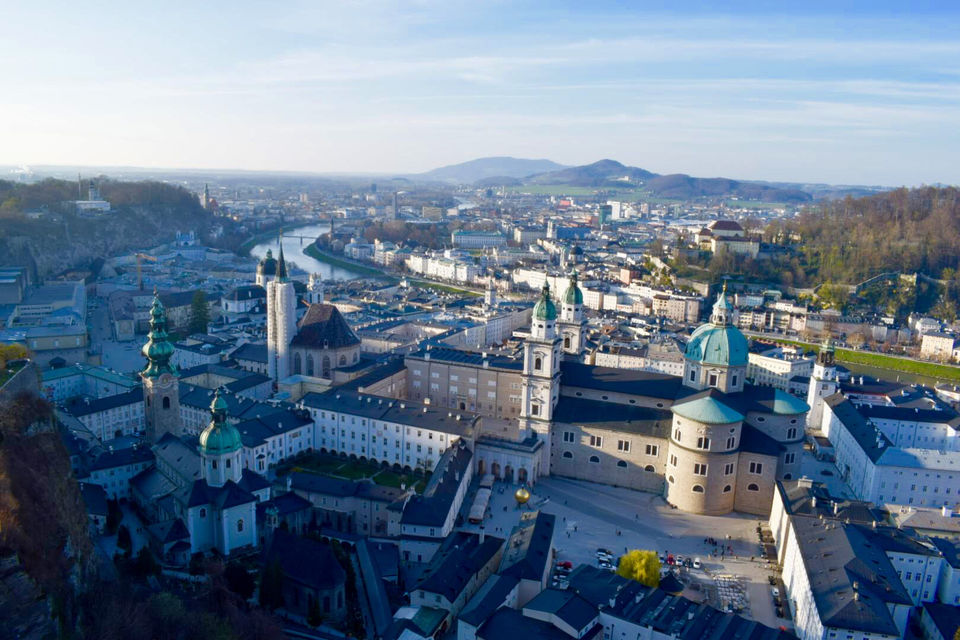 2nd day started with our journey from Vienna to Salzburg. We had booked our intercity train tickets from ÖBB app and Go Euro app. Public transport is extremely well connected over there and should be the go to option for budget travel. We used tram from our accommodation to Wien Hauptstraße (Vienna Station) and ticket kiosk is located right inside tram so no need to go here and there. ÖBB and most of other railway service provider designate seat in the station just like check in service in airport. I grabbed a Maner wafer before boarding the train.
Journey to Salzburg was of 3 hours and one can see the change in landscape clearly. It starts with a haze line of mountain range and gradually with each tunnel passing by, snow capped Alps gets closer and clearer!! Upon reaching Salzburg, we bought 48 hours Salzburg card which was the most convenient option providing unlimited usage of public transport along with entry to all tourist attractions. I found this to be the most economical tourist card among the places we visited especially considering the fact that our accommodation was far away from main Salzburg. We boarded bus to our destination Grödig which welcomed us with the cutest stay option and the most amazing host. Two highlights of this place were a big window which gave us the beautiful view of Green meadows with the backdrop of Alps and the window above our bed opened up to crystal clear sky!!
After settling down we decided to go to Hohensalzburg Fortress. We used bus to reach the starting point from where it is about 30 minutes walk uphill to reach the top. First point on the way to the top of fortress gives a breathtaking view of the suburban Salzburg and the surrounding valley with omnipresent snow capped mountain. If there is not much crowd this is a lovely place for some good photography. After another 10 minutes walk we reached the place which would be one of the highlight moments of the entire trip. This place opened up the entire town along with its churches, domes and river and just at that point of time ringing of church bell created a surreal moment which I would never forget. I simply stood there and enjoyed those moments of peace.
Funicular ride brought us down the fortress to St. Peter's Abbey and Catacomb. This is the area where some scenes of Sound of Music was shot. It is basically a well decorated cemetery. The area being small it is not really needed to search for any place. Just by walking we arrived at Morzartplatz which is a square with life size chess board. After some photos we called it a day. We were super excited for the next day as it was time for cable car ride!!
Mount Untersberg the highest point of Salzburg city gives the luxury of a 10 minute cable car ride to reach the top at 1927 metre. Entire Salzburg, Berchtesgadener Land and Rosittental deep reveal themselves in front of our eyes when we walked on the deep snow. Wherever we looked it was milky white snow and bits and pieces of ferns were peeping out of it underneath deep blue sky. As we roamed around a bit the eerie silence of nature mesmerised us. At one point of time mobile network indicated that we were in Germany, truly nature knows no boundary. Mount Untersberg you will be remembered forever......
Next half of the day was dedicated to Hellbrunn Palace and Mirabell Palace. Hellbrunn is palace sized baroque villas entertaining tourists with its trick fountain and the history enriched museum. There were some beautiful paintings inside the museum and it sounds more enchanting with the audio guide. There is a guided tour of the trick fountain where the guide entertains guests with sudden spring of water coming out from apparently innocent sculptures. We spent the evening roaming around the main town which was getting decked up in Easter decoration and Salzburg bid us adieu with a beautiful sunset....
Tip 1. We found some economical food options especially south East Asian cuisine which were fulfilling as well.
Tip 2. Sunglasses are MUST on Mount Untersberg. Don't compromise on it.
Tip 3. Grödig is a beautiful place to stay to explore suburbs.
Tip 4. Salzburg card is available at the train station in press and book shop
Tip 5. Hellbrunn palace is a good amount of walk from the regular bus stop
Tip 6. Funicular ride to Hohensalzburg Fortres is available at the side of St. Peter's abbey, t is not accessible from main road.