No trip to Spain is complete without a visit to the colorful city of Seville, the heart of Andalusia.Often described as 'the most charming city in Spain', with its unique Moorish and Christian heritage, Seville is sure to give a true taste of Spanish culture. As the capital of Andalucia, there are no shortage of things to do in Seville – whether that be enjoying a fabulous flamenco show, learning about the fascinating culture of bullfighting, or savoring the world's best tapas. Seville has it all :) . No amount of time can ever be good enough to enjoy worlds best Sangria but if you still manage to keep your glass aside and enjoy Seville , here is Seville : Things to do in 48 hours.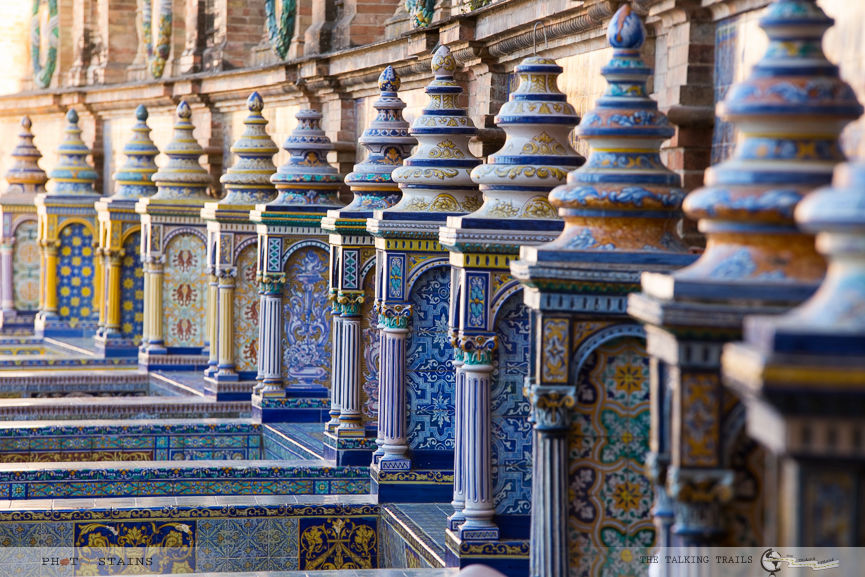 How to reach :
Seville is very well connected via air, train and bus. Depending on your budget and time , you can chose the most convenient way that suits you. However these are the options.
By Air : Seville's airport, the Aeropuerto San Pablo, is situated about 10 km from the city centre and is connected by air to a number of destinations across Spain – Madrid, Barcelona, Zaragoza to name a few. From airport you can take a taxi or bus to reach the city center.
By Train : The most economical and preferred mode of reaching Seville is by train. The transcontinental trains are very efficient and economical. If you plan to travel in peak season , book well in advance.
Note : I made same day bookings in month of September and tickets cost me around 70 Euros per person from Barcelona to Seville.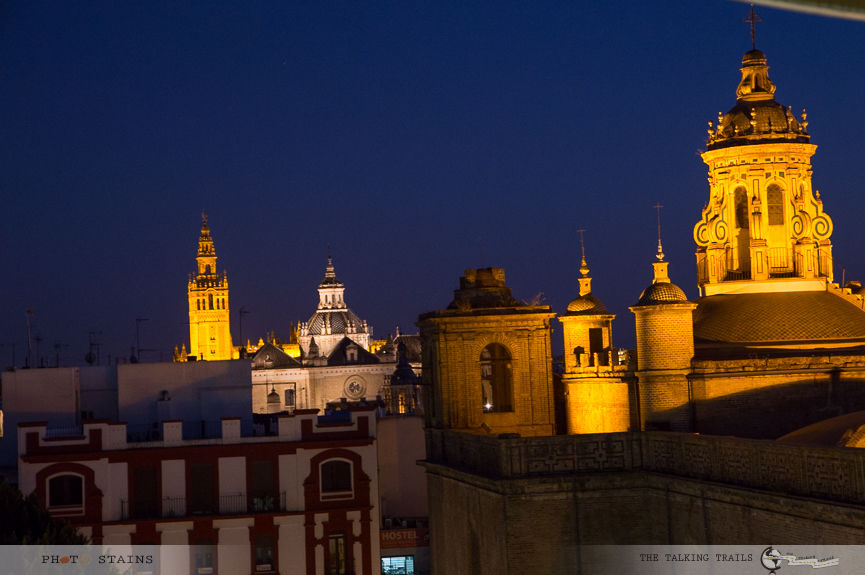 Tips :
1) You can of-course rent a car and drive in Seville , but I will advise rather to hire a taxi. The roads in city center are really narrow and driving is a nightmare.
2) Seville is a walking city , so do pack a good pair of shoes as you will walk a lot.
3) Although it's considered polite to round off to the nearest euro, tips aren't expected.
4) Book the tickets to Alcaraaz , Flamenco show and Seville Cathedral well in advance. Same day tickets are very difficult to get.
Things to do :
Plaza De Espana :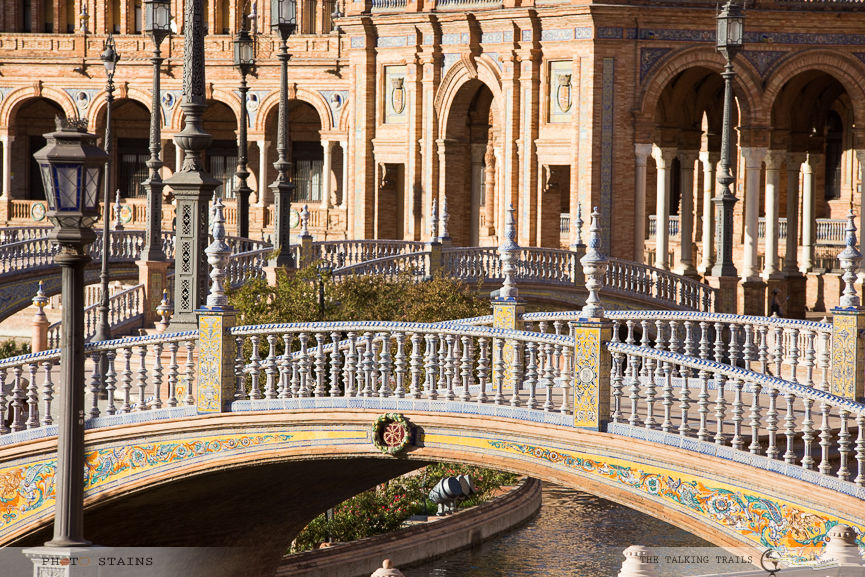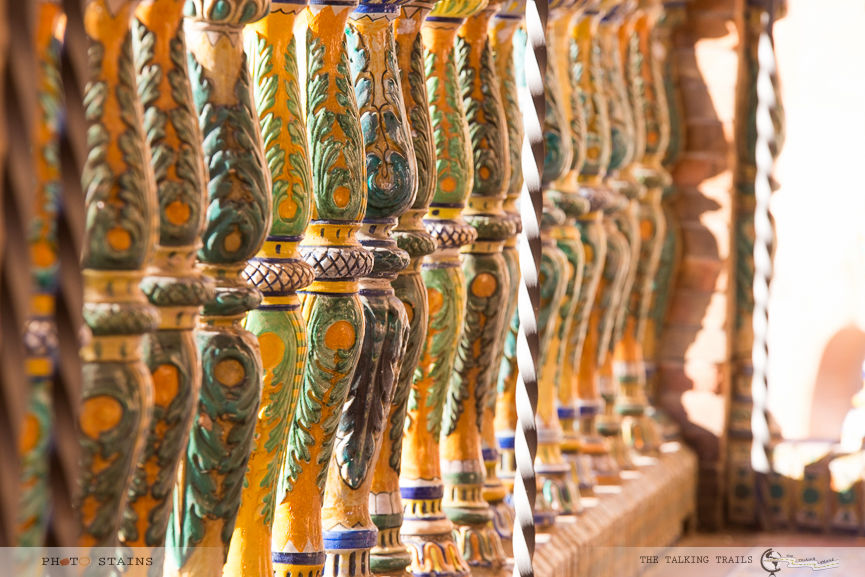 My first stop in my sight-seeing journey in Seville was Plaza De Espana. This exuberant and magnificent place is located in María Luisa Park. Plaza de Espana was created in 1929 when the Ibero-American Exposition was held in Seville. The complex is decorated with azulejos, painted ceramic tiles that are popular in Seville and can be found all across the city. I visited this place in day time and night time , and trust me the building looks magnificent at both times. If you plan to visit this place , try to go in late afternoon. The view of the Plaza de Espana from the North tower is splendid.To enjoy more of Moorish architecture head to the staircase next to South tower , you will find less people and you will have whole place to yourself.
Cost : Free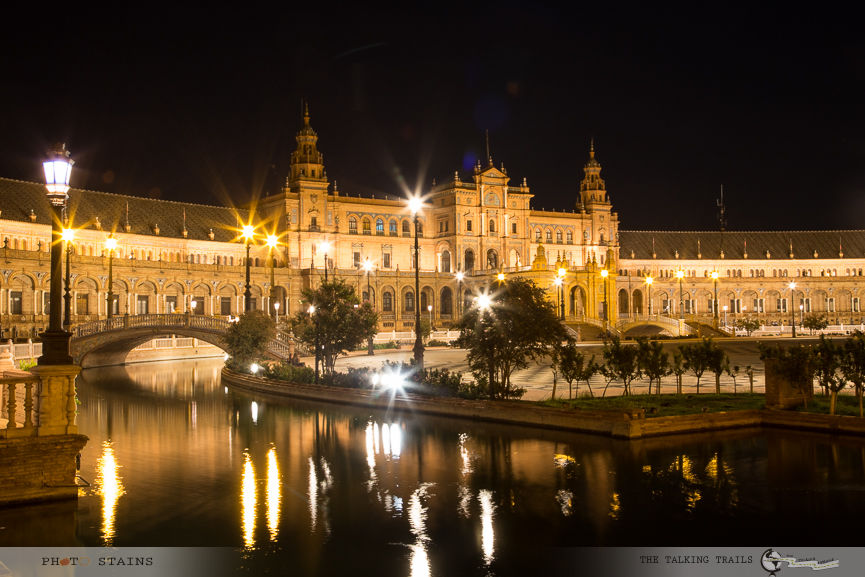 Royal Alcázar :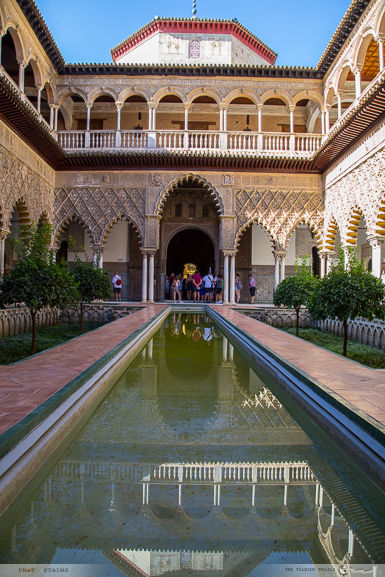 The Royal Alcázar of Seville is a monument full of history, a mix of cultures that have left their mark over the centuries. It is the oldest Royal Palace still in use in Europe and one of Seville's most emblematic symbols. Real Alcazar is the Royal Palace of Seville, a magnificent complex of patios and halls in different architectural styles, from Mudéjar to Gothic. Yes, yes I am coming to the point – For all Game of Thrones fans like me , this is the place to be. While visiting this palace I was surely busy recreating the scenes from GOT ( in my mind , ofcourse).With over 2,000 years of history,and different styles of architecture , there is so much to this place that you will not be able to cover everything in one day. I will strongly suggest for this place to take atleast an audio guide tour. You can find more details here .Some must see places in Alcazar are :
1) Royal Gardens
2) The Crossroads Courtyard
3) Mercury Pond
4) Los Baños de Doña María de Padilla
5) Mudejar Palace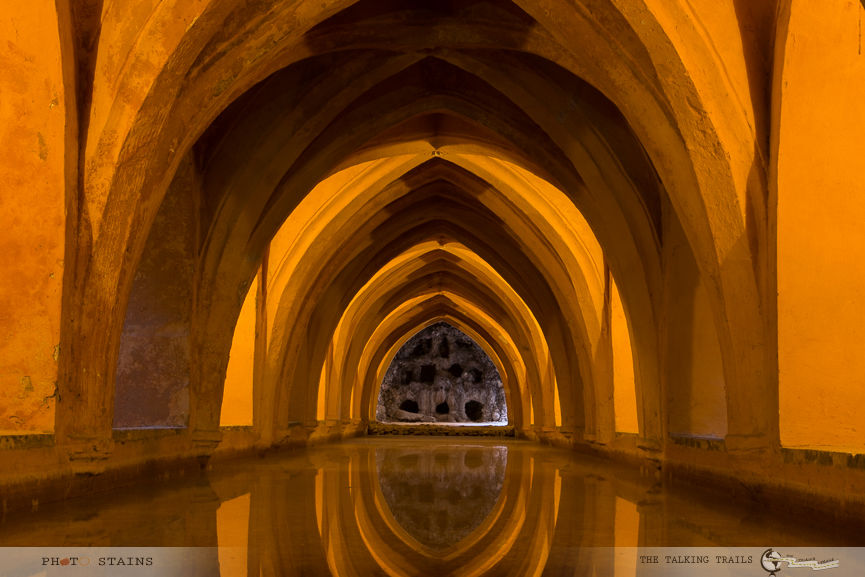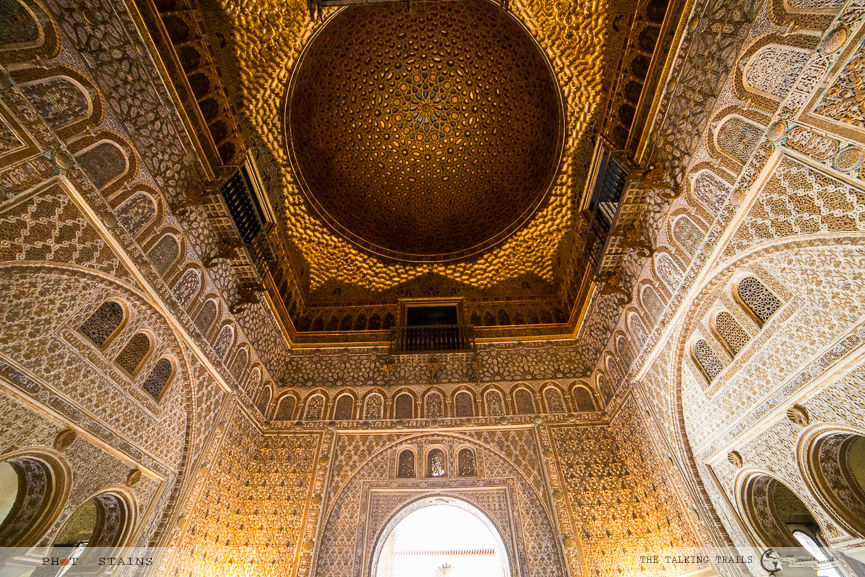 Cost :9.50 Euro ( General Ticket)
Opening hours: Winter (October-March): Mondays to Sundays 9:30 to 17:00
Summer (April-September): Mondays to Sundays 9:30 to 19:00
Seville Cathedral: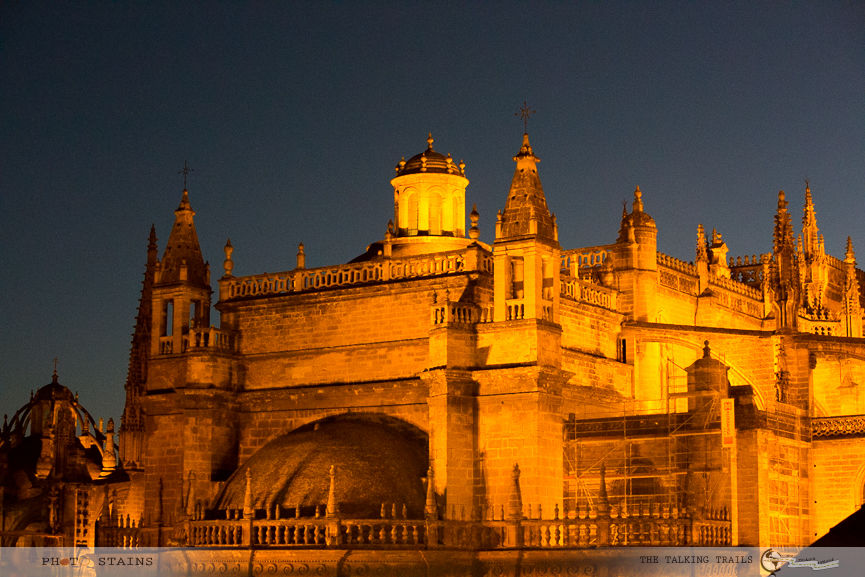 You have to see it to believe it. The Cathedral is admirable both inside and out. One of the most impressive – and, at the same time, controversial – parts of the cathedral is the tomb of Christopher Columbus, just inside the Puerta de San Cristóbal. When you visit, remember that shorts and t-shirts are not allowed and so as flash photography.
Cost -Includes both the Cathedral and La Giralda – 8 euros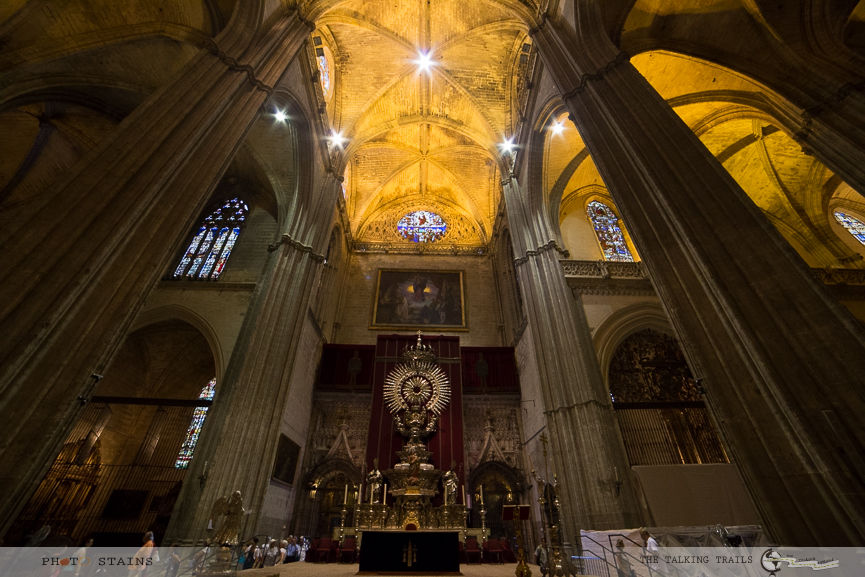 La Giralda (THE BELLTOWER):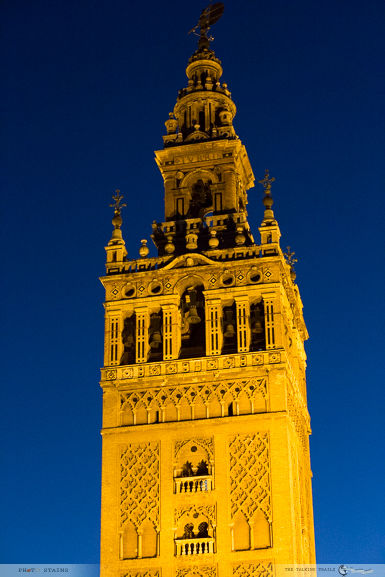 The tallest building in Seville is La Giralda and is next to Seville Cathedral. In the northeastern corner of the cathedral you'll find the passage for the climb up to the belfry of the Giralda. La Giralda is both muslim and christian. It was originally built as the mosque's minaret and now serves as the tower of Sevilla's Cathedral. This tower is 105 meters tall and to reach to the top you need to climb 35 ramps which takes around 20 mins to reach to the top. Once on the top , you can enjoy 360 degrees views of Seville city.
Note : The ticket to La Giralda is included in the price for the ticket to Seville Cathedral.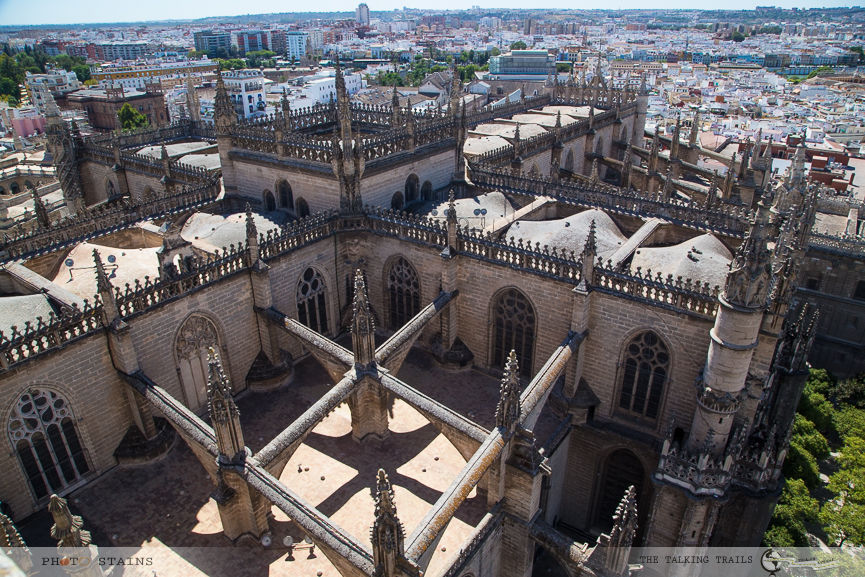 Plaza De Toros :
One of my favorite find in Seville was Plaza De Toros. It is a magnificent Seville bullring that is the oldest in Spain. Now I am not much into bullfighting and by no means do I agree with any sport that involves animal killing but even if you do not approve of this blood-spilling sport, it is worthwhile visiting the bullring to get a sense of Spain's bullfighting culture. The bullring can only be visited as part of a guided tour which can be booked when you are there. On this tour you'll also see the Art Gallery, the Chapel where the toreros pray before entering the bullring and the enfermeria (emergency hospital) where the unfortunate ones get emergency treatment. At the MuseoTaurino (Bullfighting Museum) you can see the collection of famous toreros, bullfighters' costumes, capes and the whole bull-fighting sport as it has emerged from centuries.The tour ends in the spectator stands from where you can admire the beautiful architecture of the bullring.
Cost : 8 Euro
Opening Time :Daily 09:30 – 20:00 (May to Oct) and 09:30 – 19:00 (Nov – Apr) except on bullfighting days when it is open until 15:00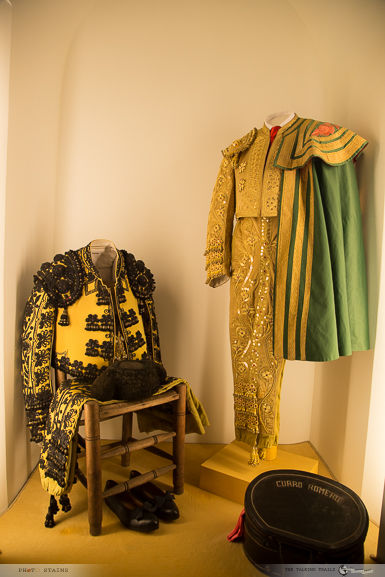 Barrio Santa Cruz :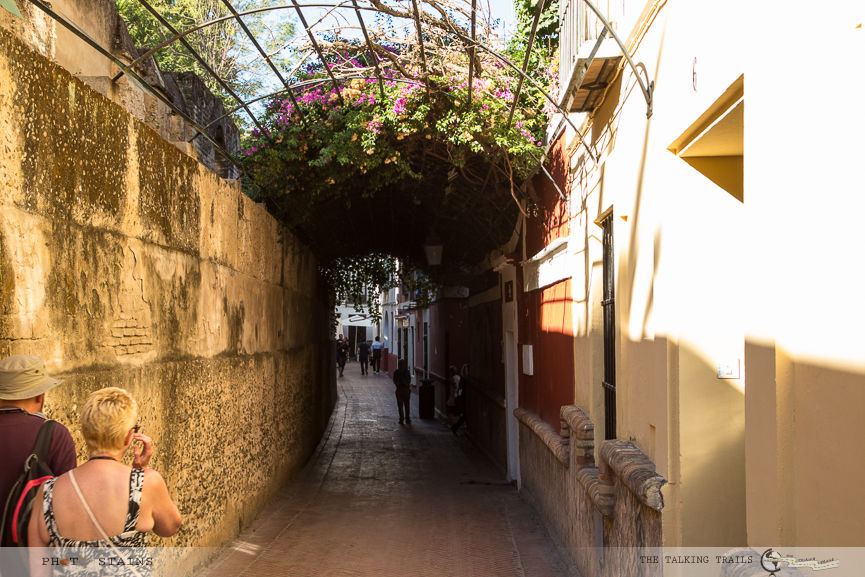 One of the most charming neighborhood of Seville is Barrio. You can spend hours exploring this neighbourhood. Oozing with old- fashioned Sevillian charm , Barrio de Santa Cruz was Jewish quarter during the medieval era of Morrish rule. This neighbourhood – which is a labyrinth of cobblestone pedestrian lanes, whitewashed houses with attractive patios, and picturesque shaded plazas with outdoor cafés , must be explored on foot as streets are too narrow for any kind of transportation. This area has some of the best restaurants of Seville , where you can sit outside a bar , enjoy some Tapas and watch the world go by.
Museo del Baile Flamenco (Museum of Flamenco Dance) :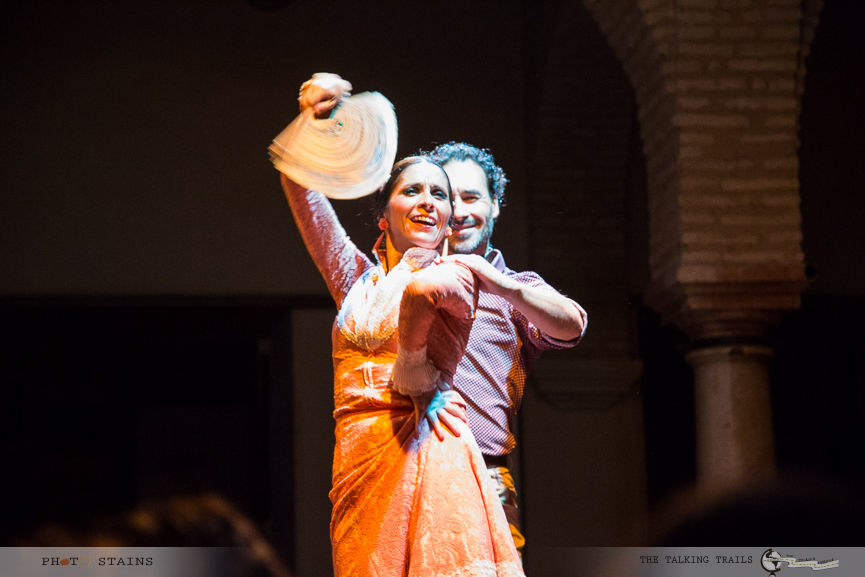 No trip to Spain is complete without enjoying a Flamenco show. And if you are in Seville , look no further as Museo Del Baile Flamenco is the best place to enjoy a Flamenco show. The Museo del Baile Flamenco celebrates the beauty of flamenco with exhibits on all aspects of the art: dancing, singing, and guitar. Here are few tips to enjoy a flamenco show :
1) Book your tickets well in advance. Specially for Museo del Baile Flamenco , the tickets are sold out months in advance in peak season. You can book your tickets here . Cost – 20 Euro
2) Try to arrive at-least 30 mins before the show starts , to get better seats.
3) The sitting area is arranged in a U-Shape ,so try to sit in the middle. Flamenco is all about expressions and footwork. You will enjoy it much more if you sit in the middle and could actually see the foot tapping.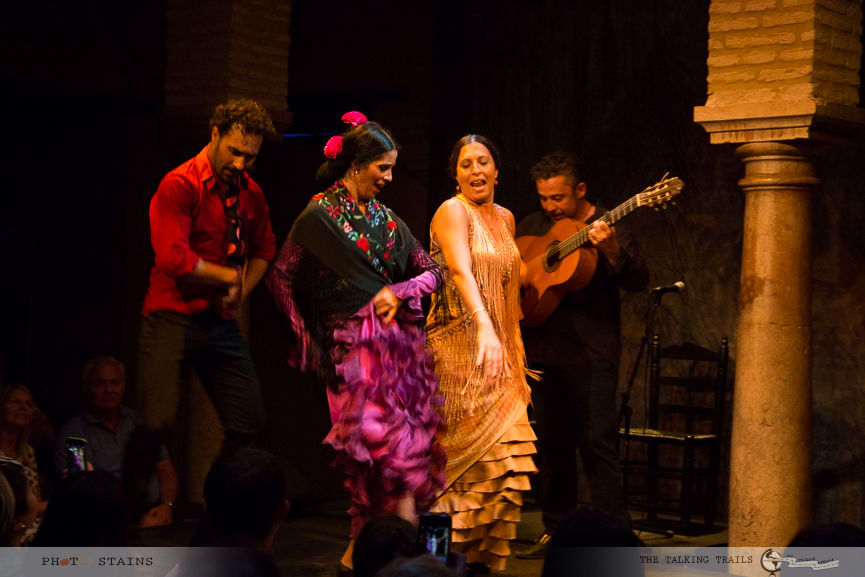 Metropol Parasol :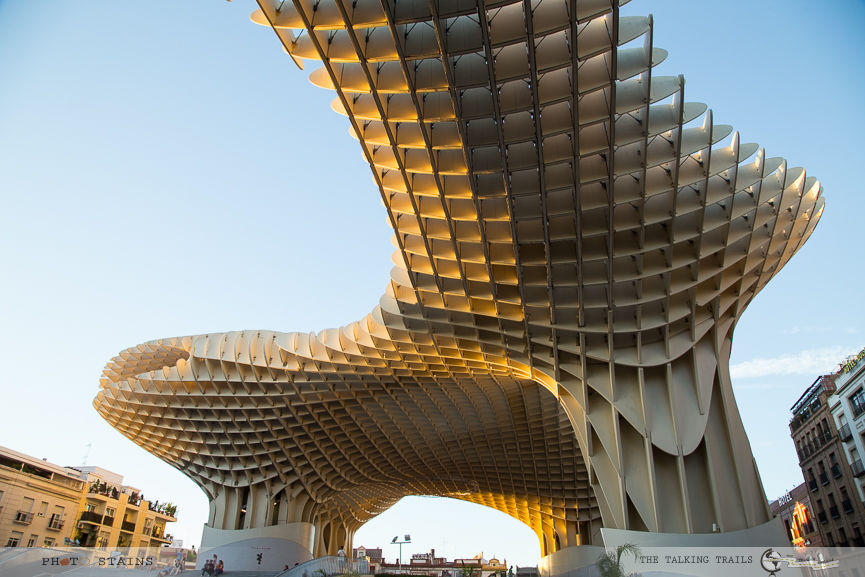 The Metropol Parasol project was part of the redevelopment of the Plaza de la Encarnacíon and is now the new icon for Seville, a place of identification and to articulate Seville's role as one of the world´s most fascinating cultural destinations. It was designed by J. Mayer H. Architects. The structure consists of six huge linked parasols made of waffle-type criss-crossed wooden beams – it is said to be the world's largest timber-framed structure. There is a walkway on the top where visitors can roam around while enjoying the aerial view of Seville. The best time to visit this structure is evening. You can enjoy a beautiful sunset and see the beautiful city of Seville covered in lights.
Walkway opening hours: 10.00 – 14.00 hrs and 18.00 – 24.00 hrs
Cost: 1.35 euro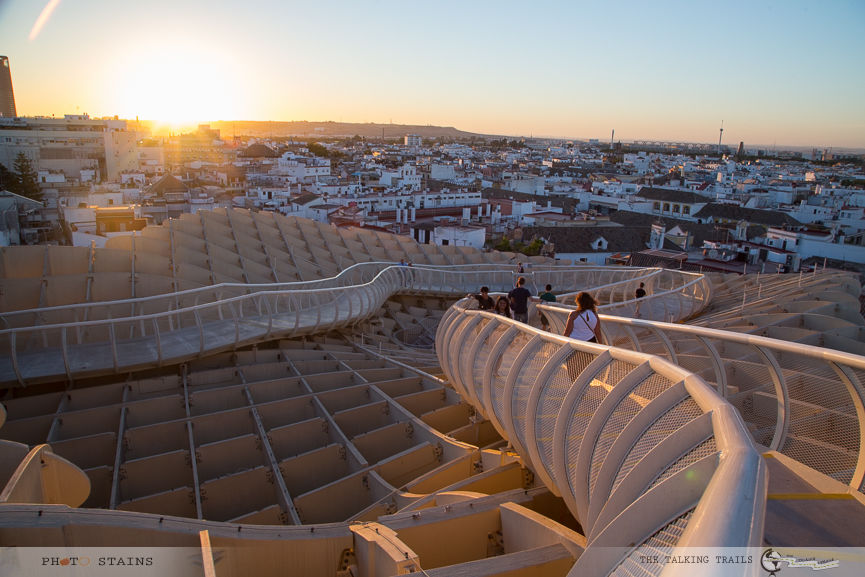 Architecture is the soul of the city and you will surely realize Seville has fully embraced the achievements of modern life, while respecting its historical roots. And I think that is one of the reasons why I loved Seville so much. Its modern yet so classic. Seville is colorful and manages to combine the old with the new so effortlessly that every corner of the city looks picture perfect. Have you been to Seville yet? Did I miss anything ? What made you fall in love with Seville? Share with me in the comments below. Thank you for stopping by .
PhotoCredits : PHOTOSTAINS