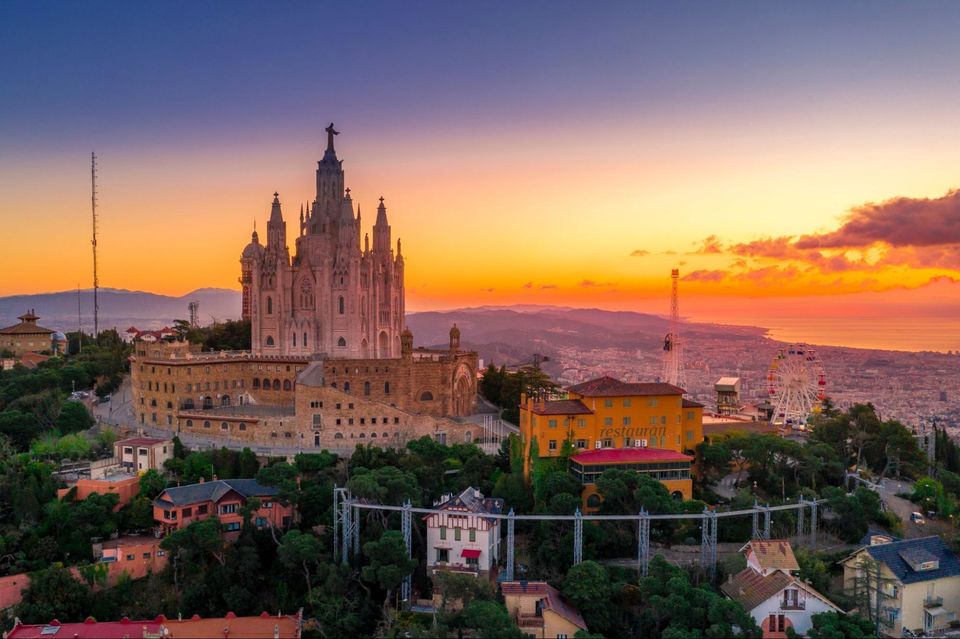 A country with golden beaches, as many as 49 UNESCO World Heritage Sites, a music scene that can make anyone groove and a laid back atmosphere — Spain boasts artistic and natural beauty with the soul of a progressive society. If you've been bookmarking español treats but have been hesitant in actually travelling there for fear of budget constraints, then this detailed itinerary is for you. Grab your passport, your wanderlust dreams and your heart that's eager to go, bailando! Read on to plan your much-awaited trip to Spain!
Spending in Spain
Spain's currency is the euro and 1 euro is equivalent to Rs 84 approximately (as of 9th March 2022). The expenses mentioned in this guide will be converted to INR. Please note that flights and visa costs are excluded from the budget of Rs 40,000.
Hacks to cut cost
For making your trip budget-friendly, try out the following hacks:
- Opt for hostels for your accommodation
- Choose your stay in a location from where the major spots are easily accessible
- Cover as much as possible on foot during your day to day exploration of a place
- Purchase a travel pass in case you're covering more distance in a city
- Split the fare for cars with fellow backpackers
- Shop sometimes for ready to eat food items at supermarkets or grocery stores
- Eat at local food stalls over expensive cafes and restaurants
- Choose self-guided or free walking tours
Getting a Visa
The cost of getting a visa is approximately Rs 8,000. Please contact the Spanish Consulate in Mumbai or the Embassy of Spain in New Delhi for further information.
So, are you ready to explore Spain?
Say Hola Madrid!
Arrive in Madrid by afternoon and check in to a hostel. There are plenty of backpacker-friendly hostels all over Spain which offer comfy dorm beds and common spaces to meet fellow travellers. To make your budget trip smooth, do yourself a favour and get a Tourist Travel Pass to get cost-effective access to the bus and metro network. As per this itinerary, a Tourist Travel Pass for Zone A for 2 days would be suitable. History buffs can even opt for a Madrid Tourist Pass to gain access to roughly 50 tourist spots in the city, however, this would cost an additional Rs 4,000 approximately.
Head for a late afternoon snack to the world's oldest restaurant, the Restaurante Sobrino De Botin. The eatery has been around since 1725 and has welcomed many famous writers, dignitaries and world leaders through its doors.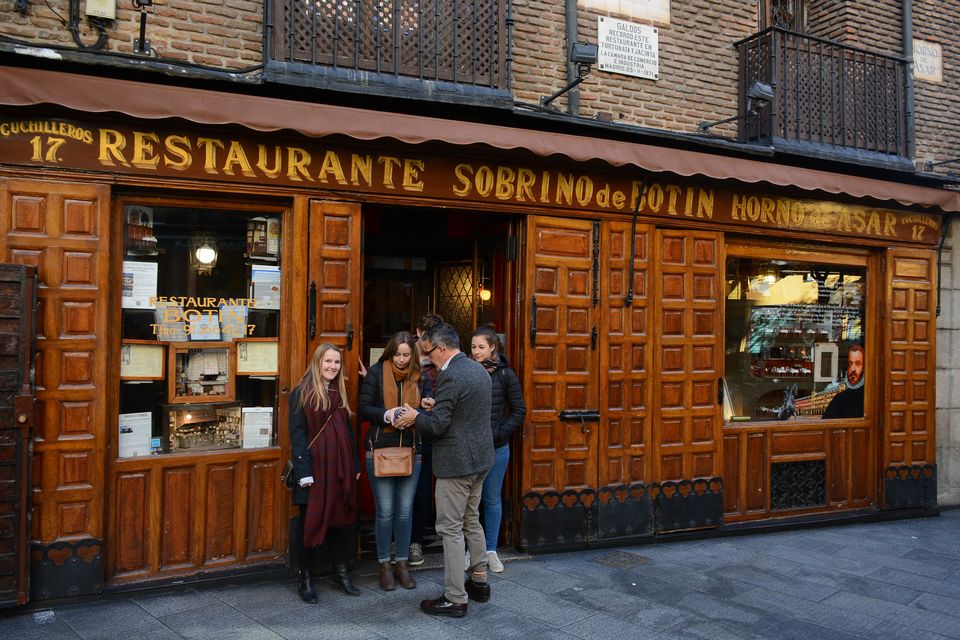 After a delicious meal, get a taste of the royal life by walking over to the Royal Palace of Madrid. Built in the 18th century, the palace is replete with an armoury, a cathedral, gardens and thousands of rooms that familiarize you with the region's rich history.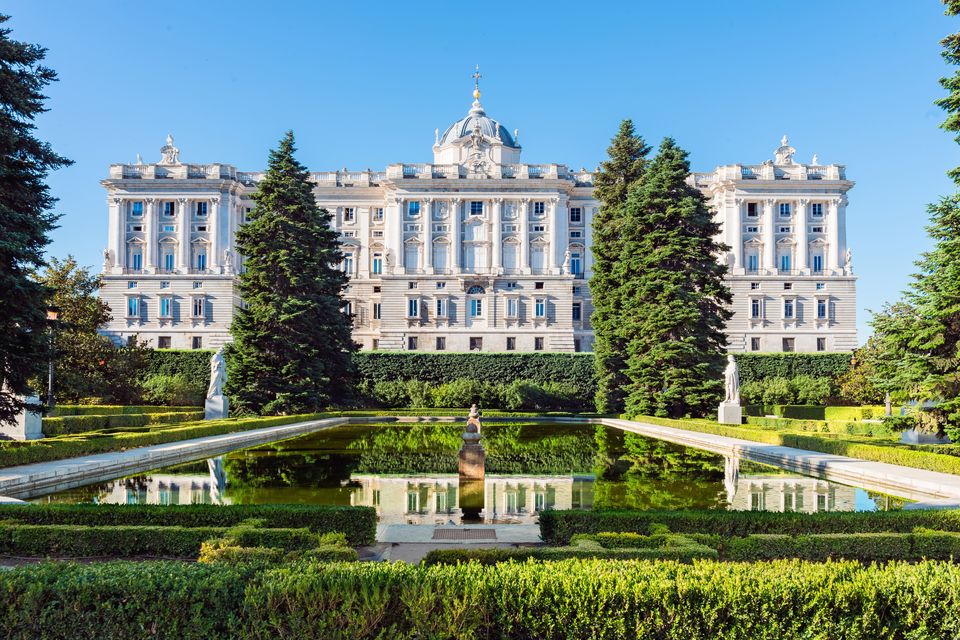 Then make your way to the Almudena Cathedral right opposite the Palace, where brightly-coloured murals will serve as an introduction to the distinctive art and architecture that pervades Spain.
Mark your first evening in the country by taking a tapas tour. You can also opt for a guide and pay them for a tour. Tapas are small savoury dishes that are intrinsic to Spanish culture, so, relish them with a drink of your choice! A tour will have you hopping from one place to another to satiate your taste buds with treats like carrillada (tender cheek cut of pork/beef), boquerones (fried anchovies with lemon or garlic), garbanzos (a spinach delicacy), patatas bravas, roasted red peppers, berenjena con vinagreta (grilled eggplant in tomato vinaigrette) and more.
Before calling it a day, walk over to the Plaza De Mayor square which is always lively with shops, cafes and people.
Travel costs: Flights from Delhi to Madrid for a round trip cost Rs 50,000 onwards.
Flight duration: Around 14 hours from India (Delhi) with a layover at either Helsinki, Frankfurt or Istanbul, among other cities.
Tourist Travel Pass (for Zone A for 2 days): Rs.1,200 approximately
Where to stay: The Hat Madrid, Cats Hostel or Arc House if you're looking for a true-blue backpacking trip across Europe!
Accommodation cost: Rs 1,100 to Rs 1,300 per night for a hostel dorm bed.
Food costs:
Cost of an appetizer at the Restaurante Sobrino De Botin: Rs 1,600 approximately
Cost for a tapas tour guide: Rs 2,100
Cost for liquor: Approximately Rs 300 for a glass of wine or a domestic beer (at inexpensive restaurants)
Experience costs:
Entry fee at the Royal Palace of Madrid: Rs 800
Entry fee at the Almudena Cathedral: Free
Meander Across Madrid!
Have the most important meal of the day in true Spanish style by gorging on a plate full of churros! Swap the popular Chocolatería San Ginés with the quieter Los Artesanos 1902 Chocolate to indulge yourself.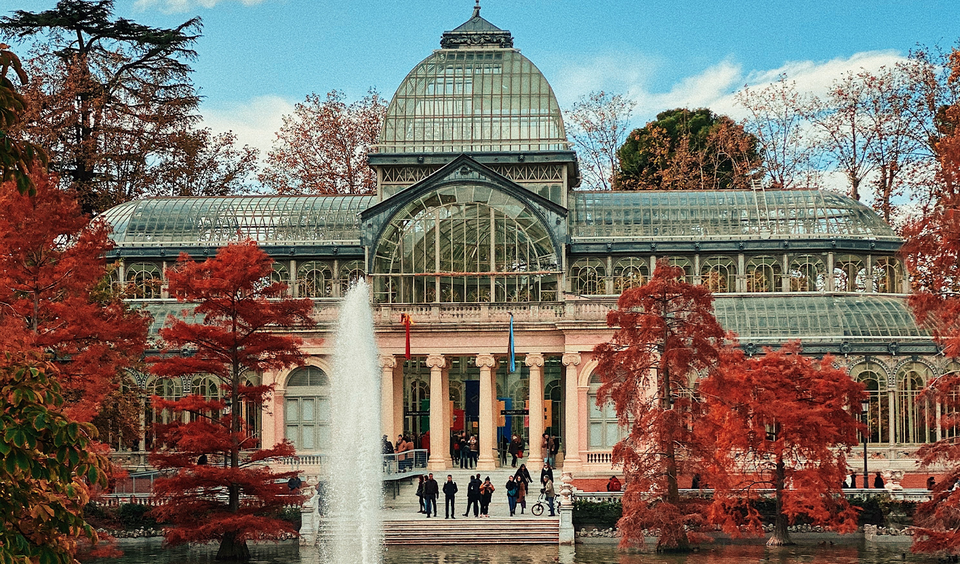 With your belly full, start your day by exploring the Paisaje De La Luz (Landscape of Light) area, a recently recognized UNESCO World Heritage site in Madrid. Paisaje De La Luz sits inside the massive Retiro Park, which is home to a plethora of attractions. You can hop on a solar-powered boat to take in the surroundings at a leisurely pace. Go on to spot birds at the park's Cecilio Rodriguez Gardens or walk down the Paseo de la Argentina to observe 18th-century statues. You can even go admire the structure of the Palacio Cristal or the 'Crystal Palace'.
Next up, walk for a little over 2 km to reach La Latina, a bustling neighbourhood that allows you to experience the vibrance of the Spanish way of life. If you happen to be visiting on a Sunday, you must check out the country's biggest flea market, El Rastro, where a wide range of trinkets and essentials are sold in the presence of local artists humming invigorating tunes!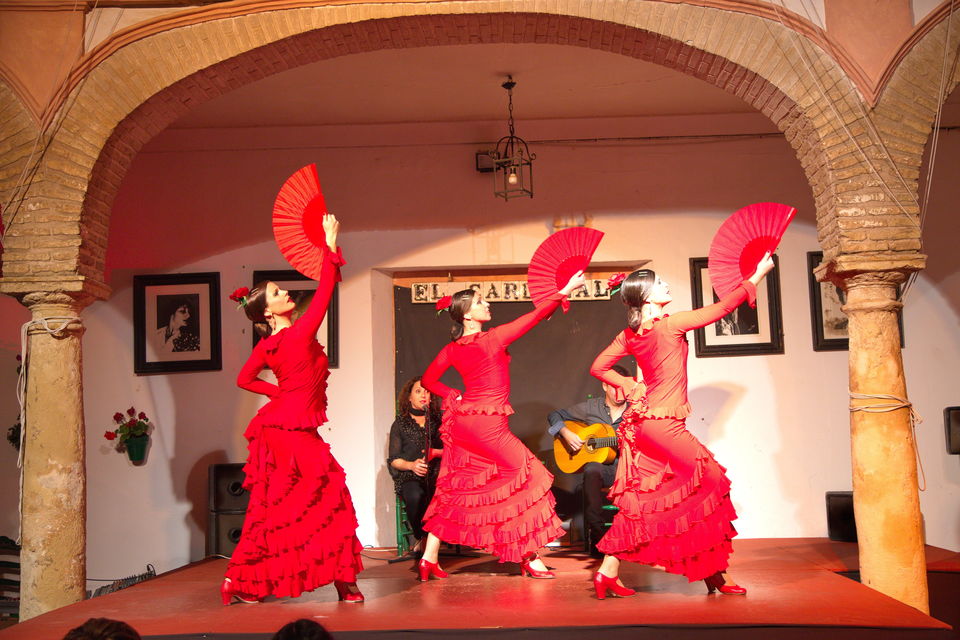 Your last night in Madrid would be incomplete without attending a flamenco show where a riot of emotions and stories come alive through energetic and soulful performances. You can even check out bars that are oozing with local pizazz yet are pocket-friendly at the Barrio de las Letras or the Mercado de San Fernando marketplace.
Food costs:
Breakfast at Los Artesanos 1902 Chocolate: Rs 500 approximately
Experience costs:
Entry at Retiro Park: Free
Solar boat ride at Retiro Park: Rs 170
Flamenco show: Rs 3,000 including limited drinks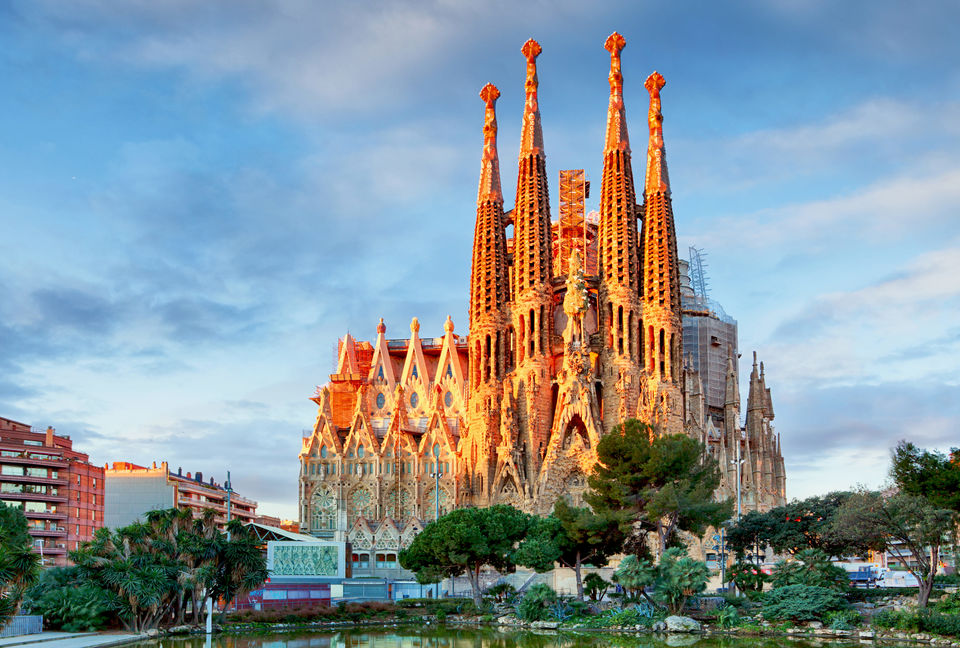 To get to Barcelona you need to take a Renfe train from Madrid. Once you arrive in the morning, jump right into the exquisite culture of Barcelona by visiting the Sagrada Familia Cathedral. Save time by choosing the contactless route and book your tickets online in advance. Get a peek into the work of Anthony Gaudi, a renowned name in Catalan history who designed and planned the cathedral knowing it would take 300 years to complete and that he himself may not witness his masterpiece in his lifetime. To this day, the cathedral is still under construction.
From here, go walk around the Gothic Quarter where the Barcelona Cathedral, Plaça Reial and other attractions make you feel like you're moving within an enchanting historical maze.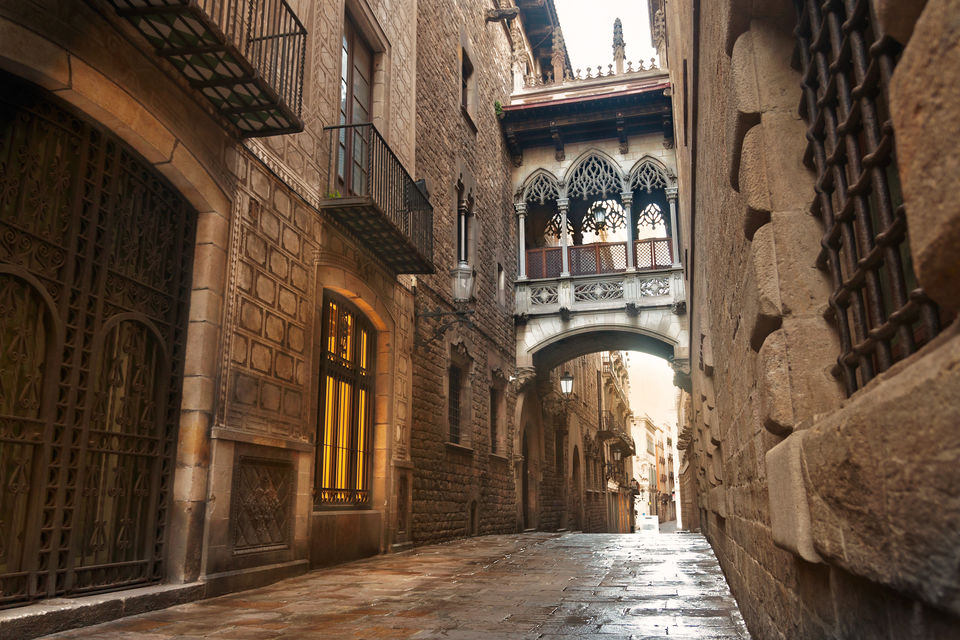 Is it really a Europe trip without a pub crawl? As night descends, go on pub crawls in the city and dance the night away!
Train ride duration: 2 hours 35 minutes from Madrid to Barcelona
Where to stay: Saint Jordi Hostel or St. Christopher's Barcelona are both beautifully renovated buildings converted into artistic hostels.
Accommodation cost: Rs 1,100 per night for a hostel dorm bed
Travel costs:
Train ticket from Madrid to Barcelona: Rs 2,100 approximately
Food costs:
Pub crawl: Rs 500 approximately with limited drinks
Experience costs:
Entry fee at the Sagrada Familia Cathedral: Rs 3,100 approximately
Gallivanting Around Barcelona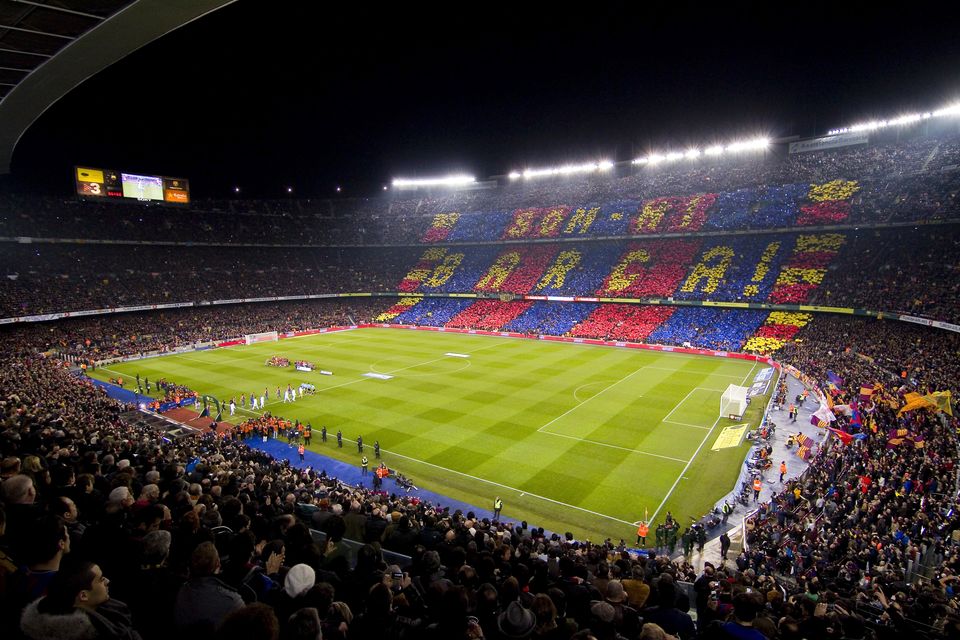 Wake up to find yourself in a city that is extremely passionate about football. After all, the motto for Barcelona FC is 'Més que un club' (more than a club), so, whether or not you follow the sport, a visit to the Camp Nou and Barcelona Museum will evoke palpable excitement. Immerse yourself in the city's culture by walking in the neighbourhood of Gracia where you can observe historic buildings as well as make small purchases from the tiny shops on the streets to take home a little piece of Barcelona with you.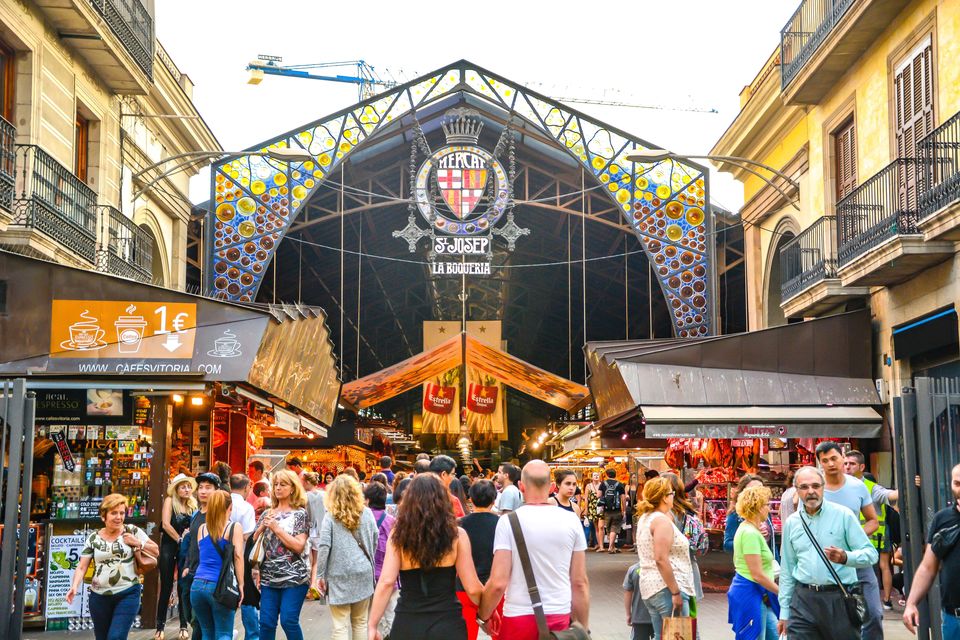 Come evening, make your way to La Boqueria on the busy, but charming La Rambla street which is a great place to buy souvenirs while marveling at some awesome street artists. La Boqueria is a local market that sells practically everything related to food. You'll find yourself salivating over the deliciousness of authentic Catalan dishes such as mandonguilles, mongetes and more.
Food costs:
Local dishes at La Boqueria: Rs 400 to Rs 1,200 approximately
Experience costs:
Entry fee to Camp Nou and Barcelona Museum: Rs 2,500 approximately
Meet the wonders of Valencia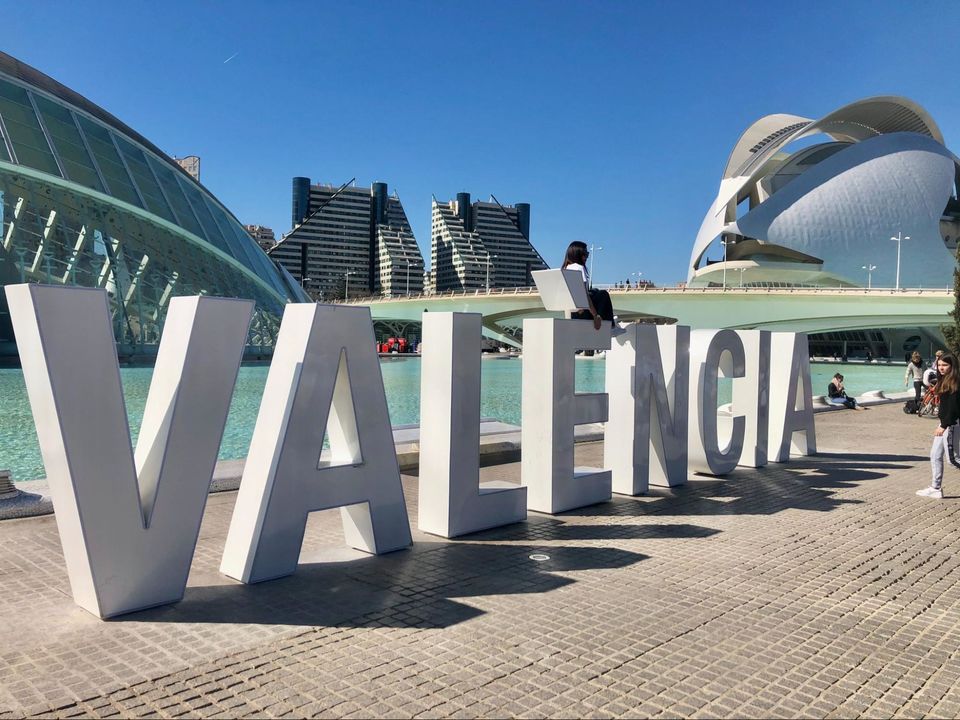 Dive into the charm of the port city of Valencia by getting on a train from Barcelona. With a rich history, sandy beaches, colourful festivals like Las Fallas and more, Valencia is not only the third-largest city in Spain but also a rather popular one.
After a 2.5 hour journey, reach your accommodation, freshen up and kickstart your time by digging into the famous Valencian paella! Having taken birth in this city, the rice-based dish is made in a frying pan and traditionally comprises rabbit, seafood and green beans. As paella is an invention of the 1800s, trying out the dish is a matter of tasting the local culture. You can do so at Casa Carmela or La Pepica. Vegetarians needn't worry as they too can experience the local cuisine by opting for the mushroom or vegetable-based paella.
Get a Valencia Tourist Card to gain entry to certain museums, access to public transportation and an added bonus of two tapas! Exploring a new place is like getting to know a whole new person, so how about befriending the city of Valencia in a unique way? Cycle along the Jardí del Túria, a green space lined with sculptures, buskers and parks across an old dried-up riverbed. Post this cycling session, go rest your feet at Malvarosa Beach.
Alternatively, you could skip all this and go visit the City of Arts and Sciences, an ensemble of six areas which come together to present an architectural prowess that is the most iconic attraction this city has to offer!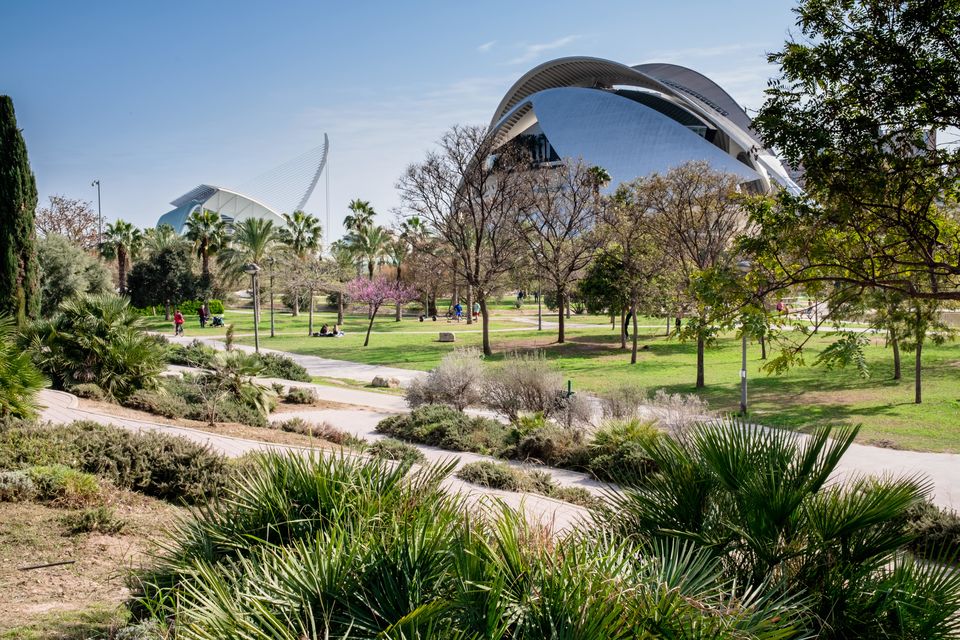 Unknown to most travellers, Valencia was once known as the party hub of Spain. So it only makes sense for you to acquaint yourself with Valencia at night by heading over to the thumping El Carmen street decked with pubs, bars and shops!
Train duration: Approximately 2.5 hours from Barcelona to Valencia
Where to stay: River Hostel brings the historic aura to its basic and cosy dorms as well.
Accommodation cost: Rs 2,000 per night for a dorm bed
Travel costs:
Train from Barcelona to Valencia: Rs 2,500 approximately
Food costs:
Cost of paella: Rs 1,000 approximately
Experience costs:
Cycle rental for Jardí del Túria: Rs 800 approximately
Valencia Tourist Card: Rs 1,400 approximately
Get Wowed by Valencia's History!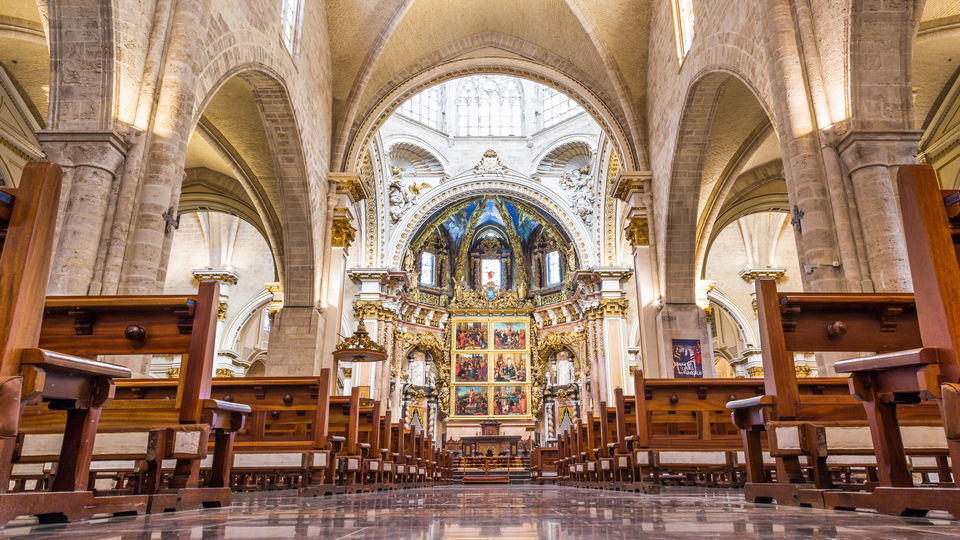 Whether or not you are a morning person, today is the day you need to become one because there's a free walking tour available to get a true understanding of Valencian history. Turn the pages of over 2,000 years of history by walking across and witnessing the 13th century Gothic-style Valencia Cathedral, the Renaissance-style tower at the Government Palace, the authentic Valencian Art Nouveau style of the Central Market and the centre of commerce called Silk Exchange.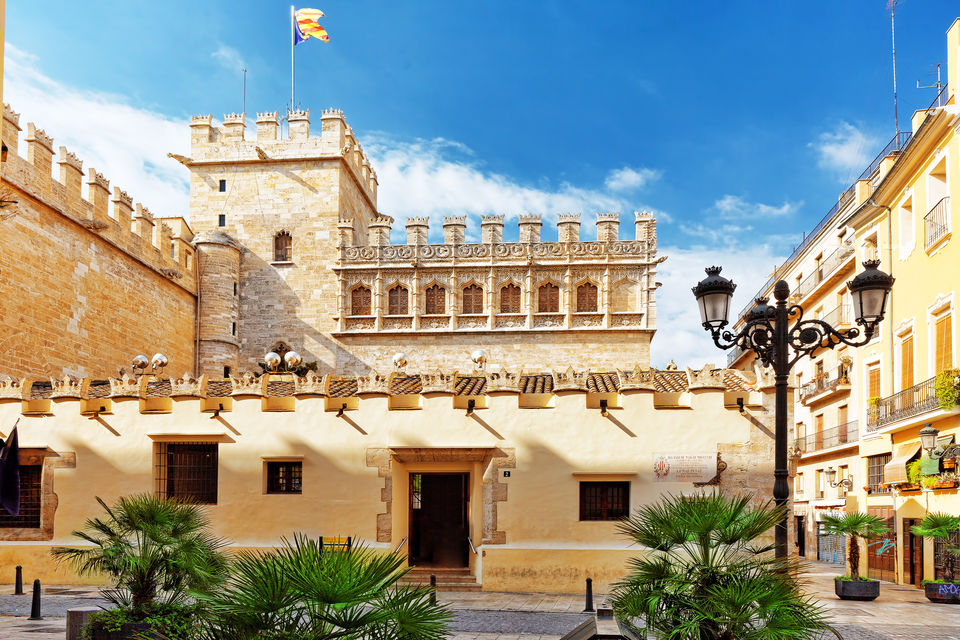 For your last night in this city, explore the Rufaza region of town, a boho settlement that has been redone with bright artistic cheer. Pull up a chair at a outdoor bistro for some coffee and cake and call in an early night after a wholesome meal at one of Rufaza's many vibrant cafes.
Experience Costs:
Free walking tour: While the walking tour is free, it is customary to tip your tour guide.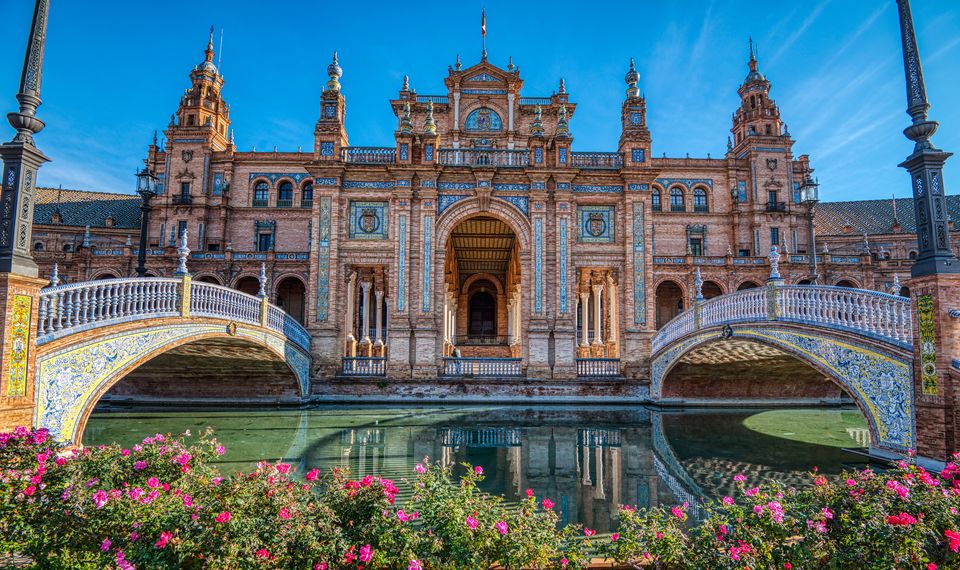 You may not have had your fill of Spain and its beauty yet but for your last hoorah, it's time to acquaint yourself with the Andalusian region's capital, Seville. Take the earliest high-speed train from Valencia to Seville.
It wouldn't be a trip to Seville without paying homage to Plaza de España, a square that is a perfect landmark of Spanish Renaissance style. The structure, built in 1929, has been recognized as the 'Venice of Seville' thanks to a scenic waterfront.
Next, climb up the stairs of Giralda for a chance to see a stunning panoramic view of the city from this bell tower!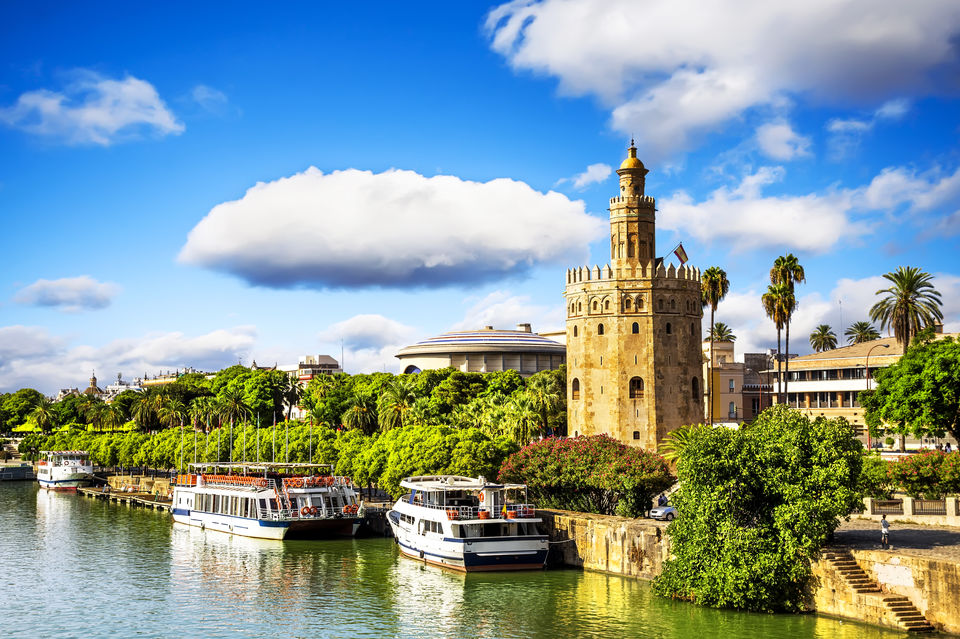 During the sunset hour, take the Torre del Oro cruise which showcases Seville's monumental monasteries while you're boating across the Guadalquivir river. Since you're in the tapas capital of the world, your visit deserves the perfect ending by heading to a tapas bar to celebrate an amazing week in Spain!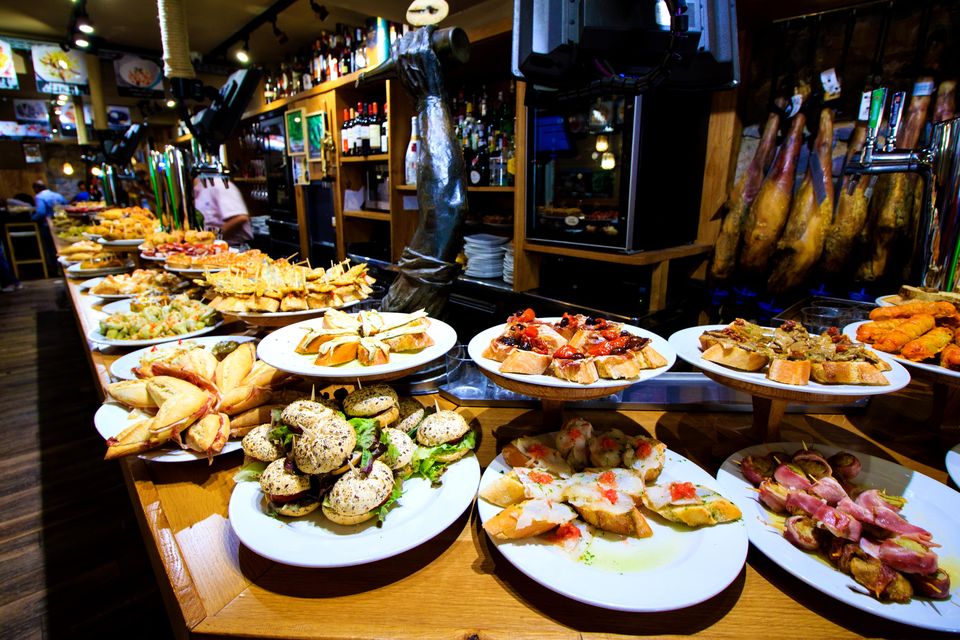 Train ride duration: 6 hours from Valencia to Seville
Where to stay: Oasis Backpackers Hostel or New Samay Hostel both of which are known to show their guests a good time!
Accommodation cost: Rs 1,600 per night for a hostel dorm bed
Travel costs:
Train ride from Valencia to Seville: Rs 3,500
Food costs:
Meal at a tapas bar: Rs 2,000 approximately with limited drinks
Experience costs:
Entry fee at La Giralda: Rs 750 approximately
Ticket for Torre del Oro cruise: Rs 1,800 approximately
Hasta La Próxima España! (Until next time, Spain!)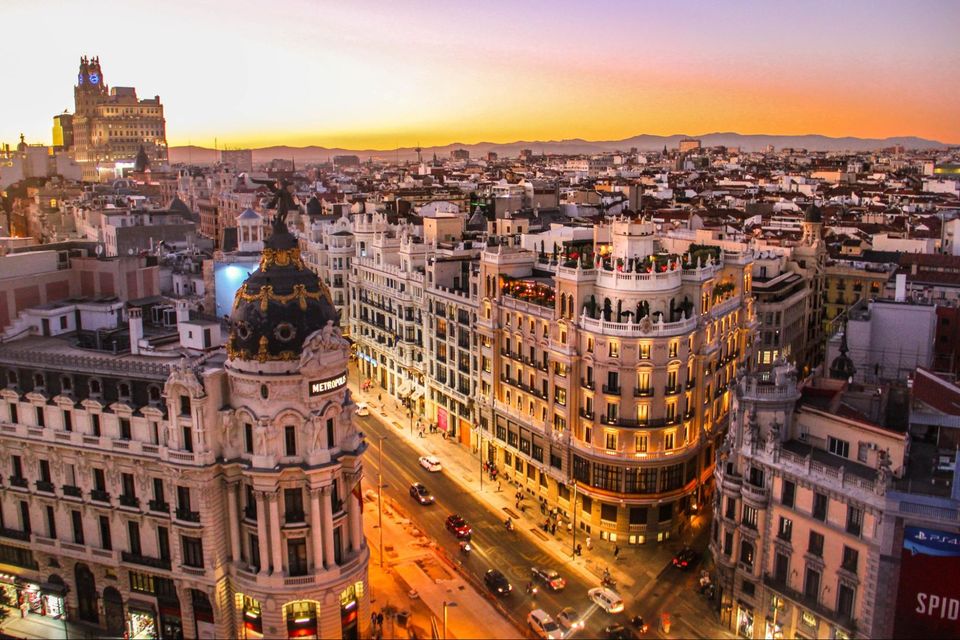 Catch a train from Seville to Madrid to take a flight back to India. Bid farewell to the European dream you have lived and know that you shall always carry its memories with you with the promise of returning to delve further into the vibrance of Spain!
Train ride duration: 2.5 hours from Seville to Madrid
Train ride from Seville to Madrid: Rs 1,650
So, unlike the Spanish song mañana mañana which means 'tomorrow tomorrow', it's time for you to turn your Spain trip plan into reality today, today!
Follow Spain Tourism's official Instagram, Twitter and Facebook pages to get inspired and start planning your trip!
In association with the Tourism Office of Spain, Mumbai.
Think we missed out on something? Tell us about it in the comments below. Or write about it here on Tripoto and earn Tripoto Credits!