Mahe, home to the capital of Victoria, is the most populated (approximately 80000) island of Seychelles. Yes, the population is not even in lakhs but in thousands. For this reason, heavenly Seychelles (total population of approx 96000) is still quite untouched, unexplored with pristine waters flowing in the Indian Ocean thereby retaining its idyllic beauty.
Majority of the Islands of Seychelles are inhabitable making only 3-5 out of a total of 155 suitable to visit. The popular ones are Mahe, Praslin, and La Digue.
Spending 7 days in Seychelles gave me some indelible memories for a lifetime.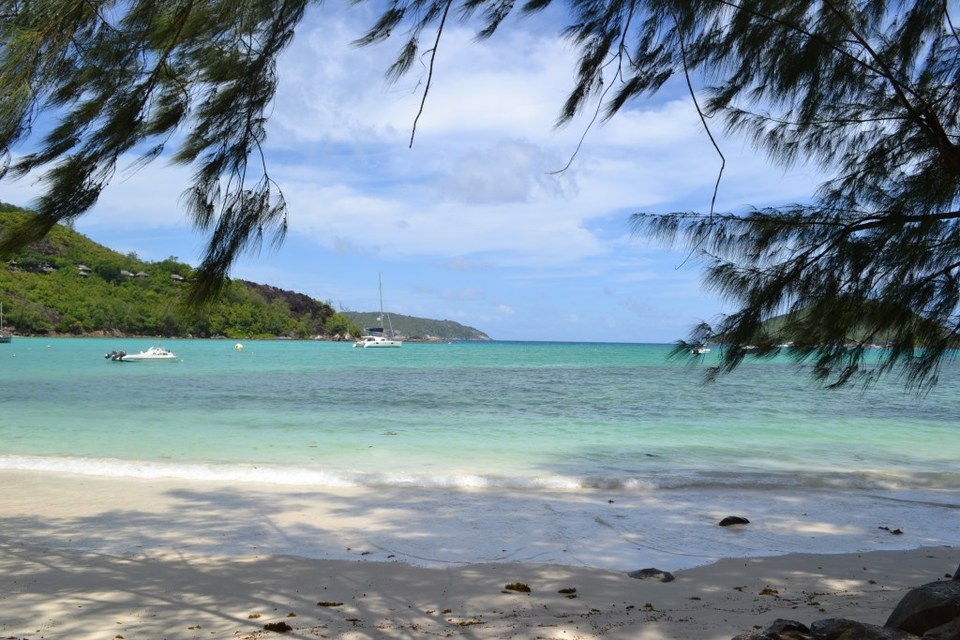 Flight Recommendations
A few budget and good airlines to travel to Kenya are Air Seychelles, Ethiopian Airlines, and Srilankan Airlines. I personally have traveled by Ethiopian Airlines and Air Seychelles. I always book my tickets through Goibibo (India). You can also check Skyscanner for cheap flight tickets.
Foreign Exchange
Do carry Euros. Most of the major transactions for flights and accommodation are prepaid. You will need Seychellois rupees for shopping, tourist attractions, food, and car rent. I got around 250 Euros exchanged at the airport. Seychelles is expensive. So, carry enough Euros for the trip. I carried 500-600 Euros per person and some Indian rupees.
In Mahe, you can exchange Euros, Dollars and other powerful currencies in any bank at Victoria.
Also, You can exchange other currencies at the Cash Plus Bureau. I exchanged my Indian Rupees here.
Best time to visit Seychelles
Travelers can enjoy this tropical paradise at any time of the year. But the best time to visit Seychelles is during the shoulder season - April, May, October, and November. Flights and accommodation are relatively cheaper. Also, the water temperature is perfect for a swim.
I visited the country in January which is considered as one of the wettest months of the year but also one of the busiest. Fortunately, It drizzled only a day for just an hour during my stay in La Digue.
Visa
Seychelles is a visa-free country. There are no visa requirements for foreign nationals. You just need to show the return journey tickets, valid passport, proof of accommodation and sufficient funds. And your passport will be stamped.
The visa is valid until three months from the date of arrival.
Itinerary
You need at least 6-7 days in Seychelles. You can distribute your days between the three islands equally. So, 2 days Mahe, 2 days Praslin and 2-3 days in La Digue. La Digue is the smallest, having a population of approximately 3000. La Digue is one of the most mesmerizing places I have been to. Thus, it is worth spending more time here.
Mobile Network
Go for Airtel. It has good coverage. The sim should cost around 10-12 Euros which includes data and free minutes of the voice call.
Accommodation
The budget hotels' tariff starts at a minimum of 60-70 Euros per night. A decent hotel would be 90-100 Euros per night. For this reason, it is always highly recommended to book an Airbnb property. A fully furnished 1 bhk apartment would be around 70-80 Euros per night. Usually, the apartment has a washing machine, refrigerator, dishwasher, toaster, etc. Just contact your host in case of any doubts.
If you want the feel of the city on the island, you can look for accommodation near Victoria. I stayed at La Villa Therese, in Anse Royale region. The host Mr. Patrick and his staff made my stay very smooth.
Reaching Mahe
There is only one international airport in Seychelles which is in Mahe. Thus, you have to fly from and back to Mahe to explore other islands in the country.
Leaving for Praslin from Mahe
You can either take a ferry or a flight to Praslin.
Leaving for La Digue from Mahe
The only option is the Ferry.
One tip here
Plan your itinerary in a way that you start from Mahe and end at Praslin or start from Praslin and end at Mahe. By doing this, you will save time and money both. Because if you put La Digue at the end, you will have to come back to Praslin or Mahe by ferry again anyway.
Another tip
Experience the business class at least one way. It is very comfortable and clean. The economy ticket costs 60 Euros from Mahe to La Digue and business costs 80 Euros. Thus, the difference between the ticket price is not much. Also, complimentary refreshments are provided in the business class.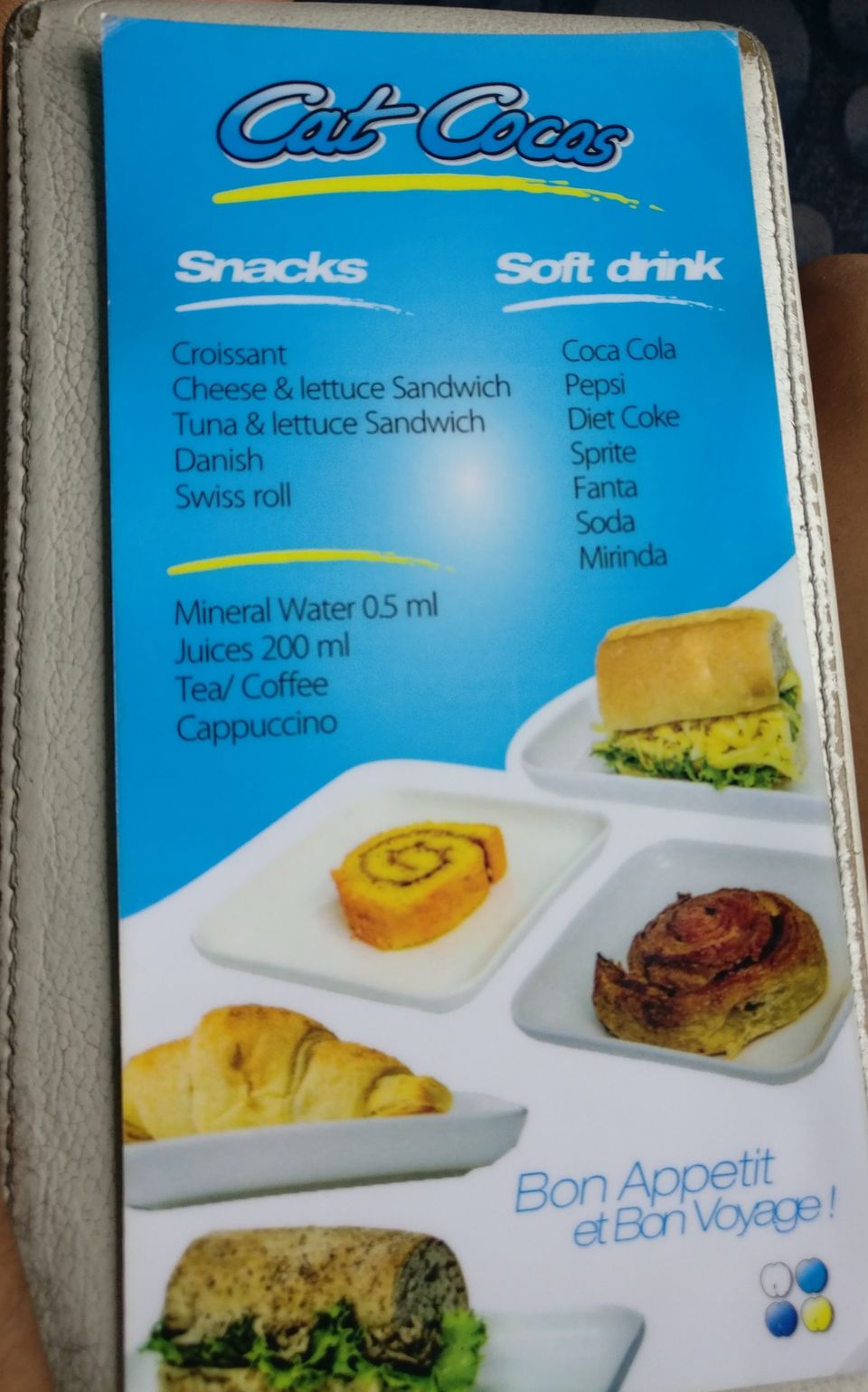 It is advisable to book your ferry tickets in advance although I could see the tickets being sold on the spot as well. Nevertheless, it is better to buy in advance rather than disturbing the itinerary at the end moment.
I booked my ferry tickets through Cat Cocos.
Conveyance from Seychelles International Airport
It was a complimentary pick-up for me. However, if there is no pick-up provided, rent a car at the Airport itself. You can drop the car again either at the airport or the Jetty after your stay is over without any extra cost. Ask the service provider in advance though.
To rent a car, you need to have a valid driving license (of any country).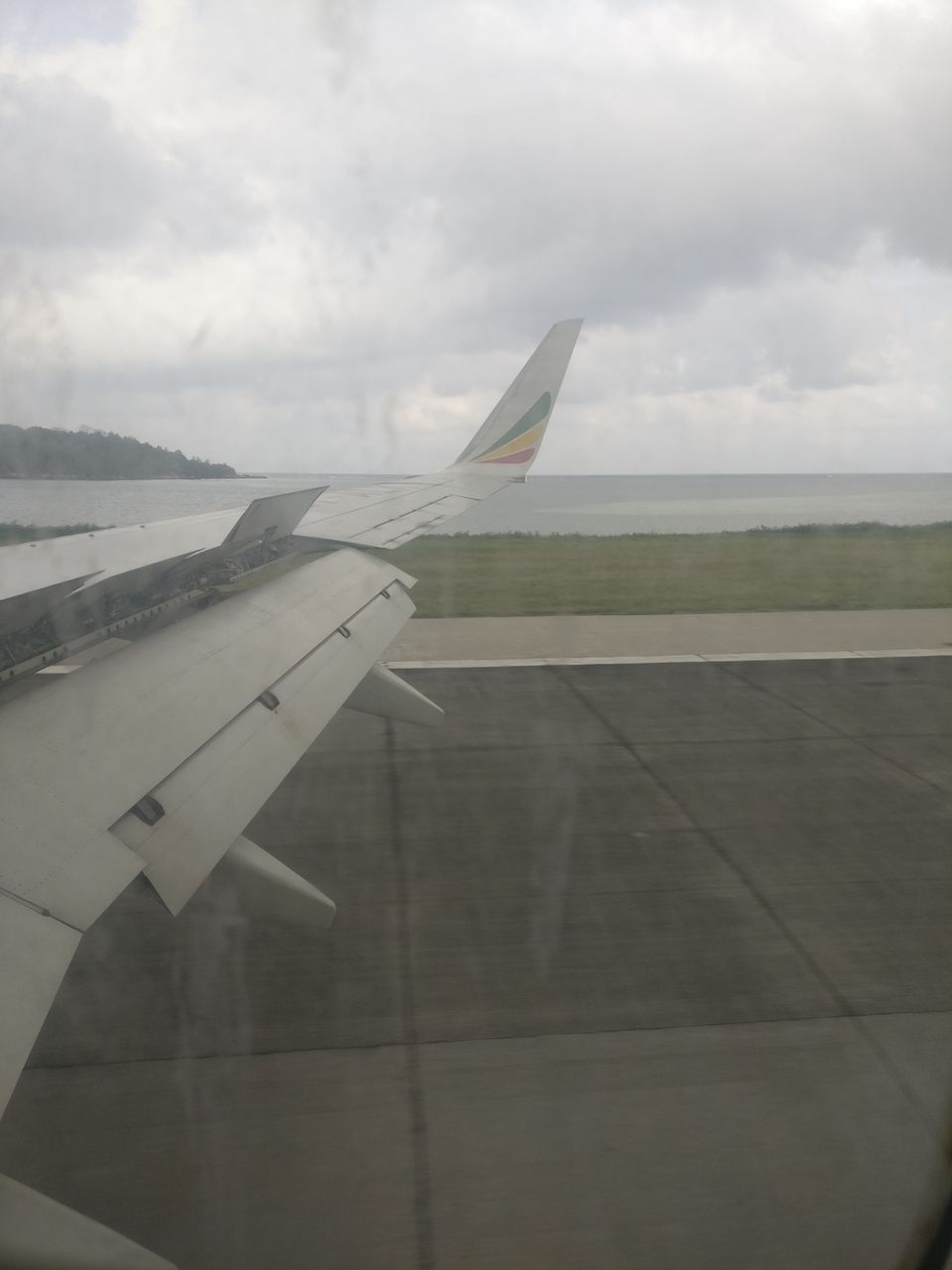 Do not hire any private taxis in Seychelles. Commuting in taxis would cost you an arm and leg. To explain, it would have cost me around 25 Euros to reach Anse Royale from the airport, which is exorbitant.
Language Barrier
The national languages of Seychelles are Seychellois Creole, English and French. Hence, It is not a big issue here.
Culture in Seychelles
Seychelles is inhabited by people of Asian, African and European origin, thus bringing an interesting and harmonious mix of cultures.
The culture is matriarchal. You will see most of the women working. I got to know from my host Mr.Patrick that the women look after the household expenditures and the interest of the children. Unwed mothers are the societal norm, and men are responsible to support their children as per the law.
People here are laid-back and easygoing.
Food in Seychelles
Seafood is available in abundance since it is an island. Apparently, it is delicious too. I had a tough time regarding my food. Because I could only get Margherita and Pasta in the vegetarian category, that too bland. Going to a fancy restaurant will cost you approx 18 Euros per person (excluding alcohol). A decent one would be approx 12-15 Euros per person. A take away like fried rice would be 4-5 Euros. And honestly, fried rice was the second best meal I had during my stay in Seychelles.
Fortunately, many Indians are also settled in the country and therefore I could find a couple of good Indian restaurants. Yes, Indian meal was the best one followed by fried rice.
Le Relax Hotel and Restaurant I had my dinner here every day during my stay in Mahe and Praslin. Afterall what is better than Indian food for an Indian. The food is delicious here, though expensive. The average cost for my dinner which included 2 tandoori roti and 1 dal was 20 Euros per person.
Address - Le Relax Hotel and Restaurant, Anse Royale, Mahe
Must try is Dal tadka, Dum Aloo, Jeera Rice, Tawa Parantha.
Getting around Mahe Island
There is only one option - renting a car. Do not even give a second thought to the taxi. As I mentioned earlier, the taxi fares are exorbitant. Renting a car is so convenient as well. You will just need mobile data to navigate and good driving skills.

You can get a car for 35-40 Euros per day excluding oil. My host only provided me a car for 35 Euros a day.
Driving in Seychelles
Driving is on the left-hand side of the road.
Good driving skills are very important as the roads are narrow and mountainous, the traffic is less though. My host especially advised me to maintain a safe distance from the buses and similar heavy vehicles. Majority of the cars are automatic which is important for the hilly roads.
The drive in Seychelles has been one of my best drives. It was mountains on my left and the ocean on my right, while I was driving. The natural beauty cannot be explained. All you would want to do is play your favorite song on the music system and drive like a relaxed Seychellois Creole. And from time to time, climbing your car up the mountainous road. It is exciting.
Exploring Mahe - Top things to do
1) Victoria - The tiny capital city of Seychelles
Victoria is lively and laid back at the same time. How? Well, when you observe and talk to the people here, you will understand that they are so equable and relaxed. I said lively because of the proximity of the International Airport which keeps the city busy. Also, many bus and ferry services originate in Victoria making it a suitable layover point. You should spend at least 6-8 hours in Victoria. Do not give it a miss. You can explore a lot in the tiny capital city.
I took random stops in between while driving to Victoria, just to see around. It is all so attractive.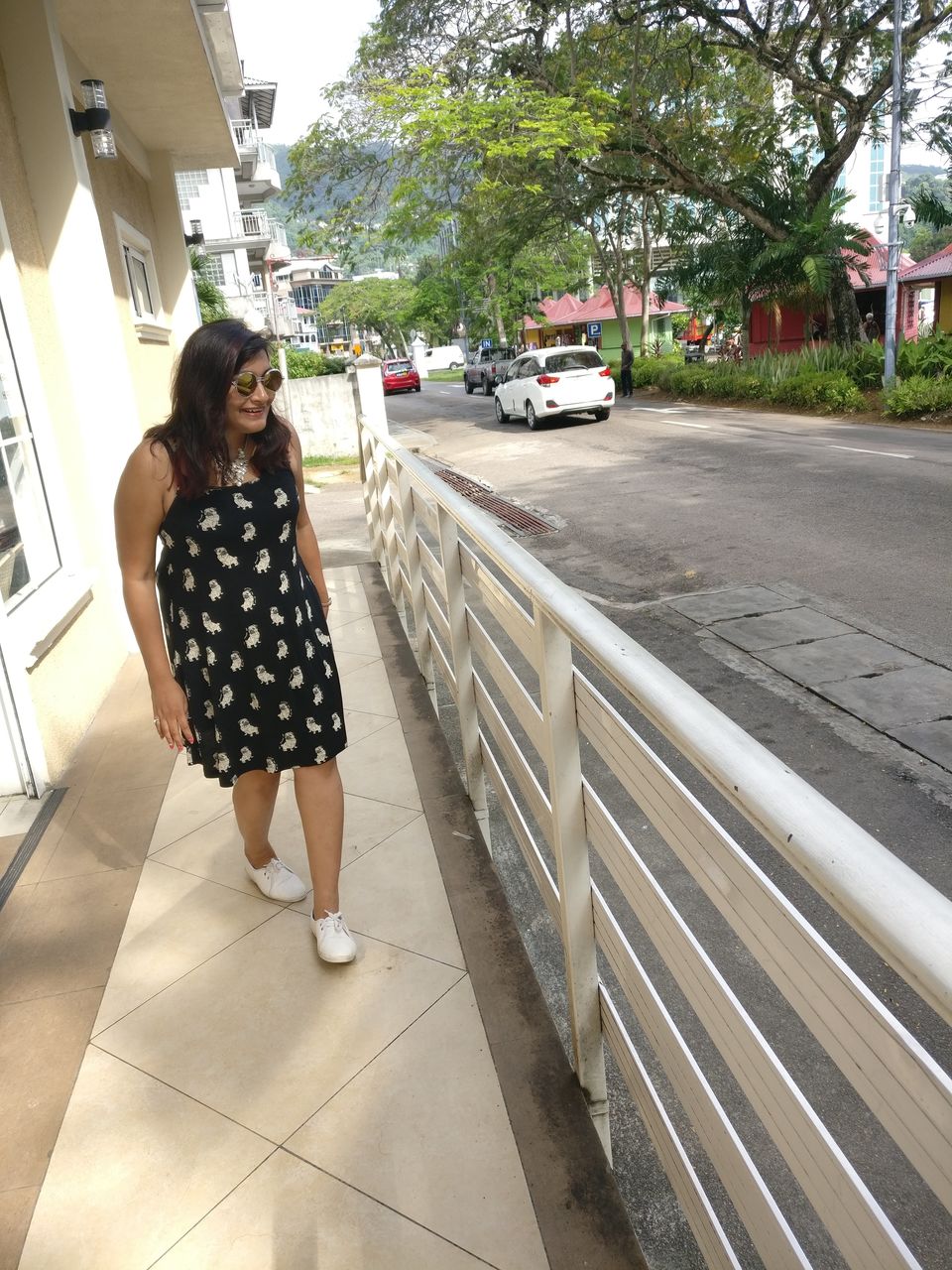 a) Victoria Market
Also known as Sir Selwyn Selwyn-Clarke Market, it is worth visiting the first thing when you enter Victoria. The market is colorfully attractive. There are people selling fruits, vegetables, fishes, souvenirs, etc.
Walk around in the Market and observe the different things being sold and the life of the locals. It is indeed attractive to see different things and souvenirs.
There are also numerous shops surrounding this market. You will get everything like clothes, shoes, accessories, swimsuit, etc. here. It is not very expensive as well. You should buy a Sarong if you are not carrying one.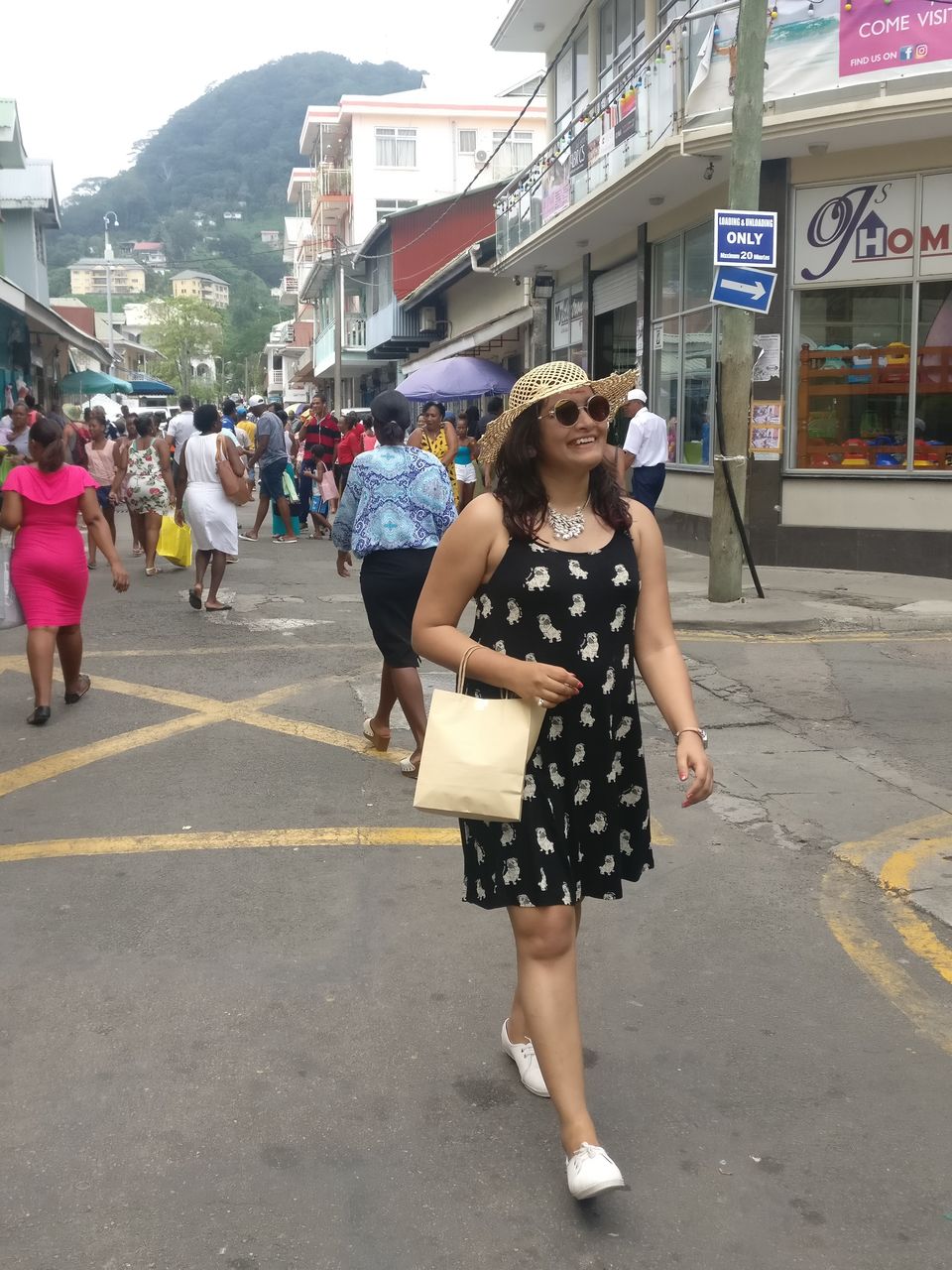 Tips for Victoria Market
I. There is a very big common parking space, not very far from the Market and banks. I guess it is behind the Bank of Baroda. My host had a monthly pass and therefore I could park the car for free. Ask your car rental agency provider about it in advance II. Click a lot of pictures in the Victoria Market and capture the colors
III. Avoid buying the popular vanilla tea, from the market as you will get the same pack at less than half the price in supermarkets (in Praslin and La Digue as well)
IV. Avoid buying the fruit Jams of different flavors like Guava, Papaya, etc. There is no flavor of Guava in the Guava Jam and no flavor of Papaya in Papaya Jam
V. The sellers in the market won't entertain bargaining much but you can try to bring down the quoted price by some 10-15%, with a lot of efforts.
VI. Avoid buying souvenirs from the market as it is relatively cheaper outside
b) Victoria Clock Tower
The clock tower, an iconic attraction in Victoria, was installed in 1903 in memory of Queen Victoria. Whenever you come across the clock tower while walking around in Victoria, you are right in the center of the city. The tower is quite a small one but well-maintained.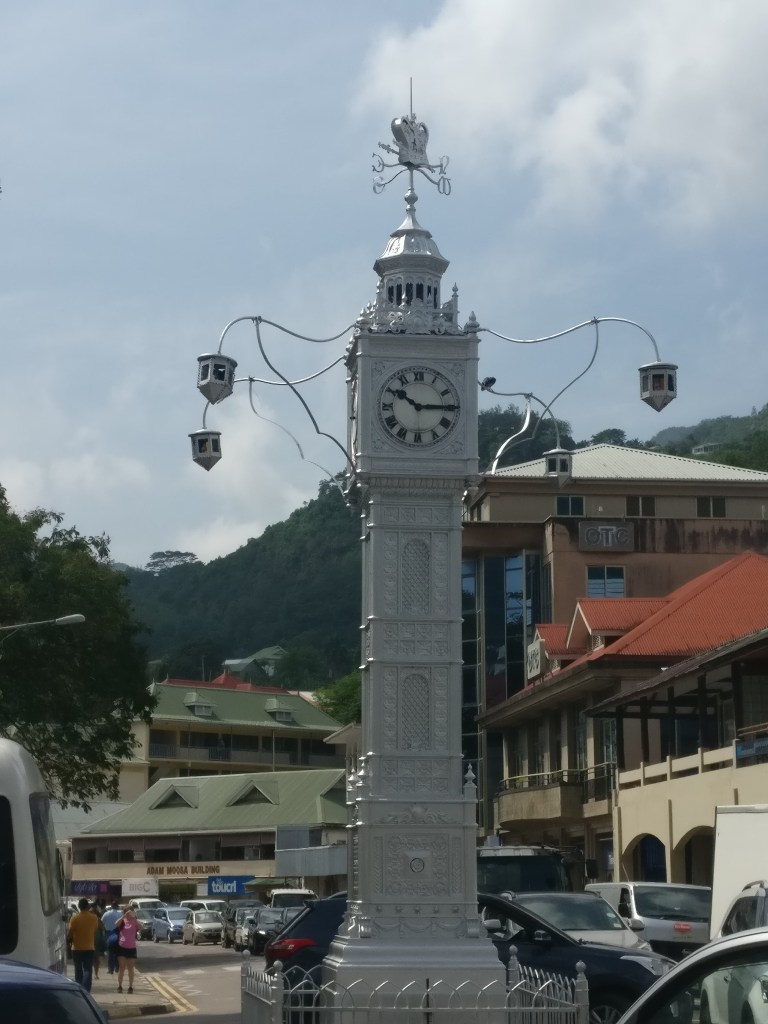 c) Arulmigu Navasakti Vinayagar Temple
It is a Hindu temple with quite impressive colors. It is the only Hindi temple in Seychelles having Ganesha as the presiding lord. Icons of other lords are also enshrined in the inner part of the temple. This temple is a must visit.
The temple opening timings are from 6 am to 1:30 pm and then from 4 pm to 9:30 pm.
One of the best things is the Prasad here. The Prasad is black pepper rice and halwa. It is delicious. The pandit at the temple even packed the rice and halwa in a box for me, when he came to know that I am a vegetarian. More than that, he was too happy to see an Indian I guess. Anyway, it was a very kind gesture.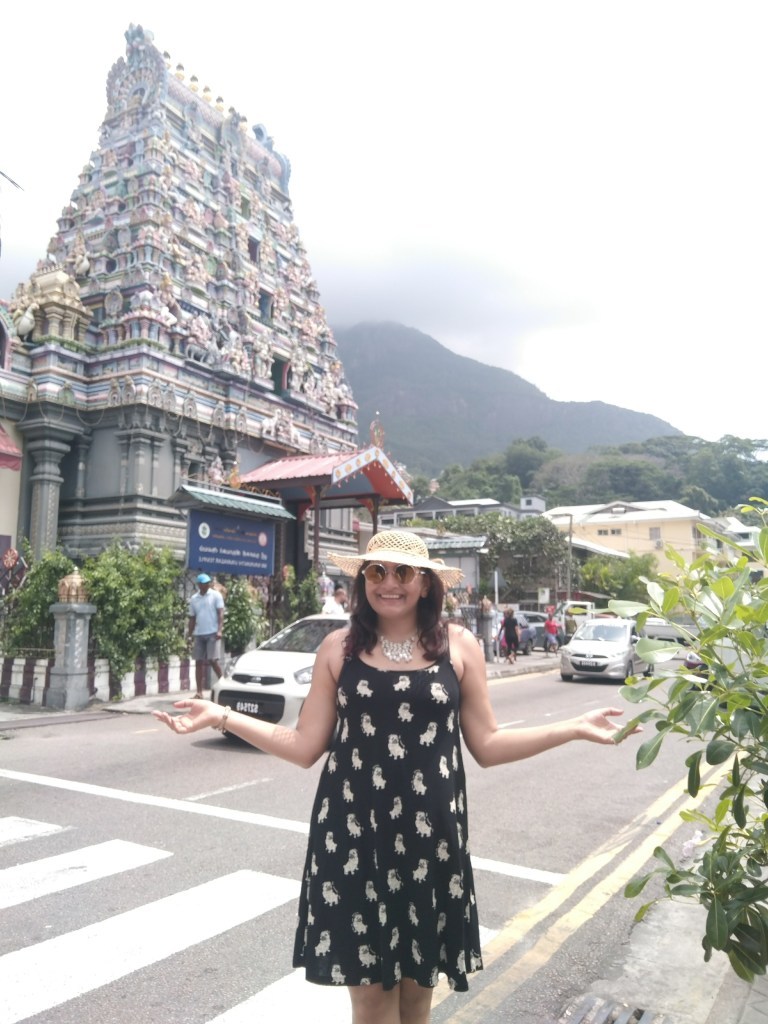 d) Seychelles National Botanical Gardens
It is one of the top tourist attractions. A must visit if you are not short of time. The timings are from 8 am to 5 pm. The entry fee is SCR100 which is approximately 8 dollars.
I did not visit this one as I wanted to head for another attraction and had already spent quite a lot of time in Victoria Market.
e) Beau Vallon
It truly deserves to be the most famous and most frequented beach in Mahe. The beach is safe to swim, with shallow water. The beach is high-spirited with tourists flocking the bay.
It is like every famous beach, flooded with people. However, there is something magnetic about the bay. Maybe the beauty may be the ebullience. I could spend hours there reading a book. The water is crystal clear. The sunset here is worth watching.
There is public parking outside the beach. Just ensure that your car is parked in the parking area only.
Tips for Beau Vallon
I. There is a big parking area near the beach, so parking the car is not a problem. However, if you are a solo or a couple, you will have to figure out where to keep your car keys. I requested one of the staff members at a restaurant in front of the beach to keep my keys for a couple of hours. And they agreed after I ordered a couple of items from the menu
II. If you are staying far from the beach, it is not possible that you drive to the beach wearing your swimsuit. Well, I drove to the beach from Victoria. For this reason, I changed my clothes in the car itself, of course after finding a good shade.
III. I couldn't find any place to take a shower, after soaking in the beach. The same above restaurant came to the rescue. They showed me a small space adjacent to the restaurant having a shower fitted in a tree. The only instruction was to take the shower quickly.
3) Eden Island
It is an artificial Island which was created during the 2000s by funds from Dubai. The Island has many beaches. Our host took us there and showed us some of the biggest yachts that are owned by the sheiks of Dubai. The Island is upmarket and is famous for its big hotel, the Eden Bleu.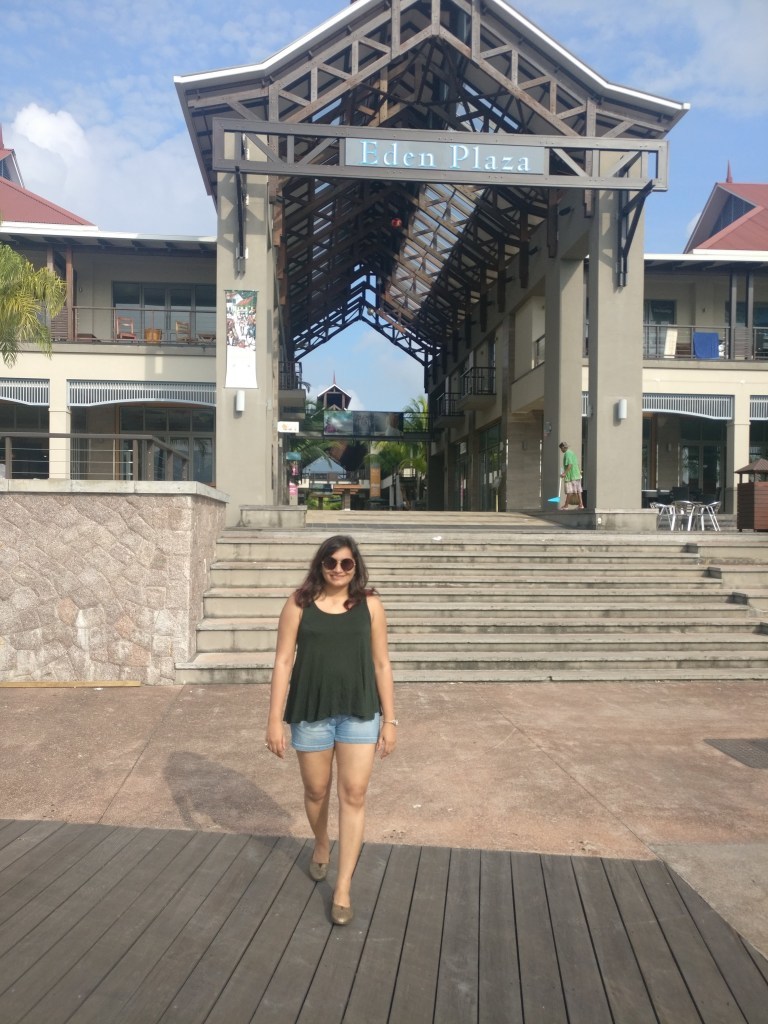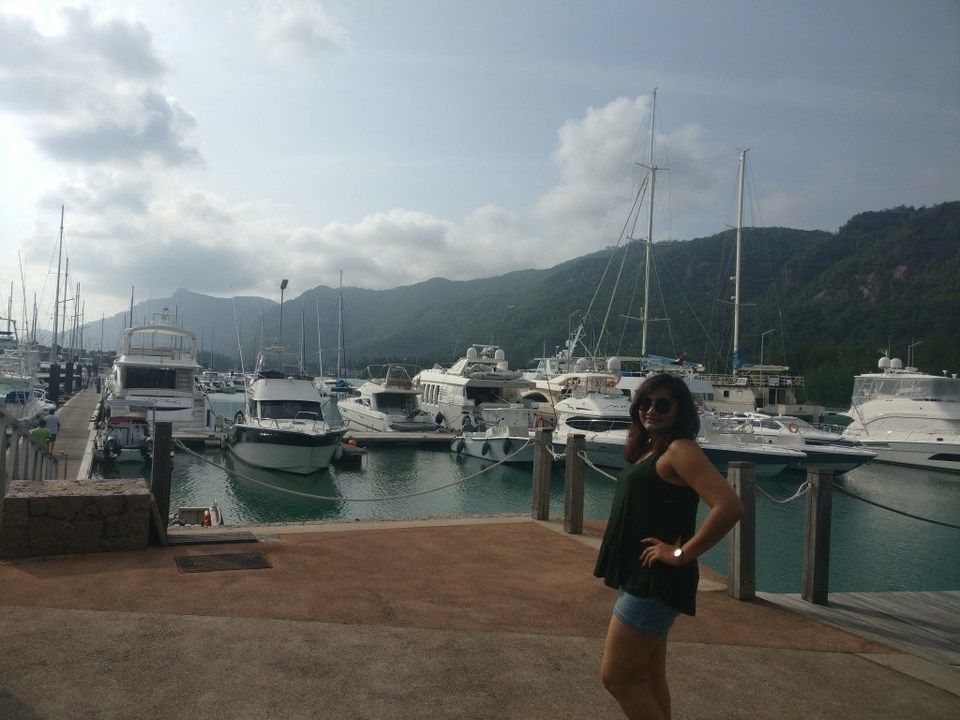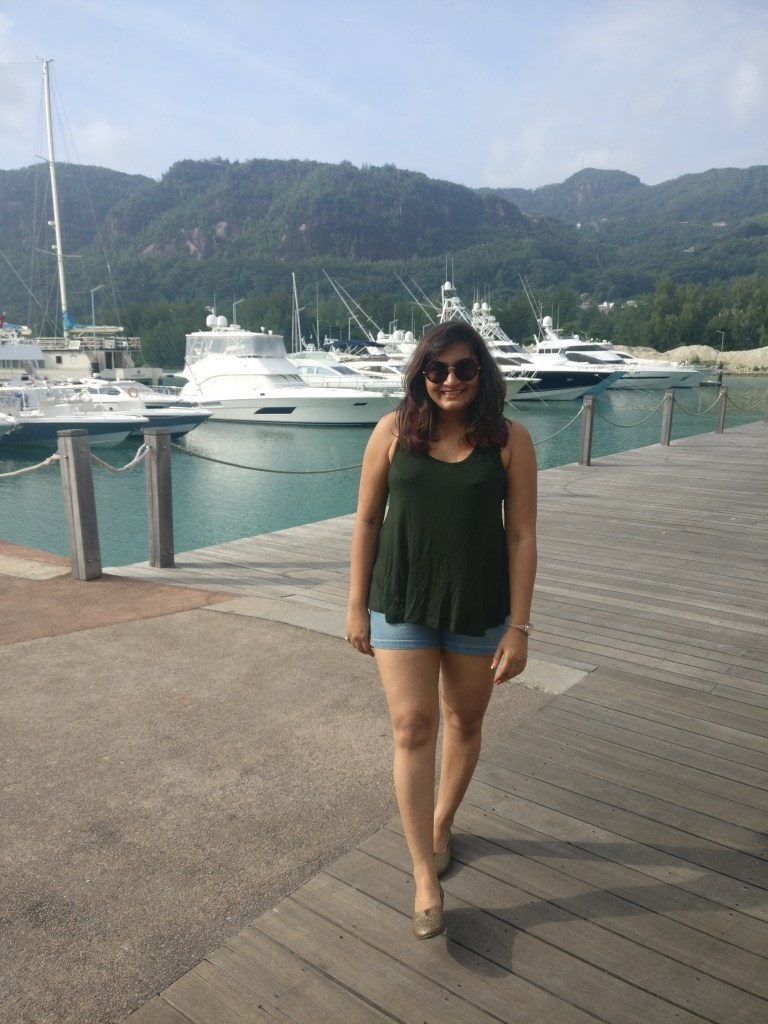 It is worth visiting just to see once It is not a natural beauty. And natural beauty is in abundance in Seychelles.
General tips for Seychelles
I. Since the tap water is not potable, you have to rely on packaged water. Avoid buying 1-liter or a 2-liter bottle. Instead, buy a 5-liter can since it is much cheaper. It is convenient as well to keep it in your car.
II. If you want to save time and money on lunch, you can go for take-aways. You can find a lot of them on your way.
III. Do try the fruits. They are fresh and juicy. In fact, most of the roadside grocers selling the fruits are local farmers selling their own produce.
IV. No fruit and vegetable brought from a foreign land is allowed. Make sure to finish them before getting out of the airport.
Natural beauty in Seychelles is in abundance. Explore the untouched beauty as soon as you can, before it gets flooded with tourists.