It's here. The honeymoon. The wedding celebrations have been wrapped up, and this much-awaited trip embodies in itself a symbolic send-off into a brand new chapter of your lives. It promises of a perfect, airbrushed start into what could quite probably be the most indelible, indulgent holiday of your lives. And sitting off the coast of East Africa, a sultry Seychelles honeymoon is the perfect way to begin this adventure.
The 115-island country, is drop-dead gorgeous and welcomes you with a well-rehearsed show. Wearing the colours of blue, pink and purple, the skies are a bewitching phantasm. Coconut trees dance away to the whisper of the warm, tropical breeze and the routine blushing sunsets, mutes out the world and its despairs. The gentle lull of the Indian Ocean replaces the all-pervading tumult customary to weddings and renders you and your partner dazed, and dazzled.
Getting there
Reaching Seychelles from India's major cities of New Delhi, Mumbai, Kolkata, Chennai, Hyderabad and Bangalore is quite easy. It will however be the most economical to fly from Mumbai. The Seychelles honeymoon begins at Seychelles International Airport (SEZ), eight kilometres away from Victoria's Aéroport de la Pointe Larue. It is the archipelago's only international airport. Air Seychelles, Kenya Airways, Ethiopian Airlines, Etihad, Jet Airways, and Srilankan Airlines fly to Seychelles, from Mumbai.
The return fare (Mumbai-Mahé), during the peak month of November will be ₹30,148 per person.
Visa
Seychelles offers visa on arrival to all foreign tourists. Valid for three months, it doesn't cost a penny. You need to have a valid passport, proof of accommodation in Seychelles, a return ticket and sufficient funds in your bank account to secure this permit. An extension upto 12 months, on the three-month visa can be procured for a fee.
What to see and do on your Seychelles honeymoon
Through five ridiculously beautiful days, we'll hop from one island to the next and each will usher you in with its glitzy resorts syphoning off the country's postcard-perfect landscape and its vibrant Creole culture. You will find yourself falling in love all over again as you bike through Seychelles' palm fringed shores, and walk past its plethora of beaches wearing the colours of dusk.
For a glimpse into the sights and scents of the iridescent Indian Ocean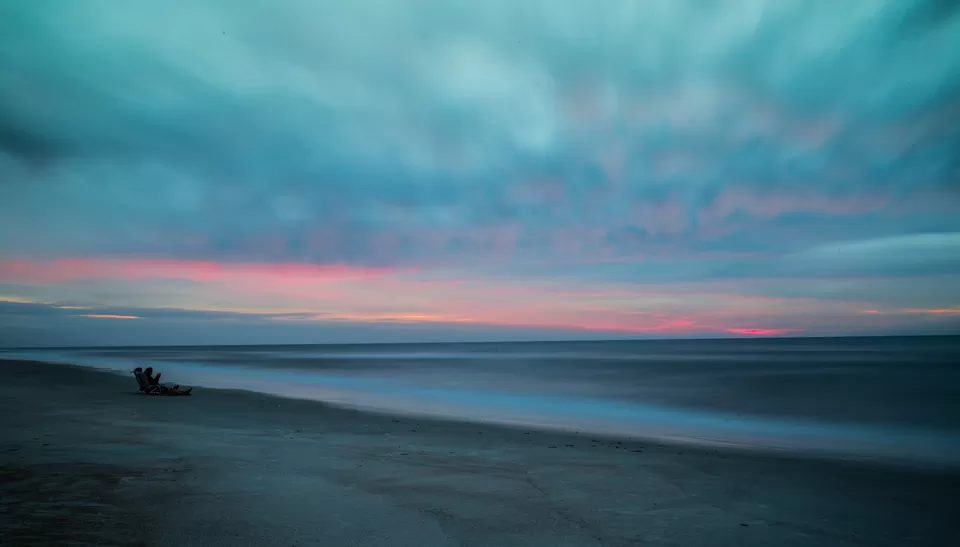 Seychelles' largest island, Mahé is a patchwork of blue and green. A prismatic melting pot of cultures and ethnicities, the island is abuzz with a concoction of Arab, British, French and African influences. Victoria, the country's bustling capital city, is also planted here. Offering a taste of wilderness and endless opportunities for hikes and treks to the tourists, the island is awash with dense forestation, found majorly in the national parks of Baie Ternay, Port Launay, Sainte Anne and Morne Seychellois, that is home to Seychelles' highest peak. While in Morne, head to the SeyTé Tea Factory and take home a packet or two of the aromatic SeyTé and citronnelle. One can also dive into the waters of the beaches of Beau Vallon Bay, Anse Major and Anse Intendance, or for the more daring, snorkel away to glory with whale sharks. Pick up homemade jams, marmalade and spices from the Le Jardin du Roi Spice Garden, if you drop by the Anse Royale beach. Delve into Takamaka Bay's rum-soaked history and visit the kitchen of La Grande Maison, serving up the most delectable Creole fare.
Where to eat: Del Place, for its Creole menu with a dash of French flavours and also, a spectacular sunset vista. You could also go to Cap Lazare, sitting on a turquoise lagoon towards the south of Mahé, for extravagant Seychellois platefuls.
Where to stay during your Seychelles honeymoon:
Budget: Rowsvilla Guest House
Luxury: The H Resort Beau Vallon Beach
You can check out more options here.
Up next: For Praslin, take a speed ferry from Mahe's Inter Island Quay. This should take you an hour or less.
For a piece of paradise in the world's most beautiful beach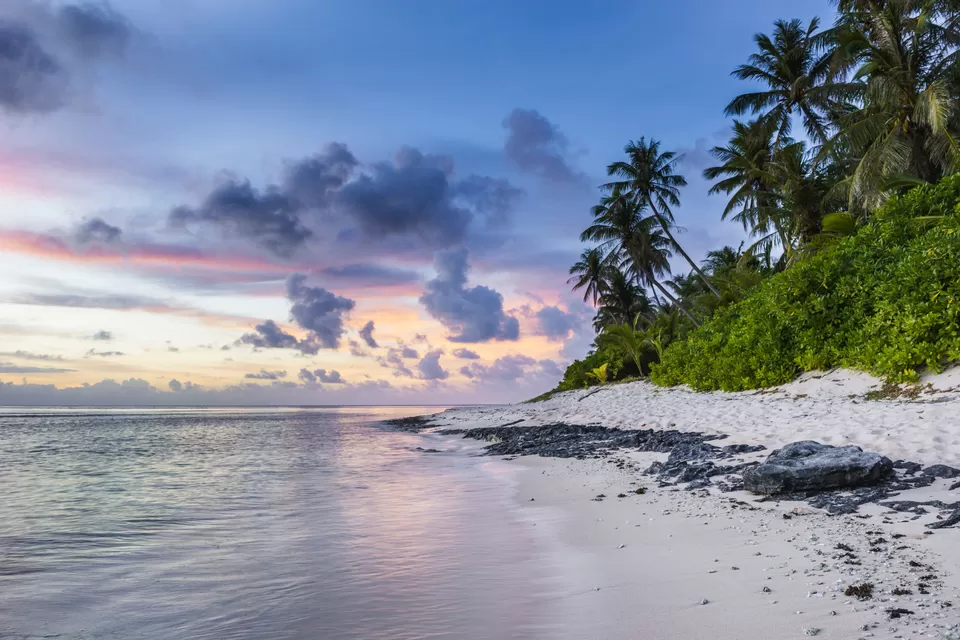 Seychelles' second-largest island, Praslin, is home to rows of undulating hills sliding down into aquamarine waters and an assortment of unique flora and fauna. Home to the UNESCO World Heritage Site of Vallee de Mai, this medieval forest is synonymous with the locals as the Garden of Eden. A morning hike navigating through its towering palms and hidden waterfalls will take you to groves of coco de mer, that just happen to have the world's heaviest seeds (30 kilos), and if you're fortunate enough, you might spot an endangered black parrot or two. Take a boat to Curieuse Island, a sanctuary for extraordinarily giant tortoises that can live up to two centuries or more. Praslin also boasts of the what is touted to be the world's most beautiful beach, Anse Lazio, that's flanked by ivory white sands, and jewel-toned coral reefs. As you walk past the island's sun-doused villages, grab yourself some banana bread and smoked sailfish sandwiches from any one of the rainbow-coloured shops strewn along the coast and marvel at the daily sightings of the myriad of seabirds and turtles that can be seen lounging about the beach's premises. The nature reserve islands of Cousin and Aride are also much sought after by locals and tourists alike. For the couples seeking adventure, try your hand at diving or snorkelling through reefs laden with butterfly fish, sweetlips and damselfish.
Where to eat: Losean on the Curieuse Island uses locally-sourced ingredients and serves a Creole favourite – the Local Millionaire's Salad, that makes use of smoked marlin and palm hearts. Two other lovely options are the Café des Arts and Village du Pecheur.
Where to stay:
Budget: C'est Mon Choix Hotel
Luxury: Constance Lemuria
You can check out more options here.
Up next: La Digue, is a 15-minute long catamaran ferry ride away from Praslin and en route, you can chance upon flying fish and dolphins.
For a visual loop of turquoise waters lapping up against white shorelines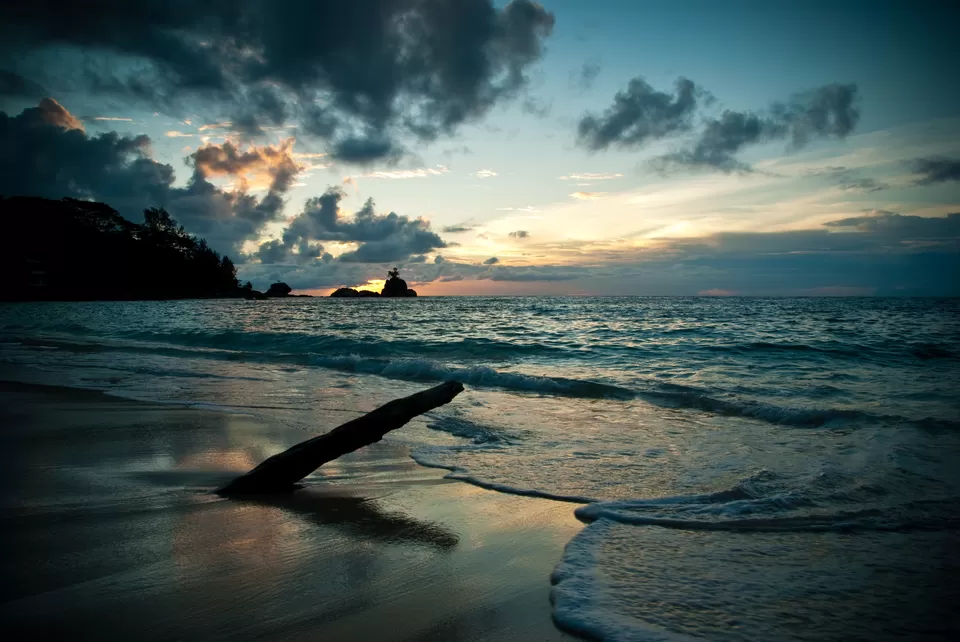 Epitomising tropical idyll, La Digue is one of Seychelles' smaller islands. Red granite rocks jut out into the ocean and the coastline is strangely devoid of the tourist brouhaha – there are fewer cars on the road and even lesser resorts. Cycle through dirt roads and vanilla plantations to reach Grand Anse and bask in the sun under the shade of casuarina groves. North of Grand Anse, lies the cinematic Petite Anse. This crescent-shaped bay is accessible by foot only and chances are, that most of your pictures will be framed at this very beach. Head to the quaint islet of Île Cocos, whose glistening waters tempt you to snorkel away the afternoon. Anse Source d'Argent's Beach is another must visit (an entrance fee of ₹100, valid for a day, is charged for this beach, as it runs through the L'Union Estate coconut plantation). L'Union Estate offers a lesson in history. The former and only means of livelihood on this island used to be coconut farming, which is showcased in the estate's old Plantation House, a colonial-era cemetery, a boatyard and a traditional copra (coconut) mill and kiln. If either of you happen to be curious about birds, go to the Veuve Reserve, that is home to the elusive black paradise flycatcher. The sleepy village of La Passe, will exude a old port town vibe and is the perfect place to shop for baubles. You'll find colourful tropical-style jewellery, and sophisticated strings of black pearls.
Where to eat: Near La Passe, Fish Trap Restaurant & Bar serves up a spread of Creole staples and the most refreshing cocktails.
Where to stay:
Budget: Kot Babi
Luxury: Le Domaine de L'Orangeraie Resort and Spa
You can check out more options here.
Up next: Silhouette Island is a jetty-ride away from La Digue.
For sunsets, serenity and the bluest of curaçao cocktails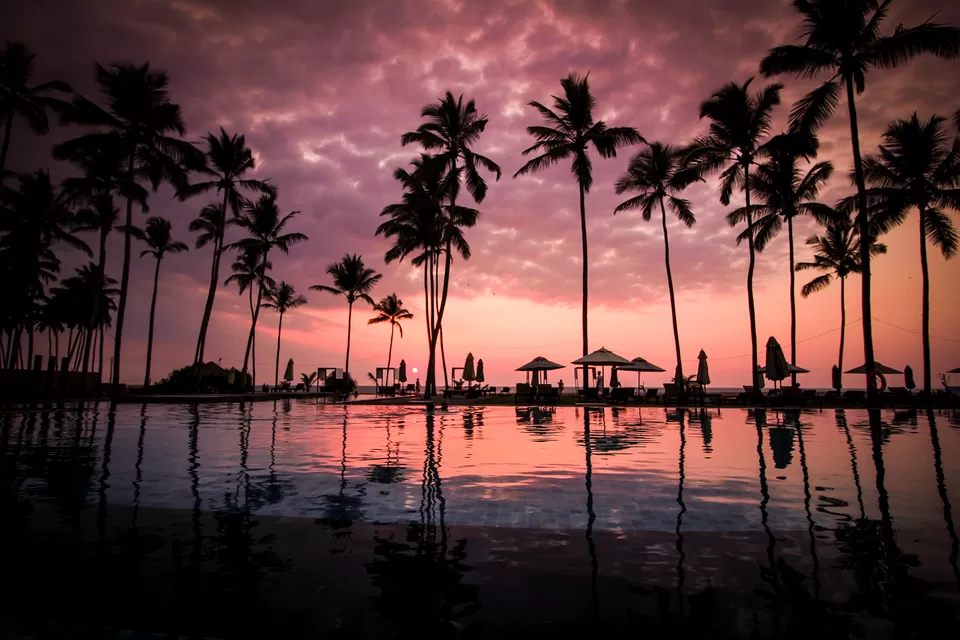 Silhouette is Seychelles' third-largest island. Sitting off Mahé's western coast, it offers calm like no other. Relatively, the most pristine of the lot, the pyramid-shaped island is festooned with cloud-cloaked mountains dense jungles guarding the beaches. The erstwhile home of pirates and plantations, today Silhouette is thronged by 125-year old giant tortoises. The peak of Mont Dauban standing at a dizzying 740m, is interspersed with numerous trekking trails, and clad in thick rainforests. The island's second-highest mountain, Mont Pot à Eau, with an elevation of 620m, sees rows of bats hanging head-first from the island's treetops during the day. Many an extinct volcano can be spotted here, as Silhouette came to being around 63 million years ago, as the result of a colossal volcanic eruption. You and your partner take up the scenic, four-hour long trek through thickets of sandalwood, orchids, and endemic pitcher plants, up to Grand Barbe (1640ft), another gem in Silhouette's bevy of mountains. Head to the beach of Anse Mondon, on the northern end of the island, for an afternoon of rock-climbing and snorkelling with schools of shimmering, colourful fishes.
Where to eat: Visit Portobello, for an Italian fare, or Sakura, for an eclectic fusion Japanese cuisine, or Cafe Dauban for Creole staples.
Where to stay: La Belle Tortue and Hilton Seychelles Labriz Resort & Spa, both of which are luxury options.
You can check out more options here.
Up next: Mahé is a 20-minute ferry ride away from the Silhouette island.
For buzzing beaches and vibrant markets with a dash of Creole culture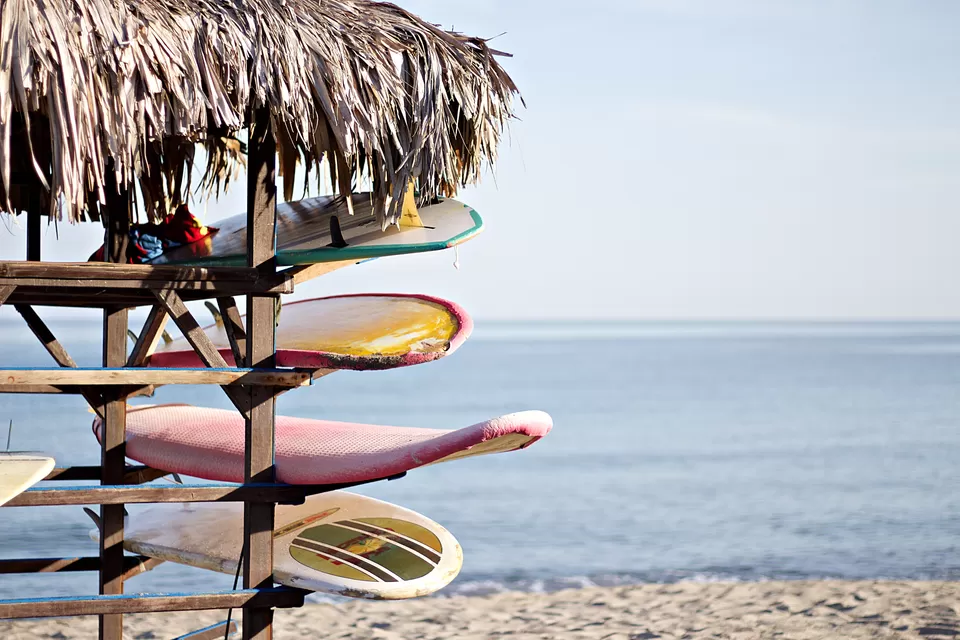 On your last day in Seychelles, soak up the past and present of the Creole culture breezing through its capital city's streets and homes. Set against forested hills sidling up to the ocean, Victoria is the heart of the country's political and economical affairs. Visit the main market that is bursting with colour, and lines with fruit and vegetable vendors and small shops selling trinkets. What you should pick up from the market are the spices – vanilla and saffron mainly, for the family back home waiting for the stories and the souvenirs. You can also spot a mini replica of the Big Ben right by the city's taxi stand. Next, head up to the magnificent Hindu temple of Sri Navasakthi Vinyagar, frequented by Seychelles' growing Indian community. There are a handful of other attractions also, such as Kaz Zanana (the gallery featuring George Camille's artwork), Natural History Museum, Cathedral of the Immaculate Conception and for the last batch of pictures, the Clock Tower, dating back to 1903.
Where to eat: For lunch, head to the colonial home of Marie Antoinette, sitting atop a hill, for all the local favourites.
Where to stay:
Budget: Coco Bay Villa
Luxury: Les Villas D'or
You can check out more options here.
When to go
The best months to visit Seychelles are April to May and October to November, when the temperatures are cool and dry. These periods are usually perfect for swimming, snorkelling and other such activities, with the temperature only going as high as 29ºC. Festival Kreol, takes place in October every year and is a vibrant showcase of Seychelles' Creole heritage and traditions.
Getting around
The best and relatively economical way to get around the islands of Seychelles is via bikes, with the cost for a day's rental starting from ₹660.
By plane: Air Seychelles has regular flights operating from Mahe to the islands of Praslin, Bird, Denis, Fregate, Desroches and Alphonse. Air charter services can be taken, to travel to Assumption and Coetivy islands.
By helicopter: Travellers can also book 'scenic flights' to cover the islands of Mahé, Praslin, La Digue and the neighbouring Cousine, Félicité, Grande Seour, Curieuse and Bird islands. Zil Air provides these chartered helicopter services from and to, most of the inner and outer Seychelles islands.
By boat: Seychelles bookings hosts trusted ferry operators on their website, such as Cat Cocos and Inter Island, and hassle-free online bookings and e-ticketing is possible. Cat Cocos, runs daily catamaran ferries between Mahe and Praslin. For non-residents, the cost can roughly amount to ₹7,000. Inter Island's ferries operates between Praslin and La Digue and costs about ₹1,146. Most of its arrivals at Praslin are scheduled to coincide with Cat Cocos' departures to Mahe.
By car: Taxis are a very popular means of transport in Seychelles, especially for daily rentals or for short trips. And the prices for non-residents are about 20 rupees per kilometre.
Cars can be rented only on the islands of Mahé and Praslin. The rental charge for a small car will be around ₹2,700 per day.
By bus: The Seychelles Public Transport Corporation (SPTC) operates buses daily through Mahé and Praslin, on almost every motorable road on the islands.
Costs
Flight from New Delhi to Mahe Island, Seychelles: ₹23,319
One-way ticket on the Seychelles Public Transport Corporation (SPTC) buses: ₹25-40
Taxi starting tariff: ₹455
Hotel stay on Mahe Island: ₹2,832-4,248
A meal at a small restaurant or a fast-food joint: ₹566-785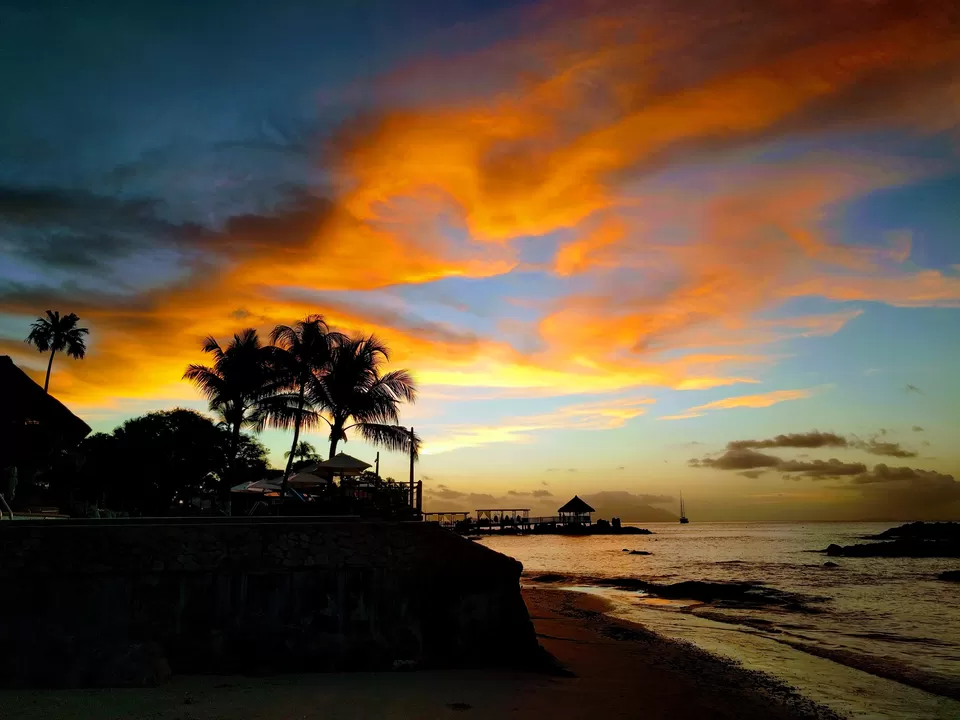 Have you been to Seychelles? Share your experience on Tripoto, and inspire over millions of travellers across the globe.
And if you haven't visited the breathtaking land yet, here's our exclusive guide to everything you could possibly do in Seychelles.
Frequent searches leading to this page:-