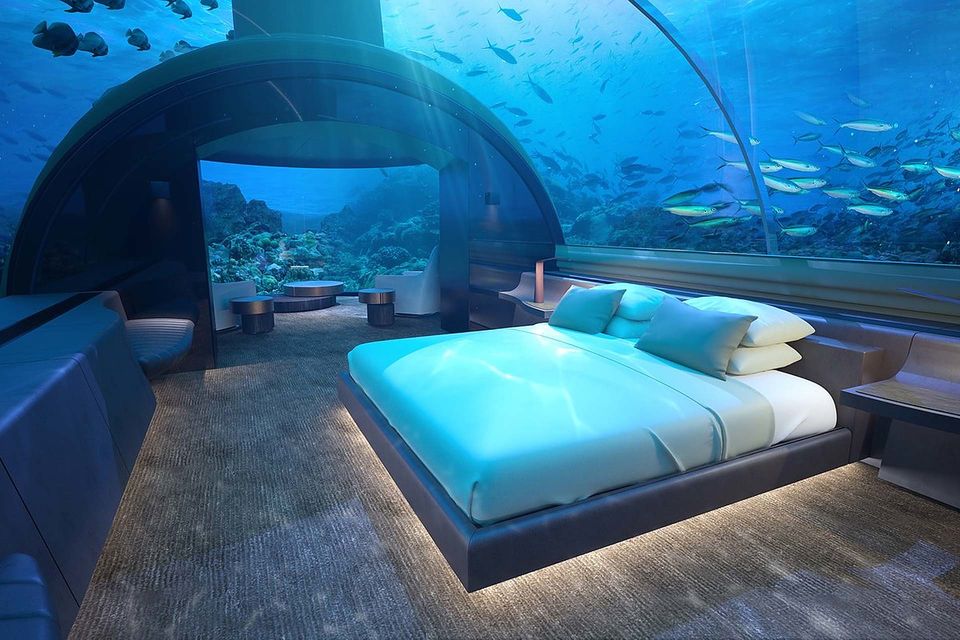 Hoteliers are always looking for ways to create unique experiences for their guests. They have been pushing limits to create remarkable structures and attract tourists from all around the world. This pursuit has led to another invention that has been grabbing interest worldwide—underwater hotel.
It has been a dream for water babies to breathe and live underwater. Today, underwater hotels like the Conrad Rangali Island Resort of Maldives has made this seemingly impossible dream come true. Now, you can spend a night with colourful fish. Here is a list of the world's best underwater hotels and their awe-inspiring rooms with views of marine life that you can book on your next trip:
Where: Maldives
Ideal for: This stay is ideal for travellers who are always on a lookout for something unique and seemingly impossible.
Considered as one of the most beautiful hotels in the world, the Conrad Rangali Island Resort is home to not just beach villas, but also two-storey water villas called The Muraka. In these villas, there are separate rooms built below the Indian Ocean. These rooms have glass walls for you to enjoy views of the beautiful reefs and other kinds of marine life.
Apart from these stunning rooms, the resort also has a 13-year-old dining area, Ithaa Undersea Restaurant, which is a popular tourist attraction in the Maldives. The restaurant is the world's largest all glass undersea restaurant.
The resort is known for its award-winning spa, yoga sessions, and cultural performances. It also houses a Majaa Kids' Club and water sports centre for kids and adults alike. Apart from the in-house facilities, you can opt for snorkelling and diving.
Accommodation: Their rooms can comfortably accommodate two people.
Price: Rs 7,00,000 per night for an underwater room. Generally, prices start from Rs 55,000 for a beach villa.
Where: Shanghai
Ideal for: This hotel offers surreal experiences in a luxury setting for travellers in Shanghai. It is also a great escape for people looking to get away from the hustle-bustle of city life.
This hotel offers a stay in the middle of the ocean. This luxurious resort has been built in a quarry which was filled with water after construction and offers overwhelming views of the surroundings. It has two entire floors dedicated to underwater suite rooms. There are six such suite rooms and each room has a balcony as well as a saltwater aquarium. From the balcony  you can witness a brilliant light and water show. The resort also has an underwater dining area, Mr Fisher, which is visited by many tourists in search of an exclusive underwater dining experience in Shanghai. Visitors here can also enjoy a brilliant light and sound show that takes place every night.
The natural surroundings of this place give its visitors enough options to try their hand at adventure activities like kayaking, rock climbing and ziplining.
Accommodation: Two people can stay in the underwater villas.
Price: The premier room with underwater views is priced at Rs 60,000 for two people per night. The price includes a complimentary breakfast at the hotel.
Where: Tanzania
Ideal for: This resort is ideal for travellers looking for an adventurous escapade in Tanzania.
Built-in a marine conservation area of Pemba Island near the Zanzibar Coast, the Manta Resort has unique underwater rooms with roof decks, perfect for sunbathing and stargazing. These bedrooms offer stunning views of the aquatic world. At night, the lights attract different kinds of marine life like octopus, squids and others.
Located right in the middle of the ocean, the stay is perfect for a peaceful vacation. The resort offers transport for diving trips. The roof deck of these villas make for a perfect spot to witness mesmerising views of the ocean, the sky and all things combined.
Accommodation: Two people can stay in these rooms.
Price: The seafront villa with underwater views starts from Rs 4,56,000 for two people per night. This rate includes breakfast at the hotel.
Where: St. Lucia
Ideal for: This submarine hotel offers a one of a kind experience to all its guests. Travellers looking for a romantic getaway underwater can go for this option without giving it a second thought.
This luxurious submarine stay was built to offer romantic experiences underwater. Built by a British company, Oliver's Travel, the submarine allows its guests to choose an area where they want to spend the night. Pick any location of your choice; from coral reefs to battleships. In Lover's Deep Submarine, there is space for a double bedroom and a bathroom, the interiors of which can be customised according to your needs.
This five-star facility dives deep in the Caribbean Ocean and crosses many of its islands like St. Lucia and Barbados. Witness the beauty of this place in a submarine.
Accommodation: Two people can stay in the submarine room.
Price: The price for the underwater submarine room starts from Rs 20,440,000 for two people per night. This rate includes breakfast at the hotel.
Where: Singapore
Ideal for: Travellers who are looking for an offbeat experience in Sentosa must book a suite for a night at this resort.
The Resort World in Sentosa has 11 suites that offer the extraordinary experience of staying underwater amidst azure water. All 11 suites in Sentosa are two-storey buildings with direct access to the world's largest aquarium, S.E.A Aquarium. This aquarium is home to about 40,000 species of fish. You can enjoy the serene view of the aquarium from your suites through its glass walls.
Apart from direct access to the S.E.A Aquarium, the Sentosa Island is filled with several entertainment options like the Universal Studios, Adventure Cove Waterpark, Dolphin Island and Trick Eye Museum.
Accommodation: Two people can stay in the submarine room.
Price: The underwater view suite starts from Rs 1,22,000 for two people per night. This rate includes breakfast at the hotel.
Get travel inspiration from us daily! Save our number and send a Whatsapp message on 9599147110 to begin!
Think we missed out on something? Tell us about it in the comments below. Or write about it here on Tripoto and earn Tripoto Credits!