For more such travel stories follow my Instagram
Instagram - @mishishirteli
Shegoan - A saint Gajanan Maharaj was a devotee of Lord Shiva and Lord Rama lived in shegaon and the temple is built at his place of samadhi (meditation). It is the largest temple trust in the Vidarbha region (Maharashtra).
silence is its unique feature.
The holy town Shegaon is in Buldana district, Maharashtra located 16 km away from NH-6 (Via-Khamgaon). Nearest airports are Nagpur and Aurangabad at 5 hours distance. It is well connected to almost all the places by road, railways and by air. Shegaon is A-class station of central railway located on Mumbai- Nagpur track where almost all the trains have halted at shegaon (with the exception of superfast trains like Okhapuri, Prerana, and deluxe Dnyaneshwari). Shegaon is also well connected with Gujrat and Madhya Pradesh state by interstate bus service. There is an inquiry booth in railway station premise from where devotees can take guidance.
How to Reach Shegaon:
By Air: Nearest airports are Nagpur and Aurangabad at 5 hours distance. Delhi - Mumbai - Aurangabad, Banglore- Mumbai-Aurangabad (nearest airport) Shegaon is 221 Kms. About 5 hours by road from Aurangabad airport. Delhi-Nagpur, Chennai-Nagpur, and Kolkata- Nagpur. Shegaon is 300 Kms from Nagpur airport. About 6 hours by road or 4.30 hours trains journey from Nagpur.
By Railway: Shegaon is central railway station located on Mumbai- Nagpur track. From Shegoan railway station, Gajanan Maharaj temple is 2kms and bus facility is also available from the temple. no need to book private vehicles.
By Road: Mumbai to Shegoan is 550kms by road which is around 12hrs journey. Route1: Mumbai - Sinnar(Nashik) - Buldhana- Shegaon (537km) Route2: Mumbai - Nashik - Malegaon - Chalisgao - Shegaon (540km) Route3: Mumbai - Nashik - Malegaon - Dhule- Shegaon (540km)
What to See in Shegaon:
1. In Shegaon Mandir premises:
a.The Holy place of Shree's samadhi Grahan Sthal and the place of Shree's resting.
b.The Holy Tree (Audumber)
c.Lord Hanuman Temple (Facing south)
d.The Temple of Nag Devata
e.Samadhi temple of Shree Balabhau Maharaj and Shri Narayan Maharaj.
2. Anand Sagar (specially Dhyan mandir).
Journey:
We started our journey to shegaon at night 10pm from Mumbai. We halt at sinnar (Nashik) around 2.30am for Tea refreshment as it was night driving. And then again starts our journey to shegaon. After Nashik, roads are not so good which took us 1hr delay to reach shegaon. We reach shegaon at 11:02am of next morning.
Day 1: We reached shegaon at 11:05am. You don't need to stay in a hotel. There are lots of residence option available in Gajanan Maharaj Sansthan. With minimum rent, you will get the best service and food. You have two options for stay, either you can stay around the temple or you have another option nearby Anand Sagar garden. I would recommend you to stay near Anand Sagar Garden. The Sansthan also operates free bus shuttle from Railway Station to Temple and from Temple to Anand Sagar. The food you get in the hotel is very cheap with good quality.
We decided to take darshan on second day morning so after refresh, we went to "Mahaprasad". Sansthan has a very effective system of Mahaprasad distribution where 5000 devotees can have food by seating alternately at a time without any chaos during 10.00am to 1.00 pm at free of cost every day. Even after 1pm those devotees who are already in a queue for Mahaprasad, are also served food. The Mahaprasad include Poli, Bhaji, Rise and 1 Sweet item every day. After Mahaprasad we visit "Anand Sagar" (Anand Sagar garden ticket counter closed at 3pm, so reach before 3pm. Anand Sagar Garden is opened till 7pm.)
The Anand Sagar is a religious place where you can spot statues of 18 famous Indian Saints set in a realistic manner and an excellent temple dedicated to Lord Shiva. The Navagraha or Nine planets of the solar system and Lord Ganesha are also worshipped here. The semi-circular place is surrounded by a wonderful landscape garden and decorated with statues of animals and birds. Your little ones will also be very happy to come here as the place has an impressive aquarium, Mini Park and offers mini-train rides too. waterbed, hanging bridge, amphitheater, paved paths, and neat decor make the place look magnificent.
Note: But due to some technical reasons mini-train rides, hanging bridge, the amphitheater is closed and will start soon. So before visit please confirm it is started or not.
After Anand Sagar, we head to our rooms and then for dinner. Dinner is also available in Bhakt Niwas near the temple and Anand Sagar Bhojan Kaksha near Anand Sagar Garden (7.00 pm to 9.30 pm).
Day 2: We started our day 2 with early morning and entered the temple at 7:45am. You have to keep your shoes out in Shoe rack facility at free of cost.
Shri Gajanan Maharaj Samadhi Temple is at the center surrounded by two spacious entrance gates in the north and the west directions respectively. Shree's Samadhi Temple has been built in the most attractive marble stones, where the devotees can have a distant glimpse of the idol of Lord Gajanana through an arrangement called ' Mukh Darshan' or can directly go through the tunnel to pray and have a glimpse of Shree's idol very closely.
After a closer view of Shree's idol. we enter in Shri Ram Temple, first the prayer spiritual incarnation of Shri Gajanan Maharaj followed by fascinating marble idols of Lord Shri Ram, Goddess Sita, and Shri Laxman, on the pedestal of the beautiful Shri Ram Mandir above the Samadhi place, (Shri Gajanan Maharaj preferred to lay his living spiritual body for eternal meditation - called Samadhi). Some part of the entrance of Shri Ram Mandir has been adorned with golden leaves and some part in Gabhara(a reserved holy place, where lord's idol is kept) is also dignified with the gold and its luster, In this Gabhara, the holy footwear (Paduka) which were regularly used by lord Gajanana and the silver masks are kept and they are used during the temple festivals (Palkhi Sohala) for darshan.
Opposite to Shri Ram temple, there is Lord Hanuman Temple (Facing south) a true devotee of Lord Shri Ram.
After Shri ram temple we enter Shree's Vishranti Sthal (the place where Shree Maharaj used to take rest). Shree's Vishranti Sthal is located behind Shri Gajanan Maharaj Samadhi Mandir. The bed - regularly used by Shree and Shree's Padukaa kept there for Darshan. Parayan Mandap (the grand, spacious hall) facing Shree's Vishranti Sthal facilitates a number of devotees who are totally engrossed in doing parayan (To read religious book with great faith in it) of Shree Gajanan Vijay Granth written by 'Sant Kavi Shri Dasganu Maharaj'.
At the exit of the Shree's Vishranti sthal, we saw Shri Audumber (Holy Tree), where Shree used to sit under it.
After darshan, we taste the famous "Shegaon Kachori" which is available in every shop in Shegoan.
After Breakfast, we traveled to Ajanta Caves. I will post next blog on Ajanta caves visit.
My Budget :
1. Mumbai to Shegaon (Private Vechicle 17 Seater traveller) - Total 22,000\- (Include permit)
2. Hotel Stay for 1 days - Rs. 500/- per day per room
3. Food - Lunch was free (Mahaprasad) , Dinner (Rs. 50/- pp in Bhakt-niwas), Breakfast (Rs.60/- pp)
Some Pics were taken in Shegaon and Anand Sagar (Professional cameras are not allowed inside Temple / Anand Sagar)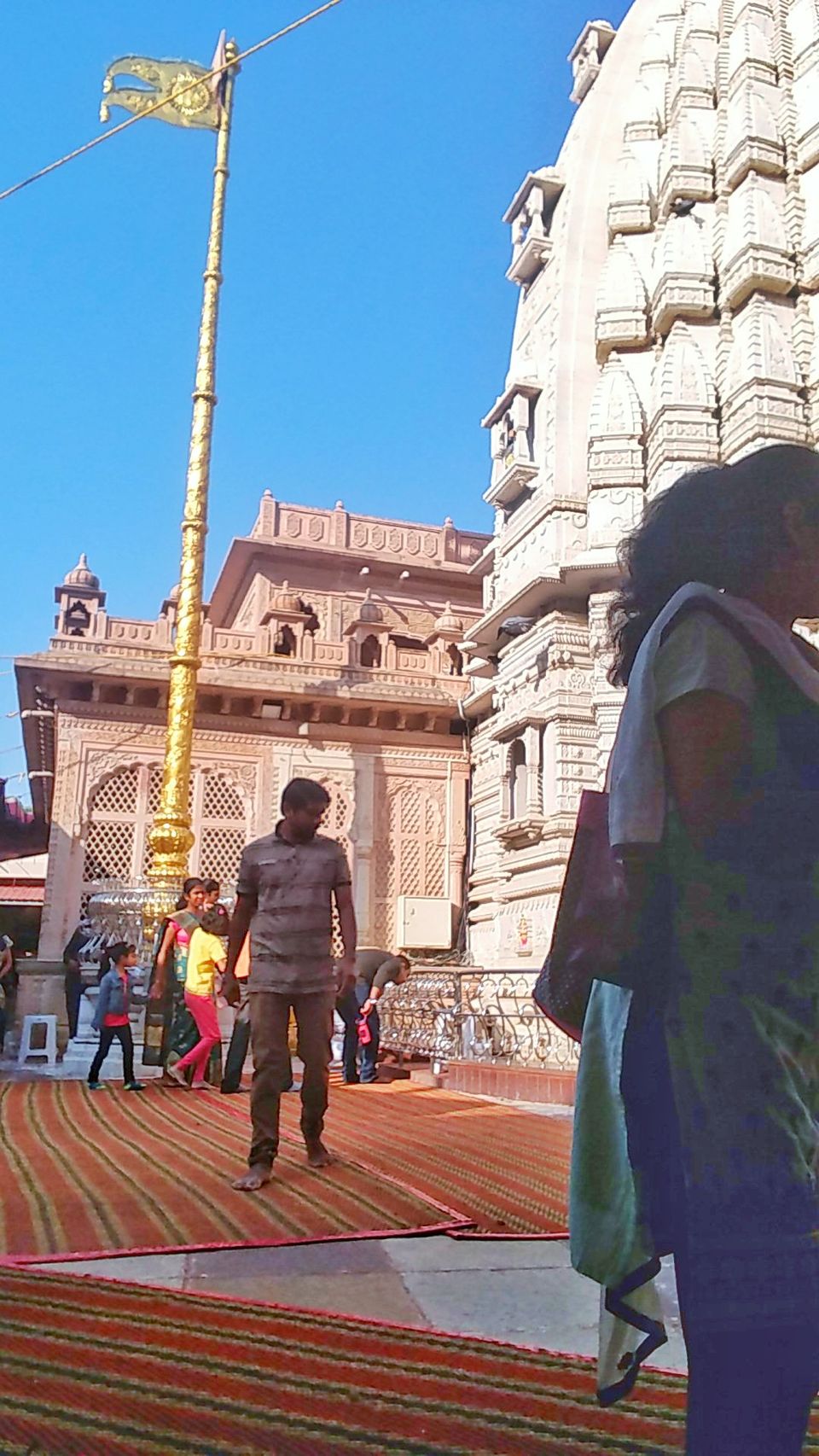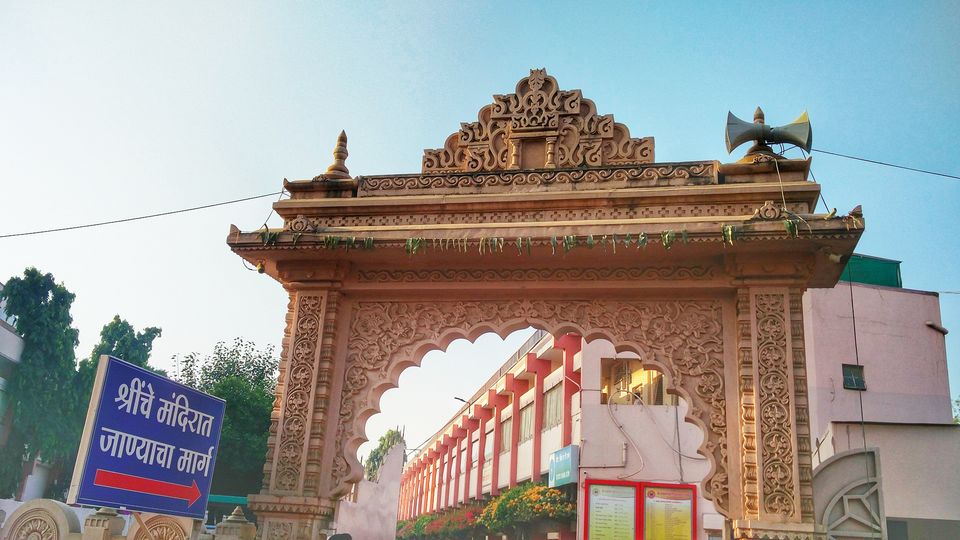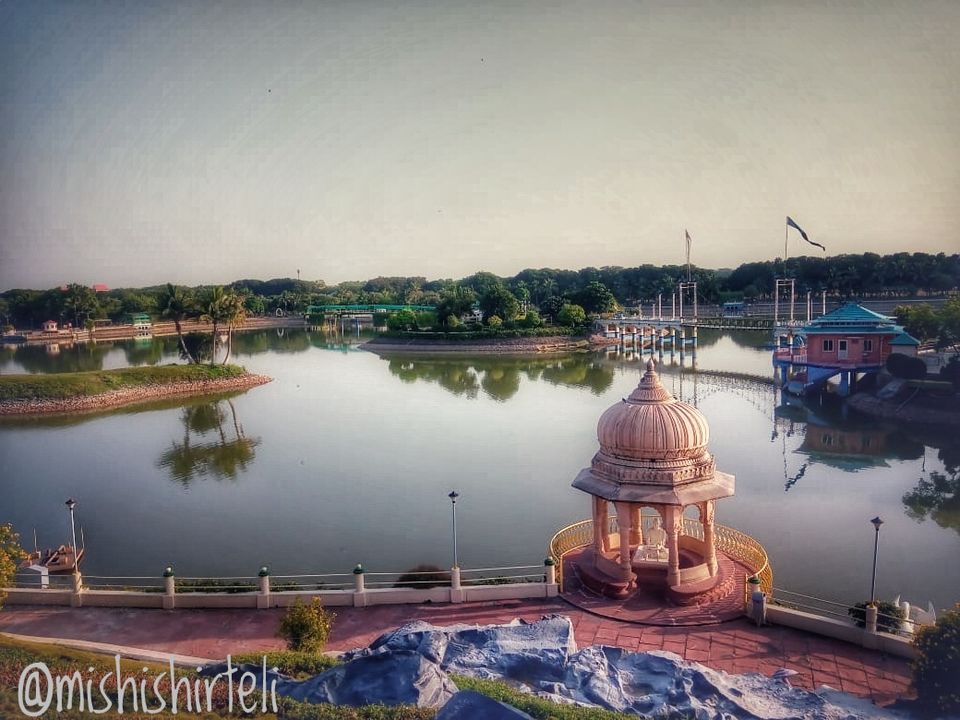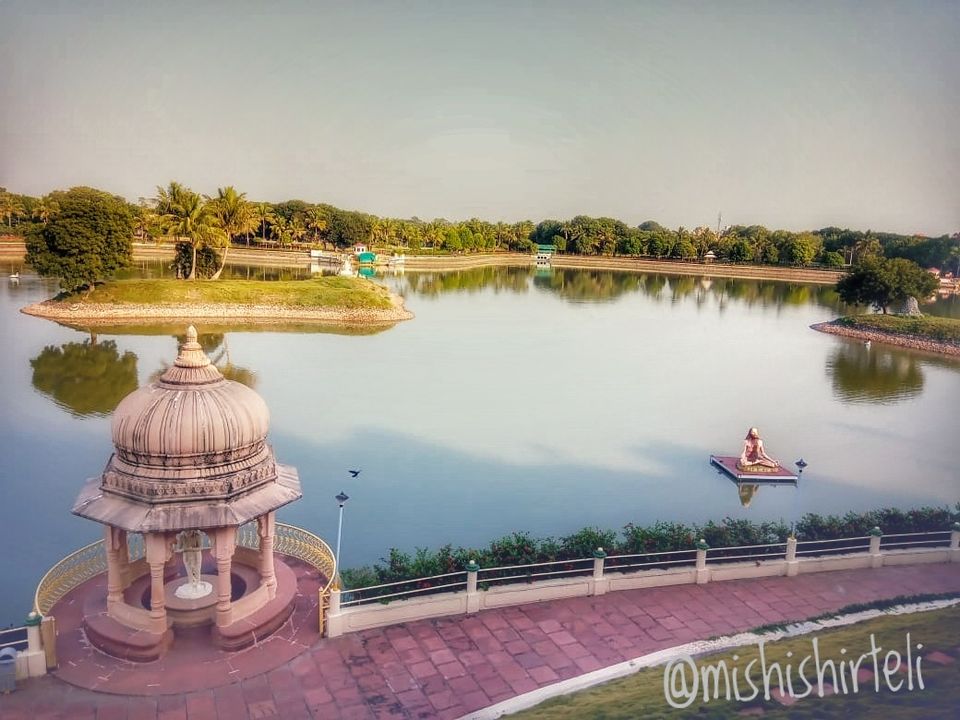 Frequent searches leading to this page:-
family trip places in maharashtra, family tourist places in maharashtra, family holiday places in maharashtra, best family holiday destinations in maharashtra, best family vacation destinations in maharashtra