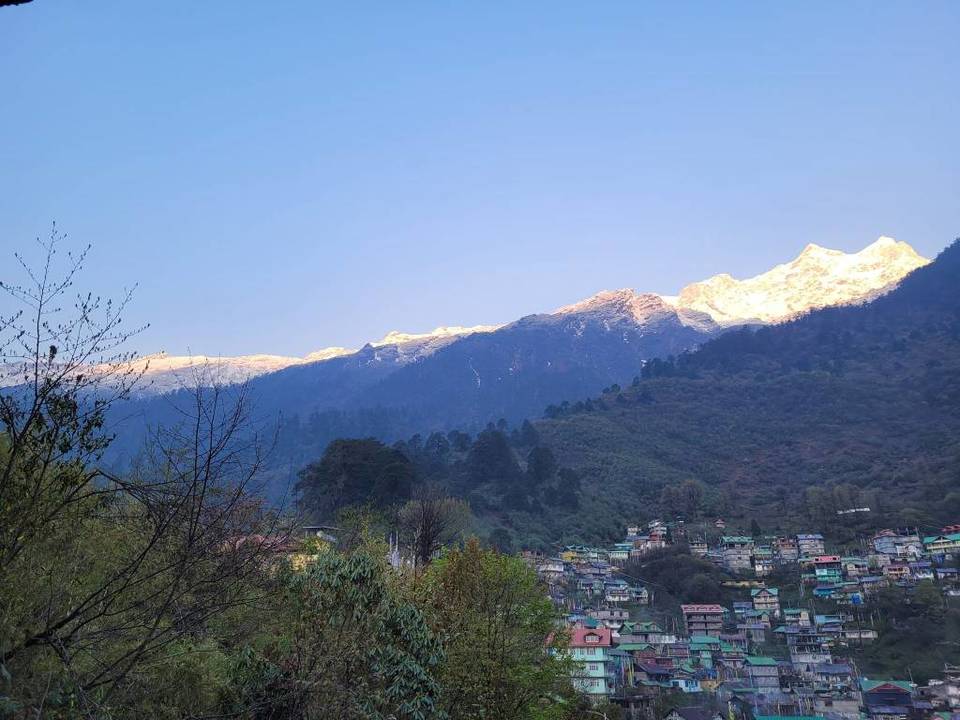 Our first trip to Sikkim was in June'2013 when we covered Darjeeling and Gangtok and part of East Sikkim. In spite of hearing a lot about the natural beauty of North Sikkim, we did not venture to go there as it involved long travel times due to bad road conditions. This time many of our colleagues from our present work station Jorhat were visiting North Sikkim and we decided to follow suit by taking a tour package. We were not very happy about travelling with a tour package as we don't like the rigidity and we love to have off beat experience. However we still tried to go off the track whenever we could and circumstances also favoured us in our endeavour!
Boarding the Rajdhani express at Mariani station at 10 pm at night we reached New Jalpaiguri at around 1 pm next day. A car from our travel agency was waiting for us and took us straight to Santa Banta Dhaba for lunch. I found the wall décor with pictures of women known for their bravery very impressive! Food was good too.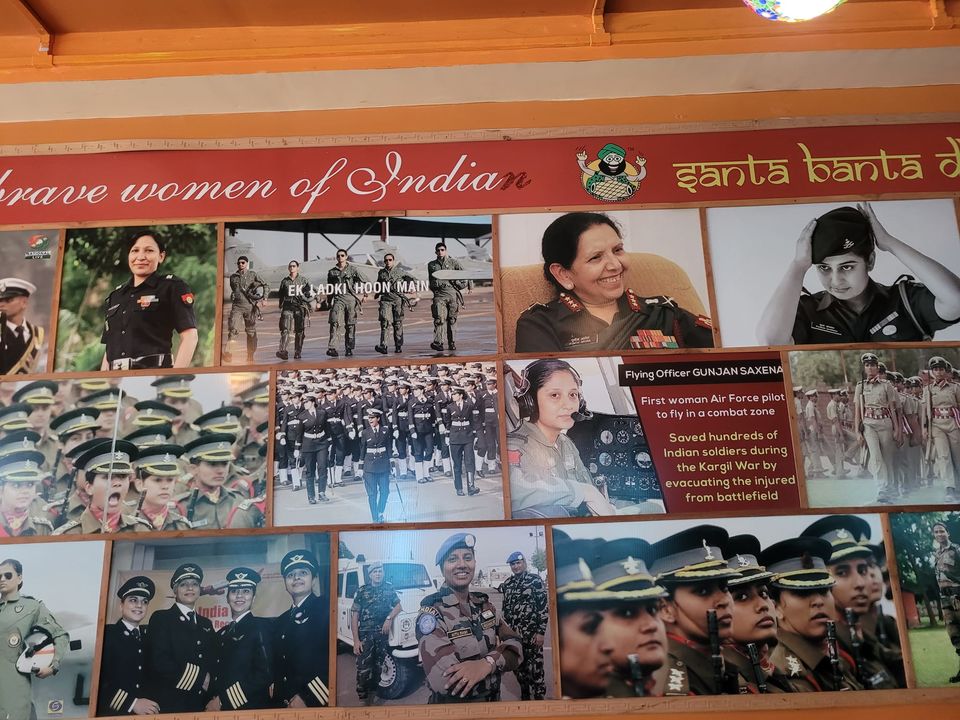 After lunch we headed for Gangtok. The hotel in Gangtok booked for us was a beautiful one called Kanishka Resort and Spa by Sumi Yashshree at a picturesque location. Our room had fantastic view of tall mountains and a stream. At night we were lulled to sleep by gargling of mountain streams!
Next day morning we went to see Nathu la pass. The road was winding through mountains with still frozen streams at places and flowers starting to bloom on some parts signaling departure of winter and arrival of spring!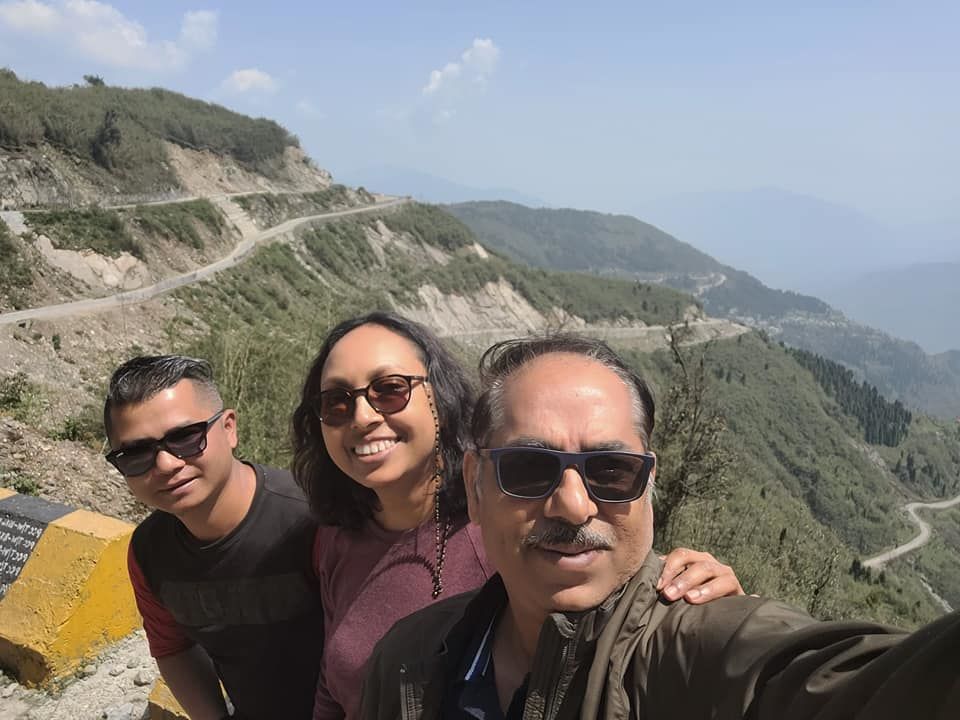 At Nathula pass we joined the long line of tourists to reach the Indo-China border. The sight of the fluttering Indian Flag stirs patriotic feelings in everyone's heart and one feels grateful to our Defence personnel for protecting us living in such tough conditions.
On the way back we stopped at Tsomgo lake and enjoyed the serene beauty of it. It is regarded as sacred as it is believed that the lake water have healing properties.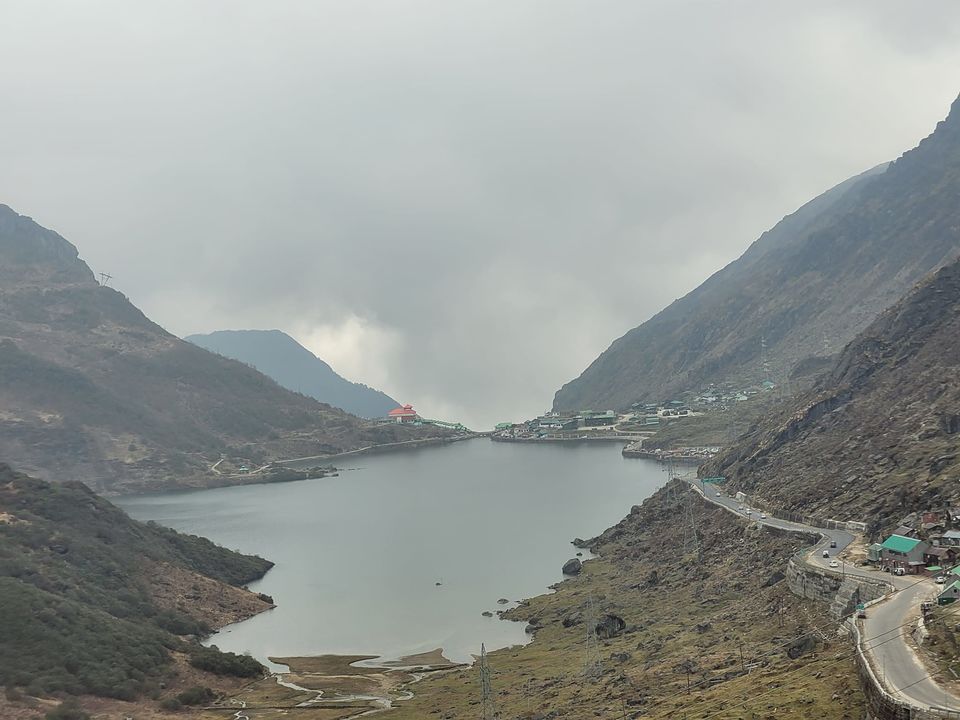 After reaching Gangotk we got down for dinner at the famous Mahatma Gandhi Marg which was buzzing with tourists.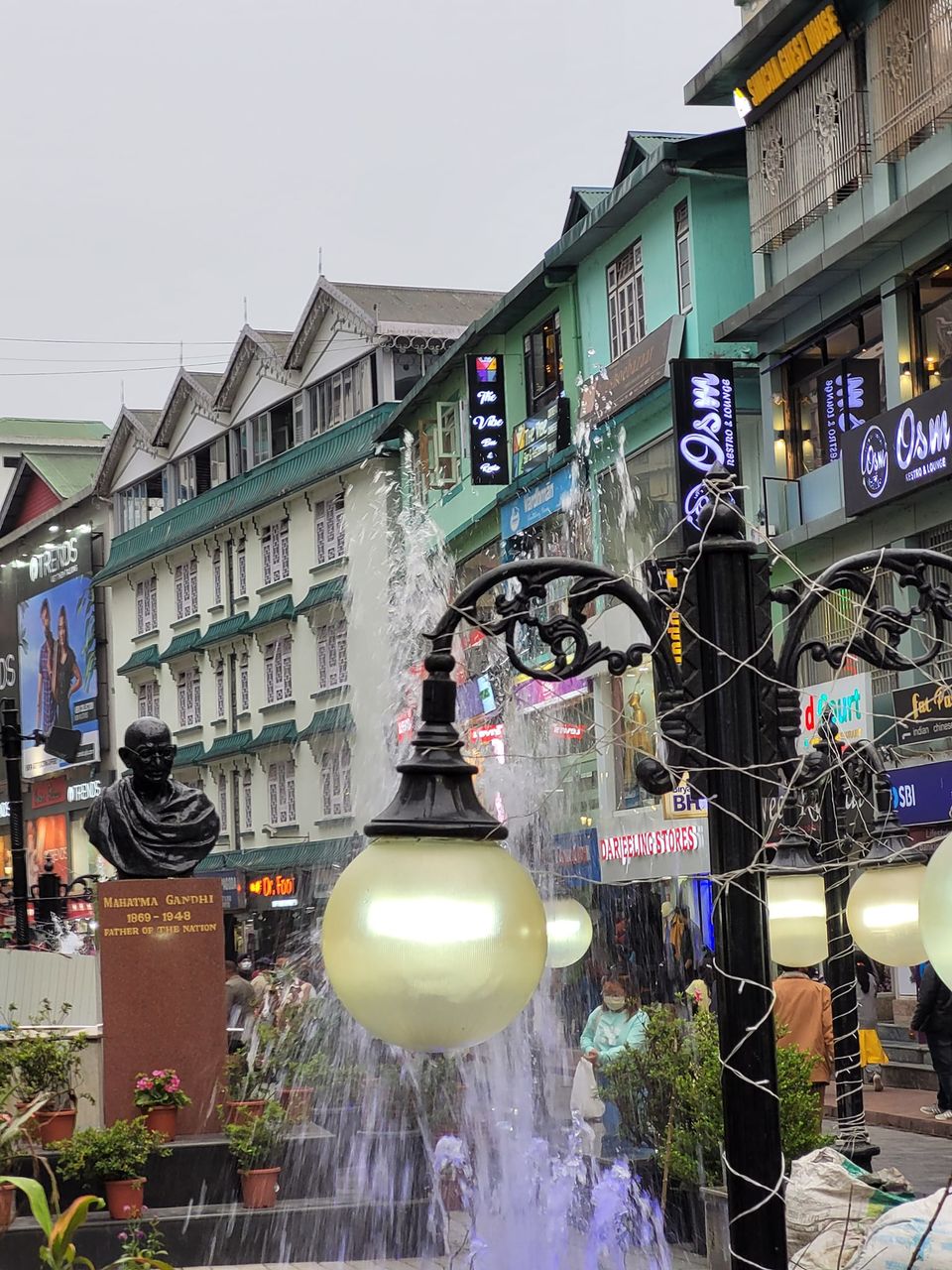 For dinner we searched for local cuisine and settled for Thakkali thali (Nepali cuisine) in a nice restaurant called Nimtho. It was a very satisfying meal accompanied with Ginger honey tea which acted like a soothing balm on my aching throat.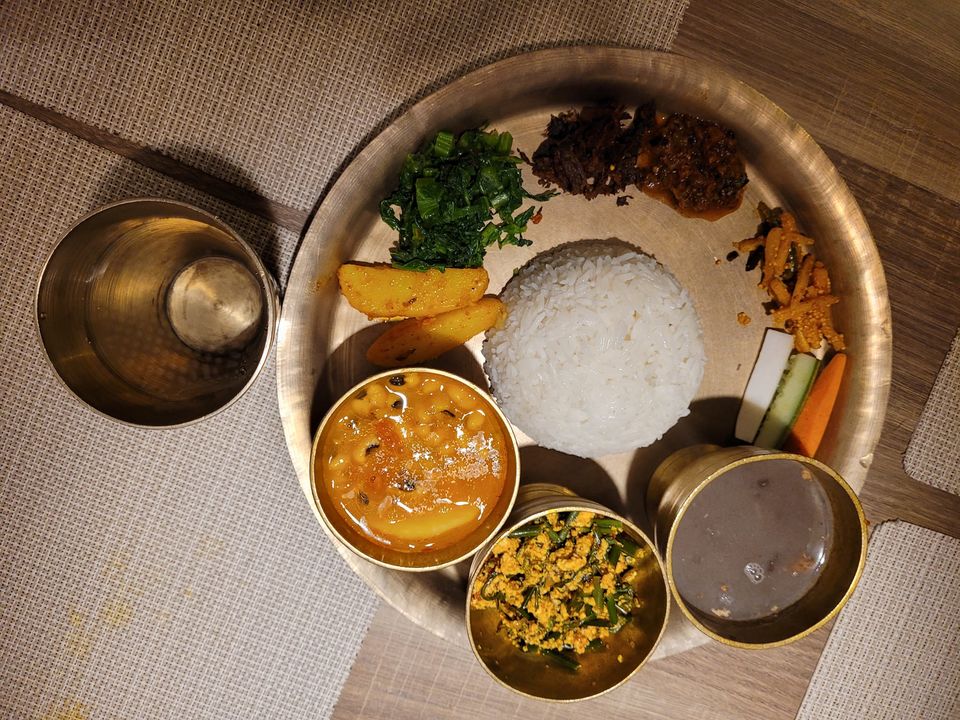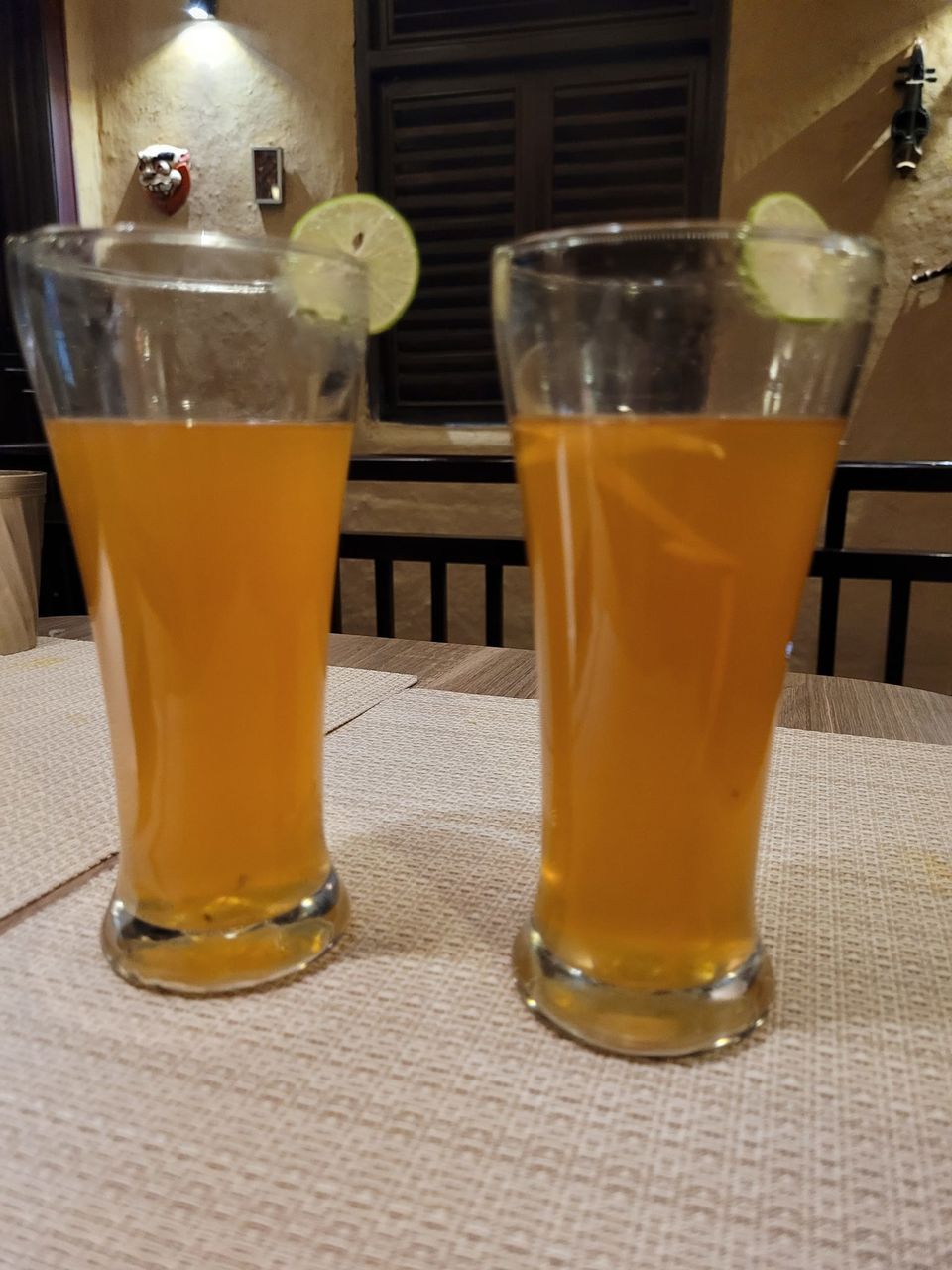 We set out for Lachen in North Sikkim next morning. Unfortunately our vehicle broke down and we had to wait for a long time for an alternate vehicle to arrive. We reached Lachen much later than anticipated hours. The weather was bad and it was dark and cold when we were taken to our hotel. There was a very friendly young man called Thinlay Lachenpa in the hotel and we got a warm welcome even though they could not ascertain our credentials due to connectivity issues. We were offered complimentary wine of millet and Rhododendron to warm us up.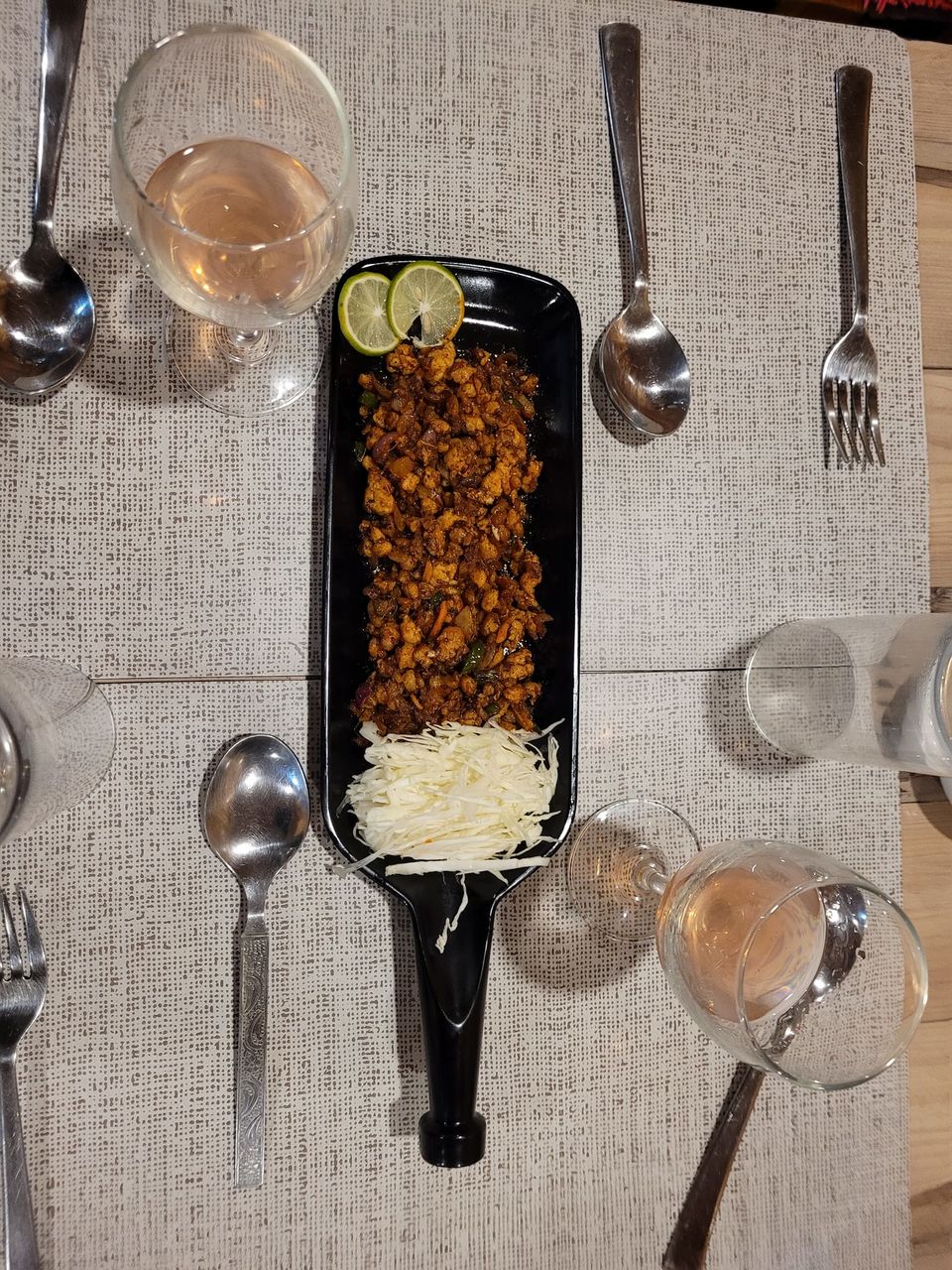 As we retired after dinner we got a phone call from our travel agent asking our whereabouts. Supposedly we were not in our hotel! When our car broke down and we were transferred to another car, there was some communication gap and we were taken to another hotel. Due to network failure the hotel people could not connect to the travel agent. Since they recently tied up with our travel agent they assumed we were sent to their hotel. This little mishap turned out to be blessing for us as we received excellent service. Thinlay is son of the hotel owner and is a very enthusiastic person with big dreams. He went to Spain for studying culinary arts but had to come back due to break out of covid. He is trying to promote local cuisine. As we expressed our interest in local cuisine, he promised to serve us Bhutanese meal instead of the fixed menu of our package next day for lunch.
We got ready early in the morning next day as we were to visit Grudongmar Lake, highest lake in India, at an elevation of 5,430 m. We were greeted by a gorgeous sunrise as we came out to hotel balcony.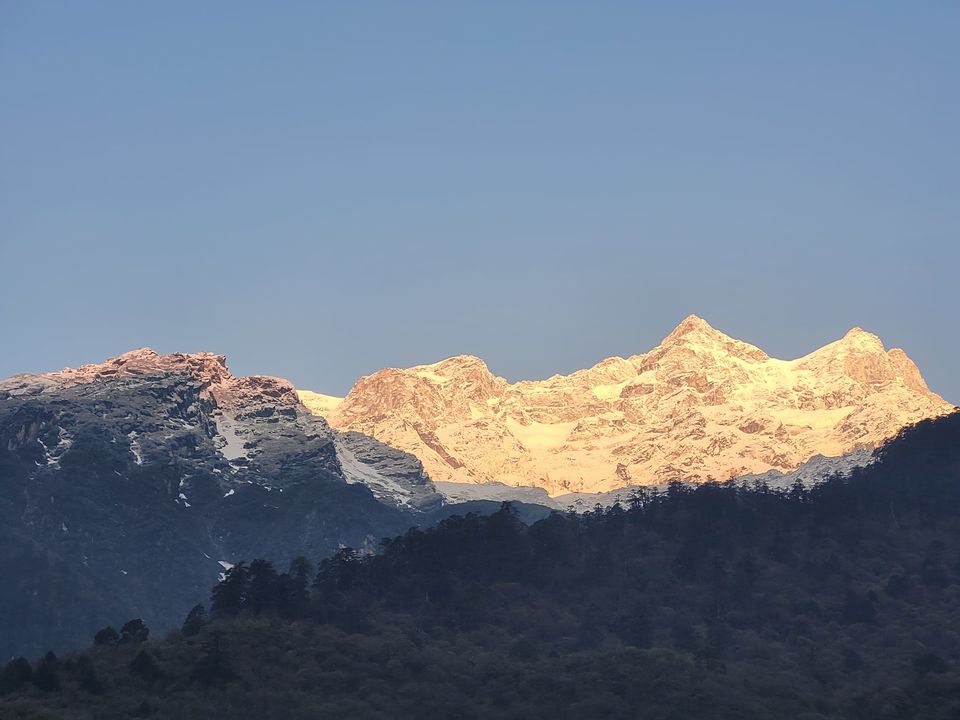 After sipping a cup of hot tea we started for Kalapatthar. The road was not good but the view was breath-taking with emerald green river Teesta and snow covered black mountain. We bought popcorns to munch on to help prevent high altitude related sickness.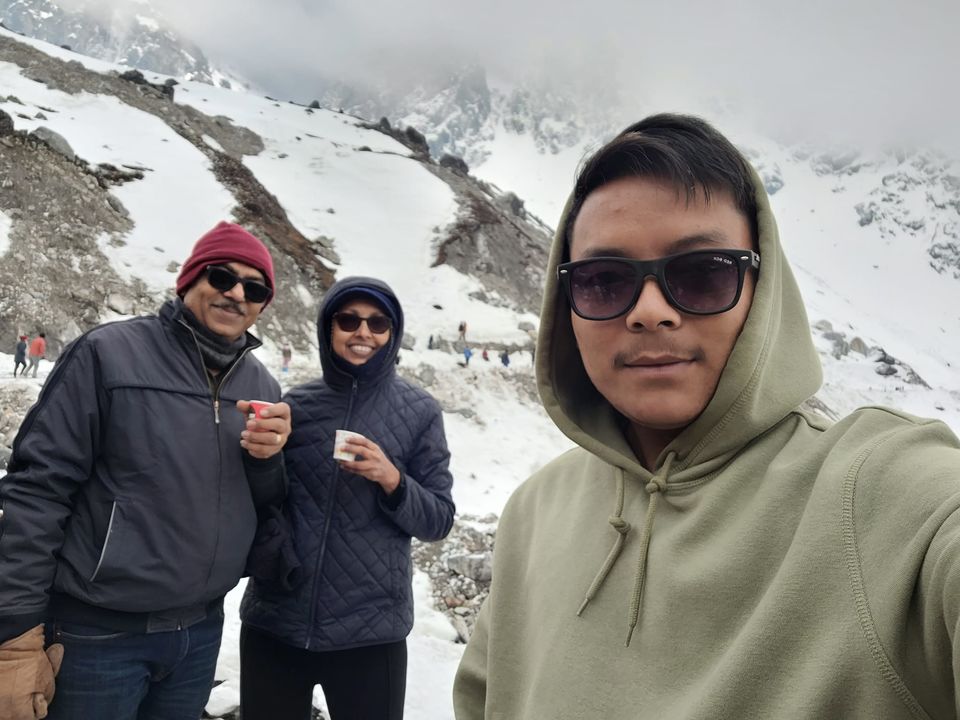 A cup of coffee and a few snaps later we started hurriedly for Gurudongmar Lake as weather mostly gets cloudy in the afternoon. Luckily, sun was shining bright and when we reached Gurudongmar Lake its water was shimmering. The sight of the lake with part of it still frozen and the other part reflecting the bright blue of the sky surrounded by mountains stirred my soul! The lake is considered sacred as there is a legend that Guru Padmasambhava on his way back from Tibet saw it and felt that it was worthy of veneration, as it represented the divine location of Dorje Nyima or Chhoedten Nyima. Because the lake remained frozen most of the year with no possibility of providing for drinking water needs, the people of the area appealed to Padmasambhva to help them. The guru agreed to help and placed his hands on a small part of the lake area, which stopped freezing during winter, facilitating drinking water to the people.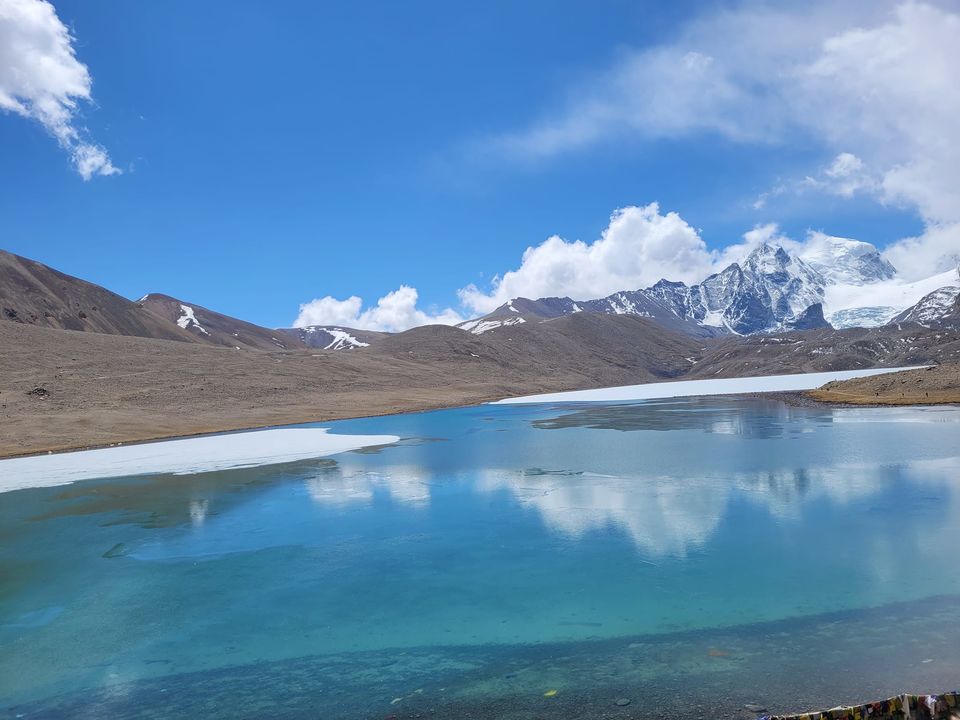 Fortunately we did not have any problem due to high altitude and spent quite some time there walking around the lake. Coming back to Lachen we had our delicious Bhutanese lunch and taking leave from Thinlay and other hotel crew started for Lachung.
We reached Lachung in the afternoon. Lachung is a very beautiful place and the hotel room offered another pretty view of a water fall right from our window!
Next morning after an early morning breakfast we started for Zero Point which stands at an altitude of 15,300 feet above mean sea level. The road ends right here and hence the name! It offers a panoramic view of snow-clad mountains and picturesque surroundings. Since it is located very close to the International border between India and China, visitors need permission to come here.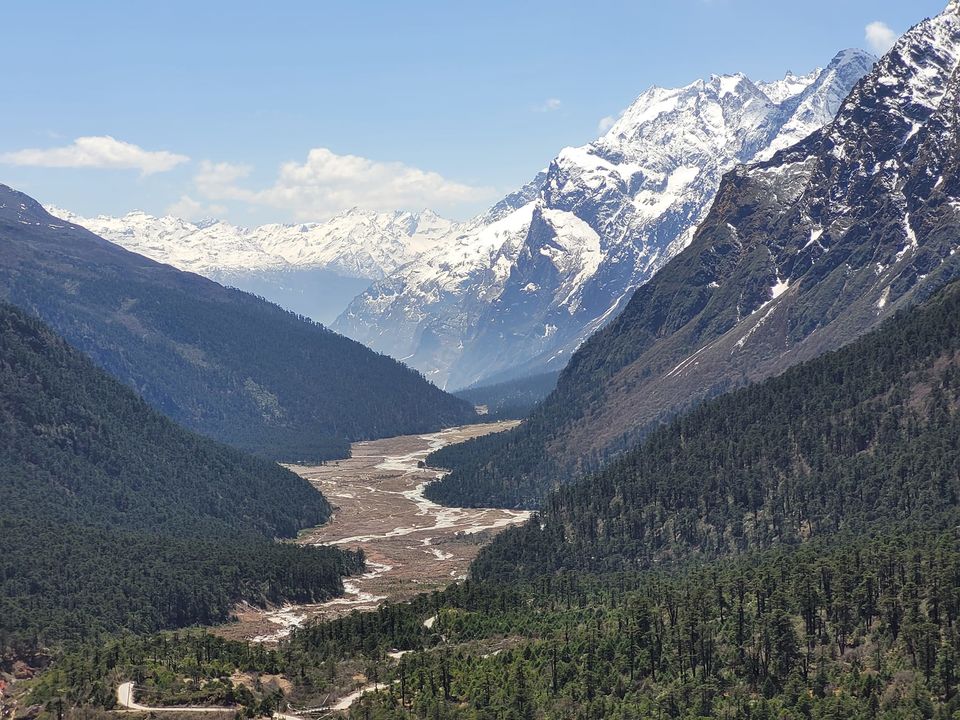 On the way back we stopped at the Yumthang Valley or Sikkim Valley of Flowers sanctuary. It is a nature sanctuary with river, hot springs, yaks and grazing pasture on rolling meadows surrounded by the Himalayan mountains.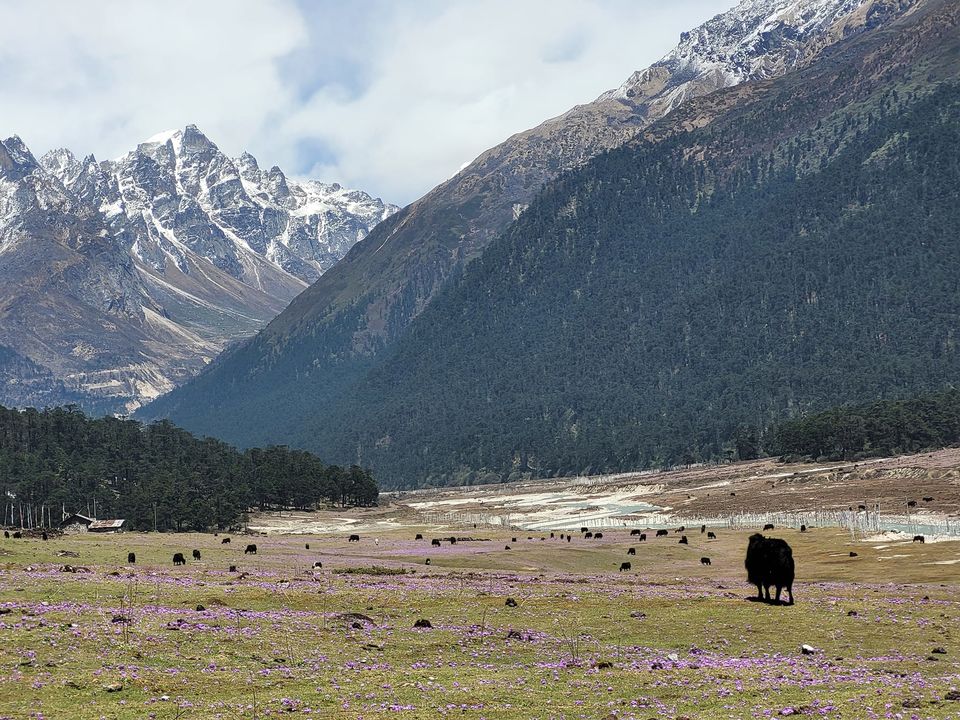 That afternoon after lunch we headed back to Gangtok passing through Chungthang where one can see the confluence of Lachen and Lachung Chu (river).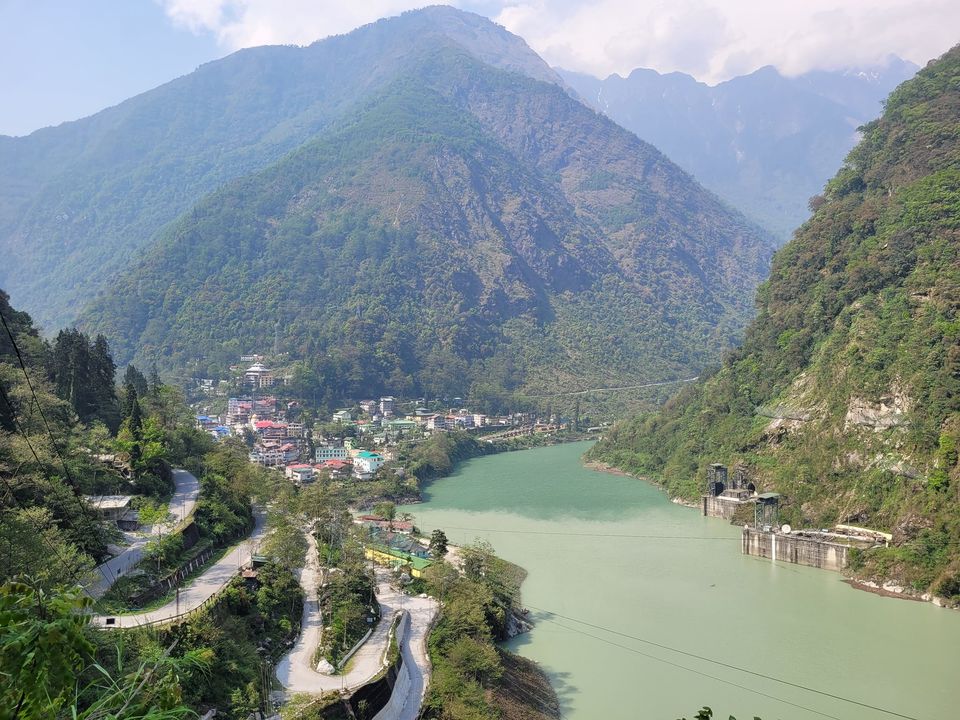 We had to stop for an hour on the way as traffic was stopped for road construction work. Soon it started raining and we had to move at slow speed. Reaching Gangtok late in the evening we thankfully retired to bed after another traditional thali meal arranged by hotel F&B manager Riya as she came to know of our interest in local cuisine.
Our itinerary for last day in Sikkim was local sightseeing in Gangtok. It was a rainy day and not suitable for sight seeing. But enjoyed our time in Namgyal Institute of Tibetology, Dro-drul Chorten (the most significant and perhaps the biggest stupa in Sikkim), Ganesh tok, Hanuman tok, Flower show, Cottage Industry and Handicraft Centre.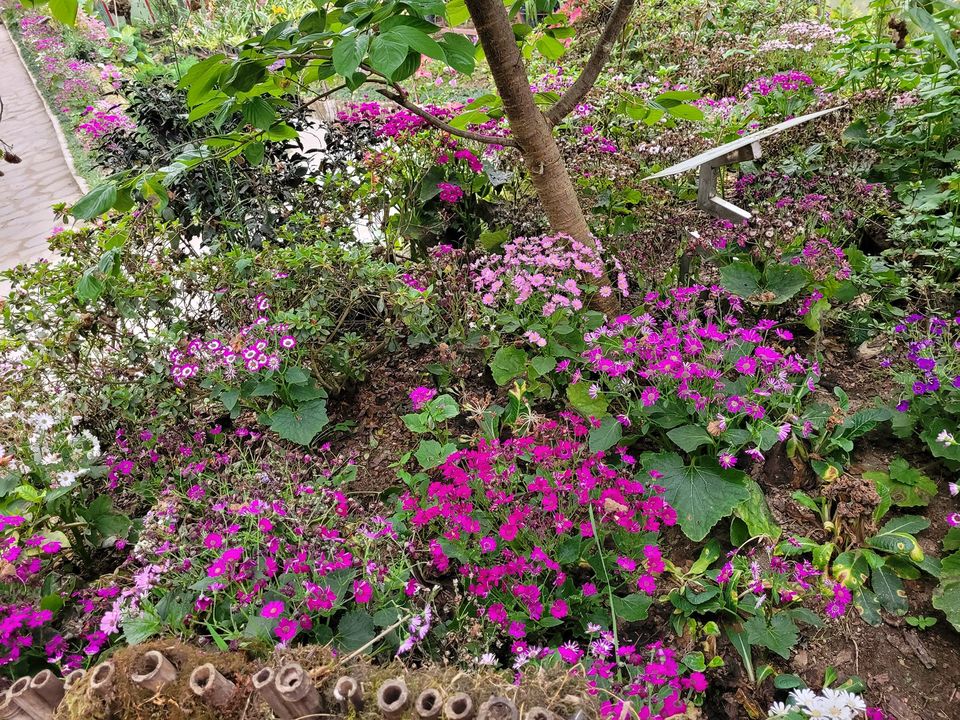 Then we went to Local Café on M G Marg, a popular restaurant with beautiful décor, friendly staff and amazing food. We had Yellow Laphing - a popular Tibetan street dish and coffee. While sitting there we heard a commotion outside. People were rushing to take photos of two dashing young men. Without knowing who they are I also took their pictures just to join the fun! Later when I asked one young girl in the café who they were, to my amusement she expressed her ignorance even though she posed with them for a selfie! They seemed to be actors.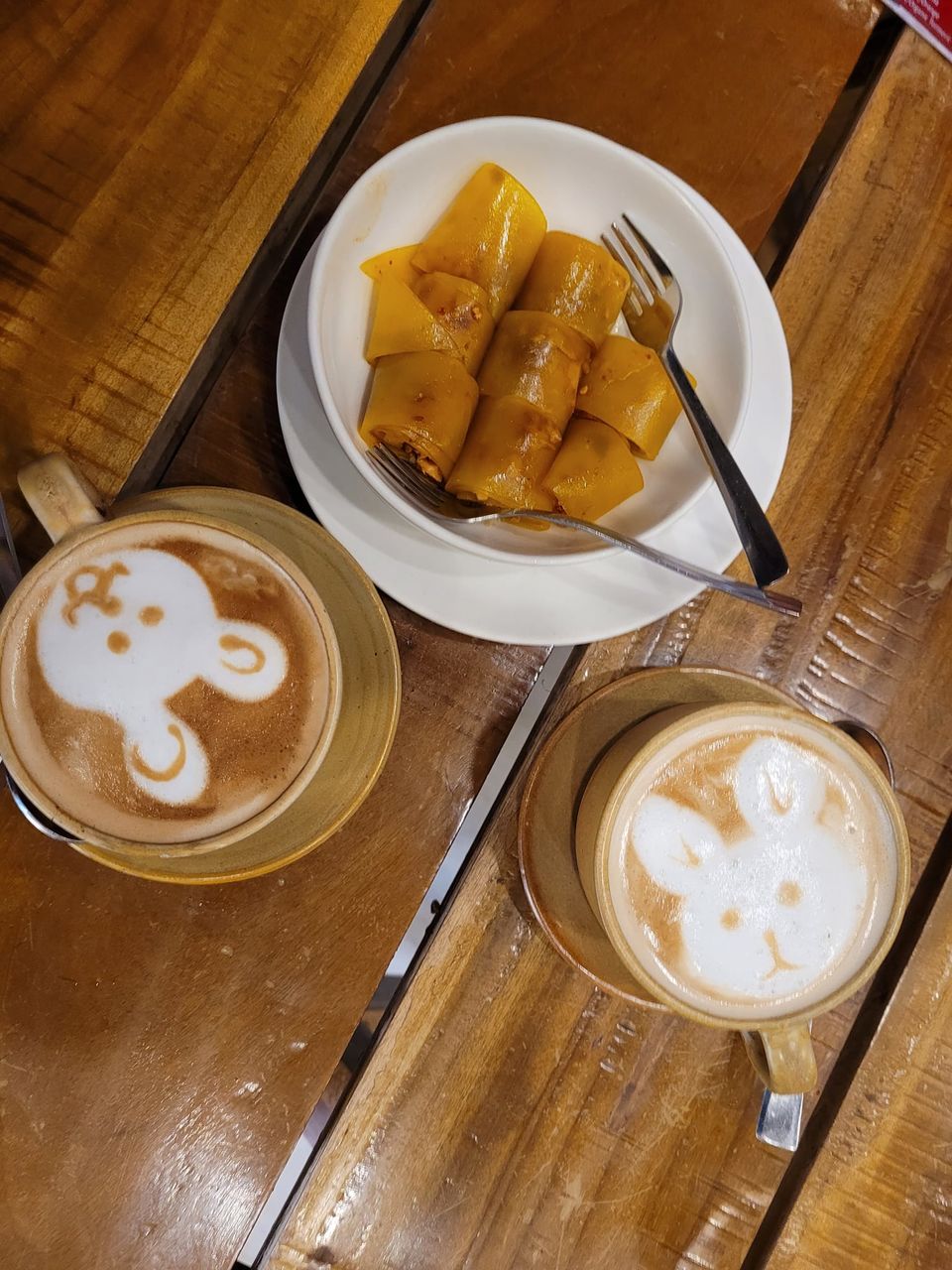 Afterwards we went to Lal Bazar as we love to explore local markets and mingling with local people. After roaming around Lal bazar and surrounding areas and buying some local produce, we had dinner at another popular outlet Taste of Tibet before going back to hotel. There we had Jhol momo and butter tea. Butter tea is a drink of the people in the Himalayan regions of Nepal, Bhutan, India (particularly in Ladakh, Sikkim, and Arunachal Pradesh). Traditionally, it is made from tea leaves, yak butter, water, and salt, although butter made from cow's milk is increasingly used, given its wider availability and lower cost. We had butter tea prepared with butter from cow's milk.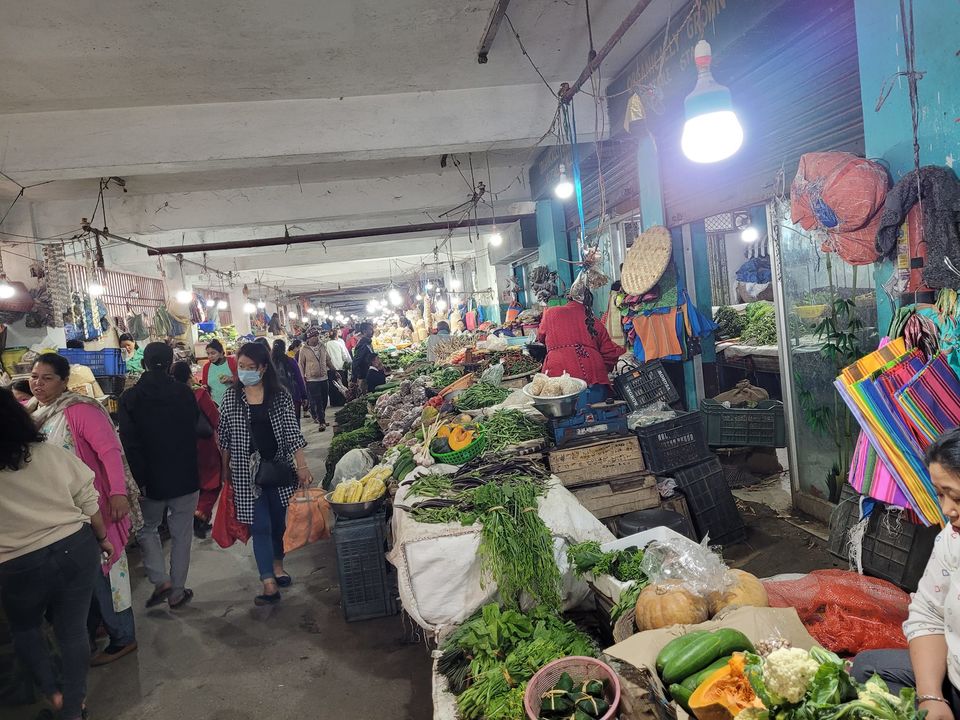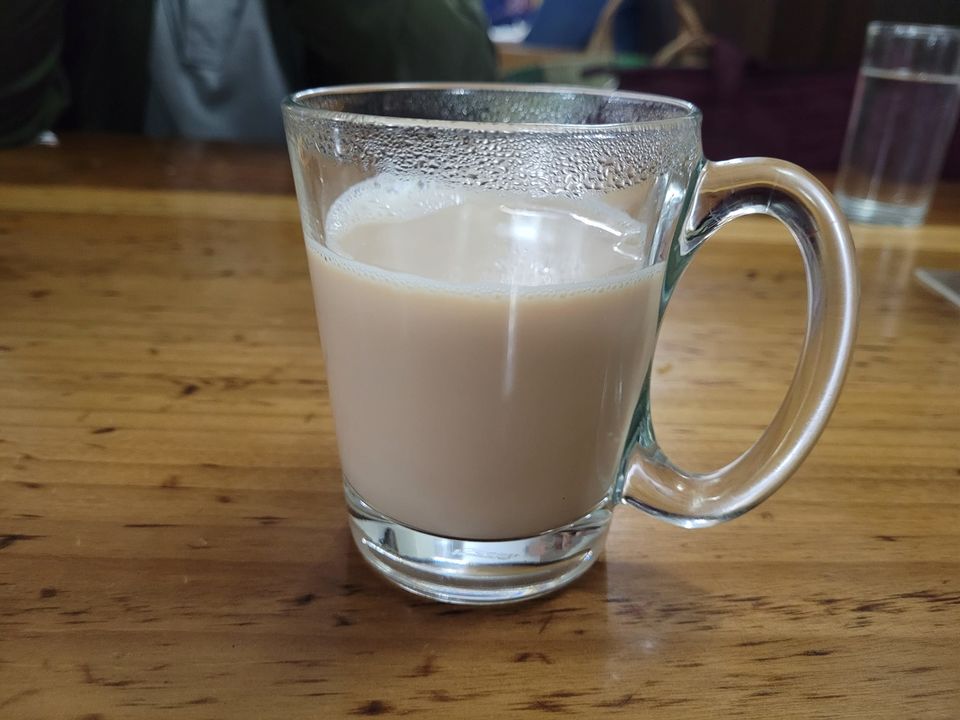 Next day we checked out early in the morning and travelled back to New Jalpaiguri to catch our afternoon train with beautiful memories of Sikkim with awe-inspiring tall snow-clad mountains, emerald green rivers, glacial lakes, innumerable springs, rolling meadows and colourful flowers etched in our hearts!