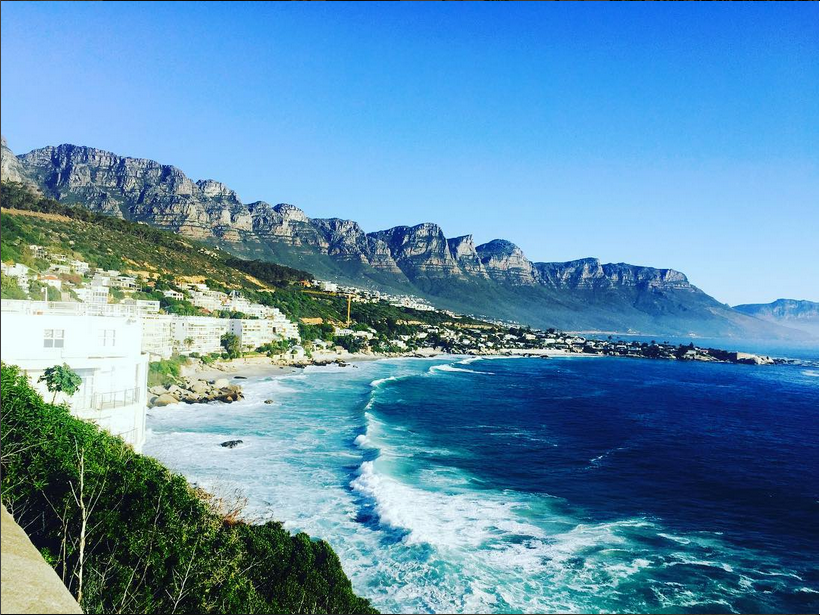 Hey Travel Lovers!!
I returned from South Africa after a 10 days long vacation with my husband. And I am proud to say that I have planned the budgeting, places to visit, Places to stay and everything in between.
Sharing this with everyone, If you want to go to SA, this might help:
Step 1: Get a Visa.
Since SA has good relations with India, So there is NO Visa Fee only Taxes which is different state wise,rs 2040/- from Delhi. Its easy to get and fuss free.
Step2: Book Flights.
1. Most of the airlines go to Johannesburg directly. You can also go to Cape Town directly but generally flight to Cape are costly as it is a highly favored Tourist Destination.
2. This is no brainier that you should book for flights in advance to save cost. But also keep an eye on offers from airlines. Like I got an offer from Emirates direct to Joberg in rs 80,000 for two persons.
Step3:Plan your Trip as per your travel style.
Like we covered Johannesburg, Kruger National Park, Port Elizabeth, Cape Town. Its a big country so you have to choose your cities like Durban for cricket lovers etc.
Also choose medium of Travel, Renting a car in SA is as easy as buying chips. So if you love driving and fancy a long drive without traffic among the beautiful scenery then go ahead treat your self. Rent is approx, rs 6000 for 2 weeks + Petrol. It will be around 15000rs.
Along with Renting a Car also rent a GPS, as this country runs on GPS and there will be nobody on roads to route you. Trust me Its a Necessity.
Step 4: Book your Accommodations.
Don't Book Hotel instead book Service Apartments. This will give you access to Kitchen and you can save the money on Food & Booze. Pack your Lunches before leaving and fill your water Bottles. Apartments cost starting from rs 2500 per day
Day2: Start your day early & Head to Lion's Park.
60 kms from Joberg. If you have a car then you can drive it inside the Lion park at no extra cost else, buy a ticket to safari and hop on Safari buses. Check with Ticket guy for Lion's lunch time and witness the wild beast's ferocious outlook to flesh.
While returning visit the apartheid museum or Nelson Square etc. for shopping & drinks.
Day3: Head to Nelspruit for Krugger National Park.
you can reach Nelspruit via road(400kms), reachable in a day if you start early. Drive is easy and speed limit is high. If not you can also stay in between on any B&B. Did I tell you that you can pick and drop your rented car in any city of SA ;)
Else take a flight from JOberg to Nelspruit directly for rs 2500 (Mango airlines). hassle free if your not into driving.
Book an apartment outside KNP, for cheap options. Ready your food for next day's KNP safari as stepping outside your vehicle is not allowed and options inside are limited. Alcohol is not allowed inside. Entry fees is rs 1500 per person.
Day 4: Start your day as early as 5am to see animals drinking water etc.
Again if you have car, you can get the map from entry gate and drive inside which ever way you want. can halt at any location but stepping outside is not safe nor it is allowed. Else you can book a Safari and they will show you animals and take you back. But its not fun. Unless you find & spot them on your own.
Follow the Rules & Respect the Animals else it will be dangerous as you are about to enter a real harshest Forest. These are real wild animals who will tear you apart if they wish to :)
Day5: Take Flight to Port Elizabeth,rs 2500 per person. Why PE.?
Because its Serene, its quite, & it is an entry point to Garden Route to Cape Town. Road Route from PE to cape is fondly known as Garden Route for its picturesque sceneries. Swiss Mountains and experience thousand shades of green. Ohh ohh & it has Ocean at one side of the road, if that helps to make up your mind.
Day 7: Do whatever you want, you are in Paradise. Cape Town
Relax, Enjoy, Soak the beauty, Hike to Table Mountain, Hop On the Red Bus(you must), Drink Wine,Sex, Sleep, Lay on the Beach, Eat, Drink Repeat. Live your dream life.
Day6: Start Road Trip of your life to Capetown on Garden Route.
800Kms, reachable in a day, again roads & speed limit. Enjoy the Road and beauty outside. Keep your documents handy and FOLLOW THE RULES. Reach your hotel & sleep, you need this good night sleep.
Day 1: You have landed in Johannesburg,
If you are renting a car. You will get delivery on the airport Terminal. Enter the hotel location and drive on. You should rest for the day, except setup your kitchen if needed like get your booze from super market in wholesale(will be cheap) along with breakfast options like eggs, bread, butter etc.
Day9 or 10: Take a flight back to Johannesburg as your return flight is waiting to take you home.
You just had a memorable trip.. Go Brag!!!!
See More Pictures on my Blog thefabulouslyf (dot) com
Frequent Searches Leading To This Page:-
kenya south africa, flamingo tours kenya, south africa itinerary 6 days, kenya packages from india, south africa tour packages, south africa packages, south africa tour packages itinerary, south africa tour
KNP is huge so strictly follow the map else you might penetrate in another country. It closes at 6PM, return back to your place.
Animal & wildlife photography Lovers stays even for weeks in KNP itself, so decide your priority.