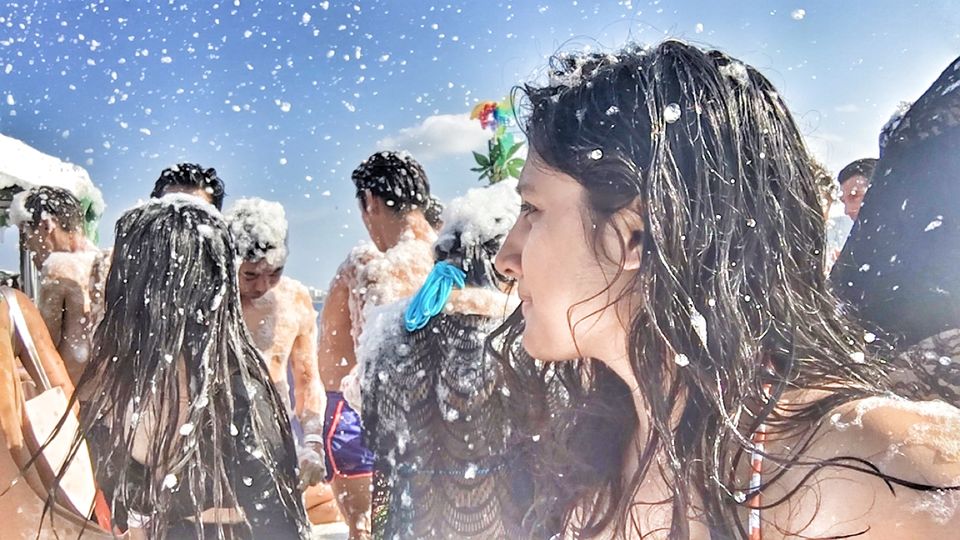 Spain is a beautiful country. It is not only historically relevant but also is one of the most popular party hubs in the whole of Europe. From beautiful beaches, to historic monuments, to natures nest, they have it all. And nothing better than having to visit this country with your one and only gang.

We went for a Bachelorette trip to Spain in August, 2018. It was one of a kind. We've roamed like tourists, chilled like locals, walked like nomads, relaxed as if we were at our own homes and partied like there's no tomorrow. And this was our routine for 15 days. Insaneeee!
For detailed information, check out my blog - https://www.explorersecstasy.com/single-post/A-trip-to-Spain-with-Best-friends-An-itinerary-for-15-Days
Follow me on Instagram - https://www.instagram.com/explorers_ecstasy/
Mumbai to Barcelona
Day 1
La Ramblas - Is a street that is the most popular in Barcelona. It is happening at all times coz its lined up with street performers, restaurants, souvenir shops and tourists, of course.
Our hostel was right there and it was the best decision we took.
La Boqueria - La Ramblas has one of the best things to offer you and that is this market. Inside here you'll find a hundred delicacies on offer. From sea food to fresh fruits and juices to some lip smacking desserts, you're bound to be tempted here.
La Festa Major de Gracia - Visiting Barcelona in August? Plan your trip around the dates of this festival. The streets are decorated in a way that you can't even imagine. So innovative and colourful. It was just great taking a walk around this street during the festival. Note - There are many activities hosted while the fest is on. Keep an eye.
Pub Crawl - There are many hostels/companies organizing pub crawls for dirt cheap (15 EUR). Please go! Highly recommend. It's amazing to be around a group of people from different countries, who come together and party. Inclusion: Entry to 3 well known Bars and an entry to 1 well known club (Pacha, Opium etc) in Barcelona. You're literally sorted!
Book your spot with Tour Me Out
Day 2
Gothic Free Walking Tour by Tour Me Out - Staying in hostel has a lot of perks and one of them is a Free Walking Tour. The tour guides are super friendly and fun. They're young and very enthusiastic people who have taken this up as a hobby just so that they make you see Barcelona, the way they see it.
Gothic tour takes you to several tourist spots and gives you knowledge about many hidden gems that you otherwise would never know.
Places covered:
Placa Reial
Placa Del Pi
Jewish Quater
Plaça Sant Jaume
Barcelona Cathedral
Plaça Sant Felip Neri
The Roman City
Placa Del Rei
Santa Maria Del Mar
Book your ticket online or if you are staying in hostel, check with the reception. Sagrada Familia - One of the best creations of Gaudi, Sagrada Familia is Roman Catholic Church which is a Masterpiece. The creation, logic and the science behind the entire building in going to blow your mind. The church is still unfinished and is expected to be completely built in 2026 which marks the 100th death anniversary of Gaudi, the mastermind behind this beautiful creation. Pre booking required. Las Arenas de Barcelona (Bullring turned shopping centre & viewpoint) - Spent the evening on the terrace of this mall which is situated in Plaza Espanya. The sunset couldn't get any better. The colours of the sky made everything just perfect. It was relaxing and peaceful. Much needed. Magic Fountain of Montjuïc - The Magic Fountain shows are completely free to attend and is at a walking distance from Las Arenas. It's about time, you sit, relax and sip on to your favourite drink while the fountain is doing the magic. Also a great place from where you can buy cheap souvenirs and good food. There are so many street vendors there. Have fun, you guys! (PS: Check with the timing/schedule for the show or you may just miss it.)
Spent the night at our hostel terrace, meeting and chilling with the fellow travellers.
Day 3
In the morning we walked around La Ramblas, explored cafes and some local stores. Shopped, had some good food and ice creams.
Montserrat (5 hours round trip from Barcelona) - We booked an excursion from Barcelona to Montserrat which is a multiple peak mountain range in the outskirts of Barcelona. It's just like a small town located on the hill top. There's a basilica, a park, few stores and even a few cafes up there. It was an afternoon well made.
If you have the time, try and take at least one excursion while your stay in Barcelona, prefer Costa Brava over another.
Book your excursion with 'Get your guide'.
Skateboarding at MACBA (Barcelona Museum of Contemporary Art) - When in Barcelona, one needs to experience the unique skate culture. Outside this Museum, you'll be stunned to see the stunts that the skateboarders perform. At all times we were at edge coz that's how dangerous yet fascinating it looked. Go check them out guys!
Take a walk - There's a lot to see and to do around this area. If you like shopping, go do it. There are so many local and designer stores around this area. If you like exploring art, go just take a walk and you'll find so much around you, from painting on the shutters to small artistic elements on the walls, there's a lot to see. You like food? They have super cute cafes. Chill, relax and eat! An evening well made, indeed.
Pub Crawl organized by our Hostel - Coz why not? There are some amazing clubs, that you don't want to miss out on when in this beautiful city.
Book your spot with Tour Me Out!
Day 4
Gaudi Free walking tour hosted by Tour Me Out which was offered to us by our Hostel - A lot of it that you hear about Barcelona is because of Gaudi. Antoni Gaudi is world known for his unique architecture, art that you could have never imagined in live size, the usage of natural elements in building masterpieces and usage of colours. You'll be stunned looking at the master pieces that this man has created.
What you'll see?
Casa Batllo (1904-1906)
Palau Guell (1886-1895)
Casa Mila (1906-1910)
Sagrada Familia (1882-under construction)
(Please note: You don't get an entry at any of these places. The free tour will only take you to these places and take you through the history and all the other relevant and interesting facts).
Book your ticket online or if you are staying in hostel, check with the reception.
Park Guell - Park Guell in Barcelona is a public park that was designed by Gaudi. It is one of the most impressive parks that you'll ever come across. Access to the central area is limited coz you got to pay to see his creation that much is influenced by the nature. The rest of the park is free and can be visited without booking.
Touring the Palau Guell - We were running short of time to tour all the structures built by Gaudi and hence we selected the one which was the nearest to our hostel. And believe us, we were stunned. The level of thinking that has gone into making this mansion for tycoon Eusebi Güell, is beyond imagination. We suggest, you atleast tour 2 to 3 of his masterpieces. (Sagrada Familia is a must must)
Want to buy tickets for Palau Guell? Prefer buying offline than online. They're available at Palau Guell, itself.
Evening exploring - We were left with only few hours in this city and hence we choose to just chill, eat and walk through the cute bylanes of Barcelona. It felt beautiful and it kind of sucked as well coz we were just getting use to the life here and now we had to leave this city ;')
-- Things not to miss out on, in Barcelona!
Pub Crawl
Stay in a Party Hostel
Participating in activities organized by the hostel such as salsa sessions etc.
Opt for Costa Brava instead of Montserrat.
Metro Train Pass - Internal Travel gets much more convenient and cheaper when you have a pass (2/3/4 days pass). Buy it from the station itself.
Maps can guide you through the city. Ask for it from your hostel/hotel.
There are few other free tours hosted by Tour me out, such as street art tour etc. Keep a tap on their website.
Maoz Falafels for a delectable delight.
Chok for some sweet tooth.
Barcelona to Ibiza
Ibiza - 3 nights 4 days
Aparthotel - Reco des Sol Ibiza (We stayed around San Antonio in Ibiza, however this place was a 20 min walk from the main street. Good place but too much of walking. Prefer taking a hostel/hotel on the main street)
Approximate Price - Rs.4500 to Rs.5000/night per person
Ibiza needs no introduction, chill, beach and party and repeat. That was Ibiza for us.
Day 5
Went super easy on Day 5. After all the walking that we did each day in Barcelona, it was much needed.
A walk at San Antonio - In the evening, we thought of taking a walk at one of the most popular streets in Ibiza - San Antonio. It was worth all the hype. It was happening and LIT, literally.
What to do?
Enjoy the street performances put up by the locals, there. They sure will grab your eyeballs.
Love shopping? Street stalls are a delight.
Hungry? Cute cafes will serve you some delish food.
Need some peace? The beach will comfort you.
Day 6
Boat Party (Beautiful People) - This is one of the best things you'll do in Ibiza. It's a 4 hour long party that starts in the afternoon and ends in the evening. It will leave you mesmerised and howww...
Dance, drink, party, foam party, champagne shower, sun bathing, hoots voots, water rides and diving into the blues - All that our 4 hours looked like. It was extraordinary. It was an experience. You just can't miss out on this!!
Beach Please (Playa d'en Bossa) - After the boat party, we decided to Beach me please.... Well, Ibiza it is.
Glow Neon Paint Party at Es Paradis (San Antonio) - Ibiza changes your definition of partying. This one is going to be messy and colourful. You're gonna step out of here looking like a rainbow and also feeling like one. Time for you to leave the sass (sexy clothes) and get silly from head to toe in neon paints. It's party time!
Day 7
Ibiza old town - There's a different side to Ibiza which is not all about partying but probably just chilling at some cute cafe, eating and shopping. The old town is super cute and resembles Noddy toy town! It was a sober day.
Clubbing - Clubbing nights in Ibiza are considered as the star nights because that's what Ibiza is known for. Uber clubs, uber crowd and uber cool. And we ticked it off our list. It was a great experience, indeed!
Day 8
At the property - Switched off ourselves from the virtual world. It was a well afternoon spent by the pool at our apart hotel.
Lunch at Vegan Point - We especially found out the time to go out for a good lunch to this vegan cafe that we had earlier found. The burger out there blew our mind and we thought, it just deserved a second visit.
Walk through the sunset strip and Cafe Mambo - In the last few hours that we had, we thought of walking to one of the most iconic restaurants and bars on San Antonio's famous sunset strip - Cafe Mambo. It was a perfect ME time. Although we were just there for a while, it just felt beautiful. The sea, the sun and the surrounding, all together felt home. (Sadly, we couldn't wait till the sunset coz we had a flight to take. So please plan smart)
Flight to Malaga. Night stay in Malaga.
Malaga
Day 9
Started our day at this cute cafe over some coffee.
ShoppingPaid walking tourNight at the Hostel Terrace
Malaga to Granada
(Took a Bus) - Book yours with Alsa!
Granada - 1 night 1 day
Hotel - Granada Center Hotel (Wasn't at the best location but didn't really matter coz we were just there for a day.
Approximate Price - Rs.1800 to Rs.2000/night per person
The city invites to admire the charm of its buildings with Muslim influence. For centuries the country was host to arabic culture and it is because of this that one can experience strong imprints that belong to muslim culture, especially Granda which is in the south of spain. From the bars they have to the city interiors to the historical monuments, the cross cultural elements have amazed us.
Day 10
We reached to Granada in the afternoon so we just had half a day left to tour this city.
Alhambra - The Alhambra in Granada is a fortress and a palace that is protected by mountains and surrounded by woods. The palace has a history that you wouldn't want to miss out on.
PS - Remember to book it a few days prior coz they have limited entries each day. Also, buy the ticket that includes touring Nasrid palace. We were late to book and hence we missed out on that.
Book your tickets with Get your guide!
Time for some churros at Futbal Cafe - Heard it's pretty well known in Granada and hence we visited this cafeteria. Not bad at all, although the churros were a little bland, we enjoyed the authentic flavours.
Walk, talk, observe and walk. It's a great way to learn a lot about the city and its culture.
-- Things to remember while you plan your trip to Granada.
Try staying for one more day if you can. There's a lot to do in Granada.
Go for Hammam Al Andalus in Granada. It's the best here.
Do not forget to book your tickets to Alhambra and Nasrid Palace, way in advance or you may not be able to visit these places.
Granada to Seville
Took a Bus. Book yours with Alsa!
Seville - 2 night 3 days
Hotel - Eurostar Regina (Wasn't at the best location. Try and take one which is closer to city centre)
Approximate Price - Rs.1000/night per person.
Seville, worldwide is popular for its culture, traditions, monuments and artistic heritage. This city has also witnessed the birth of gypsy culture in Spain. This led to the origination of one of the most popular forms of dance - Flamenco, which is associated with the Roma or the gypsy people.
Day 11 We reached seville in the afternoon. After reaching the hotel, we had a good nap after which we left to explore the city.
Plaza de Espana - The grandiose and gorgeous, the building of Plaza de Espana in seville is a must see. The beautiful architecture, the history behind it, the cultural relevance and the intricate aesthetic makes it compelling enough to be worth anyone's visit.
Maria Luisa Park - Earlier owned by the royal family, this park is now a public park bringing in a beautiful scenic place right in between the city. You can literally get lost in it for hours. It is absolutely peaceful. Want to make it more interesting? Get on to the traditional horse carriage to make this journey a tad bit romantic and traditional.
Metropol Parasol - Metropol Parasol also known as the mushroom of Seville, is a sight to see. It is a wooden structure located at La Encarnación square, in the old quarter of Seville, Spain. This quirky spot, is now used by the locals for skateboarding or just casually meeting.
Indulged in some shopping - Around Metropol Parasol, you'll find an extensive area for shopping. There are so many designer stores and brands where you would enjoy shopping at reasonable price. It is a guilty pleasure, indeed.
Fine Dine at Yamazaki near Metropol Parasol - We were in mood of treating ourselves and we did it. It was a great Japanese delight. PS: We're vegetarians so if you wish to go, you can too.
Night was all about a peaceful walk in the city centre. It is a great way to learn about the city culture.
Day 12
Cycling tour with Baja Bikes - Enough of walking so now we opted for biking, and it was a great experience. Not only you discover the main sights of the city but also the hidden spots. The cost for this activity was 25 Euros.
Places we covered:-
Torre de Oro
Giralda
Barrio de Santa Cruz
Real Fábrica de Tabacos
Triana Bridge
Church of Santa Ana
Palace of San Telmo
Archivo de Indias
Cathedral of Seville
Alcázar - Similar to Alcazaba and Alhambra and hence we didn't tour it from inside.
Jardines de Murillo
Plaza de España
Maria Luisa Park
And much more.
​Book your spot here!
Flamenco Show at 'Tablao flamenco El arenal' - Raw emotions, strong foot work and an unbelievable energy, captivating enough to keep you involved in their performance, attending a flamenco show is a must when in seville. The dance will leave you absolutely astonished. Go for it!
Price - 39 Euros. The price includes a drink :P
Book your tickets with Baja Bikes or directly book it with Flamenco Tickets.
Seville to Madrid
By Train (Santa Justa, Seville to Puerta de Atocha, Madrid)
Book your train tickets with Rail Europe or Spain Rail.
Madrid - 3 nights 3 days
Hostel - 2060 The Newton Hostel (Good location)
Approximate price for a private room - Rs.2500/night per person.
Madrid which is the 3rd most populous metropolis in Europe is the capital of Spain. It is not only historically and culturally rich but also has a strong sports culture. It is a city that has elegant boulevards, many parks and extensive art thus making it to the bucket list of many, worldwide.
Day 13
We reached our hostel in Madrid around 3.30 pm.
Late lunch at Miss Sushi - We saw this super cute pink coloured place which we thought is a restaurant but because of its colours and set up, we misunderstood it as a salon. Turns out, it actually was a restaurant. Haha! And hence, we had to visit this cute restaurant.
Strolling around Puerta Del Sol - One of the most happening streets in Madrid, this place needs all the attention. Sit, chill, eat and enjoy!
Shopping at Primark - Couldn't have missed this at any cost for obvious reasons. Haha! Also the Primark here is hugeeee. You may easily spend 6 to 7 hours out here and you won't even realize.
Go for Pub Crawl (We missed this in Madrid) - Inquire about this at your hostel or Book your ticket with Cats Hostel or Sandeman's New Europe.
Day 14
Cycling Tour with Rent & Roll - One of the best ways to see madrid is on a bike. I say this because Madrid can get quite tiring on Foot coz of slopes and cycling just makes everything easy and saves a hell lot of time.
The cost of the tour - 25 Euros. It is a 4 hour long tour that will take you to most of the popular places in Madrid.
Places that we covered:-
Lago
Palacio de Cristal
Puerta Felipe IV
Los Jerónimos
Museo del Prado
Caixa Forum
Congreso de los diputados
Plaza Santa Ana
Plaza Mayor
Mercado San Miguel
Catedral de la Almudena
Palacio Real
Jardines de Sabatini
Templo de Debod
Plaza de España
Opera
Puerta del Sol
Cibeles
Plaza de la Villa
Retiro Park
Gourmet Shopping at El Corte Ingles - Since we were towards the end of our trip, we were keen on buying some popular delights of spain that we could take to India and this place just served us right. We bought Cheese, Olives, Saffron. Herbs, Chocolates, Dips and so much more.
An evening at Puerta Del Sol - The street is a must visit in the evening. Sit there for hours and you will still be entertained. The solo artists/performers or the street acts are interesting enough to grab all your attention. And it just gets better with some fries and a drink in hand. There are cafes around to serve you some good food.
Casino or Pub Crawl again - The choice is yours!
Day 15
This was the last day of our trip and we were already sulking. :/
Lunch at a Pizza Place - We forgot the name of this restaurant but what amused us is a plate full of olives that we were served once we settled down at the restaurant. They were the best olives we had till date. I highly recommend you'll to buy olives from Spain.
Churros at Chocolatería San Ginés - This small classic looking restaurant was founded in 1894 and is known for its hot chocolate and churros. The interiors, the colours and the old fashioned tables added right amount of authenticity and it felt amazing to have eaten here.
The Santiago Bernabéu Stadium - Visiting the iconic home ground in Madrid is a dream of many football fans and we were just lucky to have seen this stadium. It felt great and it felt different. All i wished for was a match that we could see here but we regretted it big time since. If you have the chance, do go watch a match here. The stadium has vibes that you would want to live at least once.
Hammam Al Andalus Madrid - The last thing that we wanted to do in this trip is relax, and nothing but a Hammam made it just perfect. The arabic vibe had us there, the mint tea just made everything right and the warm and cold water pools relaxed us enough. Couldn't ask for a better ending. Highly recommend.
Price - 39 Euros. We heard, the one in Granada is better. However, since we were running short of time, we thought of going for Hammam in Madrid and we absolutely loved it.
Night at the Hostel Terrace - Great memories are made when there are people in it. Especially strangers. And our last night was just that. We met an Indian and a french guy while we were chilling on the terrace of our hostel and the kind of conversation that we have had, still makes me laugh today. What an ending to the trip!
Madrid to Mumbai - An early morning flight.
Let's talk money - Costing/Expenses
Putting down a rough estimate of our entire tour for a better understanding of budget while planning your own trip.
International Flights: Mumbai to Barcelona ; Madrid to Mumbai - Rs 53,000
Visa - Rs. 7450
Insurance - Rs 1354
Approx Total - 61,804
Internal Travelling (City to city):
Barcelona to Ibiza - Rs. 5016
Ibiza to Malaga - Rs. 6648
Malaga to Granada (Bus) - Rs. 880
Granada to Seville (Bus) - Rs. 1920
Seville to Madrid (Train) - Rs. 4700
Total - Rs. 19,164
Stay (approximate costing for 15 days) - Rs. 40,000 to Rs. 42,000
Total costing of mandatory things - Rs. 1,22,968
Miscellaneous:
Food, Internal travel (Train, Bus, Taxi), Activities etc - Rs. 40,000
Estimated total expense of our trip - Rs. 1,50,000 to Rs. 1,60,000
SPAIN has given us beautiful memories and stories to tell the world! Nothing more could we ask for. Cheers to good life and good travel!