I've been in love with, and practised photography since my childhood but have only begun to pursue it professionally in the last 5 years or so. Besides wildlife and nature photography, I've recently worked on commercial videography and filmmaking projects as well.
I've been drawn to astrophotography for several years now, and clicking the Milky Way in Spiti Valley is a dream come true for every enthusiast. My first trip to the region gave me an idea of what I hoped to capture and I was eager for a second visit to carry out these techniques.
The trip to Spiti Valley in February 2019 was completely spontaneous. Luckily, I managed to find a travel partner- a close friend and experienced trekker who loved spur-of-the-moment mountaineering as much as I do. He agreed to accompany me at a week's notice. This was happening!
Spiti is one of the most challenging terrains attempted primarily by adventure enthusiasts. Given the season, we expected an extreme climate; I was excited to take on the thrills and sights of the rugged Valley. Divyanshu and I had only booked tickets to and from Delhi and Kolkata, and a two way commute between Shimla and Delhi. We kept the itinerary and stay bookings flexible- nothing was certain but we were ready to try our best to get as far as possible.
On arriving at Shimla, we discovered that we'd missed the last snow of the season by just a few days. The roads to Spiti were blocked; finding safe and affordable transport was difficult. Only public HRTC buses plied on the Rampur-Rekong Peo route and We decided to make the most of it.
We experienced the first snowfall of the trip on the road to Rekong Peo. It snowed thick and fast; the climb grew steeper and the climate more challenging. We stopped for the night at Rekong Peo. The food was frugal- access in higher regions was increasingly remote and the dwellers had fewer resources to spare.
We decided to try and look for transport northwards the following morning.
A long two hour wait later, we finally managed to board a rickety bus bound for Kaza. Payments were to be made per stop; it was never certain which stop we might halt at. The bus gingerly made its way up the narrow trail, halting every so often to avoid potential avalanches and landslides. The view was spectacular- frozen lakes, ice floes and steep ravines dotted the landscape.
At most stops, we saw puppies at local villages. They were forced to hunt each other to keep from starving; all habitable spots were knee-deep in snow and food was impossible to come by.I was reminded that the fight for survival gets brutal in extreme conditions, and felt grateful for the resources we still had access to.
The bus was snowed in at Maling approximately 2-3 kms outside a village named Nako, one of the later stops before Spiti. Our driver refused to move forward and decided to make a return journey- the route was too treacherous to risk moving ahead on. We were devastated at having come so close to reaching Spiti only to discover that our plans could be foiled at the last step. Divyanshu and I were the only tourists amongst our company of travellers; everyone else was a local villager.
In retrospect, what happened next was possibly the most intense physical trial I have ever endured. Equipment included, I had approximately 30 kgs of luggage. We trudged up the mountain through knee deep snow, approximately for 3 kilometres. That trek alone pushed me to incredible limits I could never have imagined possible otherwise. Lungs aflame with thirst and exhaustion, and freezing simultaneously, we stopped frequently for breath and to gather what remained of our strength. I'm certain I pushed through on my willpower alone after a point. I seriously confronted the possibility of death in the snow, and it precluded any chance of being physically recovered- not only would no rescue vehicle make it into that terrain; the whiteout would leave us buried too deep to trace. The upward trail seemed to wear on for two hours, each successive stop taxing our limbs and breath more than the last.
We heaved a deep sigh of desperate relief when we finally spotted Nako in the distance, where we stopped to recover. Having surmounted this convinced us that we could survive whatever was left of the journey and we finally boarded a shared cab to Kaza. As luck would have it, the car dropped us off at Shilling, a village many miles from our destination. Night had fallen; it snowed relentlessly and we went from door to dimly lit door hunting for a homestay. We finally put up at the Dolma Homestay at Shilling, wolfing down whatever food we received. It was modestly furnished, with only a makeshift heater for warmth. Every stop deeper into the heart of the Himalayas brought me closer to the Spartan conditions in which mountain dwellers were forced to make do; the scarcities and remoteness more than I'd ever imagined.
The following morning we waited for Kaza-bound transport but found no cabs travelling in that direction. We hitched a ride on a local vegetable truck transporting food into the valley and drove into Shego and put up at a homestay where, thankfully, we managed to procure an electric heater. The temperatures by now had plummeted to an incredible -23°.
Our stay host agreed to drop us off at Kaza the following morning.
Spiti was on lockdown, having suffered power and resource shortages, going on 16 days (at the time) without electricity. Most homestays refused to host travellers, trying to conserve what little they'd accumulated between the occasional trucks carrying supplies into the Valley. Divyanshu and I were running low on funds as well. We searched for a place to stay and eventually managed to put up at Mandala homestay for the night.
I'd had almost no opportunities to photograph the night sky, between hunting for homestays and the intense blizzards each night. That night, however, the skies cleared somewhat. The temperatures outside plunged to an overwhelming -30° but this didn't deter me from exploring the skyscape in the snow, pursuing photographs I could be mildly satisfied with.
I finally decided to book return tickets to Rampur at 6:30 the following morning, as soon as the offices opened. By this point it seemed practically impossible to continue further inwards towards Langza.
We boarded the first bus headed out, desperate to return.
Several punctured tires and many exhausting hours later, we finally drove into Rampur. We were forced to take a detour through Chandigarh on the route into Delhi. It was an ill-serviced bus that broke down frequently and we repeatedly argued for a change of transport. Unfortunately, we shared that ride with particularly rude and inconsiderate locals, who only stoked our worries about missing our flight homewards the next day. Eventually, we changed buses midway on the route, to make our way back to Delhi. My patience and endurance was on its last legs, and I heaved a grateful sigh as we finally trundled into city.
LIST OF HOMESTAYS:-
The Dolma homestay at Shilling
The Shego homestay at Shego
The Mandala homestay at Kaza
The Instagram page and community at @SpitiExpedition proved particularly helpful in finding the lodging at Shego.
This trip to the mountains has been an unforgettable and extreme journey. As I discovered, the best time to travel into Spiti for astrophotography is in fact, August. I didn't get to capture the shots that I'd hoped for, but this was, undeniably, a once-in-a-lifetime opportunity. I experienced a trip to the Himalayas in conditions only a handful of people ever attempt, and shared the intense adventures of the remote Himalayas in all its bare, intoxicating magnificence.
I also encountered an exceptionally resilient people and culture, which relied on its ability to survive on bare minimum- a sorely needed lesson on self-sustenance, in a world where we take the luxury of instant access for granted.
Photographs taken at Shego.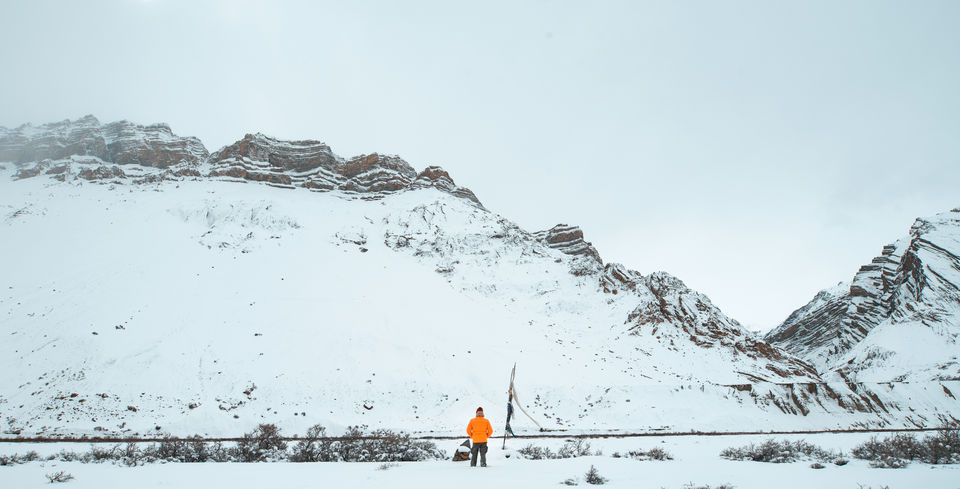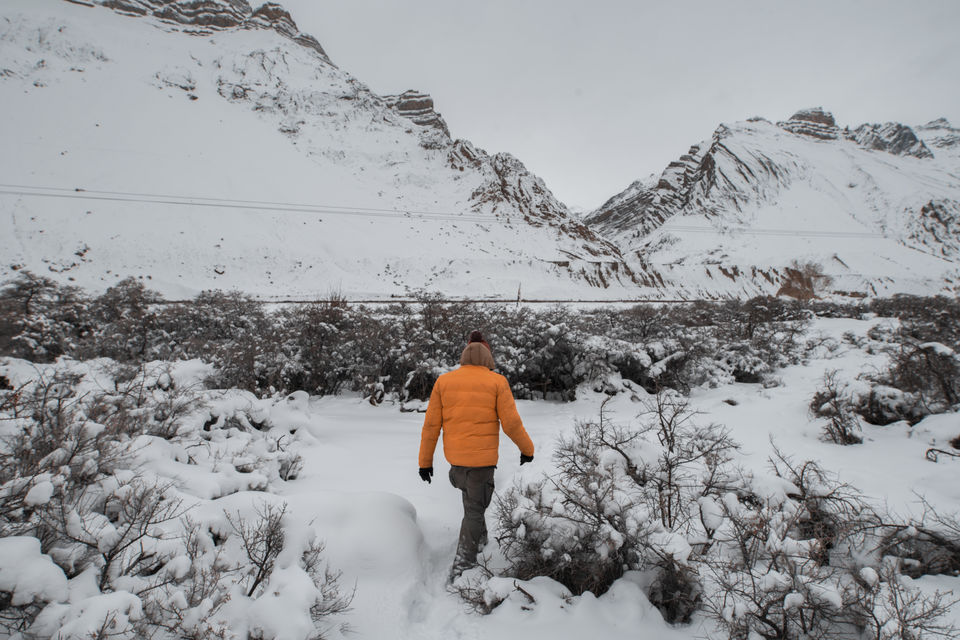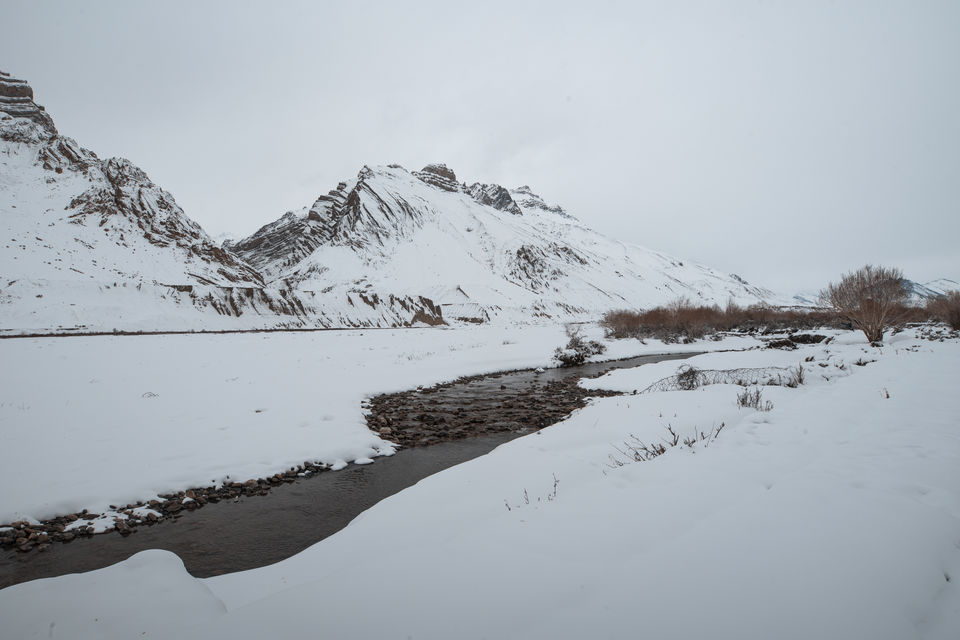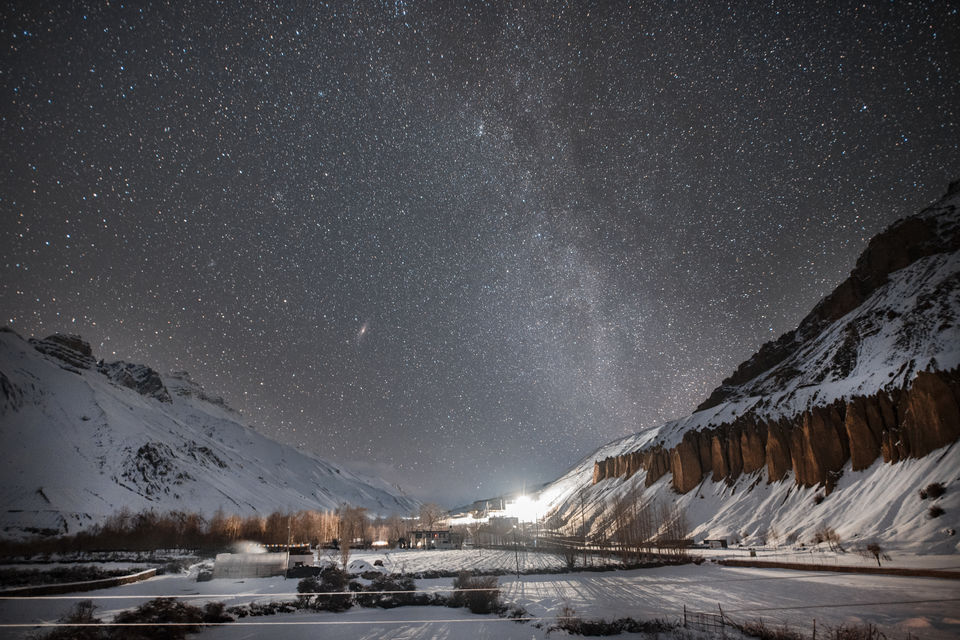 Photographs taken at Kaza