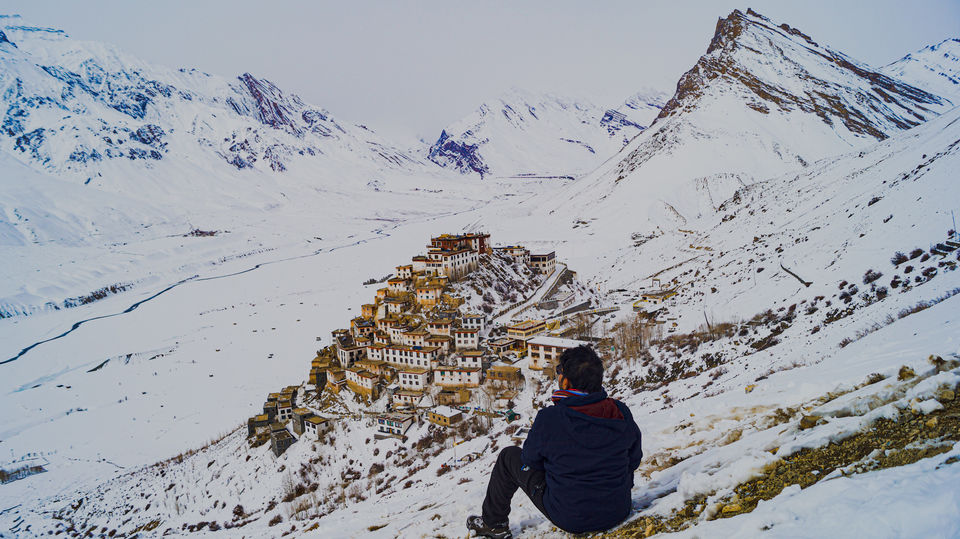 Hello Everyone,
To begin with, I would like to tell that how I was motivated to do Spiti Valley Trip in Winters.
I had done Chadar Trek in Jan-2017 and begun doing Instagram after this trek. While scrolling Instagram , I found the picture of a Monastery situated in the lap of nature surrounded by mountains . It's beauty was so surreal that it almost hypnotized me I felt a strong urge to be there in the bosom of it's captivating glory . Yes , you people might have just guessed it right. I am talking about the Key Monastery . I added this place to my bucket list and decided that I will visit it some day for sure .This place has already started whirling in my mind and soul .
I began doing some research about the Key Monastery like where is it located , how to reach and other things .This attempt made me read and know about the entire Spiti Valley. I had a strong resolve to visit Spiti sooner than later but my plans could not materialise during Summers of 2017 , 2018 due some avoidable circumstances
Another year 2019 had already knocked the door and in the meantime I got transferred to another location. A thought pummelled my mind constantly that it might be extremely difficult for me to plan a trip in the upcoming 6 -8 months after joining at new place .
So I searched about Spiti in Winter . As I googled , the displayed pictures mesmerized me . I decided that I will go Spiti in coming months itself ie January /February. I could not postpone this trip for so long. Initially plan to go solo on this trip by public transport .But realised that might be tough to do in Winters when temperature is in the range of -15° C to -30° C and I also came to know that there will be less options available to stay and also for food . So I contacted some operators who were providing Spiti Winter Expedition . Finally I decided to go with "Highway to Himalayas Tours " and "Take Me to Himalayas" . They were organising this trip for a group .The weather forecast was not so good during those days . Heavy snowfall was predicted . I contacted my tour operator who gave the nod . And there I go…I started the trip !!
Day 3 : (26-01-2019) When we woke up ,first we enquired about the road condition to reach Recong Peo / Kalpa from local police and localities . But the road was still closed to our dismay . So to make the best use of the time at hand we decided to do a little detour and started our journey towards Sarahan .Sarahan is small village which is 35km from Rampur . While en route to Sarahan the weather started favouring us . The sun shone with its affectionate warmth . This village was covered with snow and as the sun light was hugging to snow , the purity and endearment of the residents was so adorable which I will never forget in my whole life . The clouds were playing hide and seek game at the Dhauladhar range .We visited the 800 year old Bhima Kali Temple .This place is very serene and away from the din , peaceful and fulfilling. We spent very good time at Sarahan .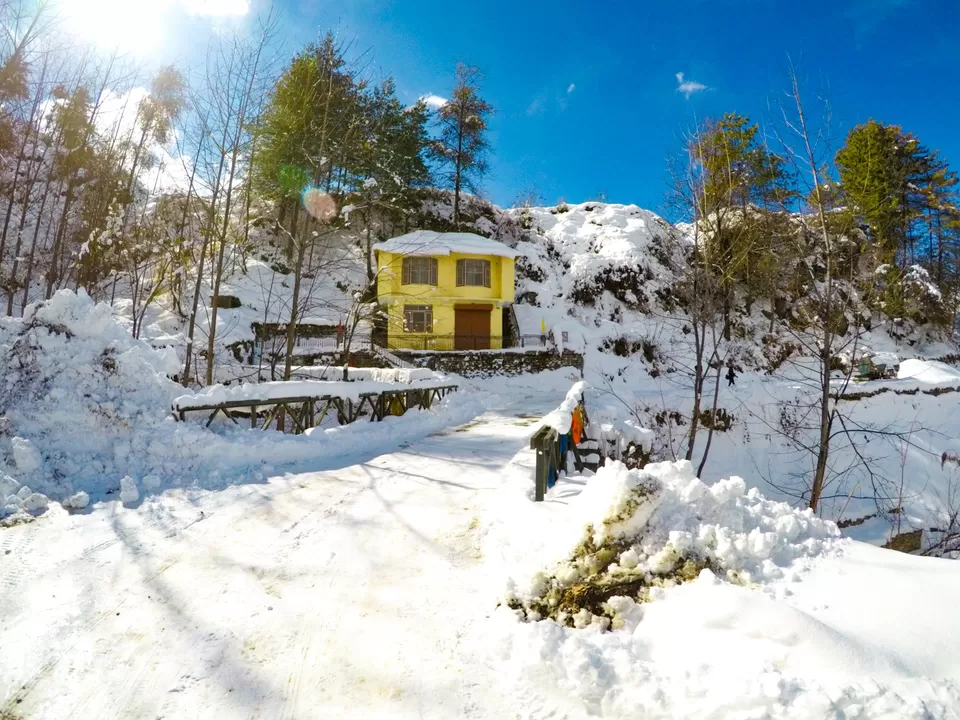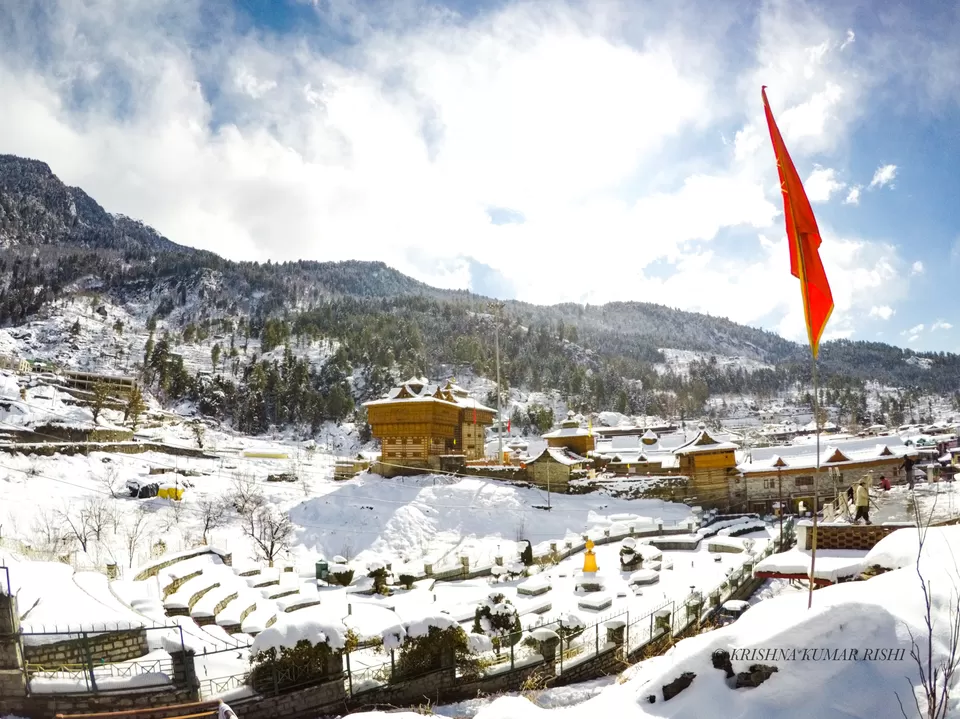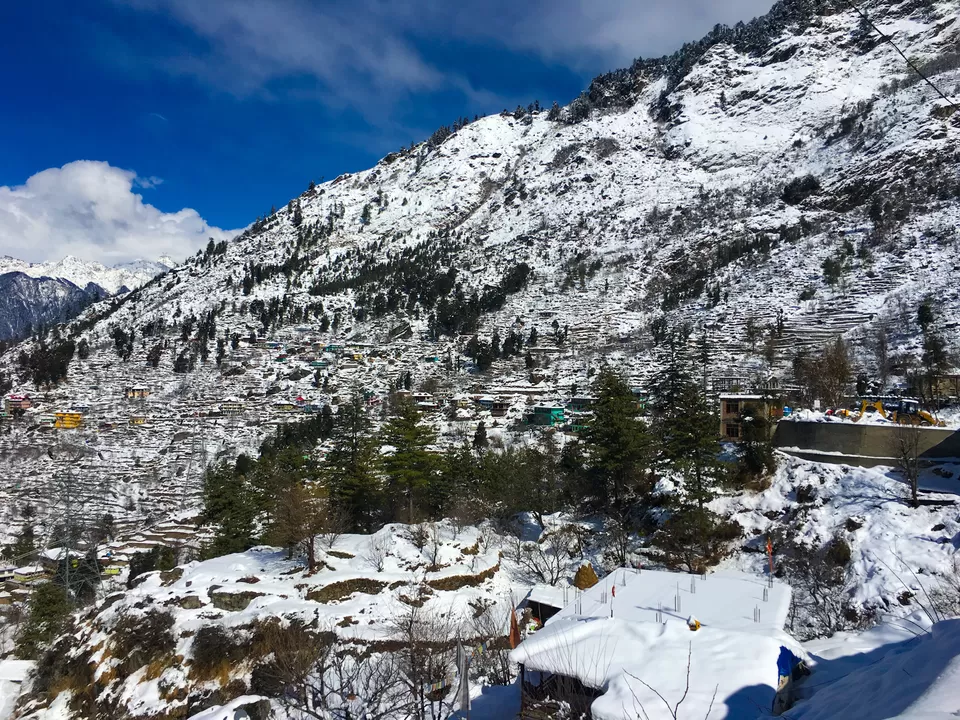 Day2 (25-01-2019): As I woke up , I opened the window to my room and found snowfall was going on .My happiness knew no bounds. Shimla "The Hill of Queen" looked enchanting ….nature decorated with white snow and colourful houses .I got ready and packed my bag and boarded on our vehicle ie Maruti Suzuki, Gypsy and met with the other two fellow travellers who belongs to Kolkata . On second day , we had a plan to reach at Reckong Peo via Narkanda , but the roads were closed due to heavy snowfall . The weather forecast was true .Most other trips organised at Spiti were already cancelled. But this was time when we just did not want to go back. We wanted this trip to happen. Thanks to our team which was very determined and optimistic . We decided that we won't go back without visiting the "Ki Monastery " . With our resolve and determination as our saviour, we decided to proceed further and choose an alternate route .
The roads were covered with snow and snowfall was also going on . All of us were enjoying the weather . The shift in plan made it clear to us that we will not be able to reach ReckongPeo but we were moving towards Sunni .Finally, we reached Rampur Bushahr in late evening and stayed there.
Day4 : (27-01-2020) . The weather got clear now and it was sunny day , we were ready to proceed towards Recong Peo. As we got to know each other better the journey became fun filled with music and laughter and merriment . We were entering in the Kinnaur District . It took 4 -5 hrs to reach Recong Peo. Earlier we had a plan to stay at Kalpa. But the road to Kalpa was covered with snow so we stayed at Recong Peo. Recong Peo is the district Hq of Kinnaur District .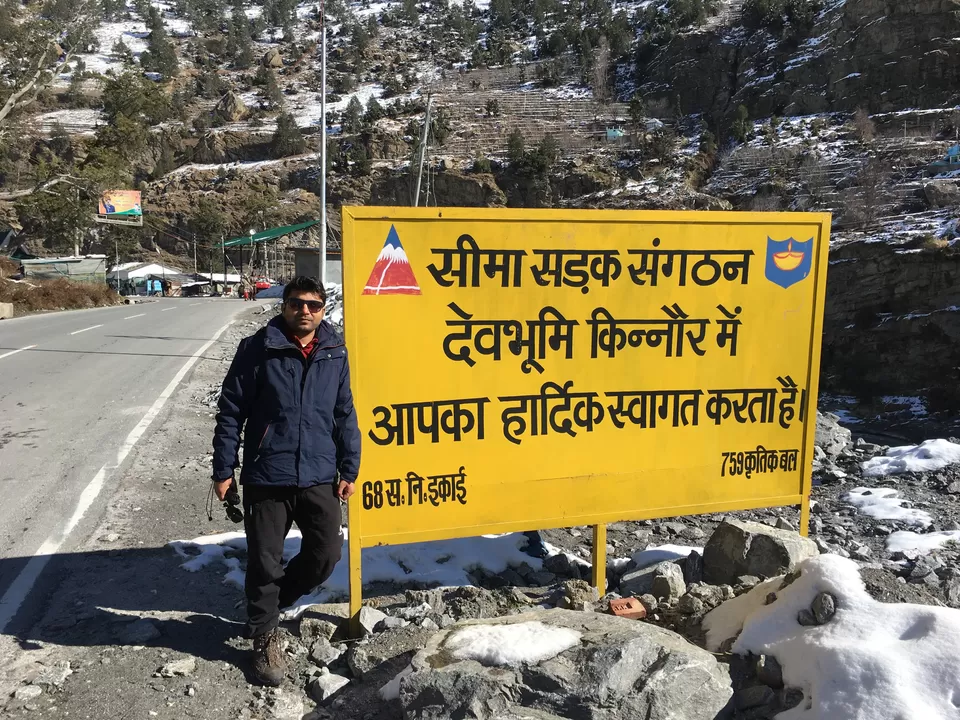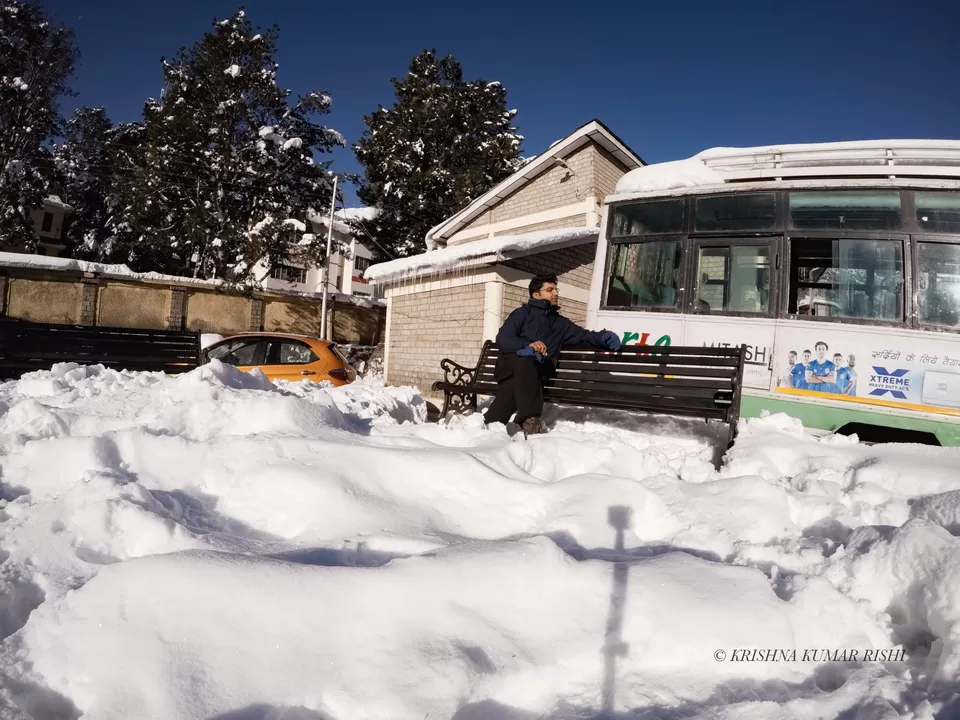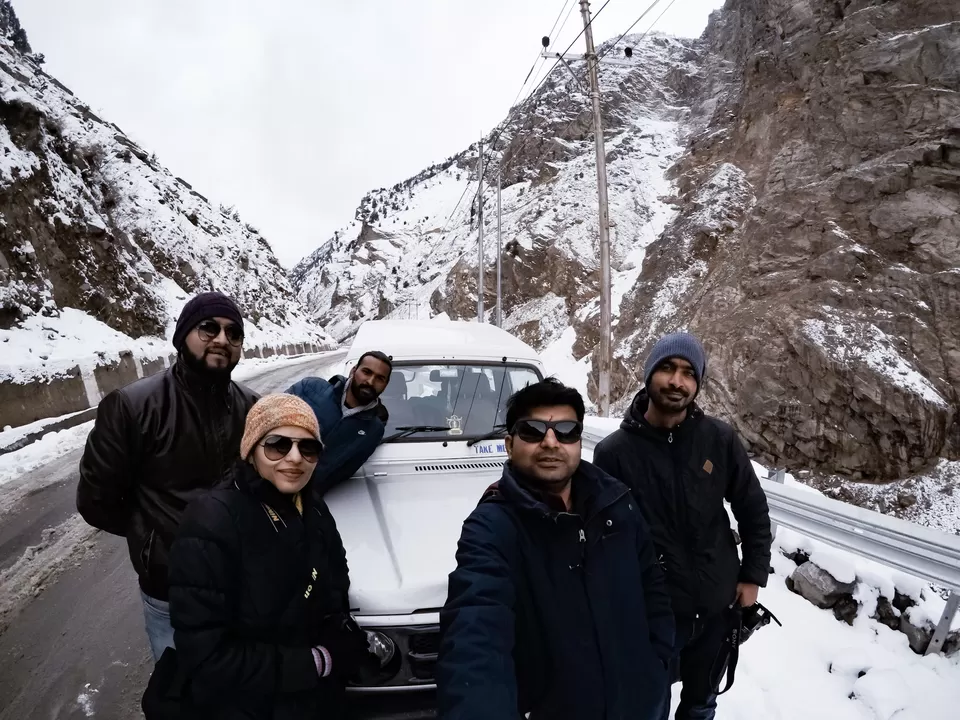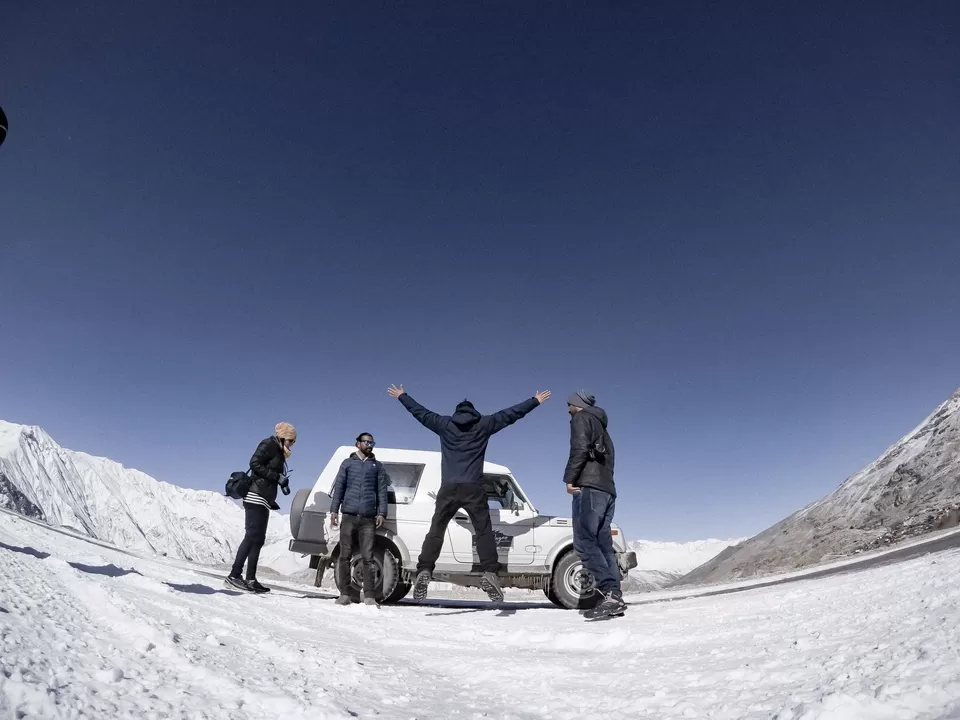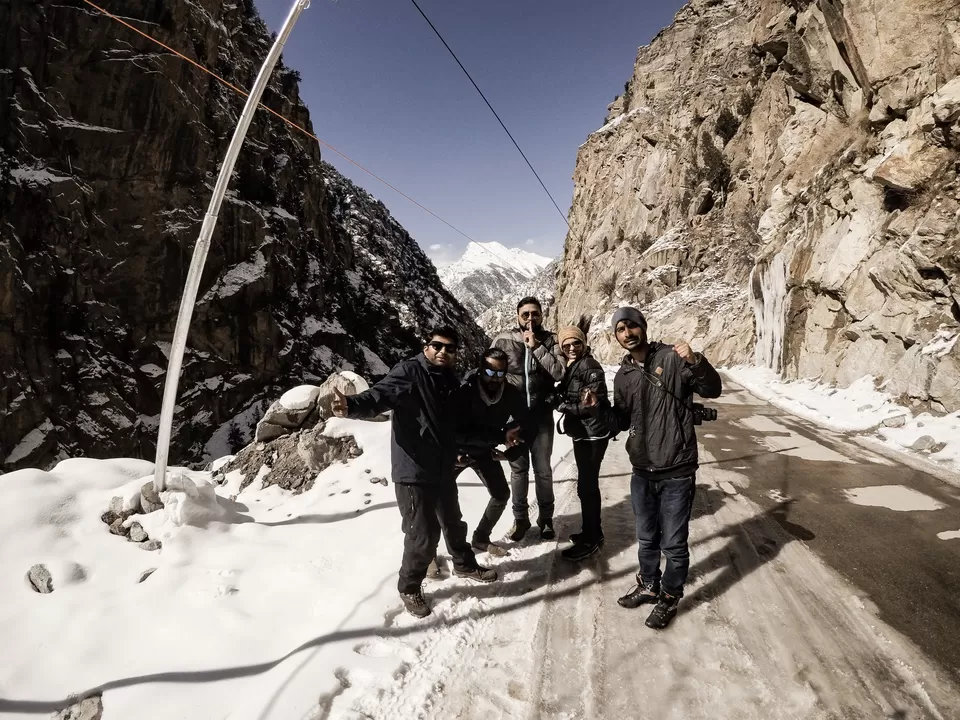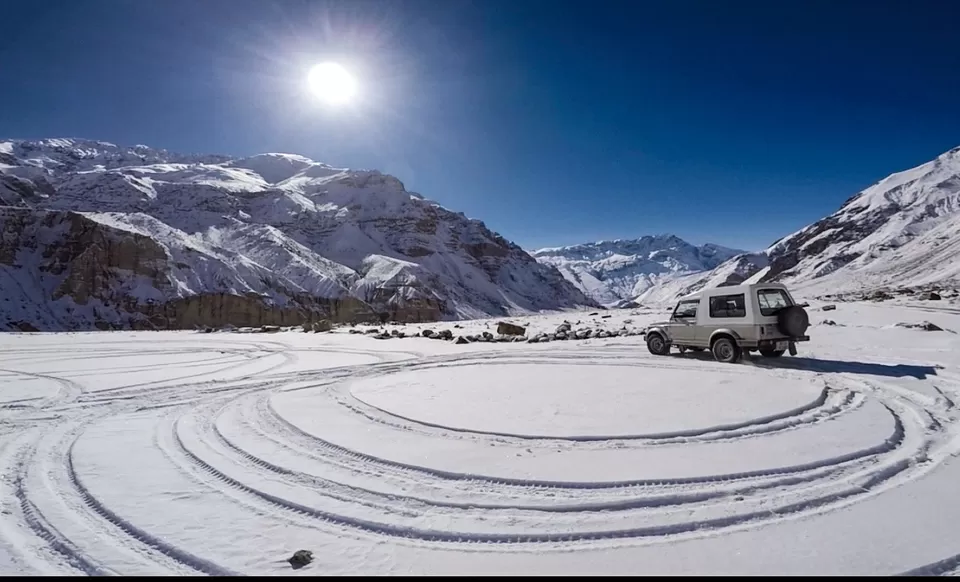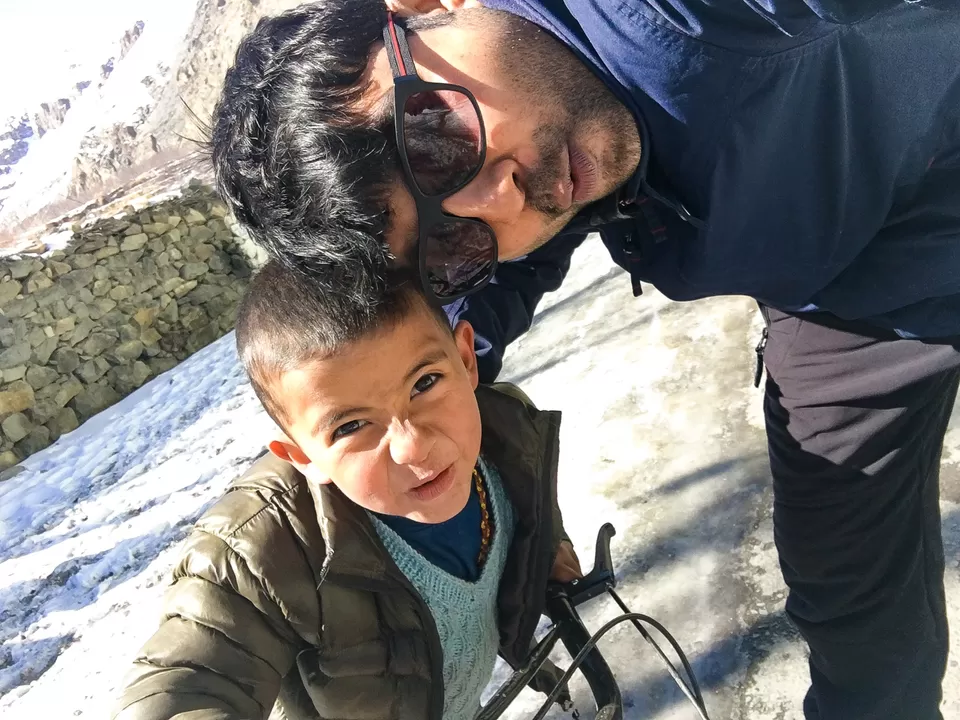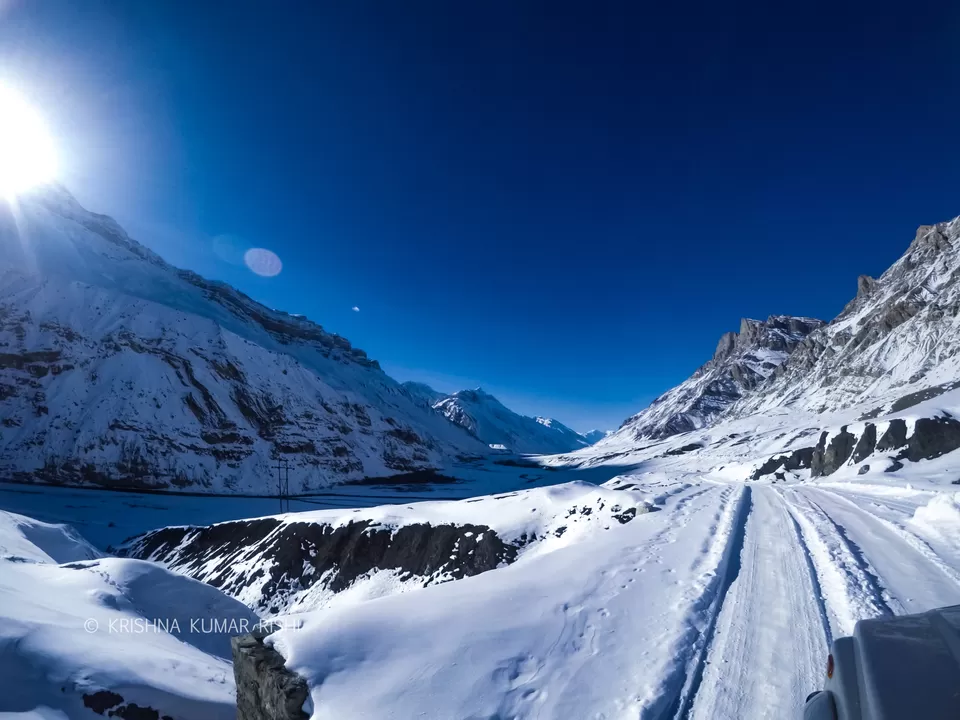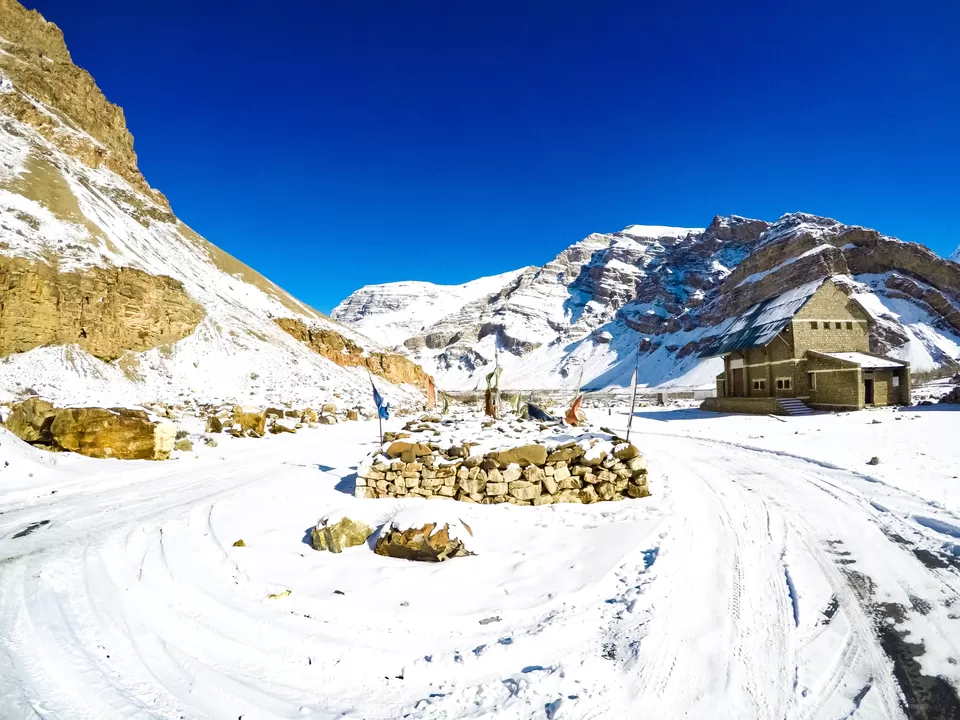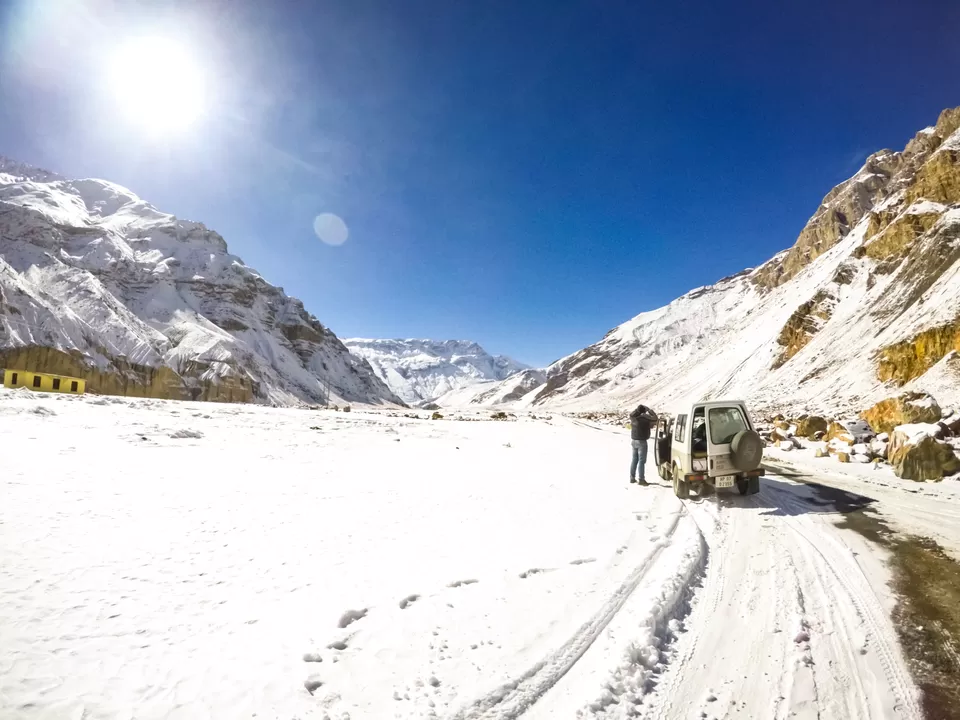 Day 6 :(29-01-2019) .We headed towards Kaza on this day . The distance was only 112 km .It took 6 hours . Now we have already entered in Spiti Valley .Whole Spiti Valley was covered with snow and it look like another world altogether….heavenly ,sought of a wonderland. The roads were were opened .We saw some vehicles on the roads. We reached Kaza . There was no electricity since past 6 days at Kaza due to the bad weather condition .It was not possible to visit Ki on that day as we needed some time to rest. We stayed back at the homestay .There were some more locals present in that home stay . Some persons sung songs , some played guitar . This was one of the most memorable evening of whole Spiti trip.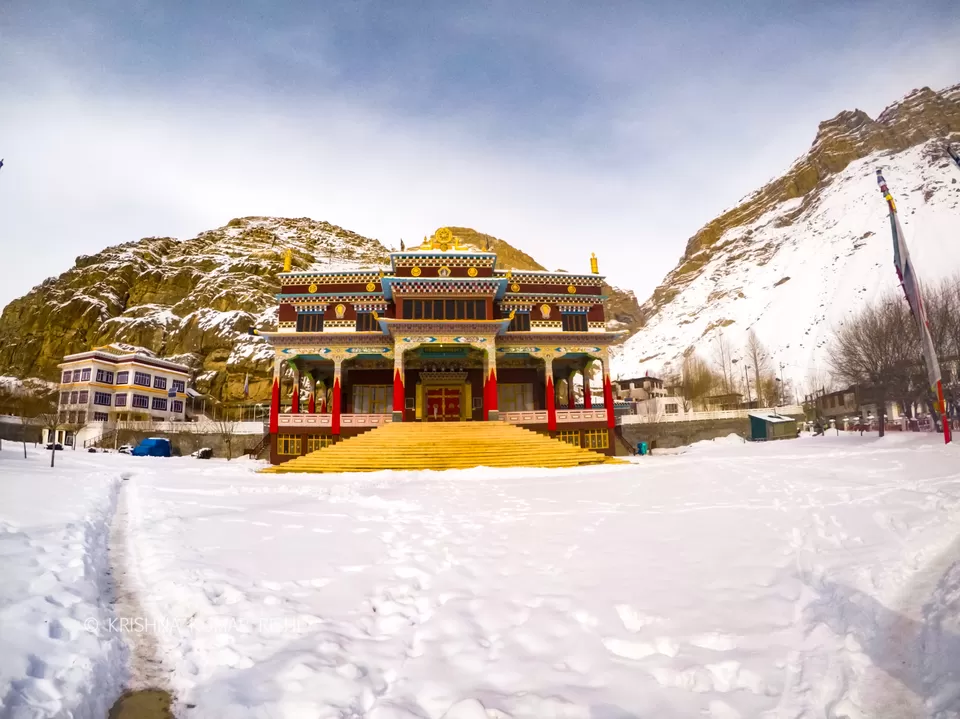 Day 7 :(30-01-2019) When I woke up , I found my water bottle was frozen .The water became ice overnight .The temperature at the night was -35 ˚C .This night was most freezing night of our Spiti trip.
Finally , we were headed to full fill our dream to witness the Grandeur of the Ki Monastery . As we were approaching towards the Ki Gompa, the birds were flying and it seems like they were floating in the sky. Our excitement got doubled as We got the first glimpse of Ki Gompa We had to hike a little ( 600 - 800 m ) in snow to take the view of Ki Monastery . The view was spectacular to say the least. A wave of happiness and satisfaction was flowing in my mind and soul after fulfilling my small dream.I had the feeling of accomplishing my small dream amidst the challenges. The profound beauty of the monastery made me exhilarated and quelled at the same time. We came down and entered in the monastery . Some kid monks were playing in the snow and slipping down by using wooden block .
For me , Monastery is the place where I can find inner peace and energy which rejuvenates me . This monastery is the stellar example of a place which captures your soul in an instant. The people of Monastery offered us tea , we had tea and started the return journey with lots of memory and energy.
Day8 : (31-01-2019) This day has very long journey of 171 km and finally reached at Shimla .The next day ie 01-02-2019 , I travelled by Kalka Shimla Railway from Shimla to Kalka and reached to Delhi via Kalka .
Although I could not cover other points like Tabo ,Langza , Kibber , Hikkim, Chimchim but I do not have any regret for this . We reached at Ki Gompa due to our will and optimism where most of the other travellers had cancelled their plans after reaching Shimla . But we did not lose any hope . I am really thankful to Mr Mohit from Highway to Himalayas and Kamal from Take me to Himalayas who took that little risk and help us to complete this expedition .We were coming back with lots of experiences and memories .We stayed at Hurling on 30-01-2019 .
Day5:(28-01-2019). As usual I woke up early in the morning . I along with one team mate went for a morning walk . All the houses, trees , vehicles including road were covered with snow. I slipped twice while walking but avaoided injuries due to heavy layering of clothes guarding my body .After coming back we got ready,had our breakfast and proceeded towards Nako .
We were on the most treacherous road .We had to tread at an excruciatingly slow pace. After quite a while we could now see some vehicles on the roads .This road travel to Nako was another level of adventure for us .The thrilling journer culminated as we reached Nako in the evening.
As we reached at Nako , we came to know that there was no electricity from past one week. We were already lagging behind our itinerary.Only 2-3 homestays were open but they too had acute shortage of water .The water had become frozen due to sub zero temperature . Our mobile got switched off . We saw a shop cum restaurant was opened .They served us tea and helped us find the homestay. These people were very helping .We found a lot of comfort in their company.
The owner of homestay came to greet us and we introduced ourself. He served us amazing food . He sung some Kinnauri Songs for us as well. That night however was freezing cold for us. And we just wriggled in our beds the whole night.
On 24-01-2019 Morning at 06:00 AM , I reached Shimla by HRTC .I took out my phone and saw the temperature . It was -3 ° C . I decided to go to my hotel. As the sunlight came beaming to the Pine trees of Shimla, I noticed to my ecstasy that Shimla is covered with white blanket of snow .I took some rest, had my breakfast and went out for a walk to the lanes of Shimla. I reached at famous Mall Road and soaked myself into the glory of the beautiful city of Shimla.The beautiful architectures and the various shops across the mall road were absolutely endearing.
Then I proceeded towards The Jakhu Temple.The trail to Jakhu Temple was completely covered with snow. I was enthralled to see the magnificent statue of Lord Hanuman which stood 108 Ft tall .After this soulful experience and receiving the blessing of my favourite deity, I walked back to my hotel feeling still and harmonium.