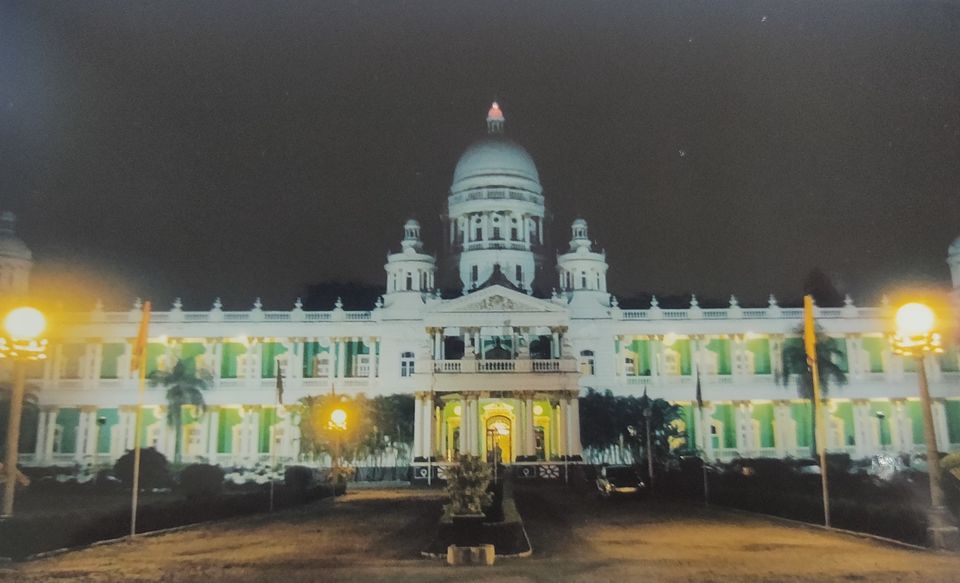 GRT I, Day 12 (Jan 7), Mysore
The Lalitha Mahal palace has quite an ornate ballroom, with an immensely high ceiling and skylights built into the domes. The powers that be have converted this into the coffee shop, making it the grandest coffee shop serving quite an ordinary breakfast. Once you get over the sheer scale of the room, and stop fantasising about the great parties that Wodeyar must've hosted here for his Viceregal chums, you realise that the French toast you are munching on has a hint of cardboard undertones. Or that the idli would've certainly not felt out of place buddying it up with bricks at a construction site. The sambhar was, well, the menu said sambhar, but it was dishwater left over from 1947 that was masquerading as sambhar. For Gods sake, this is MYSORE! As traditional as it gets, in a cosmopolitan sense - how incompetent does one need to be to screw up a staple like idli and sambhar (the French toast is understandable - after all, their erstwhile masters were English, not French!), and that too in South India?!?!?!?!
Anyway, next morning after a desultory breakfast (Ranga enjoyed it though, since the idlis were quite aerodynamic and a firm flick of her wrist sent them nearly halfway up to the ceiling as she discovered. Addy tried the same with the French toast, but I think it's wet cardboard type consistency didn't lend itself too well to vertical take - offs), Behbe commandeered the kids to the lawn, while Ritika and I hopped into the Yeti and headed off to Srirangapatna (or Seringapatam), the erstwhile capital of Tipu Sultan. While there are opinions veering from adoration to contempt for Tipu, there is no denying the role he played in giving the Empire some serious headaches (besides aches in other unmentionables), and so off we headed to #srirangapatna. From #lalithamahalpalace, Tipu's lair is about 23 Kms, and takes close to 40 minutes of getting there, a drive that you don't really mind since it's like going back in time to lazy streets, unhurried traffic and a general sense of comforting torpor.
As palaces go, this one isn't as grand as the two palaces in Mysore. However, there are large open grounds, and it seems more like a military barracks, albeit a very comfortable one! A quick tour gave us a brush up on the history of the region. I won't get into the details of the same, since there are ample commentaries available in the public domain on this period. Suffice to say that the Wodeyars were kind of pissed that Haider, Tipu's father and their general, had usurped power from them, just because they were too busy drinking, partying and generally making merry. So when Tipu had his back against the wall against the Brits, despite promising him the use of their heavy artillery (they had some 125 pretty modern and effective artillery guns), at the last minute the Wodeyars backed out and betrayed him, saying 'the traffic's too much old chap, regret we wont be able to join you today. How about tomorrow if you're still around?" or something to that effect. Long and short of it is that this lead to the effective closure of the Tipu chapter, and established the decades - long chumminess between the Wodeyars and the Empire.
Irrespective, Tipu was responsible for some pretty cool innovations in rocket technology (which even DR. APJ Kalam acknowledged), so that should stand for something. Plus, his administrative reforms, specifically land and taxation laws, resulted in the flourishing of the silk industry in South India. Anyway, after another sordid tale of short - sighted rulers helping the British establish the Empire in India, we headed to the Mysore palace. The #mysorepalace is everything the guide books promise you and more!
Compared to this, the main palace and erstwhile residence of the Wodeyars (I believe the family still retains a small part as their residence), the Lalitha Mahal Palace looks like an outhouse, or the residence of some poor relatives. The whole palace complex, constructed at an astronomical sum of around RS. 42 Lakh in 1912, adjusting for inflation will mean a cost of around 700 - 900 crore today. Seems reasonable I guess, after all, this works out to around 3.5 lakh per sq.ft., which sounds about right for a palace this grand! Besides the awesome architecture, one little known fact about the Mysore Palace is that each section has it's own fire fighting equipment, making a total of around 5 such systems across the palace. Although this alacrity to install fire fighting equipment could be since the old palace of the Wodeyars had burned down, it is still worth commendation, since even today we have high - rise buildings (modern palaces?) with woefully inadequate fire fighting systems! The part of the palace I liked best was the main Durbar hall, which literally has a wall missing, making it a massive window to overlook the grounds. So, the Wodeyar in charge could sit on his throne with his court assembled before him, and beyond that there was an uninhibited view of the huge palace grounds where the general populace could assemble, with the city seen beyond that. Truly magnificent!
Post this we had lunch at a place called the Mughal Durbar. Now #mughaldurbarmysore is one of the older joints here, serving Andhra - style food too besides traditional mughlai fare. Lunch was most satisfactory (helped along by the pathetic breakfast I guess) and nothing to complain about. They had pretty much everything you'd expect from a Mughlai joint, with a smattering of Andhra non - veg food thrown in for good measure. Service was prompt and courteous, in a clean and comfortable setting and the bill doesn't particularly burn a hole in your pocket. We wrapped up lunch and quickly headed back to Lalitha Mahal Palace to fetch the kids for a visit to the #mysorezoo.
As we headed back out to the porch, the buggy - driver (charioteer?) managed to lure the kids into taking a ride. 15 minutes and 2 rounds of the Lalitha Mahal Palace later, we were on our way to the zoo. The Chamarajendra Zoological Gardens, popularly known as the Mysore Zoo, is home to quite an eclectic collection of fauna. Since we managed to get there only at around 1545Hrs, we got barely an hour and 45 minutes to visit the place, which seemed like a shame. The first thing we saw upon entering were 3 giraffes towering over their enclosures! Each of these ungulates was at least 15 feet tall, and looked truly regal! Ranga and Addy went totally ballistic looking at the animals. Ranga made it a mission to point out every single animal to us and give a 30 second description in her native tongue while gesticulating wildly, which we couldn't understand. Thankfully all enclosures had a little board describing the poor creature held captive, so we understood most of what she was trying to say. Addy seemed lost in his own world (he tends to do that), and would stare at each cage mesmerised by its inhabitant, making us drag him away whenever it was time to move on. Eventually we made it to the enclosure of the big cats. Sadly, the lions had already been locked up and couldn't be seen, since it was 1730Hrs by now, time for the zoo to shut. Suddenly, we heard the rasping roar of one of the lions. It sounded like a massive saw loudly struggling against a particularly errant block of hardwood. There is a saying in Africa that the first time a man is ever truly scared in his life is when he hears a lions roar - can't argue with that here! I mean, it even got Ranga to stop prattling and rendered her to an awe - inspired silence, which is saying something!!!
We headed back to the Lalitha Mahal Palace after our adventures for the day. Room service was promptly ordered for the children and Behbe (since it was quite decent the previous night, so we figured how wrong could one go!), while Ritika and I decided to chance fate once again, and ventured to the coffee shop for dinner. The place looked different at night, with the breakfast buffet having been removed. We decided to really go out on a limb, and called for a lamb curry with rotis. Surprisingly, the food was quite good! Not too oily, succulently cooked meat and a spicy gravy, with rotis that were hot, crisp and thin, hence not undercooked. We headed back to the room, and packed for an early departure the next morning, heading back to Mumbai.
Mysore was all it promised to be - one can easily spend 2 days here taking in the sights and sounds and visiting all the places that it is known for. We made a promise to come back someday when the kids were a little older, and revisit the zoo, besides looking up the Brindavan gardens and Chamundi Hills, which we'd missed seeing this time around.
Frequent Searches Leading To This Page:-
mysore holiday tour packages, popular places in mysore, popular places to eat in mysore, unexplored places in mysore, offbeat places in mysore