Mallela Theertham is a mighty waterfall located about 170 kilometers from Hyderabad. Though there's very less to see there and one wouldn't visit it as a stand-alone place to visit from Hyderabad; it lies on the way to Srisailam. Mallela Theertham waterfalls comes about 50 kilometers before Srisailam and hence can be visited as a 2 hour excursion on the way to Srisailam.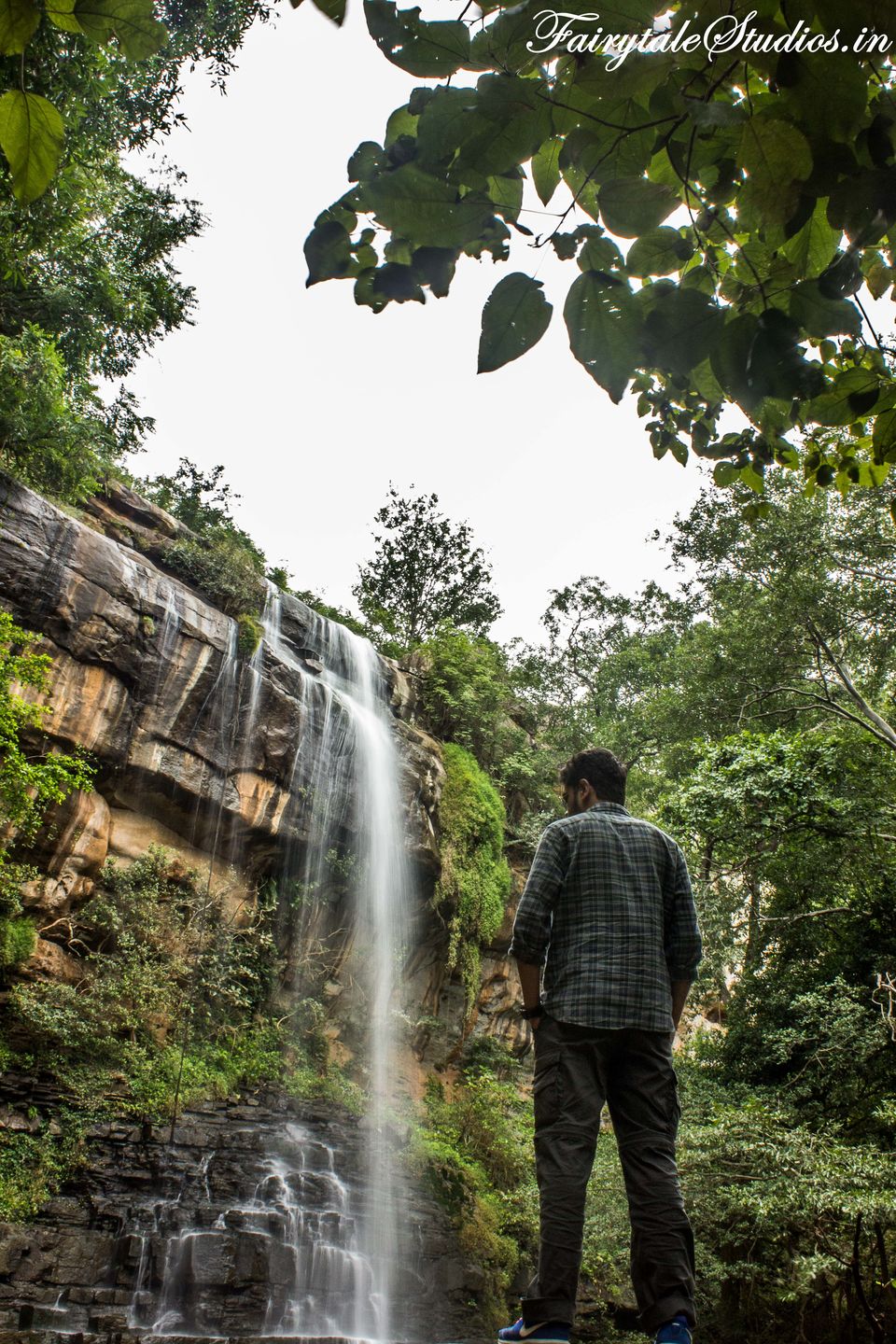 The highlight of Mallela Theertham waterfalls is that it is very less touristy, offbeat and seldom visited by tourists; hence one can have the whole place to himself/ herself.
The best time to visit Mallela Theertham waterfalls is post-monsoon as the waterfall seems to be rain-fed. In other seasons it is very likely that the water might be really less. The route to Mallela Theertham waterfall is very scenic and a photographer's paradise. 4 of us visited this waterfall on our trip to Srisailam in the month of August, just when the monsoon season had started receding.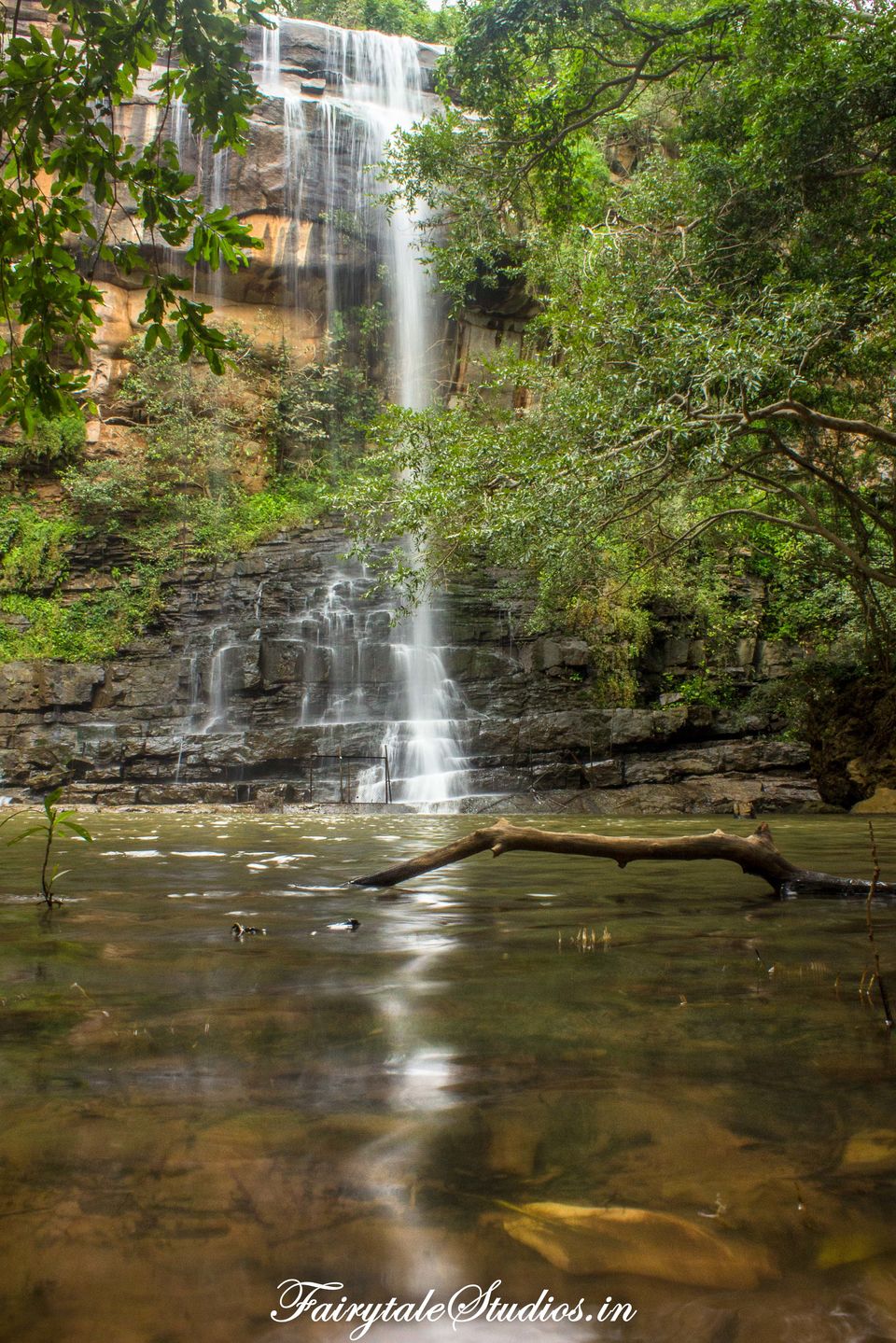 Mallela Theertham is located in the Nallamala forest range. While driving to Srisailam, we took a diversion from a village named Vatavarlapally. A big sign board has been thankfully placed on the road signifying the turn towards Mallela Theertham waterfall. The road after the diversion is muddy and might be closed in peak rainy season. Mallela Theertham waterfalls is 8 kilometers after taking left from Vatavarlapally village. Passing through the village and vast fields, we finally reached the parking lot of Mallela Theertham waterfalls.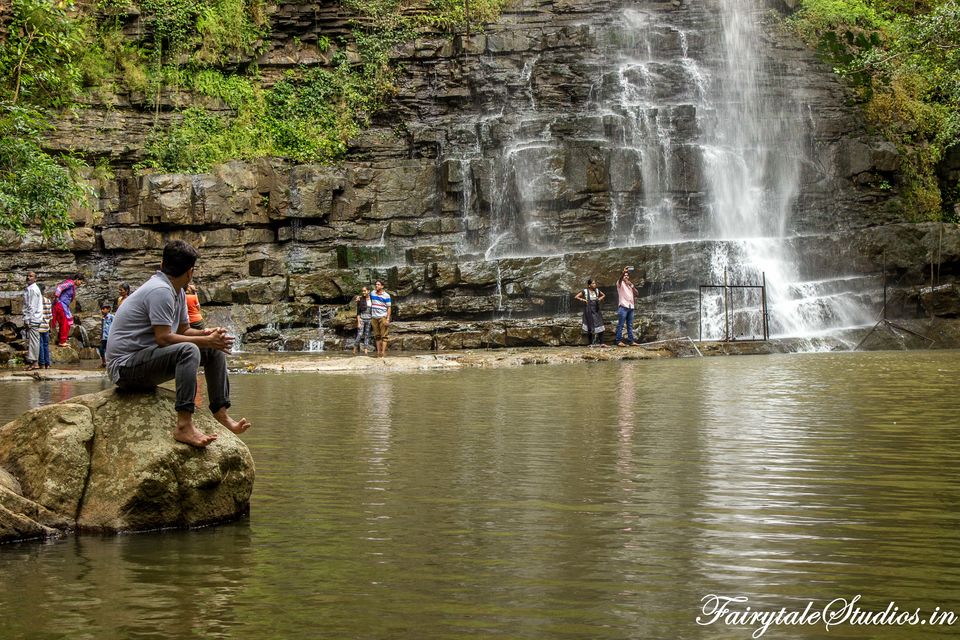 We paid the entrance charge of INR 10 per adult and started descending the stairs to reach the base of the waterfall. The sound of the waterfall was audible as we were descending and we soon reached the Mallela Theertham waterfall in a while. The water falls from 150 feet above with great force and flows and joins the Krishna River. Though there were many sign boards cautioning tourists not to swim in water on stand beneath the waterfall, we saw a couple of tourists doing that. We had no plans of getting wet as we were headed to Srisailam next, so we stayed outside.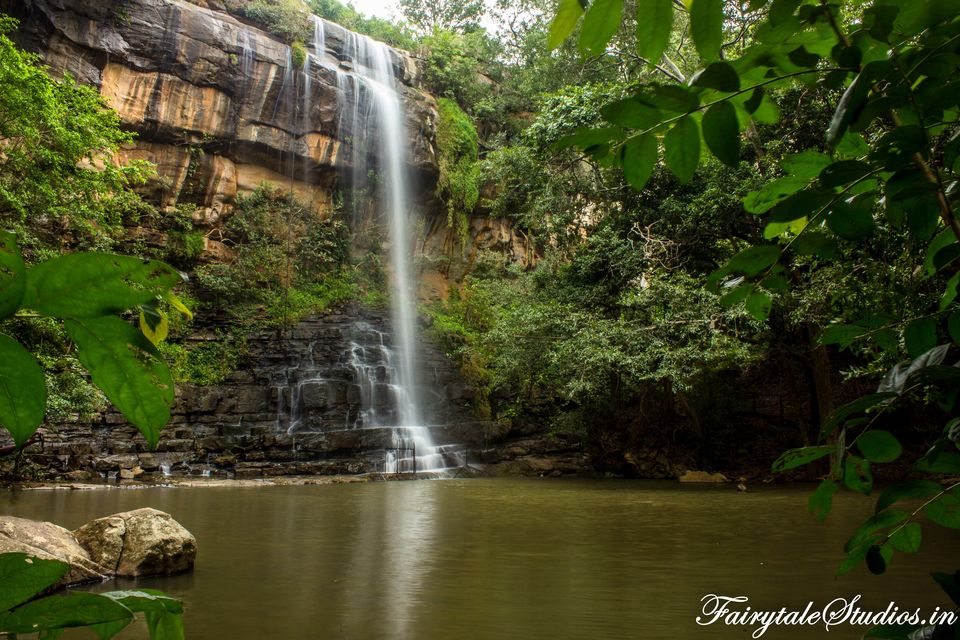 Direct sunlight fell on the waterfall but the rest of the area was totally dark in the middle of afternoon because of the dense foliage around. We enjoyed clicking a lot of photographs of the waterfall with slow shutter speeds. We spent a good one hour down at the waterfall and started ascending only when monkeys came to terrorize us.
Mallela Theertham waterfalls makes for a good weekend getaway or a day trip from Hyderabad. Do visit this waterfall when you are on a drive to Srisailam.
You can read more about how to reach Mallela Theertham waterfall and our experience there in our article at Fairytale Studios.
Frequent searches leading to this page:-
tour to ramoji film city, goa packages from hyderabad tripoto, hyderabad to mumbai package, tripoto holidays hyderabad, hyderabad 1 day tour