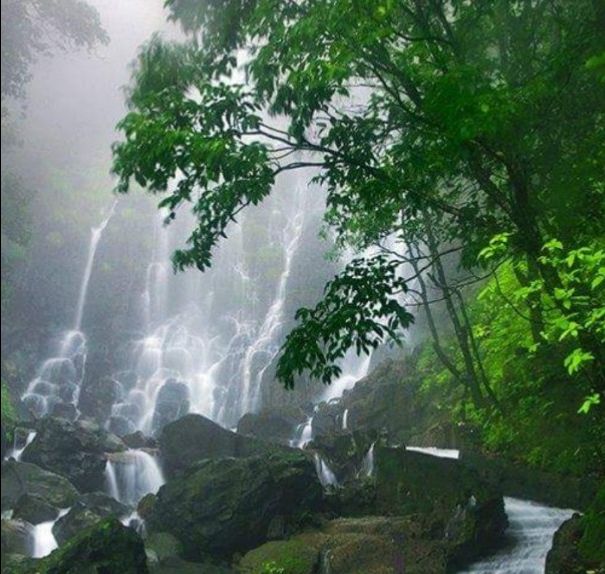 When it rains, they say, sitting in the Bolcony with a garma garam Chai and crispy onion Pakoras are heavenly. Are you one of those who feel so?
Or, are you the one who loves to pack your bags in a jiffy, and rush to the nearest Waterfalls?
Tell me, which wins – Being Indoor or being Outdoor?
We are in the middle of the Monsoon and half way through. There is greenery around and the trees seem so happy freshly bathed in rains. You find very many variants of the Color Green, in the Grass, the Shrubs, the small plants, and the different trees. The early morning dew on the wet blades of the grass, the butterflies on the multi-colored flowers are so incredible and so very beautiful. Nature's finesse can never be replicated.
So, this is the time to visit some waterfalls nearby or a bit far off. Water bodies are always soothing, they calm the senses and bring the much needed serenity to the body, mind and soul.
Hyderabad has quite a few waterfalls within 250 KMs so that you can visit them during your weekends this Season.
Kuntala Waterfalls is located in Adilabad District and at a distance of say 260 KMs from Hyderabad. Mythology has it that, Shakuntala used to take bath here and she was so mesmerized by the scenic beauty of this place and it was here she fell in love with the King Dushyanth. Hence, the name Kuntala.
Ethipothala Waterfalls is located in Guntur District of Andhra Pradesh and at a distance of 160 KMs from Hyderabad. One can first see Nagarjunasagar Dam and then go to see the waterfalls which is around 11 KMs from there. There is a crocodile Breeding Centre at the bottom of the falls.
Mallela Theertham Waterfalls is located in the Nallamalla Forest region of Mahboobnagar District and at a distance of 185 KMs from Hyderabad. Interestingly, all Waterfalls are located in the heart of forests, and that adds up to the ubiquitous charm.
And if you can afford to go a little further, there are two magnificent waterfalls – One in Karnataka and the other in Goa.
Jog Falls is in Shimoga District of Karnataka State and Dudhsagar Waterfalls is in the State of Goa.
Jog Falls in Shimoga District is at a distance of say 650 Kms from Hyderabad. KSRTC runs many buses to Shimoga from Hyderabad and from there you need to take another bus or hire a cab.
Dudhsagar Falls is in Goa, but near the Karnataka border. It's the 4th Tallest Waterfall of India. The beauty of the waterfalls can be enjoyed through a train journey. All trains going to Goa pass through this Waterfalls and the nearest Railway Station is Castle Rock.
This Monsoon where are you heading? Did I spoil you with choices?
(Pssst..a word of advice only for your ears. Go to Dudhsagar, and if our dates match, you may catch me there!)