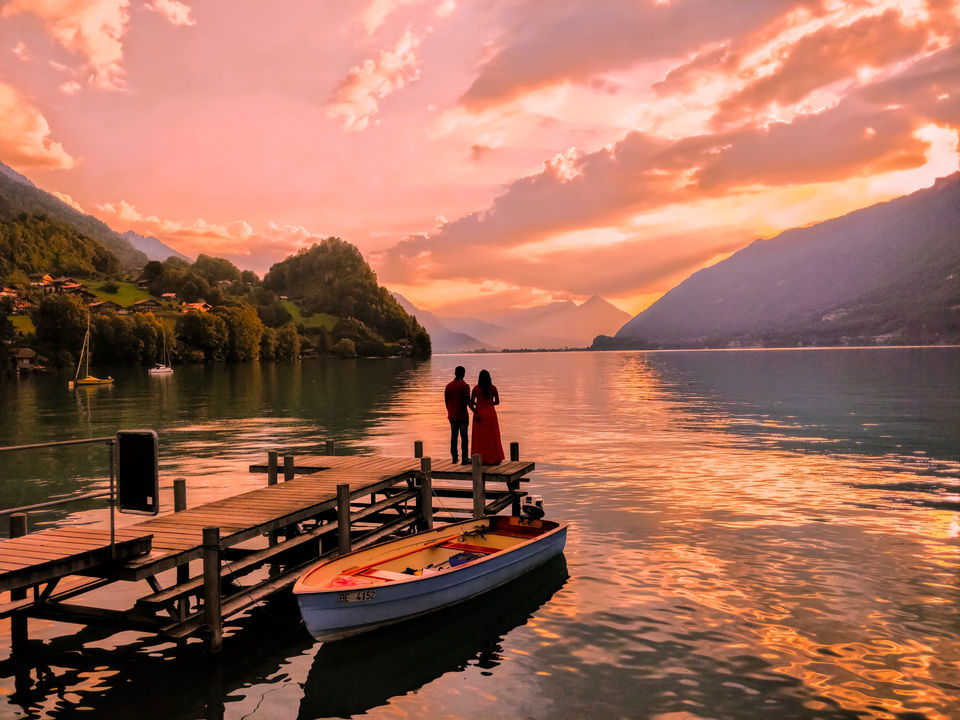 As one of the most expensive European countries, Switzerland is often skipped over by many budget travellers. But that being said, Switzerland is one of the most beautiful places on earth - its home to lakes, picturesque mountains, tiny walled medieval towns, soaring peaks, beautiful churches, and endless green fields you want to run through. Everything is so picturesque that you start assuming if the world here is absolutely painting-like.
Having covered the most of Jungfrau region in our previous trips, this summer we wanted to explore the Southern region of Switzerland. And so, Zermatt was our place! This post will talk about all the best things to do/see in Zermatt region. I hope out list will help you to chart your itinerary for 5, 8, 12 or even 15 days trip!
How to get to Zermatt
As Zermatt is a car-free town, it means we had to leave our car in Tasch, a little village close to Zermatt. The parking spaces charges approx. 13€ for 24 hours.
We then took a train from Tasch which brought us up to Zermatt. If you hold a Swiss Travel Pass you do not need an extra ticket and can go up till Zermatt for free. Without Swiss Travel Pass you pay around 15€ for a return ticket.
You can also choose to hike, or cycle but definitely train ride is the most convenient of all.
Top things to do in Zermatt:
1. Zermatt town
One of the first things you would notice in Zermatt are: tourists, flower pots hanging in the balcony and ads for luxury watches (and shops) everywhere!! Zermatt is a motor-free town, so explore the beautiful city on foot or by taking a horse drawn carriage.

2. Gorner Gorge
Another Zermatt's point of interest is the Gorner Gorge. The exceptional natural beauty of the Gorner Gorge with its brilliant turquoise waters, rock glaciers and lush green larch trees is much more than overwhelming. The gorge was formed by the river "Gornera" thousands of years ago. The wooden walkways leading between the towering cliffs provide a dramatic insight to the power of nature.
Make sure to cross the Hängebrückenweg Furi suspension footbridge thats soars 90 vertical meters (295 ft) above the Gornerschlucht gorge.
source: google
3. Ride the Matterhorn Glacier Paradise
As beautiful as Zermatt is - the Matterhorn Mountain dominates the landscape.
The Matterhorn Mountain is probably the most photographed mountain in Switzerland and one of the main tourist attractions in Zermatt - and Switzerland. It is time to get fascinated by the mystical and majestic mountain that stands tall in the horizon. Make a visit to the highest cable car station in Europe, the Matterhorn Glacier Paradise, a world of adventures open all year round. Also enjoy a meal at the restaurant, relax in the cinema lounge, and take in the pretty views and landscape!
Fun fact: The mountain on the Toblerone chocolate cover is the Matterhorn.
While Zermatt is about 1,600 above sea level, Klein Matterhorn is almost about 4,000 meters high and has the highest cable car station in Europe.
Buy Tickets in advance here.
Things to Know Before Visiting Klein Matterhorn: We were warned before that the altitude might cause some problems high up. It is good to get down at the middle stops and get accustomed with the height and the pressure difference.
My friend who visited before us did not know this and she went straight up in one of the cable cars and on the summit lifts. As soon as they arrived at the restaurant and peak shop she didn't feel good and felt dizzy and next moment before she could call out for someone she fainted.
4. Take the Gonergrat Bahn!
360 days, 360 degrees! Visitors to the Gornergrat experience a unique panorama view encompassing 29 of the Alps' mightiest peaks measuring over 4,000 metres in height- including the majestic Matterhorn Mountain! The historic Gornergrat Railway climbs up and down the mountain and stops at different stations! Your ticket is valid for the whole trip and you can get on and off in between stations. The Matterhorn Group operates two hotels - the Riffelhaus 1853 and the 3100 Kulmhotel Gornergrat - as well as several restaurants to sip some coffee and admire the peaceful views!
Some facts about Gornergrat: 1. The Gornergrat Bahn was the world's first fully electrified cog railway! 2. Many rail passes allow for discounted traveling to the Gornergrat! 3. There are 4 stops along the way that allows you to explore the Alps on foot (hiking)
Tips for Gornergrat:
Check the weather forecast as there's no point in going up if the Gornergrat and the surrounding mountains are covered in clouds. Dress in multiple thinner layers so that you can adapt to the different temperatures throughout the day. The "openining hours" are longer than on Klein Matterhorn, so if you start your day later or very early, this might be an alternative. If you have Swiss Travel Pass you can save money on both tickets.
5. Glacier Express
The Glacier Express is one of Europe's mythical train journeys. It is also known as the 'world's slowest express' and takes almost eight hours to travel the 180 miles between the Swiss ski resorts of Zermatt and St Moritz. The journey starts beneath the Matterhorn in Zermatt, then descends over 1200 metres to the towns of Brig and Visp using a cogwheel railway to work its way down the steep slope.
You can travel in either direction and highlights include the stretch from Disentis to Andermatt, across the Oberalp Pass (2033m).
Tickets for the GlacierExpress from Zermatt to St Moritz cost 149 CHF one way in second class or 262 CHF in first class. Both have panoramic windows and you can order meals and drinks at your seat. There's also a compulsory seat reservation fee of 43 CHF in summer, 33 CHF in spring/autumn or 23 CHF in winter.
Swiss Passes, Interail and Eurail passes are all valid but you'll have to pay the reservation fee.
source: google
6. Hike to 5 Seenweg (5 Lakes)
The 5-Seenweg (Five Lakes Walk) is in a class of its own among hikes in the Zermatt mountains. The views of the mountain lakes are superb (with the Matterhorn reflected in three of them), and the trail is full of variety. The path leads past the lakes of the Stellisee, Grindjisee, Grünsee, Moosjisee and Leisee. Each of these mountain lakes is very different in terms of shape, colour, character and size, and has its own special attraction.
Hike direction: Blauherd - Stellisee - Grindjisee - Grünsee - Moosjiesee - Leisee - Sunnegga
Tip: Reflection of Matterhorn can be seen in Stellisee, Grindjisee and Leisee lakes.
7. Hike to Edelweiss Restaurant
Just a short 45-minute hike up from Zermatt is Edelweiss, a sweet little restaurant for lunch or an espresso. This is also the perfect place to stop in the morning if you plan to do a longer day hike farther up!
8. Paragliding with FLYZermatt
FLYZermatt is the biggest paragliding company in Zermatt, Feel like a bird as you take a tandem paragliding ride and witness the awe-inspiring Swiss mountains and scenery. It is an absolute must-do activity when visiting Zermatt. The best part is, anyone from age 1 to 100 can do it!
Tip: Be sure to book 3-4 days in advance, and do check weather forecast, look for clear sky day if possible!
9. Take the Sunnegga Express
The Sunnegga Express and underground railroad will take you up to the Sunnegga Paradise. In summer, Leisee Lake offers a refreshing dip and is heaven for families and in winters, skiers of all ages enjoy their first sensations of sliding on snow. It has prime mountain biking trails and numerous summer and winter hiking trails.
you can buy tickets in advance here.
10. Explore the Canton de Valais by bike/car
Well-signposted cycle trails, terrific routes over mountain passes and adventurous alpine roads invite visitors to enjoy the Valais by bike. Routes lead through vineyards, valleys and gorges and on panoramic roads over impressive passes. Travelling by bike is the best ways to experience the Valais, allowing riders to choose their own pace. But since we were with our parents we chose to explore in our car!
11. Stay in Grimentz and get access to Pass Anniviers Liberte!
You might think of a Swiss summer holiday as painfully expensive but that's only half the story. Self catered accommodation in Grimentz is reasonably priced and very comfortable and with the ' Pass Anniviers Liberte' a special summer pass offered by the Swiss tourist board, the culture, the fun and the adventure literally doesn't have to cost a penny.
The pass is available from June to October, all guests in Grimentz can pick one up for free!
Read more: Top things to do in Val d'Anniviers (will be out soon)
12. Make a day-trip to Bernese Oberland Region (By Car)
Our trip to Switzerland is incomplete without visiting Grindelwald, Lauterbrunnen, Interlaken and Lake Brienz! These cosy villages are starting point for excursions and adventures across the Alpine pass.
Lauterbrunnen is located 13 km's from Interlaken in the Jungfrau region, the beauty of the Lauterbrunnen valley is indescribable. It's surprisingly accessible by train, and there's a wide range of things to do. From Paragliding to mountain hiking this car-free town has got it all. to explore top things to do in Luterbrunnen!
Jungfrau: Top of Europe was high on our Switzerland bucket list. Why? For starters, it's the highest train station in Europe (3,454 meters). Second of all, the views on the way to Jungfraujoch and from the top are spectacular. And last but not least, you get to walk inside a glacier and visit an ice palace. Explore more about Jungfrau: Top of Europe.
Buy tickets to Jungfrau in advance here.
This slideshow requires JavaScript.
Our Favourite Flight/Hotel Booking sites:
After traveling consistently for over 10 years, we've come to trust and rely on a few websites to help us find the best deals on flights and accommodation.
Flights: Skyscanner is the first place we check when searching for cheap flights. It searches hundreds of sites for the best fare and includes both standard and budget airlines. The price calendar feature shows the cheapest days to fly in your preferred month of travel.
Accommodation: Hotelscombined.com cuts through availability and prices from all the top travel websites from around the world, including Booking.com, Expedia, Hotels.com, Agoda, AccorHotels, Hilton and many more. In one quick and easy search, we show you only the information you want to know and need to know. You'll find just what you're after and can be sure you got the most out of your booking.
Our Hotel: Chalet Les Rahas by Mrs. Miggins
Featuring ski in/out facilities and a sauna, Chalet Les Rahas by Mrs Miggins is situated in Grimentz and provides comfortable accommodation. Some of the premium facilities at this 4-star property include ski passes and complimentary Wi-Fi. It is set close to various restaurants, cafés and shopping areas and also provides an ideal location to explore Zermatt and Murren.
This slideshow requires JavaScript.
So that's it, I have tried to curate my recommendations with the best things to do in Zermatt and it can be well explored in minimum of 5 days! Find below our day-to-day itinerary for reference!
Our Itinerary: It is a more relaxed and version for a 5 day trip!
Day 1:
Budapest to Milan Flight (reach by 2pm) Pick up car at Milan Airport and head to Zermatt (3 hours drive) Reach Grimentz by 8pm, check in to our hotel and relax for rest of the nightDay 2:
Head to Tasch (by 9am) Park car in Tasch and take train to Zermatt (Car-free town) Explore Zermatt (Shops, restaurants, village) Take the Gornergrat Bahn from Zermatt (Sit on the right side on the train to get best view of Matterhorn) Got down at Riffelberg for a short break and photo sessions (Ticket to Gornergrat can be used to get on and off in multiple stops in between) Head to Gornergrat, enjoy the pretty view and grab some food in the restaurant at the top of Gornergrat Did short hike around Gornergrat till 7pm) Head back to GrimentzDay 3:
Drive to Lauterbrunnen and Grindelwald (2.5 hours drive) Take mandatory Lotschberg tunnel train with car from Gopperstein to Kandersteg Explore/Drive around Jungfrau Region Lauterbrunnen Grindelwald (Picnic) Sunset at Lake Brienz (Iseltwald town) Drive back to GrimentzDay 4:
Explore Val d'Anniveiers Region Cable car from Grimentz to Serebois (2700 mt) Small restaurant at the top to Corne de Serebois Hike to Zinal from Serebois. Head back to Grimentz Drive to Lac de Moiry Spend time to explore the Moiry Dam and Glacier (Turquoise water) Head back to hotel and enjoy evening with best red wine in GrimentzDay 5:
Checkout from Grimentz Drive to Milan (Reach by 2 pm) Return car at Avis Visit Duomo Di Milano Catherdral Sip some Aperol Spritz in restaurants near Duomo Explore Milan Fashion street with all the high end brands! Take return flight to Budapest from Milan Malpensa Airport
You can also checkout our Day-to-Day itinerary/stories of Zermatt trip at TraveLibro - currently it is our favorite storytelling app, On-The-Go!