My first visit to Karaikudi was during 2009. I went to the Alagappa University to take part in a Table Tennis tournament. After the tournament I went for some sightseeing with my Physical education teacher and I was amazed by the magnificent mansions and ever since that I have always wanted to go on a solo trip to Chettinad to admire and understand the architecture of the beautiful mansions. I planned to go there a couple of times when I was in college but it never worked out because of various reasons. Finally 11 years later I decided to travel to this place that I've been wanting to go for a long period.
Where is it and how to reach?
Karaikudi is a part of Sivagangai district. It has been declared a heritage town by the Government of Tamil Nadu on account of the palatial houses built with limestone called karai veedu. Karaikudi is well connected by rail and road to all major cities of Tamil Nadu. The nearest airports are in Madurai and Tiruchirapalli which are 90kms away from Karaikudi. Most of the places I planned to visit were near Kanadukathan, which is half an hour away from the main city of Karaikudi. There will be a bus every two minutes to Kanadukathan and the ticket costs only Rs.15.
Where to stay?
The best way to experience the Chettinad way of living is by staying at one of the heritage houses converted into a hotel. I decided to stay at Nemathanpatti which is 2 kms away from Kanadukathan. I stayed at a hotel called The Chettinad Heritage. The hotel was very good and didn't burn a hole in my pocket like the other heritage houses. It is a two-floored small hotel with rooms that will give you the authentic Chettinad house feels. It also has two courtyards in the middle of the hotel, a huge hallway, a garden and a big dining area where traditional Chettinad food is served. The people at the hotel also helped me hire an auto to visit all the places I wanted to see.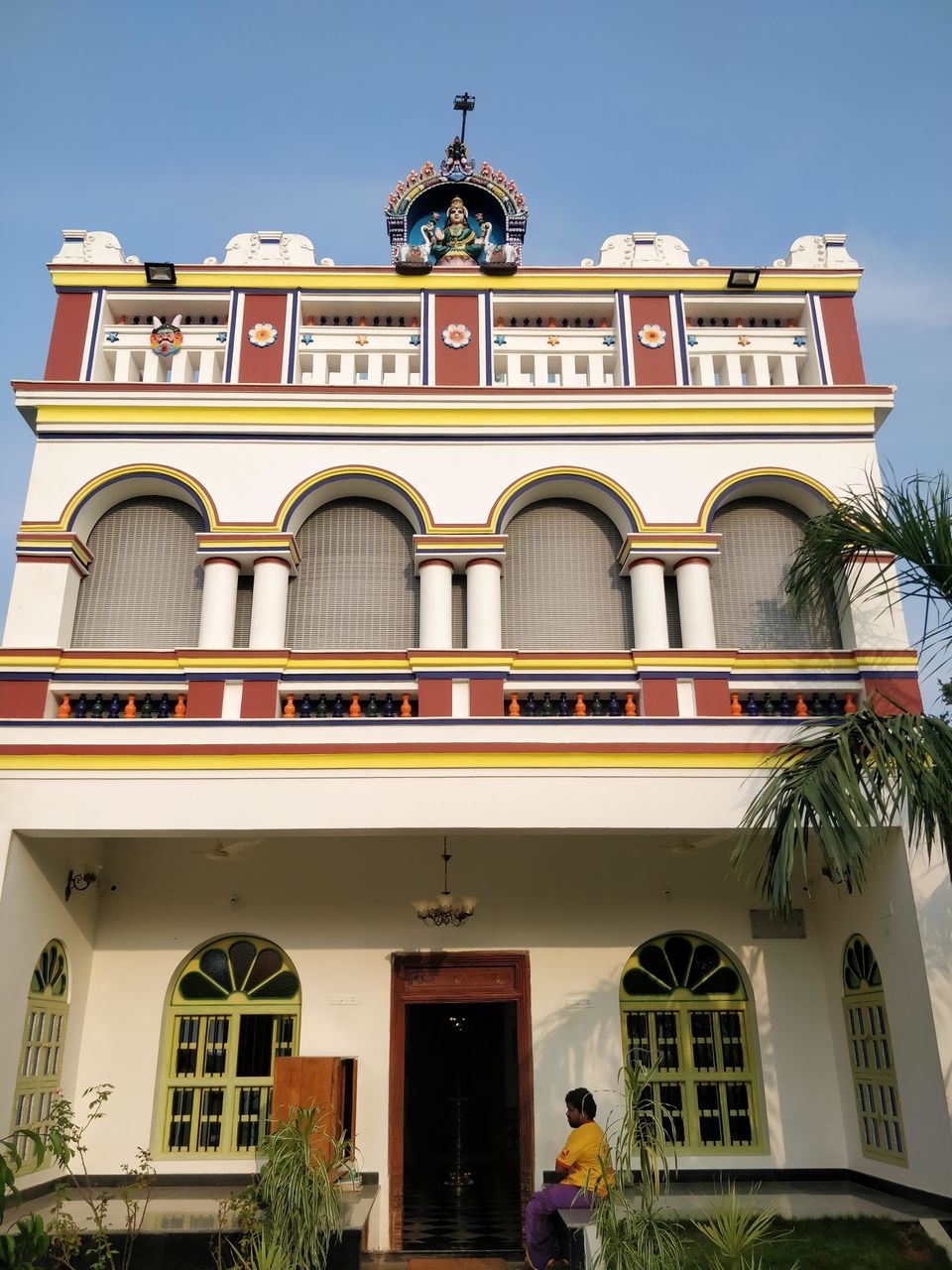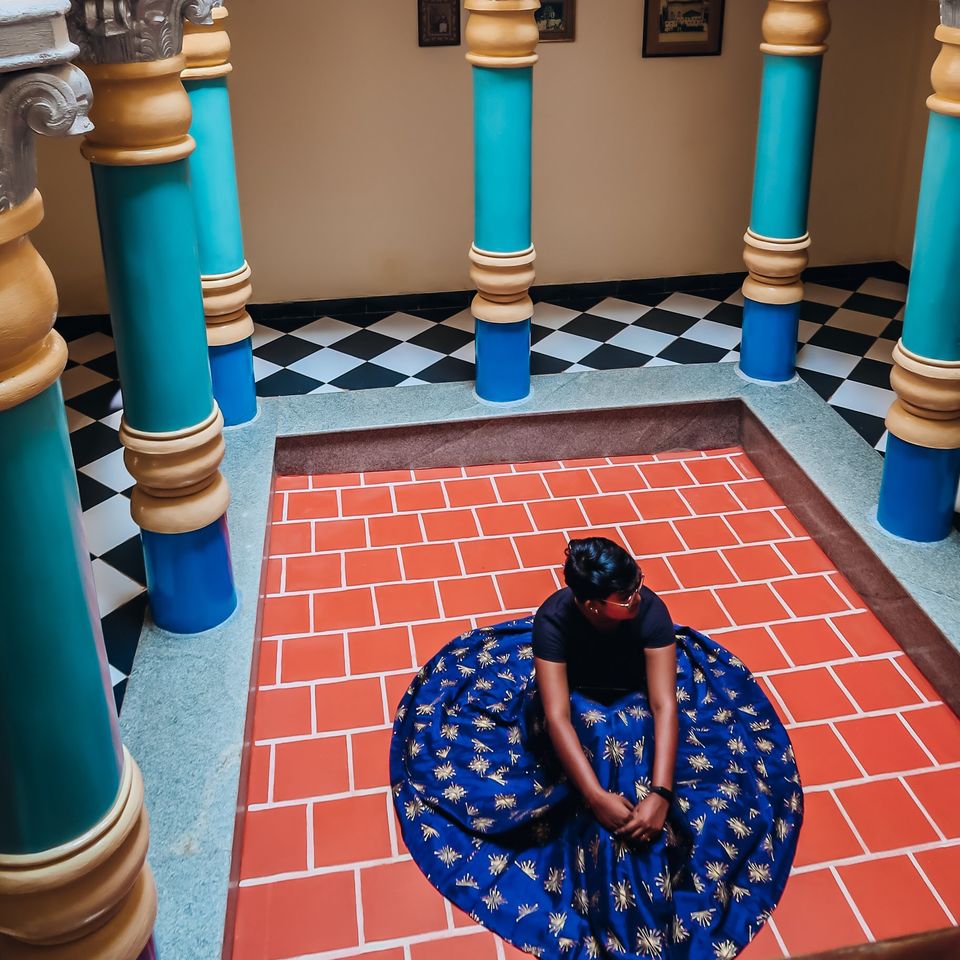 Visalam is a century-old palatial house in Kanadukathan and is located right next to the Kanadukathan bus stop. The restaurant here offers interactive cooking experience and the hotels offers huge rooms and a luxurious pool to the guests. If your budget is on the higher side , then Visalam is the best place for you.
The Chettinad Backpackers is the only hostel located in Kanadukathan and is walking distance from the important heritage houses of Kanadukathan. It costs only Rs.700 to Rs.800 per day for a bed in their dormitory. They also have a triple room. Do check it out if you are traveling solo and looking to make new friends on the way. If you are looking to stay in the main city of Karaikudi then The Bangala is the place. It is the first heritage hotel of Karaikudi and is equipped with both traditional and modern facilities, a pool, cooking courses, gym and a library. They also offer guided tours.
What to do?
Visit the Athangudi Periya veedu - This house is not very well maintained but has an amazing hall with high ceiling. The pillars are made out of Burma teak and the flooring is made from the famous glass tiles of Athangudi. The entry fee is Rs.50 and one can visit the ground floor of the palace. Most of the rooms are locked up and visitors are not permitted.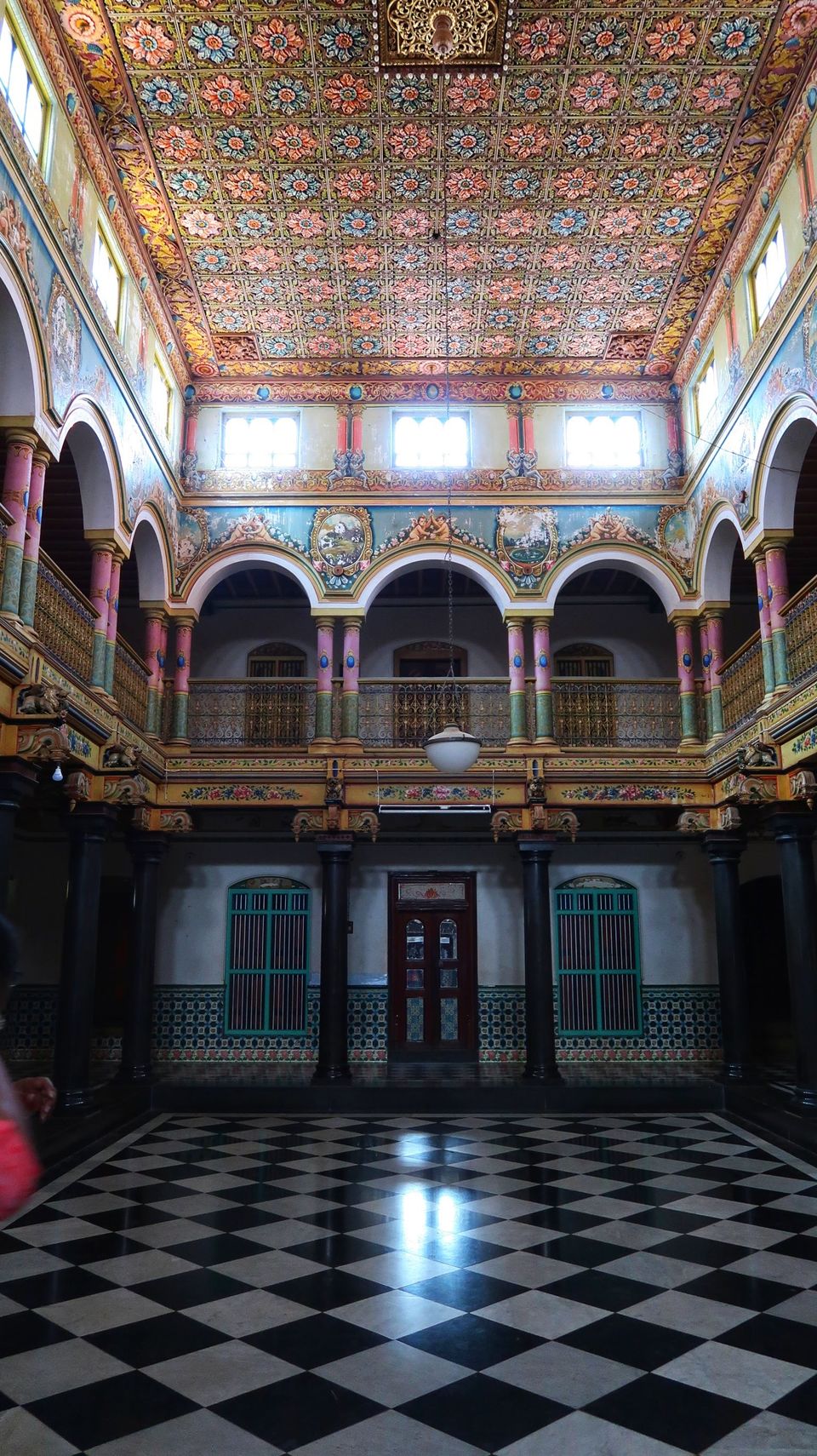 Visit one of the tile making places at Athangudi - The most popular thing about the magnificent mansions of Karaikudi is the flooring made out of indigenous glass tiles. One can find a large number of tile making places in the village. Each tile is hand painted and weighs about 2 kgs. Only 200 tiles can be made in one day as each tile is individually crafted to perfection. One can buy a single piece of tile for as less as Rs.40 and it will be a perfect souvenir.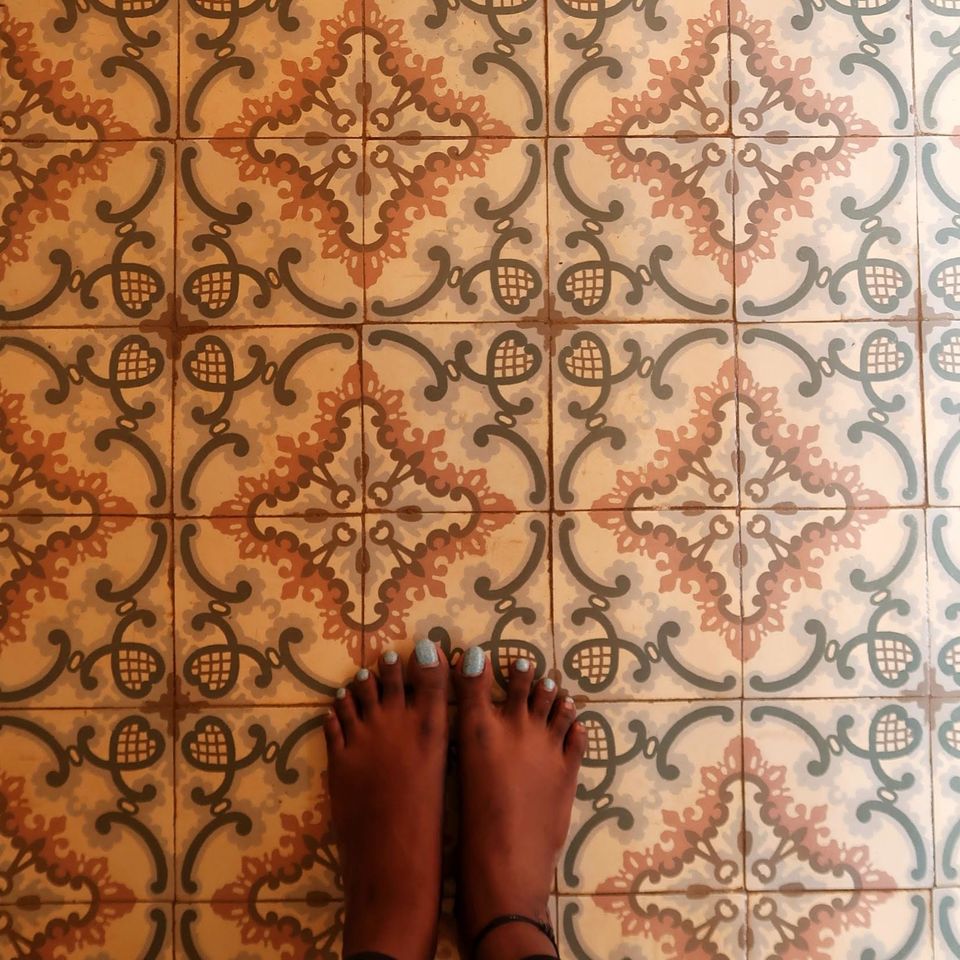 Pay a visit to the Pillayarpatti temple - Karpaga Vinayakar Temple, Pillayarpatti is located 20 kms away from Kanadukathan. Karpaga Vinayagar is carved out in a cave of Pillaiyarpatti Hillocks. This temple is the only one in Tamil Nadu which contains a 6 feet rock-cut Vinayaka deity. The trunk of Vinayaka is curled towards his right side and so the God is also known as Valampuri Pillaiyar. Karpaga Vinayakar is said to be very powerful and helps overcome obstacles in life. Climb the Thirumayam fort for a bird's eye view - This 40 acre wide fort was built by Vijaya Ragunatha Senapathy in 1687.The fortress is of great historical significance and was an important stronghold of rebel chieftains in the Polygar wars. It is not a very big task to climb to the top of the fort. On the top, one can find a bastion with a cannon of English origin. This fort is a must visit place to catch some fresh breeze and a breathtaking view of the land of Chettiars. · Mansion hopping- One of the best ways to pass time is to take a walk along the streets of Kanadukathan and admire the beauty of the mansions. Most of the mansions are maintained by caretakers and they will let you enter the mansion for a tip of Rs.50 to 100. I stumbled upon the C.V.R.M Heritage house which was the most well maintained mansion in my opinion. The caretaker showed me around and she explained the history of each and every thing present in the house, right from the old study table to the kitchen utensils, from the huge mirrors to almirahs used to store financial record books. The house also had a huge swing in the hall and one can climb up to the rooftop to catch a nice view.
Visit the Sree Mahalakshmi Handloom Centre - I read mixed reviews about this place but I didn't want to miss a chance to witness the making of a saree and so I visited this place. I was warmly welcomed by the daughter of the family. She told me that her family has been doing this for eight generations and it takes two days at least to finish one single saree. She explained me the process involved from procuring raw materials to producing a finished saree. They also sell cotton and silk sarees which starts from Rs.600. I really liked the quality of the saree and bought one for my mother. Go antique shopping at Muneeshwaran koil street, Karaikudi - This tiny street has around 20 shops that sells antique pieces procured from the Chettiar mansion, unique art pieces, Tanjore painting, old furniture, safe boxes, semi- precious jewelry owned by the ladies at the mansions, etc. Every store here has something unique to offer. One can find old letters of British officials, kitchen utensils, idols of Hindu gods etc. All the stores in the street shut down on Sunday. So plan accordingly if you are planning to visit.
Where to eat?
My most favorite South Indian cuisine is Chettinad. All my life I've been ordering Chettinad chicken curry at restaurants and now was finally the time for me taste my most favorite dish at it's place of origin. One can find numerous hotels which serve authentic Chettinad food and here are the places you must check out.
Priya mess - This mess opens only for lunch and is located in the main city of Karaikudi. One can have a filling meal for cheap. They serve all varieties of meat and is extremely popular among the people for around 50 years.
Renga Vilas - This is a very tiny mess located in Kanadukathan and is very close to the C.V.R.M Heritage house. Non-veg meals is the best seller here. Hot steamed rice with chicken and mutton curry along with a piece of fried fish is the perfect meal for a noon. They also serve unlimited buttermilk which is my most favorite thing about this mess.
The Bangala - This heritage hotel is known to serve the best Chettinad food cooked by renowned chefs who have studied the craft for years. They also offer interactive cooking experience and cooking classes which enables the guests to try their hands on cooking. I would suggest to visit The Bangala for lunch. Breakfast is too expensive and is definitely not worth the price.
Local messes along the streets - One can find a large number of small messes all around the town that serve hot dosas and idlies along with kudal curry, chicken fry, fish curry, omelette etc. If you are someone who wants to eat tasty food without worrying much about the hygiene, then these messes are a must visit.
Jainika hotel - This place is a heaven for vegetarians. If you are bored of eating meat again and again and you need a break, then this is the place you must visit. This hotel is located in Karaikudi and is pretty close to the new bus stand. Their appam with coconut milk and kurma is sought after by the locals.
How to go around?
Town buses - This is the most cheapest way of transportation in and around the Chettinad area. Any bus that goes to Pudukottai will stop at Kanadukathan and it cost only Rs.15. There are local buses that go around all the nearby villages and towns but the frequency of the buses is very less. One can seek the help of a local to know more about the fixed timings of the bus.
Auto/tuktuk - Autos are the best and most comfortable mode of transportation if you don't want to waste time waiting for the buses. One can ask for the staff at the hotel to help hire an auto for an entire day. The fare will depend on the distance travelled and not the time spent. So you can take your time to explore each and every place. I hired an auto for two days and travelled to nearby places like Pillayarpatti, Tirumayam, Athangudi etc and it costed me less than Rs.1500 which is very less considering the distance travelled.
Self-drive cars - If you are travelling by air to Karaikudi, cars can be rented in Madurai or Tiruchirapalli and it will take 2 hours to reach Karaikudi by road. All the touristy places will have ample parking space and the roads are pretty smooth as well.
How to plan a trip to Karaikudi?
One weekend is enough to cover the Chettinad area. One can also choose to spend more than two days if one wants to take his/her own time to sit back and relax. Chettinad is a very calm and serene place that'll help one take a break from mundane city life. Make sure you reach Karaikudi by Saturday morning so that you'll have at least two whole days to explore the town. One can spend one full day visiting all the mansions and the next day to visit places that are a little far away like the Karpaga Vinayakar Temple, Tirumayam fort etc. To avoid crowd it is advised to visit the temple in morning. If you are a spiritual person you can visit lot of other historical temples present in and around the town.
For more posts on travel and lifestyle do visit www.anurkrishnan.com and follow me on Instagram.