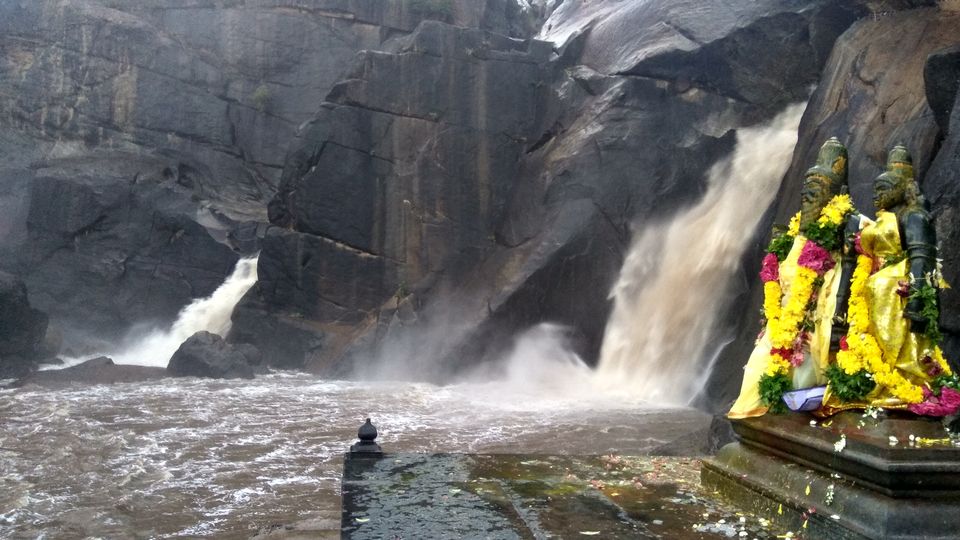 Let me start by giving a little background of how I ended up seeing this marvel of nature by accident. Me and a friend were on our way to complete our south chain trip starting from Bangalore to Madurai, Kanyakumari, Dhanushkodi, Trichy, Pondicherry and back. Whole trip was planned out, but when we took a break while going from Kanyakumari to Rameswaram, our mood changed when we talked to the shopkeeper and he told us about Agasthiyar waterfalls. The special thing about this falls is that there is a temple near the falls and if you continue the road you take for Agasthiyar after leaving NH 44, it'll lead you in Mundanthurai Tiger reserve. The place is eerily beautiful.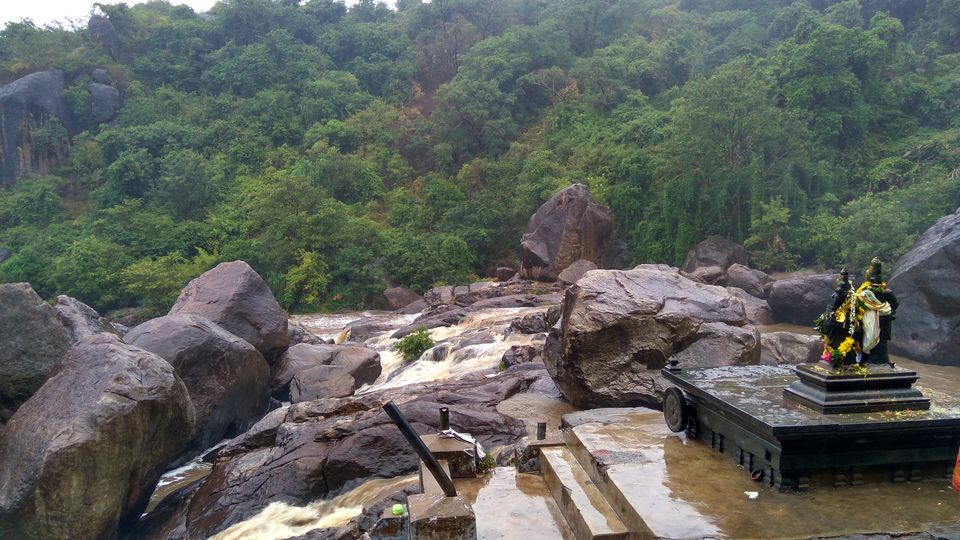 We managed to dodge the local police and still entered the falls area. The falls were flowing at the highest of speeds and the volume of water was just beyond amazing. There was however one area where there were two police guards and they were just running away from that area. This was a staircase which was barely visible due to the overflowing water which covered it totally. It almost looked like a downward stream of water. On realizing that there was a way to the top, we started to walk on that staircase and very carefully tried to make our way through the stream of water coming down. After covering about 50 stairs the water volume decreased and so did the storm. The wild rains had stopped and it turned to a normal drizzle. This is when we stopped for a while and gazed around to find that we were in the middle of jungle climbing a staircase leading to god knows where.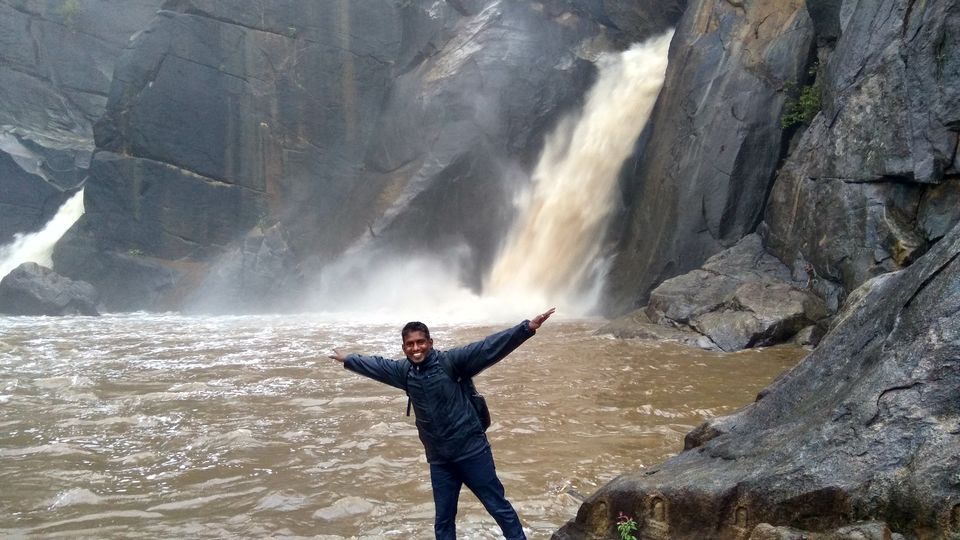 We changed our plans a little bit and started heading towards Agasthiyar falls. Now instead of reaching Rameswaram by evening, the target was to reach by night and find a stay. This gave us buffer to visit Agasthiyar falls. We took a diversion near Pannankulam and started heading towards the falls. After covering about 30 km on the diversion it started raining. We were prepared for rains and immediately stopped and put our raincoats and bag covers. From a mild drizzle the rain quickly turned into a torrential one and within no time we were in the middle of knee deep waters. All the villages which we were passing seemed to be flooded and we even saw a few huts flowing away with the water. Water was rushing from one edge of the road to other and that too knee deep. Our bike exhausts were almost touching the water surface and we exercised as much caution as possible to keep the bike revved so that the water doesn't enter the exhaust.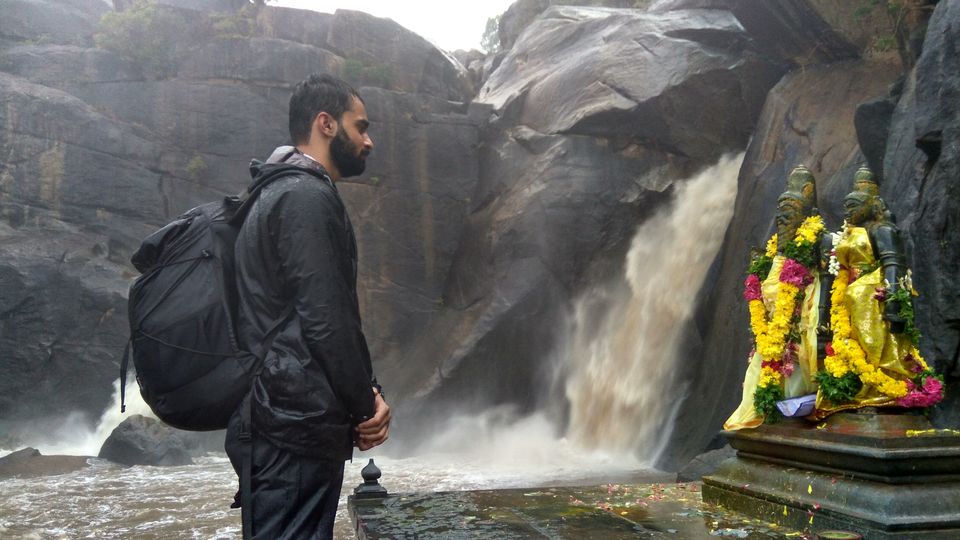 After covering another 10 km in a span of 20 minutes we were still heading towards the falls. It just seemed like rain was going to destroy this whole place. The presence of a dam and waterfall increased our fears. If the dam released any more water, this area would have been flooded in a matter of minutes. Only we two were heading in the direction of the falls, rest all the vehicles were heading in the opposite direction. And with every passing kilometer, the rain as well as the flood water was increasing rapidly. After a certain point I just gave up and asked my fellow rider to head back towards Rameswaram. He tried to motivate me a little and told that, dude this is the perfect time to visit that waterfall. The area which we were traversing hadn't seen that kind of rains in a span of over 50 years. The roads of that area were not built for this kind of a storm. Still heading forward slowly and steadily we somehow managed to reach the top of a hill from where you can have the bird's eye view of the falls. That view just drove away all my fear and after seeing that, all I could think of was somehow getting close enough o the waterfall to have a clear view of the amazing marvel of nature.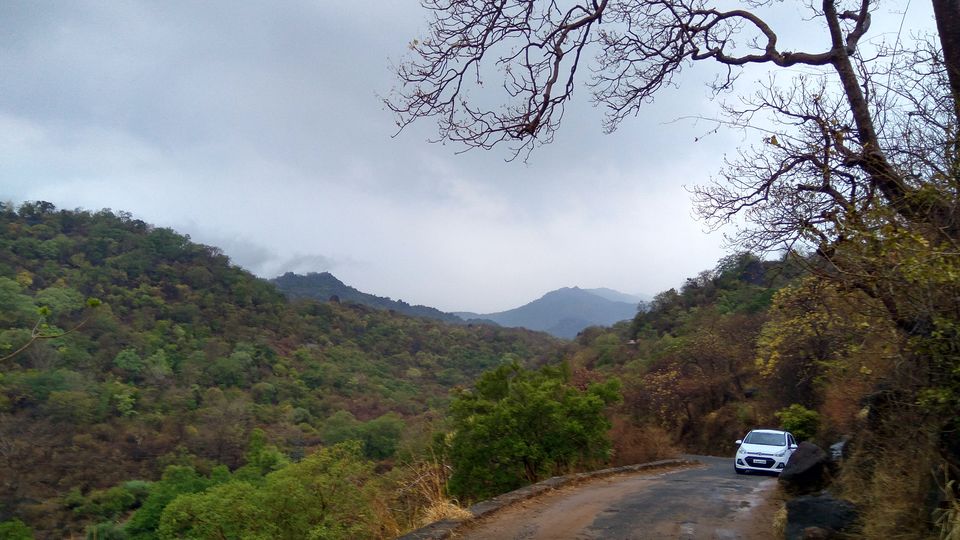 The worst part of this ride was just ahead of us. In this part we had to get down the hill with no vision whatsoever with just a faint idea of where the mud trail could be in the flowing water. Just beside the trail is the river and one wrong estimate could land you into the river which leads to a dam reservoir. With extreme caution and driving at a speed of 10 km/hr in a water stream which was flowing across the muddy trail at definitely more than our speed, we reached the parking area of Agasthiyar waterfalls. There was no one near the entry of the falls. The rain was still very strong and going any forward towards the falls was restricted. The only other vehicle which was parked there in the storm was a police van which stood there to barricade the falls and to not let any tourist get near the falls. The reason for this was, this waterfall had not received such huge amount of water in the last 50 years and the water from the falls was flooding the whole area.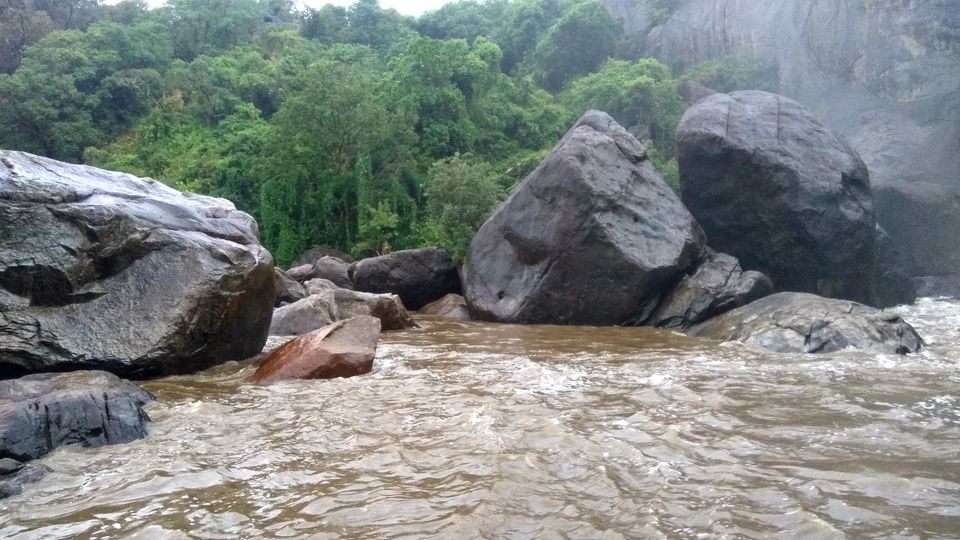 After the staircase ended, there was a straight path of about 30 meters which led to the pandit's house who lived in that area. This is where my fellow rider gave up and was like we have explored enough and should head back. But I was reluctant now, I said we have seen the worst of this storm. I am not going back until I catch a glimpse of that waterfall. So he stayed back and I started heading forward. Just about 50 meters ahead there was a turn and when I finished taking that turn, I was standing with my eyes wide open in awe. The emotions I experienced are hard to describe in words. What I saw was Agasthiyar waterfalls in its full might which no one had seen before and was a sight which could scare any normal person. The force with which the water was gushing was enormous and I have never seen such volumes of water flowing through a waterfall till date.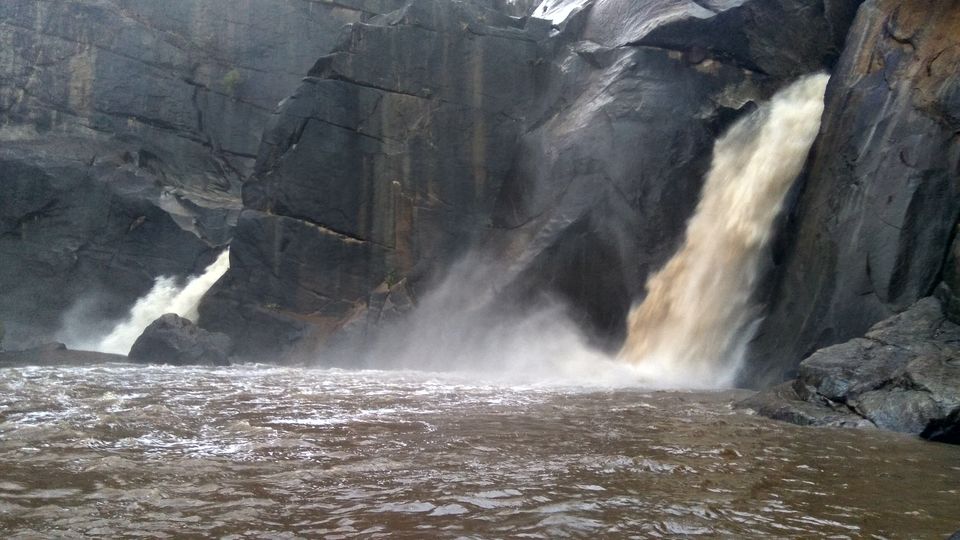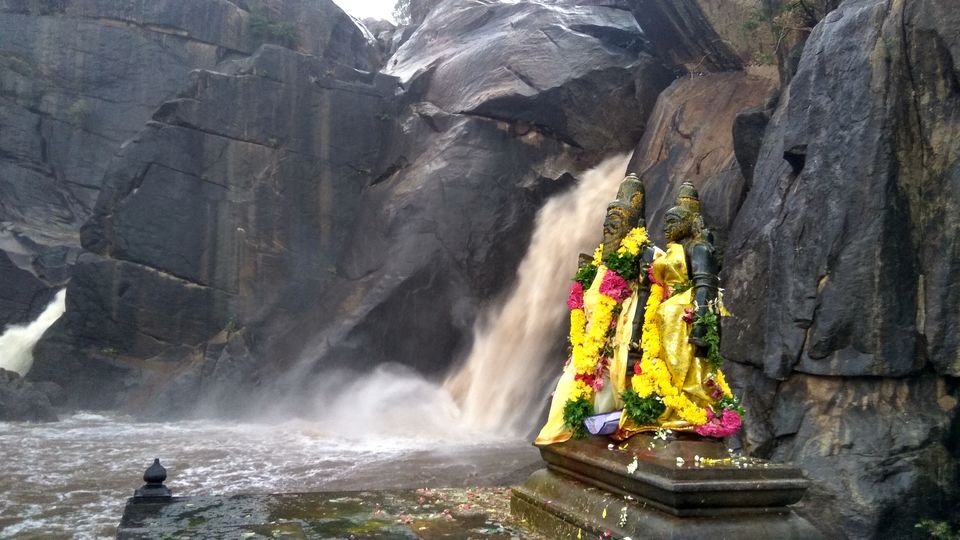 The volume of water was so high that it looked less like a waterfall and more like an extra-large tap which someone left open by mistake. The views were just too good to be true. As soon as I regained my senses I gave a loud shout to my buddy who came rushing to experience the same awe which I experienced minutes back.
By this time the rain had almost stopped and we were able to get a very close view of the falls and the water which it brought along. It just felt like God was testing our resolve and wanted to check how determined we were to experience such marvels of nature. There was a small temple near the falls which was the humble abode of Agasthiyar Rishi. We spent some time near the temple, explored the area around it and then headed back to the direction we came from.
Within minutes of rain stopping the area had cleared and we were able to experience the delightful scenery which nested this falls. We got a little scolding from the local police official on our carelessness in heading towards such a dangerous place, but it was worth it. I am definitely not encouraging here to break any rules and bypass any system but it's just that the places difficult to visit are often the places which give you an untouched experience of nature.
How to reach:
Agasthiyar waterfalls is near Tirunelveli and can be reached by road.
There are public buses too for this area and one can take those to reach here. However in cases of storms, no vehicle is allowed near the falls.
There is a tiger reserve right behind the waterfalls which is barricaded by the forest department. This road leads to the Dam behind the falls and is a must visit if you are planning to visit the falls.
Precautions:
The area is as dangerous as it can be in case of rainfall. Exercise extreme caution and follow the guidelines of local police.
Thing to note:
This falls is not generally like the pictures which I have published here. As I told earlier, there was torrential rain in the region which led to almost a flood in the area and caused this waterfall to be in such condition.
I have some videos too of this waterfall. Shout out in the comments if you want a glimpse of those :D