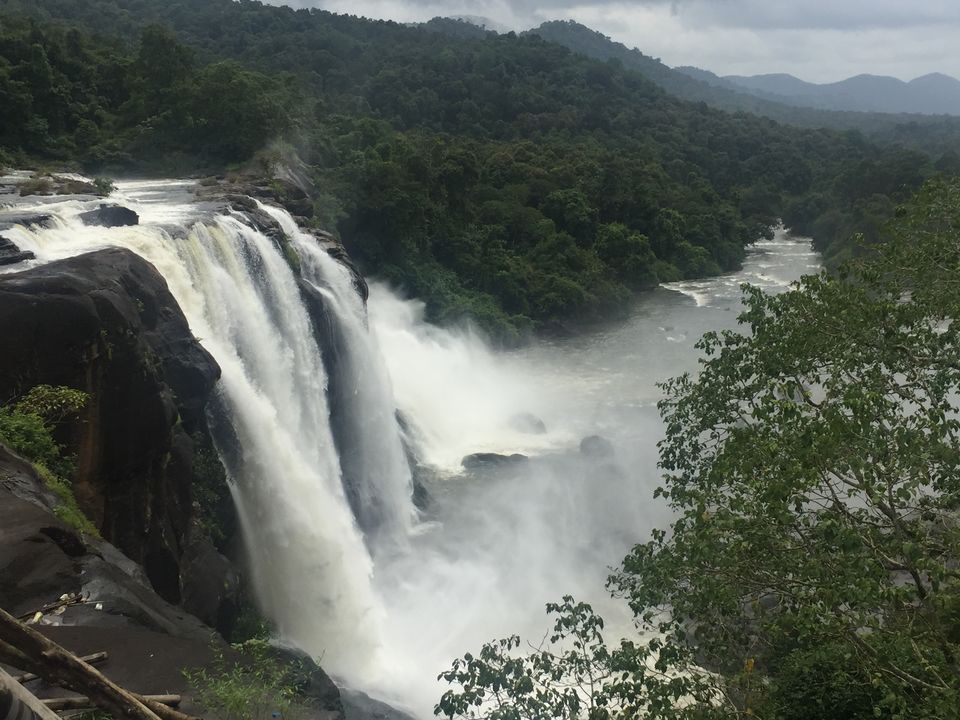 Every year, when Mansoon season start, I think of waterfall. Athirapally Falls, Kerala was always on top of my list, not just because of its breathtaking pictures posted all over on internet but every time whenever I made a plan, it got cancelled. I think from last 4-5 years I was planning to visit Athirapally Falls but unfortunately every time something came up and I could not travel.

But not this time!!!
500 Kilometer from Bangalore, excellent national highway 44 & 544 via Salem - Coimbatore, 9 hrs of drive via some of the beautiful routes and I reached small town of Athirapally amid heavy rain. We already had booking at one of the hotels near Athirapally Waterfalls. After dumping all our bags and typical Kerala meals we headed toward Athirapally Falls. Luckily rain was stopped by the time we reached there. Athirapally Falls is situated 1000 ft above sea level on the Chalakudy river and one of the major attraction in Kerala.
The walkaway towards Athirapally Falls after crossing the Bamboo entrance gate (fee - 30 Rs) was very well maintained with scenic combination of flora and fauna, signboards either side. One of the signboard made me curious and later I came to know this area is the only place in the Western Ghats where you can see four endangered hornbill species (if you are lucky)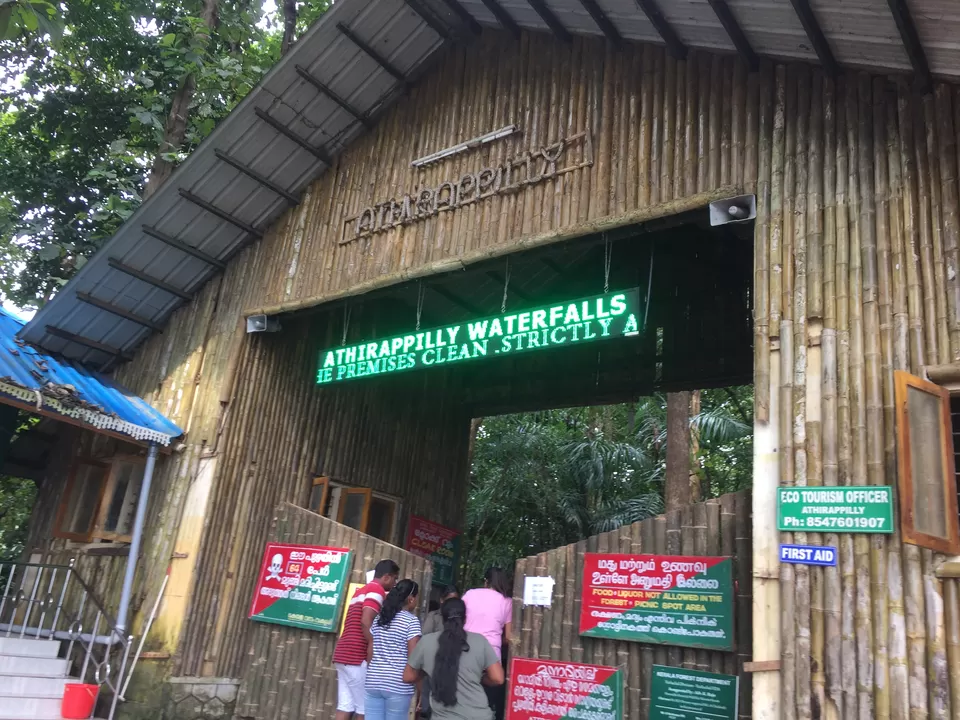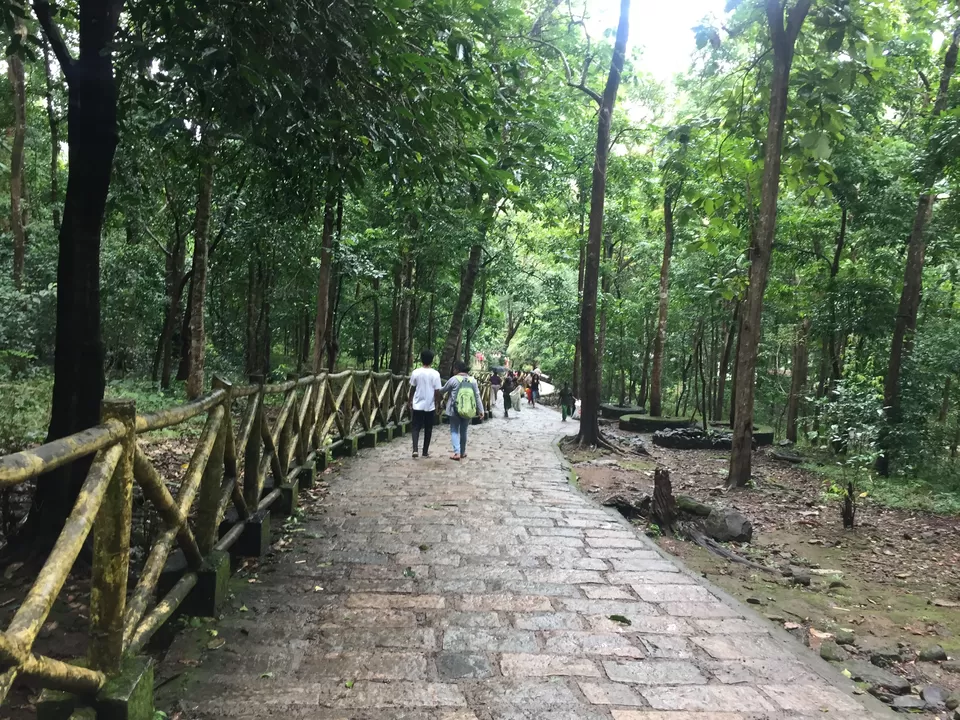 We could hear the gushing sound of Athirapally Falls, walked for 5 mins and then the majestic Athirapally Falls started unrevealed itself, falling from a height of 80 feet.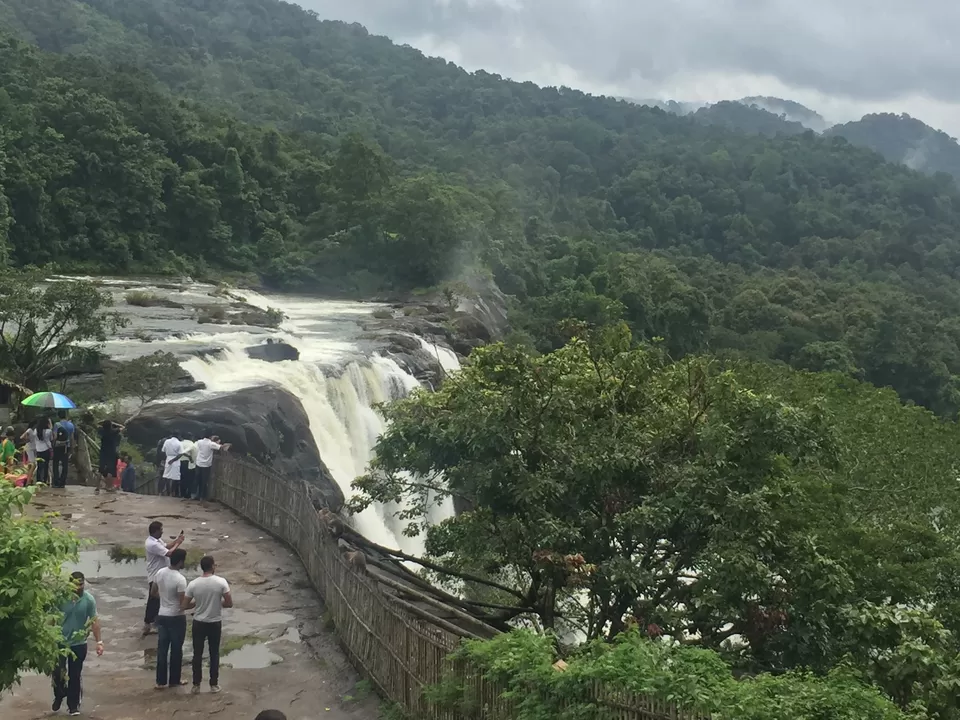 It was breathtaking view, the majestic Athirapally Falls and I am sure you can forget everything there when you see and hear roaring sound of water falling from good height.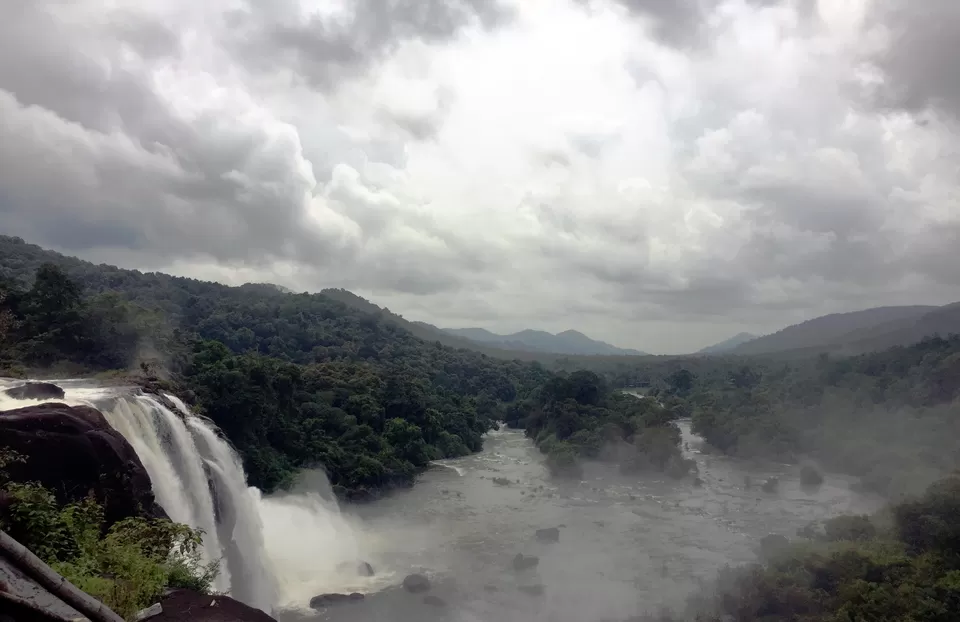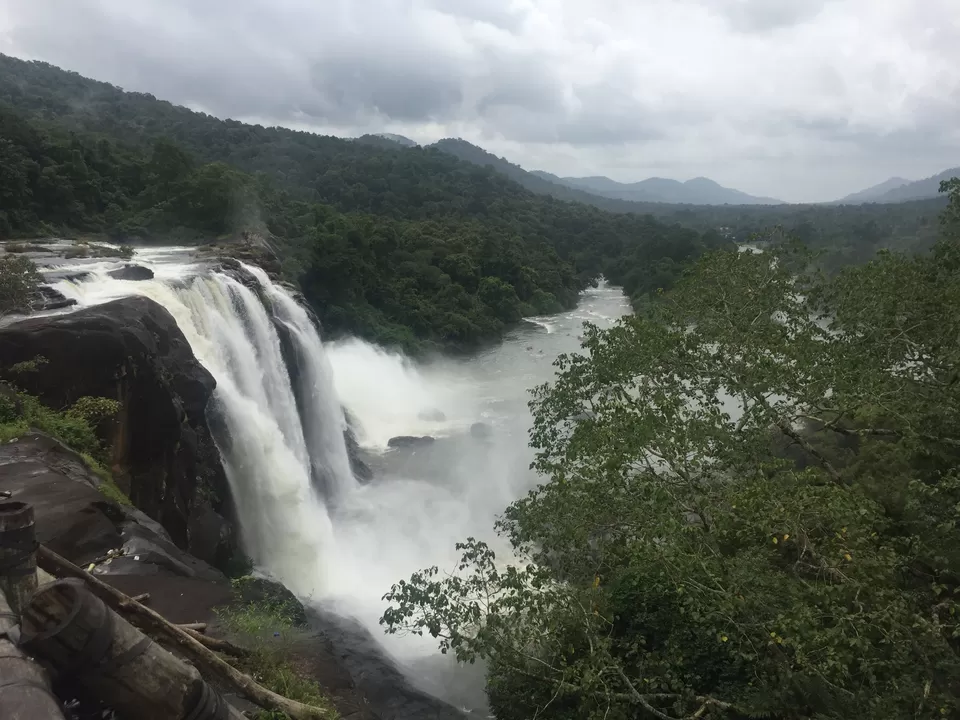 It was Friday, but place was crowded. I found people around me at Athirapally Falls making more noise, shor sharaba than monkeys there. Imagine if you all alone there, mighty waterfall and scenic jungle around you.
It was time to get drenched, you can walk down to stony path which was a bit slippery and steep. But it turned out to be worth the pain. Hardly 1 km walk and then you can witness the power of water gushing down Athirapally Falls. It was more crowded, noisy but I made my way to reach at the vantage point. The force of the water falling splatters droplets all over us. It was like raining.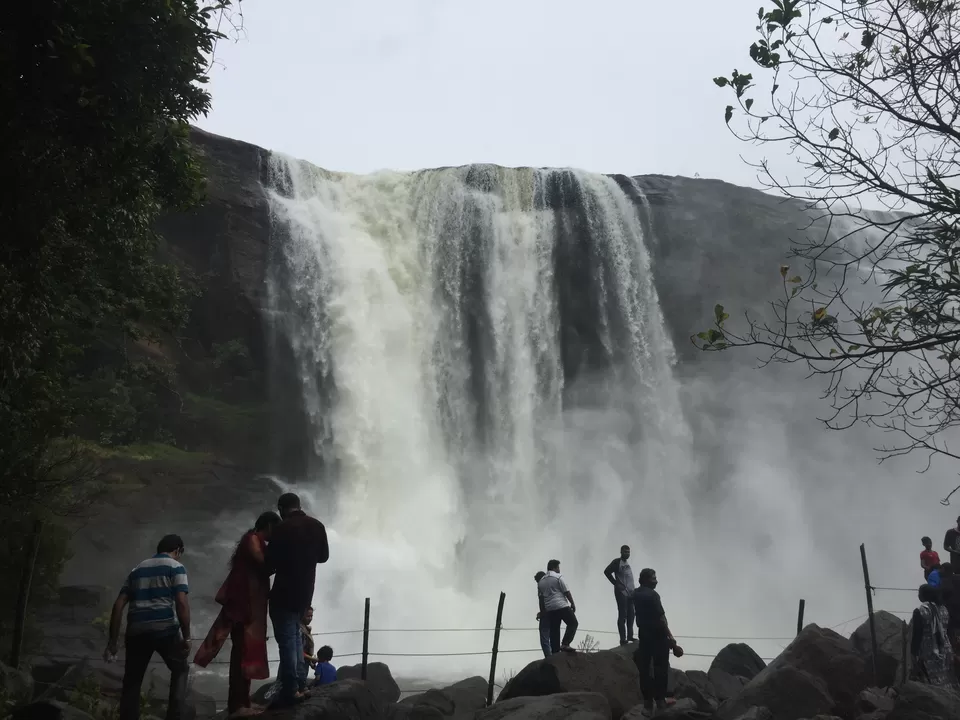 Forget about calmness of river, here its wild and roaring.
Remember the epic waterfall scene in Bahubali? I was told some of the shooting was done at Athirapally Falls, though it was edited (vfx) later.
After Athirapally waterfalls, we drove further and next destination was Vazhachal waterfall.
Before we could reach Vazhachal , there is another another waterfall (3KM from Athirapally), I don't remember the name but just beside the road with full flow, this waterfall will surely attract you to pull over your car and admire it.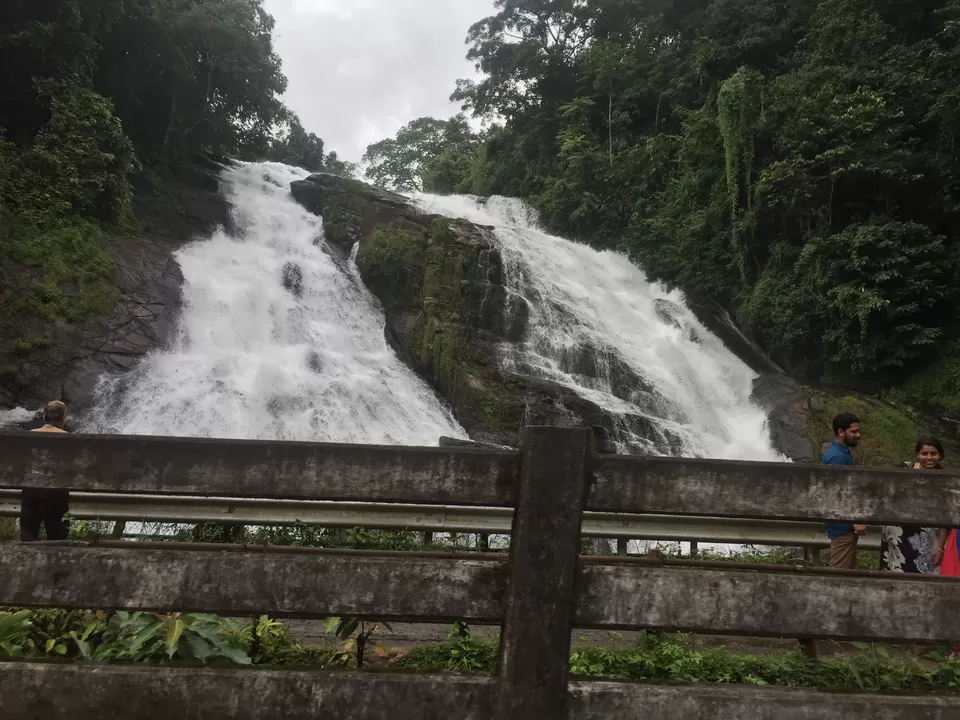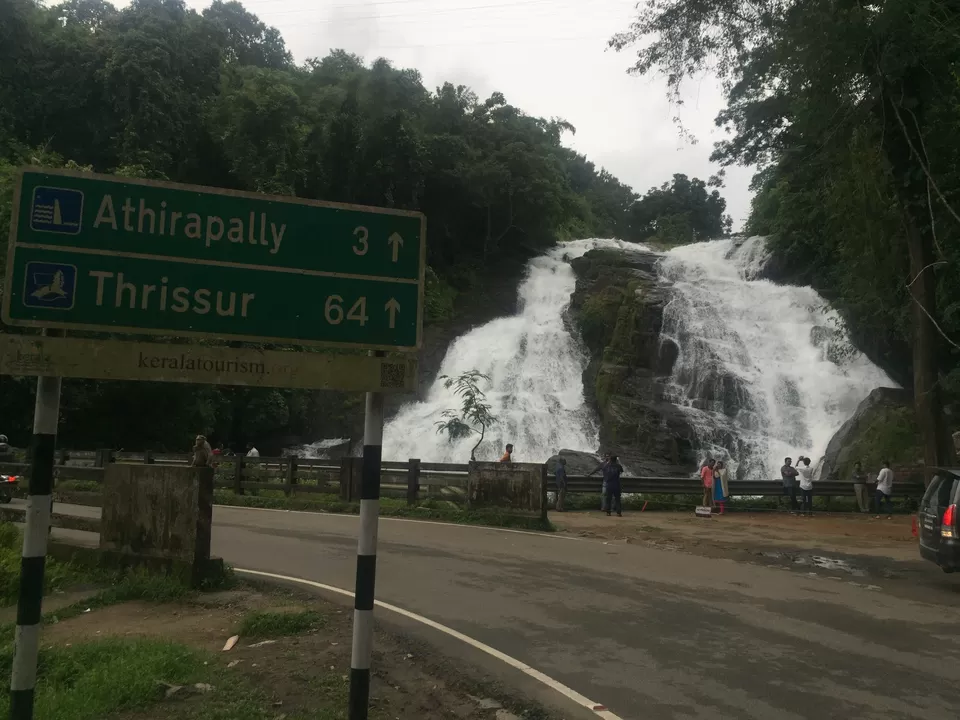 Vazhachal waterfall is relatively calm, quiet ambience, more gradual comparatively to Athirapally. Well maintained, has small garden and benches to sit and watch the Vazhachal falls. I wont say this is waterfall but more like a river flowing in cascade rocks. But if you are visiting Athirapally, you can cover this place as well. Its just 5 km from Athirapally Falls. The walk along the riverside can be simply soothing.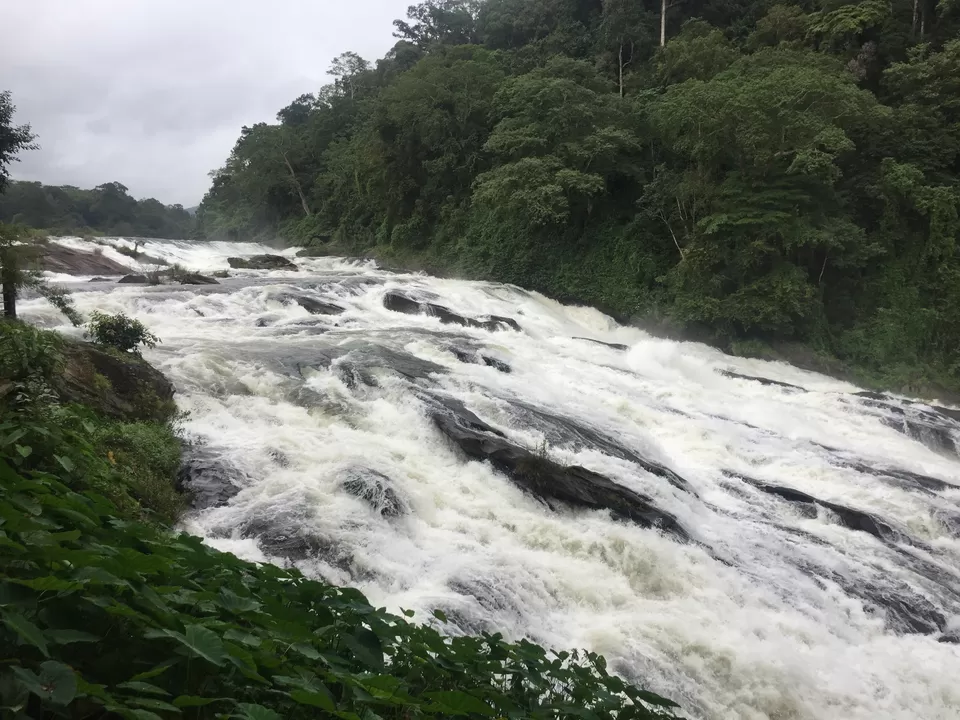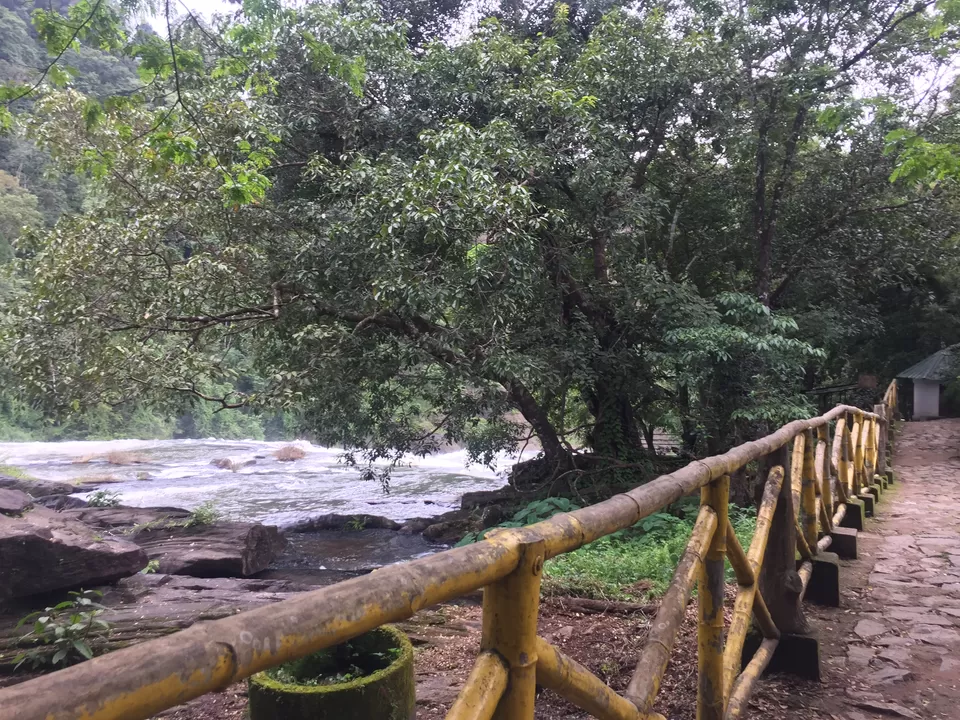 Athirapally Falls – Best Time to Visit
Do I have to say, this is the perfect time to explore this side of Kerala? During Mansoon, waterfalls can be major attractions but driving here is absolute delight, I call these roads as snake roads, either side palm tree, rubber tree, coconut trees, frequent sights of mini waterfalls.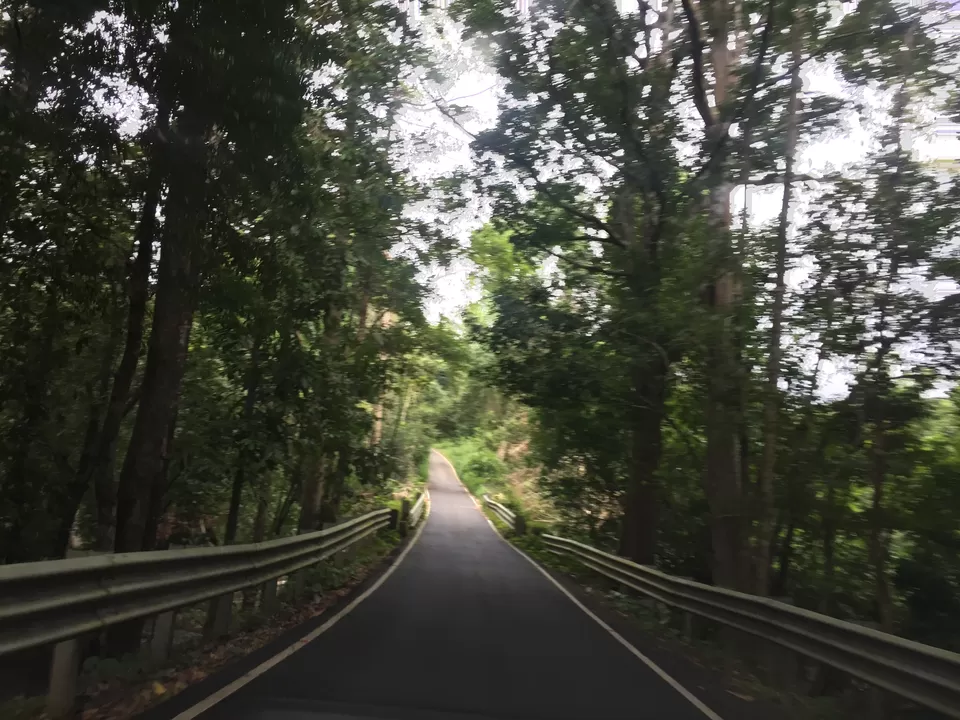 Overall its place worth exploring. Pls note this area is ecozone, plastics are ban, smoking and liquors are strictly prohibited. A few words of caution, don't forget pair of quality shoes because of slippery rocks and not all monkeys are friendly in nature.