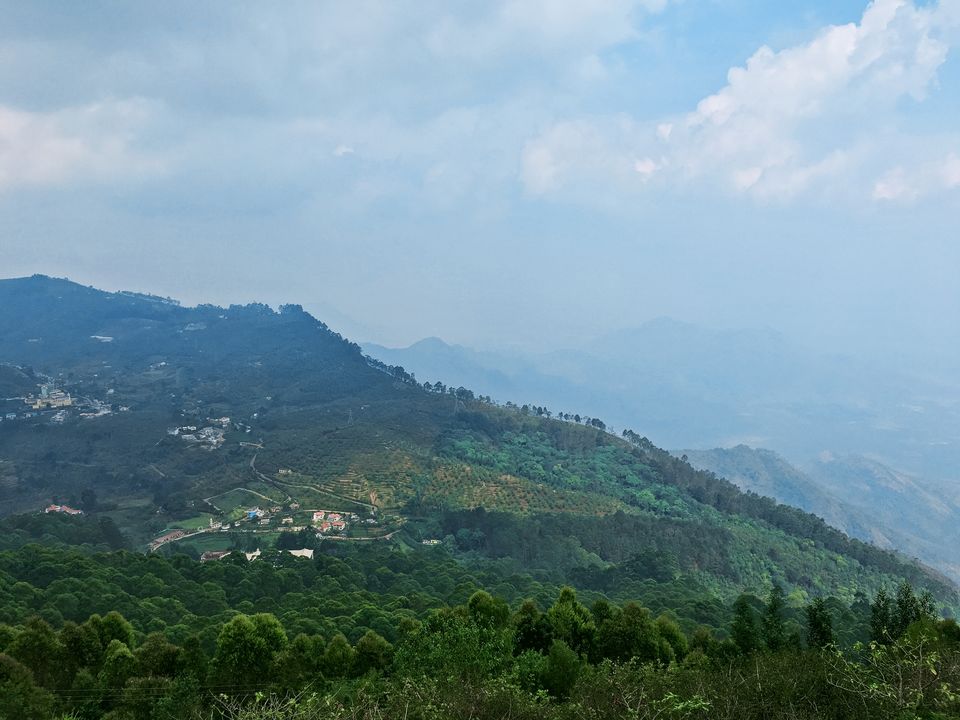 Before you start reading, please follow me on Instagram to checkout my latest activities: @gypsyonvoyage
This was during the April month in Mysuru, the summer had begun to take over the pleasant weather after the winter. The scorching sun was making it difficult to go out, the only way to enjoy the best at this time of year was to look for the 'places to see in summer' which also sums up in one word as Kodaikanal. Kodaikanal is known for its cold weather throughout the year, a serene lake rests in the heart of this town surrounded with picturesque hills and forests.
I was taking this trip with a few of my very close friends. We booked tickets in Mysuru - Tuticorin Express (16236) in Tatkal quota and we easily got the tickets. Our journey started from Mysuru on a Friday evening, the distance between Mysuru and Kodaikanal Road railway stations is around 576 kms, it took us 12 hrs to reach Kodaikanal Road. Kodaikanal main city is at a distance of 80 kms from Kodaikanal Road railway station. This small place doesn't have a lot to offer, so we had a delicious South Indian breakfast there and boarded the bus for Kodaikanal city. The first half of this bus journey was mostly in the plains, but then the beautiful hills appeared and just after few minutes the bus started taking turns through the ghats of Kodaikanal. The weather started changing, the cool wind started striking and we started feeling like we've come far away from that hot summer.
We reached Kodaikanal by noon, there were many tour operators nearby bus stand and we booked a taxi for 2 days there. We directly headed to check in to our hotel, we had already booked our rooms in Vedanta Wake Up - Lake hotel. We freshened up and ate some light food near the hotel. Our taxi arrived and we headed to explore the natural beauty of Kodaikanal.
1. Dolphin's Nose, Mountain View Point, Echo Point
We headed for Dolphin's Nose, one need to trek a descending path of 500 mts to reach there from the parking area. There's a view point named Mountain View Point on the way downhill, this place gives a mesmerizing view of the valley covered with a green carpet of trees everywhere. Then, we moved to reach Dolphin's Nose, there's a big piece of rock peeking out of the mountain which gives this place its name as Dolphin's Nose. After spending some time there, we trekked a little more downhill and found that there's this place called Echo Point. The mystery behind this name is that if you'll shout out loud there, you'll hear the echo of your own voice. After having this childish fun, we started trekking uphill to the parking area.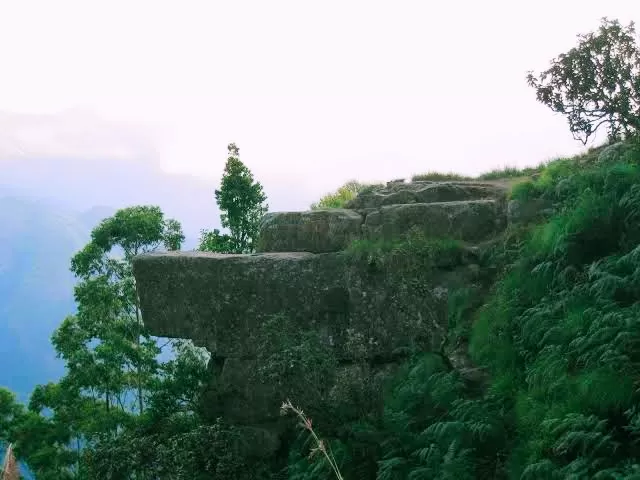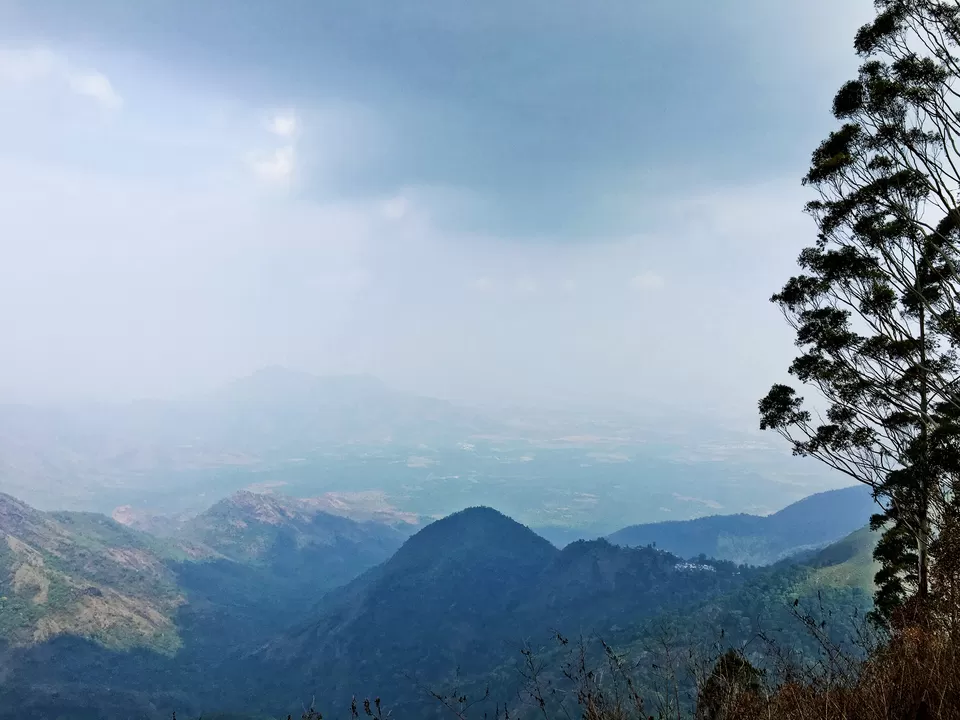 2. La Salette Church
Our next stop was La Salette Church, the first Catholic church of Kodaikanal. This church ages around 135 years and is a shrine of Our Lady of La Salette. It is believed that a missionary saint, who was cured of an illness by praying to Mother Salette, laid the foundation of this church in 1863 and the shrine was dedicated on Easter Sunday of 1866. We sat peacefully there for quite some time, enjoyed that atmosphere and then headed for our next stop.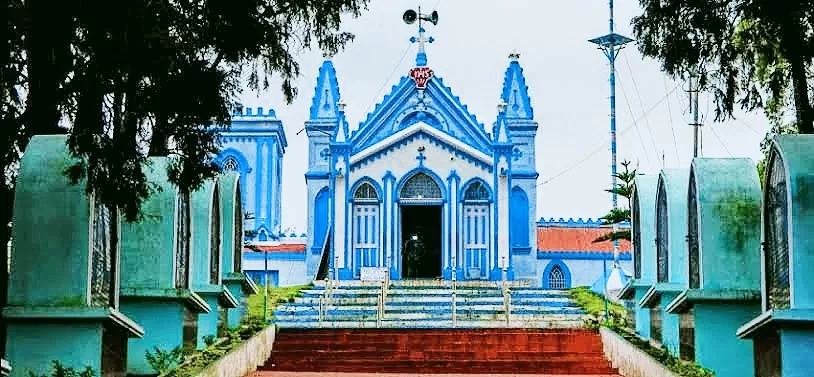 3. Bryant Park, Coaker's Walk
We reached Bryant Park, which is spangled with a wide range of flowering plants and shrubs. There was this pleasant odor of flowers everywhere in the park, we enjoyed our time there and walked to Coaker's Walk. This is a well-maintained walkway which gives a breathtaking view of the valley. There were hawkers selling popcorn, cotton candy, etc. which brought out the kid in me and I instantly ran to the cotton candy guy. After this walk, we boarded our taxi for next stop.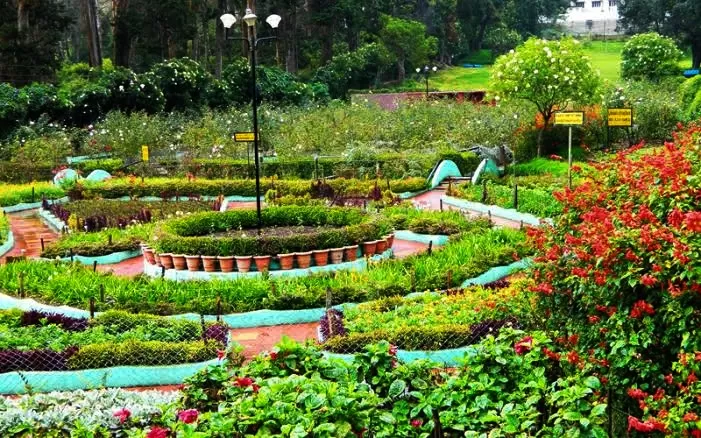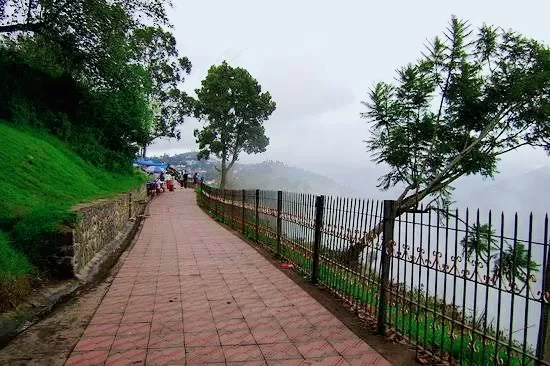 4. Kodaikanal Lake
The next stop was Kodaikanal Lake, which is undoubtedly the jewel of Kodaikanal. We enjoyed boating in the lake and then there were cycling and horse riding options to go around the lake. The lake area was mostly crowded and it was the most happening places in Kodaikanal. We spent quite a good time there and we left for dinner from there.
After dinner, the taxi dropped us at our hotel. We all took some rest and then we gathered on the terrace in the night. The hotel had a common area on the terrace which had many board games, a small library, and television. We all grabbed a bean bag and relived our old memories, played games and spent some quality time together.
5. Upper Lake View
The next morning, we had our breakfast and boarded our taxi. The first stop for the day was Upper Lake View from where we could see the beautiful Kodaikanal Lake lying in the bed of this city. There were many small shops which were selling the handicraft items and a few snacks shops.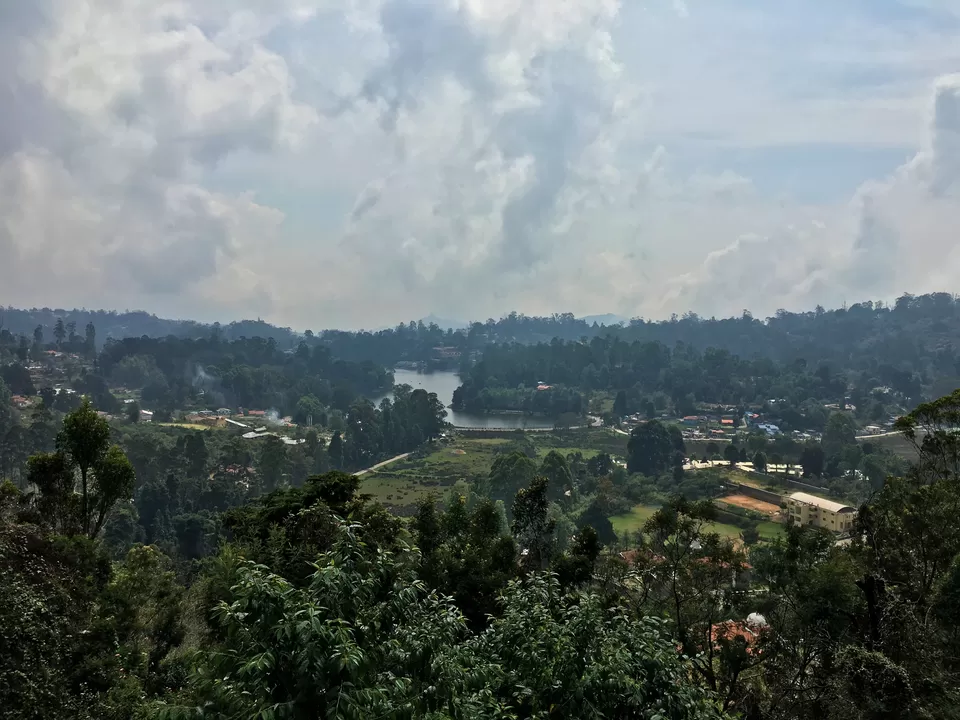 6. Pillar Rock View, Guna Cave
Then, we headed to Pillar Rock View from where we could see the big giant rock standing in the shape of a pillar. We spent a very little time there and left for Guna Cave. The mystery behind the name is that a Tamil movie named Guna was shot here in 1992. We could not go inside the caves as the caves have been sealed off due to increasing suicides there. Now, the major attraction there are the long and thick tree roots spreading all over.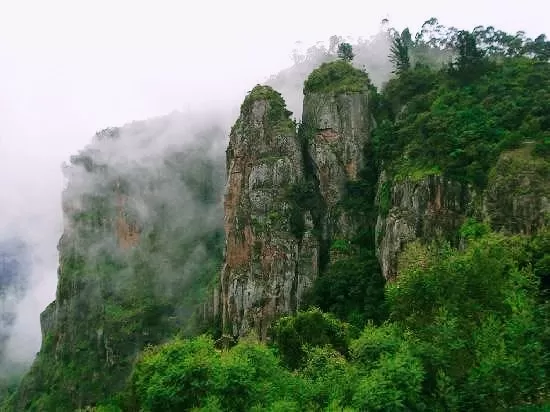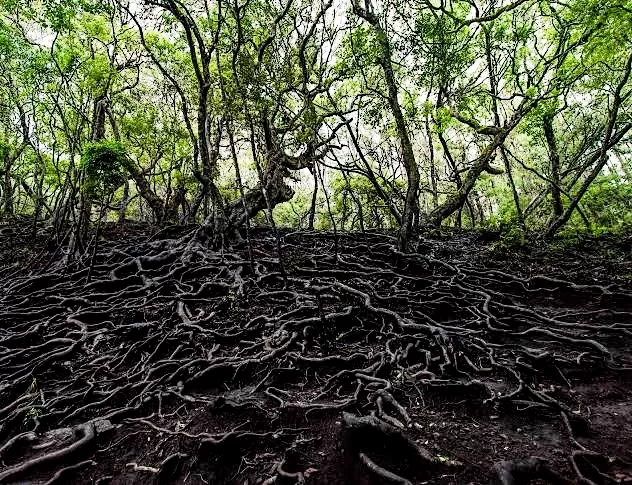 7. Pine Tree Forest
Our next stop was Pine Tree Forest, we went deep into the woods, I could feel the peace in this forest. We sat down for some time, closed our eyes and experienced what nature is trying to tell us. I could hear the birds chirping, the water flowing and the leaves rustling, I could sit there whole day long, but, the time didn't allow and we had to move for our next stop.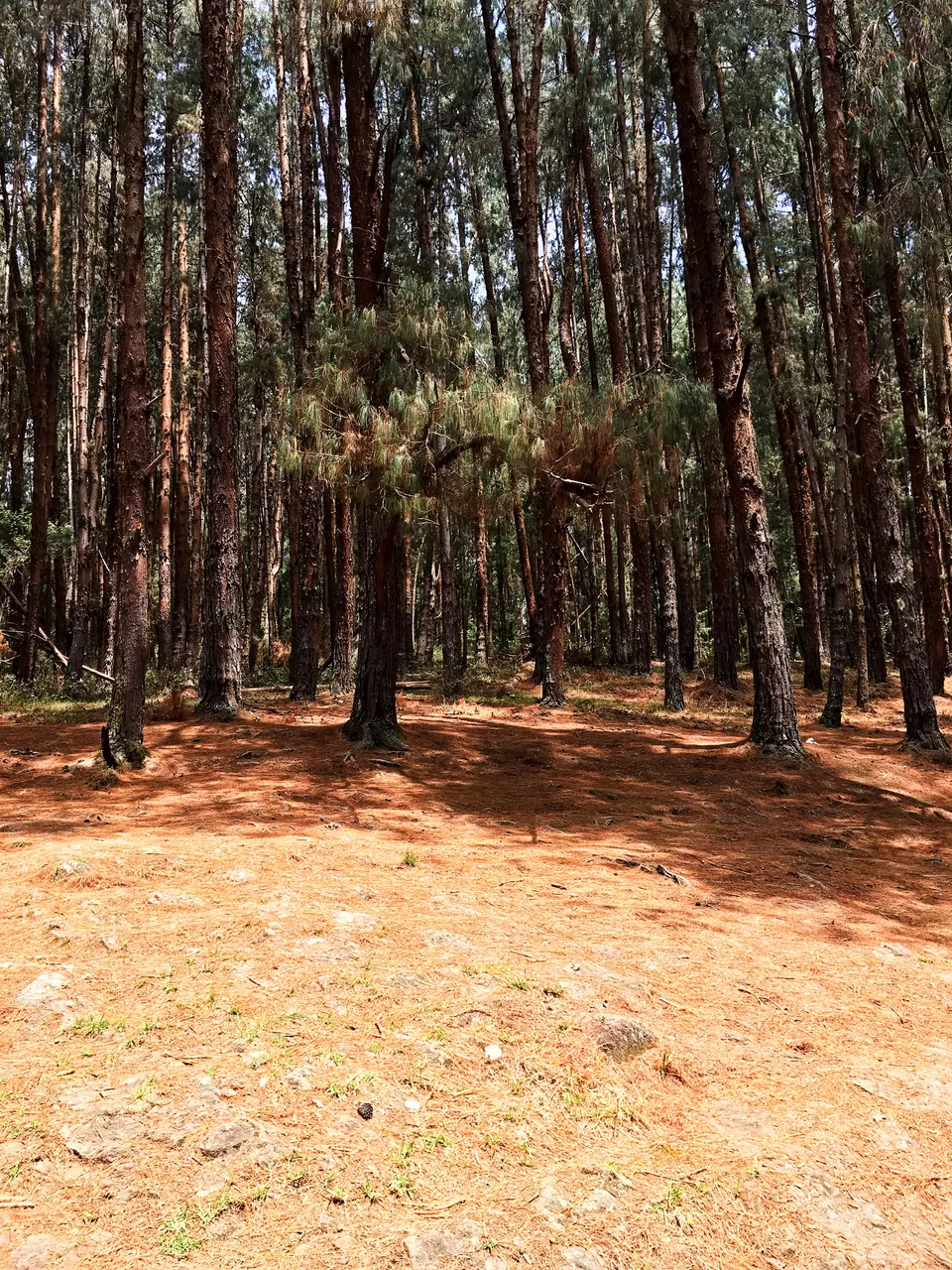 8. Moir's Point, Poombarai Village
We headed to Moir's Point, where you can have a fantastic view of the valley, we didn't spend a lot of time there. So, we left to see the settlement of Poombarai village, which is a tiny colorful place nestled amidst the terraced fields famous for the production of garlic. We visited Kuzhanthai Velappar Temple in which the idol of Lord Murugan stands for nearly 3000 years. The idol was created and consecrated by sage Bogar, a Tamil Siddhar who lived between 550 and 300 BCE, from an alloy of nine metals.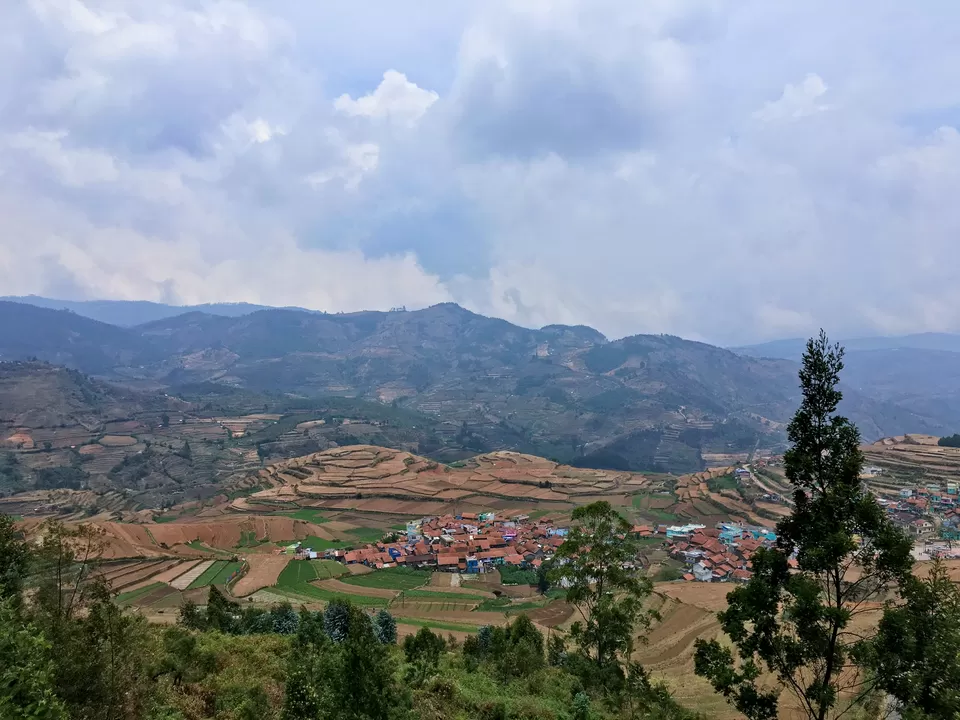 This petite elegant village was our last stop in Kodaikanal. There are many beautiful waterfalls too in Kodaikanal, but we didn't see any because all the waterfalls were dry at that time of year.
Our taxi dropped us at the Kodaikanal Bus stand, we were very hungry by that time because we didn't have our lunch. We found a restaurant nearby and filled our tummies with the North Indian food. We boarded the bus for Kodaikanal Road railway station, enjoyed the journey downhill. It was already evening when we reached Kodaikanal Railway station, we are not very hungry by that time because we ate a lot in Kodaikanal, still, I managed to fit a Masala Dosa in my tummy, just so I don't feel hungry in the night. The train arrived and I boarded the train with a bag full of memories.
Tips for fellow travelers:
1. There'll be taxi options from Kodaikanal Road railway station too. But, that'll cost double than the bus to Kodaikanal and the taxi for local sightseeing.
2. Please do not walk on the rock at Dolphin's Nose, it may cost you your life.
3. Please do not litter, there are dustbins everywhere.
Please follow me on Instagram to checkout my latest activities: @gypsyonvoyage